The CFA exam, or chartered financial analyst exam – is the biggest moment a chartered financial analyst or investments analyst faces in their life.
There are three parts to it: Level 1, Level 2, and Level 3. Most of the exam is made up of multiple-choice test questions.
Run by the CFA Institute, this three-part exam is the gateway for analysts to climb higher and higher up in their careers. However, it is also one of the most difficult exams they'll encounter.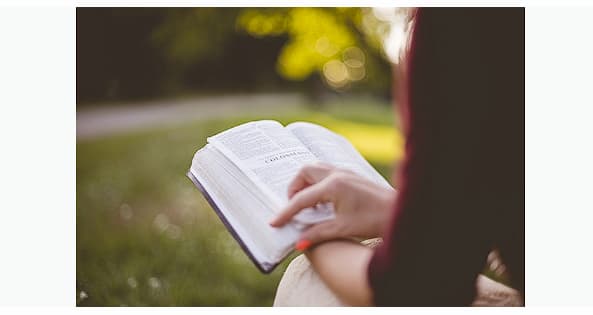 Fortunately, there is just as much help as there are difficulties. If you plan on starting the CFA program sometime soon, you can study from a huge wealth of learning resources.
Even better – you can enroll in a comprehensive CFA study program.
If you're interested in finding the best CFA study materials, consider reading our Mometrix test preparation reviews. These can offer an additional perspective and help you make a more informed decision.
CFA Prep Course Options
A CFA prep course will teach you everything there is to know about the CFA exam and how to pass it. Instructors and teachers will give you special guidance and tutorials. Study for your Schweser vs Wiley CFA, or our recommended courses.
You'll have instant access to the best CFA study materials around. You're able to collaborate with others, deepen your knowledge levels and sharpen your skills.
Simply put, taking CFA exam prep courses is the most reliable CFA prep method to pass the exam easily. Here are picks for the most useful options.
AnalystPrep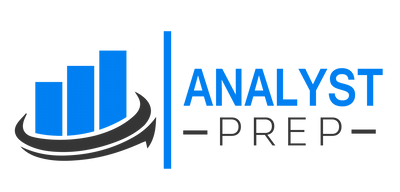 Two mock exams every day – these practice exams take place at 5 am and 5 pm to suit lots of different time zones.
Free to try out. You can get about 150 questions free before you have to buy any.
Over 3,500 sample tests plus practice questions covering all the exam topics.
Annual billing for the CFA course rather than paying until you pass.
Fewer mock practice questions compared to some other papers.
Not many best CFA prep materials for both Levels 2 and 3, mainly just practice papers.
It's certainly one of the leading CFA review courses. They offer help for other examinations, such as the FRM and SOA - we'll not focus on these right now.
They provide everything a prospective CFA exam candidate could need – a huge question bank and lots of study notes, practice exams, and video lectures, among other resources. There's also CFA course performance tracking, which should help students reach their goals.

This CFA exam review course offers at least 40+ hours of video lectures for all aspects of the chartered financial analyst exam. It covers all the exam curriculum topics, from the economics and quantitative mathematics sections to the investment and financial evaluation process.
At each step, you will get a ton of exams, study notes, and practice questions. Many consider it to be among the best CFA prep course options because of the amount of material there is.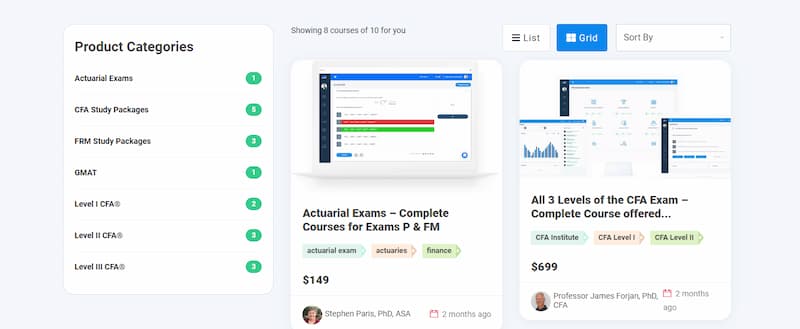 What do the CFA study materials come with? At Level 1, you're able to practice by using the course's question bank, which is among the biggest.
After you've finished practicing, you're able to evaluate the progress you've made from the practice exams.
This doesn't just apply to Level 1. AnalystPrep also offers some of the best CFA study materials for Level 2. The course's question bank includes more than 200 case studies for students to look over. Each of these comes with 6 questions that will test your knowledge.
For Level 3, you'll find many questions that are to do with how finances and wealth are handled and managed.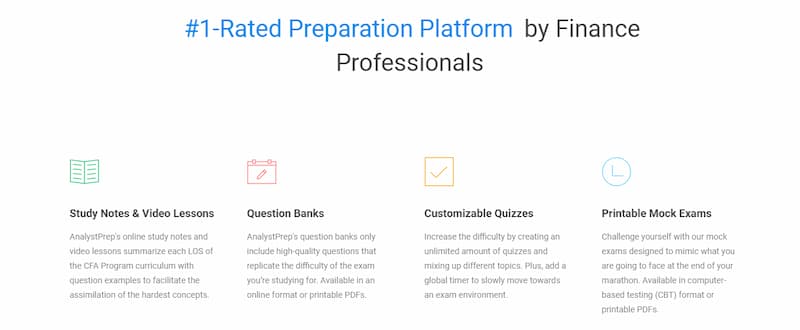 One unique factor AnalystPrep has is customizable quizzes. With these, you can customize mocks or test quizzes to suit different difficulty levels and topics.
You can design quizzes that focus on certain topics you are not too confident with yet. It's similar to how adaptive learning technology tailors a student's learning experience to suit their needs and abilities.
AnalystPrep is a very affordable CFA prep course. Each one of the Practice Packages offers hundreds of questions, along with performance-tracking tools that can identify weaknesses in your learning and studying.
You also have a limited number of questions you can ask a tutor through live chat. Every time you buy it, you have access for a full 12 months.
Pricing:
Three CFA packages are available, each one corresponding to a different level of help.


Practice Package = $199


Learn + Practice = $349


Ultimate Package = $549


The Practice Package gives you free access to the question bank for 12 months and lets you sit CBT Mock Exams.
For $349, you receive the Practice Package's CFA materials, along with some study notes, summarized reviews, and video lectures. This package is a great option for both learning and revising.
For $549, you get lifetime access to everything AnalystPrep has, so you can effectively prepare for the real exam. This package offers practice exams and question banks for all three exam levels. There are plenty of video lectures and reviews for Level 1 specifically. There aren't any video lessons for Levels 2 or 3.
Princeton Review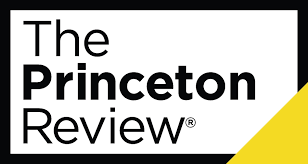 Covers the CFA exam curriculum really quickly and thoroughly, in less than half the time of most other CFA courses.
7-day guarantee with a full refund available. Before you decide to commit, you have a trial of the CFA review course along with the materials it comes with.
Live online tutoring is a unique feature of Princeton Review.
A huge number of resources for all students.
Some depth and detail are lost due to the speed of the Essential course.
Though the quality is superb, it is one of the priciest options.
No prep materials for Level 3 are available.
The Princeton Review - Course Details
Princeton Review is among the best CFA course providers for Level 1. This CFA review course focuses on the first level, as it's the one students are most likely to fail.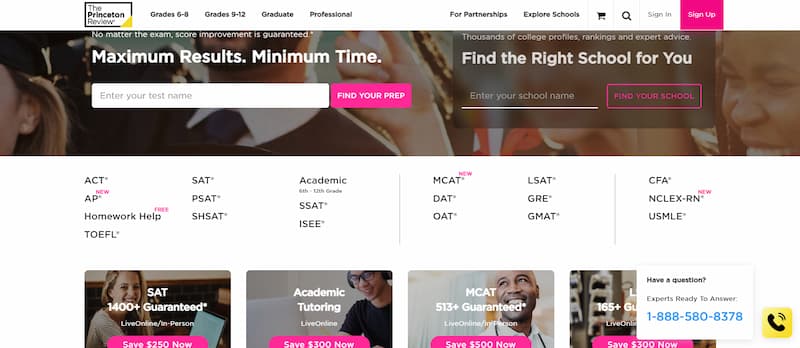 It takes about 250 to 300 hours of studying for most people to get a good mark on the CFA exam. However, the Princeton Review CFA review course aims to reduce that to only 120 hours.
It offers at least 50 hours of video lectures that cover all 10 of the Level 1 exam's main topics. This is complemented by more than 900 pieces of study notes that are ideal for memorizing and understanding the smaller topics. Combine these with flashcards for the most effective learning experience.
After you have covered the syllabus in full, you can begin working on the practice questions. The course's study materials are designed to let you separate practicing and learning easily. With these, you won't waste practice material until you've completely finished learning the key topics.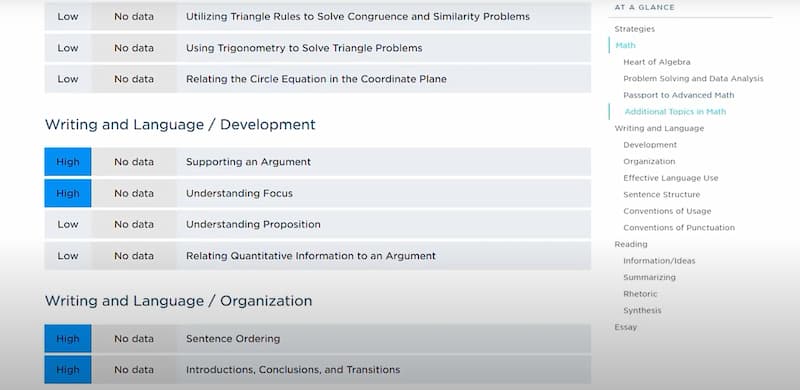 There are nearly 3200 practice questions available with the Princeton Review course. These all come with detailed solutions that you can use to see your mistakes.
There are 4-6 mock exams that will prepare candidates for the exam before it actually takes place. These practice tests are meant to be just like the real CFA exam.
All of these are included in the Essential On-Demand Course, which is available for both the Level 1 and 2 exams. Another Level 1 option is the Ultimate LiveOnline Course.

As well as giving out CFA review study materials, you have 24 hours of live instructions that are given online. With these, a certified teacher will help you learn the topics. Each of the instructors already has CFA charters, with many years of experience teaching at top universities, working in finance, or both.
What makes this the best CFA prep course is the 1-to-1 instructor sessions. Nearly all other CFA courses don't offer this benefit, and you're limited to emailing as a result.
If you are after the best CFA course for Level 3, you may need to consider a different course. Princeton Review covers only a small amount of the Level 3 CFA exam.
They are focused entirely on being the best CFA Level 1 online course. This is understandable, especially since Level 1 is where you begin learning the basics of all the topics and concepts.

There is also an option for Live Online Tutoring. Instead of getting a course, you will be put in direct touch with a tutor. This lets you get personal advice that works for you, plus a tailored study plan that will point out your weaknesses without wasting any time on your strengths.

Don't worry – even if you receive some online tutoring, you're still entitled to the CFA full-access course. This comes with a complete series of questions, videos, slides, and mock exams.
Prices
Tutoring costs $200 per hour; however, there may be discounts from time to time. You can have as many as 14 hours of 1-on-1 instruction. It's expensive, though it's also the most reliable way for you to pass the CFA exam.


The Essential course costs $499.


The Ultimate course costs $999.


While they are on the expensive side, they remain one of the best CFA prep courses for Level 1. Also, the course gives you a Pass Guarantee. What this means is that if you fail the first exam, the tuition fee you paid for the CFA review provider premium course will be returned to you.
My Guru CFA Tutoring

Affordable 1-on-1 tutoring.
Offers both online and in-person tutoring. Many platforms for flexibility.
There are affordable video recordings, along with group tutoring.
Not a lot of CFA study materials.
Sometimes your personal tutor might not be suitable for your learning style.
Why My Guru CFA Tutoring is One of the Best CFA Prep Courses
Many of the best CFA review courses focus on providing students with study materials. These study materials, along with some guidance, are enough to achieve a passing mark in the actual exam for most people. Not all students, however, learn in the same way from a course's study materials.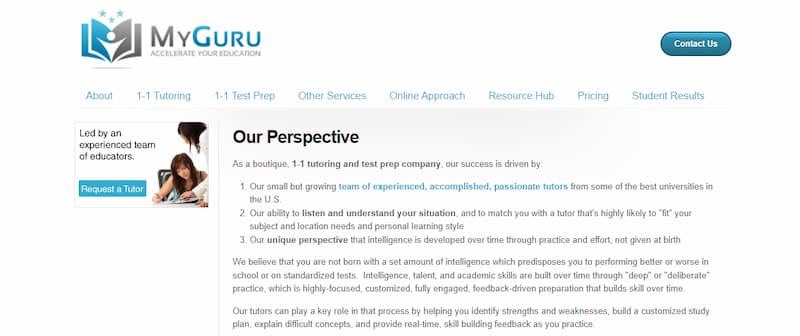 Compared to a book or video lecture, a dedicated tutor can flexibly explain a topic. They can abstract it and use different analogies or examples to improve a student's understanding. Each student is unique. Therefore, the tips and study materials might work well for one student but not for another.
However, dedicated tutors can also be costly. For instance, Princeton Review has a $ 200-an-hour charge for one-on-one tutoring sessions. There's also a limit of 14 hours of tutoring.
For the best CFA tutoring, look no further than My Guru. They are a well-known test prep company in the US focused on providing the very best tutoring to everyone.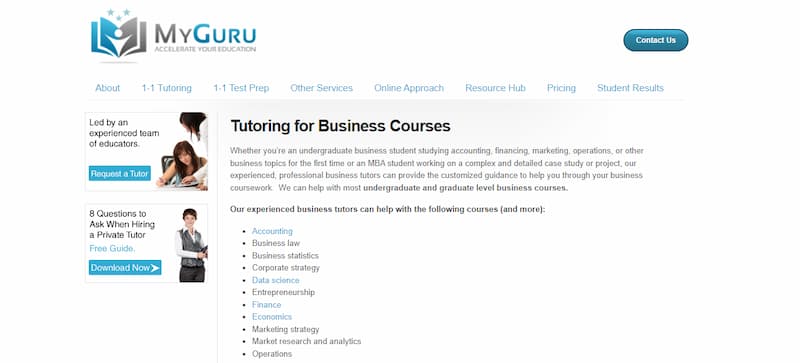 On top of personal tutoring, they have recently branched out to blogs, summaries, and eBooks on various topics.
According to most people, it takes about 300 hours of study to pass the CFA Level 1 exams. This is the average for most people who use CFA exam prep materials. But because most of the studying is actually self-studying, the time is usually spent rather inefficiently.
With a dedicated CFA review tutor helping you, you won't have to spend time trying to work out the next topic. Also, you won't spend too much time focusing on topics that aren't important in the exams.
Thanks to their CFA exam experience, a tutor will not only streamline the entire studying process but also make sure you concentrate on the correct topics.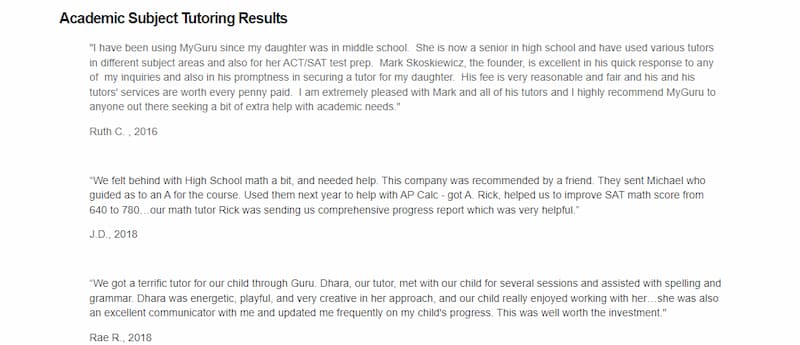 My Guru's CFA tutoring platform is rather flexible. When it comes to online tutoring, the course uses a video call program such as Zoom, Google Meet, or Skype. As well as the videos, the course makes use of whiteboard software to highlight key concepts. This is similar to a typical classroom atmosphere.
All of the documents, notes, and supplementary materials that are recorded in all tutoring sessions are stored. All the sessions with your tutor are also recorded; this is so you can watch them back later in your own time.
My Guru's CFA tutors are all professionals who are dedicated and highly experienced. A lot of them have postgraduate degrees as well as lots of years of experience working for large finance companies. Each tutor has a successful track record with their previous students.
In addition to tutoring, My Guru has a self-paced CFA prep course. This course does not replace tutoring entirely but is meant to be a supplement.
Like most other CFA prep courses, there's a question bank, along with CFA video lectures and lessons, mock exams, and study notes.
My Guru has partnered with AnalystPrep to carry out this course. You are in very safe hands with this option.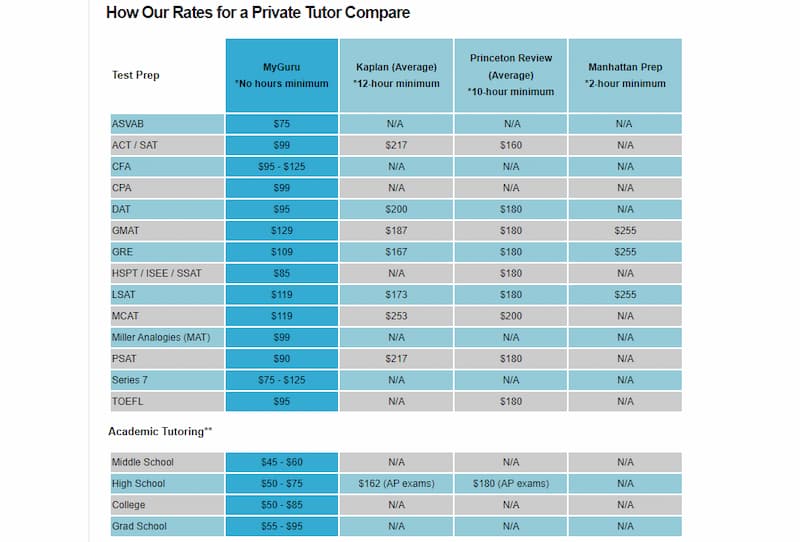 Prices


Basic online 1-on-1 tutoring is available at the cost of $109 per hour.


In-person tutoring has a higher cost of $129 per hour, which is still the cheapest 1-on-1 tutoring option for CFA examinations.


The premium online tutoring costs $179 per hour.


With the premium option, you can access live recordings of your tutoring sessions. As well as this, you get 24/7 access to one of the course instructors, so whenever you need help, just ask them a question.
If you have any coworkers or friends who are also going to take the CFA exam, small-group tutoring is available. This won't be the same as 1-on-1, but it should be just as worthwhile.
The basic rate for small group tutoring is $109 per hour, along with a charge of $30 per person. There are video recordings available too.
Wiley Efficient Learning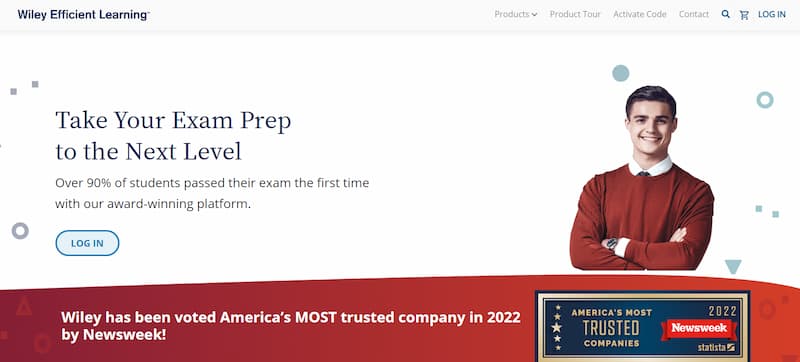 One of the biggest accounting and finance firms.
They offer a lot of guidance and training for different parts of the CFA exam.
They offer premium CFA Level 2 study materials along with highly rated CFA Level 3 prep classes.
Their CFA prep course has won an award, which few other CFA courses have.
A pass rate of 90%.
More than a million customers.
How Do You Rate Wiley CFA Review Courses?
Wiley Efficient Learning has a few different ways of supplying the best study materials. These cover CFA Level 1 and beyond. The instructors are highly accredited experts.
For starters, they offer interactive online classes, tutorials, and webinars. You can email instructors and get direct tutoring.
The Wiley Efficient Learning Package has several levels. Each one depends on how much material and hands-on help you require.
For CFA exam candidates who prefer self-study, Wiley offers one of the most effective self-study online CFA prep courses available on the market today. The cost depends on the package you choose. Make sure you're aware of your abilities before choosing one.


Another great part of Wiley Efficient Learning's CFA review course is the pass guarantee.
Until you have passed the exam, you will be able to access all the CFA exam preparation materials. You're able to try again and again, however many times you need to.

Prices
Self-study course = $645
Second level = $995
Ultimate Package = $1,395
The self-study course provides you with all the relevant materials you'll need. This covers several questionnaires and a few mock exams.
The next level of the package covers online mock exams and online classes, books, and several hours of CFA course video lectures plus recordings.
This package's key benefit is getting replies from instructors. Whenever you've got a question about anything, you can ask the instructor, and they'll reply soon after.
If they are busy, they may not get back to you straight away.
The ultimate package provides you with even more mock exams, online classes, specialized tutoring from instructors, and more.
Plus, the instructors will always respond to you in 1-2 days at most.
So, if you want to do mostly self-study with a little bit of extra help, then the first option might be best.
But if you are the type who needs a lot of guidance, then the higher tiers would be the best CFA exam prep courses.
Pros:
110+ hours of video content for studying and reviewing in total.
Student discussion board so that you can discuss your studies and CFA prep with other students.
A huge number of practice questions, plus on-demand online tutoring and virtual classes.
Cons
Only two mock exams, which is very few for a CFA review course.
One of the most expensive options, even for the lower-end packages.
Kaplan Schweser CFA Review Course

Concise study materials.
The best CFA test prep course for anyone after a solid passing grade.
They're really popular because of their focus on time and efficiency.
Free trial available for seven days.
No unlimited access to materials.
Why Kaplan Schweser Makes the Best CFA List
They are best known for the ScheweserNotes and the QuickSheets, both of which are excellent references to have at hand.
Other types of CFA exam study material provided by Kaplan include a QBank and a computerized CFA mock exam. The QBank has over 3,500 practice questions that are almost identical to the style and type of questions in the actual CFA.
The computerized mock exam, similarly, is meant to imitate the style of giving the actual exam. The program interface and layout are almost the same as that of the real exam.
You can purchase the QBank for a specific exam window, such as February or May. Once you do, it will be valid and available until the exam takes place.
Afterward, you can always purchase a new set of practice questions for further practice free of charge if you need to.
On Schweser's website, you can see a list of all the different CFA exam study materials that are available for each exam, as well as when access to them opens up. This gives you a solid schedule for your CFA course studies, allowing you to set your own pace.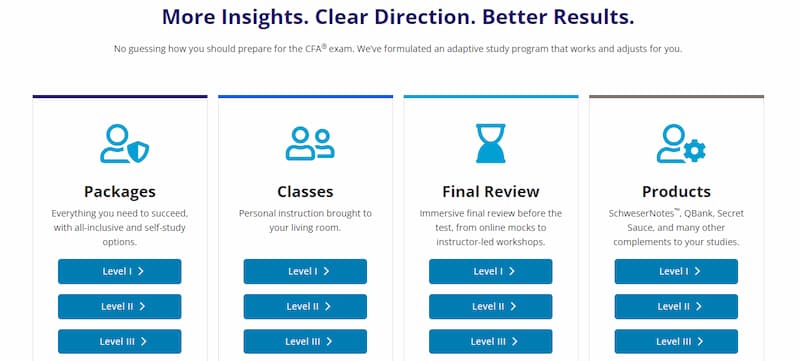 Prices
Two packages are offered: the Essential Package and the Premium Package.
The Essential Package costs $699 and includes most of the core study tools, such as the references and video tutorials, 4 mock exams, jumpstart study materials, communication with instructors, and checkpoint exams.
The Premium Package includes all of those, plus additional OnDemand workshops and review classes that CFA candidates can visit at any time.
The workshops include an additional 55 hours of instruction on top of the 40 hours already given. It costs $999.
Both of the packages include Schweser's Pass Protection. If you don't pass the exam despite spending hundreds of dollars on study materials, don't worry.
If you register for another exam within a year, you can purchase the same study package free of charge.

Overall, Schweser's CFPA Program has a 97% recommendation rate. Nearly all CFA candidates who have used it recommend it to others.
Pros:
CFA review and study materials are extremely concise and streamlined.
QBank questions are targeted for different exam windows, and new ones are available after each.
QuickSheets and Schweser's Secret Sauce books are extremely portable and can be carried around anywhere.
Lots of mock exams, up to 6.
7-day free trial so you can check if the CFA review materials are suitable for you.
Cons
No unlimited access to CFA study materials. You may lose access if you want to take a gap between two attempts at the CFA exam.
The study materials are a bit too slim, causing you to miss out on valuable detail and depth in your CFA exam prep.
Finding the Best CFA Study Material for You!
The CFA exams that the CFA Institute sets are probably the most important ones in the life of a chartered financial analyst. When it comes to choosing the best CFA test prep courses, it is important to do research thoroughly.
If you choose the wrong one, you won't learn effectively and will waste your time. If you choose the right prep course, you will top the exam with minimal effort!
Pick a CFA prep course that works well with your learning style. Your chosen CFA course should offer plenty of effective test prep, enough practice tests, useful virtual classes, real CFA exam questions, and more.
If you want to be done with studying as quickly and efficiently as possible, we recommend Analyst Prep or Wiley's courses. Both of these are top names in the CFA review industry.
On the other hand, Princeton Review and My Guru offer personalized private tutoring sessions, which can be extremely effective.
FAQs
Which is the best CFA study material?
The best CFA study material is from the test prep companies Princeton Review and Wiley Efficient Learning. They are extremely thorough but also quite expensive.
Which prep course is best before CFA?
If you have plenty of time to prepare, we recommend Wiley's Efficient Learning or Analyst Prep. However, if you don't have a lot of time left before the CFA exam, then SchweserNotes may be more suitable.
What Is the Best Way To Prepare for CFA Level 1?
Princeton Review offers the most focused CFA review course for Level 1, with a huge volume of practice material and optional tutoring. The prep course overall rating is very high for this option.
Who has the best CFA exam prep app?
Kaplan's SchweserNotes are available on a variety of platforms, including an app for digital and online studying. Even though the CFA Institute doesn't endorse any prep courses, Kaplan's is highly rated.