Learning English as a foreign language is, without exaggeration, a necessity in today's world. It is the language of trade, communication, diplomacy, and even technology.
Every student faces a difficult choice regarding the methods of learning English. Someone chooses the path of self-development, while others prefer to trust professionals.
Today we will talk about tutor search platforms, namely Cambly like websites.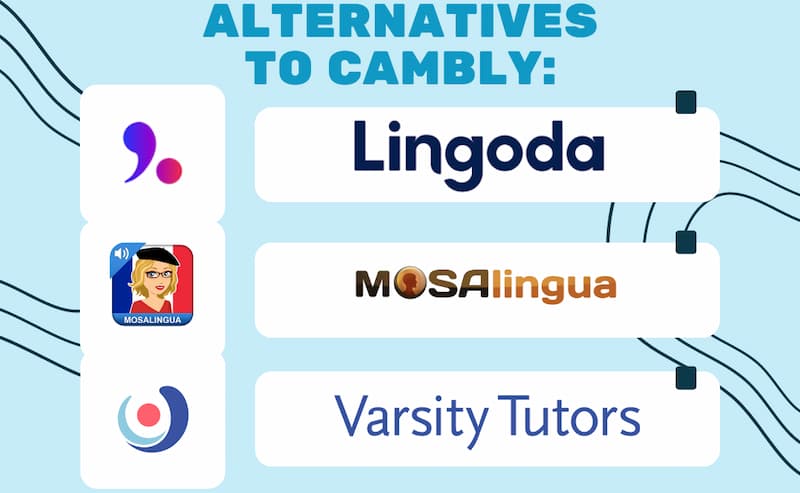 Undoubtedly, the company has a large community, but if you are a fan of trying something new, this article is definitely for you.
In recent years, scientists have been speaking with one voice: if you want the brain to age more slowly, try something new.
This phenomenon is called neuroplasticity. So maybe you should try a new teaching program?
As a result of my research, I was able to compile a review of the 10 most popular similar apps like Cambly.
While reading, you can get acquainted with the main advantages and disadvantages of services, as well as choose a comfortable pricing policy for yourself.
MosaLingua

Scientifically-based approach to language learning based on various cognitive strategies for memorization.
Detailed description of their concepts available on the website.
The absence of advertising on the platform which improves concentration on learning the language.
The first site like Cambly, that I evaluated in the course of the analysis was MosaLingua. This is a platform with many useful tools for learning popular foreign languages. At the moment, the company provides access to the study of 9 languages.
MosaLingua managed to develop its approach to learning based on various cognitive strategies for memorization. The focus on the scientific substantiation of the processes of learning foreign languages attracted my attention to the platform.
On the site, you can find a detailed description of their concepts.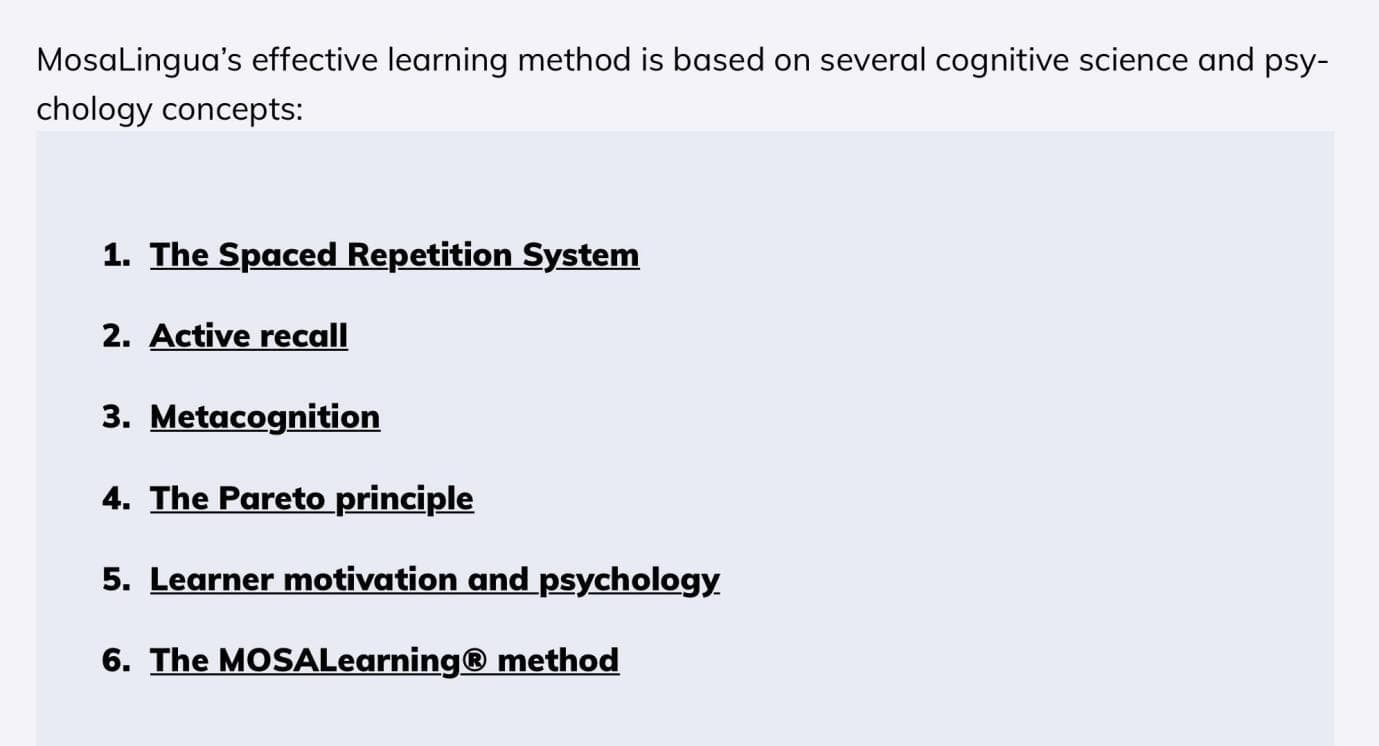 There's no free version of MosaLingua available. Companies attribute this to high costs for qualified language specialists involved in developing the application.
They also chose in favor of the absence of advertising on the platform, which improves the concentration of students on learning the language and does not distract them from the process.
The Premium version via the site will cost you $59,90/year ($4,99 per month), and you can use the free trial for one month. While the purchase from the App Stores also has an option of a monthly payment of $9,49.
As a disadvantage of this app like Cambly, I singled out the lack of a free version of the application.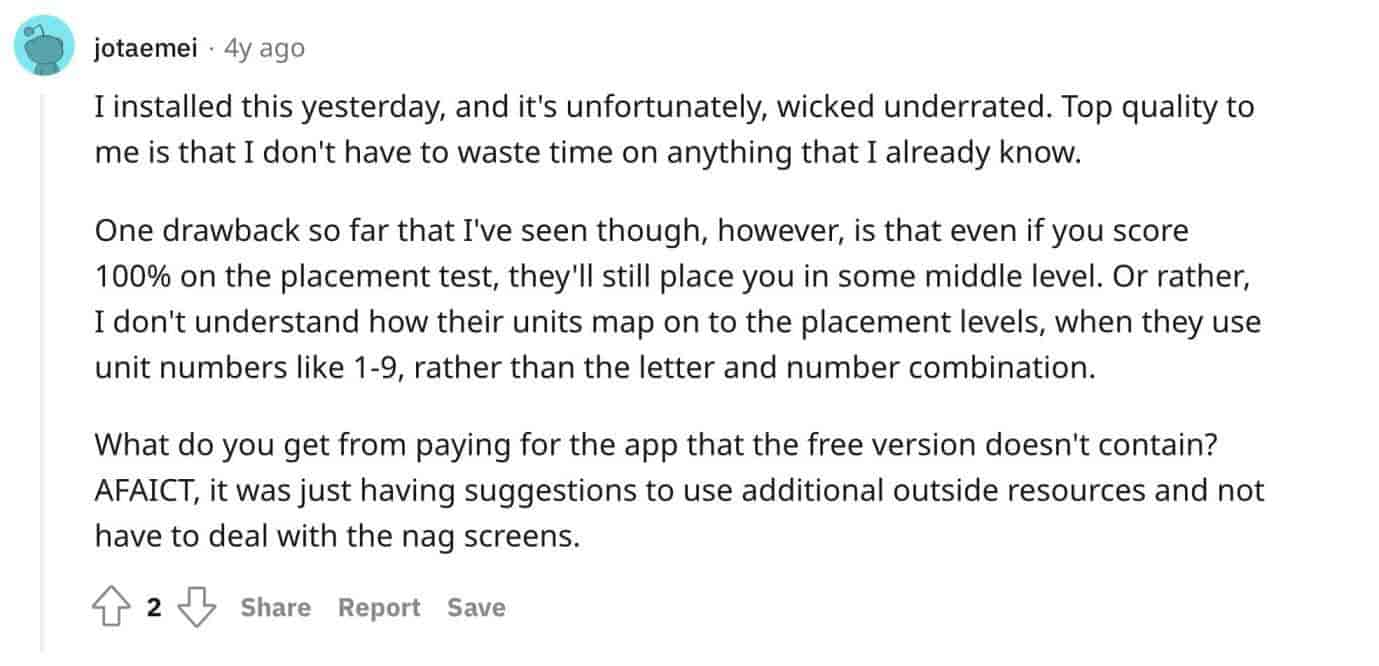 Also, during my experiment, I met user complaints about the non-intuitive interface of the application and issues with placement examination.
Lingoda

Innovative and easy-to-navigate website.
Accreditation to provide services.
Clear pricing policy with the option to purchase more lessons at a time for a better price.
This platform can boast a very innovative site. As you know, the first impression always leaves the most important imprint. It was very easy for me to find the information I needed on this website like Cambly.
I was especially taken by the support chat interface, where 3d assistant Simon is ready to answer many frequently asked questions.
The company provides services of individual and group lessons with tutors. If you want to learn English, you will be offered two courses to choose from, business language and general.
In addition, Lingoda cooperates with German, French, and Spanish teachers. What is very important is the need for accreditation for this service. Lingoda has the necessary certification to provide services.
The pricing policy is pretty straightforward, and you pay for each group class. The more lessons you buy at a time, the more profitable it is for you.
The price starts from €50 per month for 4 lessons, respectively €12.5 per lesson, and the best offer is €8.5 when buying a large package of 40 lessons for €339. In this case, you need to build on the pace of learning you need.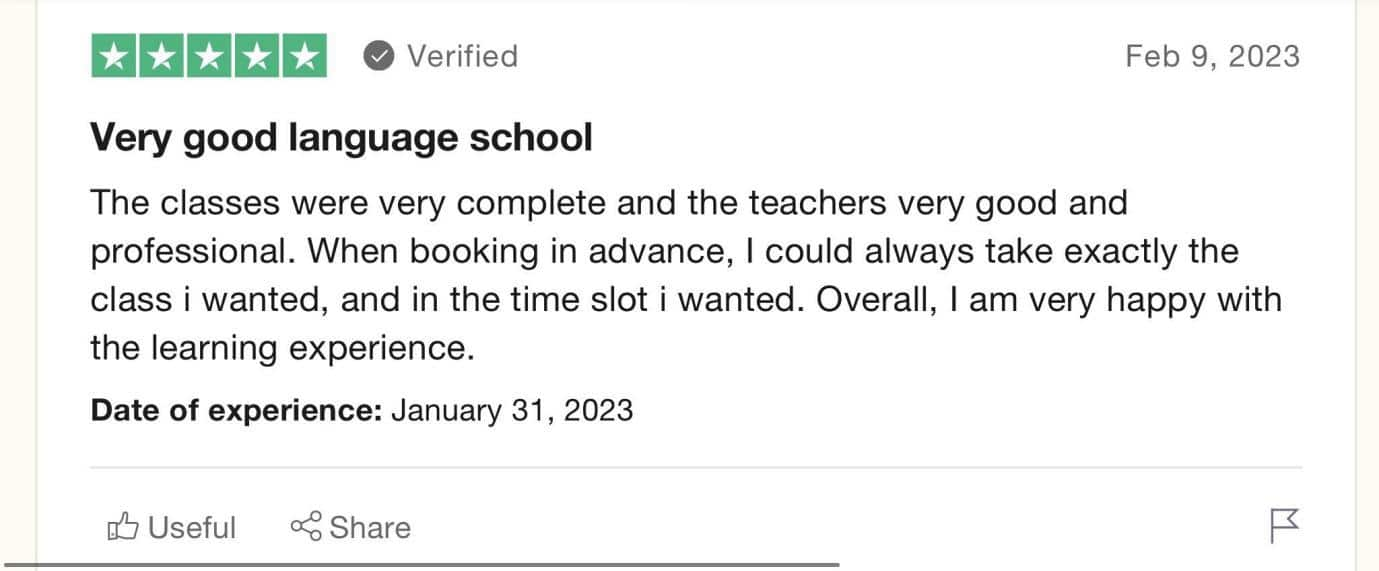 Among the existing claims of users, most relate to personal dislike for teachers. The roots of this problem come from the fact that the student cannot choose his tutor.
Varsity Tutors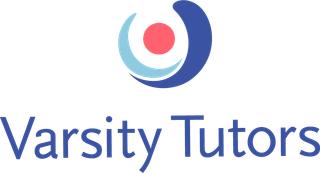 Offers a selection of experienced professionals in various academic fields.
Works with students of different ages, starting from kindergarten and preparing adults for professional tests.
Positive customer reviews on Trustpilot with a rating of 4.7/5.
This is one of the platforms like Cambly that offers a selection of experienced professionals in various academic fields. They also work with students of different ages, starting from kindergarten. And even prepare adults for professional tests.
It is impossible to objectively evaluate the pricing policy, as many factors affect pricing.
Combine the preferred schedule with the additional payment for the teacher's work during non-working hours and the uniqueness of the subject (the rarer the specialist is, the more expensive his classes are).
For these rather objective reasons, you can find out the final cost of the lesson only by contacting a specialist directly. This can be considered a disadvantage since you do not know what exactly you can count on.
Another drawback that seemed repulsive to me is the small amount of important information on the site. You can find their articles on various topics and colorful pictures, but very few descriptions of their work.

The service has a lot of good comments from customers and is ranked 4,7/5 on Trustpilot.
Preply

Wide range of subjects and over 32,000 tutors available.
Short survey available to determine the most suitable teacher candidates and indicate the cost of classes.
Availability of even not very common languages for study.
The Preply site is exactly the case when the eye rejoices without unnecessary noise - a minimum of pictures and a maximum of the necessary information. The company boasts of having more than 32,000 tutors.
An absolute advantage of this platform is the wide range of subjects. Here I found even not very common languages available for study.
As with most similar websites like Cambly, the price of a lesson directly depends on the tutor you choose. The teacher independently sets the price based on his experience, demand, and additional qualifications.
When you visit the site and ask about the cost, you will be asked to complete a short survey of 6 questions. Among them, the company will clarify your motives and wishes, as well as a convenient schedule and budget for you.
After that, you will be shown the most suitable teacher candidates, and indicate the cost of classes.
It seemed strange to me that the price on the site is indicated for a 50-minute lesson and not a full-hour one.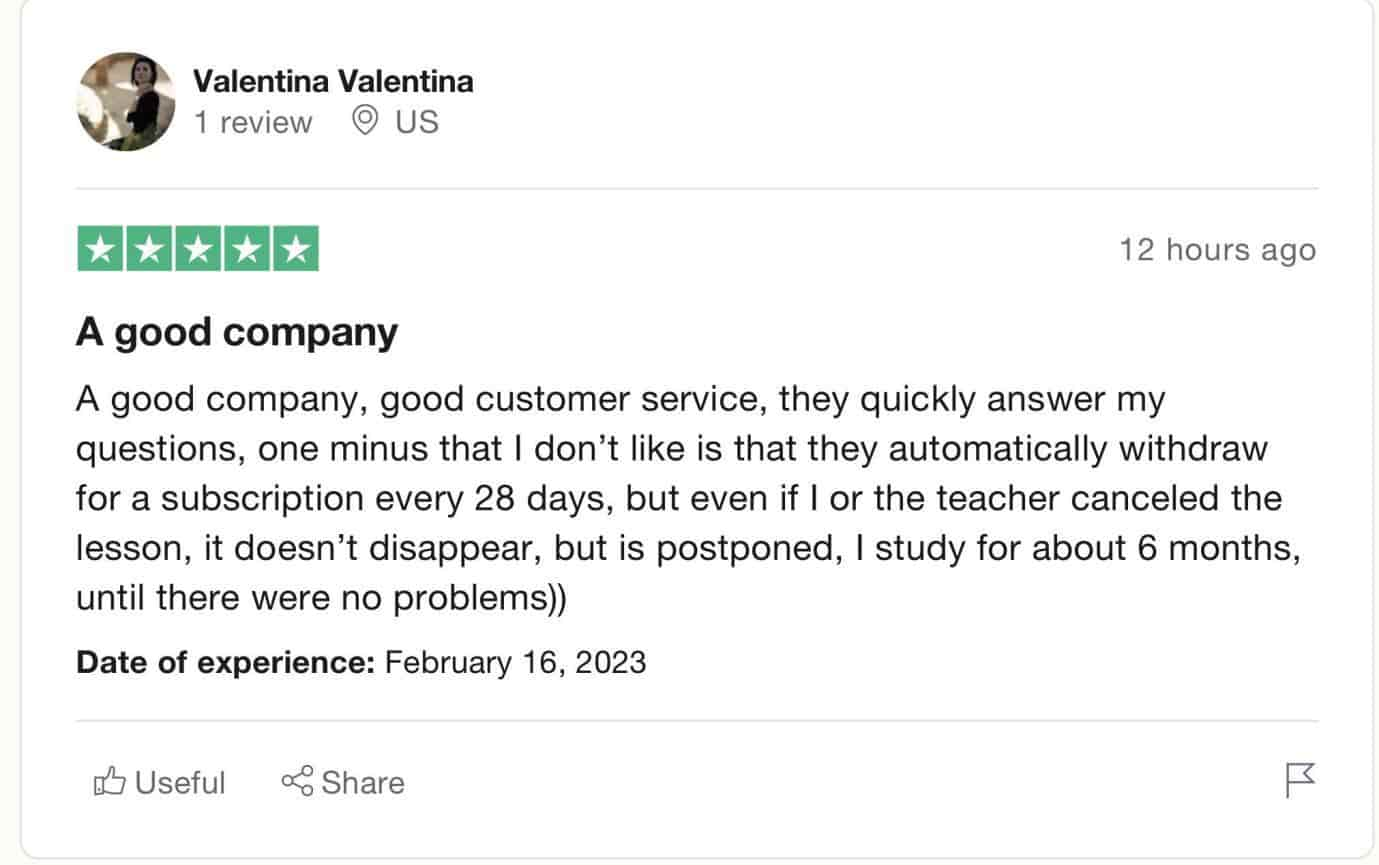 Another disadvantage for me was the inability to change the teacher without losing money for already-paid classes.
Also read:
Cambly vs Preply
ELSA App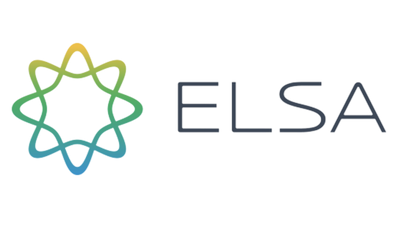 Focused on improving pronunciation.
Innovative teaching approach using artificial intelligence.
Attractive and intuitive design.
What makes this app stand out from other sites like Cambly is that it focuses on improving your pronunciation. With a very attractive and intuitive design, this product is at the forefront of English self-study.
Your teacher will be an artificial intelligence that will do everything to make you speak like a native speaker.
For me, this application has become a favorite due to its innovativeness. The novelty effect always attracts the attention of the human nervous system.
Unsurprisingly, Elsa has received an average rating of 4.7 stars on iOS and Google Play. You should consider purchasing the premium version if you want full access to all available features.
The company allows a trial period of 7 days, after which you will have to choose a convenient package.
The best deal is a yearly subscription, where each month will cost you $6.25 and the whole year $74.99. Perhaps you don't want to commit yourself to a year. So, you can opt for a monthly subscription for $11.99.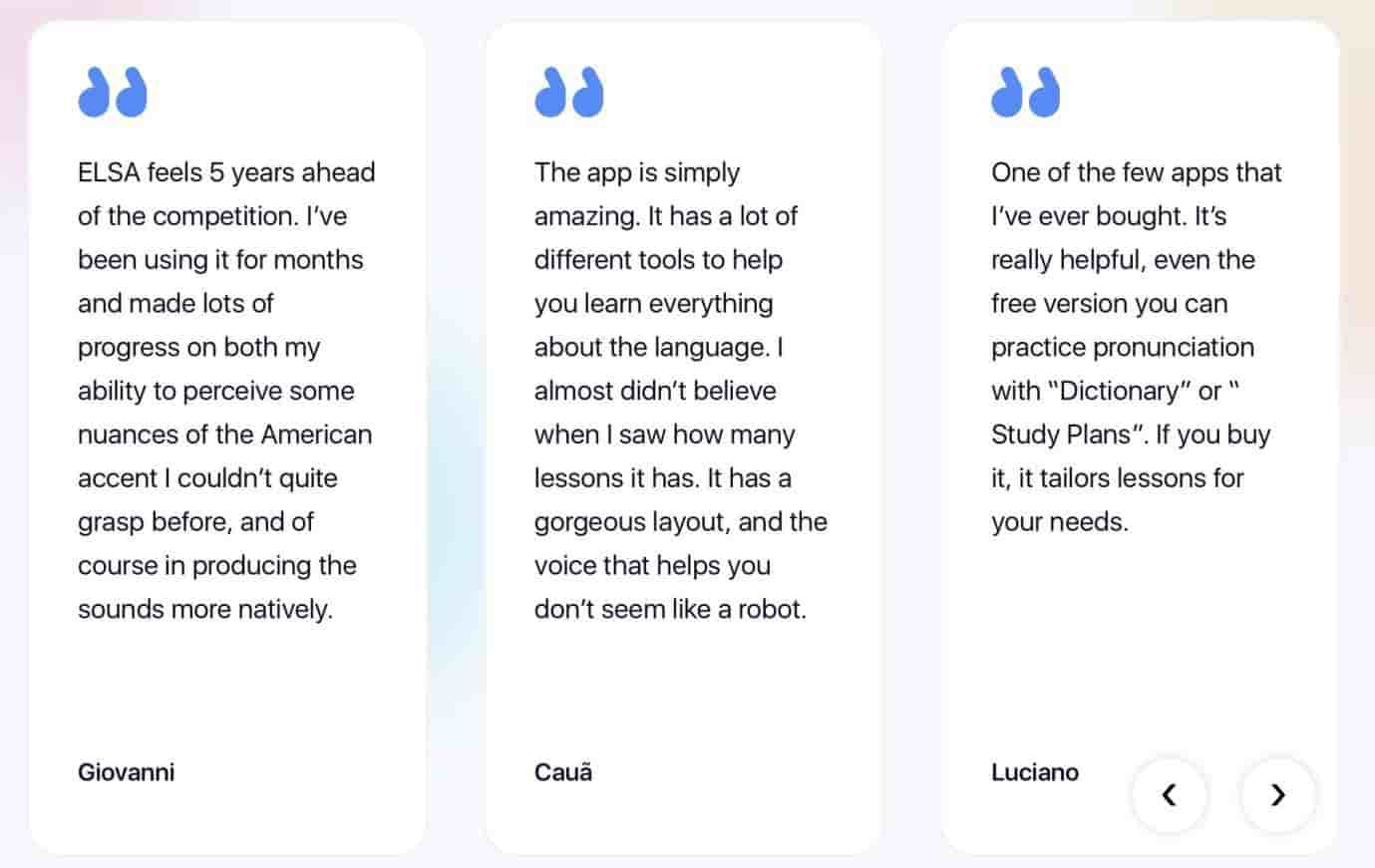 The main disadvantage I can highlight is the limitations of the application since it is aimed only at learning English, unlike other Cambly-like apps.
Mondly

Offers a large number of language combinations.
Focuses on conversational topics to develop vocabulary and communication skills.
Has language games for children.
First of all, this service can be proud of the best app award in 2019 from AppStore and the 2017 Editor's Choice award from Google Play.
One of the advantages I immediately noticed is a large number of combinations of languages offered by the site. This means you can learn most languages with translation into your native language.
The app also focuses on conversational topics to develop your vocabulary and communication skills. The presence of language games for children also bribed me.
The free version of the app gives limited access to the available tools. Like many other companies like Cambly, you have three subscription options: monthly, yearly, and lifetime. They will cost you $9,99, $47,99, and $89,99, accordingly.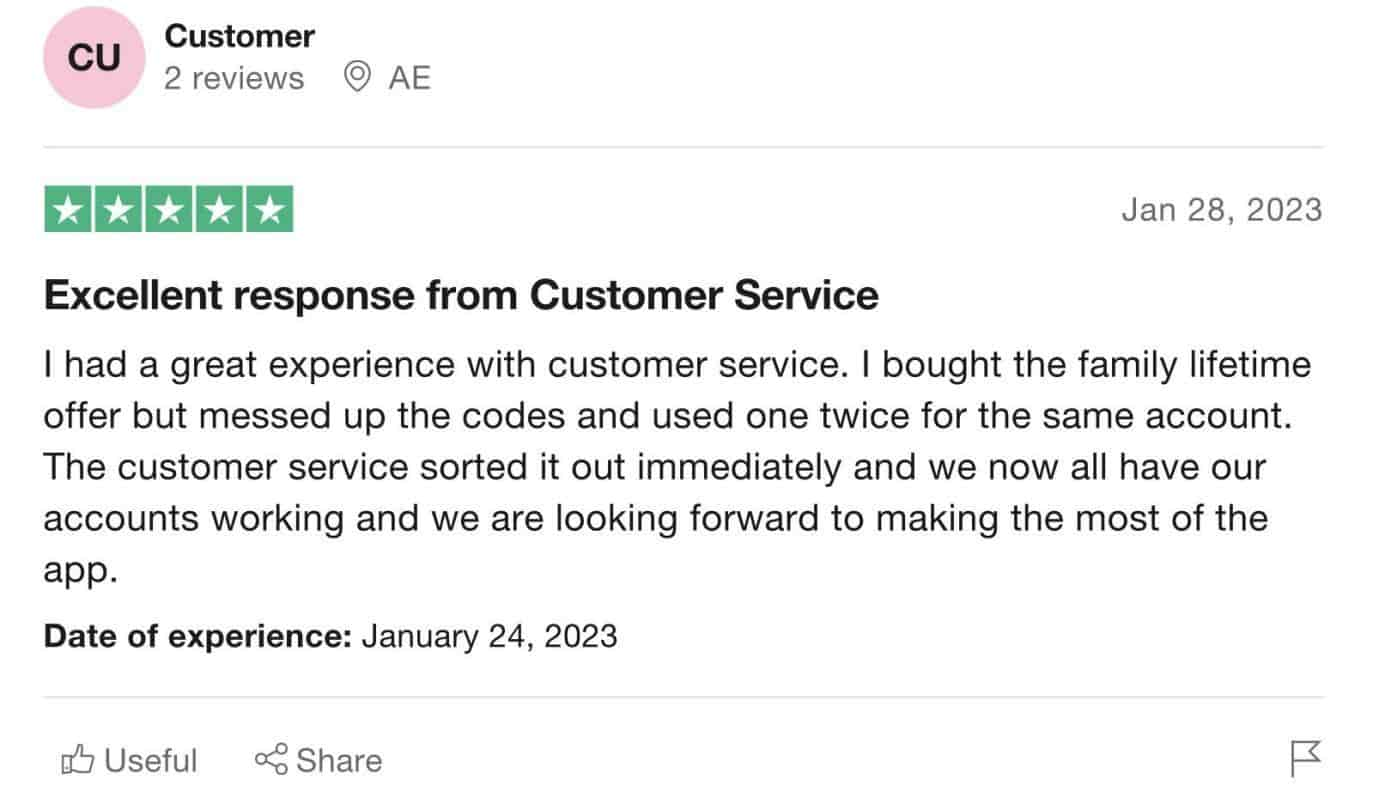 As for the cons, in addition to the small number of services available for free use, among other customer complaints, I also met the lack of separation between levels.
The students noted that the platform is more suitable for beginners than for advanced connoisseurs.
Gritty Spanish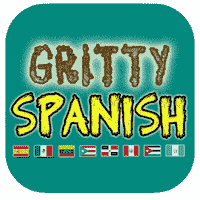 Helps in improving Spanish listening comprehension.
Provides access to recordings of dialogues with various accents.
Allows setting your own learning pace.
If you are learning Spanish, this part of my rating is for you. This site offers help in improving your Spanish listening comprehension. You get access to recordings of dialogues with various accents of the Spanish world.
The application will be effective for those who want to practice their understanding of the Spanish language and track their progress. The system is similar to the apps like Cambly. All audio tracks are recorded in the best quality.
Moreover, you can set your own learning pace. To access the courses, you will need to pay the cost of materials. The price on the site starts at $39.99, and the maximum price is $54.99.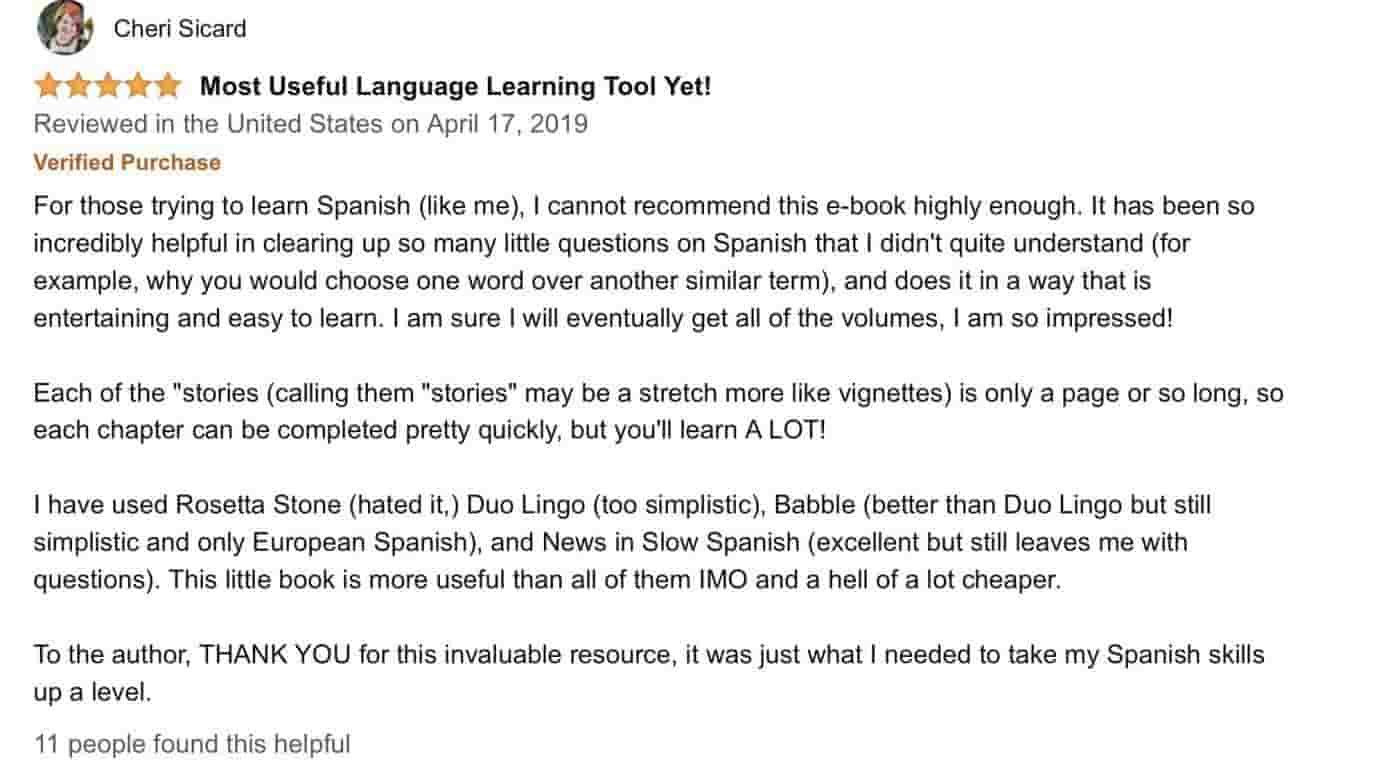 However, there are also disadvantages. Firstly, this application is not suitable for absolute beginners, as it does not provide a grammatical basis for your further knowledge.
Also, the site, in my subjective opinion, is very inconvenient.
LiveXP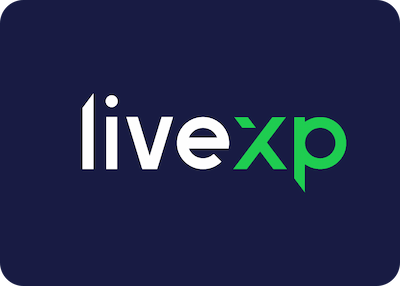 Offers the ability to find a suitable tutor and change at any time.
Offers a trial lesson to determine if the tutor is a good fit.
Offers packages with varying numbers of classes per week and duration.
This service offers you to find a suitable tutor for yourself, which you can change at any time. A distinctive feature of this site is that you are supposed to buy a subscription without a chance to buy separate lessons.
By purchasing it, you can start learning the language you are interested in. The platform also offers its clients a trial lesson, after which you can determine whether the tutor impresses them.
Pricing on this site depends on the number of classes per week as well as their duration. The minimum package includes one lesson per week of 30 minutes and will cost you $42. While the maximum package consists of five classes per week, each of which lasts 60 minutes.
In my opinion, the website of this application is not intuitive, and its interface is rather gloomy. I was also embarrassed by the fact that I needed registration to be allowed to find out the cost of the service package.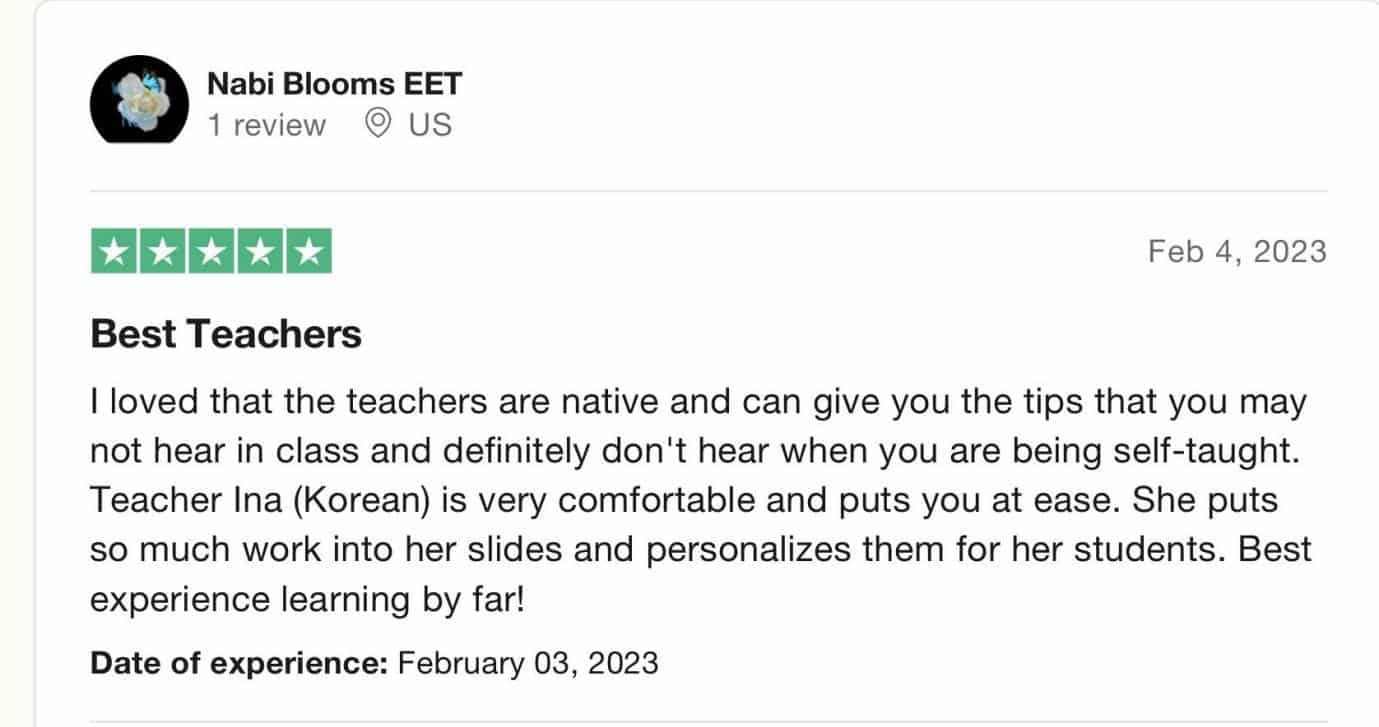 Check the feedback that a client left about the LiveXP experience above.
Amazing Talker

Provides qualified tutors with comprehensive qualifications.
Covers popular languages.
No contract required to study on the platform.
Not the most obvious, but still a significant plus that immediately caught my eye on this site is the design of tutors' profiles.
All photos are taken in the same style, and the qualification description is quite comprehensive. The company provides qualified tutors with jobs like Cambly and covers the most popular languages.
Prices for classes are immediately available to any client on the site. This facilitates planning and helps to avoid misunderstandings between the client and the service. The average cost of one lesson fluctuates between $10 and $15.
A definite plus is that you do not have to sign a contract to study on this platform. This means that you do not pay for lessons in advance.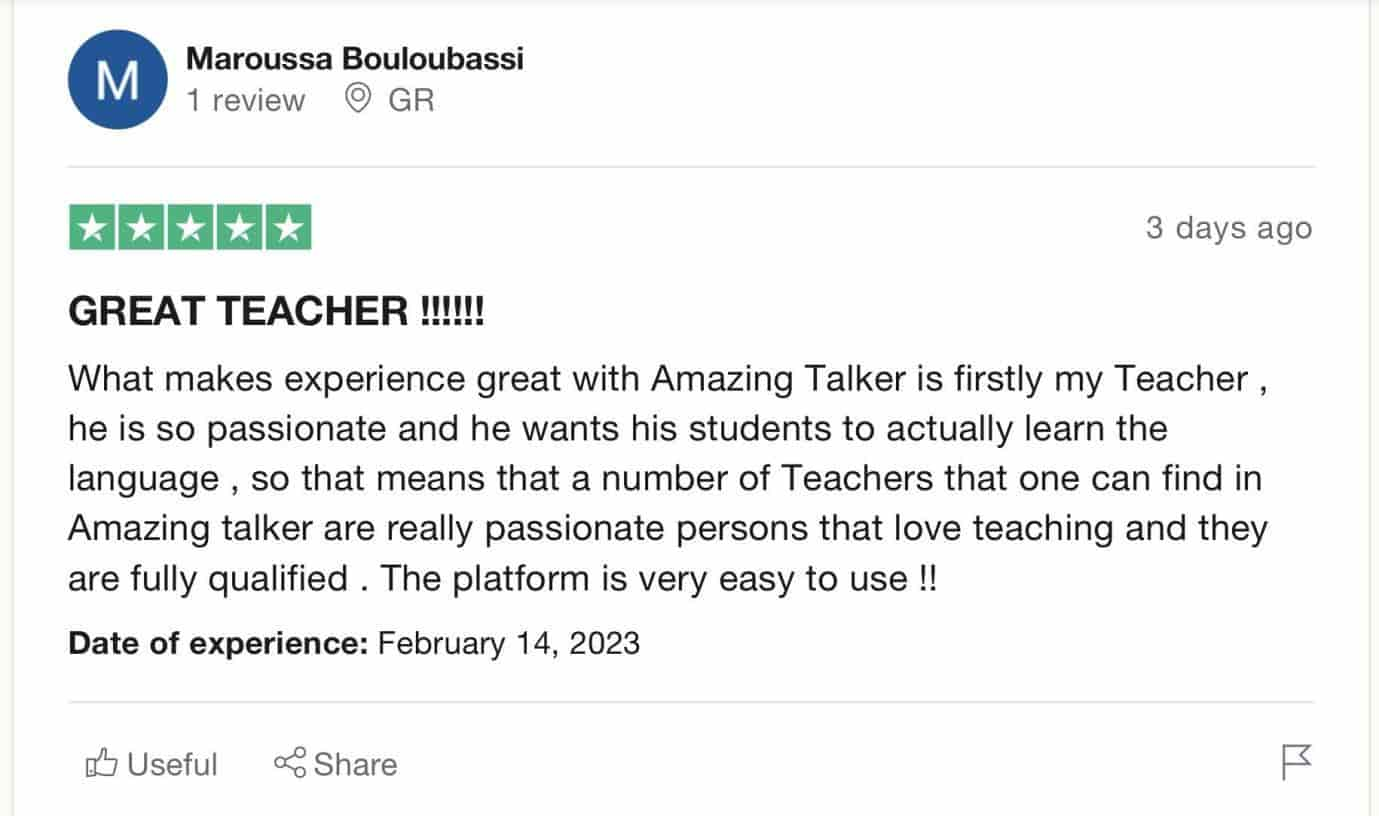 During my assessment, I came across reviews in which customers complained to us about slow customer service.
Wyzant

Offers access to experienced teachers.
Provides access to various languages.
Offers customized lessons and flexible scheduling.
On this platform, you will also be able to find experienced teachers who will teach you foreign languages. The service has many satisfied customers thanks to its loyal terms of use.
Firstly, you can choose the most convenient payment method for you. Namely, we are talking about prepayment or payment after the lesson. It is worth mentioning that if I pay in advance, you save 15% of the cost.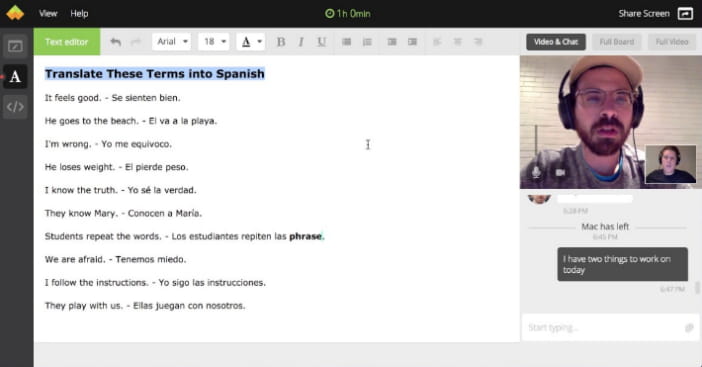 Also, customers are very satisfied with the support service that quickly and professionally answers any questions.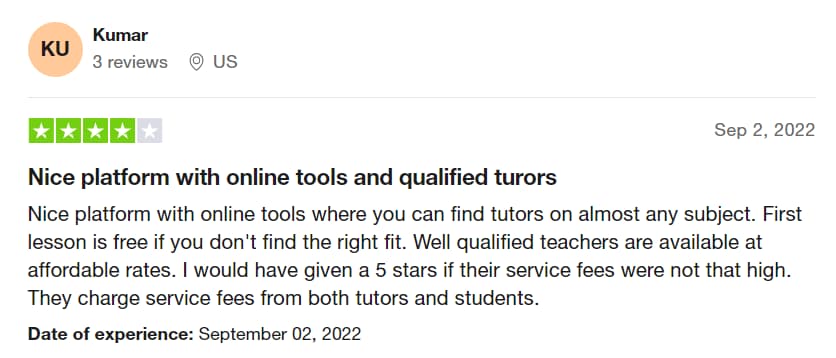 Among the possible disadvantages, it can be noted that individual lessons with a teacher are a more expensive alternative compared to self-study.
Conclusions
I really hope that my study helped you decide on the most suitable platform for learning foreign languages.
The modern education market is rich with a wide choice, and sometimes it can be challenging to find precisely the product that satisfies all your needs.
We wish you success in tuition and motivation for new achievements.
FAQ
Is There Any Other App Like Cambly?
Many similar applications offer different kinds of products. The main difference between the services is the focus on individual lessons with a teacher or the use of artificial intelligence for learning.
Whether you're in search of a personal tutor or help with specific subjects, Chegg has made its mark in the online tutoring world. For a clear understanding of its services, delve into our Chegg tutor reviews which discuss their service quality, subject variety, and more.
What Website is Like Cambly But Free?
Some sites, such as ElsaApp and Mondly, offer a free version of the application. However, the features will be significantly limited. You always have the option to upgrade to a paid version while using it.
Which Is Better Cambly or Preply?
Both apps are cutting edge in their field, although Cambly has a 0,1 point higher overall rate than Preply. However, your subjective assessment may differ from the average opinion.
Which is Better Cambly vs. Italki?
Italki works with more than 150 foreign languages, while Cambly specializes exclusively in English. However, in general, both companies are top in the market.