Listen up, kids and students – asking for assistance to perfect your own writing skills is never shameful, dear kids and students! You shouldn't even get discouraged about getting a helping hand from private writing if your writing skills need a little bit of sharpening.
"A professional writer is an amateur who didn't quit." – Richard Bach
And now, a question follows – what are the top writing tutoring websites? No matter if you're having a hard time with a writing assignment, studying for upcoming essays, or even honing your particular writing talents – the best sites for writing tutoring are available at any moment – and lend you the helping hand you need.
Can't decide between Wyzant vs VarsityTutors for online tutoring? Compare their features and pricing to choose the best fit for you! Improve your grades and achieve your academic goals with our expert instructors.
Without further ado, let's kick it up a notch with details about the best online writing tutoring websites!
What Exactly Is An Online Writing Tutoring Service
First, we must start by explaining online tutoring services, so you can grasp how everything works and how we grade them because they are not as simple as they seem. Behind them, you will find advanced tech, highly qualified specialists, and outstanding teams of professionals.
We should say that online writing tutoring services are becoming increasingly popular, especially with students, professionals, and even people who need business writing services. That is because they provide an easy alternative to old-fashioned face-to-face tutoring, and you can even pay as you go.
They are online platforms that provide people with the so-needed writing help. Usually, people use them to seek help whenever they have a challenging assignment.
That can be anything from personal essays to coursework and even document writing. All of this happens with the help of online writing tutors for elementary schoolers with whom you connect. Who offers you personalized professional assistance from the comfort of your home.
Additionally, these platforms can help anyone, and they do, no matter if it's high school students or college.
They even provide business writing for many marketing experts who need assistance in creative writing for their campaigns.
There is always professional with fantastic writing skills who are experts and can assist.
Furthermore, using such platforms allows for writing skills improvement on various levels. That happens because they use many advanced technologies and tools that you can use to produce better results.
Tutoring experience can provide an interesting edge to your resume. We've outlined how to put tutoring on your resume in a way that showcases your valuable skills.
How Do We Rank Online Writing Tutoring Services
There are many features available on online platforms, but the following are the ones we focus on first:
Experienced Writing Tutors
It is of utmost importance that online writing tutoring services offer only certified online writing tutor for 3rd grader help. We check the qualifications and ensure the proper education level of all teachers on the platforms.
Interface
How quickly and easily can you use the platform to learn online courses? What do the students' and the teachers' personal accounts look like?
We make sure the technological solution you choose does not merely have a lovely user interface.
Video Tutorials
It is important to guarantee that the webinar room is simple to access.
We also consider how easy it will be for you to view the presentation, whether a demonstration screen will be included, how you can respond to questions from your teacher, how the broadcast will appear when viewed on a computer and a mobile device, and whether you will be able to save webinar recordings.
Examinations and Gamification
Will the platform allow you to take exams, and if so, what sort (with open-ended or closed-ended questions, with automatic or human checking)?
What alternatives for gamification does the platform provide? (Ratings, point and reward structures, and more game mechanisms). We test all features to provide the best ranking of online tutoring services.
Choosing a language learning app can be daunting. Between Mondly and Babbel, which one suits your needs best? Our detailed comparison can guide your decision.
Wyzant - Creatively Writing Your Assignments

Pay-per-hour basis and variable prices.
Has many quality writers concerning many niches.
Has a virtual education tool, running on a browser.
Has a first-session money-back guarantee if you're not satisfied with tutoring sessions.
Some prices are way too expensive.
Email support isn't swift enough.
Poor customer service.
With numerous adaptations of creative writing skills, the best writing tutors to aid you with this type of writing can be found on Wyzant. There is undoubtedly a specialized tutor if you care to raise the bar on your creative writing skills.
Whether you have your eyes set on becoming an expert creative writer or you need some help on your English project, standardized test prep, and college admissions tests, you'll find what you need at Wyzant's site. You'll see that the best-experienced writing tutor will be filtered by a general area of topics.
Prior to employing a great writing tutor on Wyzant, you'll see their rating, pricing, what the tutor offers, and the amount they spent on online writing tutoring for high schooler.
Wyzant has a mobile app for Android and iPhones, too. You can either contact a quality online writing tutors for junior highers via this app or you can contact them directly from their website.
We would recommend downloading the app since it's easier to navigate, even though their website's interface is quite simple and foolproof as well.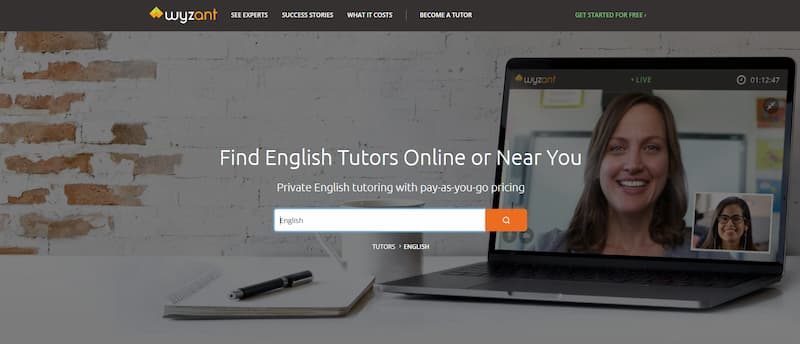 Wyzant's business writing wizards work on a pay-per-hour basis. The prices of their best writing tutors for college students are variable, ranging from $32 up to $275 for a single hour if you're looking for a Ph.D., award-winning, and top grade level writer!
And, if you're not satisfied with the initial session of online writing tutor for 2nd graders, you'll get a full money-back guarantee from Wyzant - isn't that just dandy?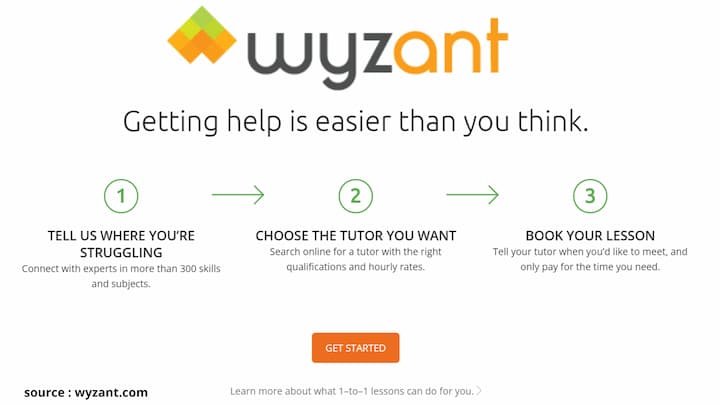 Now, if you want to make contact with their support staff, you can get help from their chat by clicking on the support button. Also, you'll be able to reach out to Wyzant by email and will be contacted within 3-5 business days since they're packed with email queries.
Chegg - All-encompassing Creative Writing Assistance

There's always a tutor available to help you with homework.
Provides validated answers.
You can try it out for free.
Quite cheap.
Cancellation problems.
Low-star reviews from customers.
Customer service could be improved.
Accounts are routinely flagged or even banned.
Do you need help with homework, such as a book report or essay writing? Or maybe solving mathematical equations? How about citations, exam preparations, or full-on writing expertise? You name it - Chegg's got it!
Just by sending Chegg's top writing tutors your paper, they're going evaluate it as quickly as possible - while you'll get yourself a spotless assignment!
It's not important how old you are, Chegg has got your back all the way through, even offering writing tutors for middle school - packed with expertise and resources!
Math, science, biology, business, technical writing, and even engineering all make Chegg the best writing tutor website with an all-encompassing niche nature.
Moreover, students prepare to write effectively lab reports and be sure how to compose a research paper at the medical school or any other higher education institution.
Detailed proofreading, instant citations, and their high-standard dashboard tools are indicators of their quality and the reasons why the provider stands firmly at the top online tutoring options to consider, along with the best writing tutor companies on this list.
When in need of an online writing tutor for 3rd graders or 5th and 9th graders, you can use Chegg's platform to see their subscription, which starts at $14.95 a month. Attaining customer support is really easy.
You just have to locate the customer service tab on their page below, and if you still need any further help - you can text them at 408-351-0942. However, many customers are dissatisfied with their phone support.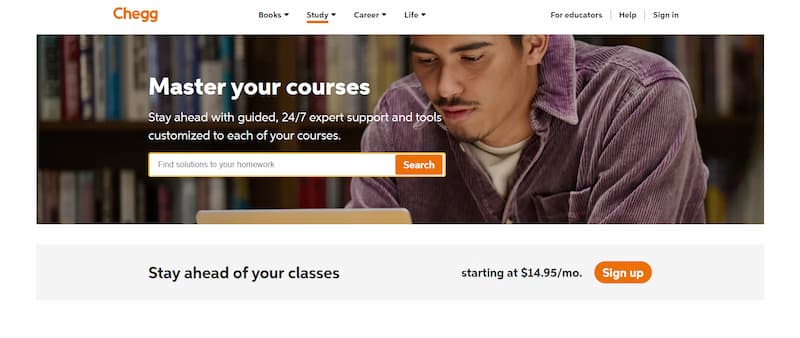 There's also a Chegg mobile app for Android phones and iPhones. And by downloading the app, you'll receive access to a bunch of materials and even a one-on-one tutoring session that lasts 30 minutes.
There's a 21-day money-back guarantee for purchased books, while you can cancel your monthly subscription whenever you wish. Not to mention, you'll also get a free trial tutoring service that lasts for 4 weeks.
Navigating through Chegg's website is really straightforward, and getting tutoring for writing skills is appropriately simplified. So, if you're in need of great writing tutors for kids, take a peek at Chegg's homework aid.
Preply - Perfecting Language Learning Skills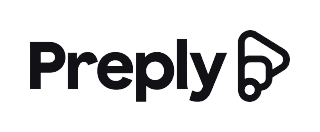 Superb customer support.
Absolutely affordable private writing tutoring.
A gigantic number of writing experts to choose from.
A full money-back guarantee on the trial lesson.
You can't customize the bulk lessons.
Just a possibility to pay the same tutor - n0 switching the money to somebody else.
Want to perfect a language and writing process as if it's your mother tongue - both morphologically and phonetically? Well then, Preply's private writing tutors are at your service!
Not only you'll get to choose what language you would like to learn, but you'll also see that it comes at an absolutely affordable price.
Preply's array of well-organized and highly-talented individual tutors price their skill set from a measly $5 per hour.
Truthfully, there's a humongous amount of talented writing tutors, each with a unique teaching style, and it's hard to tell which their most expensive ones are.
However, you probably won't find an online writing tutor for 8th grader that goes above $50 per hour. And if you're on the go most of the time, you can utilize Preply's app, which is available on both iOS and Android.
It's not that difficult to navigate through Preply's website, but you'll most likely find it tough to pinpoint which is the best paying online online writing tutor for 6th grader - given their over 47.000 available tutors. And yes, writing tutors for adults are available with Preply!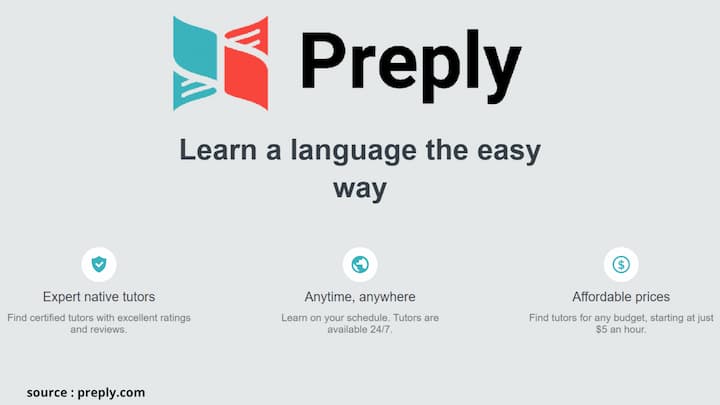 Another astonishing feat that Preply prepares for its loyal users is its reliable customer service. Most of the reviews we found were positive to the bone; meaning that they do, in fact, respond swiftly and accurately to every need.
Preply's customer support works from 6 a.m. to 11 p.m. on weekdays and from 8 a.m. to 6 p.m. on weekends; however, you can only contact Preply through email.
Preply also includes a free trial session, and if you're not satisfied with the results, offers a 100% money-back guarantee awaits you! Keep in mind that you have to purchase lessons en masse, ranging from 5 hours up to 20 hours.
And as Ludwig Wittgenstein once said: "The limits of my language mean the limits of my world."
Varsity Tutors - Preparing Students from Top to Bottom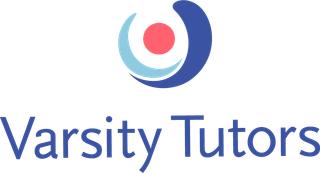 Switching your tutor is possible if you're not satisfied with the results.
A decent number of methods for learning styles.
Small group remote classes.
Reachable customer service.
Pocket-friendly pricing.
Simple navigating.
You'll need time to fill out some information about yourself when signing up.
Everything depends on the tutor's quality.
It's difficult to find details about the cost.
Got that tough exam next or are tired of academic writing, huh? Don't fret, and let Varsity Tutors help you out with their 4 types of offering a helping hand.
Of course, you don't have to worry whether your child is too young since Varsity Tutors has many writing tutors for elementary students. Ahem, sorry - BEST elementary tutors for teaching writing.
Now about the 4 types of learning with Varsity Tutors.
They employ free larger group classes, a one-on-one learning experience, a learning lab for self-studying, as well as smaller group classes for both peer-to-peer and teacher-student learning.
As far as their price list is considered, Varsity Tutors costs around $50 for a one-on-one session, while their smaller group tutoring sessions will cost you $25.
Varsity Tutors will also aid you with your Concrete, Pictorial, Abstract tutoring, or CPA for short, for about $31 for a single hour. If you want to kick it up a notch, you can go for their School@Home replacement program, costing between $400 and $1,300, depending on the child's age and skill set.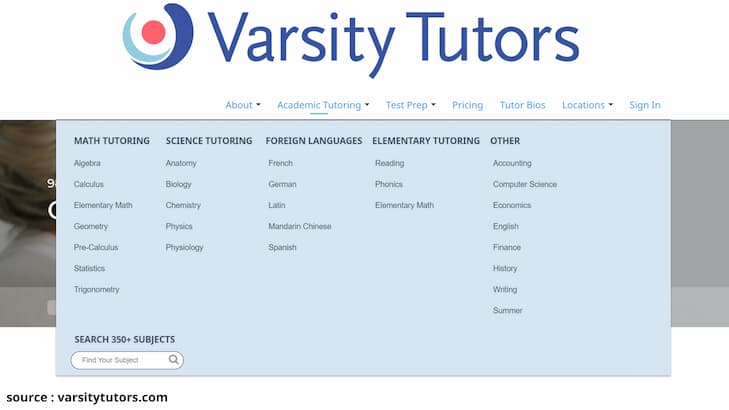 If you're in need of an instant expert online writing tutor for 4th grader to start your learning sessions in minutes, go for the Varsity Tutors app. It's available for Android and iOS and features some added tools to elevate your learning even further.
You won't find it troublesome to navigate through their website, either, since their layout is basic, with all information laid out in place.
There are quite a few good reviews about Varsity Tutors' support service. You can contact them through their phone number, and they'll respond swiftly in a couple of minutes, up to 24 hours if they're booked.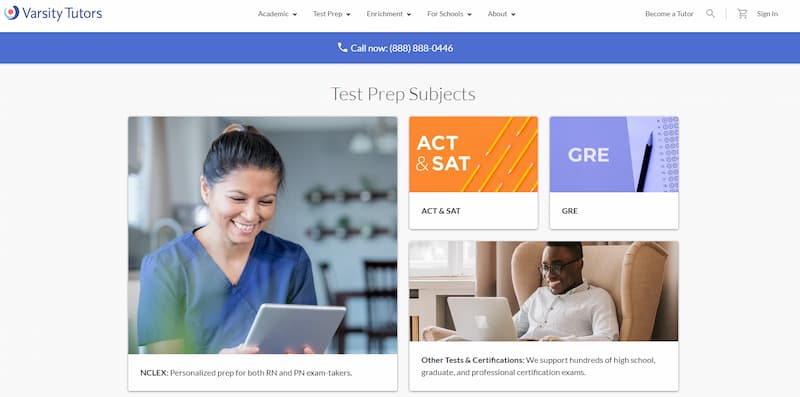 Furthermore, they have a "Better Score Guarantee" that concerns a money-back guarantee for one on one tutoring and group sessions - if you're eligible.
Kaptest - Best for Exam Preparations

Awesome and top-notch video lessons.
Loads of prep material and writing assignments to work with.
Every test prep writing lessons program has its own perks.
Great customer service.
You won't get long evaluations on each exam prep.
Can be expensive for some individuals.
Yes, Varsity Tutors is great for exam preparations, but Kaptest is definitely on a whole new level!
If you're not sure whether you're going to write college application essays and enroll in a certain university because of the SAT exam, check out Kaptest!
And, if you're good enough with vocabulary but not so much at math or science, Kaptest has the best online tutor writing services for an ACT exam as well.
But wait, there's more! NCLEX exams, MCATs, GMAT computer exams, Graduate Record Examinations, Law School Admission Tests, BAR exams for lawyers - and other tests are carefully evaluated by Kaptest.
Do you want the best writing instructor for these exams? You've got yourself a winner!
When you visit one of the best websites for writing tutoring, there's bound to be simplified browsing through a decent layout, right?
Exactamundo!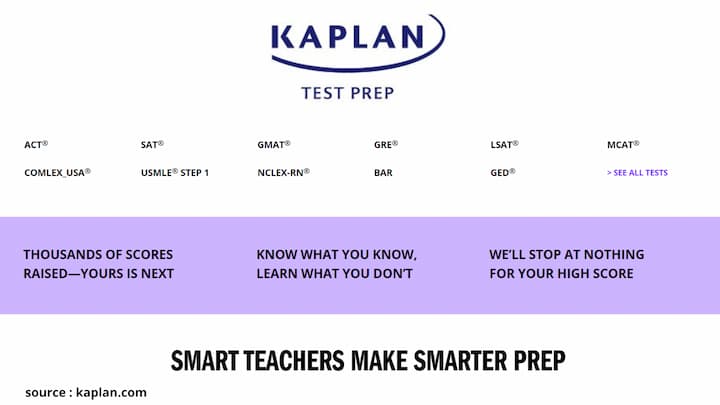 Kaptest is very user-friendly, and when you first head out to the site, you'll notice that everything you'll need is available on a silver platter.
Oh, and did we mention that they do, in fact, have an app for either iPhones or Android? Indeed, Kaptest has its own app, although you shouldn't get confused - since the original name is still Kaplan.
The Kaptest site only stands for "Kaplan Test Prep" and this tutoring company has stellar customer reviews - as they should - since you'll get yourself one of the best tutors for teaching writing about important exams.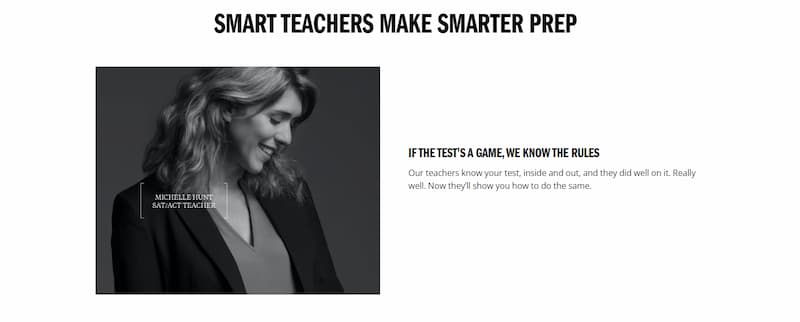 How to Choose the Best Online Writing Tutoring Service?
Choosing the right one among many online writing tutoring services can and most of the time is a daunting task. With the multiple options you can find, it can be hard to know which one to pick and which one will suit you better.
You may want to get standardized test prep and impress the test review boards. That is why it's crucial to make the right choice.
To make everything easier for you, we have pointed out some of the many factors to check out before you decide to hire tutors to help raise your grade level. The majors' are:
Experience – proves if the online tutoring services are good;
Qualifications – can they aid students with writing assignments;
Costs – is it pricey? Can you pay as you go?
While these are the important factors, there are many others. The best example if you ask us is if your prospective tutor has lots of experience in personal tutoring. That is because while you will be working with individual tutors, you have no idea or experience with them.
In such cases, finding their writing abilities and techniques will be good – if possible.
Are they superb or just average in tasks like executive writing that matter a lot?
Note that ensuring all of this can greatly aid you in achieving your educational goal be it getting a better grade level or simply compiling a lab report.
It is clear that these people coach students, but that does not mean they are perfect for you. That is why it is good to check some things beforehand.
For example, it will help when writing essays or various academic research papers. By considering all of these, you will be able to grasp which service suits you the best.
Depending on which tutoring service you choose, the price starts at $199 for on-demand teaching, live online tutoring for about $700, and unlimited preparations for the college admissions process for a grand total of $1,300. You'll receive 50+ lessons with each of the 3 options and a money-back guarantee also.
Best Online Writing Tutors - Head to Head & Final Verdict
| | | | | |
| --- | --- | --- | --- | --- |
| Tutoring Platforms | Money-back guarantee | Pocket-friendly | Reliable Customer Support | |
| Wyzant | First-hour refund |  ✔ |  ✖ | |
| Chegg |  ✔ |  ✔ |  ✖ |  ✔ |
| Preply |  ✔ |  ✔ |  ✔ | |
| Varsity Tutors |  ✔ |  ✔ |  ✔ | Both monthly subscription and pay per hour |
| Kaptest |  ✔ |  ✖ |  ✔ |  ✔ |
We hand-picked these websites for excellent writing tutoring because they've shown overall professionalism and taken the initiative of teaching kids and students in need!
It was a simple evaluation of the worth, quality, pricing, and reliability of their tutors.
If you like a more economic option, the trio-fantastico of Preply, Wyzant, and Varsity Tutors is the ideal choice.
Moreover, their top-notch tutors are there anytime to teach you everything there is to know, just so you can climb up the knowledge ladder and reach – what you thought – were unreachable heights!
FAQs
Q. Which online writing tutor is the best?
A: All of them are really good and can be of great service to your tutoring goals. Still, Preply, Wyzant, or Varsity Tutors are the best options to consider.
Q. How do I find online writing tutors?
A: That depends on what you're looking for. Head over to your designated site, look through what they offer, select the best writing online tutor for you, and that's it.
Q. How much does one-on-one tutoring for writing cost?
A: It depends on what are the best writing tutors the particular provider has. It also depends on the payment method you opt for – per hour, monthly subscriptions, or teaching in bulk. Prices vary from $5 up to $300 for an average per-hour session.
Q. Are there any highly qualified tutors for high school students?
A: Since there are lots of the best elementary tutors for writing, it goes without showing that there are, indeed, great online writing tutors for students that are in high school. You just have to appropriately select and know your expectations and budget limits before time.