Yup claims to be the best digital mathematics school. The company, which runs through a mobile app, has been in operation for many years, with their selling line being "quality tutors." Is the platform as good as it claims? What is the best tutoring website? We set out to experience the Yup math tutor and wrote the review below.
Why do you need to take into account our peer Yup.com reviews?
We have reviewed many online learning and online writing services that claim to help students. We have also found the best math tutoring websites math problems writing services and listed them on our site. Our process involves registering with the online tutor and experiencing their service just like a student would. This way, you understand how the service works from the perspective of a student, a tutor, and a parent.

By what criteria do we choose and evaluate an online tutoring service
When we register for an account, as a parent or as a student, we lookout for the following:
The ease of the sign-up process;
Availability of tutors 24/7, 365;
The teaching and learning methods a service offers;
The pricing;
Availability and politeness of customer support when we need it;
The professionalism of tutors;
Privacy and safety while using the service;
General effectiveness of the service.
Popular Digital Classes
Mathematics is popular on many digital learning platforms. It is followed by languages, art, and music. Students also take science lessons. For college students, digital learning is mostly for languages, arts, technology, business, and sciences such as Chemistry, Biology, and Physics. Digital writing sites are also famous for college students, as most of them want to learn how to create the perfect term papers.

What you need to consider when choosing an online tutor 
Some digital study schools, such as Yup Tutor, offer specialized teaching. It means that you might have to pay other instructors for other subjects such as languages and art on such a platform. When shopping for online study websites, therefore, consider:
Availability of a variety of topics;
Affordable pricing;
Qualification, certification, and experience of educators;
Availability of the instructors when you need them;
Privacy and safety;
Ease of use.
Why should you take online lessons?
According to most Yup Tutor reviews, most parents needed help with their kids' assignments – in most cases, this is why you need an online tutor. You might also need help revising for an exam. Educators are there when you cannot reach your teachers.
Every tutoring service has differences. Find out more about it in our review LanguaTalk review.
Yup.com Overview
In this Yup Math Tutor review, we dissect this digital school that claims to be the best at mathematics tutoring for grades 3 through 12. Read on.

What is Yup?
What is Yup Tutor to parents, students, and schools? It is a digital arithmetic tutoring site that operates through an app. It is available for individual students as well as for schools. There is no web version of the app as teaching and learning occur only through the Yup Tutor App.
A student takes a photo of the mathematics problem and posts it on the app. After posting, a Yup Math Tutor administrator will help the student find a tutor through their "Advanced matching technology." Instead of giving the student an answer, the tutor will walk the student through the mathematics problem steps.
According to Yup, a student is connected to a teacher within thirty seconds of posting a maths problem. However, this is not always the case, as this Yup Tutor review reveals.

How does Yup work?
Creating a Yup account for a Family or School is pretty straightforward. Follow the steps below:
Choose to open an account For Family or School from the homepage. Most accounts created are for families.
If you choose For school, you will enter your name, email address, institution, and role on the next page.
For Families, you are prompted to choose whether you need an account for yourself or your child.
Proceed and enter your name and your email address on the next page.
Choose a Yup payment plan among the three available plans; 1 month with no trial period, three months, or 12 months with two weeks trial period.
Lastly, enter the student and the payer's details. These details include the student's name and telephone number and the payer's choice of payment method (credit or debit card or PayPal/PayPal Credit), name, and telephone number.
On the next page, the platform prompts you to confirm your details and then create an account.
After email verification, you can proceed to download the app, pay, and get started.
To get help with a maths problem, sign in through the mobile app, post the mathematics problem, and you will be matched with a tutor.

Does Yup guarantee that they have good tutors? Does Yup help at all?
According to Yup, only 5 percent of all applicants are considered for a tutoring position. The teachers go through rigorous screening before they are allowed to be part of the tutoring team. Better yet, the system guarantees that all instructors are former teachers, current teachers, or college graduates with intensive experience in maths.
Yup Math Tutor helps ensure that these teachers deliver the best by recording each lesson for grading. The system grades teachers based on a rubric to scale the levels and earn more salaries. The platform also works with Yup Tutor quality managers who ensure that its pedagogy/teaching methodologies are followed in every lesson.
Even with all the screening of instructors, Yup Tutor reviews online reveal that some tutors are not as qualified as the platform claims.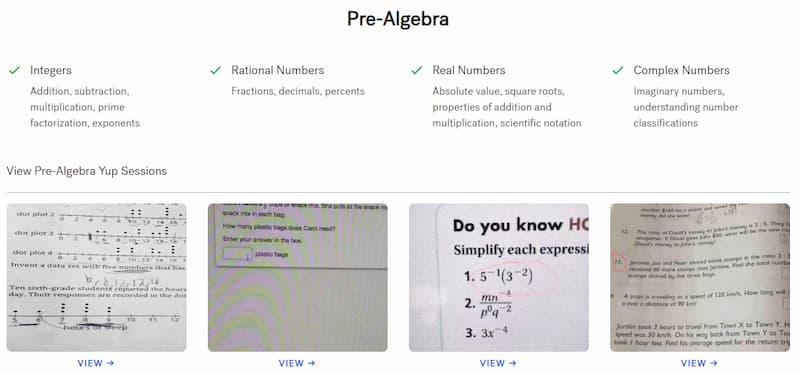 Are Yup online lessons good?
The platform has many claims when they answer the question, what is Yup tutor? However, during our research for this Yup math tutor review, we discovered that the claims are just hype. Students can wait on the app for more than 20 minutes as the system tries matching them with a tutor. Either the number of tutors is limited, or the system's matching algorithm is crappy.
Even after the system matches a student with a tutor, they might not get the help they need. Worse yet, the system only works through messaging, which, in most cases, makes the math problem more complicated than it was.
Is Yup, tutoring legit? Is Yup a scam?
There are no Yup Tutor reviews that claim the system is a scam. Nevertheless, many parents lost money when the platform decided to upgrade to unlimited plans without informing subscribers. Initially, parents would pay $50 per month to get homework help a few times every month. The administrators of the platform decided to upgrade without the knowledge of the members. Most parents woke up to find $699 on their cards, a charge they never authorized.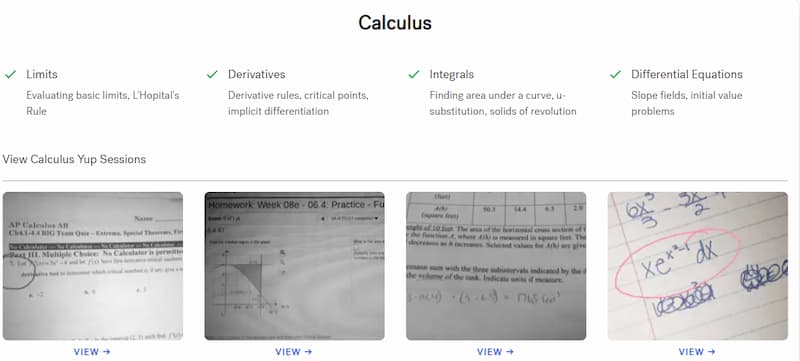 Does Yup have the best online tutors out there?
Yup has had a few successes, but that doesn't bring it to being the best digital school. To be the top service, Yup needs to offer better teaching methodologies, ensure the availability of tutors, lower their prices, and better their customer support.
Story of the Yup
Yup is the creation of education experts. The idea behind the platform was to create one of the top math problems writing services and help students with their math homework assignments. Yup Math Tutor might not have found the success it deserves, but the idea was great. The system keeps improving to offer better lessons, and perhaps in the future, all the complaints will subside.

Services of Yup.com
Yup is purely a mathematics platform. They specialize in:
Early Arithmetic;
Pre-Algebra;
Algebra;
Geometry;
Probability;
Trigonometry;
Pre-Calculus;
Calculus AB.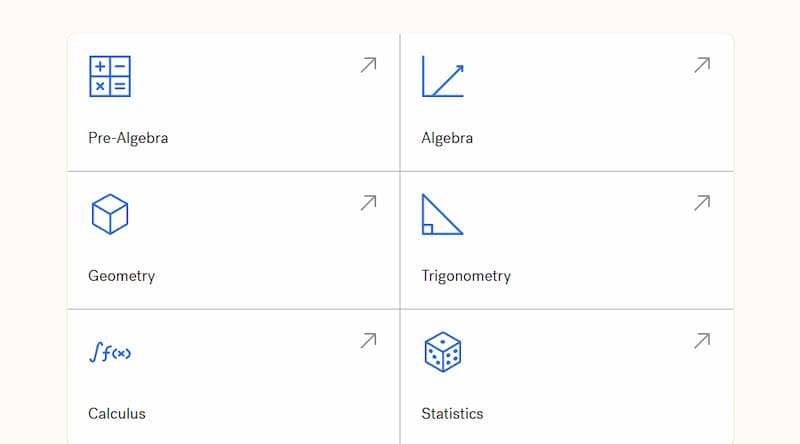 The system covers integrated mathematics and all standard core maths.
Pricing at Yup
How much does a lesson for each type of category costs?
There are three main plans members can subscribe to. Each plan gives students unlimited access to the platform – they can ask questions any time of the day, any day of the week until the policy expires. The plans include:
Starter Plan for 1 Month at $159;
Scholar Plan for 3 Months at $133 per month – a total of $399;
Scholar Plan for 12 Months at $87 per month – a total of $1044.

The Scholar Plans come with a 2-week trial. For the best math tutoring, you should consider Hello Thinkster. Check our Thinkster Math review and find better and more affordable prices for math tutoring.
Yup Quality
Some educators employed by the platform are excellent. Some parents have come up praising the few. However, most of them do not know what they are doing may confuse the students even more.

According to Yup, five percent of teachers who get a chance to teach mathematics are graduates, and all are certified teachers. Some of the teachers are highly qualified and have been on the site for more than five years. As seen in the Yup.com reviews on the site, most parents and students are unsatisfied. Yup com reviews outside the site point towards many inexperienced and unskilled teachers, with most users showing dissatisfaction.
Customer Service at Yup.com
You might have to wait a few weeks for customer support to get back to you, especially if you have issues with subscriptions. The site support will be impolite to you and not apologize to you, but they may never offer any help. On review sites such as Glassdoor, customer support addresses issues raised by users.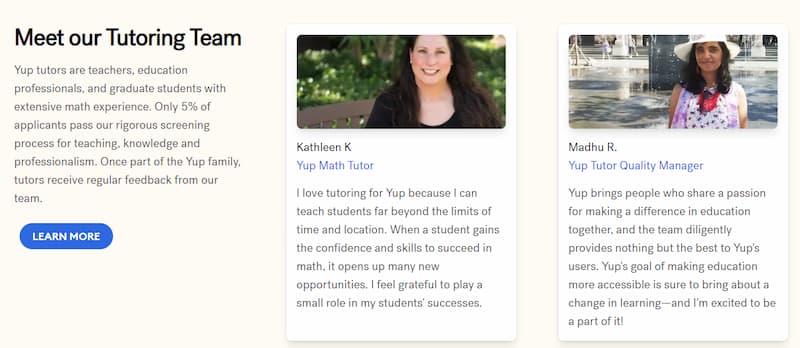 However, these users claim nothing happens after the PR gimmicks on review sites.
It is easier to find positive Varsity Tutors reviews online, as this company has professional math tutors and great prices.
Website and Mobile App Usability of Yup
The website and mobile app are easy to use. The problem only lies with the staff and the education system laid out by Yup.
On opening Yup, you will see a simple website with a sign-up section. The menu has only one item, "About." The drop-down menu shows when you click on "About," you find other menu items, including How Yup Works, Tutors, For Schools or For Families, How Yup Teaches, and FAQ.

Further down the homepage, you will see testimonials, a few educators, and further explanations on how the system works. More links are added at the bottom of the page.
The mobile app is dedicated to teaching and does not have many features and explanations on the web version of the website. Nevertheless, it is also easy to navigate, as it only works as a messenger.
Pros
Easy to use mobile app.
Teachers help with your arithmetic problems; they do not just answer.
The system is open 24/7, 365.
Yup reviews all learning sessions and gives feedback to the teachers.
Only 5 percent of all educators who apply to the system get a chance to teach.
Schools can discuss solutions to arithmetic problems through a Yup account.
Cons
Learning is only through text messaging and photos.
Instructors may not be available even when the system is open.
Customer support takes weeks to respond to user's queries.
The unlimited access plans are relatively expensive.
Poorly paid instructors may not be experienced enough to handle K12 arithmetic.
It takes longer for a student to get a solution, mainly because educators keep asking questions to help them find a solution.