At EduReviewer, our focus is on helping you decide on the best writing service based on your needs and budget. We undergo a series of detailed service assessments before making a recommendation to ensure you get a service worth your investment.
We offer several options to help you choose a service that fits you best. You could then contact our customer support to make the final decision. Our search ensures that websites are secure with secure payment methods. Are you looking for a professional business plan writing service that can help you secure funding, attract investors, and achieve your business goals? With experienced writers, customized plans, and exceptional customer service, Wise Business Plans is the perfect partner for any business looking to grow and thrive. Read our Wise Business Plans review today and see how a professionally crafted business plan can make all the difference in achieving your entrepreneurial dreams.
We ensure that a service protects your confidentiality and anonymity. All services that we review offer a guarantee of their excellent service. Our peer reviews are done by assessing the familiarity of the software and the user experience. One of our main goals is to provide you with the best online business plan software out there. To do that, we provide an honest review after careful analysis to consider the good and bad sides of software.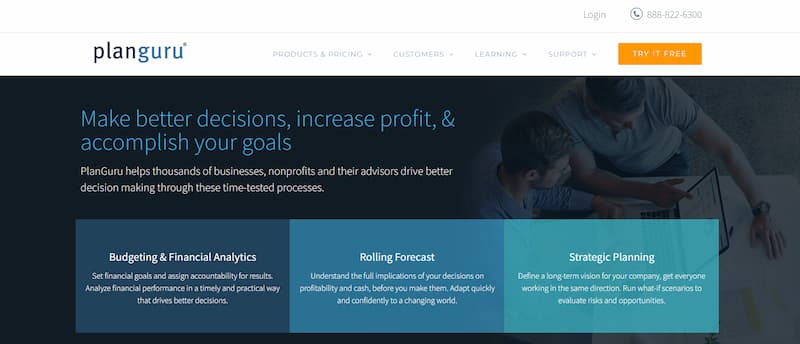 PlanGuru highly believes in making life simpler for new businesses, and non-profits which can be seen in their website design and logo. Its reviews show that their professionalism and personalized support to meet their customers' needs is one of the biggest reasons behind the growing trust in the software. To make sure that this is software can be compatible with your business, we did some research for you. Our review gives you a thorough evaluation of the software so that you can assess its quality to make your business easy, fast, and better.
Overview of Planguru
What is PlanGuru?
PlanGuru is a web-based software designed for the comfort of businesses and non-profits worldwide. It offers budget and financial planning for all kinds of customers ranging from entrepreneurs to investors of large multidimensional companies. This software is less time-consuming, and with its accurate analysis, you get a service that other standard accounting software cannot perform.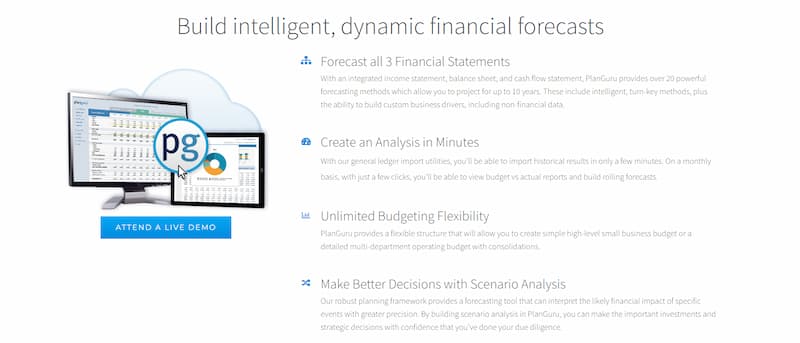 How does PlanGuru work?
First, you install the software on your PC. Following this, you should provide information about your company. PlanGuru will ask you questions about account masks: a set of numbers, letters, and question marks used to define an account number.
As you set up this software, you will be asked to perform an optional analysis. This step will make the software produce a spreadsheet with all your information on sales, operating expenses, provision for taxes, and income before taxes. With this spreadsheet, you will see your cash flow and balance sheet of nonfinancial data. There will be additional spreadsheets that analyze ratios, liquidity, efficiency, profitability, and operating ratios. If you need a more sophisticated analysis, you can also upload any data to PlanGuru Analytics. The system only functions on a web-based platform and requires SaaS and Windows system requirements. LivePlan and Business Plan Pro are two different services which may satisfy your business funding needs. Learn more about the differences to determine which one is right for you.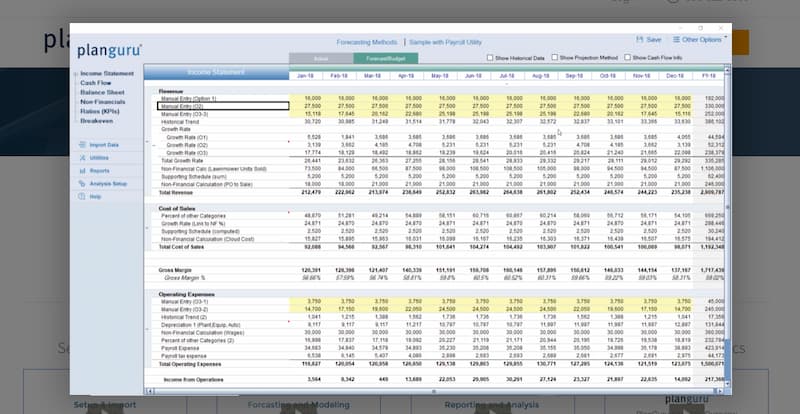 Does PlanGuru Guarantee that they have professional experts? Does that help at all?
There is limited information on the experts at PlanGuru. However, the software website does offer a "Find A Pro Advisor" service that helps customers use the software collaboratively with financial professionals like a CPA or a part-time CFO. These professionals work with you to provide plan guru review, service, and tremendous value to understand and support conceptual budgeting, planning, and forecasting. You can use this option with a live map service to locate a PlanGuru Professional Advisor or a Certified PlanGuru Professional Advisor.
Is PlanGuru online software as effective as they say?
PlanGuru has limited platforms for online usability. You will only be able to access PlanGuru services in Windows. There are no services on Mac, iOS, and Android. However, they still have support help centers, video tutorials, PlanGuru Launch, and facilities to find a Pro Advisor to assist you.
Is PlanGuru safe or a scam?
PlanGuru has money-back guarantee services along with a strong customer and technical support team. Based on many online reviews and website information, this software is safe to use.
Is Planguru one of the best business plan software out there?
This software is highly applicable for small businesses, startups, and non-profit organizations and is very easy to work with. Despite some concerns from the customers, the software provides a high-quality service with constant effort on improvement to help its users. As a comparatively new platform to help small businesses thrive, based on expert Plan guru software review, it is one of the best services that satisfy the needs of its customers.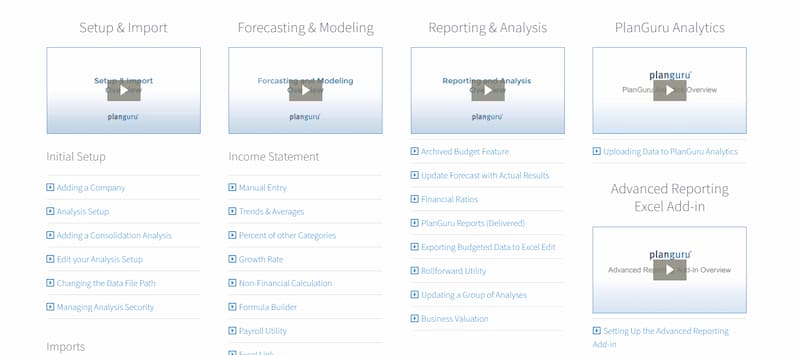 Story of PlanGuru
PlanGuru was created by CPA for CPAs in 1998 to help with their needs. It has now evolved into a powerful and friendly budgeting software that can work with entrepreneurs, thousands of businesses, and financial professions in non-profits.
The company was officially founded in 2013 by Edward Wielage and Sally Sprankle to help smaller and mid-sized businesses make better financial decisions. It has its headquarters in Great Lakes, Northeastern US, with 11-50 employees. It is accessible through its Website, Facebook, and LinkedIn.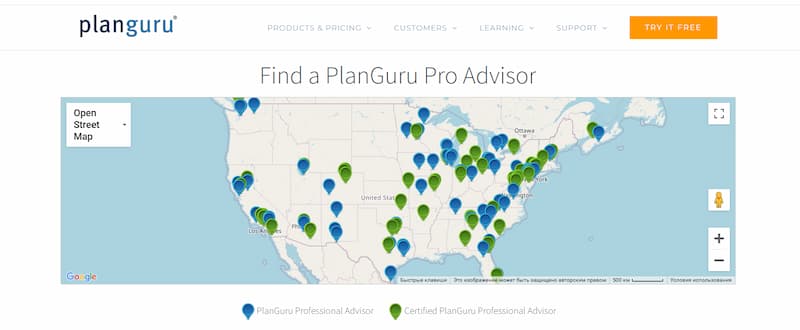 This private company meant for profit has offices in North and South America, Australia and Asia, South Africa and Africa, and the United Kingdom and Europe.
Services at PlanGuru
PlanGuru is known to have many services that help with simple and automated processes to prepare financial projections. Some of the services provided based on professional planguru.com review are:
Forecasting: This software can set a budget and forecast finances for up to 10 years. You can either customize your forecasting methods or follow the prebuilt ones.
Business Planning: PlanGuru can import utilities from historical results. It has easy planning that assists you in understanding the probable impact of events and analyzes future investment decisions.
Launching: The software also helps you launch the program with the help of PlanGuru Launch that costs about $250 an hour. This service can assist you in setting up the software from scratch to finish.
Financial Analysis: With this software, you can import up to five years of performance results. You can then use these to prebuilt financial statements like balance sheets, cash flow statements, and income statements.

Some other features of PlanGuru include:
Financial ratio calculations;
Payroll Utilities such as payment schedule and taxes;
QuickBooks, QuickBooks Online, and Excel importing;
Online dashboard, scoreboard, and reporting;
Tools for professional accountants;
Business valuation tools, such as assets and historical earnings;
Automatically generated cash flow statements;
Exporting to PDF, Excel, and Word.
Pricing of PlanGuru
PlanGuru is known for its affordable services ranging from $99 to $899, depending on the schemes. The pricing plans for PlanGuru is summarized below: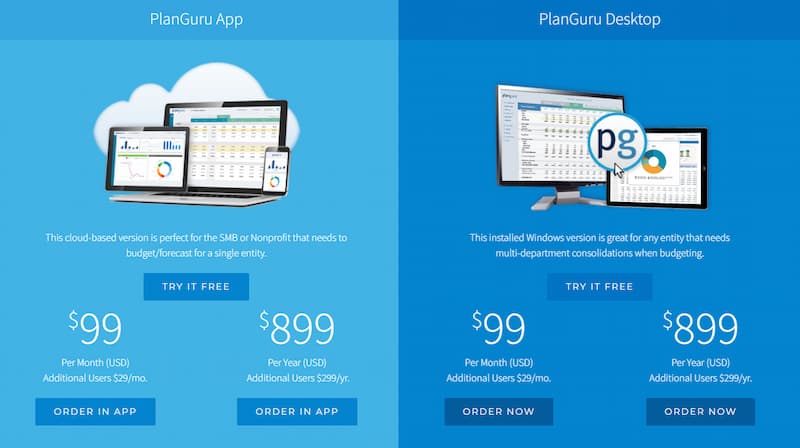 For a Single company:
Monthly Pricing: ($99 + $29 for each additional user) per month;
Annual Pricing: ($899 + $299 for each additional user) per month.
For Advisers:
Monthly Pricing: ($99 for use on three clients + $299 for each additional user) per month;
Annual Pricing: ($899 for use on three clients + $299 for each additional user) per month.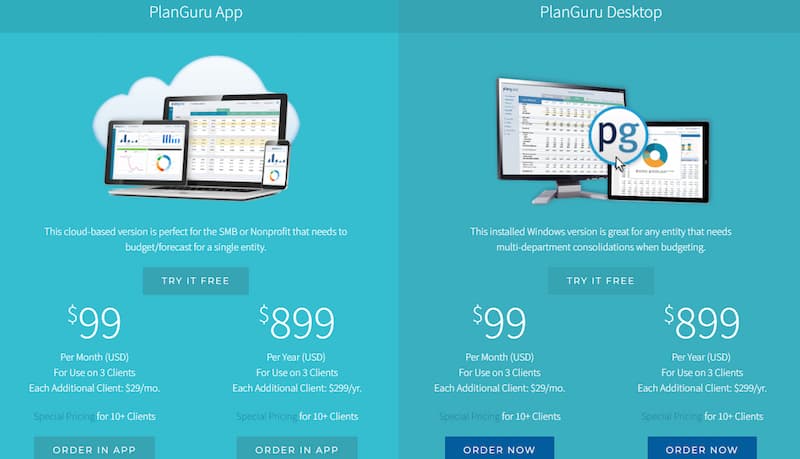 You also get a 30-day money-back guarantee for the monthly plans and a 60-day money-back guarantee for the annual plans. You will also be eligible for the 30-day free trial that gives an idea of working with a fully functioning version of the PlanGuru desktop. However, with this trial, you will not get printing and exporting services. You can sign up for a one-on-one live demo to see the software's compatibility with your business.
When it comes to pricing, the best software is Live Plan. Check our reviews on LivePlan to see it yourself.
Each of these plans has access to PlanGuru Analytics, forecasting software, Excel-based reporting tools, training, and support through PlanGuru University, video learning center, live US-based technical support, and help desk ticketing.
Quality
Many customers have had a high-quality experience using the software. Users are a big supporter of its flexibility to create multiple forecasts and budgets and integrate Excel and other similar platforms.
The majority of the plan guru reviews that are put forth by companies are very positive. While most positive reviews have stated that the software is user-friendly, some have complaints about its complexity. With 80% positive feedback and constant attention to customer suggestions, the software has improved throughout the years.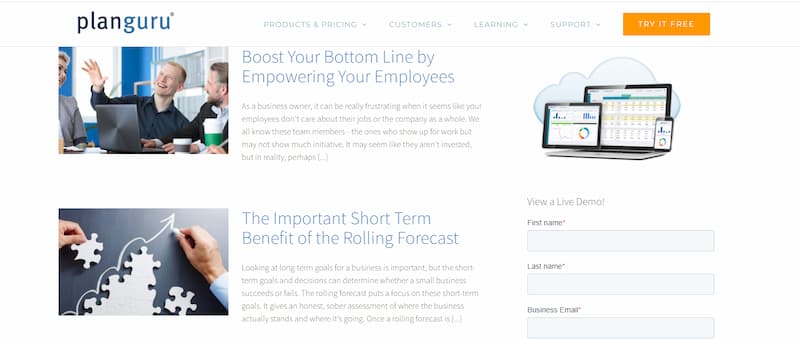 PlanGuru doesn't just help companies directly with financial services but also focuses on different business areas that need to be fixed.
But when it comes to writing business plans, they do not have professional business plan writers online. So, check our list to find yourself a good writer.
Customer Service
Many past users who have shown positive or negative PlanGuru reviews seem to have no complaints about customer service. The technical support team is highly qualified and very responsive to any requests put forth by the user. Customers can contact customer service by email or phone during business hours.
Many online reviews have rated highly of the customer and technical support from PlanGuru on their scoreboard. They are responsive, polite, and patient with any questions that the user might have. The customer support team is immediate with their support, with less than 24 hours of wait. But the best customer support we saw in the industry was at Wise Business Plans. Don't believe us? See WiseBusinessPlans.com reviews on our website to find out what their customers think.

Website and Mobile App Usability
PlanGuru does not have the best business plan app iOS and online support platforms. The software is windows friendly and has no services with Mac. There are currently no mobile apps for iOS and Android. Many Plan Guru review claims there to be minimum glitches with the software known to provide its results much faster.
Pros
Simplified process to create projections and financial analysis.
Free trial, along with a money-back guarantee.
Considering the PlanGuru reviews, they have a responsive and highly supportive technical team.
High compatible with QuickBooks Intuit, Google Apps, Citrix, and Microsoft Word.
Reports can be exported to either Excel and PDF.
Supports more than 20 forecasting methods.
Provides detailed review and comparative analysis for budget and reporting.
Cons
No other language than English is supported.
No app for Android or iOS devices and doesn't support Mac.
Has a steep learning curve.
Cannot use formulas in the current and historical data.
Requires financial and accounting knowledge when using.
Lack of sample business plan templates.
According to the PlanGuru review, it lacks flexibility with reporting.