Business Plan Pro vs. LivePlan: Ultimate Review of 2022
Planning for your business is a tough process, whether your organization is small, medium, or large in size. There are so many processes that need to be managed that it can be hard for us humans to keep everything together!
For this reason, Palo Alto Software has created 2 very powerful business planning tools for entrepreneurs all over the world. They are both equipped with sophisticated mechanisms to prepare daily, weekly, monthly, and annual financial reports for your organization.

The included templates and video tutorials help you to understand how those reports are generated. With that being said, you can learn to become the best entrepreneur as you go!
In this review, we have analyzed both the software thoroughly and come up with our conclusion regarding their functionality and performance.
Based on our analysis, we think that LivePlan is a more advanced and functional organizational planning software since it champions Business Plan Pro when it comes to customer service, supported languages, reporting features, step-by-step tutorials, awards received, file importing, operating system compatibility, and platform design.

Do you want to assess the truth for yourself? Then, let's go through this ultimate review together!
Our main goal at EduReviewer is to make your life easier by showing you the WiseBusinessPlans.com review on the market today.
Key Features of the Software
When we say key features of a business planning software, we think about ease of use, easy instructions, the privacy of data, proper content management, accurate data generation, language preferences, and ongoing customer support.
Do you think the Business Plan Pro or LivePlan can meet all these criteria to help company owners ace their game in the industry? We can only find out by going through the key features that have been addressed here under each software.
Business Plan Pro - Features

Different Plans
Lesson Tutorials
Money-Back Guarantee
Language Preference
Areas of Improvement
Business Plan Pro is a business planning software that has been designed to help entrepreneurs manage their companies by creating and sticking to marketing plans. This is a software that every entrepreneur needs to have so that they can conduct essential industry research, analyze market trends, and build strategies to reach company goals.
The Standard version of the Business Plan Pro can prepare financial forecasting, industry profiles, exportable business plans, and comprehensive financial reports. On the other hand, the Premier version includes all the features of the Standard version plus funding tools, a management dashboard, and cash flow scenarios.
Currently, there are no specific tutorials available for data input and report generation in the Business Plan Pro. In the past, the software had a customer support team to help customers, but now, even that feature is gone.
As a result, you have to rely on third-party lesson tutorials to figure out how to use the tool. However, the software does provide tips on how to use the platform after you purchase it. But you won't get any ongoing support from the developer.
Even if you aren't ready to commit to this company management tool, there is a 60-day money-back guarantee opportunity! If the software is not working for you, then you can happily return it to the developer.
Mostly suitable for charting and forecasting, the Business Plan Pro is available in 5 languages, such as English, German, French, Spanish, and Italian.
Nevertheless, this software can improve on some of its features to compete with other company planning tools in the market. It can embrace a step-by-wizard, investor management, social sharing, customer support, and other collaboration tools.
Live Plan

Lesson Tutorials
Money-Back Guarantee
Language Preference
Areas of Improvement
Customer Support
Developed by the Palo Alto Software, LivePlan is another management development tool that is based on a cloud platform. The tool promises to help you write a solid business plan in half the time while assisting you with video tutorials and examples.
In fact, the Palo Alto Software team is more willing to invest and expand in LivePlan than the team of Business Plan Pro. This software has been awarded as the:


Top Performing Budgeting Software in Capterra Shortlist 2022


Top Performing Financial Reporting Software in Capterra Shortlist 2021


Emerging Favorite Budgeting Software in Capterra Shortlist 2021


Main Features
Having said that, the main features of LivePlan comprise fundraising management, social sharing, step-by-step wizard, pitch presentation, investor management, financial templates, financial modelling, dashboard, and collaboration tools.
While you are entering data on the software, the walk-through process makes it easy for newbies to get the hang of organizational and financial management. The data input can also interact with one another by keeping track of all the information and showing impacts in the reports.
Besides, a comprehensive instructional video tutorial is available on YouTube, where you can freely learn how to use the tool in a period of 1 hour. To check it out, below is the video for your convenience recorded by Tim Berry.
LivePlan also offers a 35-day or 60-day money-back guarantee for customers depending on which site you are purchasing it from. Organizational management can be tough for people who have never gone to business school. For this reason, the money-back guarantee option is available.
You don't have to be a full-fledged English speaker to use LivePlan. The software can currently support 6 languages, which are US English, French, Spanish, Portuguese, German, and Italian. You can prepare the report in your language and then let the software convert it to another language for reporting!
Even though it seems that LivePlan is an invincible tool that can do anything, it has its own limitations. Without a stable internet connection, you can't use this tool on your personal computer. Since there is no mobile app introduced, a lack of portability is an issue.
Furthermore, you can't use this program for large enterprises. Therefore, once your organization grows, you have to switch to a different management planning software.
Customer support and step-by-step video tutorials are not available in the Business Plan Pro, but they are in LivePlan. There are documents, webinars, and tutorials available for entrepreneurs who wish to learn how to use the management tool properly.
Unless you are a financial expert, it may get tough to understand some of the terms that are commonly used in the market and industry. So, be prepared to get familiar with these terms, or else you will struggle to make good use of this precious tool.
Pricing Comparison
In this section, we will look at the pricing comparison of Business Plan Pro and LivePlan which were both developed by Palo Alto Software. Even though they share the same developer, there are significant differences between them.
Let's find out which pricing plan is suitable for your organizational needs!
Business Plan Pro
With the Business Plan Pro, you just have to purchase the software once and there is no need for subscription payments. If you are already familiar with the benefits of the Business Plan Pro, then just get the software right away and don't worry about paying anything later on!
LivePlan
You can use the services of LivePlan if you pay $20 for the software every month. It may appear cheap at first. But when you compare the annual cost against the Business Plan Pro, LivePlan is more expensive. The annual cost of LivePlan is $240.
LivePlan is a better plan for you if you want to test out the waters by purchasing the monthly subscription programs. You can opt out when you feel like the software is no longer working for you.
Quality of Software and Value for Money
Since both the Business Plan Pro and LivePlan have been designed by the same developer, you will find a lot of features in the tools that resemble each other. Regardless, the differences are also noticeable if you do your assignment properly!
Therefore, we have to really investigate the functions of each software if we are to reach a conclusion about software quality and value for money.
Business Plan Pro
Since updates and customer support are no longer available on the Business Plan Pro, you have to work with the elements and templates that are already present in the purchased software. It is a desktop program that only works on Windows, but can help you to strategize, manage, and launch operational strategies to hit the top!
With the intention of guiding new entrepreneurs, the software provides step-by-step directions to create an organizational strategy. You can follow management templates and get answers to the most important questions from the software.
Having said that, one of the best features of the organizational planning software is its user-friendly platform. The software has 500 samples of business plans from top companies in the industry, so you can follow their lead in dealing with difficult situations!
Furthermore, the software includes marketing tools that assist you in analyzing different industry profiles so you can compare your company's performance within a target market.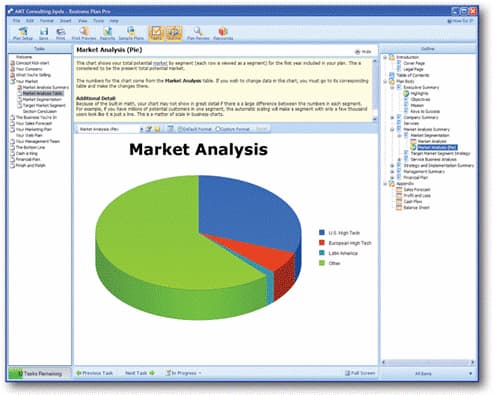 [Business Plan Pro Market Analysis]
[Business Plan Pro Profit and Loss]
LivePlan
LivePlan also has the same background and features as the Business Plan Pro. But there are additional benefits to using this organizational planning tool over the other.
If you are a novice entrepreneur, then this is the software that will help you create professional organizational strategies that will remain 100% safe and accessible at all times!
The software will help you create your perfect proposition from 10 fully-customizable templates. You can also import your financial information from QuickBooks and Xero!
Moreover, the lock feature on the managerial planning software is very useful as it saves all the data that you are working on immediately to prevent loss of information. This feature also prevents your employees from working on the same section.

[LivePlan Financial Data Generation]

[LivePlan Financial Forecasting]
Main Advantages: Business Plan Pro and LivePlan
We have learned a lot about the basic features, software quality, and pricing offers of the Business Plan Pro and LivePlan. Now that you have a decent idea about these 2 programs, here is a list of advantages of each to refresh your memory.
Business Plan Pro
It operates on both Windows and Mac personal computers.
Since this program has been in the market since 1991, it has more experience in the industry compared to LivePlan which is comparatively new.
There is no need for recurring payment with the Business Plan Pro. Just buy it once for a reasonable price, and then you are set for life!
Whether you are purchasing the Standard version or the Premier version, you are entitled to a 60-day money-back guarantee offer.
Receive tons of educational content from the business expert Tim Berry while using this program for business success!
The program helps you create a marketing and strategic road map for your business.
It saves you money because you don't have to hire expensive employees to create your strategic, marketing, and financial reports.
You can update previous business plans to keep up with changing times.
LivePlan
You can prepare all types of reports for your business without needing expensive to hire expensive employees.
The default mechanism in the program creates accurate forecasts and reports.
Step-by-step instructions are provided through video tutorials so that you won't get confused by the software.
This tool is all you need to help you fund, plan, manage, and take your business to the next level.
You can sync Xero, Quickbooks, and Excel with LivePlan to pull out actual accounting data without doing it manually.
The presentations and reports generated from the program can be shared with investors, lenders, and your team members for strategic planning.
Main Disadvantages: Business Plan Pro and LivePlan
Now, let's look at all the drawbacks of using the services of LivePlan and Business Plan Pro.
Business Plan Pro
Many new business owners are unable to answer the questions the software throws at them. Therefore, the business plan remains incomplete.
Technical jargons in the software, such as investment offering and break-even analysis are too difficult for some novice entrepreneurs to understand.
Unlike LivePlan, Business Plan Pro is not cloud-based and can't be accessed from everywhere.
This business planning software is only compatible with Windows. Therefore, if you are using any other operating system, you won't be able to use its services.
The design of the software is not as modern and sleek as the layout of LivePlan.
Currently, there are no apps available for this software.
Updates and customer support are no longer available on the Business Plan Pro.
You can use this program in 5 languages.
LivePlan
No matter how efficient LivePlan is since it is a cloud-based platform, it has a major drawback. You can't use it without a strong internet connection.
You must create a new business plan with the guidance of the given templates as you can't replicate any existing organizational strategies.
You may not be able to cancel the subscription once you sign up with the business management software.
The software mechanism may be too complex for regular business owners to comprehend.
There is no mobile app developed for this software.
Unlike the Business Plan Pro, large enterprises can't use the services of LivePlan.
It is available in 6 languages.
Overall Comparison of BusinessPlanPro vs. LivePlan
Despite all the similarities between the 2 business planning programs, they also have differences that can't be ignored. If you want an in-depth review of the features of these 2 programs, then this comparison table can give you an instant idea of which one you should buy!
| | Business Plan Pro | LivePlan |
| --- | --- | --- |
| Pricing | $159 one-time payment | $20 per month |
| | | $240 per year |
| Cloud-Based | No | Yes |
| Ease of Usage | Easy | Difficult |
| Mobile App | No | No |
| Money-Back Guarantee | 60 days | 60 days |
| Operating System Compatibility | Windows only | Windows and Mac |
| Suitable for Large Enterprises | Yes | No |
| Design | Old-school | Modern |
| File Importing | MS Excel and QuickBooks | QuickBooks, MS Excel, and Xero |
| Available Language | English, Spanish, Italian, French, and German | US English, French, Spanish, Portuguese, German, and Italian |
| Step-by-Step Video Tutorials | Not available | Available |
Verdict: So, LivePlan or Business Plan Pro?
Therefore, our final verdict is that LivePlan is a better business planning software than Business Plan Pro, especially in customer service support through live chat or phone number, a higher number of supported languages, reporting features, file importing, platform design, step-by-step wizard for tutorials, operating system compatibility, and the number of awards received.
In a nutshell, LivePlan surpasses Business Plan Pro in terms of pricing structure, functionality, customer support, and instructional walkthroughs. Additionally, you need to have at least some knowledge of business management if you want to use any of this software. Otherwise, this software was not designed for dummies!
FAQs
Is LivePlan better than Business Plan Pro in terms of security?
In terms of security, both LivePlan and Business Plan Pro are excellent. There is little chance of your data getting lost with any of these tools if you save them correctly. On another note, LivePlan has a better mechanism in place for saving data immediately after input.
What's better- Business Plan Pro vs. LivePlan?
After running a thorough analysis of the performance of these tools, we think LivePlan is a better organizational planning software because it offers supportive customer service, step-by-step tutorials on how to use the software, saves all your data on a cloud platform, and supports more languages than Business Plan Pro.
Are there more business planning software like LivePlan and Business Plan Pro?
Yes, LivePlan and Business Plan Pro software have a lot of competition in the strategic management software market. Their rivals are Planful, Vena, Causal, Jirav, Spendesk, Aha!, IdeaBuddy, and more!
What type of businesses are good for the Business Plan Pro and LivePlan?
Both the Business Plan Pro and LivePlan are good for most types of businesses that need adequate financial and strategic management to operate. Business Plan Pro can be used for businesses of all sizes. However, LivePlan can only be used for small and medium-sized organizations.
How many employees can access and use LivePlan at the same time?
LivePlan can be used by 2 contributors and an unlimited number of guests. For this reason, you can share your data with your colleagues, employees, and partners without jamming the system! Guests can view and comment, but the contributors can access and edit anything!
How do I find a sample plan on the Business Plan Pro?
The Business Plan Pro has a database of 500 sample plans that you can access by clicking on the Sample Plans icon located at the top of the window. You will surely find a sample proposition that comes close to your desired business proposition for examples and idea generation.