A business plan writer or service can be beneficial when creating the perfect business strategy. As for us, the top option is the best software for business plan, but some people still consider having a written plan.
Hiring a perfect business plan consultant can be a particular job, but we are here to help you out and assist you in choosing from the best ones out there. You might ask yourself a question: LivePlan vs BizPlan: which is the better business plan software?
Evaluating Writing Services: Our Approach and Criteria
Evaluating business consulting can be a challenging task as there are many factors to consider. A good business strategy is essential for the success of any company, so it's important to select a service that can provide a high-quality financial plan that meets your needs.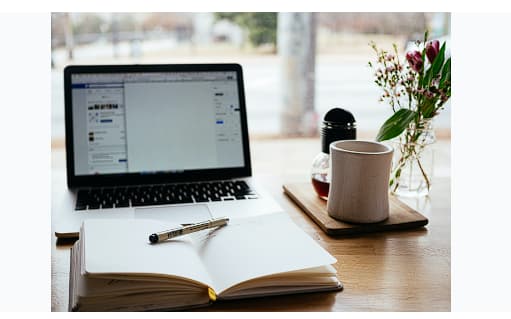 How do we know which ones are the best business plan apps, and why you should listen to what we have to say? Here are some of the factors we considered when evaluating business consulting services:
Reputation and Reviews: We looked at the reputation of the service, third-party review sites, and financial forecast. We checked the testimonials of past clients and also reached out to them to get a better idea of the quality of the complete business plan.
Experience and Expertise: We considered the experience and expertise of business consulting. We evaluated the qualifications and experience of their business consultants and their familiarity with various industries.
Services Offered: We examined the business model offered by the writing service, looking for tools that are tailored to the specific needs of our clients. We checked if they offered custom solutions, financial modeling, pitch deck creation, venture capital, and other relevant services.
Turnaround Time: We evaluated the turnaround time of the service to ensure they could deliver the final product within the desired timeframe. We also checked if they could provide revisions within a reasonable timeframe.
Price: We considered the price of the service and looked for affordable business plan writing services that still delivered high-quality tools. We compared the pricing of different services to get an idea of the average cost.
Communication and Support: We evaluated the communication and support offered by the business plan writing service, ensuring they were responsive to our inquiries and provided timely updates throughout the process.
Guarantees and Refunds: We looked for business plan writing services that offered guarantees and refunds if the final financial models did not meet our expectations.
In a nutshell, evaluating business plan writing services requires careful consideration of several factors.
By taking into account the market research of the reputation, experience, services offered, turnaround time, price, communication and support, and guarantees and refunds, you can choose a service that best meets your needs and delivers high-quality business consulting.
Top Business Plan Writers: What We Look At
How do we know which ones are the best business plan apps, and why you should listen to what we have to say? We look at the following features:
Price – Making sure that you don't go over your budget in the business planning process and empty your resources is essential, so take pricing into account.
Quality – The quality of the detailed business plans needs to stand out and offer unique features and benefits.
Customer Care – You, the customer, should be the service's most important priority, and if this is not the case, they will not be on our list.Guarantees – Always consider what policies the top business plan writers have to offer; significant refund policies always mean a higher quality of service.
Wise Business Plans

Lots of Features;
Various Learning Resources;
Skilled Consultants;
Excellent Customer Service;
Custom Quotes;
All Writers Have MBAs.
One of the most notable features of the platform is its team of experienced business plan writer team. Many business plan writers have a proven track record of success and possess the skills necessary to create high-quality tools that meet the needs of their clients.
Each writer is assigned to a project based on their specific area of expertise, ensuring that clients receive a customized process that is tailored to their industry and business needs. They will have no problem crunching up all the numbers you give them and figuring out what to do with all the information you provide.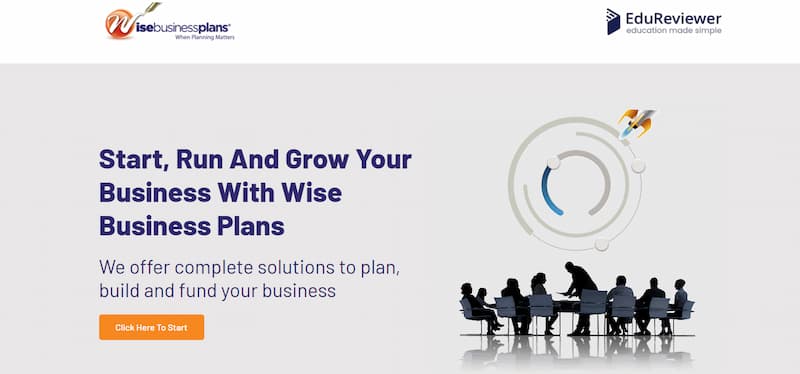 There are a few reasons this company is even considered to be among the best for producing good strategies. First, you can immediately look at a few samples showcased on their website, and this feature is entirely free.
On top of that, it helps you decide if their style is the proper one you require. What's even more exciting is that they have an entire list that shows you what types of designs they are ready to create for you.
The service provider even offers some fantastic bonus services, such as logo design, financial forecasting, website design, and market research. One of the unique features is the focus on sustainability. The company recognizes the importance of environmentally responsible business practices and offers beautifully designed business plans for clients who want to launch eco-friendly companies or incorporate sustainable practices into their existing operations.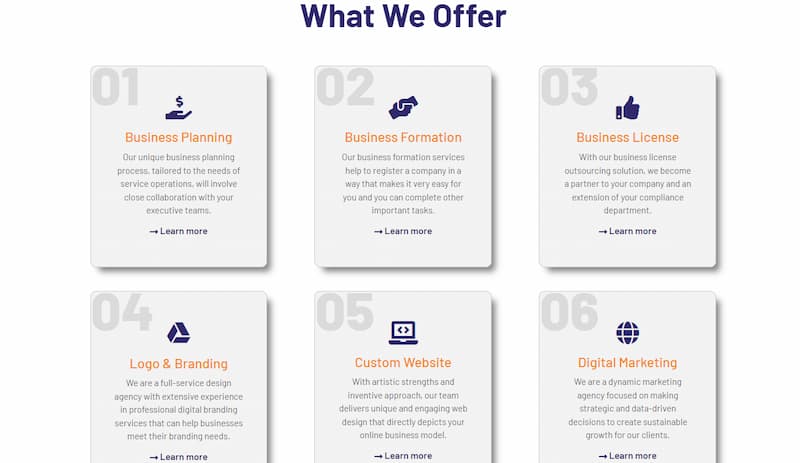 Experts
Each business plan writer is assigned to a project based on their specific area of expertise, ensuring that clients receive a customized balance sheet that is tailored to their industry and needs. The team includes writers with experience in various industries, including technology, healthcare, and food service.
Reputation
In terms of online reputation, the company has received positive reviews from many of its clients. The firm has an A+ rating with the Better Bureau and has received 4.8 out of 5 stars on Trustpilot, with many clients praising the company's professionalism, communication, and ability to deliver high-quality consulting.
Pricing
The service offers various packages at different price points, depending on the level of detail and support of the consultant. The basic package starts at $1,650 and includes a custom strategy, while the premium package costs $3,500 and includes additional features such as market analysis, financial projections, and a funding request.

While the prices may seem steep, the platform offers excellent value for money. The company provides clients with a comprehensive, professionally written strategy that can help them secure funding, attract investors, and achieve their goals.
Additionally, the company offers exceptional customer support, with top business plan writers available to conduct market research and provide guidance throughout the process. In terms of packages, Wise Business Plans offers several options:


Basic ($1,650) – includes a custom business plan with up to 30 pages, market research, and financial projections.


Standard ($2,550) – includes everything in the Basic Package plus a funding request, a PowerPoint pitch deck, and two revisions.


Premium ($3,500) – includes everything in the Standard Package plus additional market research, financial analysis, a SWOT analysis, and three revisions.


Platinum (custom pricing) – includes everything in the Premium Package plus a marketing plan, an executive summary, market research, and unlimited revisions of the financial model.


In conclusion, this is an excellent choice for a startup company, entrepreneurs, and owners who want a high-quality, customized tool.
With its experienced financial analysts, splendid customer support, and commitment to sustainability, the company offers a comprehensive preparation that can help clients achieve their goals and secure funding.
Right Brain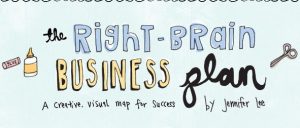 Right Brain Business Plan is a business consulting that specializes in creating personalized, creative, and visually appealing business plans that resonate with entrepreneurs who use their right brain to think and create.
One of the key features of the Right Brain Business Plan is its emphasis on creativity and visualization.
Instead of a dry, boring document filled with charts and graphs, their business plans are designed to be visually engaging and inspiring. They use images, colors, and other creative elements to help the existing companies connect with their vision and bring it to life.
This is a business plan writing company that is best suited for small international companies. They are unique in generating leads and offering high-quality services for all types of start-ups and small firms.
Experts
Right Brain Business Plan has a team of experienced business coaches and writers who work closely with clients to write a business plan that reflects their unique vision and goals. Their team includes experts in marketing, finance, and entrepreneurship.
Right Brain Business Plans Features:
Free Gifts;
VIP Coaching with Jenn;
A Few Informative Books.
Pros of Strategic Planning with Right Brain Business Plans
Monthly Payments;
Great Deals;
Lots of Learning Resources.
Cons of Working with Right Brain Business Plan Writer
Only for Small Companies.
Reputation
Right Brain Business Plan has received positive online ratings and reviews, with clients praising their personalized approach, creativity, and attention to detail. The platform has a rating of 4.9 stars on Google and a 4.8 out of 5-star rating on Yelp.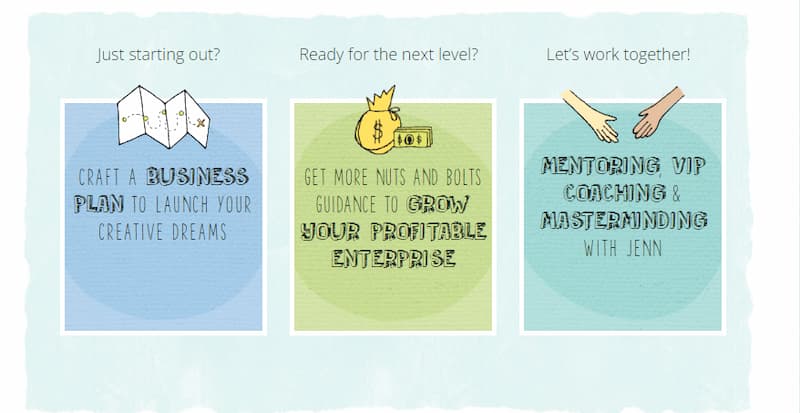 Pricing
Business Plan Home Study – $147;
VIP Coaching with Jenn – $2200.
Bargain Business Plans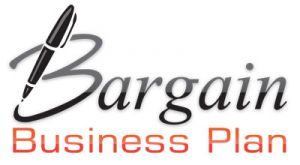 It is a writing service that offers affordable and professional solutions to entrepreneurs and venture capital firms.
This service is less expensive than Wise Business Plans, and if you are willing to increase your chances of raising capital, they can be the perfect choice for you.
One of the standout features of the platform is its commitment to providing personalized service to its clients. Each strategy is customized to the specific needs of the client and includes detailed financial projections, market analysis, and competitive market research.
Additionally, the platform offers other services, such as feasibility studies, bank funding, pitch decks, and investor presentations.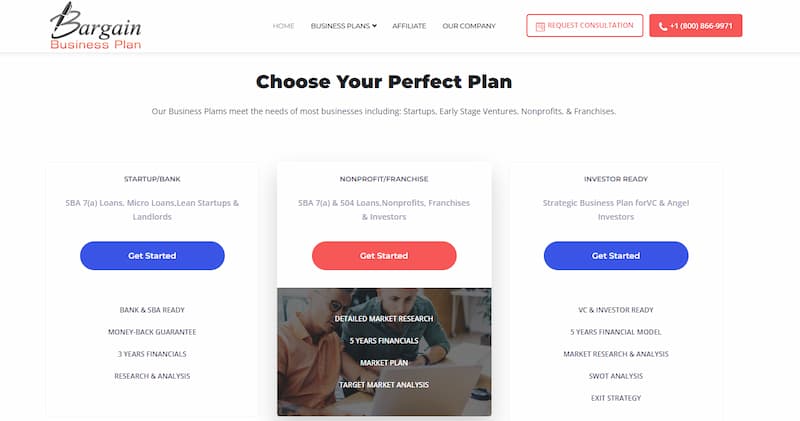 Bargain Business Plans Features
Bargain, Economical, and Optimum Packages
L-1 Visa. E2 Visa, EB5 Visa
Logo Design
Provincial Nominee Program
Affordable pricing
Investor-ready strategies with a high level of detail
Free revisions for 30 days after delivery
Experienced writers with a solid background in the area
Pros
Amazing Deals
Decent Features
7–10 Days Turnaround
Cons
Not All Writers Have MBAs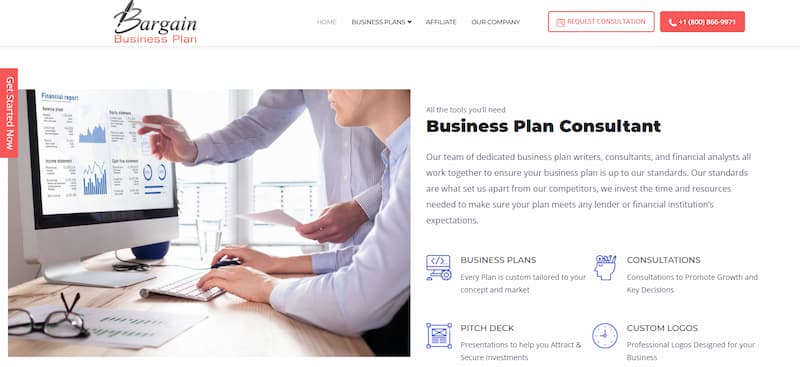 Online Rating/Reputation
 Positive ratings and reviews on Google and Trustpilot
Average rating of 4.9 out of 5 stars on Google
The 4.7 rating on Trustpilot
Pricing
Bargain – $1399
Economical – $1799
Optimum – $2499
In conclusion, the solution is an excellent choice for entrepreneurs and startups looking for affordable, high-quality writing services. With a commitment to personalized approach, a team of experienced writers and consultants, the platform has earned a reputation as one of the best writers in the industry.
While the service may not be suitable for the administration with very complex or specialized needs, the 100% satisfaction guarantee demonstrates the company's commitment to delivering exceptional results and customer service.
Optimal Thinking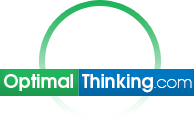 Optimal Thinking is a professional solution that provides high-quality consulting to entrepreneurs and corporate clients. This service has been in the industry for over 20 years, helping clients achieve their goals with well-crafted plans.
One of the most notable features of Optimal Thinking is its team of experienced team of writers who have an in-depth understanding of different industries and operational models.
They are known for doing some fantastic jobs, with the only downside being their charge rate.
They aren't exactly fit for small companies and start-ups, as most can't afford them at those stages of their company.
Optimal Thinking is a company that has helped all of its clients enormously, and its fantastic job has raised over 3 billion dollars combined.
When it comes to their service, they have tons of features that will show you some unique and new ideas for creating a solid strategy.
They have consultations in almost every area of your expertise, and are known to always get you to where you need to be.

Something unique about Optimal Thinking is the company's focus on "optimal thinking," which is a concept that emphasizes positive, solution-focused thinking to achieve the best outcomes. This philosophy is embedded in the company's approach to market research, which aims to help clients achieve their business goals through strategic planning and positive thinking.
What we like about Optimal Thinking is the company's commitment to delivering high-quality plans that meet the specific needs of each client.
The team takes the time to understand the goals and requirements of each client, which results in well-crafted market research that is tailored to their needs. Some of the exceptional features that you can expect from them are the following:
Coaching
Personal Assessments and In-Depth Consultations
Proposals
Extraordinary Plans (20 to 50 Page Custom Plan)
Speeches
Audit
Investor Pitch Deck

Reputation
Optimal Thinking has a great online reputation, with a 4.9-star rating on Trustpilot based on 120+ reviews. Clients have praised the business consulting for its professionalism, responsiveness, and high-quality deliverables.
Pros
Valuable Consultations
Custom Plans
Legal Guidance and Resources
They Offer Refunds
Cons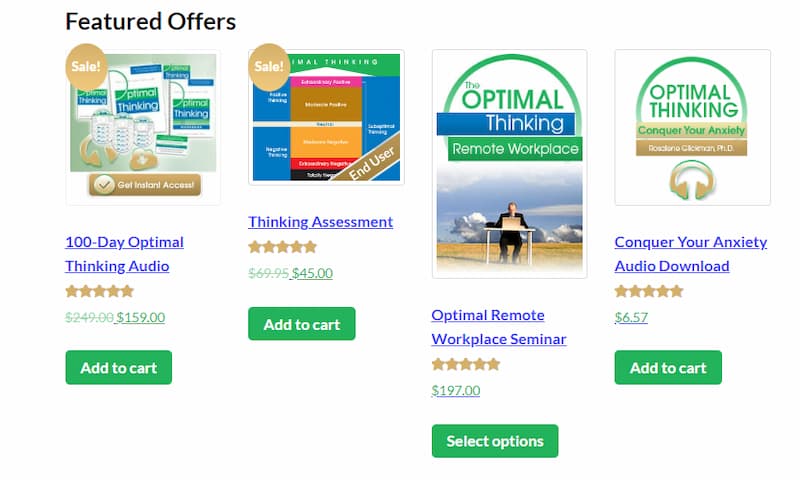 Pricing
Starting Price – $5000
Max Price – $30000
The service has a strong focus on optimal thinking. While the pricing is on the higher end of the market, clients have noted that the value for money is worth it, considering the high-quality consulting delivered.
Growthink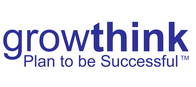 Growthink is another fantastic service that has been around since 1999 and has helped over 4000 businesses create their winning strategies and achieve extensive international experience with their work.
The service offers winning business plan services to help entrepreneurs and small business owners achieve their goals.
One of the key features of Growthink Business Plans is its team of experienced business plan writers and consultants. The team has a profound understanding of different industries and business models and works closely with clients to create custom business plans that meet their specific needs.
They offer free consultations, which you can take advantage of. Tons of testimonials support what we have to say about them, and depending on your requirements, you are generally going to have a great experience with them.

Growthink takes an all-encompassing approach to helping its clients write effective business plans. They begin by conducting in-depth financial research into the client's industry, competitive landscape, and target market.
Their business consulting offers ongoing support to help clients implement their business plans and achieve their goals, which sets them apart from other services.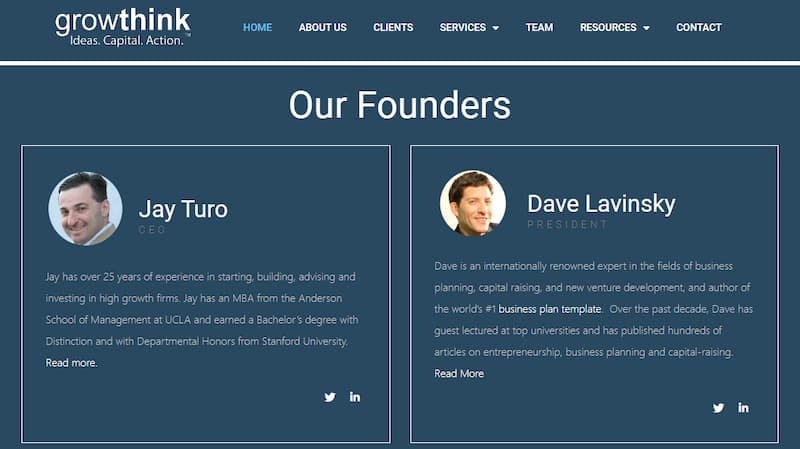 Growthink Features
There is a list of features that this company provides that might come in handy for you, so you can keep in mind that Growthink can offer you the following benefits:
Banking Services
Consultations
Analytics and Market Research
Innovation Strategies
Market Research of Customers
Analysis of Industries
Pros
Free Consultation
Experienced Staff
Lots of Satisfied Customers
Lots of Bonus Features
Cons

Pricing
Growthink does not provide pricing on its business plan writing services.
Reputation
Growthink Business Plans has a strong online reputation, with a 4.9-star rating on Trustpilot based on over 200 reviews. Clients have praised the service for its responsiveness, professional business plan writer skills, and high-quality deliverables.
In general, Growthink Business Plans is a highly reputable and professional business plan service that provides tailored solutions to meet the specific immigration business plans of each client.
Best Business Plan Writers – FAQ
What is a Business Plan Writing Service?
Business Plan Writing Services are professional teams of highly experienced writers who can help create the perfect plan for your own business. Each business consultant first analyzes all of your data and information and then makes detailed steps that you need to take.
What Should You Look For in a Business Plan Writing Service?
There are a few key features that you should always consider when trying to figure out which service to choose for your company. These features can always vary depending on your specific type of business model.
Price – Always make sure the price they are asking for is within your existing business budget. Never spend the last of your money on a business plan service.
Quality – There are many services out there, but not all are great. The ones we have mentioned here are enough for you to select from, as they are among the best in the industry.
Reviews – Always make market research to ensure that the service you are considering has decent reviews from previous customers.
Pros and Cons of Hiring Business Plan Writers
Pros:
Saves Time
They Are Experts
They Have An Objective Approach to Writing Business Plans
They Tell You What You Need To Hear, Not What You Want
Cons:
Costs Money
Lack of Vision
Selecting The Best Business Plan Writer
Things to always consider and never take for granted are, as we mentioned, the prices, reviews/testimonials, and making sure they even offer the feature that you are looking for.
Which Company Has the Best Writers?
Having considered all the awesome things that every one of the services on our list has to offer, it's clear that all of these sound pretty amazing.
In particular, Wise Business Plans and CustomWriting. Each of them is unique and perfect in its way, but one does stand out in our opinion. For the price you are paying, the one that offers the most impressive features and benefits is Wise Business Plans. You should take advantage of that if you have the budget.