Having a well-thought-out business plan nowadays is more crucial than ever before.
Not knowing your next move or your next game plan will be your downfall in business, and many have already shown that this is true.
Unfortunately, a considerable percentage of businesses fail for this very reason, and lucky for you, there are a few business plan writing services that are here to save you in your time of need.
This is where business plan apps come in. These are applications that help businesses create and manage their plans effectively.
With the right app, businesses can save time, reduce costs, and make their planning processes more efficient.
In this article, we will explore the best business plan apps available in the market. Learn more at EquityNet.com review and find out if it's legit or a scam.
The apps and services we are about to show you are a few of the best ones out there, as they have proven their usefulness countless times.
But don't just take our word for it; EduReviewer has helped out tons of businesses to make better decisions by reviewing and considering every little detail of the best software for business plans or best app for writing business plan online.
What is the Best Business Plan Software?
A business planning app is a software application that helps entrepreneurs and small businesses create and manage plans on a mobile device, such as a smartphone or tablet.
The developers have made these financial tools user-friendly and easily accessible. They enable users to easily input and edit information, collaborate with team members, and monitor progress towards their goals.
Some apps offer templates and guidance to help users develop a comprehensive outline for their enterprise, while others focus on specific areas such as financial projections or marketing strategies.
Some may also provide additional resources such as articles, videos, and webinars to help users learn more about entrepreneurship and business planning.
Business plan apps are ideal for entrepreneurs and business owners who are on the go and need to access their plans at any time from their mobile devices.
They also allow for real-time collaboration and updates, making it easy for teams to work together and stay on track towards their goals.
Best-Rated Business Plan Apps
How do we know which online business plan software options always come out on top? First, we consider the following features.
Starting Price
Pricing is always important to any business, and we make sure to find the best starting price for you.
Quality
The quality of the service or business plan software always needs to be a high priority.
User Interface
Making sure the planning software is easy to use and not complicated always makes things go faster and smoother.
Customer Support
Another key feature is always to have their support team ready to answer your business questions.
LivePlan

Tons of Useful Features;
Xero and QuickBooks Integration;
Financial Help;
Excellent Learning Tools.
Lacks More Third-Party Integrations;
No Free Plan.
Review
LivePlan is among the best-rated apps out there, and it has a lot to show for it. It's designed to make your job straightforward.
The way the business plan software works is by asking you many questions about your business and your goals.
Then, all you have to do is fill in the answers and start getting some amazing results and ideas.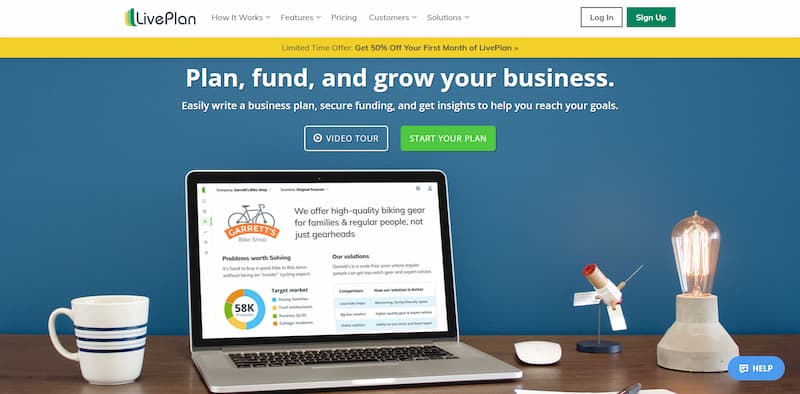 Features
One of the key features of LivePlan is its intuitive interface that guides users through the business planning process.
The platform offers a step-by-step guide that allows users to define their goals, target market, competition, marketing strategies, financial projections, and more.
LivePlan also offers a library of sample business plans and financial templates to help users get started.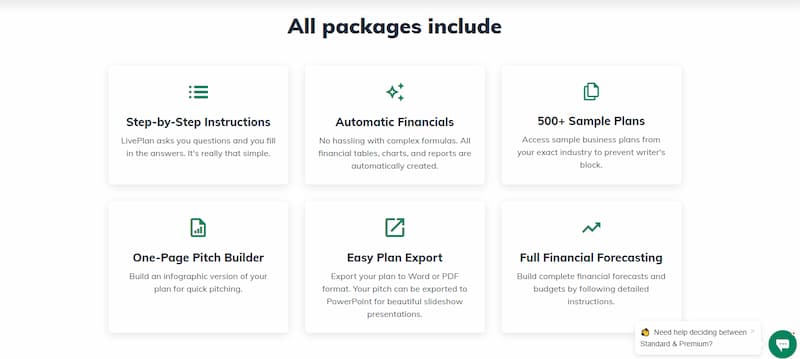 Another key advantage of LivePlan is its financial forecasting feature.
The app allows users to create detailed financial forecasts for their businesses, including income statements, balance sheets, and cash flow statements.
The app also provides users with valuable insights into their business's financial performance, which can help them make better decisions and achieve their goals.
LivePlan has a dashboard which provides a real-time snapshot of a business's financial reports. The dashboard displays key metrics like revenue, expenses, cash flow, and profitability, allowing business owners to identify areas for improvement and make informed decisions quickly.
You can easily figure out how it works on both desktop and mobile, as their business plan software is very user-friendly.
It is one of the best business apps for Mac. In addition, you can easily track your progress on the app and update everything that you need to keep up with all that is going on.
The reason that LivePlan has managed to gather so many fans so quickly is because of its highly customizable features and interface.
You can customize almost anything and adjust the entire business planning software based on your own needs.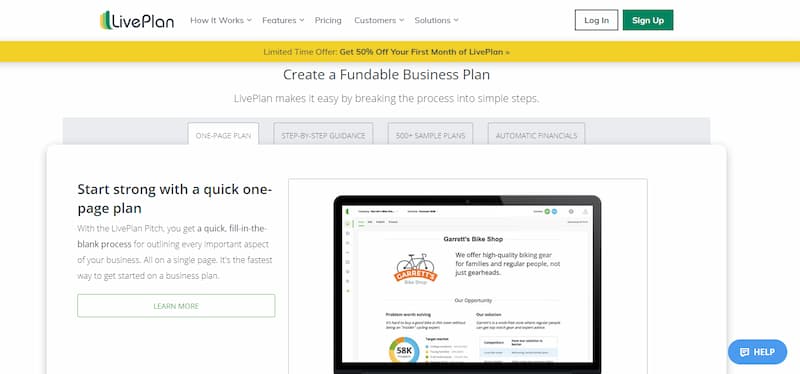 The app has some of the best reviews. It also has tons of useful features, which is why it is highly preferred by many. A few of these features include:


Business Planning - Highly customizable online business plan software that allows you to prepare for anything.


One Page Plan - LivePlan recommends that you start with a simple, traditional outline for your venture that can fit on a single page. After you have this, you can expand and create a more detailed plan.


Step-by-Step Guidance - After logging in, you will receive step-by-step instructions on doing anything inside the system. Getting around will be easy and simple.


500+ Sample Plans - Having almost unlimited plans is also a great way to save time. Simply choose one of the 500+ samples, and half of the work is already done for you.


Automatic Financials - LivePlan offers a simple way to look at your financial data instead of having to navigate complex spreadsheets.


Lender-Ready Themes - This feature will help your documents look professional so you can invite stakeholders to view them.


Financial Performance Tracking - LivePlan's dashboard is going to help you track everything. You will be able to see every detail and make perfect decisions based on your progress.


We all know that nothing is perfect, but this app comes close. The business plan software has a few pros and cons that need mentioning before you decide which one to go with.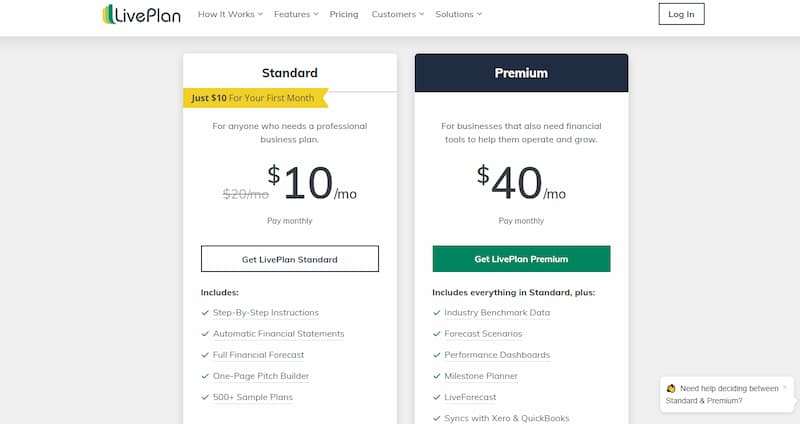 LivePlan Pricing:
Month to Month - $20 per month;
Six Months - $18 per month;
Annual - $15 per month.
Overall, LivePlan provides excellent value for money, considering its comprehensive features, user-friendly design, and expert support.
It's an affordable solution for a small business owner who wants to create affordable plans to suit their business model and someday acquire funding to take things further.
Reputation
LivePlan has an impressive reputation in the industry, with high ratings on various review websites like Capterra, Trustpilot, and G2.
Users appreciate the platform's ease of use, convenient features, and customer support. It's been highly regarded for over a decade.
In conclusion, LivePlan is an excellent option for entrepreneurs and small business owners who want to create financial statements, business model canvases and performance-tracking reports.
It's an affordable solution for small business owners who want to take their business models to the next level.
GoSmallBiz

Easy to Use;
Has All the Tools for Business Analysis;
Shows Examples for Every Area;
Free to Download.
Review
GoSmallBiz is an all-in-one modern business planning platform that includes business planning, document management, HR tools, legal compliance, and more. It's designed for small businesses and entrepreneurs who want to streamline their business model and stay organized.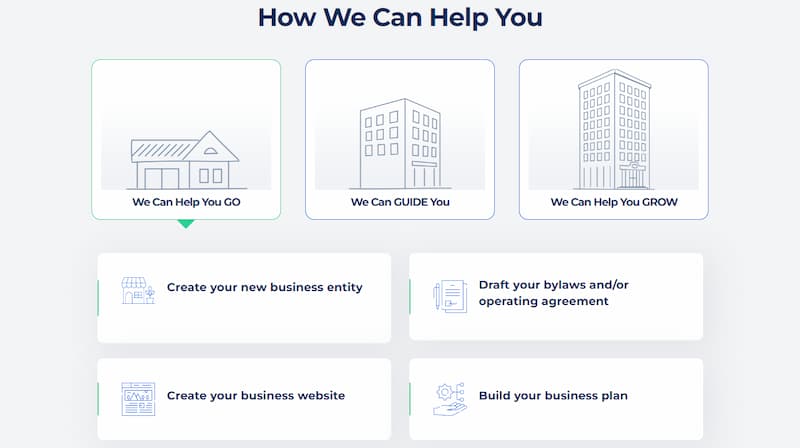 Features
GoSmallBiz offers a variety of features to help small business owners, including:


Business planning tools with customizable templates and financial projections;


Document management software for storing and organizing important business documents;


HR tools like employee management, time tracking, and payroll processing;


Legal compliance resources and assistance with business licenses and permits;


Marketing tools, including email campaigns, social media management, and website design;


Customer relationship management tools to help track leads and manage customer interactions;


Only exports to PDF and Microsoft Word formats; you would need to install Microsoft Office.


This app is on its way to becoming the best option for iPhone and iPad. Having your work always accessible on your iPad is something many prefer, which is why this app is getting some pretty high scores from iPad users.
You have an easy-to-use, step-by-step system that will guide you in the business plan creation process. The app provides examples of how a plan should look, and it does most of the job for you.
There are also some useful tools for competition, analysis, marketing plans, and much more. You can, of course, edit everything, including the templates, according to your own needs.
Further down the line, there are plenty of project management tools to help you organize the people working for you, expenses, income statements, balance sheets, and all sorts of summaries for various topics.
All of these features make this app the best business plan software for iOS.
GoSmallBiz Pricing:
GoSmallBiz offers three subscription plans: Basic, Pro, and Premium.
The Basic plan costs $39 per month and includes access to business plan templates and legal document templates;
The Pro plan costs $49 per month and includes additional features such as financial planning tools, marketing tools, and access to a team of law experts;
The Premium plan costs $199 per month and includes all the features of the Pro plan, along with LLC tools and additional support from the expert team.
Experts
GoSmallBiz has a team of business experts who are available to help users with their business plans. The team includes certified public accountants, coaches, and legal experts.
Online Rating/Reputation
GoSmallBiz has received mixed reviews online. While some users appreciate the platform's comprehensive features, others have reported issues with customer support and technical glitches. It has an average rating of 4.8 out of 5 on the App Store, and 4.5 out of 5 on the Google Play Store.
In a nutshell, GoSmallBiz is an excellent piece of business continuity planning software that offers a range of useful features and benefits.
Its team of experts, affordable pricing, and user-friendly layout make it an attractive option for users who are new to business planning or who need additional guidance and support in creating an enterprise plan.
Enloop

Compatible With Any OS;
Accessible Anywhere (Cloud-Based Software);
Free Business Plan Software Available;
Affordable;
AutoWrite & TextSync;
Doesn't Integrate With Xero or Quickbooks;
No Refunds.
Review
Of all the business plan software options, Enloop is one of the best, as it has tons of useful features. It's a cloud-based piece of business plan software designed to help entrepreneurs and business owners create comprehensive business plans.
It is an excellent tool for small business owners who are getting their business started and need assistance with creating a professional and detailed performance plan.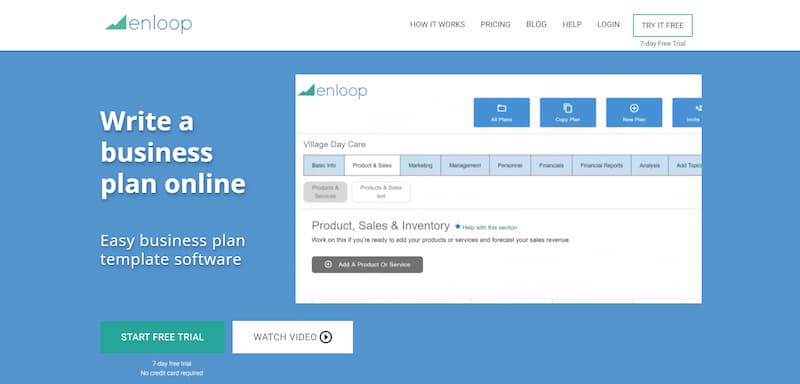 Enloop comes with some convenient features. For starters, the app is very affordable, but it also provides a free plan option.
Should you choose to go with the paid versions, you get some exciting features like Enloop's own AutoWrite and TextSync software. This makes things a whole lot easier, as it helps generate basic text that should give you an idea of how things should look.
Moreover, unlike Liveplan, which is better for less experienced users and new start-ups, Enloop doesn't offer a huge amount of guidance and learning resources. This can be a deal-breaker for some, but people rarely complain about this issue.
Features
One of the highlights of Enloop is its financial forecasting features. Users can input their financial details, such as revenue projections and expenses, and the software will generate financial statements and charts based on that data.
This feature can help entrepreneurs understand the financial health of their operations and make informed decisions about future investments.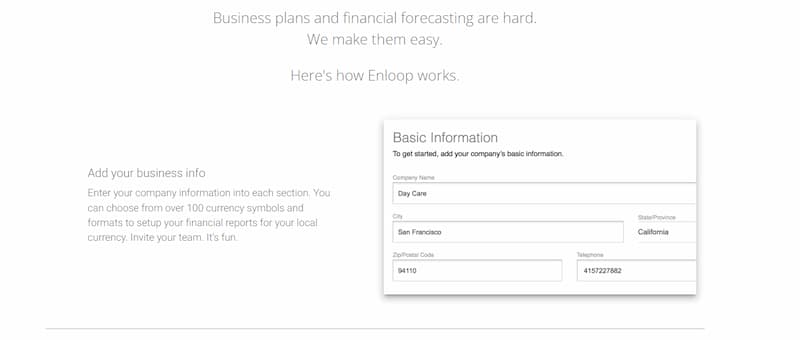 Enloop is Unique
This is because it provides users with a scoring system that evaluates the quality of their business plan. The management software analyzes the plan's content, financial data, and market research to generate a score that indicates the plan's overall quality.
This feature can be helpful for entrepreneurs who are new to creating business plans and need guidance on how to improve their plan's quality.
One downside of Enloop is that its templates can be a bit limited, and users may need to spend time customizing their performance plan to fit their specific needs.
Moreover, some users have reported issues with the software's financial analysis tools, which can be complex and have a steep learning curve.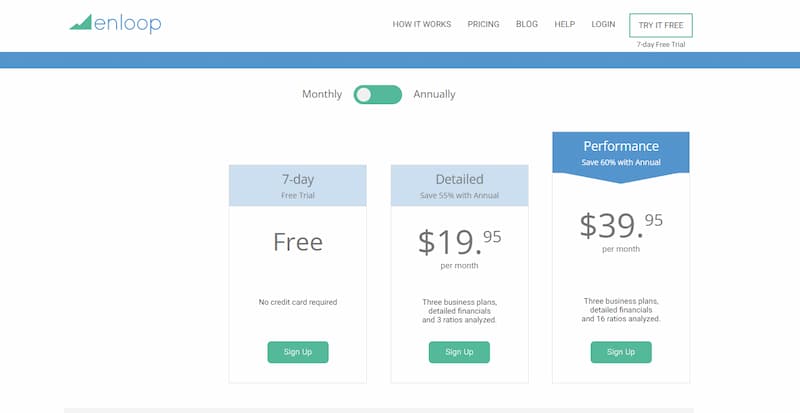 Enloop Pricing
Monthly Basis


7 Day Free Trial – $0;


Detailed – $19.95 per month;


Performance – $39.95 per month.


Annual Basis


7 Day Free Trial – $0;;


Detailed – $11 per month;


Performance – $24 per month.


Overall, Enloop provides excellent value for money. It offers affordable plans and a wide range of features that can help entrepreneurs with business plan creation.
Reputation
Enloop has a good reputation online, with a rating of 4.6 out of 5 on Capterra and 4.4 out of 5 on G2. Users have praised the business plan software for its ease of use, helpful features, and excellent customer support.
In conclusion, Enloop is an excellent business management software option that provides users with a wide range of features and tools to create professional and comprehensive business plans.
Its free version, financial forecasting capabilities and scoring system make it a unique and valuable tool for entrepreneurs. While the business plan software has some limitations, its affordability and overall value make it a top choice for small business owners.
StratPad
StratPad is another one of the top business plan software solutions around. Over 100,000 businesses have had the pleasure of working with StratPad so far. It might even be the best free business planning app out there, as it has some pretty decent features.
These no-cost features guide users through the business planning process. There's a step-by-step guide along with templates and financial forecasting tools.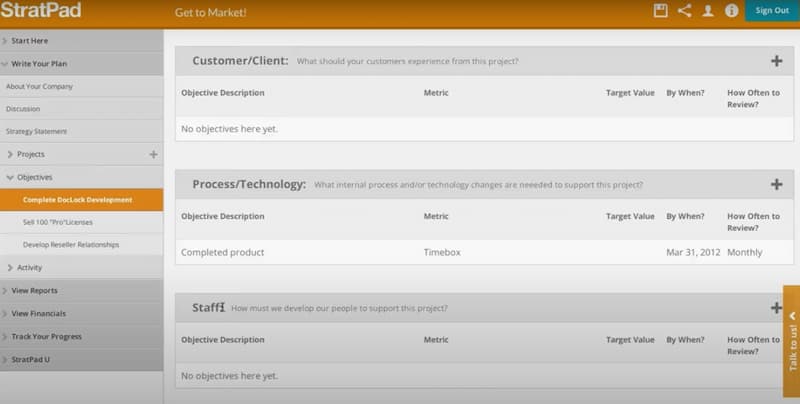 StratPad also has a paid version which allows you to access many more features that will make your job a lot easier.
Unlike LivePlan, Stratpad is compatible with both Windows and Mac, so this is a great bonus feature for some. If you are looking for the best business plan software for Mac, then StratPad could be the closest thing to it.
Ease of Use
In addition to being comprehensive in its coverage of topics important for developing an investor ready business plan, StratPad is also incredibly user-friendly.
With its straightforward design and intuitive navigation, anyone can use this app without feeling overwhelmed or confused — even if they've never used one before.
All you need to do is select what type of plan you want to create, and StratPad's innovative business planning software will generate an outline for you.
Collaboration & Sharing
One of the best features offered by StratPad is its collaboration capabilities. These allow multiple users from different locations around the world to access and update projects simultaneously.
They can do this without having to worry about versions getting out of sync or data becoming corrupted by conflicting changes made by different users.
This feature makes it easier for teams working on multiple business plans together, since everyone can see progress as it happens in real time!
Furthermore, users can easily share their plans with others via email or direct links. Those who need access won't have any trouble viewing them online, regardless of whether they have StratPad installed on their device already.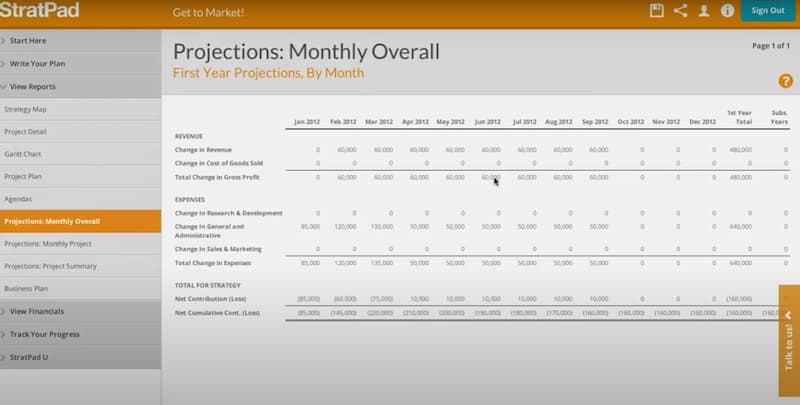 Here are some of the pros and cons regarding StratPad and their business plan software that should help you make up your mind:
Pros
Free Version Available;
Compatible With Both Windows and Mac;
Email Support;
Tons of Learning Resources.
Cons
No Live Chat;
Doesn't Integrate With Xero.
StratPad Pricing
Free Version With Limited Features;
Business Plan – $29.99 per month;
Unlimited Plan – $49.99 per month.
Experts
StratPad has a team of experts available to assist users with creating their business plans. The team includes experienced entrepreneurs and consultants who can provide guidance and support throughout the planning process.
Users can also access a range of resources, including articles, videos, and webinars, to help them develop their business plans.
Reputation
StratPad has a good reputation online, with a rating of 4.3 out of 5 on Capterra and 4.5 out of 5 on G2. Users have praised the app for its ease of use, helpful features, and excellent customer support.
A full StratPad review is on its way.
Top Business Plan App: FAQ
What Are Business Plan Apps? How Do They Work, and What Type of Help Do They Offer?
These apps help you take your enterprise to the next level. They keep things organized, and help you make better decisions thanks to all of their expert suggestions.
The best business plan software solutions are created by professionals who have plenty of relevant experience.
What App Features Should You Prioritize?
When deciding which app to go with, there are a few key things that you need to keep in mind. Always make sure it's affordable, easy to use and offers plenty of help. Look at a few reviews from people who have already tried the app. Take advantage of free trials or use a free plan if there are any.
What are the Pros and Cons of Buying These Apps?
There are areas in which a management software app can bring about transformational change, and then there are areas where it simply can't help you.
This is perfectly fine, as everything has its pros and cons, and you should focus on the app that will get the job done for you.
Pros of buying a BUSINESS SORTER APP:
Step-by-step templates;
Built-in advice modules and how to articles;
You don't have to waste time creating a balance sheet or graph etc.;
Automatically generated statements;
You get your accounting done with it;
You can easily update everything as you grow.
Cons of buying a BUSINESS SORTER APP:
Starting price might not match your budget;
Not a huge amount of flexibility.
Apps for Business Planning: Choosing the Right One
When it comes to choosing the best business plan creation app, you need to first look at the options you have.
Then, think about which of the business plan software solutions sounds most suitable for you. Sure, some have a few features that are better than others, but think about what you need.
The number one priority is ensuring the app you choose meets your needs. As well as this, you should always follow your budget and choose an app with an affordable starting price.
After you have considered everything, go back to our review of these 4 apps that are the top ones out there and decide which one meets all of your requirements.
There are a few factors to consider when choosing an app to help your business idea grow.
Features
Consider the specific features offered by the app, such as business plan templates, financial analysis tools, and collaboration capabilities. Look for an app that has the features you need to create a detailed plan.
Ease of Use
The app should have a user-friendly interface and be easy to navigate. A complicated app may lead to frustration and cause delays in the planning process.
Reputation
Look for a project management tool that has a good reputation online, with positive reviews from users. This can give you an idea of the app's reliability and effectiveness.
Starting Price
Consider the pricing plans offered by the app and ensure that they fit within your budget. Look for an app that provides good value for money.
Support
Choose whichever app offers reliable customer support, including access to experts who can answer all your business questions.
Unique Features
Pick an app with unique features that set it apart from others. This ensures the app can take your business idea to the next level.
Conclusion
Which is the best option at the end of the day?
These are some of the best business plan software options, and considering all the great features that they have to offer, you could go for any of them.
The business planning software that we have found to be the best-performing one with a reasonable starting price, excellent customer service and the most helpful features is LivePlan.
In terms of pricing, LivePlan is more expensive than, for instance, Enloop and StratPad, but it offers a range of additional features and benefits, including access to a team of experts who can provide feedback and advice on your plan.