"Success is not final: failure is not fatal: it is the courage to continue that counts." – Winston Churchill.
A business strategy has several benefits for your company. It may aid in obtaining funds or investors. It may provide direction for your business. You can maintain good financial standing. But if I am being sincere, writing it may also be a nightmare. This is where the best business planning software comes in.
You might have no experience in making a business plan; business planning software comes in to provide guidance and suggestions in these circumstances. This software will enable an owner to draft a professional business plan. Build a business plan in minutes with LivePlan and Bizplan.
The cloud-based Palo alto software tool called LivePlan, and Bizplan are two prominent business planning software. Bizplan vs LivePlan is one argument that lingers in the minds of most people who want to get business planning software for themselves.
I already have detailed reviews between LivePlan and Bizplan, which you should check out.
LivePlan is suitable for people who have little knowledge of business planning.
LivePlan has a wider array of templates.
Bizplan will better suit people looking for funding and support.
Bizplan makes things easier with the drag-and-drop feature.
Now, onto the comparison. I am sure you are ready to get started, so let's dive right in.
Key Features of Software
"There is no shortage of remarkable ideas, what's missing is the will to execute them."  Seth Godin.
There are certain features that users need from business planning software, and they differ among software while having significant importance.
Someone trying to source funds for their startup won't be looking for the same things as another who has huge business funds available and is trying to do something to break newer grounds.
The attributes required by any class of planners and the availability of the most important ones will significantly influence which business planning software a user will choose; either Bizplan or LivePlan.
Let's discuss the two software and compare them, you can make your pick from what you can deduce from the two.
Bizplan
An ever-recurring question you'll never stop hearing is, "is LivePlan better than Bizplan?" You should know that their prices would determine which one you would most likely go for.
You can enjoy good power-packed planning tools on Bizplan and LivePlan. Note that any subscription package you pick on Bizplan has a money-back guarantee for seven days from that particular purchase date.
The planning tools available on Bizplan include;
Financial Resources: You can create a balance sheet, a financial statement, income statements, payroll estimates, and sales forecasts with Bizplan's Financial Command Center. From one dashboard, you can control all of your accounting results.

Create a business plan with guidance: The website offers stage process instructions, graphic layouts, and a progression tracker. Drag-and-drop capabilities in the Bizplan layouts make it simpler to personalize your business plan. Additionally, you may add photos and format your text any way you choose.

Learning: The collection of over 600 online courses, masterclasses, manuals, and interviews available to you at Bizplan University offers an opportunity to learn more about startup development. You can verify your company strategy, present it to professionals, and establish a connection with your clients using this wealth of information.
Information Sharing and Idea Pitching: Contribute to your business strategy and team using Bizplan's sharing tool. Comment threads can be left, members can view financial data (you may regulate who amongst your team members has access to this information), and remote access is possible.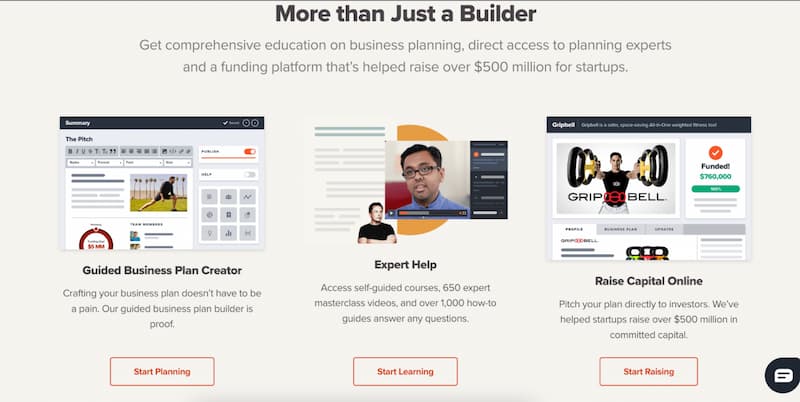 Your Bizplan membership also lets you connect to Fundable, a site for crowdfunding where you can show investors your company plan. This feature is one of the best attributes I noticed while using the platform for this review.
LivePlan

Business Planning
Team Collaboration
Amazing Dashboard
I can't emphasize enough all the rights and tools this platform has. Still on this LivePlan vs Bizplan question, let's examine the list of LivePlan features in more detail.

If you don't know much about continuity strategy and company plans, it's something to look at.
Business Planning
LivePlan is focused on helping users write practical business plans. It simplifies the process and lets you assign teammates to focus on particular aspects of the plan. You decide how much access to provide them using the specific permissions setting.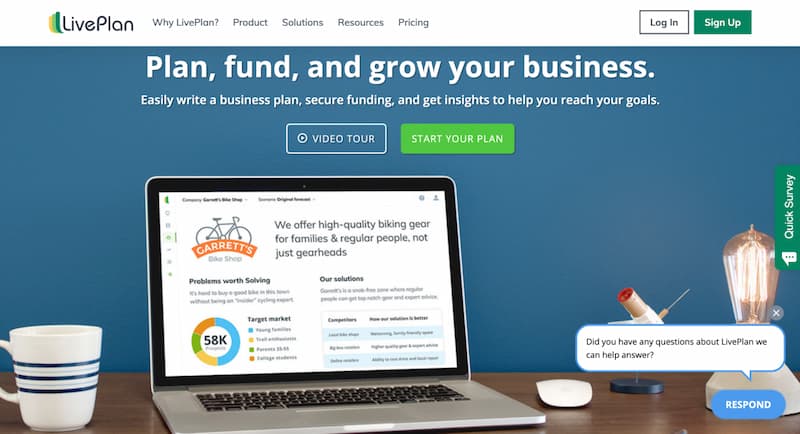 Goal-setting, progress monitoring, creating and testing budget strategies, and financial forecasting are all possible. Afterward, you congratulate yourself for achieving those goals.
Team Collaboration
LivePlan also enables team member participation, which is an amazing feature. There will be no need to bother exchanging files via email or determining who has the most recent version of the paper.
From my experience, the platform is built to allow project managers to customize how they interact with their team members and how much information they can share.
For example,
As the business owner, you also have control over who sees what. Consider a scenario in which you want the accountant or auditor in control of finances to be capable of uploading financial data.
A constrained software license enables you to let your accountant access your company data wherever and whenever they like.
You could also set your plans so that other employees who are privy to the app can only see a limited number of files; they will not have access to your business's financial information.
The Dashboard
You'll get accessibility to a LivePlan Dashboard after your plan is set up. You may link your accounting program and track your progress using the dashboard.
The dashboard has a lot of functionalities, and they are: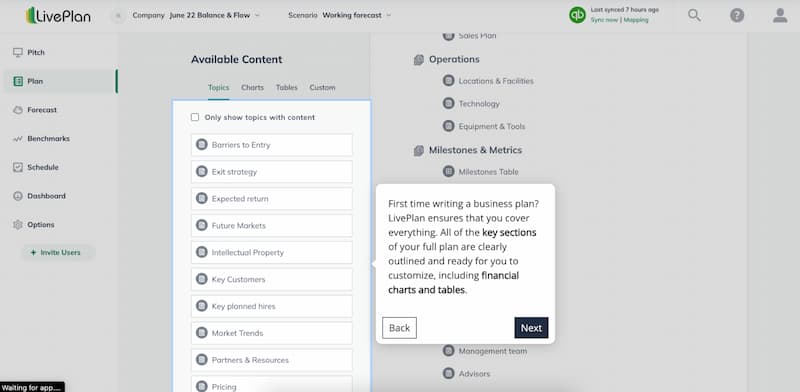 You may keep track of things like income and costs to assess how you're faring regarding the objectives you've set for the business.
Your financial predictions and other pertinent information will be delivered in simple-to-understand formats like graphics and charts.
Future funding modifications are made simple on the dashboard as well.
You may adjust your business strategy and finances fictitiously with LivePlan. For instance, you may imagine a situation where you add a new employee. The expenses connected to it will then become evident, along with how these expenses would affect your company's objectives.
Pricing Comparison
Of course, pricing is another crucial aspect that anyone will consider before picking a product.
As a customer, you will want to know if a product is within your financial capacity. This section highlights the packages and prices available for LivePlan cloud-based software and Bizplan.
Bizplan
As I have mentioned, the program is simple to use, has a user-friendly design, can perform financial analysis, and walks you through every stage of creating a business plan.
Anyone looking for a guided planning software solution with a drag-and-drop capability that interfaces with everything will find Bizplan useful.
Bizplan packages offer all you need if you intend to construct a business plan with minimal prior expertise. Its packages are appropriate for many enterprises and the properties are the same across all packages, offering unlimited access to all attributes available on the platform.
You can try any of these three options depending on your needs and budget.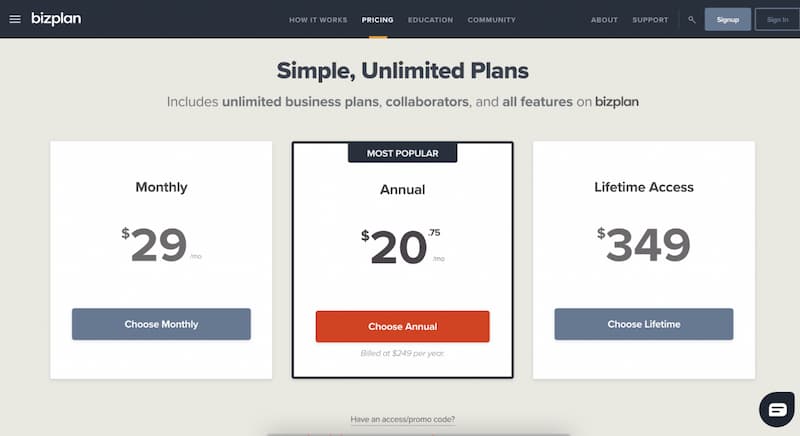 Monthly: You can try out the Bizplan platform with the monthly subscription billed at $29 per month.
Annually: If you intend to use Bizplan for a long period, an annual plan may be more economical, billed at $249 annually ($20.75 monthly).
Lifetime Access: Get lifetime access to Bizplan billed at $349.
LivePlan
In the spirit of the Bizplan or LivePlan debate, here goes the argument for LivePlan. There isn't a free version accessible, which is unfortunate. It can be more beneficial for you to sign up for a half-year or monthly plan if you don't intend to utilize all your rights and tools on LivePlan over the long term.
Palo Alto offers a variety of LivePlan cloud-based price choices, making it handy if your budget isn't enough to commit to a lifetime contract. Palo Alto will charge your LivePlan account on a monthly or annual basis.
Two straightforward packages are available for your account; let's examine what is included in each.
Standard Package with a monthly payment of $20 or $180 per year ($15/month comparable)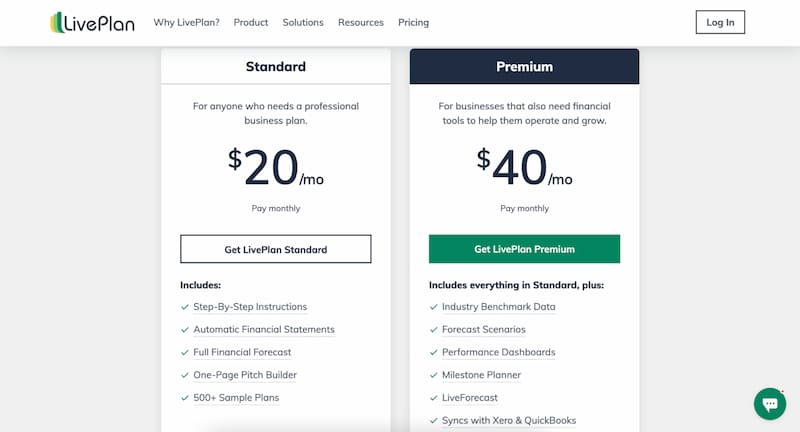 The standard package offers the following;
Step-by-step instructions
Automated financial results for your perusal.
Full financial forecasts
A one-page proposal builder
500 and more sample proposal templates are available.
Premium Package of $40/month or $360/year (equal to $30/month)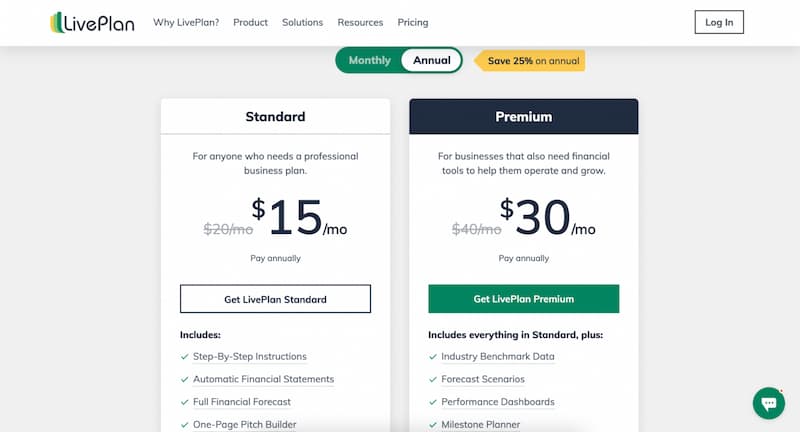 In the premium package, all standard package offerings are available and more, like
Industry Benchmark Data Prediction Scenarios
Dashboards that record your achievements
A Planner to record your progress
LiveForecast connections with Xero and QuickBooks.
What if you're unhappy with the item?
LivePlan has a money-back offer of 35 days. If unsatisfied with the product during the initial two months, the business states that you may return it for a full refund. No questions will be asked. You may effortlessly change from one package to another.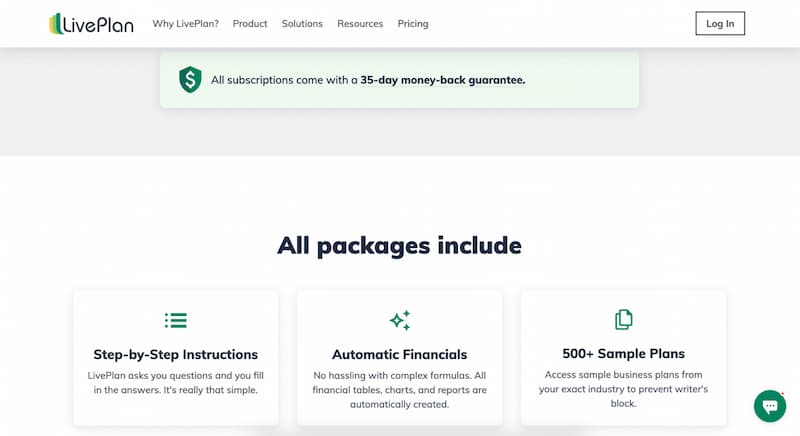 However, if you've paid for a year's membership, you won't be able to downsize to the monthly package until your purchased year is over.
Finally, the organization allows you to carry your business model with you if you terminate your membership. Your company strategy belongs to you after it has been written. All that's left to do before logging out for good is to export your work.
Quality of Software and Value for Money
"Far and away the best prize that life offers is the chance to work hard at work worth doing." – Theodore Roosevelt.
Naturally, you might ask yourself what's better Bizplan vs liveplan. The truth is that both software have unique features that make them better suited to different scenarios and working conditions. Month after month, users keep subscribing for both in droves because of their usabilities.
I will be looking at the value for money of both LivePlan and Bizplan and how they both match up against each other in terms of quality. You can make your conclusions and quickly pick which one better suits your needs this month rather than move your uncertainty to another month.
Bizplan
The step-by-step company planning software from Bizplan is a terrific option for small-business owners that might use some assistance.
Platform Attributes
With features like a guided builder, drag-and-drop modules, automated financial predictions, and team and investor communication, the Bizplan platform provides a contemporary twist on company planning tools.
Startups, entrepreneurs, and smaller businesses can use Bizplan for developing short- and long-term business plans.
Customer Service
The Bizplan program offers nothing less than excellent customer service. During business hours, they answer consumer questions promptly. For company owners, their quick web and voice support is beneficial.
If you have any inquiries, you may either reach the Bizplan support staff directly via email, live chat, or phone call, or you can file a support request by selecting "Send Feedback" after logging into your Bizplan account.
Ease of Use
Bizplan can assist you in outlining the content of your proposed business on paper. Making an advertising and sales strategy is no problem for Bizplan; it can guide you through the process and make it appear simple.
Users of Bizplan may divide large projects into components they can finish in any sequence
they may insert and finish their templates using the modular features. Effective use of this platform is possible for any business with fewer than 1000 employees.
The customer can use the platform's user manual, financial tools, collaboration, sharing, and integration packages.
It is a solid, reasonably priced platform with many tools that work for small enterprises. I have used this program and can say authoritatively that it provides good value for money.
LivePlan
LivePlan is a cloud-based business model plan tool developed by Palo Alto Software. It guides you through every step of the preparation process.
LivePlan has many unique attributes that work for you. These tools ensure a good experience creating your business and financial plan. The platform works by requesting information from you on your company.
Customer Care and Safety
Palo Alto Software has invested a lot of time and resources in dealing with customers while maintaining security. The firm is always available via email or live chat. Additionally, you can give the customer service department a call anytime from 8 am to 5 pm Pacific Time on weekdays.
LivePlan has invested in customer care and safety. According to the business, it reads and writes to many discs, regularly backs up all your information, and saves it in different places to ensure that it will never be lost.
This service stores your data in sizable data centers. These data centers have biometric scanners and are physically secured around the clock.
Palo Alto Software's data centers use Amazon AWS and are subjected to frequent SOC 2 assessments.
Business Plan Progress
Once you've established a business strategy, you can track it in real-time and make adjustments as needed.
Additionally, LivePlan offers a function to link several accounting programs, such as Quickbooks and Xero. You may use LivePlan as a predictive tool to change your approach as needed by entering financial information in real-time.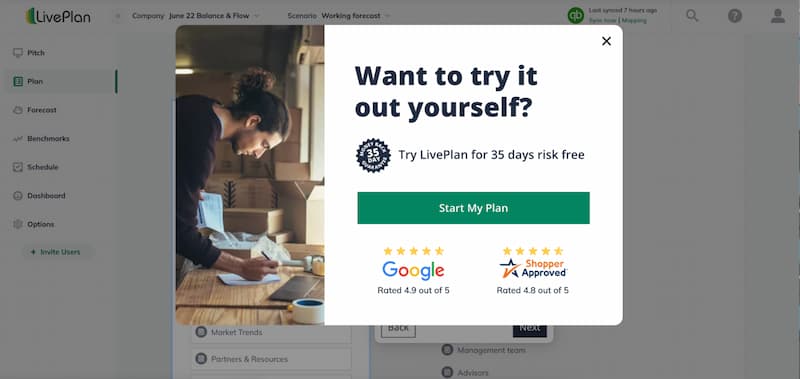 I won't be lying if I say LivePlan has a whole lot of features that are essential for any business owner, so paying for a subscription package as a business owner is worth it because its value is equivalent to your money's worth.
Main Disadvantages
Of course, I noticed some drawbacks in both platforms, which you must know when using any of them.
Take a close look at the disadvantages below and take action accordingly.
Bizplan
No free trials.
Not suitable and handy on mobile.
Overall UX is pretty bad.
No PDF exports.


Bizplan does not provide free trials, but they do offer a seven-day money-back guarantee.


It is not accessible on mobile devices.


The input controls given in the app are subpar.


The software's general appearance is unappealing, making it difficult to browse the platform.


It does not function efficiently with PDF exports.


It is difficult to differentiate the selling conditions per client.


LivePlan
The only template that may be copied into a Word doc are the basic ones.
Integration with QuickBooks desktop is challenging.
When compared with Actuals, there is no control during synchronization.
No way to undo synchronization.
Customers that don't have Xero or QuickBooks must resort to manual entry.
There is no possibility of choosing a font when generating a business plan.
Overall Comparison Table
In the quest to choose either Bizplan or LivePlan, you will need to know their strengths and weaknesses.
Here is a rundown of what I noticed after using both sites extensively.
Software
Advantages
Disadvantages
Pricing
Fully customizable
Fewer integrations
Standard Pricing which goes for $19
It comes with many educational resources
Lack of mobile applications
Premium Package at $29 a month
Expert graphics and templates
It has no offline mode
Business package at $49 a month
Newbie friendly
Fiscal instruments
No trial offer
Standard package at $20 a month or $180 annually
Online capital raising
It is challenging to browse the platform due to the unattractive general design of the program.
Premium package at $40 a month and $360 a year

The instructions for using the tools effectively are included.

Educational materials
No mobile application

Built-in business plan tutorial
Verdict
From my findings, anyone looking for comprehensive business planning software that guides them through the process will enjoy LivePlan. LivePlan enables you to build a strong business plan in half the time with video lectures and examples at each phase; it is also good for big business owners.
Bizplan, on the other hand, caters better to startup owners as it has features for fund sourcing and idea pitching to investors; smaller business owners would do well to use this platform.
FAQ
Is Liveplan secure?
Yes, LivePlan has top-notch security. It respects common privacy laws and safeguards your and your client's data.
Every day, everything is backed up to different servers, and all front-end actions are SSL encrypted.
What's better Bizplan or liveplan?
From our use of both, LivePlan is better. It might not be the same for you because of your specific needs.