Writing is a very important skill nowadays and a very demanding field for fresher writers to work in. Every kind of industry needs writers for writing promotional blogs and essays. The writers who are new in this field always focus on grammar skills and spelling.
Novice writers improve their writing skills with trial and error methods so that they can start charging. Not only Novice writers, but experienced writers also face issues while writing.
There can be places where they hang up, and they need the help of other professionals to continue.
But the help is not only needed for the writers. Business owners also need the help of writing tools. If you are a business owner, you may need an expert who will check the grammar and spelling of the promotional content.
Big companies hire human editors with a handsome amount of salary to proofread promotional blogs and do spelling and grammar checks.
But what if you don't need to hire human editors for these works? If an app can do all these, what can be better than that? MS Word is not only sufficient, as MS Word does not show if there is a grammatical mistake or mistake in putting the right punctuation in the right place.
Hence, you will need a different app or a website to do all these works and make life a little bit easier for you. In this article, we will talk about two such websites – Ginger Software and Grammarly, which will do all these works and many more for you.
For other creative writing courses, check Chegg Writing tool review on our website.
Overall Comparison: Grammarly vs Ginger
| | | |
| --- | --- | --- |
| Differences of both | Grammarly | Ginger |
| Accuracy | Offers 100% accuracy and shows scores. | No score and no guaranteed accuracy. |
| Functionality | Very smooth and works with ease. | Sometimes it lags a bit. |
| Affordability | A bit expensive. | Reasonable. |
| Best features | Plagiarism checker, Tone detection. | Language translator, sentence rephrasing. |
| Professional Help | You can take professional help by paying an additional cost. | No place of taking professional help. |
| Payment options | Less payment options. | Many payment options including local bank transfer. |
Why Do We Use These Sites?
Many people would say that using writing sites is not safe and inconvenient as writing sites do not give 100% accuracy. Multinational companies hire human proofreaders, and grammar and spelling checkers to edit promotional content.
But a human can't proofread a huge number of writings in minutes. The companies which deal with a lot of articles daily face this problem. That is why you need writing tools or apps which will work in a fraction of a second.
One writing software will be able to do all types of writing-related work, where you will have to hire different people for different work. When it comes to pricing, the subscriptions are way more reasonable than paying an editor.
Even if human editors will be the most convenient in the field of accuracy, the writing software is getting more advanced day by day and those will make the work easy for you.
Why Grammarly or Ginger?
Grammarly and Ginger are the two leading websites when it comes to proofreading and grammar checking of the contents. You may have heard about these tools already, many people are using these for a long now, and they are getting immense benefit and their skills are also improving.
But you may have one question in your mind, how to use Grammarly and Ginger Software? Which is better, Grammarly or Ginger? Let's dive deep into the article and find out the answers.
What is Grammarly?
To know what's better – Grammarly vs. Ginger, you first have to know about the specifications of both of these.
Grammarly is a robust AI-powered software where you can check the spelling and grammar of your article. It will help you to improve your writing. It generally involves various tools like grammar checker, punctuation checker, detection of an error, plagiarism checker, etc.
Grammarly is well known for its simple and easy-to-use features, which help you to write with ease. It also somewhat helps you to proofread your content and make it perfect.
You can see the interface of Grammarly and understand how easy to use it. You just have to add the keyboard to your usual keyboard, and you can use Grammarly after that.
Here how the Grammarly interface looks like: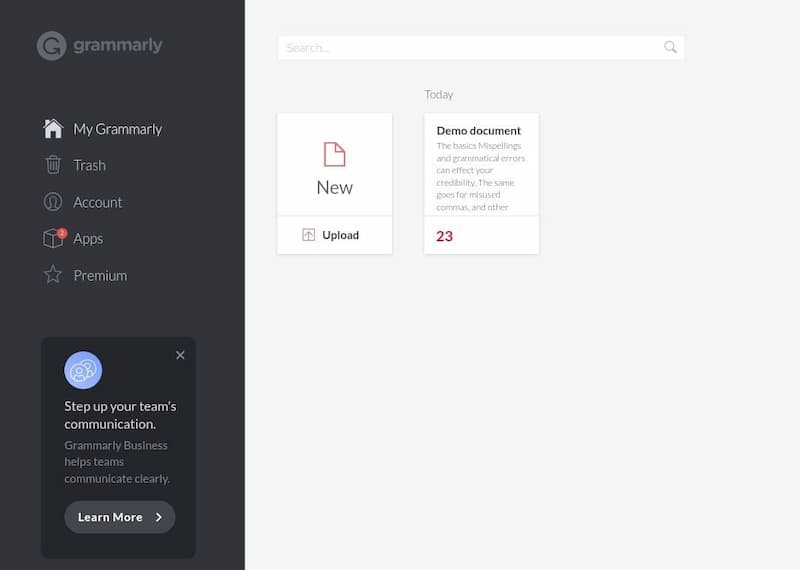 Why Would You Choose Grammarly?

Tone detector;
Mobile-friendly app;
The best grammar checker;
Internal plagiarism checker;
Paid subscription includes a lot of advantages that others do not have.
Ginger and Grammarly – both come with a lot of tools.


Grammarly has a tone detector that will detect the tone of your content, and it can change the tone to eight different tones, if necessary.


While checking grammar, Grammarly shows the score, and it also gives perfect accuracy. It is the best grammar checker in the market now.


Grammarly has an inbuilt plagiarism checker which detects unintentional plagiarism in the content.


Grammarly also checks the errors in spelling and rewrites it if needed.


You can use Grammarly to proofread your content as well.


Grammarly is a real mobile-friendly app, as the interface is very convenient to use both on a laptop and mobile. It has an app version that can be easily downloaded from Google Play Store, and you can install it on your phone and start using it. Yes, it is that convenient!


Grammarly's premium version comes with a lot of other advantages, and it often offers subscription packages and discount coupons as well.


Disadvantages of Grammarly
Besides having a lot of advantages, Grammarly has a few disadvantages as well:
Grammarly does not work with any other language except the variations of English.
The acclimatization of Grammarly takes a lot of time sometimes when one edits a huge chunk of text. But it is generally smooth and easygoing.
Reviews of Grammarly
Grammarly generally has 4.5 to 4.7 reviews on almost every site. You can search for the reviews yourself on the browser as well. People from different fields are using Grammarly for many days, and they are satisfied with the app.
Let's see what people on Sitejabber have to say about it: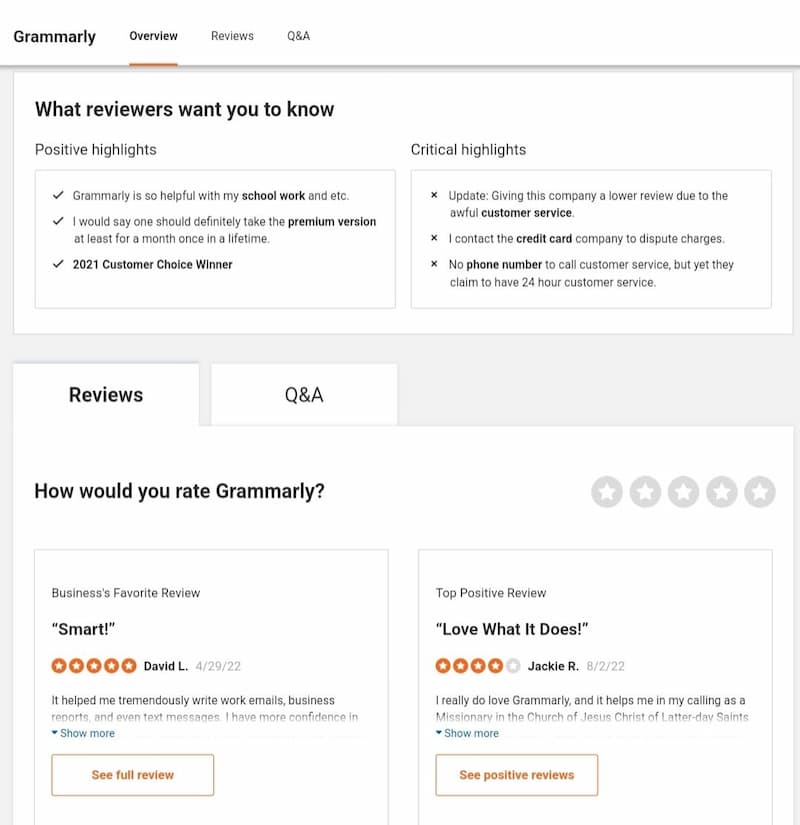 What is Ginger?
Ginger is also an Al-powered writing tool. This also offers various features like translation, rephrasing sentences, and finding errors and mistakes in the content.
The translation feature in Ginger is very popular among writers as it translates almost 40+ languages. This is what the interface looks like: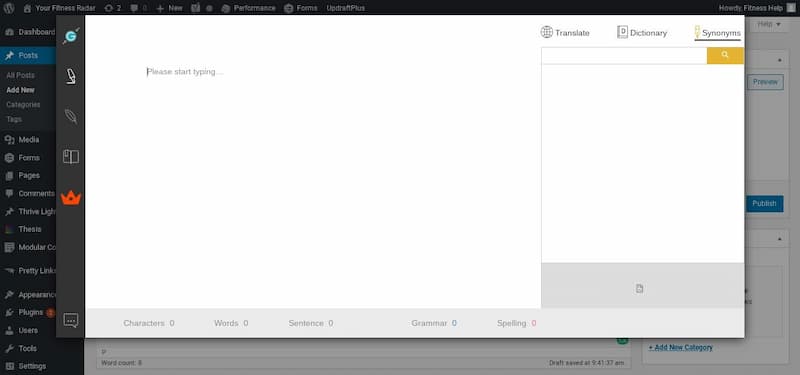 Why Would You Choose Ginger?
To know what's better Grammarly or Ginger, you have to know about the various areas of Ginger:
Ginger works as a grammar checker software that checks sentence constructions, errors in using contextual words, subject-verb agreement, singular/ plural nouns, etc.
Ginger does not only work in English. It has 40+ languages and the feature of translation as well.
It helps to detect errors in spelling. You can also use Ginger while rephrasing your sentences in the article.
The best part of Ginger is that it has an inbuilt personal trainer. It gathers information about your previous mistakes and helps to improve your writing skills as well.
Ginger also helps to improve your pronunciation skill. Suppose, you don't know how to pronounce a certain word. Don't worry, Ginger will do it for you with its text-to-speech feature.
Ginger has a smart word prediction feature, which helps you to write faster by predicting the next word in your article. It also has an emoji feature that offers a lot of emojis. That is how Ginger makes your writing experience easy and fun!
What Are the Disadvantages of Ginger?

No offline mode.
No offline mode.
No plagiarism checker.
The subscription is not that good as Grammarly's.
Let's see what are the disadvantages you will have to use when you use Ginger:


Ginger does not work offline, and it is not easy to use on mobile, unlike Grammarly.


If we are talking about Ginger Writer vs Grammarly, the Ginger writer catches the mistakes in an article. But like Grammarly, it does not give 100% accuracy.


Ginger does not have any plagiarism checker, and it cannot recognize if you are using numbers incorrectly.


Last but not least, Ginger premium subscription plans are basic and are not attractive as the Grammarly ones.


Reviews of Ginger
The top-rated review-giving websites have given a 4 rating to Ginger out of 5. Its language translation feature, sentence rephrasing, and other features make it one of the most used and popular writing software for writers.
You can search on your browser and check out the reviews. Here is a review on Ginger on capterra.com which tells the pros and cons of using Ginger software.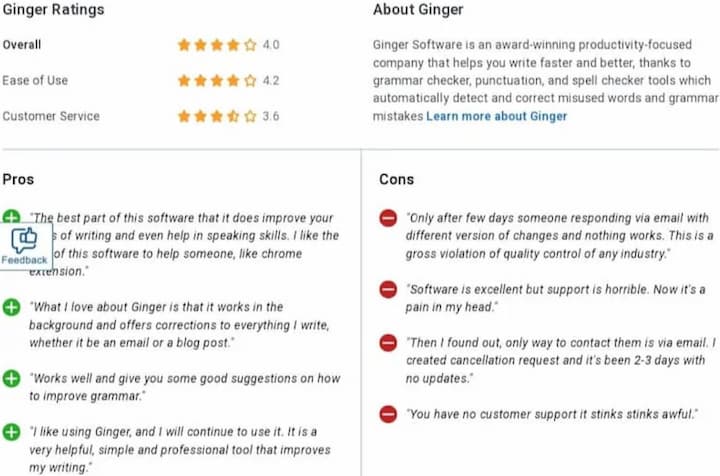 Detailed Comparison of Ginger and Grammarly
Let's see what are the different-advanced features of Ginger and Grammarly.
1. Language Change
As we mentioned before, Grammarly only works with different versions of English. You can use Australian, American, and British English according to your content. But regarding Ginger, there are 40+ languages.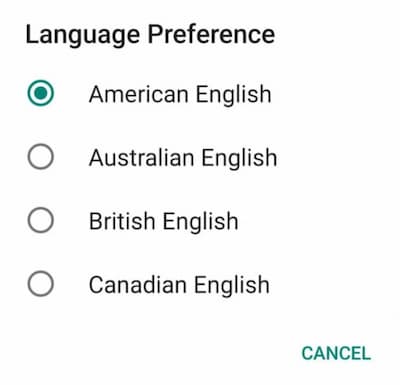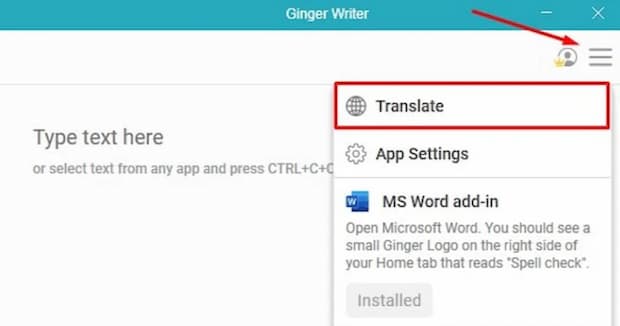 2. Rephrasing Tool
Grammarly does have an inbuilt rephrasing tool, but it does not offer a selective option to rephrase sentences.
If you select the sentences in the content, Grammarly shows the rephrasing sentence if it is irregularly constructed or if there are any mistakes. But in Ginger, you can rephrase the sentences anytime.
3. Plagiarism Tool
One of the most attractive features of Grammarly is the plagiarism tool. Grammarly's plagiarism tool is very powerful and it shows the result within seconds, which Ginger does not have.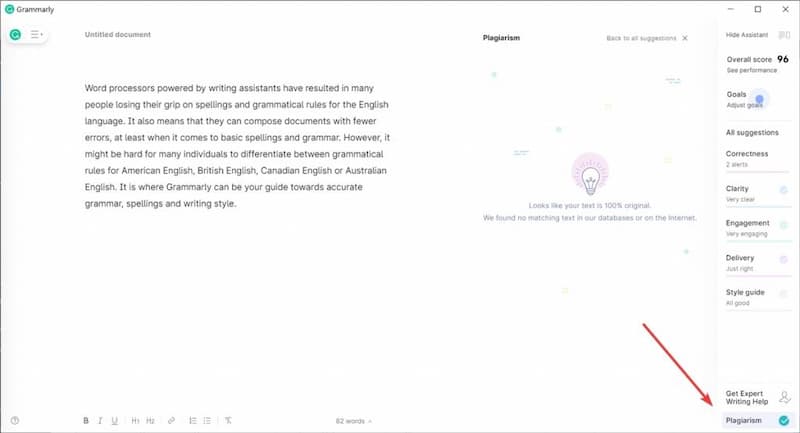 4. Professional Help
Grammarly comes in handy when it comes to getting professional help for a truckload of articles.
Suppose you have a due date of tomorrow, and you have a huge amount of unfinished writing, which you have to proofread and spell check now. Then you only will have the thought of hiring a professional freelancer for the work.
But you don't have to do that. Grammarly will do it for you within seconds with 100% accuracy.
Unfortunately, Ginger does not have any such feature.
5. Advanced Genre-Specific Tools
Grammarly scans the whole article and offers context-specific words. It suggests proper words if you have written an irregular word or irregular sentence.
Ginger lacks this feature as it cannot scan the document.
6. Tone Detection
Maybe the second best feature of Grammarly is the tone detection feature. Grammarly detects the tone and tells you if your content sounds formal, positive, or informal.
It uses different emojis to express the tone of the content. Ginger does have the "feelings" as Grammarly has!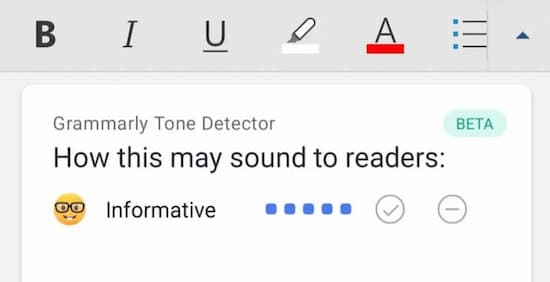 How to Use Grammarly?
Grammarly is really easy to use as it has both an app and a desktop interface. If you want to use the app, you just have to download the app from Google Play Store and log in to the app.
Add the Grammarly keyboard to your keyboard, and it will start its work. Yes, it is that simple!
You can even install the app on your desktop and continue working or search the website on the browser.
How to Use Ginger?
You just have to type gingersoftware.com on the browser and create your account there.
Ginger also has a free writing assistant which will help you to use Ginger for free by creating a free account there.
Is Ginger or Grammarly Better?
In this conversation about Ginger vs Grammarly, you might have one question in your mind – is Ginger software better than Grammarly? Or it's the other way around?
The suitability of both apps depends on the need of the writers.
Grammarly will be suitable for people who are:
Authors and journal publishers will strongly need a proofreader.
Content and blog writers will need a plagiarism checker, which Grammarly offers.
On the other hand, Ginger will be suitable for:
Students who will need sentence rephrasing tools for their assignments and essays.
Anyone who wants to use a writing tool on a reasonable budget.
Which One Is Pricier: Ginger or Grammarly?
Till now, we talked a lot about the difference between Ginger and Grammarly. Now let's get into the pricing details of both.
Ginger and Grammarly both offer the free version. But if you want to access the advanced features, you have to buy the advanced version of these apps.
So Ginger writer vs Grammarly – which subscription is better? Let's see that.
Ginger Subscription
You can access the advanced features of Ginger by buying the advanced version. The plans are:
Buy a monthly subscription at $19.99 (recurring every month)
Buy a two-year subscription at $9.99 (one-time payment – $167.76)
Buy an annual subscription at $12.48 (one-time payment – $89.99)
Ginger offers an exclusive discount of 30% on all the plans sometimes where the monthly subscription will be $13.99, the two-year subscription will be $6.99, and the annual subscription will be $7.49.
If you do not like using Ginger, you get a refund from Ginger within 7 days.
Grammarly Subscription
The Grammarly subscription plans are:
Buy a monthly subscription at $25/m (1 member)
Buy an annual subscription at $12.50/m (3-9 members)
Buy an annual subscription at $12.08/m (10-49 members)
Buy an annual subscription at $11.67/m (50-149 members)
Grammarly increases the amount depending on the number of members. Hence, the fourth plan is recommended by the big agencies that produce content daily, universities, and schools.
Grammarly's standard version does not allow you to access the plagiarism checker, professional help, and advanced genre-specific tools. You must have a subscription to the advanced version for that reason.
Is Ginger better than Grammarly? Regarding the subscriptions, it is, as the subscriptions are way much cheaper than those of Grammarly.
Payment Options
Which is better Ginger or Grammarly while it comes to payment options? Let's find out the answer.
Grammarly accepts PayPal, credit card, and debit cards (except for the visa electronic debit cards, Interac, and MasterCard maestro).
Ginger accepts secure online credit cards (Visa or Mastercard), PayPal, Phone calls (with a live service representative), Fax, Mail/Check/Money orders.
Apart from that, it also takes Skrill (MoneyBookers) and local bank transfers.
Final Verdict
We have talked about all the areas of both software. In the battle of Ginger writer vs Grammar, it can be seen that both are given competition with each other.
Ginger may not have the plagiarism checker or tone detection as Grammarly has. But Ginger's language translation feature is very popular.
It also has the sentence rephrasing feature, which comes in handy. However, Ginger sometimes lags while working with a big chunk of text and is not smooth and easily flowing like Grammarly.
Grammarly is having some extra points because of the inbuilt plagiarism checker and tone detection feature. It gives results in seconds, whereas Ginger takes a lot of time while working.
Ginger doesn't support Google documents, while Grammarly supports do. Also, if you want to download the Ginger software extensions for chrome, you have to go to the Chrome Web store and download it for free.
A pop-up window will appear, and you have to give permission for the download. Grammarly, on the other hand, is very convenient to use. It has an app version for mobile phones as well. Both offer a free version as well.
Ultimately, we can say that Grammarly wins the verdict.
Wrapping up
Writing contents are in demand nowadays because websites need promotional blogs. Though both the software have different and some similar features as well, these are in demand. Freelancers can easily use this app with a bit of training and improve their writing skills. This can be a good income opportunity for students who are thinking of starting to write content.
However, you must not be dependent on the apps too much as you must have your original content, and you must have a good grip on grammar. So, sign in to the apps according to your convenience and write with ease!