Overall Comparison: Grammarly or Copywritely
| | | |
| --- | --- | --- |
| Website | Grammarly | Copywritely |
| Founded By | Ukrainians Max Lytvyn, Alex Shevchenko, and Dmytro Lider | Ukrainian company Boosta |
| Purpose | Professional communication, Content Writers, Academicians | Writers, Content Creators, Business Developers |
| Price | Starts from $11.66 | Starts from $18 |
| Grammar and Spelling | Yes | Yes |
| Plagiarism Checker | Yes | Yes |
| Readability Analysis | Yes | Yes |
| Writing Style and Tone | Yes (Detailed feedback on style and tone) | Offers templates to create compelling content |
| SEO Features | N/A | SEO Issues, Keyword Density, SERPs Features |
| Integrations | MS Office, Email clients, Web Browsers | Chrome |
| Unique Features | Explanation of grammar rules, Tone detection | Alphabetizer, SERP Analysis, Rewriting Tool |
| Customization | High (Explains grammatical errors, etc.) | High (Detailed SEO features, Content comparison) |
| User Reviews | N/A | Mostly positive with some suggestions for improvement |
With the advancement of technologies, especially artificial intelligence, content writing has become more accessible. The AI looks into each sentence, searches for any errors in the writing, and offers a clearer and proper sentence structure.
They also help you by suggesting more substantial synonyms to remove monotonous words, thereby uplifting the overall quality of your writing.
Moreover, Copywritely and Grammarly help writers identify SEO issues, fix them beforehand, recreate innovative articles, and publish the entire work without a mistake.
They also help in making a piece of writing flawless through their in-built system evaluations concerning syntax, style, and tone of it.
These apps also offer active and passive voice filtration to ensure that all can read your content.
But there are other top-rated plagiarism apps in the market as well, then why would you choose Copywritely or Grammarly? Let's find out the answers.
What Should You Consider Subscribing to?
With new apps like Grammarly and Copywritely, the age-old method of searching for errors and going through the article several times to make it error-free has become backdated.
They highlight your mistakes as well as unclear sentences in an instant and also suggest new corrections that you might consider replacing in your content to make it more professional. It also increases its readability among the target audience.
Both content writing, as well as business communications, need error-free writing that might get overlooked sometimes. This results in a low reputation for the entire organization and poor performance in your content writing job.
But these apps not only correct the error, as there's much more to good writing than being only concerned with spelling and grammar.
They help ensure the readability of the content created by you and enhance its clarity, compactness, and comprehensibility.
What Are the Standard Features Offered by The Apps?
Here are some of the key features that both apps offer to their customers:
Necessary spelling and grammar corrections.
Suggest the punctuation mistakes that the writer might overlook.
Suggesting more precise sentences for rewriting.
Finds out confused prepositions and suggests changing them.
Offers extensions for Chrome browser, MS Word, MS Outlook, and many more.
It helps in mastering your writing style and becoming a pro.
Recommend sentences and words appropriate to the content.
Suggestions on how to increase readability by maintaining a consistent clarity of your content.
Provides a graph of all your performances and improvements.
Additional in-built plagiarism-checking software.
About Copywritely: All You Need to Know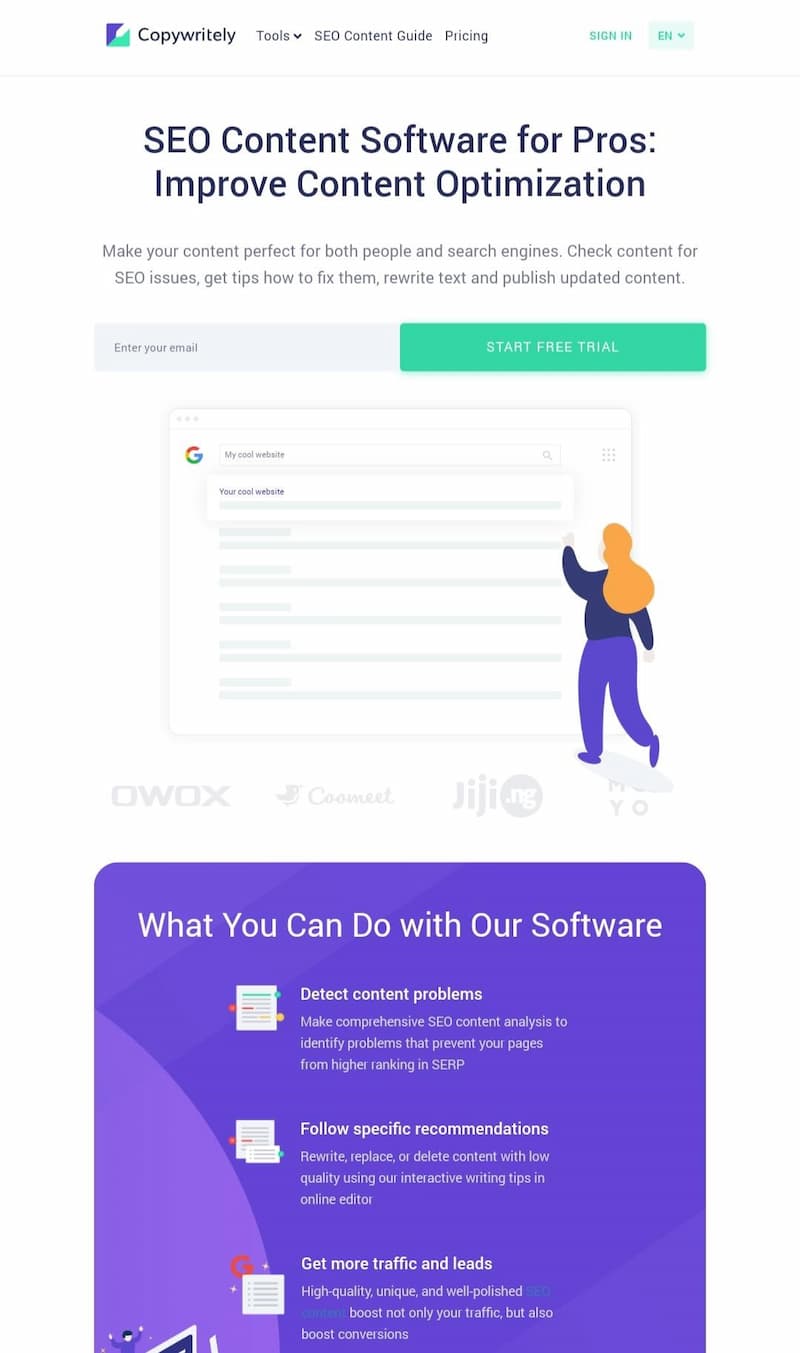 Who Founded Copywritely and Why?
Copywritely app is developed by Ukrainian company Boosta and is known for its SEO and grammar and spelling checking writing aid and plagiarism checker.
It includes advanced software for analyzing content and business writings to make it suitable for search engines and individuals in an effective way.
It is specially developed for writers, content creators, and business developers so that SEO issues can be easily fixed in their writing, along with numerous other settings that help you filter your article or content for maximum readability.
Moreover, the built-in templates offered by Copywritely help you create compelling content that would attract readers' attention.
How Does Copywritely Work?
The entire work covered by Copywritely on your content can be divided into two parts:
Part 1 – Analyzing Your Entire Text
In the first part, you can use the tools available in the app, which helps you to find small and overlooked errors inside your content.
Moreover, the app enables you to maintain the uniqueness of your content which is a necessity of modern content.
With thousands of similar content available online, your content tends to be identical to the competitors. Copywritely helps you eliminate all types of duplicate texts and replace them with unique and innovative ones.
Part 2 – A Detailed Analysis of Competitor's Contents
After all the errors are fixed, part 2 involves a detailed analysis of the content created by you and compares it with the top competitors in Google's SERPs.
The numerous built-in tools of Copywritely provide you with a detailed graph of the competition which helps you to make your content more unique and increase readability.
Top Features Copywritely Provides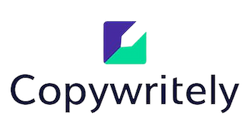 Checks Your Grammar and Spelling;
Provides Alphabetizer Feature;
Checks the Keyword Density;
Analyzes the SERPs Features;
Checks the Readability;
Has a Rewriting Tool;
Checks Plagiarism;
Counts Words.
1.  Checking Grammar and Spelling
While writing fluently, we tend to make silly grammatical mistakes that become very difficult to discover during a review. With Copywritely, you don't have to go through your article for numerous studies.
Before the final upload, you can check all the overlooked punctuation and grammatical errors that could invite negative comments to your website or your content. The app helps quickly to identify all your mistakes and comes with necessary suggestions.
2. Checking for Plagiarism
The plagiarism checker of Copywritely helps to find any plagiarized sentences inside your content. You can quickly check the percentage of plagiarized content your writing possesses by simply copy-pasting your entire text in the box and clicking on the button 'check plagiarism '.
You will be provided with a plagiarism report within a few minutes. After checking the plagiarism report, you can rewrite the same sentences and make them unique at your fingertips.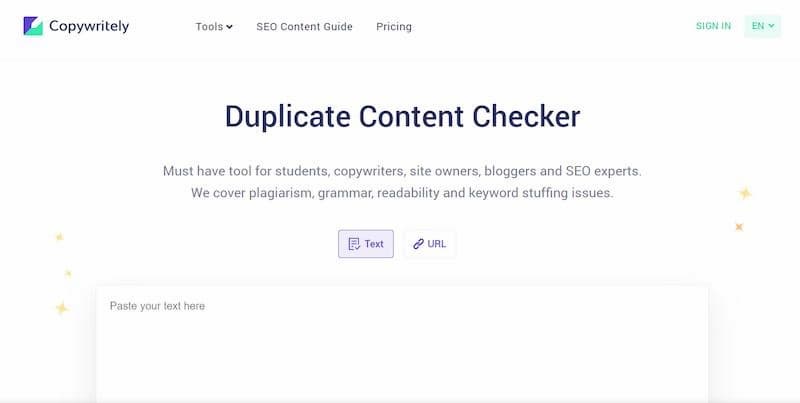 3. Checking the Readability
Readability is the primary concern in the entire oeuvre of today's content writing services. Your content needs to attract the attention of the readers. Mainly the readers include the mass, and for them, you need to write in a fluid language that is easily understandable.
To check the readability of your content, copy-paste the entire range into the box. This will highlight the parts that use complex words and are difficult to understand or read. Reconstruct the phrases as needed, and you are all set for publishing your content online and escalating traffic and sales.
4. Checking Optimum Keyword Density
Writing an article seems straightforward, but you must remember several things while writing content. The main focus of the content is keywords which tend to become similar most of the time. This would hamper the uniqueness that you need to maintain in your content and would invite unnecessary negative comments.
With Copywritely, you can be assured of no repetition of the same keyword twice. The software calculates the word percentages inside the content and develops a report on it. This helps to rewrite duplicate or repeated keywords making your overall content unique with improved quality SEO text.
5. Checking Keyword SERP
It is a typical case in content writing and blogging that you tend to take keywords from your competitor's content. Copywritely comes with a built-in SERP checker that helps you to find out those keywords and uniquely create them. You can check by writing the target keyword in the box, and the software would check the uniqueness of the same.
This will help you to compare and contrast your content with those of your top competitors and develop new strategies and styles that would attract the market.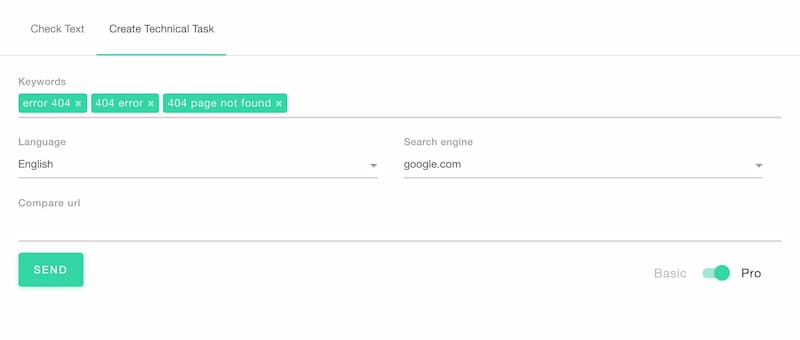 6. Counting of Words
Proper word count is a must inclusion in all kinds of writing apps. Copywritely is not an exception. While developing content for some brand websites, you must be instructed to maintain a specific word limit.
The number of words in your article can easily be checked by placing the entire text in the box, and it will automatically show the total number of words that your article contains.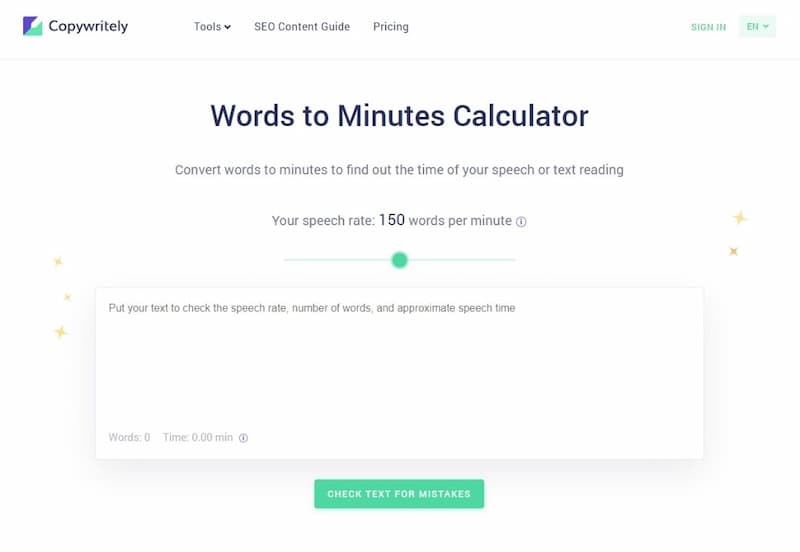 7. Rewriting of Articles
 This feature provides quick rewriting of any article and makes it instantly unique. It is like a cheat code that no one tells you about.
If you are into freelancing, you must develop several unique pieces of content from the same article. Copywritely helps you in rewriting your article quickly with the help of software.
8. Alphabetizer
While writing your article, you might need to put a few words in alphabetical order. This is quite a complicated job if done manually. But with the development of numerous software, nothing is impossible nowadays.
Copywritely uses the alphabetizer tool to find all the target words and puts them in alphabetical order, hence saving your time and energy. It provides the desired result in an instant.
Copywritely's Pricing
Copywritely is known for providing subscriptions at affordable rates. There are four types of packages. Here's an overview.
The personal package is available at $18/month. The package has the following specifications:
Great for SEO teams.
Single user involvement.
Checking contents limited to three languages.
Built-in Plagiarism checker.
Online editing.
Chrome extensions.
Detection of rewriting and repeated phrases.
Limited to 50 pages per month.
Keyword report.
Customized keyword list.
The startup package is available at $45/month. The box has the following specifications:
Limited to one user.
Great for owners of a company.
Checking the content of eight varied languages.
200 pages per year.
200 reports per year.
The company package is available at $35/month which comes with the mentioned specifications:
Five users.
Word count of about 10,0000.
Checking 150 pages per month.
Developing 75 reports per month.
Great for small business teams.
SERP- Top 15 competitors.
The enterprise package is available at $67/month. The package offers:
Ten users.
Word count of about 15,000.
300 pages per month.
150 reports per month.
SERP- Top 15 Competitors.
Grammar and plagiarism checker.
Great for agencies and marketing teams.
Reviews of the Site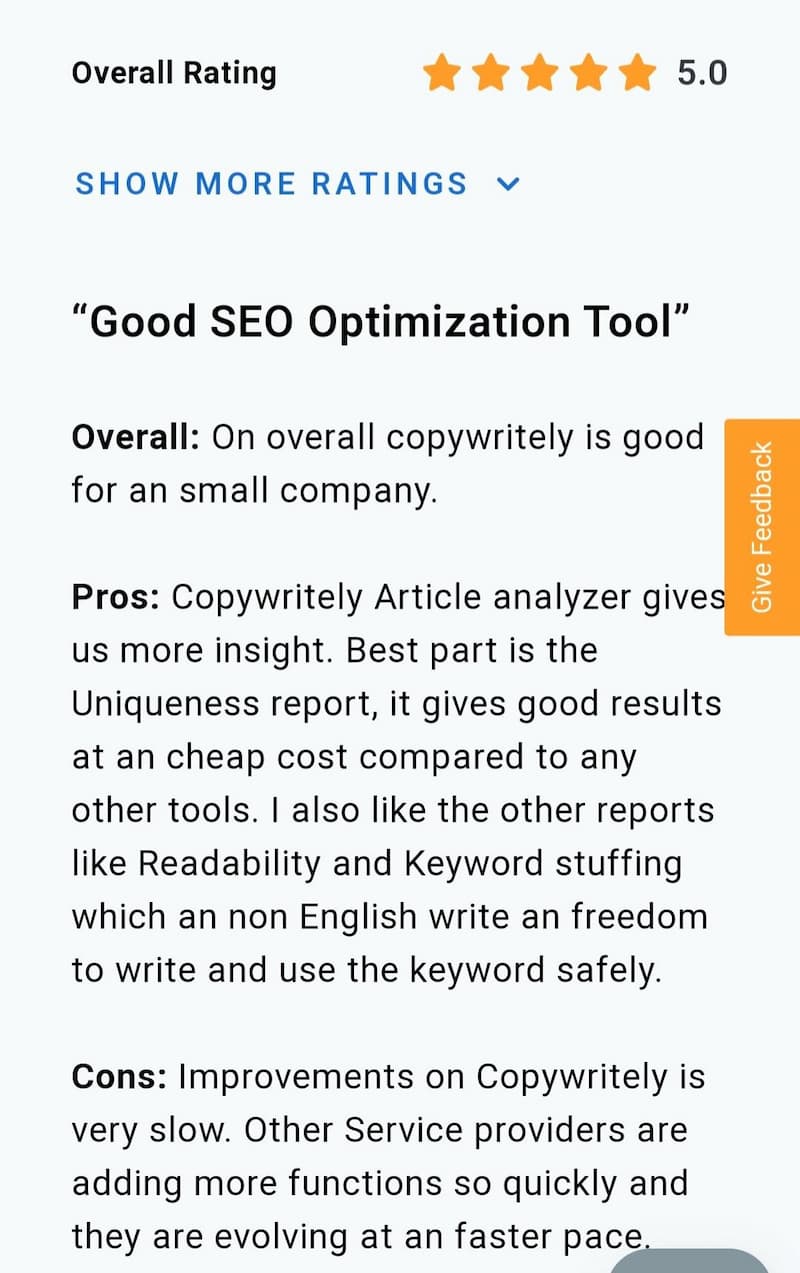 The site mostly has positive reviews securing about 4.7 out of 5 and possesses about 85% of positive reviews. The customers with positive reviews found the Copywritely extremely useful for improving style and efficiency in content writing.
The site is also recommended for quick delivery of plagiarism reports and spelling and grammar checks.
However, some negative reviews can also be spotted where customers recommend that the integrations with frequently used CMS might be improved to some extent.
Moreover, the existing tool for checking plagiarism does not perform at its best, ensuring 100% uniqueness of the content.
But is Copywritely or Grammarly better? To know this, we must delve deep into the features of Grammarly as well and then see which will be convenient for the users.
About Grammarly: All You Need to Know
The image below will provide you with a picture of what the website looks like: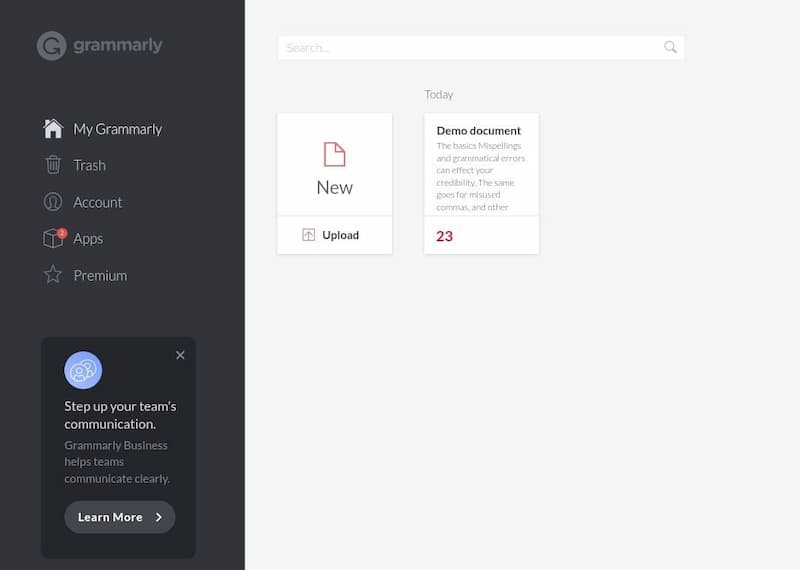 Who Founded Grammarly?
Grammarly was jointly founded by Max Lytvyn, Alex Shevchenko, and Dmytro Lider in 2009. The central goal was to ensure effective communication among people.
It was initially started in Kyiv and Ukraine by these three men who developed the Grammarly app after a detailed study of written contents and research databases.
Why Grammarly?
The app is designed as a professional communication tool, especially for teams providing service for departments like HRS and marketing and sales of business organizations seeking to grow.
Just like Copywritely, this software offers a practical writing guide to the writers with services such as spelling, grammar, and punctuation checks, plagiarism checks, escalating the writing style, as well as suggestions for the creation of unique, engaging, explicit, and correct content.
The software ensures error-free and influential business writings with a touch of professionalism in them. It provides simultaneous integrations with MS Office, Email clients, web browsers, and many more.
Moreover, the security system of Grammarly ascertains protected saved data by 256-bit AES, the software compliant with CCPA and GDPR systems. It also makes use of the SOC type 1 and types 2 protocols to safeguard the saved data from any unauthorized access.
For Whom Does Grammarly Work?
You will definitely find Grammarly useful if you are one of the following people:
Content writers.
Copywriters and material marketers.
Academicians looking for effective plagiarism detection.
Anyone intending to prepare a detailed report, email, or post on social media.
Anyone developing new writing skills in English.
Frequent writers in English.
Key Features Offered by Grammarly

Proper Writing Style and Correct Tone Checker;
Grammar and Punctuation Checker;
Great Pricing Model;
Plagiarism Checker;
Spelling Checker.
1. Grammar and Punctuation Checker
The app detects basic as well as advanced errors in grammar and punctuation like frequent alliterations, run-on sentences, slipping of commas, repetition of the same word twice, and many more.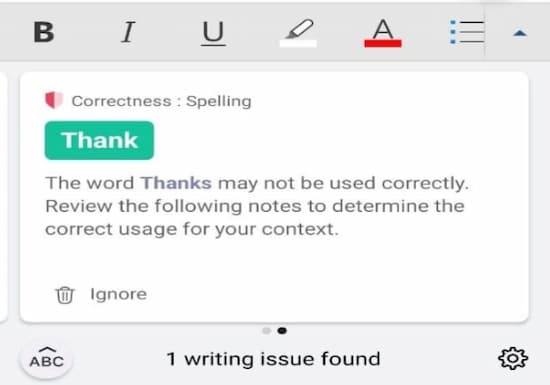 But Grammarly not only detects but also points out why it is considered a mistake in English. As a result, it is frequently used by new writers and bloggers who can also learn simultaneously by fixing grammatical errors in English. It provides a brief and easy-to-understand lesson.
2. Plagiarism Checker
The software helps in an advanced level of plagiarism detection by scanning your entire text and highlighting intentional or unintentional plagiarism.
After reviewing, you can efficiently rewrite the parts showing plagiarised content and make it unique. Grammarly completes the whole process within a few minutes, helping you complete your work within the deadline.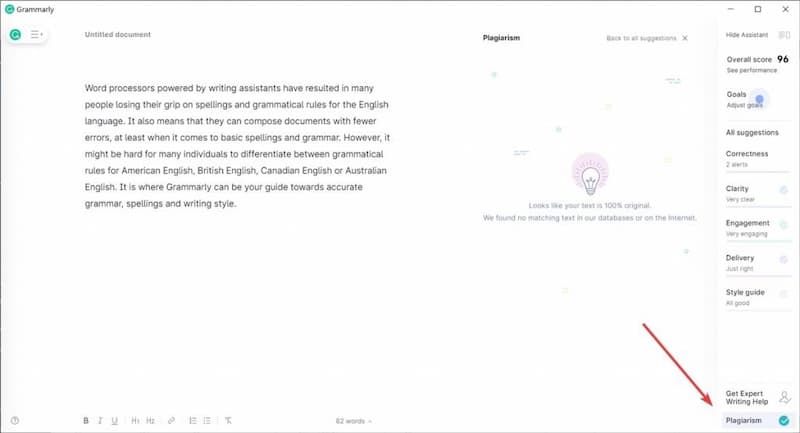 3. Checking the Correct Writing Style and Correct Tone
Grammarly works personally on your writing style and suggests engaging words and unique synonyms that provide an innovative touch to your content. It makes you aware of the average sentence length, readability, passive voice use, and other essential insights relevant to increasing the quality of your content.
It also has a tone detection tool that detects the tone of the article and gives feedback according to it.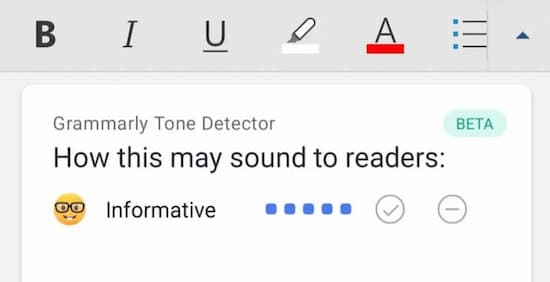 4. Spelling Check
Silly spelling errors while writing content at a considerable speed are sometimes unavoidable.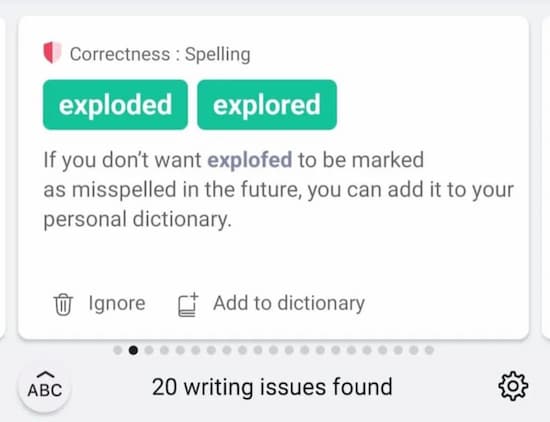 With Grammarly, you can quickly check the spelling errors you somehow overlooked and make them correct without much ado.
Grammarly's Pricing
It is a frequently asked question that – Is Grammarly free?
Well, the answer is yes. You can subscribe to the free basic version.
Still, to unlock all critical features as well as plagiarism check, you need to upgrade to Grammarly Premium, the cost of which varies among different package specifications given below:
$12.00 a month if paid annually when you pay annually ($144.00 in total)
$20.00 a month if paid quarterly
$30.00 a month if paid monthly
Grammarly Business option is also available at $12.50 per user per month when billed annually, which includes all features along with the statistics for your team and an admin panel.
Review of the Site
Grammarly mostly secured positive reviews from most of its subscribers. It is an easy-to-use app that improves your writing skill while at the same time making you aware of your frequent errors.
Its plagiarism checker works relatively fast and detects the right amount of plagiarised content in an article.
Moreover, the customers mostly recommend the app for efficiently pointing out phrases or sentences that are hard to read or understand.
But the only negative point is that its working is only limited to English. It does not offer numerous language benefits.
Is Copywritely Better Than Grammarly?
Users often emerge confused regarding what's better – Grammarly vs Copywritely. Be it Grammarly or Copywritely, both apps have developed advanced software for providing efficient writing assistance for editors, content writers, and bloggers.
Copywritely provides more language options than Grammarly, which is an obvious advantage. Both apps are cost-effective and provide quality service within time. You can choose between the two based on your taste and preference and your level of comfortability in operating the app.
Payment Methods Adopted by Copywritely and Grammarly
Grammarly accepts nearly all payment methods, including debit as well as credit cards, and PayPal except for Visa Electron, Mastercard Maestro, and Interac cards.
Personal payment methods like checks, money orders, or payments made by phone are not accepted.
Copywritely accepts their payment through all international debit and credit cards. PayPal is also accepted.
The Bottom Line
To upgrade the quality of your writing and reach more customers and viewers you must need the help of either Copywritely or Grammarly.
No matter whom you are writing for or what kind of writing you are indulging in, be it casual writing, book publishing, content writing, or professional business writing, these apps spruce up the writing style targeted for social media posts, blogs, emails, and formal academic papers.
So, don't think much. Sign up for free and upgrade for a premium experience!