There's no shortage of content analysis software around these days. Some of it is priceless, while other programs are more façade than features. However, you won't want to skip our detailed Copywritely review. In a few minutes from now, you'll know if this online service is USEFUL or USELESS for students and content creators.
Copywritely is a unique, easy-to-use, paste, and tweak online tool for content and SEO optimization. The software claims to help writers spend more time creating and less time correcting. But Copywritely isn't just another spelling & grammar checker… it's an entire suite of correction tools with helpful built-in suggestions.
Despite much positive feedback, it's a good idea to read this Copywritely.com review before deciding. It's also a Copywritely plagiarism checker review. But how much of what you may have read about this program is hype? Is Copywritely.com the real deal and easy to use, or is it just another misleading scam?
Let's dig in and find out.
How We Evaluate and Rate Copywritely.com
There are plenty of Copywritely reviews, but many of them are biased. But our detailed breakdown of this content analysis software is impartial and balanced. We use the same approach as with a Ginger Editing Software review and others.
We cover all the ins and outs of this popular program, including:
Who's behind Copywritely?
Website interface and usability
Tools, quality, and reliability
Pricing and plans
Customer Service/Support
Company promise and guarantees
What users say about the product (feedback & ratings)
Before we get to the Copywritely.com review, let's take a moment to see whether digital writing tools are helping or hindering students and content writers.
Can Digital Tools Shape Students Writing Skills?
A paper published in 2013 examined the impact digital tools have on student writing development and skills. The detailed survey included 2,462 National Writing Project (NWP) and Advanced Placement (AP) teachers. The general agreement was that digital technologies help shape and engage students and teaching in many ways.
Digital Writing Is a Vital 21st Century Skill
Writing software has come a long way, including Copywritely com, which its founders launched in 2014. And there have been many Copywritely reviews since then.
Here are 5 reasons why digital writing benefits students, teachers, and parents:
Working with digital tools is a necessary 21st-century skill
Many students are now more at ease working digitally
Writing software encourages students to be flexible and creative
Students learn different ways to create and shape content
Easier to share work with others, including teachers and parents
The growing number of Copywritely reviews suggest it's one of the most talked-about online writing tools around. But before we delve into the software's features and functions, let's take a brief look at the company's history.
Check our Chegg Writing review before picking any service. Yet, how reliable are they? Is it legal to use them, and do they help get things done affordably?
The Story Behind Copywritely.com
Copywritely is a 100% web-based app. It provides intelligent solutions for analyzing web content using multiple, seamless background checks. The software has become highly popular with students, content creators, and SEO specialists the world over.
Meet the Copywritely Team

Copywritely has multiple founders and a dynamic young crew running the show. The average age of this ambitious team is just 25 years. It's a multicultural company, too, boasting the best and the brightest talent. Everyone who works there is 100% dedicated and passionate about what they do.
In Pursuit of Perfection
Copywritely is far from a finished product. It seems that the team is constantly striving to improve the software and introduce even more cool features.
Obviously, the company is going to talk positively about its product and related services. And maybe they're right, too. But we can't take their word for it without test driving the software, so let's start with the web interface.
Website Interface and Usability
Most new Copywritely reviews agree it has an easy-to-use, uncluttered interface. Once signed in, you're presented with two options to add content. You can either copy & paste your text directly into the text field or pull content in via a URL (web address).
In this example, we've pasted some text into the field to illustrate.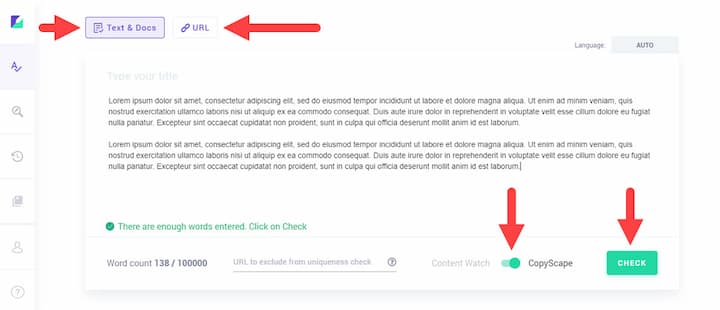 If you want to check for plagiarism, toggle the CopyScape button to ON. It's then a simple case of clicking the green CHECK button on the bottom-right of the screen. Copywritely plagiarism checker employs the ultra-fast CopyScape detection service.
Most Copywritely plagiarism checker reviews agree that CopyScape ranks among the top three plagiarism checkers. It uses deep searching algorithms to scour billions of websites for matching fragments. But is Copyleaks reliable as a free alternative? Of course, it is, but the beauty of Copywritely is that all your writing tools are in one place.
OK, the next screen lets you select a dialect.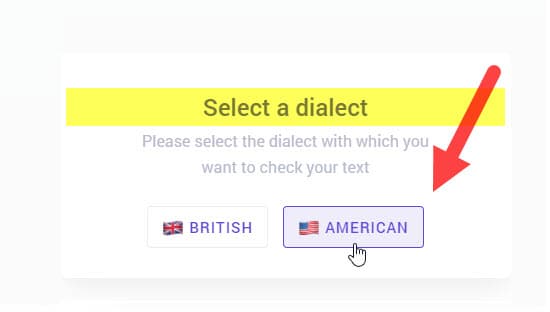 Copywritely now analyzes the content and generates a detailed, easy-to-read report.
Check Text Via URL
Selecting content via URL is just as easy. Just click the URL button, and add the web address into the "Paste your URL here field. Lastly, click the CHECK URL button.

Note: All Copywritely text input tools offer paste and URL options.
After clicking a language, Copywritely generates a detailed report that includes:
Uniqueness
Keyword stuffing
Redundant phrases
Readability
Keyword check
Spelling and Grammar
Other
The potential for improvements often surprises new users, and that's the point. Everyone needs an editor and proofreader, including editors and proofreaders. Copywritely highlights every word, sentence, or punctuation mark in the text.
The Copywritely Toolset

OK, how can Copywritely help improve your written text? Let's go over its 10 tools to find out, starting with the Grammar checker.
Duplicate Content Checker
The Duplicate Content Checker is vital for anyone who needs to produce unique content. That typically includes students, online content creators, and SEO experts. Copywritely's report highlights any accidental plagiarized sentences and paragraphs. You then simply rewrite the duplicated text until your piece is 100% unique.
The screenshot below tells us that 69% of the content is not unique. You then reword or rewrite the highlighted text and click the RECHECK button to rerun the report.

But 100% unique text doesn't mean grammatical perfection, so let's look at the syntax.
Grammar Checker
Why would you need a grammar checker when all popular word processors have them built-in? Well, Copywritely offers more advanced checks and suggestions. That includes things like punctuation choice, context, and sentence structure. It also gives detailed tips for vocabulary enhancement more generally.
Copywritely provides a one-click correction feature for fixing grammatical issues.

Readability Checker
No one ever complains that a piece of writing is too easy to read. Copywritely's readability tool helps you rewrite your content so that it becomes easier to follow. The checker evaluates text using the Gunning fog and Flesch indexes. The report highlights any hard-to-read sections so that you know which parts to rewrite.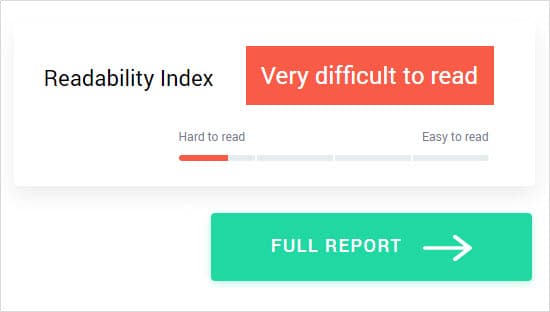 Keyword Density Checker
Words or phrases repeated too often interrupt flow and make an awkward read. Moreover, search engines frown on keyword stuffing with online content. That's typically words and phrases with a keyword density of over 3%. Such content is unlikely to show on page one of the search engine result pages (SERPs).
In the example below, Copywritely has found two cases of keyword stuffing.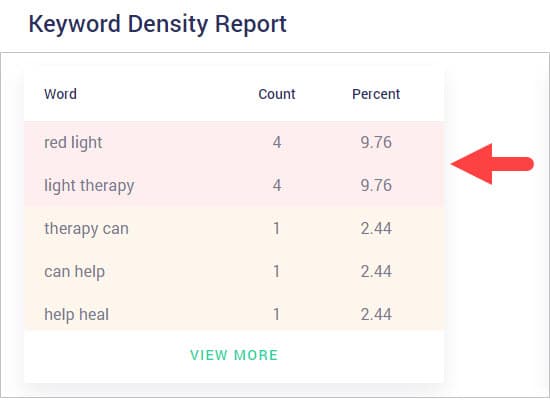 Let's stay with search engines and now look at the keyword SERP checker.
#5 Keyword SERP Checker
This is a smart tool for online content creators and bloggers trying to rank well in the SERPs. Checking the SERPs using several keywords lets you see which competitors have the most relevant content. You can go on to use that data to perfect your own text. The Copywritely keyword SERP checker can take a few minutes to gather the data.
The results show the sites that include your keywords and their SERP position (page):

Article Rewriter
This tool is also known as a text spinner. It helps users quickly rewrite new content from old. The result is a similar piece but with significant changes to the wording. In other words, the spinner enables you to create a unique article from the original work.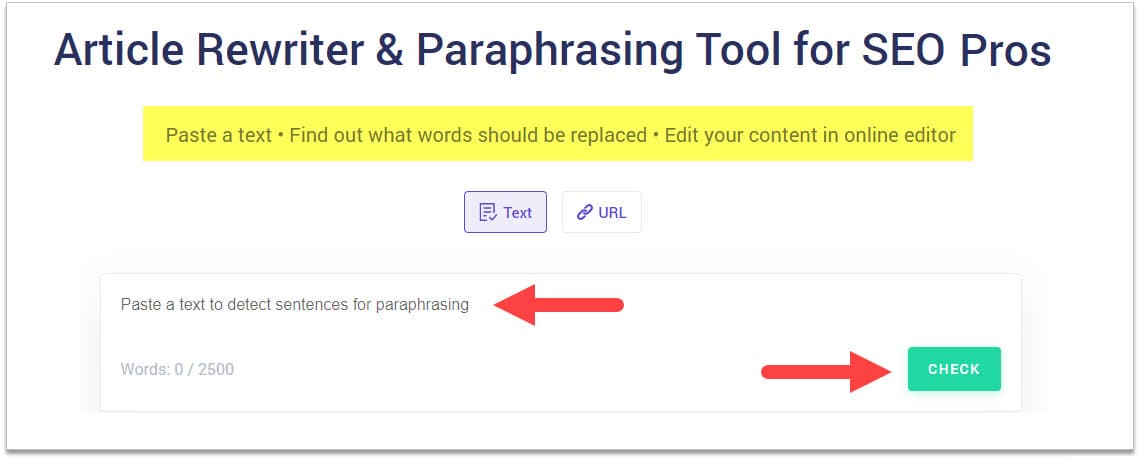 Word Counter
The Word Counter counts words, characters with spaces, sentences, and pages. You can find counters in word processors and free online tools. Even so, it's useful to have a suite of content analysis tools from a single interface.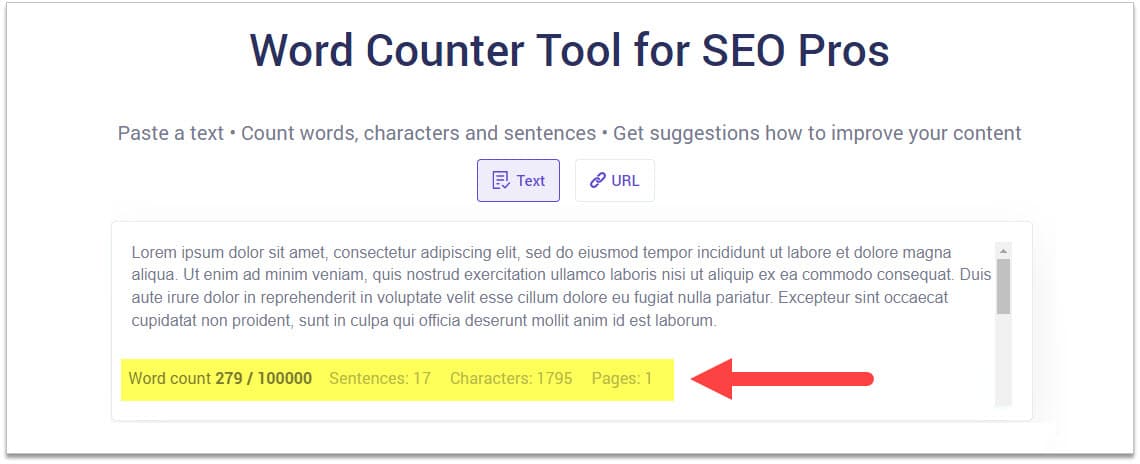 Alphabetizer
The Alphabetizer is another simple tool for sorting lists from A–Z or Z–A. But again, it's handy to have all the tools a writer needs in a single program.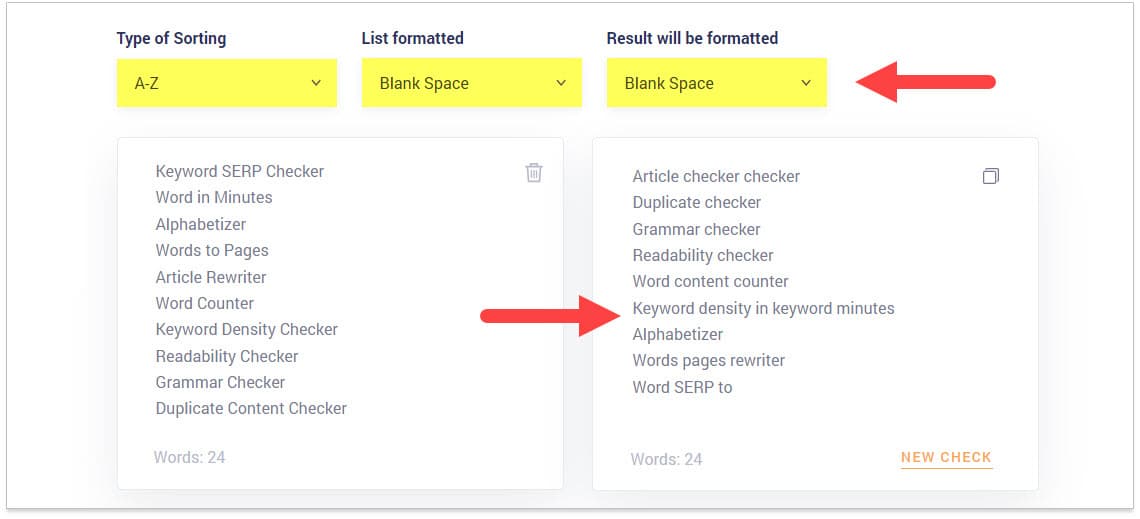 #9 Word in Minutes Calculator
This tool is handy for students and professionals who need to deliver a presentation or speech. Knowing how long it takes to read your content is a great way to prepare and instill confidence pre-delivery. Remember to adjust the sliding speech rate first.
Typical speech rates are:
100 words per minute or wpm (slow)
130 wpm (average)
160 wpm (fast)

Words to Pages
Many student assignments specify fonts, font sizes, spacing, and page counts. That's where the Copywritely Words to Pages tool comes in handy. However, it lacks a paper size selector, so the results are general rather than specific.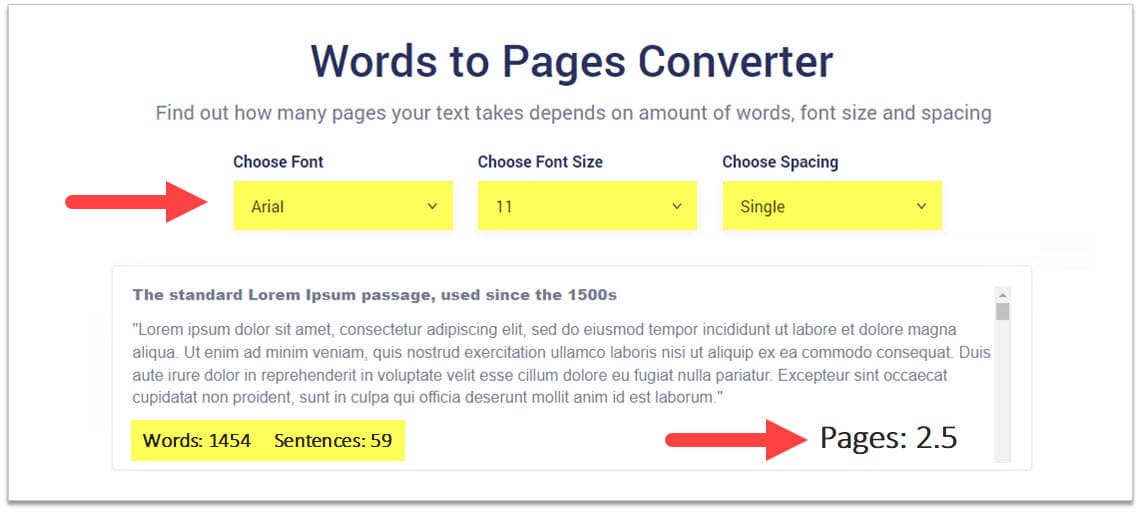 Note: This tool also counts your words and sentences.
Summing Up Copywritely's Toolset
In conclusion, all ten tools we tried performed as advertised. The interface is super-easy to navigate, and most functions respond fast. The only exception was the SERP Checker, which took several minutes to return the results. Nevertheless, our Copywritely review found it an attractive, honest, and practical, all-in-one online writing aid.
Pricing & Plans
Copywritely has four plans that cater to Startups, Freelancers, SEO experts, and Businesses. They include—from cheapest to most expensive—Personal, Startup, Company, and Enterprise. Prices range from $18 per month up to $67/Mo.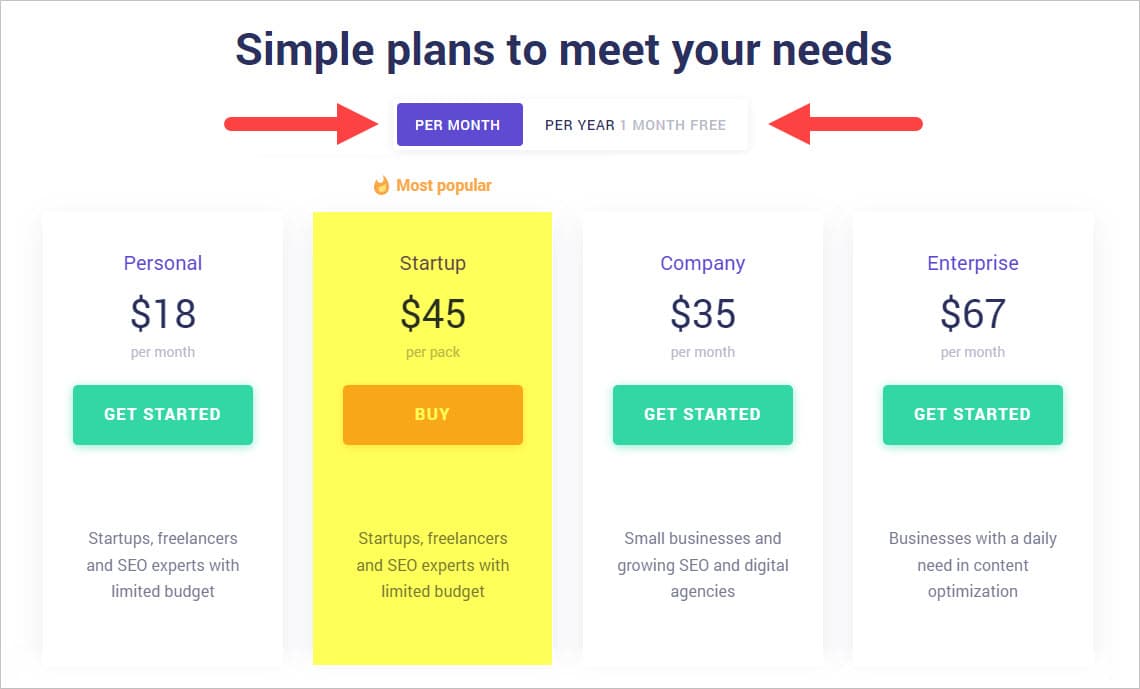 Alternatively, you can buy an annual subscription and get one month for free.
Payment Options
Payment options include PayPal, MasterCard, and Visa credit cards. If you're undecided, consider taking Copywritely's free trial for a run first.
Copywritely's Content Optimization Tools
All four plans include the following content optimization tools:
Multiple languages (see below for details)
Plagiarism checker
Keyword stuffing checks
Grammar checker
Rewriting suggestions
Real-time editing
Google Chrome extension
Words Per Check and Number of Checks Per Plan
Each package differs between the number of words per check (WPC) and the total checks allowed. Here's how that looks at the time of writing this Copywritely review.
Personal: WPC: 5,000, number of checks 50/Mo.
Startup: WPC: 5,000, number of checks 200/yr.
Company: WPC: 10,000, number of checks 150/Mo.
Enterprise: WPC: 15,000, number of checks 3000/Mo.
Search Engine Results Pages (SERP) Analyzer
All four packages include the following SERP analyzer features: Keywords Research Tool, Automatic Task Generation, Task Customization, and Report Export. The number of reports and competitors analyzed increases with each plan upgrade.
Supported Languages
Copywritely currently supports 11 languages: English, French, German, Italian, Dutch, Polish, Portuguese, Russian, Spanish, Swedish, and Ukrainian.
Copywritely Improves Writing Skills
There's no doubt that Copywritely is a valuable tool for improving writing—at any level. It allows students, content creators, and SEO experts identify and fix issues in no time. And the plagiarism checks, keyword stuffing, and syntax suggestions are invaluable.
If you're a student, the interactive tips via this online tool will make you a better writer. The editor exposes common mistakes you never knew existed. As a result, Copywritely users become better authors and SEO professionals. The high-quality, polished, unique work impresses others and boosts online marketers' traffic and conversion rates.
Copywritely Customer Support
Any product is only as good as its customer care, and especially the after-sales support. Looking at user feedback, Copywritely rates high in this area. The team offers 24/7 support and boasts fast response times for members and site visitors. Contact options include an online form and Live Chat, but there is no direct phone contact.
The young support staff is polite, patient, and keen to assist, say reviewers.
Copywritely vs Grammarly
Grammarly has been around for a good while now. It is the go-to app for many bloggers and professional content creators. While there's some crossover between these tools, they are different programs. Grammarly is primarily a cloud-based writing assistant. Copywritely is that, too, but it's also an SEO content optimizer. Check our complete Copywritely and Grammarly comparison.
Grammarly might be the best plagiarism checker and proofreader tool, but it falls short if you want to optimize your content for search engines.
Pros
Honest program; does exactly what it claims.
Analyzes competitor content suggestions.
Educational: Improves SEO and writing skills.
All tools and features work seamlessly.
Young dynamic innovative team.
Clean easy-to-use interface.
24/7 customer support.
Extensive toolset.
Value for money.
Cons
No free basic version though there is a limited free trial.
Limited integrations.
No mobile app.