When composing an article, email, or even a dissertation, a writer should think beyond the context alone. That's because a lot of people consider style, fluidity, and syntax in write-ups. Gone are the days when the public ignores errors in written compositions. That's why a lot of individuals use apps like Grammarly online to examine scribbling.
Teachers look at the compositions of their pupils before grading. Recruiters gauge the competence of job hunters in the English language too. Readers even expect only a few mistakes from authors. It's no surprise that folks seek perfection by using an automated checker.
According to many, Grammarly is one of the best sites to check for plagiarism that provides the perfect means of enhancing one's writing. Since the initial release in 2009, people have tried operating it to address various needs.
If you've found it and become curious about it, then it's your lucky day. Here, you'll see our comprehensive Grammarly website review.
Why Prefer This Grammarly Review Over Others?
The analysts who created this specific Grammarly premium review gathered good data first. Above all, that's to make sure that there would be no false information included.
Besides, natural user experiences were the basis of this composition. So, you can expect honest insights into the platform.
To see for yourself, you can read our Grammarly comparison with Copywritely and Chegg Writing. Also, we have a separate review for Grammarly vs. Ginger Software.
What Criteria Did EduReviewer Evaluate This Grammar Service By?
People studied what some spell out as "Grammerly" since it's been trending in the field of writing. So popularity is one of the keys that determined this analysis.
Expert examiners of apps treated it as worth knowing because of its varied features. It has many attributes for automatic proofreading, making it formidable. Compared to other similar products, it is fast and accurate.
While some stick to the free features, others pay for exclusive Grammarly. So, in many ways, the software rouses the curiosity of a lot of people and is thus worth discussing.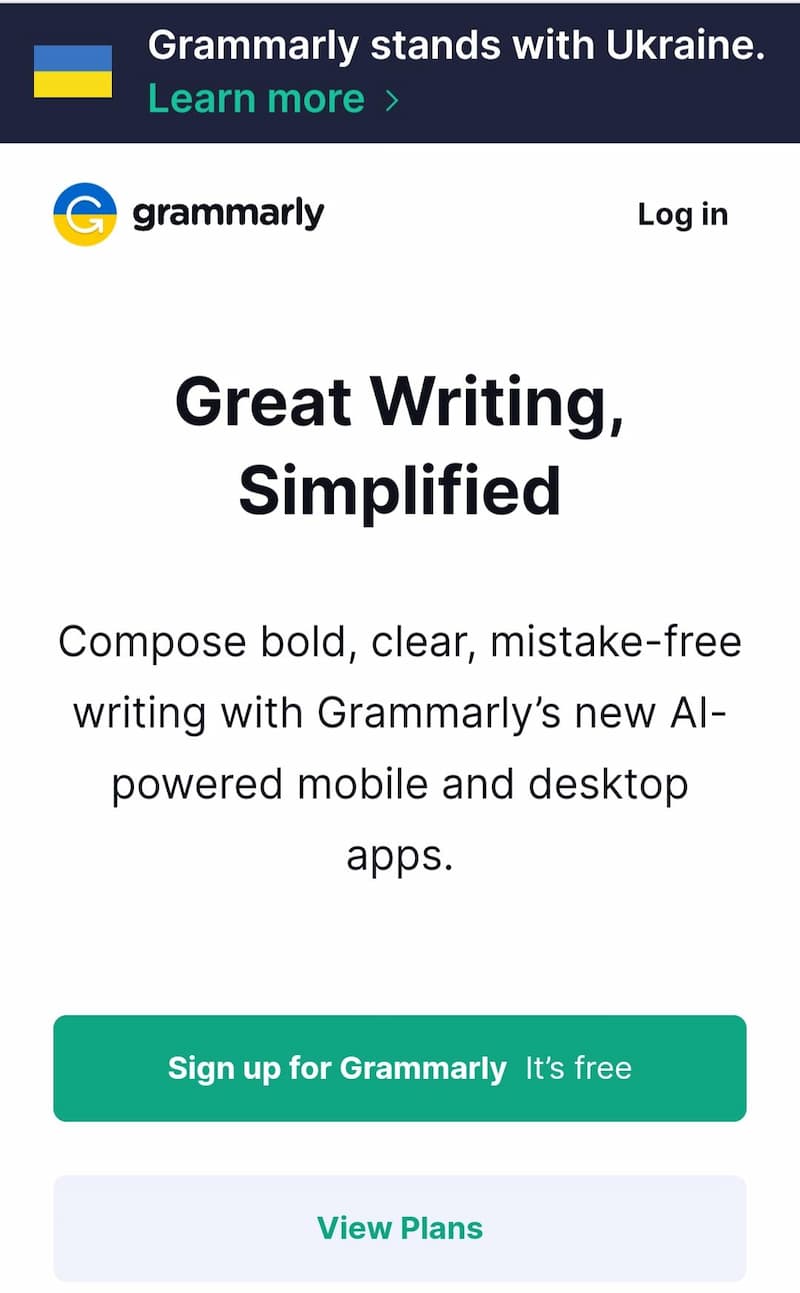 Such sites usually enhance their client's grammar, punctuation, and spelling. One should concentrate on finding a service that can analyze and edit fast. Moreover, the process ought to be automatic.
Check Copywritely reviews on our website and find yourself a top platform with great writing tools.
Grammarly.com Overview
Grammarly Inc. created web and offline applications that students and professionals use to write better. They utilize it in critical essay writing and even when sharing thoughts on social media.
The website for it is hard to miss since it's popular too. Looking for stuff on Google like "Grammarly com review" would even direct you to its main page.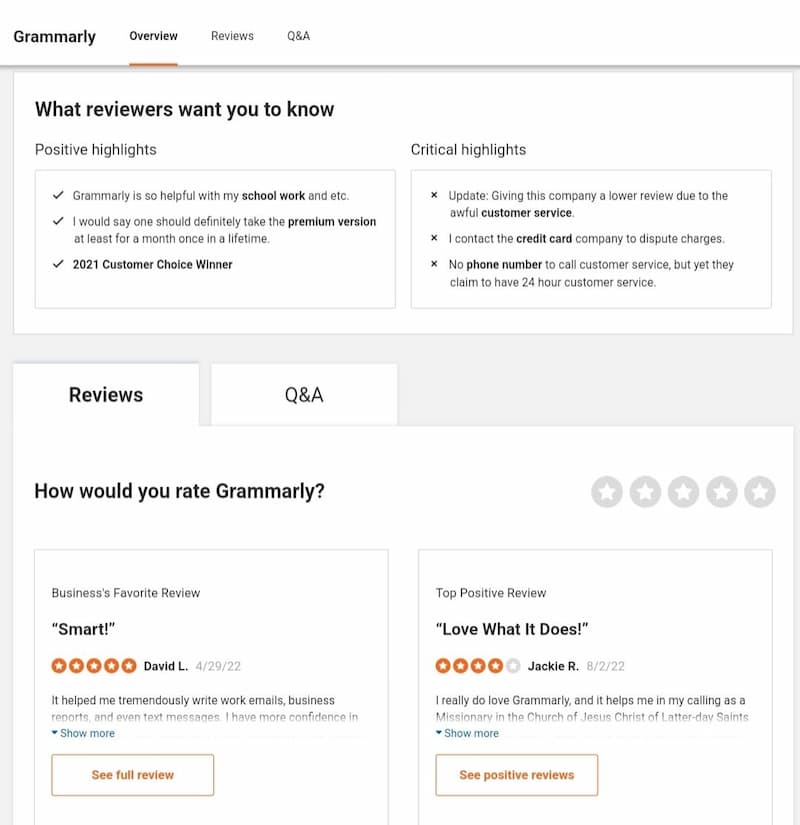 Before, it was only a web app that people can access using their favorite internet browsers. Now, there's a standalone version for offline use, and word processors can apply it. Also, mobile versions are ready to use.
Still, there's a platform for it on the web that allows document sharing across the devices too. Besides, more product features are in the premium form.
Grammarly.com Story
Most authors who review Grammarly agree that the help provided is significant. The software checks for grammatical errors and supplies suggestions for correction.
There are even spelling evaluation and writing style recommendations included too. The developers claim that it can let anyone become a great writer.
If you have seen somewhere that it's malware, then don't believe what you read. Bear in mind that installing it wouldn't be possible without your approval.
Likewise, Grammarly products don't capture and store keystrokes. They only read and supply text enhancements, unlike the Copy leaks service, which can provide you with different kinds of assistance. Read more in the Copyleaks reviews on our blog.
Grammarly Pricing
It's stated that the premium type of Grammarly is subscription-based. Yet, educational institutions and enterprises can request licensing instead.
Here is the price for the services Grammarly has to offer.
1.  Free – is free-of-charge, obviously;
2. Premium:
– Monthly – $29.95/month;
– Quarterly – $19.98/month;
– Annually – $11.66/month;
3. Business – $15/month per member.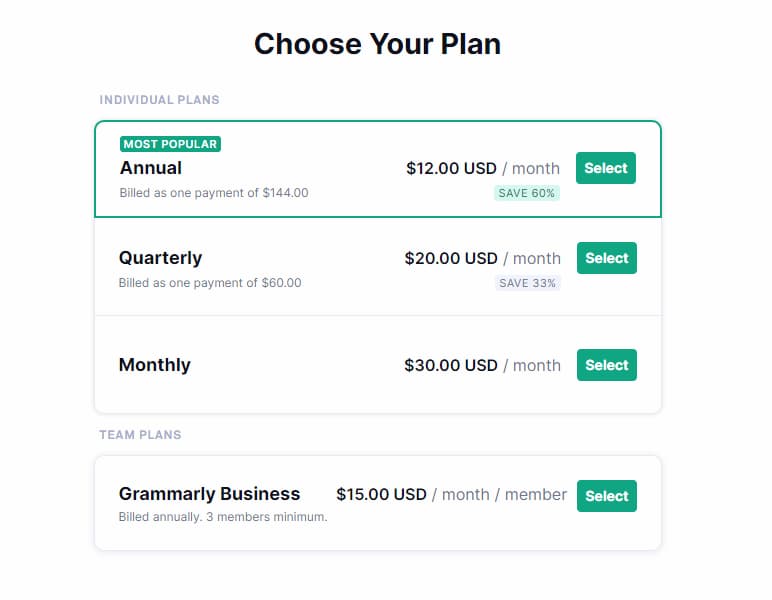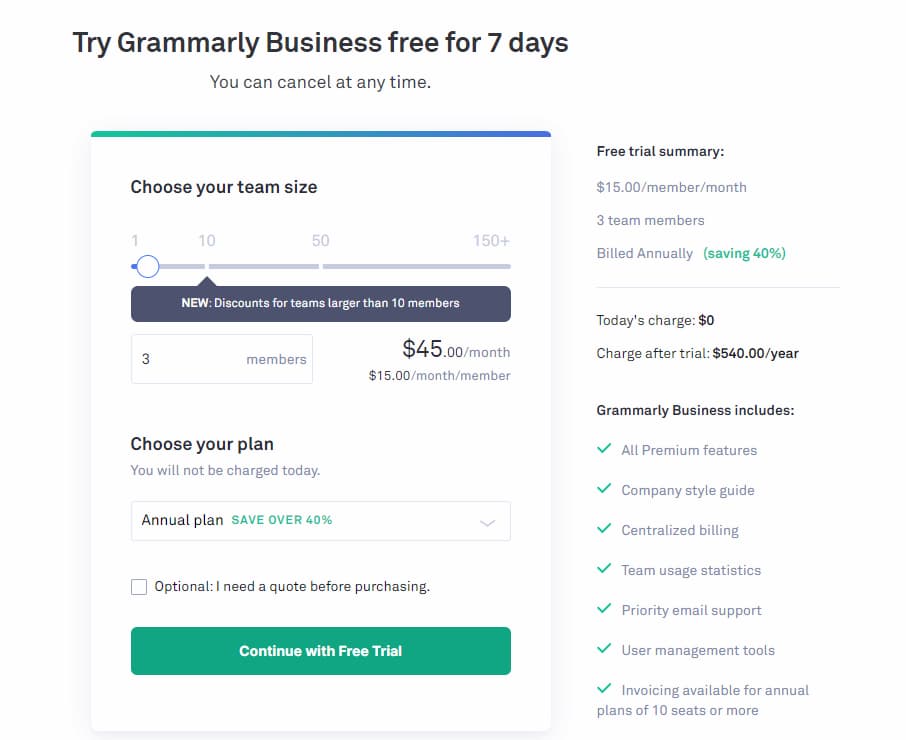 If you are a freelancer or running your own business, then premium membership can be the best option for you. If you have a team of three or more people, you can use Grammarly simultaneously anywhere in the world. This is available for the members using the Business Plan.
It's helpful to know the Grammarly review price rates. Users can choose to pay $29.95 per month but can try the cheaper route, which is $59.95 quarterly. It's $139.95 for the annual plan, but that's only $11.66 every month.
That's a lot less expensive compared to the $19.98 monthly. For those who wish to have it in their workplace, the charge is $15 per user per month.
To get an advanced evaluation of the work, users can order Grammarly's professional proofreading review. With it, one could avail the properties for vocabulary improvement and style checking. A writer could avoid plagiarism too.
Regarding the level of its reliability, type Grammarly plagiarism checker review in your browser for further information.
Others choose ProWritingAid because a year of premium service from it costs $60 only. Yet many prefer the former because of the high ratings it has got. After several comparisons throughout the years, it still ranks as the best extension.
As a Grammarly alternative, you can check a service called Ginger Software. It is also a good option to check your spelling and grammar. Learn more about it in the Ginger Software review from our team.
Payment Methods at Grammarly
After reading Grammarly keyboard review pages, we found that various payments are acceptable. Those who have PayPal can use their funds to settle fees, and so can the cardholders.
Not all debit and credit cards are usable on the website, though. Visa Electron debit cards and Mastercard Maestro are not allowed. Interac cards aren't accepted too. The service also indicates that it does not cater to other modes of payment, such as personal checks.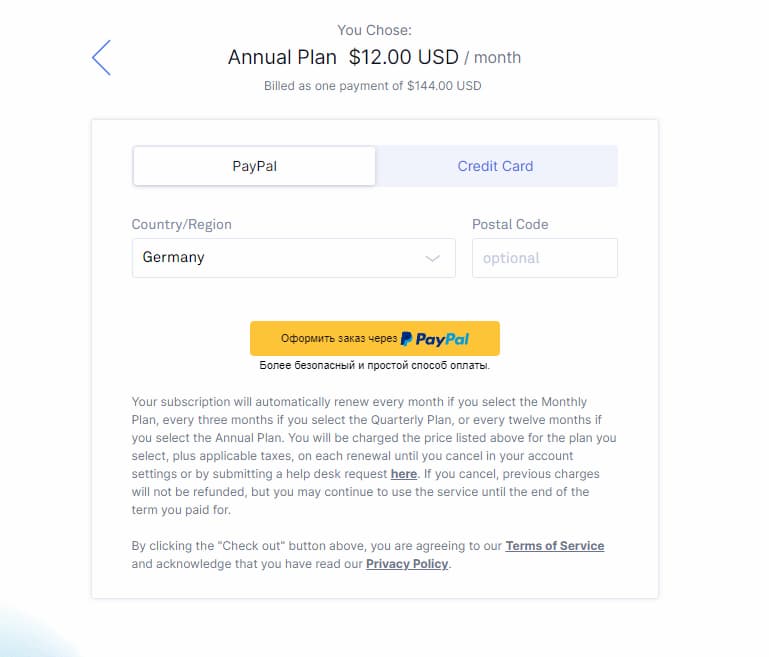 To review Grammarly, the payment section is essential. There are still some who aren't familiar with the usually accepted online payments. In paying, there's no need to be afraid on the internet. PayPal and the website itself use HTTPS.
Besides, nowadays, tracking credit and debit card activities is possible. But, before attempting to buy a plan, make sure that your money is enough for purchasing. It's common for purchasers to have their requests rejected due to insufficient funds.
Grammarly.com Products and Quality
Some of what Grammarly offers are as follows:
Desktop or native app for Windows and macOS;
MS Office add-in;
Mobile keyboard;
Premium.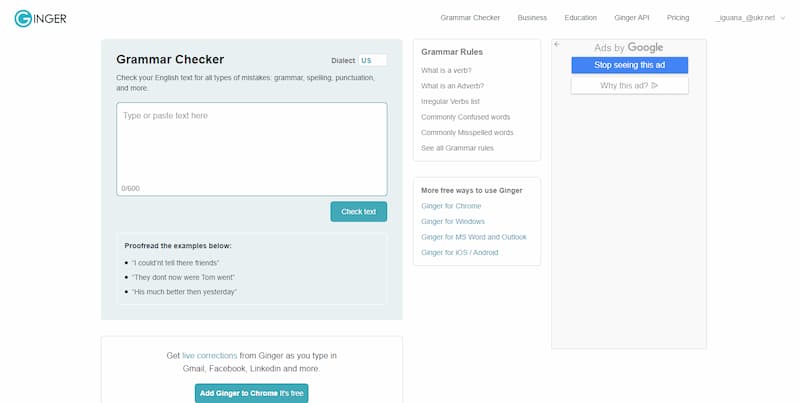 Each produces exceptional results. According to a Grammarly keyboard review, the accuracy of the mobile keyboard is 95%. It's also easy to use and makes appropriate corrections at high speed.
Users of the free and premium Grammarly desktop apps are also happy with their versions. On the native app version, the analysis for assurance and revision happens after typing.
After clicking the assistant within the program, evaluation happens. The software analyzes things like vocabulary and references aside from grammar and spelling. It even does more than Hemingway Editor since it assesses writing voice on top of the other features.
The product that combines with MS Office is far more limited because it isn't standalone. Yet, the suggestions that it provides are relevant. Also, the speed and precision of the analysis that it supplies are powerful.
Blogs that supply Grammarly proofreading reviews are also compared, such as WhiteSmoke and ProWritingAid. Unlike the others, they suggest the changes and explain why certain items are right or wrong.
What's best about the paid edition is that it includes getting help from real human beings. Mind that there are certain words that programs might not comprehend.
Grammarly.com Services
The following are unique Grammarly services:
Education;
Business;
Handbook;
Grammar Checker;
Plagiarism Checker;
The target of Edu is schools or learning centers. It is for helping all kinds of learners in the academic setting. Business service is for enterprises that need communication aid. Marketing, sales, and support departments use it a lot.
The Handbook is a section of the main website that has numerous grammar tips. Grammar and plagiarism checkers are incorporated into the products provided. They are the ones that improve general writing and prevent errors.
Grammarly.com Customer Service
Somewhere on the enterprise's page is its contact to get in touch with customer support. Aside from that, e-mail for expert aid is also accessible. This review of Grammarly might not contain contact details but at least finding them is easy.
For convenience, users usually resort to sending instant messages or make voice calls. Messaging through Facebook Messenger is also available now. Like in other Grammarly website review articles, it's mentioned that support is 24/7. There's a team dedicated to answering customer inquiries and providing technical help.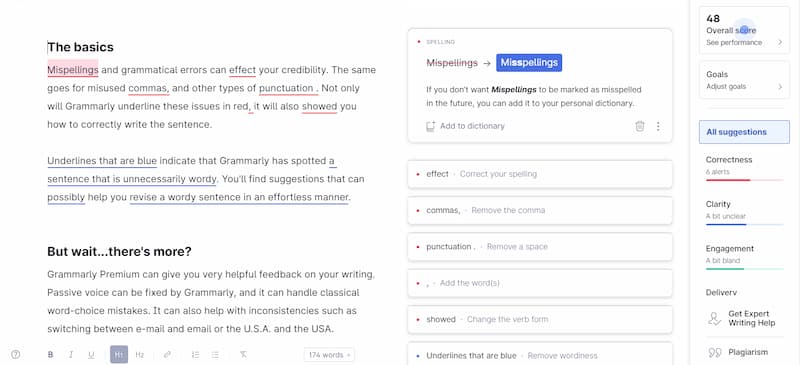 Other than that, the company has a network of pages too. It's got Facebook and Twitter accounts that advertise and help clients. On each website, some users are a part of a large community and wish to aid others.
The paid group that assists customers has people who could guide users in utilizing any of the products. Contacting the support team could let you get instructions in troubleshooting immediately.
Grammarly Website Usability
Grammarly's site is very minimalistic, and it's what makes it valuable. If you go to the website using your desktop browser, you will see the center and upper right an option to add it.
But there is a need to restart one's session after the installation of the browser extension. For accessing the other versions of the app, scrolling down is necessary. The links for them are below.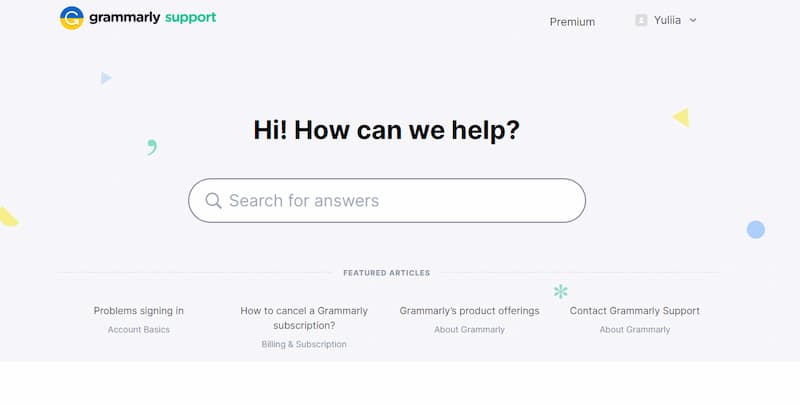 The website enumerates how the program can assist in various settings. It pinpoints the apps where Grammarly could mix with. There are also explanations of the favorable attributes of the software too.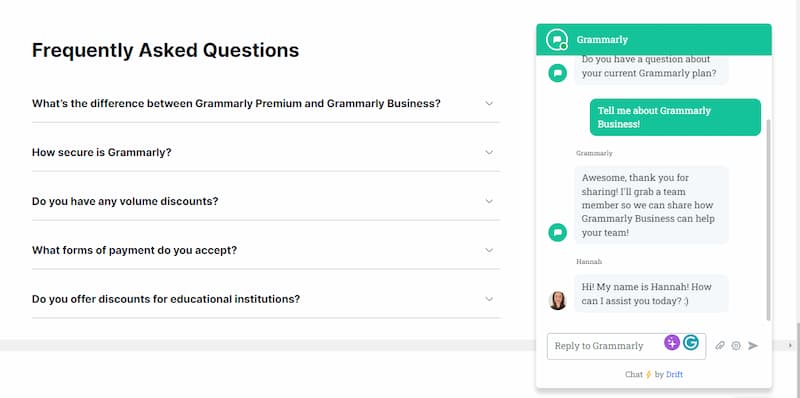 But reaching the bottom part of the page might be the best course of action for a visitor. In the region, there are several links to access the app variants or products. Also, there are hyperlinks to have more details about the company.
A separate section called Grammarly support is there to help people with their accounts, billing, and other concerns. It's like a FAQ page that has lists of reasonable responses to the most common questions. Find more facts about it by searching "www Grammarly com review" in cyberspace.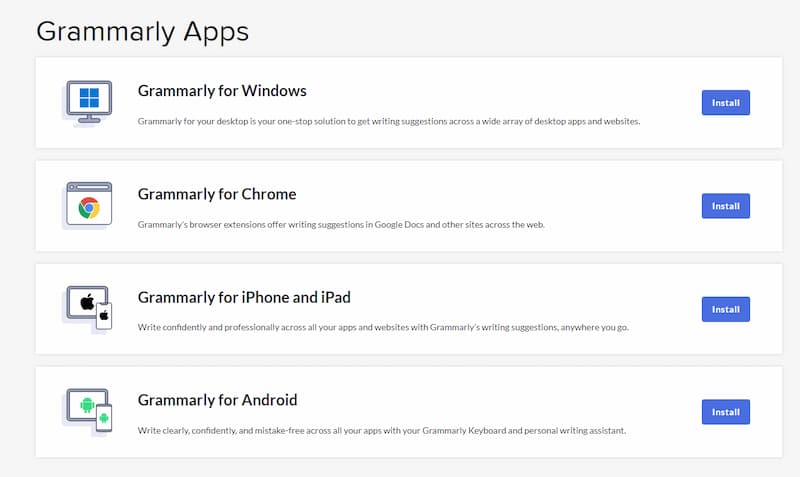 Review edited using Grammarly Premium.
Pros
Automatic correction of words and phrases in real-time.
The software uses an engine that corrects with high accuracy.
It's lightweight and easy to take advantage of.
Cons
The free edition has fewer options than the premium variant.
The program has the anti-plagiarism features disabled in the unpaid edition.