Every company needs to have a good business plan to succeed. If you want to grow your company and expand or are looking for funding, you'll need a business plan. Another benefit of having a business plan and updating it regularly is that you'll foresee problems that you may face in the future.
Unfortunately, many small business owners never write a plan for their company. The main reason is that they lack business experience and don't know how. Nevertheless, this problem is a thing of the past, thanks to business plan software.
Even if you don't know the first thing about writing business plans, this software can help you. It features step-by-step wizards that walk you through the whole process and allow you to create a solid business plan regardless of your experience. As you might imagine, you can find numerous different business plan software solutions online.
That's why we decided to review what we come across and share our opinions. Each time we review some of the best business plan software, we extensively research the company and product.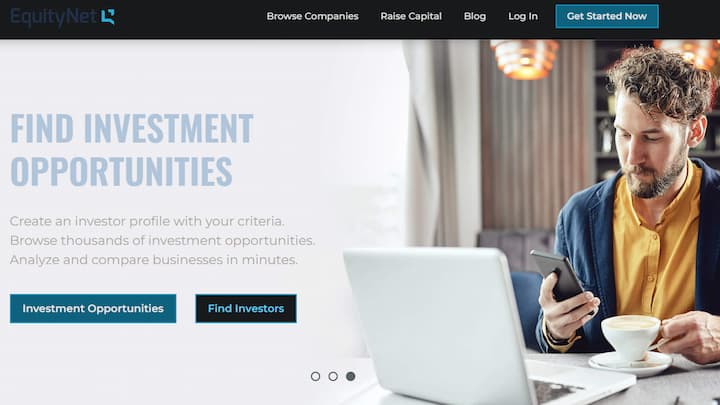 While each software product has pros and cons, we give good ratings only to easy-to-use tools, including an option for measuring progress, allowing integrations with popular accounting programs, and including useful financial tools.
Today we're going to cover a business plan software company that also serves as a funding platform, EquityNet.
Do not think they also have business plan writers; you can try other companies listed in our business plan writers' reviews that you should check. Read on to find out whether you should use the services provided by this organization.
Equity Net Overview
EquityNet is a company that provides business services to both investors and entrepreneurs. It serves as a crowdfunding platform with a long history and offers customers business plan software.
Although you can only use the business plan features, it would be an excellent idea for you to become familiar with the process of finding investors on this crowdfunding platform.
If you continue reading our EquityNet review, you'll see why it provides one of the best business plan software solutions.
We've analyzed many Equity Net reviews left by users online to check what people think of it. Most users would agree that its services are very effective and can help you run your business more efficiently.
Since there are many scam software products online, you may wonder if EquityNet.com is legit. Because this company has been in business since 2005, it's safe to say it is legit and safe to use. You can learn more about the history of this platform by reading this Equity Net review.
Story of EquityNet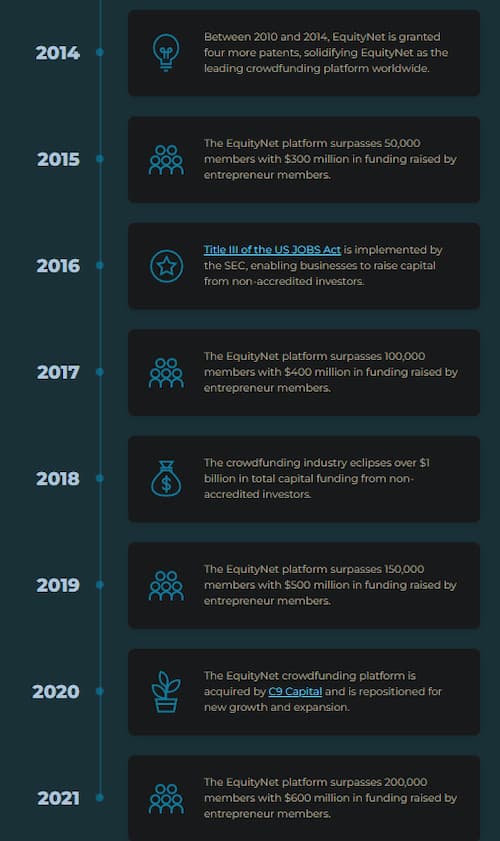 EquityNet was founded in 2005, back when you would rarely hear the term crowdfunding.
This makes the company one of the oldest crowdfunding platforms operating and operating successfully.
It has more than 100,000 users, including entrepreneurs and investors.
Although they originally started as just a platform for entrepreneurs to easily find investors, they have developed new ways to help business owners.
That's why they now also offer great business plan software solutions.
Over the years, this company has raised more than $240 million in debt, equity, and royalty-based capital, which is impressive.
You can see their whole story on the About Us page. It's also pretty impressive.
Services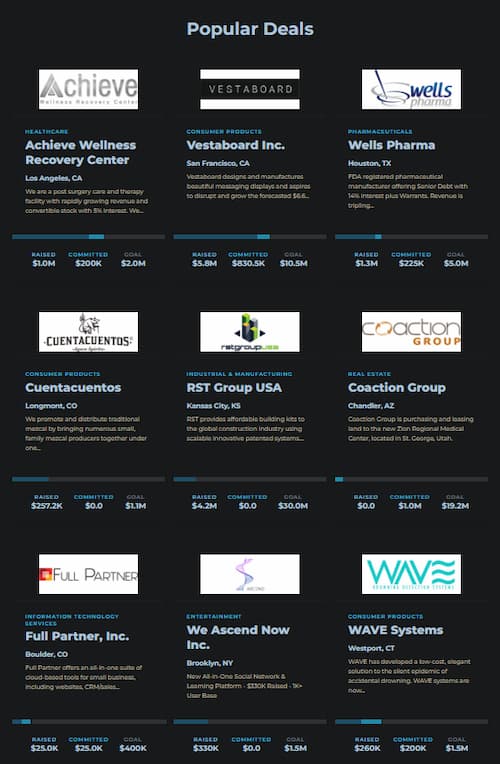 You can use EquityNet either as a non-paying subscriber or a paid member.
Of course, you'll have far more options if you decide to pay the subscription fee.
Although this company serves as a funding platform, it doesn't directly facilitate the exchange of funds.
Instead, it simply allows investors and entrepreneurs to find each other easily.
If you read reviews on EquityNet online, you can see that both business owners and investors love using this service.
If you decide to pay for a subscription at EquityNet, here are some of the things you'll be able to do on their platform:
Create a business plan for your company and share it with countless investors that use the platform.
View detailed investor profiles and message them directly.
Utilize patented business planning tools to take your company to the next level.
Upload and share documents with other users.
Publish your profile to partner sites for increased exposure.
It's worth noting that EquityNet holds five patents in the areas of enterprise analysis, crowdfunding marketplaces, enterprise monitoring, and enterprise risk quantification.
Pricing of the Services
EquityNet fees have a straightforward pricing structure. Although you can set up an account for free and publish your business profile, you won't contact investors or use all of the features of the business plan software. What's great about this service is that it charges you a fixed $299 monthly fee.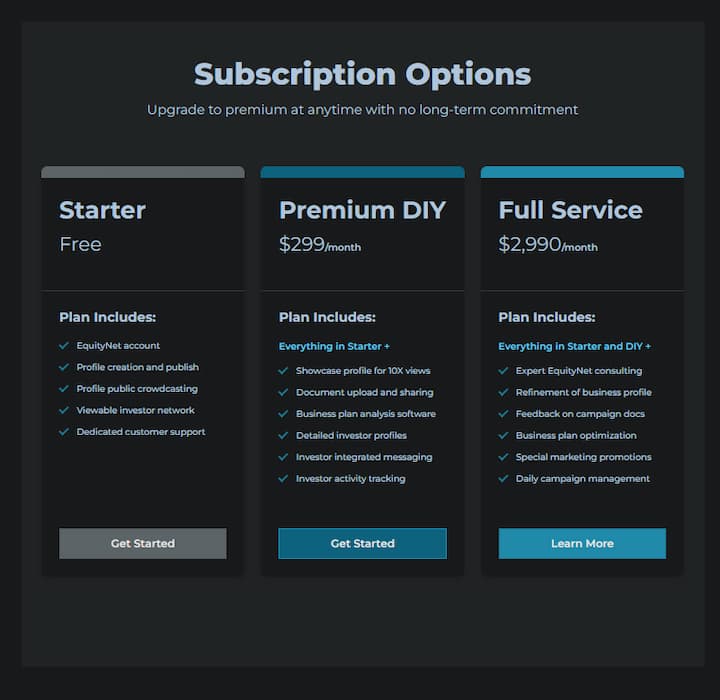 If you decide on a longer-term subscription, you'll have to pay $2990 monthly. This is a great offer compared to competitors of this service, like Fundrise, which takes a percentage of your investment earnings.
We're planning on writing an EquityNet vs. Fundrise review to give our opinion on which of these two services people should use. But comparing EquityNet with Business Plan Pro, we would pick the latter. Check our Pro Business Plans reviews to find out why.
Quality
To write a business plan using the EquityNet software, you can start by providing information on your company in ten input sections.
Although it may look complicated initially, the software allows you to fill everything step-by-step and regularly provides hints and notes to explain different sections.
If you don't have a strong financial background, you'll be happy to hear that the EquityNet business plan software includes excellent finance tools.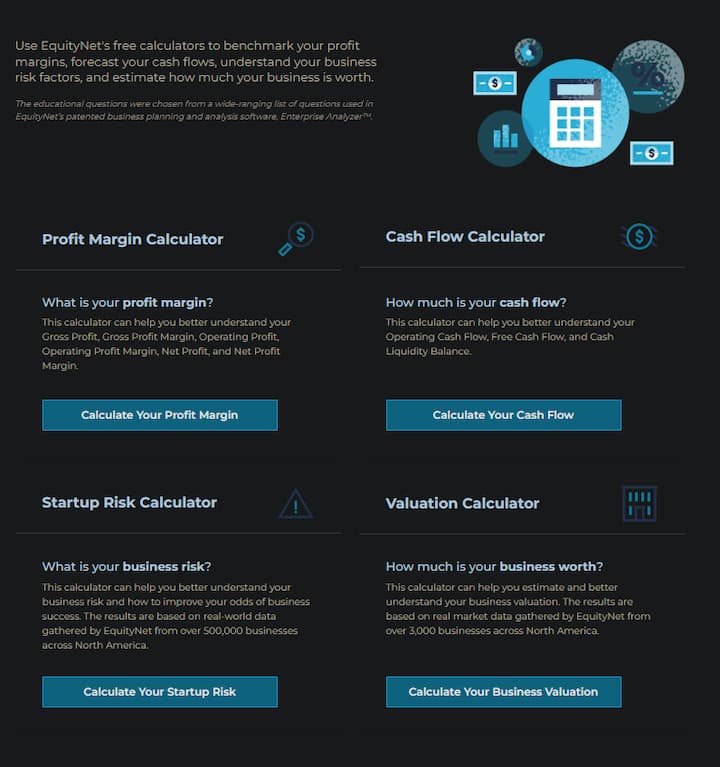 You must include information on your products and services in one input section. Once you do this, the software will compare your business to other companies.
We noticed from reading EquityNet.com reviews that some people aren't happy that you have to fill certain sections. It would've been better to skip sections that you feel are not important for your business. Nevertheless, this minor issue won't bother you in the long run.
You should check LivePlan business plan reviews for top business plan software, as this is the best company in this industry.
By analyzing numerous reviews of EquityNet, we noticed that both entrepreneurs and investors were satisfied with the crowdfunding platform.
We're not surprised that this is a great platform for connecting investors and business owners with a long history.
Customer Service
The customer service at EquityNet is professional and helpful. You can get in touch with them by sending them an email. If you request a phone number, they will provide you with one.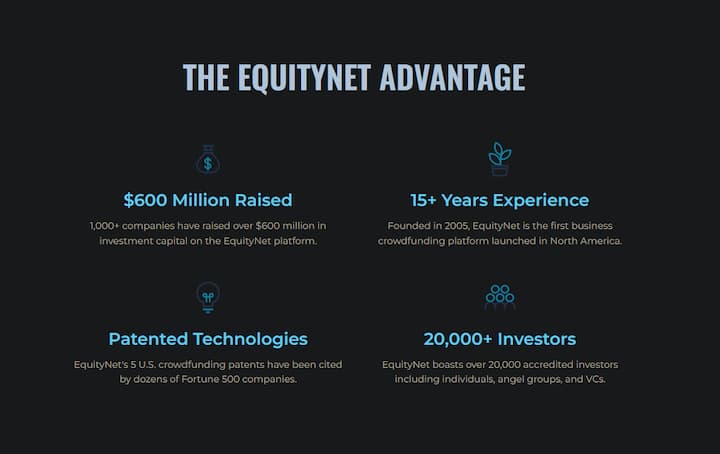 It's worth noting that many crowdfunding platforms don't give out their numbers often, so this is a big plus for EquityNet. Their willingness to resolve your issues over the phone shows how good their customer service is.
Website Usability
The EquityNet.com website is easy to use. You can create a profile within a few minutes and start browsing investors or businesses immediately. Pages load quickly, and no technical issues were ever mentioned in online reviews of EquityNet.
You can find an instructional video on how the platform works on the company's website. Even though the website works great, we have to mention that it looks a bit outdated.

Unfortunately, EquityNet does not have a mobile app. But if you are looking for software that your Mac would support, check our list of the best business plan app for Mac online.
Pros
No fees for investors.
Customer service is professional and helpful.
They offer both debt and equity crowdfunding.
EquityNet is a trustworthy company with a long history.
Entrepreneurs can easily find investors by using EquityNet.
It's more than just a crowdfunding platform.
It also offers business plan software solutions.
Cons
No option for investing online.
Offline funding is inconvenient for some people.
EquityNet does not provide good investor education materials.
You need to pay to view full investor profiles and get in touch with them.
There are some unnecessary fields that you have to fill out when creating your business plan.