If you are an entrepreneur who wants to secure equity from investors or a loan from a financing institution, your best bet lies with a well-drafted business plan. Additionally, it is an organized and formal way to outline both short and long-term organizational goals. So in many ways, this document can be considered a company's map to success. Are you an entrepreneur looking for funding to grow your business? Check EquityNet review for more information!
However, many entrepreneurs find it challenging to draft a business plan. Some of these challenges include getting started, identifying cash flow and financial projects, and researching the company's target market, to mention a few. As a result, many entrepreneurs have turned to the services of a top business planning software/program/app.
But finding a reputable business plan writing program is challenging. There are a lot of applications and websites claiming to provide the best writing services. However, most customers end up purchasing substandard software and programs. In such a situation, consider using our services to find the best business plan writing service that you can depend on for the best results. We have examined both the most prominent and smallest names in the industry to ensure entrepreneurs get the services they are looking for.
Our peer review services feature a portfolio of business plan writing services and their corresponding reviews to ensure entrepreneurs know every aspect of the program before purchasing it. We use the following criteria when evaluating a planning software:
The quality of the software;
The price of the software;
Effectiveness of the software;
Customer support.
IF you were looking for the top rated business plan writers, then you should check our list. But the following is a review of Business Plan Pro, the industry-leading software that has been around for decades. What is Business Plan Pro, and is it worth a try? Please find out the answers to these questions and more in our review below.

Business Plan Pro Overview
What is Business Plan Pro?
Business Plan Pro is a software solution designed to help entrepreneurs and business owners create business plans.
The software is loaded with numerous features to help you conduct research, develop strategies, and meet your business objectives.
How does Business Plan Pro work?
It does this by enabling individuals to key in data which is later translated into usable information, courtesy of elaborate calculations performed by the software.
Additionally, the software gives users access to the latest statistical databases and business-related publications. This helps in creating a compelling document as detailed in the many business plans pro customer reviews.
The software is 100% legitimate, which means you don't have to be worried about fraud.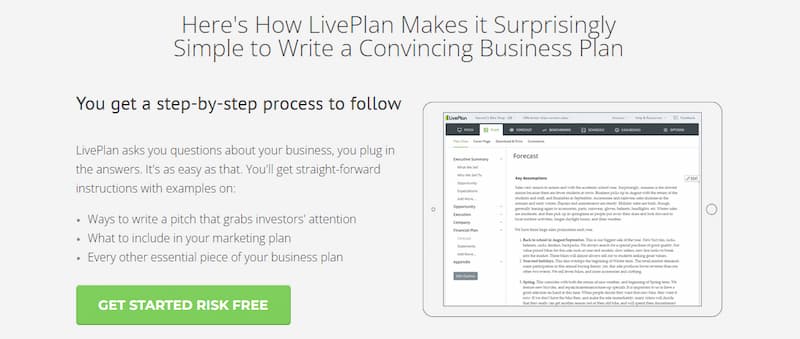 Does BusinessPlanPro help at all?
By checking the Business Plan Pro software reviews and Live Plan reviews, we found that Business Plan Pro is one of the best business planning packages available in the market. The software has step-by-step and easy-to-understand instructions.
If you are stuck, you have a team of experts at your disposal. You can contact them through telephone, email support, and the website's live chat feature.
Their experts are guaranteed to help you every step of the way as you create your document. This has led many entrepreneurs to give positive Business Plan Pro reviews.
Are Business Plan Pro online services as effective as they say?
According to the Business Plan Pro Palo Alto Software review, the software has over 2000 samples to help you get the job done swiftly and effectively.
You can choose from this vast portfolio of business plan options to help you find the ideal template that matches your requirements.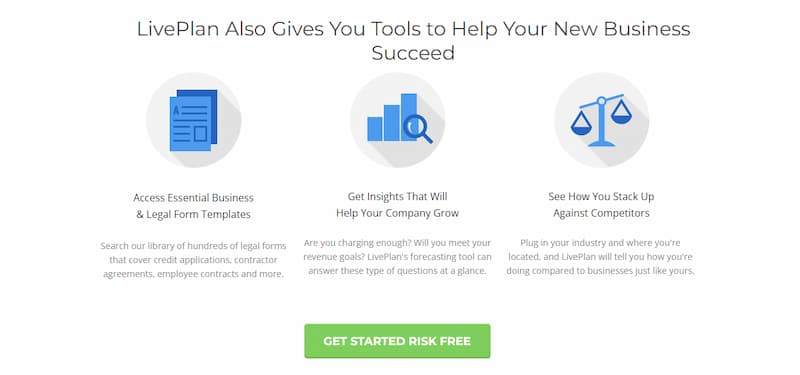 Is Business Plan Pro Safe or Scam?
Business Plan Pro is entirely legitimate and safe software.
Unlike some services that scam entrepreneurs out of their hard-earned money, Business Plan Pro is a genuine product from the Palo Alto Software group. There are many reviews of Business Plan Pro that you should read to put your mind at ease.
Is Business Plan Pro one of the best business plan software out there?
If you read this Business Plan Pro® 12 review, you'll be sure that BPP is one of the world's best-selling software solutions.
It is a completely safe product that has been trusted by over a million entrepreneurs for over ten years.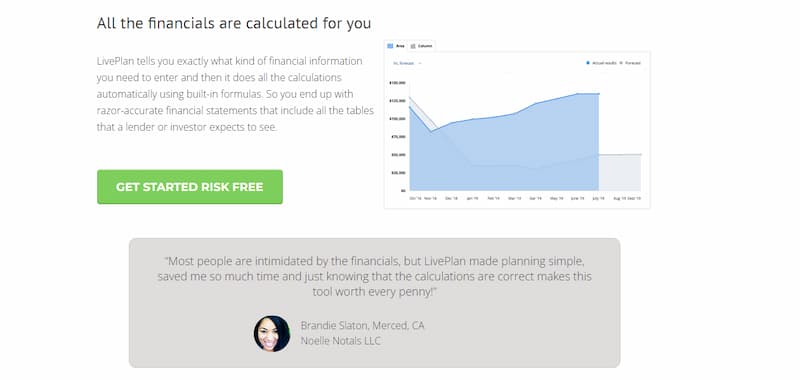 Story of the Business Plan Pro
Business Plan Pro is a product of the Palo Alto Software Company. The company was started by Tim Berry in 1983 but went on in 1986.
Palo Alto Software was created to help businesses with planning tools that were accessible from everywhere. H
owever, it wasn't until 1995 that Business Plan Pro was launched.
Instead of hours of consultation, the software group decided to sell software that could help both small and midsized businesses.
Business Plan Pro received multiple awards and positive reviews from publications such as The Wall Street Journal.
Today, this software is one of the best-selling business-planning software worldwide.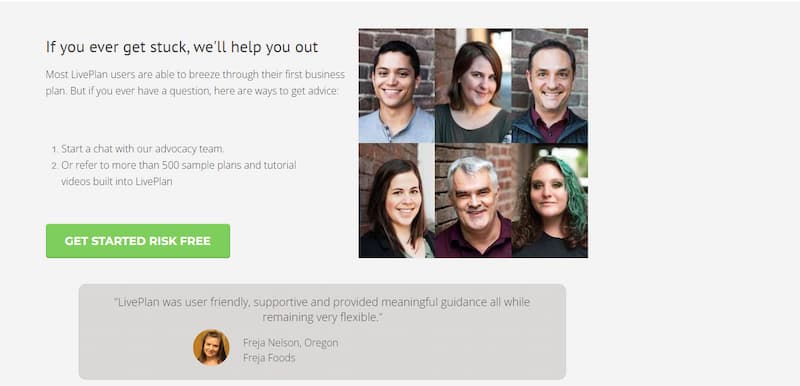 Services
Business Plan Pro offers a range of services and features to help entrepreneurs create fantastic documents. The tool is designed to be compatible with Microsoft Word, PDF, Excel, PowerPoint, and Google Docs.
The following are the services and features of the software solution.
The experts at Palo Alto Software are prepared to offer assistance at every step. C
ustomers that left their Business Plan Pro for Mac reviews online are sure about that too. This can be achieved by using the Live Plan feature.
Impressive Sample and Custom Template Plans
There are over 500 to approximately 2000 templates to choose from. In the unlikely event that you are unable to find a suitable model, you can customize one to your liking.
What's even better is that all the formats correspond to those required by lenders and financial institutions. After you are done, the software will help you to check for errors.
Market Research and Industry Profiles
The software has features to enable you to collect all the data required when creating this document.
You will have access to industry research, tons of resources, statistics, graphs, and tables, just to mention a few.

The software is equipped with tools to help you compile financial information that investors and lenders would want to see.
Adequate planning will help you to make better decisions. By creating accurate financials such as cash flows, balance sheets, and income statements, you will be able to make informed decisions that will help you achieve your organizational goals.
Pricing of the Services
The software comes in two packages: The Standard Package, which retails for $99.95, and the Premier Package, which retails for $159.95.
As mentioned above, the software distributor Palo Alto recommends purchasing both options with the Live Plan feature to have access to more useful features to help you in creating a detailed document. Check our LivePlan vs Business Plan Pro comparison.
It is worth noting that all these packages have a 60-day money-back guarantee if you are not satisfied.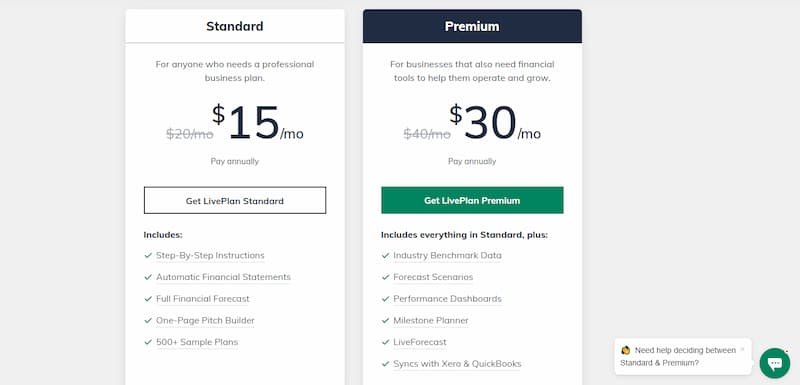 1. Standard Package
The Standard Package offers users 500+ sample plans, industry profiling, lender formatting, financial forecasting, and supporting resources.
The best part about this package is that you only pay for it once, unlike other online subscription services.
However, there are features limited to this option, and if you want to upgrade, you will have to pay the full amount for the premium package.
Nonetheless, the one-time payment guarantees access to their services for life. If your firm is still trying to establish its mark in the industry, we recommend giving the standard Package a shot.
2. Premier Package
This package is worth the extra $60 as you will have access to a wide array of features, including the management dashboard, hypothetical financial situations, and expert guidance.
This package is best suited for mid and large-sized businesses.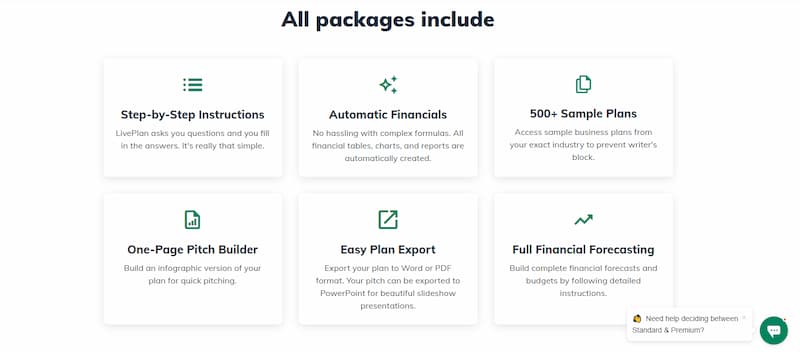 Quality
The quality of the packages mentioned above is undoubtedly useful for entrepreneurs trying to attain their goals.
We recommend starting with the standard Package if your firm is relatively new. For a one-time payment option, this Package is undoubtedly value for money.
For larger organizations, we recommend the Premier Package. Consider reading the many positive Business Plan Pro premier reviews to help your mind at ease.
If you don't need software and look for real business plan writers, check our Wise Business Plans reviews and hire a real writer.
Customer Service
We understand that it is important to read many customer reviews online before making a purchasing decision. Customer service is a significant factor to consider, as well.
You will be pleased to know that the vendor of this product offers expert guidance via phone, email, and live support.
Additionally, there are over 140 positive social media mentions, and only one negative mention when it comes to business plan pro customer reviews. This information points out excellent customer service.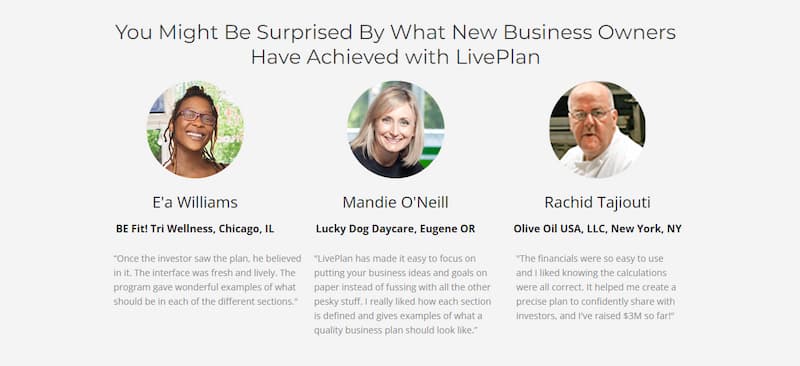 Website and Mobile App
The application is available for download on Windows, Mac, and iPhone systems. It is actually the best app to make a business plan available for everyone.
The software can be deployed on-premise or via open API. The app is user-friendly and easy to use. However, it only supports English and Spanish.
Pros
The software features a one-time payment which gives access to a multitude of features for life.
The software features educational help in the form of videos and manuals.
There is a 60-day money-back guarantee.
Experience - Business Plan Pro has been around since the 1990s, and they have experience helping businesses achieve their goals.
The integration of sales and management features is useful for entrepreneurs.
The plans and other software elements are regularly updated to keep up with the growing demands of businesses.
Cons
It is not cloud-based, limiting accessibility and collaboration opportunities.
The software design and interface look old and do not 'feel' modern.
The software is relatively hard to use, with some customers claiming to be confused with different plans.
It has more accounting features than management features.
Incompatibility issues with users who have subscribed to the Standard Package.
The Standard Package does not offer users the cash flow visualization feature.