EduReviewer's recommendations and this Enloop review, in particular, are based on a comprehensive service assessment system described below.
We provide you with multiple options, giving you the added benefit of choosing a service to meet your budget and needs. Before settling on a service, you can then further contact our customer support. Our selected companies have appealing products with a great comeback to meet your expectations. Check out Equity Net reviews today and start raising the capital you need to take your business to the next level.
The chances of coming in contact with spam or fishy websites are very likely, which is why our search is based on secure sites with secure payment methods. We understand the need to protect your data. Our criteria for choosing a service are based on the confidentiality and anonymity of you as a customer. We also ensure that all services that we review come with some guarantee.
Enloop states to be one of the best software for building plans with decent quality service based on what it claims. Its simplicity in making links available to you on the home page of its website can give you the impression that the service is pretty straightforward, which is what many business planners want.
Although the services and its first impression are of good quality, it is not software that stands out in the competitive market of business planning and definitely not one of the best business plan writing services online. In this Enloop review, we have provided you with all the information you might need to evaluate the efficiency of this service with your business.
Enloop Overview
What is Enloop?
Enloop is a business planning software that automatically writes business plans by evaluating the probability of success. You can get a fully formatted business plan for downloading, editing, and updating any sections of the business plan. The software automatically generates texts that are required for each section to make any financial forecast. It also has a synchronized system that connects all areas, making it highly accurate to monitor your progress. With this software, you can get many business plan creation packages to help with budgeting and financing your business.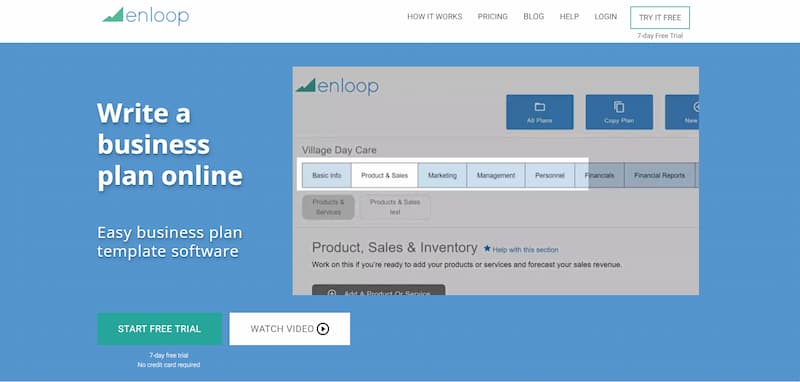 How does Enloop work?
Add your business information to each section that the software asks for.
Give some time for the software to generate your text that can be edited with images, tables, or financial forecast data.
Review the automatically generated economic forecast as bank-ready reports. This report includes all the hard accounting work that is simplified in the final product.
Access real-time scores that can help improve your plan by making any changes necessary in each section.
Compare your forecasts with the industry's average with 16 critical financial ratios for performance analysis.
Edit, improve and download your plans.

Does Enloop guarantee that they have professional experts? Does Enloop help at all?
With a limited Enloop business plan review, there are very few ideas we have about the experts. The website does mention the free templates to be designed by professionals. Other than this, there is no guarantee of the professionals you will be working with.
Are Enloop online services as effective as they say?
While Enloop's online services are limited, they provide efficient and fast assistance to the users. With no complaints in the limited reviews available online and over 6000 users visiting the website monthly, it seems like the online services are effective for people.

Is Enloop safe or a scam?
It has some user reviews and a well-organized website layout that makes it a company you can trust with your monetary and data investment. It also provides information on its funding to be available from sales and fundraising, making it a legit company.
Is Enloop one of the best business plan software out there?
While it is a decent business plan software, it does not stand out. Other software can give you more advanced services in addition to the features that Enloop provides.

Story of the Enloop
The company has its headquarters in San Francisco Bay Area, West Coast, USA. It was founded in 2010 by Cynthia McCahon and today has about 11-50 employees. This private company is active through its website, Facebook, LinkedIn, and Twitter.
It was first established to help businesses have higher chances of success in the US and worldwide. According to Enloop reviews on BBB, it revolves around the central purpose of advising entrepreneurs to calculate the risks and success rates of their idea in the field of business.
Services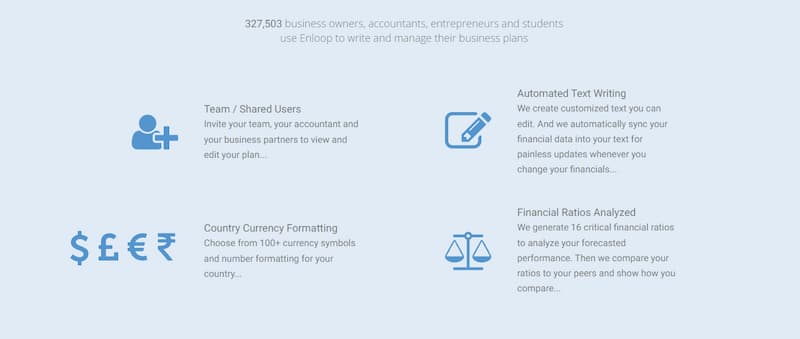 Free templates for cash flow reports: The software provides many free financial forecasting templates designed by experts that can easily be downloaded.
Accounting software: Enloop software has the cash flow reporting or forecasting feature that manages your books to access cash flow tools.
Cash flow apps and tools: Enloop provides a free business plan writing app that can help generate Cash Flow reports automatically with all the financial forecasts.
Accountant: It also acts as an accountant that can help you develop cash flow reports that are accurate.
It focuses on the 5 Key sections to make an appealing business plan: Business idea, Product and Sales, Marketing, Management, and Financial Information.

Some other additional features provided by Enloop are:
Real-time scoring;
Company report card;
Industry comparison;
Interactive document creation;
Ratio analysis;
Multi-currency support;
Automated charts;
Data import/export.
Pricing of the Services
With Enloop, you can either get a monthly or annual subscription with no contracts or hidden fees. You can also cancel the service at any point if you don't like it or don't require it anymore.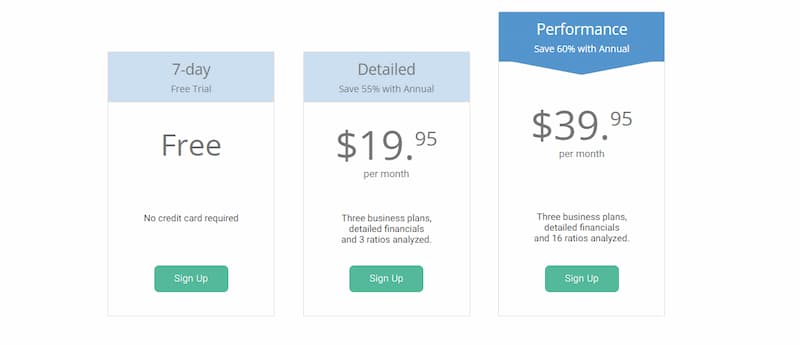 Monthly:
7-Day Free Trial;
Detailed (Three business plans, with accurate financials and three ratio analysis): $19.95;
Performance (Three business plans, with accurate financials and 16 ratio analysis): $39.95.
Annual:
7-Day Free Trial;
Detailed (Three business plans, with accurate financials and three ratio analysis): $11;
Performance (Three business plans, with accurate financials and three ratio analysis): $24.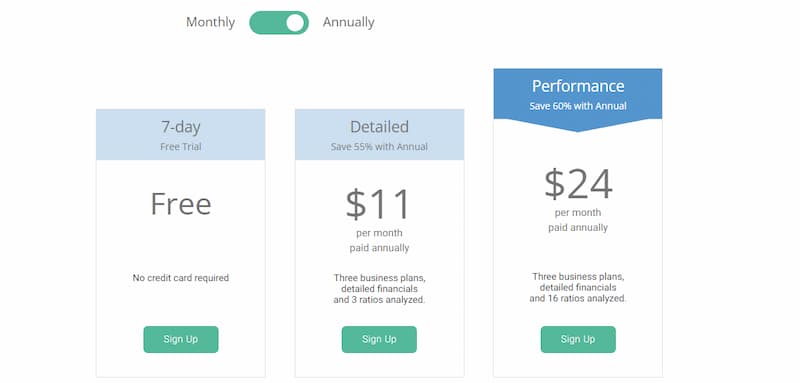 With the free versions of the software, you can create one business plan.
Enloop has affordable prices and a decent amount of services available that can be ideal for those on a very tight budget. You do have the option to downgrade at any point as well. If you are someone who would benefit from the automatic updates system with high accuracy and up-to-date information, this could be a worthy investment. But if you want to hire a business plan writer and do not really care about the price, you can find Wise Business Plans cost on our website and get yourself a written business plan.
Quality
Overall, there is a limited number of Enloop reviews to judge the quality of this software. However, based on the available reviews, Enloop seems to be very straightforward with low complications. Past clients and users have enjoyed their business plan score system that helps people evaluate their business idea. Its easy process enables you to avoid mistakes. This service can come in handy for users who have a hard time working with words. Most reviewers say that the service was fast and efficient with high recommendations, even to business consultants.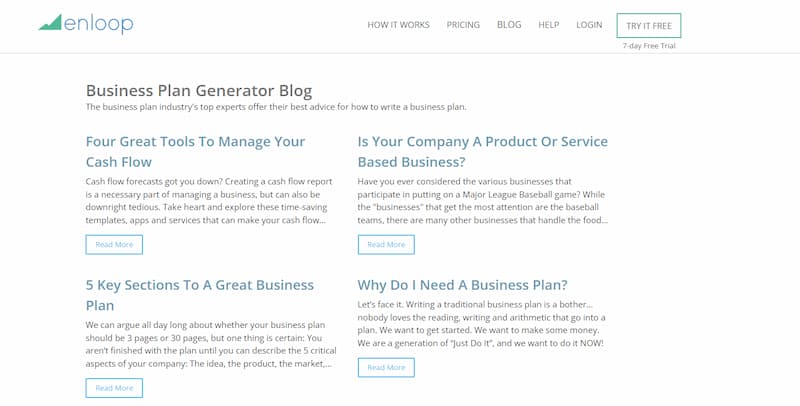 The limited number of Enloop reviews BBB is not bad, given that users generally tend to give negative reviews faster than positive ones. Since there are no negative reviews online, we consider the services to be of good quality.
Customer Service
You can send a message to the customer support team, write to them, email, or make a call at the number they have provided on their website under the "Contact Us" section. The site also gives you a series of links with the general questions under their "Help" option that can come in handy to get the answers to the simple questions you may have. You have a search option as well. One downside with their customer service is that you will have access to phone support only if you purchase the performance package.
The customer service is patient and available on many platforms that you can access based on your needs and expertise.
Website and Mobile App Usability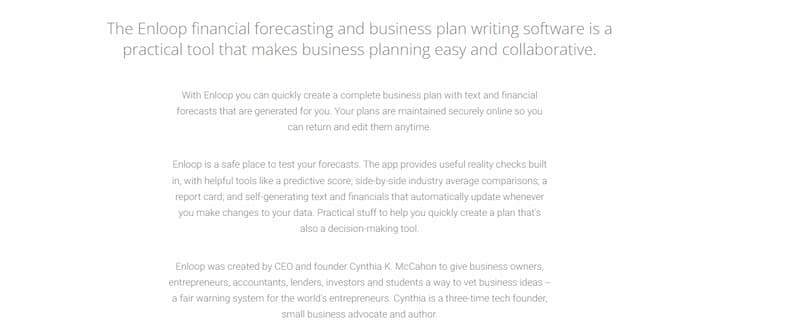 Enloop software currently has no apps for business planning. The software cannot be installed in Mac or Windows but has Web-based, Cloud, and SaaS deployment. They have no access to iOS or Android. The training available with Enloop is only through documentation and no Live, Online, Webinars, or In-person services.
So, if you think that a mobile app will come in handy, check our LivePlan reviews, you'll see that their customer are happy with the services provided.
Pros
Affordable prices.
Free version available to use the service before committing.
High Compatibility with all OS as it is web-based.
Accessible at any time and from anywhere.
100% unique features of AutoWrite and TextSync that generate automatic text and automatically syncs the data to keep your plan updated.
Multiple customization options.
High-quality automation of different data.
Cons
No refunds or returns.
Minimum guidance for essential elements of different sections.
Minimum assistance to create mission or operation statements.
Requires experience with support only through email
It cannot be integrated with QuickBooks, Xero, or other accounting software and requires a spreadsheet of your own.
Minimum third-party Enloop business plan review.