A lot has been said about the prices of education and the best online tutoring websites in the USA. Some try to figure out whether this investment is worth the result.
But if you've already started this journey, it makes sense to invest in quality studying with all the corresponding materials.
Campus Book Rentals promises to help students save a lot of money by renting textbooks instead of buying them.
To come up with a fair verdict, in this Campus Book Rentals review, we take into account several criteria you should always keep in mind when choosing a web platform of such kind:
Range of Services;
Pricing and Flexibility;
Quality;
Customer Service;
Website Usability;
CampusBookRentals Complaints (if any).
Our peer review will help you get an idea about this website and decide whether it is worth your time and money. A little spoiler: we think it is.
Now, let's proceed to answering "Is CampusBookRentals legit?", "Is CampusBookRentals safe?" and other urgent questions.
Please, take a good look at what we have to say about this company and its services. Is it one of the best Chegg Books reviews available?
Campus Book Rentals Overview

Campus Book Rentals is an online platform that provides students with affordable studying resources, significantly reducing education costs.
This service compares offers for textbooks and other publications from across different websites, generating a list of offers for rent or new or used editions.
Although the focus is on renting, it is possible to purchase books through this site, too. The service works in the USA only and guarantees to provide only the US editions of requested textbooks.
Story
CampusBookRentals com was launched in 2007 with the purpose to make education more affordable for everyone. It was a demonstration against overpriced textbooks started by former students who have encountered similar problems earlier.
For over 10 years, more than a million users have used Campus Book Rentals, saving $116,843,431 and counting. This is possible, particularly thanks to the strategic location. The company is situated in the Midwest, delivering orders fast to any part of the country.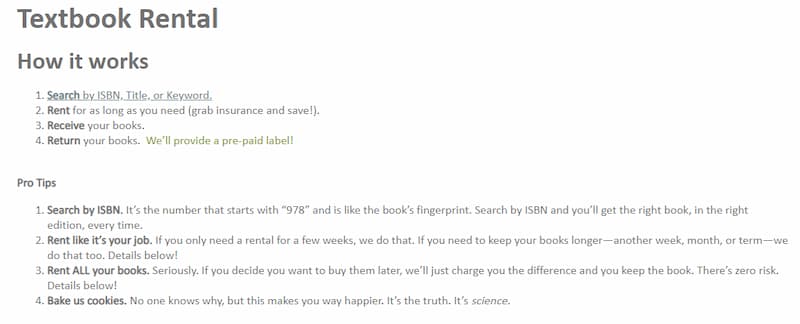 It possesses a unique inventory of used and new textbooks, which continues to expand every year. According to Campus Book Rentals' creators, they are active users of the service, too. They want to keep up with education trends and create a well-educated caring team.
Services
The key feature and user request is rental. It comes with several supporting services – tracking, purchase, and rental extension.
Users can rent a textbook for a 55, 85, and 130-day period (the entire semester). It is also possible to specify another date when placing an order.  Users are free to apply for a 15 or 30-day extension for free.
Additionally, there is a 15-day grace period – an officially permitted return delay that is not subjected to extra charges.
Find a book you need by entering its name, author, or ISBN (a 10 or 13-digit number that can be found on a back cover).
Choose offers from the list of results and add them to the basket.
Repeat for every book you need.
After you submit an order and pay for it, the company ships it to you.
To return them, you need to print a prepaid return shipping label from your account, fix it outside a package, and leave it at the USPS drop box or Post Office. Just remember about the deadlines.
Just like other delivery services, Campus Book Rentals allow users to track their orders online. For this, log into your account, open "Current Rentals," and click "Track" to see shipment details.
If you think a textbook you are currently using will be important for your future thesis or you are just attached to it, you can buy it instead of shipping it back. Log into your account, choose to buy a book, and you'll be charged an extra fee – the difference between rental and value.
There are two options – a 15-day and 30-day extension, both available for free. To keep a textbook for a bit longer, adjust the settings in your account.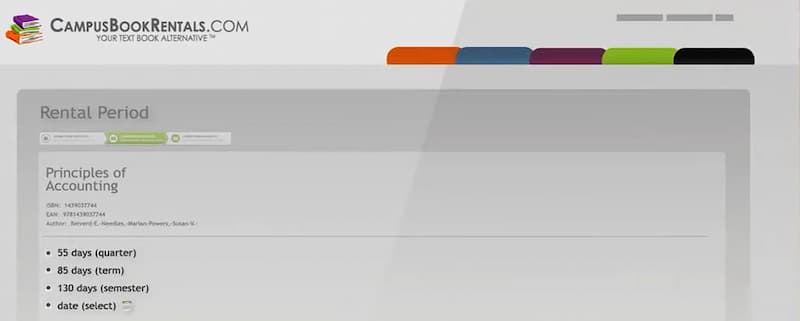 Use a textbook as if it is your own
One of the most frequently asked questions is making notes and highlighting them in a rented book.
Unlike a library, where you'll be punished for such a selfish attitude, Campus Book Rentals let and even encourage users to highlight. Someone is going to use it again later. Your notes will be helpful and time-saving. Just be respectful.
If books do not help you, remember that you can always use the best tutoring websites like Preply.com and other platforms listed on our website! Find more Preply reviews on our website to be completely sure that it worth your time.
Pricing
The key message of the official website is the "economy". You can see the costs saved for 12+ years of Campus Book Rentals' existence. But impressive numbers aside, how much can it keep for you?
Renting prices
We've checked several textbooks and non-fiction editions to estimate the difference. A renting price for the latter, unfortunately, is usually higher than used books for purchase.
Textbooks, on the contrary, are much cheaper. Renting textbooks saves up to 80% compared to purchasing. This number is not a rare offer we've found.
Getting a book cheaper by 30%, 60%, or 75% is a common practice. For example, The American System of Criminal Justice 16th Edition costs $116.62 higher, while the rental price starts at $16.64.
Prices depend on the direct cost and rental period. Obviously, you are to pay less for 55 days of usage than for 130. This difference, however, won't be significant – only several dollars or even cents.
Shipping prices
Shipping is free unless you decide to apply for a fast shipping option – then, you'll need to pay an extra $3.99.
Fines
We've scanned Campus Book Rentals reviews and haven't found any mention of extra charges. They are applied if you don't return a book.
In this case, your credit card will be charged a non-return fee, which is equal to the difference between what you've already paid and the original value of a rented item.

Free services
Users need to register on the website if they want to rent books. Registration and membership are free. There's no need to pay for confusing packages with different terms.
Just rent the books when you need them and make a one-time payment when you place an order.
Free extension for a 15- or 30-day period is available.
Every textbook comes with a 21-day worry-free guarantee. If you drop a class, change your mind, or order the wrong item, you can return it within 21 days of your order and receive a full refund.
Extra services
There is an "insurance" for rented items – protection from damage, loss, or theft during the rental term. You can order it for an extra price before the checkout.
This opportunity is mentioned in FAQs on the website, but the price isn't specified. We've checked the Rental Agreement and found out that it makes 25% of the rental price.
If you need math task assistance, check our list of websites to help you with math that are hiring top math helpers.
If you need to leave a book for more than 30 days (if you retake a class or for any other reason), there is an opportunity to re-rent it with a 30% discount from the original rental price. Manage this through your account by using the "Re-Rent" button.

Discounts
Loyal users can expect some bonuses. When you refer a friend to a website, you receive a $5 Tango Card – a gift card that can be used for many services, including Amazon and Nike.
After referring five friends to Campus Book Rentals, you receive a coupon for free textbook rentals. New users can get $5 and $15 discounts.
A few minutes after you enter a website, these are offered, encouraging new users to check out the service and give it a chance.
Payment
There isn't anything special in the payment procedure or interface.
After you add all necessary books to the basket and proceed to the checkout, you are brought to a payment screen and can safely finish a transaction.
You can pay with a credit card. It takes up to 48 hours to process an order.
Then, you'll receive a notification if an operation was successful, and an order will be shipped.
Quality
When it comes to quality, there are three main questions users tend to ask:
Is Campus Book Rentals legit?
Is Campus Book Rentals safe?
Is Campus BookRentals reliable?
The service is legit. You can find the proof in Legacy Policy and Terms of Use, accessible from the website footer. This document features all the essential legal information and contacts.

It is safe. Users' rights are explained in the Rental Agreement (along with their obligations). We haven't detected any evidence of scams or any other manipulations that can affect user security or the quality of services.
So is safe CampusBookRentals a service you can rely on? It certainly is. The website features all the necessary information about timing and pricing.
You know what to expect when you order the textbooks, and the service delivers the quality its team is committed to.
For the best sites for homework help, we recommend checking our list to all our student readers.
All textbooks are in an acceptable state for use, like new or even new conditions. Some can come without supplemental materials that can be lost or stop functioning due to shared usage.
It is mentioned several times on the website. Speaking about the delivery, it takes 7-14 business days after processing an order (24 to 48 hours) or 5-8 business days if you opt for expedited delivery.

The pricing policy is clear, and prices are more than affordable. We've also mentioned a range of free features, extra services, and discounts that are a huge bonus in terms of quality.
To wrap it up, we are ready to rate five stars for transparency and quality in general.
Customer Service
Users are a bit spoiled today. Most of us expect that there's someone to help with any issues 24/7. Campus Book Rentals website features a good FAQ section, where you can find the answers to the majority of common questions.
Support Team, however, is available only during business hours – Monday-Friday 8:00 am – 5:00 pm CST. You are welcome to contact the support via online chat or dial 888-643-1043. Outside office hours, you can send an email at [email protected].

We've researched other CampusBookRentals reviews and haven't found any mention of unresolved issues, conflicts, or disrespectful attitudes towards users.
Website Usability
Website usability is equally important as reliability and prices. Well, you've already heard about "Campus Book Rentals legit" and "CampusBookRentals safe", and a nice website makes it a combo!
Our CBR review found that the homepage shows a search row, where users can enter an ISBN (978…), Title, or Keyword. The search feature is easily accessible from the rest of the pages. If you want to find several items at once, you can enter several ISBN codes.
The design is simple and intuitive. There is nothing in excess and nothing to distract you from the task that brought you here – finding necessary books.
The website looks good on different screens. The small font at the bottom of the homepage, however, is a bit difficult to read.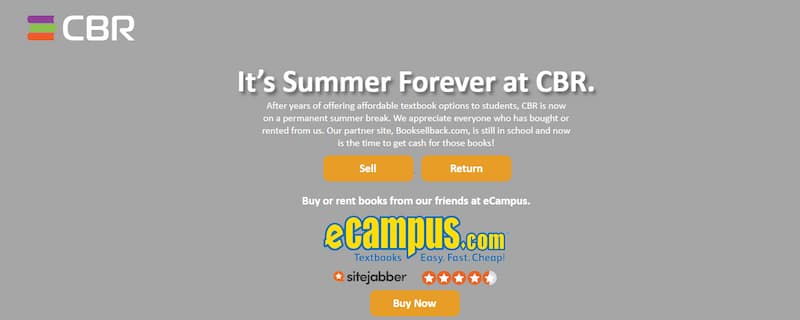 There is only one thing that seems confusing. We've received a popup message about a discount. It features the "Send" button, but there is no form to fill in an email or phone number.
Theoretically, the code was sent somewhere, but we've got no idea where exactly it went.
Pros
Possibility to rent a book for a preferred period or buy it.
Only American editions of textbooks are offered.
There is a 15-day gap after a return due date.
You can search for books before registration.
Flexible prices, free shipping, and a 21-day refund guarantee.
Website usability and minimalistic design.
Cons
Non-fiction literature rental is often more expensive than purchase.
24/7 support is not available; solve your problems during business hours.
Lack of supplemental materials (though it comes with a warning).
Discount codes disappeared somewhere after we pressed "Send".
Some important information is in Legal Documents instead of FAQs.
Used books with notes might be not suitable for everyone – they may distract from reading.