Conclusion
Based on my review of Chegg Books, I would recommend it as a resource for students looking to rent or purchase textbooks.
The platform offers a wide range of books and guides that cover most disciplines and editions. Renting e-books is a convenient and easy option, and the service is free to use.
However, it's important to note that some users have had mixed experiences with the condition and quality of physical handbooks received upon rental.
Overall, while there may be some issues with the physical handbook rentals, I believe that Chegg Books is still a useful resource for students.
Chegg Books and Textbooks Review
Last but not least, Chegg Books and Textbook rentals service reviews. Here we compiled all the important and valuable information that people should know about these services.
What is Chegg Books, how it works, and how to use it?

While both Study and Writing tools are helpful for most students in the United States, Chegg Books is among the best offers available.
This section of the website is a chance to rent, buy, sell, or get limited access to e-Textbooks, all in one place! Students can rent books for a particular time or even keep them via a direct purchase option.
The entire book collection is impressive and far-reaching, covering most of the disciplines and editions. Depending on what you've read in other Chegg Textbook rental reviews, you'll hardly have a situation where a needed book wouldn't be available.
In such a regard, trying out Chegg Books is a decent decision if you haven't used its features before. Now, let's take a closer look at the benefits of this platform in our Chegg Books review, as follows.
What do you get with Chegg Books? Are Chegg Books legit?
Much unlike its competitors, this platform charges no fees or commissions for accessing the entire assortment of books and guides.
All you need to do is browse through a never-ending list of books available for rent or purchase.
The good news is that this platform is now also working with e-books, making their rental easier than ever before.
As other Chegg Book reviews point out, e-books can only be rented for a particular time frame, ranging from a monthly subscription up to 365 days.
Those looking for a Chegg Textbook rental review can be confident that handbooks and paper guides are available in various forms. You can either rent or purchase a specific book easily.
Prices of Chegg Books and Textbooks
Details on the pricing of the subscription for Chegg can be found here. Can you return the book/textbook? When are Chegg Books due? Is there a refund guarantee?

So that you know, Chegg charges no funds for a browse of its library from our Chegg Textbook review.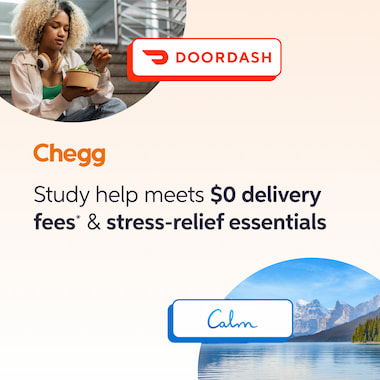 Since this platform works without a subscription, as with Study or Writing tools, you'd have to pay for your orders. These include the rental or purchase of handbooks and e-books, which vary depending on the guide and time of rental.
Other Chegg ebook reviews also state that you can rent an ebook and pay the amount of cash depending on the rental time.
And you can also get unlimited free food delivery with DoorDash when you subscribe to Chegg. So, remember to check that out.
If you've rented a physical handbook, all orders over $50 are shipped for free, whereas all returns are free, regardless of the price.
We learned from buying books from Chegg reviews that the company guarantees a 21-day risk-free return policy.
As a bonus, you can get a four-week trial for the Study if you're a new user with no experience buying or renting books there.
Quality of Chegg Books
Regarding the quality of books, Chegg e-Textbook reviews mostly endorse quality and convenience, while Chegg Books reviews often have mixed comments.
From Chegg Book rental reviews, you can find out that this company allows students to highlight specific passages or moments in physical handbooks.

Comparing Chegg Books with CampusBookRentals, we would say that the latter is a little better. Do you want to know why? Read more in the CampusBookRentals review provided by our experts.
Are Chegg textbooks legit?
Not all users are satisfied with those marks, as pointed out in reviews of Chegg Textbook rental, eventually making it a bit problematic to know what condition of the book you'll get after proceeding with a rental.
Except for this minor issue, our Chegg e-Textbook review found that the quality of e-books can exceed all your expectations.
The next time you'll read another Chegg Book rental review, remember that the price and quality of each particular book or guide are different.
The last part of our Chegg Textbook reviews relates to a wrap-up concerning this platform's most considerable advantages and disadvantages.
For your comfort, our Chegg eBook review will enlist all wins and weaknesses of this tool in a table, as follows.
Since the pros confidently outweigh all the minor flaws, we can be confident that their Books is a fair service with obvious advantages for students.
Pros
The cost is less pricey than on other platforms.
Far-reaching library.
eBook availability.
Intuitive solutions.
Cons
Quality of some books.
Prices for new book releases.