Online education is now one of the bedrock of modern society. The evolution of science and technology has made digital education easier, and there are now so many mediums by which students can access thousands of materials online and brush up on their skills.
One online learning platform that has helped advance a great digital experience for kids is Juni Learning. In this Juni review, we will be analyzing all the tutoring services, courses, and costs. They have a lot more to offer, and if you are interested in knowing more about them as an organization, check out the Junilearning.com review we have here.
As you read further, you will finally be able to decide whether this platform will be the best for you or your family. You will learn about their courses, instructors, merits and demerits, course quality, and many more. If you're ready, let's get into it:
What is Juni Learning?
Juni Learning is a digital online class for kids between 7 to 18. It was founded in 2017 by Vivian Shen and Ruby Lee to grant kids the power to shape their future through expert mentorship and an amicable learning environment.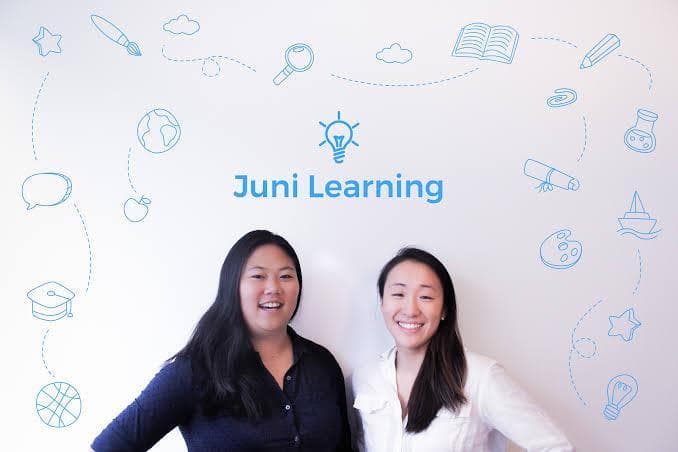 As kids, they were denied a broad learning opportunity forced to study what they had no passion for due to the lack of technical know-how and expertise. As adults, Vivian and Ruby have now taken the bold stand to ensure that the opportunities they were denied as younglings are made available to kids today.
Today's academic society is filled with too many standard options on right and wrong. Many children have a great drive for a particular subject but have been forced to give it up due to the lack of options, support, or community.
With Juni, the passion never stops burning. Their teaching schedules are always so flexible that kids can put in the required time to fuel their passion and do what they love after school hours.
According to the hundreds of Juni Learning reviews out there, Juni has helped many children develop and shape their path to a glorious and possible future.
Anthony Angelo said, "Develop a passion for learning. If you do, you will never cease to grow."
How it Works
To cater to the needs of different kinds of students, Juni offers three learning modes that will be discussed in the subsequent paragraphs, so if you want to learn more about this service, keep going!
It doesn't matter what a child is studying in school; Juni is a different world where they can feed their passion and desires, with the freedom to choose any program they want.
The options include:
Coding
Investing
Communications
Math
Science
One thing I noticed that was great is how there are advisors that help your kids find the right course for them. What does this mean? It's simple…
Upon signing up to the site, your kid undergoes an assessment by Juni advisors to help them discover their skill set and interest. This would help in choosing the right course for them.
If you're wondering, Is Coursera good?, our comprehensive Coursera review might have the answers you're looking for.
Why Choose Juni
After the time and effort I have exerted to make this thorough Juni Learning review, I can say that they offer some of the best services you can offer your child; you will find out why as you read on.
If you're looking for a community where your kids can thrive amidst the best instructors while being motivated by other passionate peers, then this academic platform is the best place to enroll. Let's move on to know more.
Juni Tutoring Services and Courses
To be able to help kids achieve their dreams and realize their passion, Juni offers tuition in three different formats. These are:
Private
On-Demand
Boot camps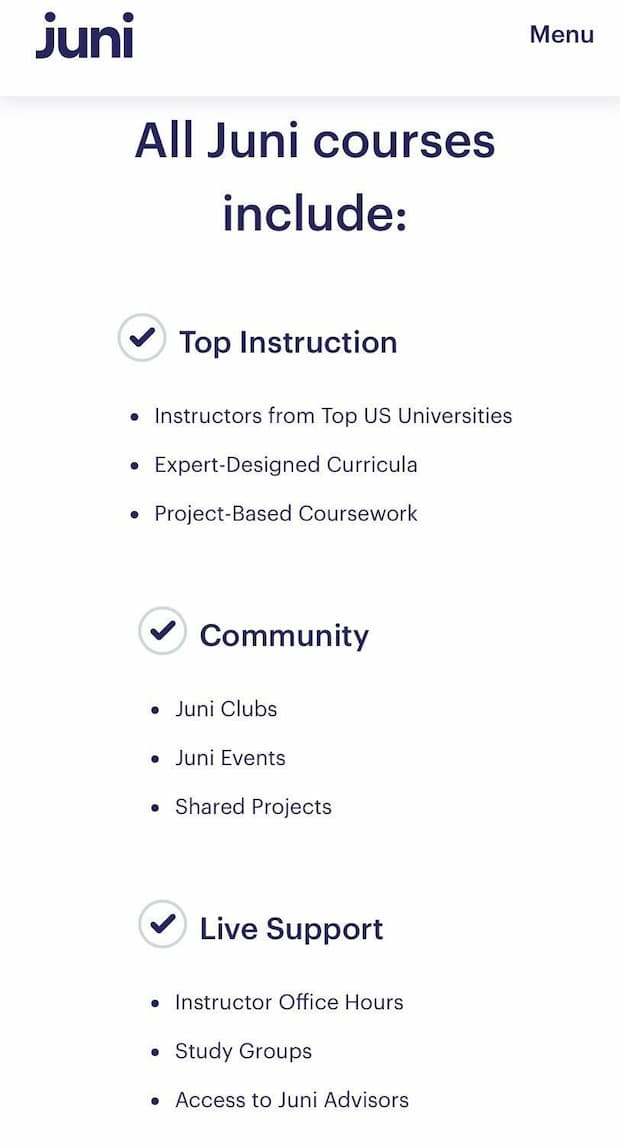 Each of these is tailored to the needs of every child, and as parents, you have to make a careful analysis of each one before enrolling your ward into any of the programs.
Thankfully, Juni offers a 2-week free trial for those looking to subscribe. This way, you can feel the class, instructors, courses, and every other thing before making a financial investment. With that said, let's go into details on the tutoring programs:
Private 1:1
This class can be taken by kids aged 8-18. Just like the name implies, it simply provides one-on-one tuition for your kids with their very own private tutor.
In particular, I find this a very helpful teaching method. These days, our educational module features a one-fits-all concept where one syllabus is used for all the students in the same classroom. This means that learning continues whether or not there is a child that doesn't understand the subject.
However, with private tutors, this can simply not happen. These tutors test your child based on their strengths and weaknesses and will not move on mindlessly until such a child has gotten over all the weak points in that subject. This is why, upon starting the course, every child is matched with a specific tutor that fits their learning styles and interests.
There will also be coursework based on physical hands-on projects. After all, Frank Herbert said, "One learns from books and examples only that certain things can be done. Actual learning requires that you do those things."
Here's what you will gain by choosing a private session:
Instructors from top US universities
Expertly designed curriculum
Invitations to Juni clubs and events
Strong sense of community
Live support
Study groups
Access to advisors
Progress reports
Certificate of completion
Here are some comments found from Junilearning.com reviews online: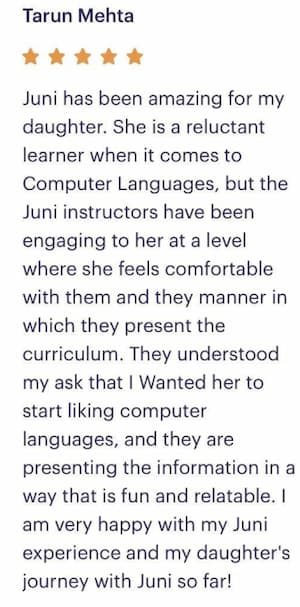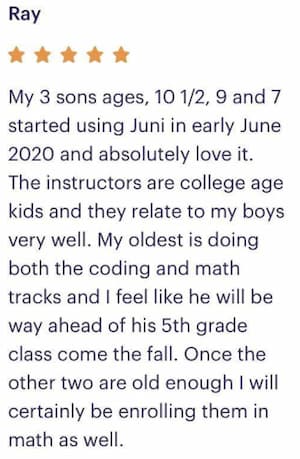 Another thing I found amazing about private tutoring is that your kid gets the same instructor for the course duration. Do you want to know how this helps?
Having the same instructor helps your child develop because this instructor has enough time to study them and note all their strengths and weaknesses. Also, your kid can get familiar with one tutor and get comfortable with learning. Changing tutors will not let this happen.
Other benefits are:
In-depth learning
Flexible schedule and liberty to reschedule
Personalized sessions
On-Demand
From the Juni Learning reviews online, it is obvious that this is the most in-demand course in the syllabus.
Here, all you have to do is subscribe, and the team would assess your kid and send them a whole library of materials that they can study at their own pace.
If you have kids who have after-school jobs or who are preparing for an important examination, it means their schedule is uncertain, and they might not have enough time to meet up regularly with Juni tutors. This class is an alternative for them. The materials are always on their profiles, and your kid can always access them at any time.
It is also adequate for kids within the 8-18 age bracket, and you have access to live instructors if needed.
Are you interested in this course? Here are some of the other benefits your kids stand to gain:
Access to over 150+ hours of materials
Project-based curriculum
Access to instructors and advisors
Strong sense of community
Weekly progress reports
Boot camps
Juni boot camps are like the usual ones kids go to every summer. The only difference? It's online!
Here, you get to take short courses for a certain period. These educational courses are so intense that kids go from introduction to expertise in about 2-3 classes.
According to Juni reviews, these camps are organized by top instructors. Amazingly, kids study in groups, making classes more fun and interesting. Here are some of the benefits:
Short, impactful lessons
Guided by experts from top US universities and colleges
The flexibility of classes and schedule
Juni Learning Cost and Pricing
I think the prices for these courses are affordable compared to the quality they offer.
Let's check them out:
Private 1:1
This course goes for $250 per month, and it covers every learning material and tutorship you can think of for your child.
The classes take place four times a month, with each class stretching as long as 50 minutes with a private tutor from top Universities like UCLA, Stanford, Northwestern. Depending on the course duration, your child might need one or two months to master it.
According to Earl Nightingale, "One hour per day of study in your chosen field is all it takes. One hour per day of study will put you at the top of your field within three years. Within five years, you'll be a national authority. In seven years, you can be one of the best people in the world at what you do."
Here are some of the courses that offer private tutorship:
Coding
Here, you can give your ward access to the language of tech for just $250. It covers major arms like:
Python
Java
JavaScript
iOS app development
Web development, etc.
Investing
Your child is never too young to learn about finances and how to navigate the world of money and management. With $250 per month, they can learn:
Stock market 101
Personal finance
Cryptocurrency
Entrepreneurship, etc
Communications
Some of the most successful people know how to tell stories and touch people's imagination. From a young age, you can teach your ward the intricacies of creative thinking and public speaking with just $250 a month. Here's what is on offer:
Public speaking
Novel writing
Video editing
Google interview
Negotiations, etc
Math
Math is one of the world's fundamental subjects. Almost everything is built on this language. To teach your child and to equip them with knowledge is worth so much. Check our list of the highest-rated math tutoring services there are.
Here's what Juni has to offer:
Early elementary
Pre-algebra
Algebra
Geometry
Pre-calculus
Trigonometry
AP Calculus, etc
Science
This knowledge is needed to understand the world. Every atom of life boils down to this, and at $250 a month, here's what your child can learn:
Physics
Biology
Chemistry
Environmental science
3D design
On-Demand
At $29 per month, you can purchase a wealth of resources and materials for your child. This can be accessed at any given time, depending on their schedule.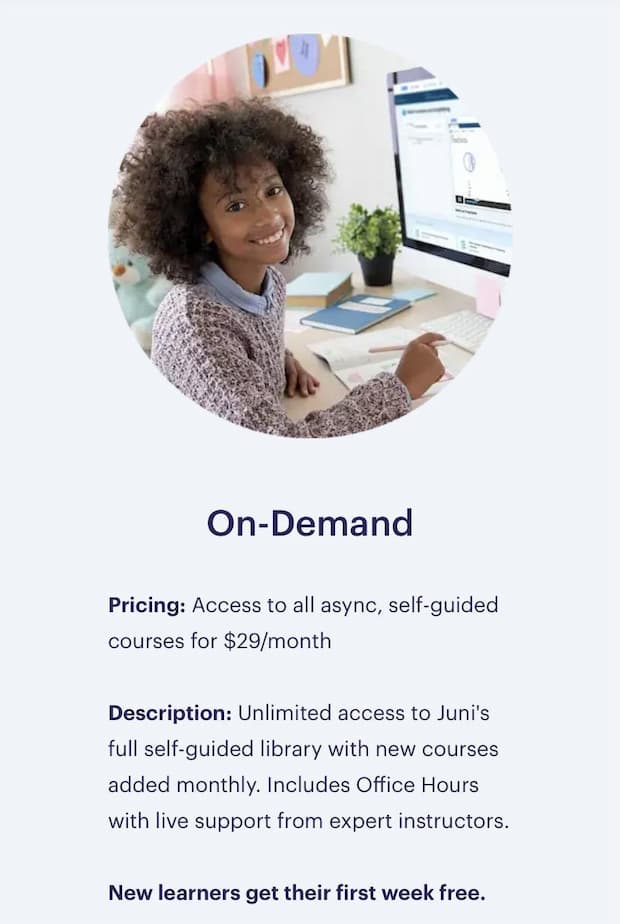 As soon as your ward is done with the materials for one course, you can always purchase another one for the same amount.
And the best part?
Access to an instructor is allowed, so you can always contact an instructor to help anytime they get stuck.
Here are the courses available in this format:
Stock market 101 — For ages 9-18
Python Level 1 —For ages 11-18
Python Level 2 — For ages 11-18
Minecraft coding — For ages 14-18
Intro to robotics — For ages 8-14
Intro to web development — For ages 12-18
UNASCO bronze — For ages 14-18
Bootcamps
The prices for boot camps vary according to time and duration. The starting price is $40. However, regardless of the cost, if you hurry there right now, you'll get 50% off.
These classes are taken with other students of like minds, and here are the available subjects:
Coding
Game engine
Data science, etc
Investing
Communications
Journalism
College admissions
Marketing 10
Debate duels, etc
Science
The science behind Sci-Fi
Chemistry of cooking
Discovering exoplanets, etc
Comparison Table
Courses
Features
Prices
Private
● Instructors from top US universities

● Expertly designed curriculum

● Coursework based on physical hands-on projects

● Invitations to Juni clubs and events

● Strong sense of community

● Live support

$250/month
On-Demand
● Access to over 150+ hours of materials

● Project-based curriculum

● Access to instructors and advisors

● Strong sense of community

● Weekly progress reports

$29/month
Bootcamp
● Short, impactful lessons

● Guided by experts from top US universities and colleges

● The flexibility of classes and schedule

$40/month
Features and Quality of Juni Learning Courses
All the courses available on the Juni platform are very effective, as long as you pick one that is suitable for you.
From the feedback of hundreds of students who have taken one or two classes, the key to getting your money's worth is making sure you pick the right course for your child. You can do this by contacting an advisor to set a simple exam to help determine their skills and passion.
As a parent, you can also track your child's progress on their Juni portal. Through this, you can manage their courses, request a report, track their progress, access advisors, manage their portfolio, and do anything you want to do. That's one major feature that makes it possible for parents to always stay involved in their child's activities.
Great Tutors
When it comes to tutorship, be rest assured that your child is getting assistance from only the best teachers available. According to the Juni Learning Instructor reviews, all the teachers on the site are not only highly educated, but they were also personally chosen because of their love for children and their ability to be patient and kind while disseminating knowledge.
A major requirement for joining Juni as a tutor is having prior experience teaching young students of about 8-18. A prospective tutor must also have a strong English, Mathematics, and computer science background.
Also read: English Learning Websites Reviews
Asides from that, tutors must be students from one of the top US universities and must be ready to undergo rigorous training and vetting before being allowed to handle a class.
Guarantee
There is no money-back guarantee on Juni. However, they do offer a free trial of two weeks to help you determine whether the platform is satisfactory or not. If you decide against it, you can always cancel your subscription with no charge to you at all.
How it Differs
There are only a few other sites like Juni. While their services might be very similar, I discovered that Juni Learning is the only platform that places so much importance on the expertise of their tutors.
They make sure that all their tutors have experience in their area of expertise and undergo rigorous training before they are allowed to teach.
Also, Juni offers a very comprehensive course outline, teaching kids so many subjects across all areas. Plus, a portal is available where parents can track this progress seamlessly.
Online Reputation

I exerted a lot of time and effort to ensure that this review was as thorough and honest as possible. But it wouldn't be complete if we didn't look at other people's reports on the site and what they feel about it. There are some popular sites that reviews platforms like this, so let's check them out: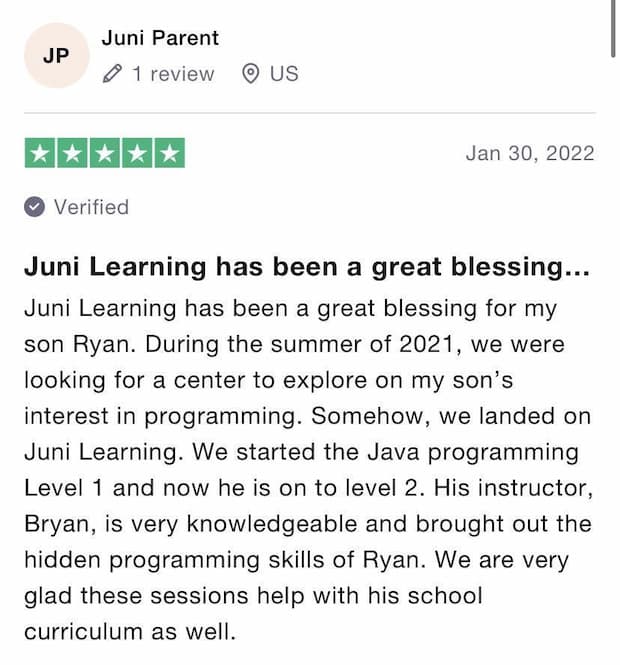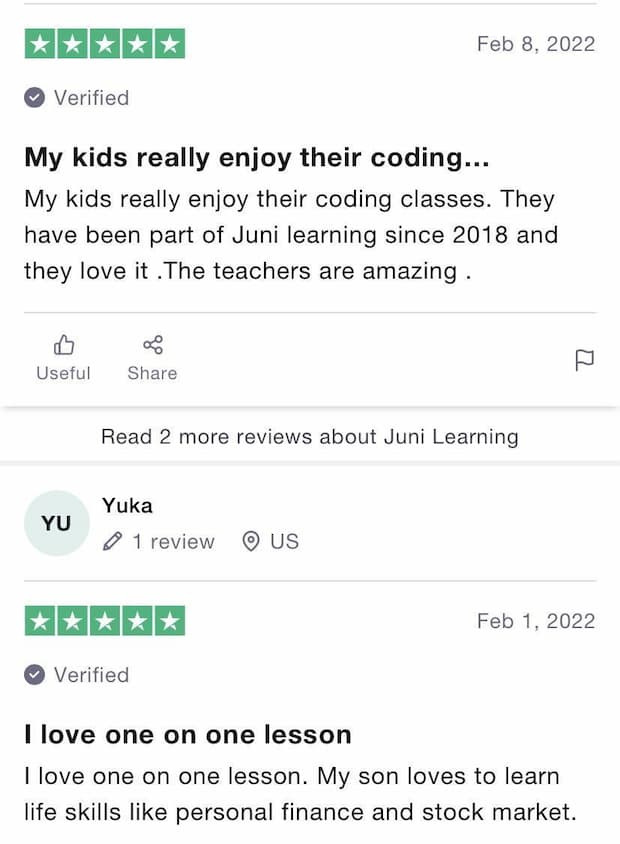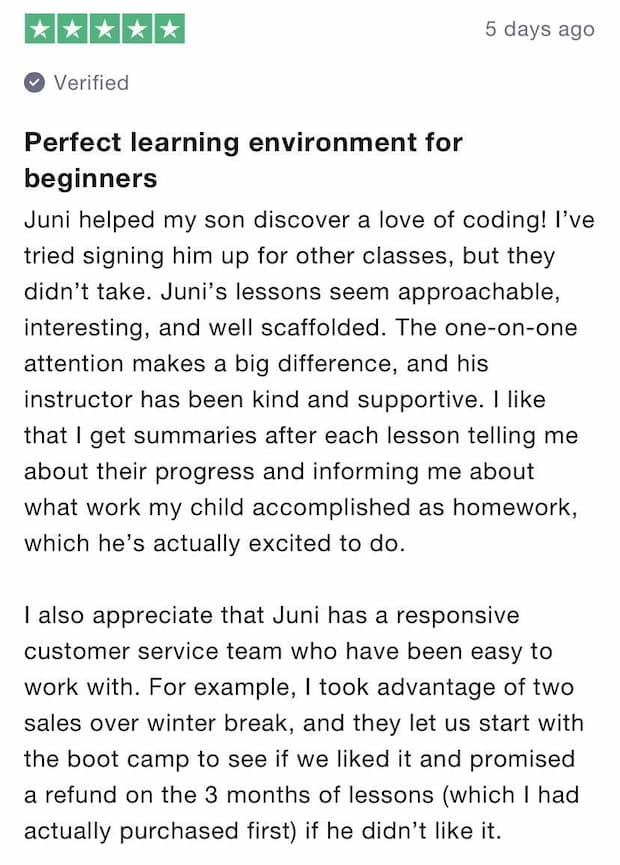 You will find some other reviews from Juni's parents above.
Glassdoor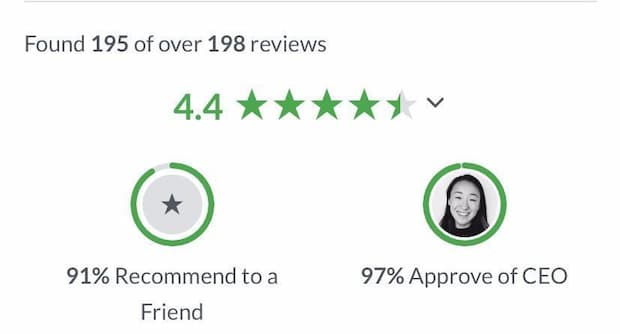 Juni Learning has a rating of 4.4 on Glassdoor, accumulated from 198 reviews. Of the 198, 91% were willing to recommend the platform to a friend, and 97% approved of the CEO.
Although some parents complained about the prices, many appreciated the flexible schedule and the wonderful tutors who cared for their kids.
Also, do not forget to check some Juni alternatives if you are still not sure abou this service.
Pros
Flexible schedule;
Easy to use website;
Comprehensive courses;
Free trial;
Expert tutors;
Interactive learning.
Cons
Timing is flexible, which might be an inconvenience for tutors.
Frequently Asked Questions (FAQ)
Q: Is Juni Learning Legit?
A: Yes, it is. They have several amazing testimonials online and have been featured in reputable publications like Bloomberg, Forbes, Fortune, etc
Q: What Does Juni Learning Teach?
A: Great topics like coding, storytelling, investing, and communications.
Q: How Much Does Juni Learning cost?
A: Juni can cost you from $29 up to $250 per month depending on the type of classes you choose. On-demand courses cost $29 per month when Bootcamp is $40 and Private 1-on-1 tutoring will cost you full $250 per month.
Below you can also find websites like Juni Learning.