UnemployedProfessors.com Overview
What if your professor completed your assignment for you? Now, imagine an unemployed professor offering you writing services. Isn't that intriguing?
Undeniably, UnemployedProfessors.com is a fascinating domain name, but the big question is: is it another scam trying to use an attractive promotional strategy, or are they, real professors? Is it a top essay writing service online?
To answer this question, EduReviewer has delved into the website to find out who does the assignments. The information page claims that the company hires Ivy League graduates, but we couldn't take their word for it, and so we decided to hire their services and see it ourselves.

The first impression you get is that the website is very formal, but the homepage content is exceptionally casual, contrary to the expectation. We even thought that it was a big joke. The entertainment on the pages is astonishing until you wonder, "Do so-called professors thoughtfully write papers?" There is a great sense of humor here, which is probably what gets the attention of so many students.
We noted that the site was launched in 2011, but there were no recent updates. UnemployedProfessors also featured on popular websites like Reddit, Business Insider, National Post, HuffPost, etc. We decided to post this Unemployed Professors review to clarify your doubts to know what you are getting into.
Preparing a research paper has never been an easy task, not even for the brightest student in a university. At some point, you will need expert help if you are serious about your school grades. UnemployedProfessors.com works with highly experienced and reliable authors who can handle diverse subjects regardless of the complexity level.

The essay professors do their best to deliver outstanding papers. We all know how hard it is to come across a reliable academic writer with exceptional writing skills. But you will find the best authors and editors at this site. They have been writing for years, so they have strong research skills and quickly understand a student's requirements.
UnemployedProfessors.com Story
You can read an exciting history on the About Us page narrating how a young Ph.D. holder felt dissatisfied with her current job. An Unemployed Professor overheard her complaining about life. They started a conversation that led to the formation of unemployedprofessors.com with the primary purpose of helping students who are lazy, busy, stressed, or with poor writing skills.

They started doing assignments for students who were unable to do complex subjects due to various reasons. Over time, the company grew more extensive, and other professors joined the team.
Today, many Unemployed Professors work in the company, and they are fulfilling their dreams and ambitions by helping students succeed academically. So, if you were wondering if they are real professors who write papers here, yes, it is true.
UnemployedProfessors.com Guarantees
One of the website guarantees is expert guidance for students who cannot, for some reason, write quality academic papers on their own. They indicate that the success of a client is their success too. The site claims to hire the most gifted essay writers and academic analysts committed to fulfilling their obligations excellently and meeting client demands.
Every writer is handpicked carefully, which is why they can complete tasks accurately, qualitatively, and on time. You should also check EssayPro.com guarantees and hire one of their writers. This would be the right decision. Why? Read what customers think in their EssayPro reviews and reviews of ResumeEdge on our blog.

Even though the company states that it is the best at everything, they are average in reality. But why, you'll find out below.
UnemployedProfessors Service
UnemployedProfessors is a legal business that deals with just any kind of academic task. They specialize in theses, dissertations, research papers, critical analysis essays, mid-term essays, final semester essays, and response papers.
If you are looking for the best place to hire dissertation writers, check our best dissertation writing service reviews before picking one.
UnemployedProfessors state that the experts employed in this company have attained Masters and Ph.D. levels in different academic disciplines like Zoology, Anthropology, Finance, Education, Legal studies, etc. They can solve any questions from any field of study, thereby leaving you with more time for other activities. There are also editing services, and the professors can write impressive CVs and cover letters.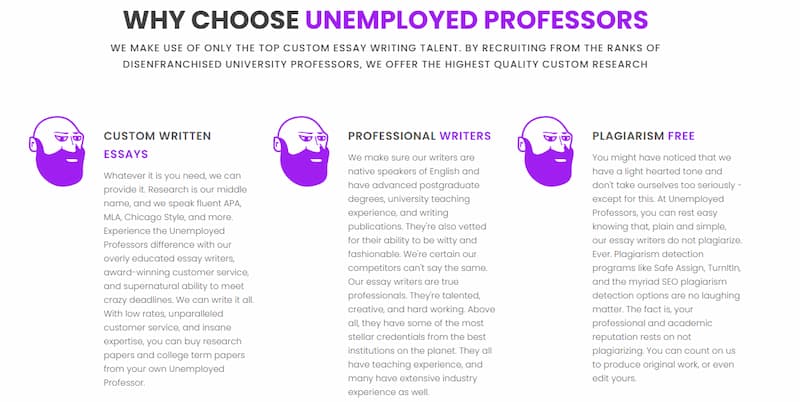 But we are not sure that only Ph.D. holders are working here, especially considering the quality of work we see from this company.
UnemployedProfessors.com Delivery System
An auction-bidding system is used on the site. When you place an order, there is a high likelihood that one of the best professors will take it since various writers bid, and your job is to choose the best. For popular projects like essays, you can expect delivery within a few hours.
However, do not make a high demand if you are looking for a 50-page research paper. Even the most talented writer needs a lot of time to complete a difficult task. See our list of the best math homework services that performed well in our tests.
Before you place an order, there are things you should keep in mind:
Determine the deadline. If your paper is too long, consider asking your teacher for an extension.
Give precise details to the writer to know your wishes, e.g., whether you need a paper in the US or British English.

To place an order on the site, you have to register and fill in the order form. Wait for writers to bid on your project and choose one that pleases you. The next step is to deposit the agreed amount of money into your account, and the professor starts working on your paper.
You will be informed when your paper is done to download it and submit it to your teacher. Then the money is released to the writer when you are delighted with the paper.
UnemployedProfessors.com Quality
The site claims to use former professors and graduates from renowned universities. The Unemployed Professors were caught with fake qualifications, and such writers should not be allowed to work for writing services.
Here you will find writers with Ph.D. and Masters Degrees. Most service Unemployed Professor reviews show that their services are inadequate. We needed our paper formatted in APA because it was a sociology paper. We learned that the writers on this website are not aware of such citation styles as ASA, Harvard, Chicago, MLA, and APA.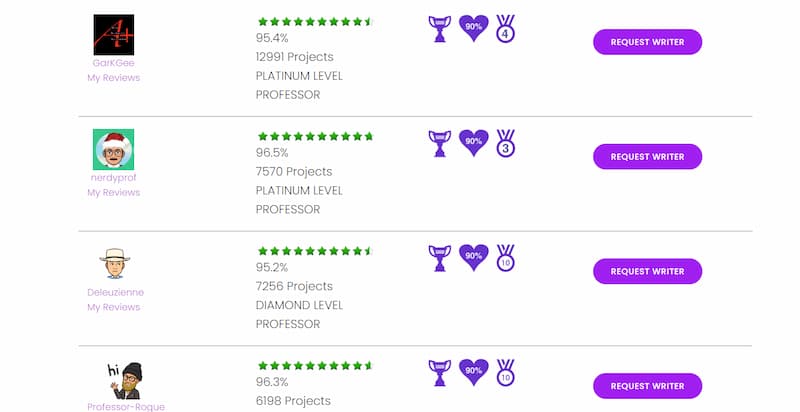 The site has in-built software that organizes citations in any formatting style. It is imperative to note that if your assignment will not go through the sustained assessment. And there is no information resource on the site because referencing material will be bought with your money.
Concerning the quality of the paper we received, we were satisfied because it couldn't have met the standards of a Ph.D. student. It indicated a level of a college or a high-school student in their first academic year. Furthermore, the paper was not on point in terms of grammar, originality, relevance, and style.
So, we would certainly recommend using this service for any paper.

Checking the numerous Unemployed Professors' reviews of the site online, many positive comments are given, most of them look fake. We do not encourage college students to use this service to get high academic grades after submitting their papers. The actual testimonials thus validate the inexperience of Unemployed Professors. The other issue we have with the website is untimely email responses.
UnemployedProfessors.com Trustworthiness
We had to test how trustworthy the service is by ordering another paper, a college-level case study. The order arrived a week after the deadline and was full of errors. We did not like the complexity of the writers' language; hence, anyone can't read and understand. The referencing style did not match the case study, so we were completely unsatisfied.
Generally, Unemployed Professors' cost reflects the prevailing market prices. But sometimes, it is a little higher than other services that claim to be the best in the industry, like EssayPro or CustomWriting. We looked at various review sites and online forums to see what other people think about the service in their UnemployedProfessors reviews.

Our assessment indicated that UnemployedProfessors.com clients are generally unsatisfied with the service, mainly because they don't reply to messages on a timely basis.
Unemployed Professors Cost
We find the UnemployedProfessors cost at the site to be reasonable. The price of our paper was determined by the word count, deadline, and complexity. The company insists that shorter deadlines cost more. The website has a system of discounts, bonuses, and special offers, but we didn't get any.
Luckily, we were not charged for the bibliography, title page, and table of content. As far as the refund policy is concerned, the terms are a bit confusing.
Even though we didn't require our money back, we were concerned about any client who would feel dissatisfied with the paper and ask for their money around.

According to the site, a refund applies to some criteria not included in the terms and conditions. There are no examples of such cases where clients are dissatisfied with their orders, and alternatives are not mentioned on the website.
Unlike most writing websites that provide a standard service cost calculator, UnemployedProfessors.com based its prices on an auction-bidding mechanism. The price depends on the writer and how well you negotiate. That means the writers try to give the most competitive prices so they can get hired.
So, how much do Unemployed Professors cost? Most clients pay between $2.5 and $8 per page from the online reviews, depending on the academic level. The bidding system allows you to get reasonably good rates. This is particularly advantageous for anyone who is on a tight budget.
The company is a perfect example of what ordinary students can afford. There are so many websites that claim to hire professors, so they charge ridiculously higher prices, but they end up disappointing clients. The same thing with this company. So, that is why we advise students to read online testimonials and honest UnemployedProfessors.com reviews about writing services before using their money.

The worst thing about Unemployed Professors is that it is a platform by unprofessional people who do not take writing seriously and are only after squandering student's money. They use their talents to change the lives of many students by taking their money.
But suppose you need to write an essay very quickly and qualitatively. In that case, we recommend checking the Edu Birdie reviews and visiting this company because we had no trouble with these guys.
UnemployedProfessors.com Customer Service
When we decided to place an order with Unemployed Professors, we opened the Contact Us page. We left a message that included all the information about our paper, which was about Gay Marriage.
After 12 hours, a customer care representative replied to our message. They also suggested that we connect with them on Twitter, YouTube, Facebook, and Instagram.
We did not find any phone number, so we were worried that we wouldn't find prompt replies. We wish they could add a phone number to their contact information to make their services better. What if we needed a rush essay? We got a quote and had a chance to choose our writer.
We can conclude that the customer support team of the site is not well managed. Every client who needs help might not be taken care of. You can use social media to get in touch with the company. They also understand that many students are very active on social media; hence they can attract them.

They claim that their online customer support is available 24/7, which indicates a reliable company. But unfortunately, this is not true about UnemployedProfessors. Furthermore, the online agents are not that accommodating and can't solve even a simple issue you may have regarding your order.
UnemployedProfessors.com Website Usability
From the homepage, you can tell that they are indeed student-focused. The cartoons and comic content are used for guidance, and at the end of this unemployed review, you will understand that their services are not jokes. It is a peculiar site with a distinctive approach to clients plus a fascinating design.
It is simply fascinating to view a web page with pictures of professors who are busy solving students' significant challenges. Part of their objectives is to encourage ambitious professors who haven't fulfilled their employment dreams to help students and, in turn, put their knowledge to good use. Helping students succeed in life is the main business of UnemployedProfessors.com.

We love the clever website design. The motto is to make assignments disappear while students continue with their everyday life like partying and playing. The theme provides a relaxed and friendly atmosphere such that your writing troubles seem to go away as soon as you visit the site.
Apart from the comical student-based theme, numerous Unemployed Professors' reviews confirm the site's legitimacy. Similarly, their Instagram page has many fun posts, indicating that the professors are very student-centered.
However, you should know that this is not a corporate article writing site, so you cannot expect SEO-boosted write-ups. It is strictly for students.
They almost have made zero changes to their website design since 2011, and it became outdated. Nowadays, you can be surprised that such websites with similar designs still exist.
Pros
They have an outstanding balance between the quality of paper and price.
An interactive website design full of humor.
Original and grammatically correct papers.
Highly qualified professional writers.
On-time delivery.
Safe site.
Cons
Everything is explained comically, and it might piss off people who take life too seriously.
You might want to look at services elsewhere for a Ph.D.-level paper.
Lack of prompt response from the customer care department.
An unclear return policy.
Registration is a must.
No pricing table.
Security of Information
If you want to use the services of Unemployed Professors, you have to create an account first. You are expected to complete a registration form with your user ID, email address, and your order details. Then, you must enter a password to continue. When you sign up, you don't need to use your real name. It is advisable to use a unique user ID that will not identify the real you.
However, you cannot impersonate someone else with your account. Then your password should be very confidential. If you think that your password has been disclosed, notify the customer support department immediately. Your responsibility is to ensure that your password remains private because any unethical activity on the site can expose your information to breaches.