Building a career is no longer as difficult as it was a decade or two ago, thanks to the multiple job search platforms that provide opportunities for career growth for people with diverse backgrounds, talents, and prerequisites.
Nevertheless, it is important to make sure the service you choose for your work search is reliable. This is exactly what we decided to do with ZipRecruiter.com as we did with resume writing services and the best professional resume writers online.
Why should you consider our peer assessment of ZipRecruiter?
For starters, we are not interested in its promotion and are inquisitive about what distinguishes it from the other job search services.
Second, we assess ZipRecruiter using a lengthy checklist that includes important characteristics that users should consider when selecting recruiter services:
Product list & services;
Pricing & payment options;
Quality;
Customer service;
Website usability;
Mobile app;
Positioning in general.
Third, we investigated ZipRecruiter reviews on Reddit, Trustpilot, and other websites offering customer feedback, then spent some time researching the service website and app to come up with an ultimate and unbiased ZipRecruiter review.
Zip Recruiter was a fantastic candidate for analysis, especially since 89% of Trustpilot users rated it "Excellent," while 5% rated it "Good." However, numerous ZipRecruiter negative evaluations may be found in the comments section.

Is this due to users' proclivity to post emotive sentiments and negative reviews, or are we looking at ZipRecruiter phony ratings? Let's see if we can figure it out!
Before we go further, Let's take a look at the Career Addict review, mainly the review features it offers.
ZipRecruiter.com Overview
What exactly is ZipRecruiter? The corporate website shows itself as a tool that actively links people to their next great opportunity.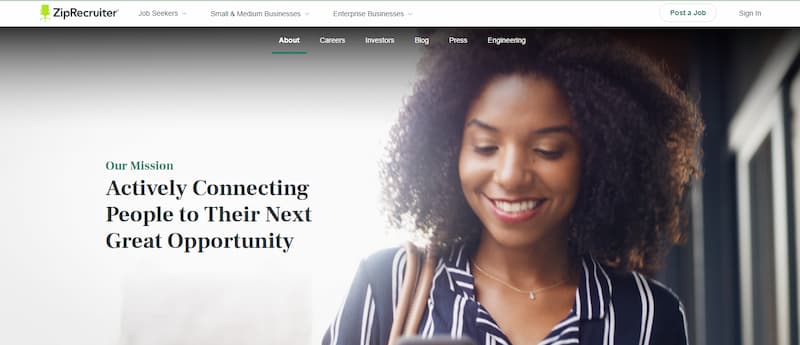 So, now that you know what Zip Recruiter is, let's clear things up for people who are wondering, "Is ZipRecruiter legit?" Yes, it is completely legal.
It is a prominent job search service based on AI smart matching technology that connects job suppliers and seekers via web, mobile, and email.
Is Zip Recruiter safe?
It is, indeed. It has over 7 million active monthly users, over a million registered employers, 10,000 new organizations that subscribe to the services on a monthly basis, and 40 million people who subscribe to job alert emails.
So, if you're wondering, "Is ZipRecruiter trustworthy?" Yes, it is one of the most dependable companies we have ever reviewed.
Story of ZipRecruiter
The company was formed in Santa Monica in 2010. Its goal was to provide a solution for small businesses to easily and economically distribute job offers across platforms.
It is now a marketplace with over 120 million people looking for job opportunities and over a million employers, nine years later.

Zip Recruiter Products
How does ZipRecruiter function? It doesn't take long to figure out how to use ZipRecruiter. It is a straightforward five-step procedure:
Post a job or a resume.
Please wait till the AI assistant leads you to a search page or sends it to job sites.
Obtain a list of suitable candidates/offers.
Examine the candidates and offers.
Hire or be hired.
Scroll down to the website's footer to find two large sections: For Job Seekers and Employers. Let's take a deeper look at how they work.

For Job Seekers
Register for a Free Account. Nothing new here: users begin by supplying the fundamental information required for effective searching.
Look for work. To be recruited, users must first register by submitting their full names and email addresses, then fill out the form with important career information and preferences. Users can rate employment opportunities in order to receive the most relevant offers and set up fast notifications for new vacancies.
Look for jobs. For individuals who know exactly what they are looking for, there is an alphabetical catalogue. Simply click on a letter, search for a title in the full list of titles, click on it, and select a preferred place.
Salaries. This function is rarely mentioned in ZipRecruiter evaluations, despite the fact that we find it really beneficial. By entering the name of a job position and its location, you will gain access to wage information, which will often assist you in determining your desired salary rate.
Looking for ZipRecruiter.com Work Evaluations. There are several ZipRecruiter employee evaluations with comments about searching experiences here. They appear to be motivating and inspiring.
For help with resume writing, you can check ResumesPlanet.com reviews or a Resumeble review on our website to find top resume writing services, for instance, and you'll find your dream job faster!

For Employers
Now is the time to post a job. With a single submission, an employer may post a description and have it featured on over 100 forums throughout the web. The service also assists in screening and rating candidates.
Look for resumes. A CVs database with candidates from various fields is built on sophisticated AI and swiftly produces quality candidates. Custom notifications can be set up to notify you when a relevant prospect arrives for a quick and easy ZipRecruiter resume check.
Job posting sites. ZipRecruiter provides a list of all the job boards with whom they collaborate. It is not a product, but rather a description of what distinguishes the product from those boards. You deal with a marketplace that welcomes and combines the most popular boards to save time.
If you are a veteran trying to find a job, we recommend checking military to civilian resume writing services so that they could craft a personal and professional document for you.

ZipRecruiter Mobile App
The ZipRecruiter app, which is accessible for both Android and iOS, is ranked first among mobile job search applications. It can be downloaded from retailers or from a link delivered via SMS following a request on the website.
The most useful elements are the ability to apply with a single swipe and see when the company views your fast application. There is almost no other service that provides this.
Users can also take advantage of normal job search software features such as access to hundreds of job boards, various filters, daily email alerts, saving intriguing offers, and so on.

Ziprecruiter Services
#1. Partner Programs. There are several helpful features for the enhanced employer experience:
ZipSearch is a website widget that includes a sophisticated AI matching algorithm.
ZipAlerts for sending personalized job alerts.
ZipPost's referral program fosters the introduction of new businesses.
Start your own job board with all 8 million featured offers using their software.
#2.Accounting, Construction, Healthcare, Legal, Sales, and Technology are some of the most in-demand industries. Employers have access to improved templates, bespoke screening questions, and the ability to actively invite candidates.

#3.Those in need of advice can call the hotline. For people who have questions about hiring professionals, speaking with specialists might help.


For those who are looking for a nurse position and want to revamp their resume, check the nurse resume writing services list on our website to pick the best company possible.
How much does ZipRecruiter cost?
What is the price of ZipRecruiter? Good news for job seekers: the website is free to use.
How much does it cost, though, to post a job on ZipRecruiter? Employers can choose from three plans: Standard, Premium, or Pro, each with a free trial.

ZipRecruiter pricing plans and trial period length, on the other hand, are not specified. Only once you register and fill out the essential information, such as your name, company name, emails, phone number, and monthly unique visitors, can you learn how much ZipRecruiter costs.
You get a 4-day trial period, and ZipRecruiter pricing starts at $99/month ($590/year) for a basic plan, $149/month ($990/year) for teams, and $229/month ($1,490/year) for businesses.
JobBoard.io is less complicated. There are three levels with a 14-day free trial: Basic ($249/month), Professional ($349/month), and Enterprise (prices explored). There is no ZipRecruiter free trial review today, however you can use this tool if you are interested.
ZipRecruiter Payment Model
Subscribers are invoiced either monthly or annually. If a company wishes to discontinue use of the services, the plan will be cancelled at the end of the subscription time with no further expenses – no ZipRecruiter scam to be concerned about.
Users can upgrade and downgrade their plans at any moment, as well as publish new offers, by simply purchasing additional slots. A personal account contains detailed reports and bills. So, don't worry, we haven't discovered any evidence of Zip Recruiter scams on the internet.

ZipRecruiter Quality
Is Zip Recruiter legit? The New York Times, Wall Street Journal, and Forbes have all written about the service. Target, Starbucks Coffee, Burger King, PayPal, and Netflix, among others, use it.
Many ZipRecruiter employer reviews are favorable. These facts already speak a lot about the service's reputation and quality, as well as how good ZipRecruiter is, but you undoubtedly need more proof.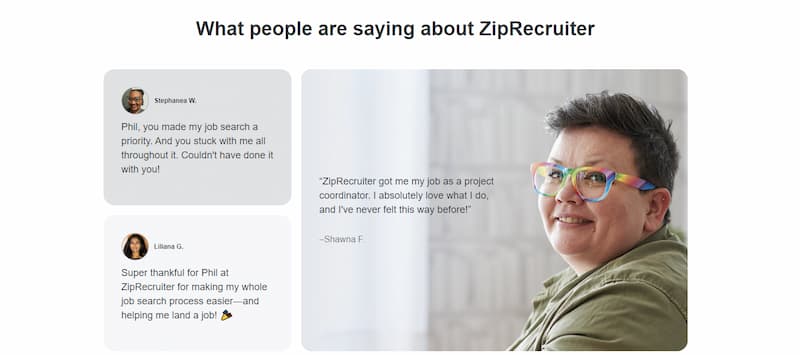 How useful is ZipRecruiter?
ZipRecruiter's effectiveness? Job hunters, on the other hand, have practically instant access to millions of jobs from reputable companies. Meanwhile, businesses may take use of several customization tools and collaboration programs that save them time and money.
ZipRecruiter Customer Service
Every page has a contact form, a phone number to call the hotline, and a live chat pop-up window for individuals who can't find some vital information.
Numerous subjects with extensive solutions are covered in the Job Seeker Help, Employer Help, and Support sections. Everything you need to know about posting a job or a CV, setting up your account, dealing with plans, and billing can be found here.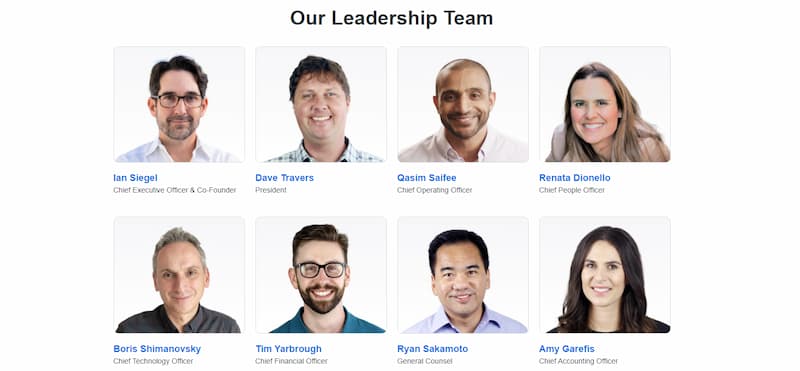 ZipRecruiter's flexible plans, subscription options, and price policy were created to assist businesses of all sizes. The program is constantly improving and adding new features for both job searchers and businesses.
Usability of the Website
The last item on today's ZipRecruiter job reviews agenda is website usability. The design is straightforward, minimalistic, and appealing. The UI is simple to use. The application and account management processes are absolutely intuitive.
Website designers were able to incorporate a large amount of content while avoiding information overload. All forms are simple and do not demand a lot of information.

In terms of functionality, users can search for jobs and candidates using keywords, city, state, or zip code.
It is possible to provide a geographical range and other unusual characteristics for search refinement – AI algorithms here perform better than on the majority (if not all) employment markets.
Another useful characteristic is synchronization, which is a speedy service response to user activity. You are sent to a page with a list of proposed vacancies immediately after applying for a job.
You then receive an email with information on similar job openings. There is no longer any need to manually configure everything, as you can turn it off in the settings at any time.
So, let's go into the primary advantages and disadvantages of ZipRecruiter.
Pros
It is a completely free service for job searchers.
Employers benefit from its flexibility in terms of plans, payment, and collaborations.
Because it is transparent, receiving invoices and reports is not a problem.
It includes several job search statistics from various fields.
Both the website interface and the mobile app are well-designed and user-friendly.
The support team is available 24 hours a day, seven days a week via email, chat, or phone.
Cons
The prices of user plans are not specified in their descriptions.
Users must register each time they wish to learn more about job opportunities with employers.
The Trending area has far too much information, which appears to be distracting.
Only a few industries have industry solutions.
If you want to receive an app download link via SMS, you must pay (normal SMS prices apply).
If you didn't want to subscribe, you may find that instant job notifications start filling your inbox.