ResumeWriters.com Overview
ResumeWriters.com is a website that has been around since 1999. Their professional team of writers has been helping job-seekers get interviews for twenty years – quite a feat!
It would not have been possible to keep its reputation without employing only the strongest authors who know exactly how to meet recruiters' increasingly expanding requirements and needs.
All their writers are members of the Professional Association of Resume Writers, proving that they really know their business.
Currently, ResumeWriters.com is the result of 20 years of providing the best service through constant learning and development.
As you may know, resumes have undergone lots of changes over the decades. For example, what was sought in the 90s might not be relevant today. This experience and expertise are genuinely invaluable.
Is ResumeWriters the best online resume-writing service out there?
We have done a peer review of the work produced by the website's writers, and we can honestly say that we could hardly find anything to criticize.
The resumes and cover letters were of the highest standard, the sort of CV you would not be ashamed to use in your application to a top international company.
We specifically hired qualified writers to test ResumeWriters com, and their positive feedback resonates with all the positive ResumeWriters reviews from hundreds of customers.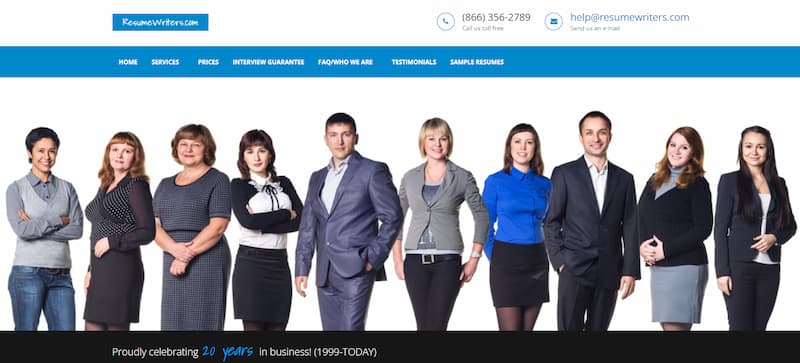 Several criteria are commonly used to evaluate a writing service. This resource has a testimonial from Time Magazine, which testifies their qualification. ResumeWriters.com is a BBB-accredited business with a rating of A+.
Above all, however, it is the effect their work has on the future of their customers that really makes them stand out.
You can read, for instance, military ResumeWriters' reviews to see for yourself how careers were transformed because of the correct emphasis placed on resumes.
If people are getting to the interview stage with these CVs, this is a strong indicator that this service is doing something right.
It is also fundamental that a writing service follows the candidate's instructions because job descriptions don't always convey all the nuances of the application.

Naturally, with experts in resume writing, there are a few things they may not be aware of. Therefore, even if you as a customer fail to mention important details related to your prospective job, it is probable that these authors will take care of the business for you. In any case, nothing is left to chance.
Whether it is structure, type, or length, particular industries and professions have certain requirements and expectations.
To be in the game, you need to be in the know. Their writers' experience ensures this is followed to the max. You need not worry about anything when genuine professionals are at work. Legit or scam? This service is the former!
These days, there are dozens of recognized resume writing variants, but we will focus on the eight that we believe cover most jobs.
A targeted resume keeps the job description in mind at all times. You tailor the experiences, achievements, and skills you already possess to what is desired by the employer, focusing only on their competencies, which often means omitting strengths that you value in yourself but are not important to them.
It requires more effort to customize your existing CV to suit different jobs, but it may well be worth it if you are confident that you are a perfect match for the job in terms of skills and aspirations.
In any case, this is the opposite of a generic fit-for-all resume, which we are often tempted to use due to indolence or time constraints.
It is a sound idea to target your resume for all job applications, to a small extent at the very least.
Employers spend a lot of time fine-tuning job descriptions – take some time to reward them with precisely what they are looking for!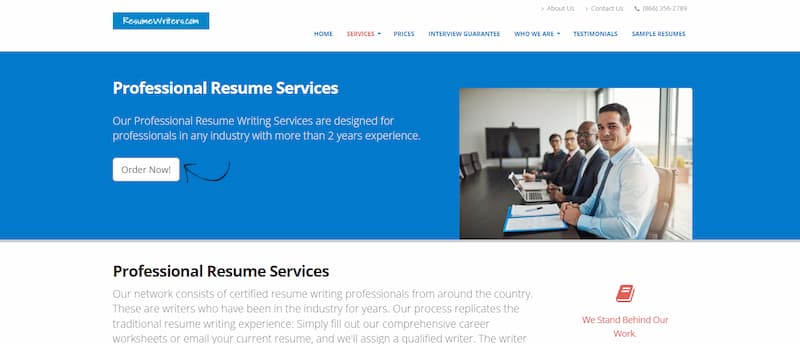 A chronological resume is what was the standard beforehand. You list your jobs in a specific order, starting with the most recent, and going back ten to fifteen years.
It provides the recruiter with a good overview of your entire career but doesn't relate as easily to the current job and its requirements.
If your career is very logical and straightforward with constant growth, you should opt for this type of resume.
A combination resume is a mix of the two above. You list your qualifications and skills at the top, then your work history follows.
However, the latter is not the focus of this resume type and shouldn't take up too much space. This is a challenging type to master because of the need to compromise and include everything relevant.
You ought to match your skills to the desired position and provide a brief overview of your career, which is often important for the employer.
A functional resume company focuses above all on the skills and expertise of a candidate. This type is becoming increasingly in demand because it allows the recruiter to match the candidates' skills and qualifications to the job description and the essential competencies.
It is common to include a summary at the top to capture the recruiter's attention and demonstrate that you value their time because we know how many applications they receive and how often outstanding candidates are overlooked simply because their CV failed to attract them within the first seconds of getting to it.
It is also the type of resume for people going through career changes or lapses in their work history due to whatever reason. A CV presents an opportunity to emphasize how you are the perfect fit.
More creative professions welcome non-traditional types of resumes, such as an infographic. It gives you the freedom to use graphic design elements where you see fit instead of (or along with) the traditional text.
Organize your content using different colors, designs, fonts, and formatting to highlight your strengths.
Be careful with this type of CV in more conservative firms. Whilst you may feel it is a great way to present yourself, others might feel you are lazy or non-conformist in the negative sense.
Some employers favor resumes with a profile section. This means adding a succinct summary at the top, which includes the candidate's skills, experiences, and goals relative to the job in question. Think of this profile as your chance to sell yourself to the company.
Similar to a combination resume, you can show the recruiter you value their time and allow them to filter you immediately if your skills do not match their vacancy.
A nontraditional resume was unheard of back in the 90s, but nowadays, it is a great way to show off your creativity and thinking. There are no guidelines for composing this type, but it can be anything from an online resume to a video or a post on a social network. It allows you to stand out from the crowd in creative fields genuinely.
Focus on the key strengths you have to present yourself in the best light: create one if you are great at creating web pages. If you are a designer – make the most of the facts! The sky is the limit!
The final type we will cover is a mini resume. It is what the name implies – a concise summary of career achievements and highlights. Only include what is relevant to the position. This type is hard to master, especially if you are working from a generic resume.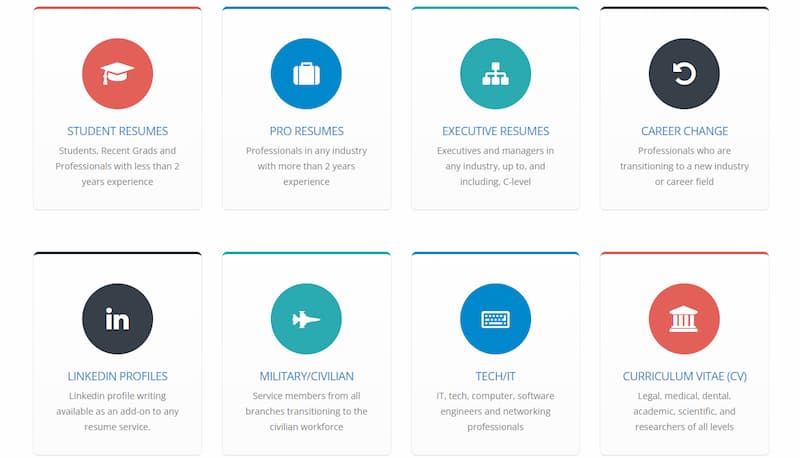 All the information needs to be condensed. It is tough to do away with what you believe is important. Most of the time, you will need to get someone else involved to ensure you've gotten rid of the superfluous information.
Check our JobStars review before picking any service. Yet, how reliable are they? Is it legal to use them, and do they help get things done affordably?
ResumeWriters Pricing
When it comes to pricing, you can find some ResumeWriters.com reviews mentioning high rates, but when you consider that it was rated the Top Resume Maker Service of 2017, you realize there must be a reason for this.
This resource offers packages starting from $169 for the Student Package, which includes most things you are looking for in such a service.

This means a 72-hour turnaround standard, a 24-hour rush available, certain add-ons like cover letters, as well as direct one-on-one consultations.
Other, pricier options guarantee most experienced writers or account for specific needs, such as a career change resume or IT/tech resume.
For an executive-level position, you would need an executive resume. You can go with an Executive package at Resume Writers for $299.95 or check one of our top executive resume writing service reviews and find yourself the best option there.
Their prices remain the same, even though the market of resume maker services has changed a few times.
They have also hired professional and certified federal resume writers, so if you look for a government job, address ResumeWriters.
ResumeWriters.com Payment
Unfortunately, there is no information regarding how payments are processed on the website. We haven't found much information about it in the ResumeWriters reviews either.
But, we were still able to find that ResumeWriters accepts the following payment methods: Amex, Discover,  MasterCard, and Visa.
Resume Writers Quality
When it comes to the quality of the writing, you ought to glance through a large number of testimonials left by primarily satisfied customers.
As previously mentioned, all writers are highly qualified, and no matter which pricing plan you choose, what you get back is a dynamic, strong resume that will guarantee you an interview.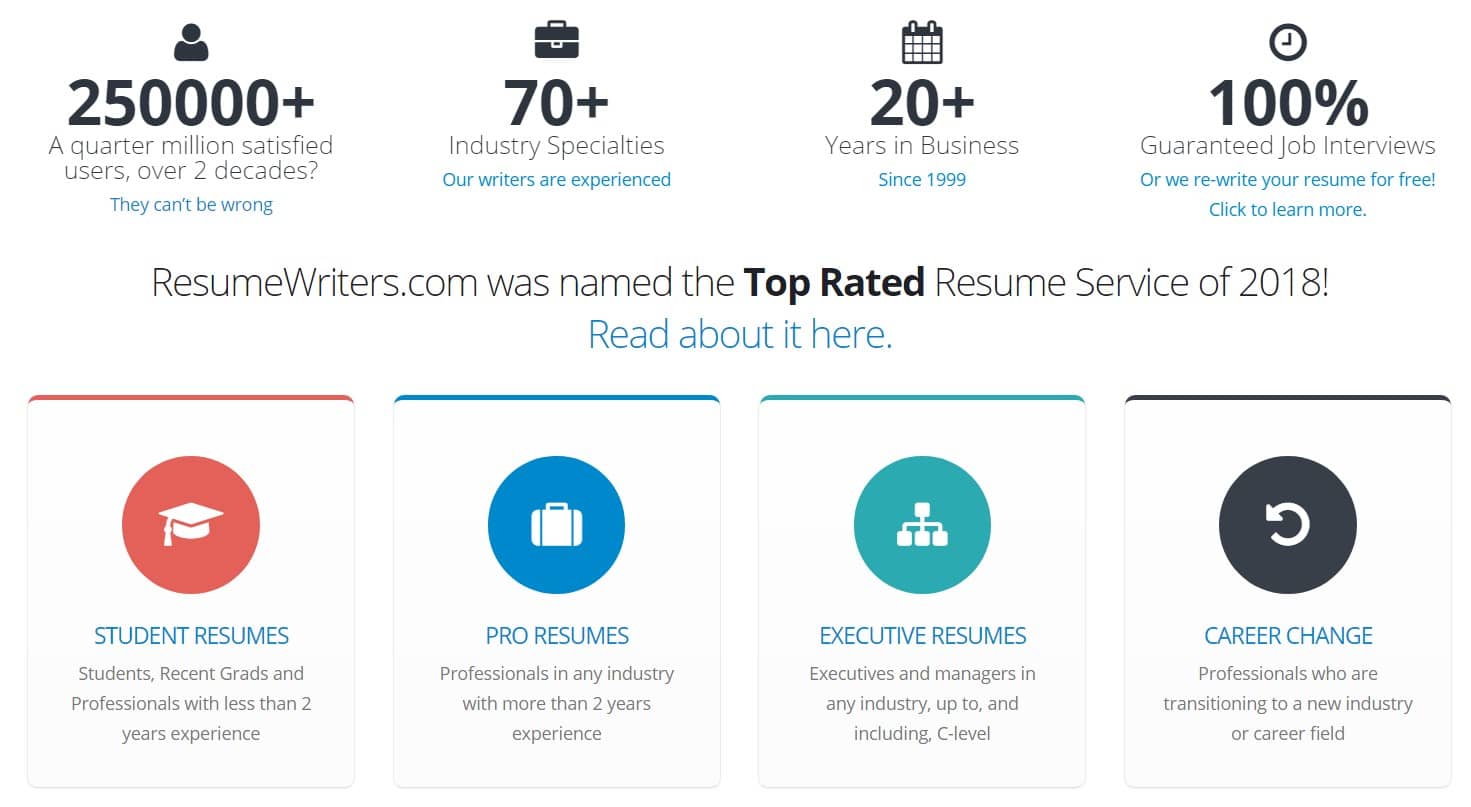 After analyzing the majority of the ResumeWriters reviews, we can assure you that the quality of your resume would be top-notch!
ResumeWriters Customer Service
Customer service is available through both email and free telephone. From what we have experienced, they can resolve any queries or issues you may have.
If you are hesitant about trying this service, it is good to contact the support team, which can address all your questions.
Or you can always compare ResumeWriters with some other services in the CraftResumes.com review or Resumes Planet reviews on our website.
ResumeWriters.com Website Usability
Website usability is high because it is intuitive, and despite the short FAQ section, many of the questions are addressed. Most of the questions you may come up with are answered on the website.
Whatever your worry, there is a high chance that a section will address it and convince you to give the resource a chance.
Pros
Having ordered a resume, we got back a well-written piece of work that would, without a doubt, fare well in a real application process.
The quality of writing is outstanding, and the structure is befitting for the purpose.
The support service is responsive and good at solving issues.
There are also some sample resumes available that can give you a vague idea of what you should be aiming for if you intend to produce your own work.
You can also find some useful tips on approaching the challenging task of producing a competitive CV.
The main advantage is the interview guarantee. This website will happily rewrite your CV if you fail to obtain an interview within two months of getting the resume.
Cons
No information about payment methods.
The main advantage is the interview guarantee. This website will happily rewrite your CV if you fail to obtain an interview within two months of getting the resume.
Also, the FAQ section lacks depth and could address more questions that would potentially come up from new customers.
Prices are also higher than other services, hence some ResumeWriters com complaints. Top-notch work should cost more to differentiate from the rest.
Considering the number of positive reviews, ResumeWriters.com appears like a trustworthy service that deserves your attention if you are looking for a high-quality resume.
However, it must also be noted that some of the reviews do not seem original and could be fake.
No online chat for customers' inquiries.