Overview
Before we start this review of Resume Strong, let's consider the types of resumes you may need. There are four basic types of resumes:
Chronological;
Functional;
Hybrid;
Targeted.
Each type follows its unique structure and satisfies certain needs. For example, a chronological resume is universal and can be used to apply for any job.
Functional resume better suits the needs of applicants without sufficient work experience.
A hybrid resume is the most representative among others: many employers appreciate this style. A targeted resume is similar to the hybrid type, but it targets a certain position. You can disclose your best qualities and skills with the help of a targeted resume.
Resume writing services are top-rated among job candidates because a well-written resume can help significantly improve career prospects. Our job is to provide genuine reviews to help job seekers find trustworthy websites specialising in completing resumes.
When evaluating writing services, we use several criteria:
Pricing;
Payment;
Quality;
Customer Service;
Website Usability.
These criteria will give an idea about their key characteristics and make the right choice. This ResumeStrong review is one of the professional resume service reviews, where we attempt to assess whether this is one of the top resume writing services, which provides high-quality resumes for its clients.
ResumeStrong Services and Pricing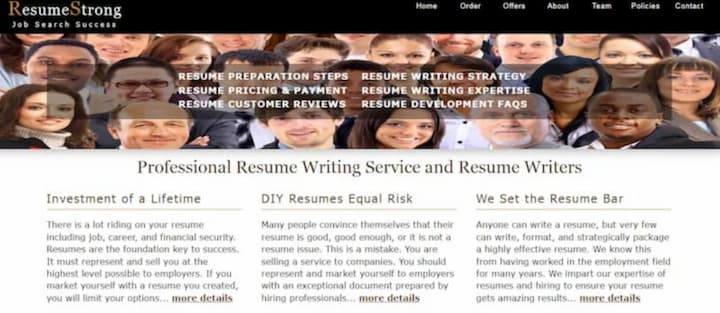 From multiple ResumeStrong reviews, we concluded that clients might choose one of three pricing packages: silver ($72), gold ($89), and platinum ($139). The first package is merely a 1-page resume based on your qualities and work experience.
When it comes to top value for money, you should address to FindMyProfession cost reviews, as these guys have relatively high prices, but at the same time, the quality of resumes is outstanding.
Gold package includes resume and cover letter. If you pay for the platinum package, you will be granted a resume, cover letter, and a follow-up letter delivered in different formats (MS Word, pdf, etc.).

While they do not have legal resume writing services, you should check our list of top attorney resume services online. You won't be disappointed with any of these companies.
According to reviews for Resume Strong from customers, the price for completing a resume isn't high, but it's clear that resume quality does not correspond with pricing. We can conclude that the price for writing customized resumes is lower than in the market. Therefore, service quality is questionable.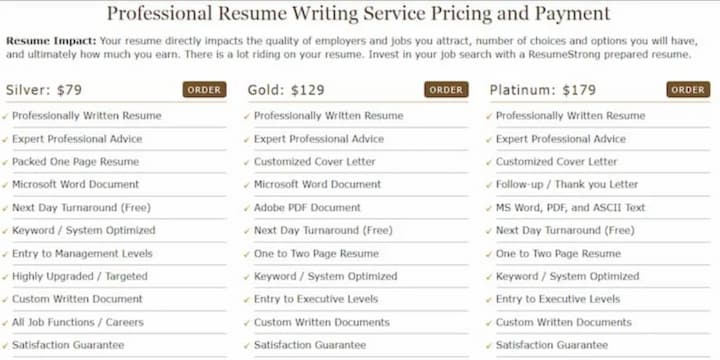 Resume Strong Payment
It was not easy to find acceptable payment methods. We succeeded to do it only after filling out the order form.
Surprisingly, ResumeStrong accepts many popular payment methods like Visa, MasterCard, and PayPal. We used Visa to process the payment.
It would be better if payment methods are shown on each page to let potential customers know how to pay for the services. You can pay with AMEX and DISCOVER as well.
To summarise, a wide range of payment methods is available. However, you can get to know about them only when you make an order.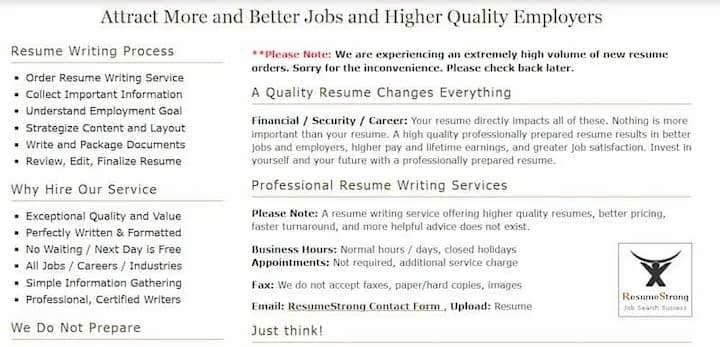 If you are a veteran and you are looking for the best place to get your military resume written, check one of our military resume writers' reviews, where you can find the top resume service for your needs.
ResumeStrong Quality
Based on several Resume Strong reviews we found on the internet and our own experience, let's share our findings. Needless to explain that the quality of writing is crucial.
It's worth paying a high price for a top-notch resume if you consider it a lifetime investment. You will pay for your solid resume only one time. The low price doesn't justify the poor quality.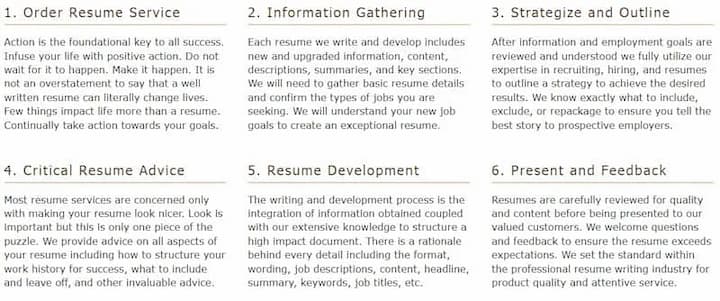 We've chosen the silver package and paid $72. We were satisfied with the quality, but later several issues were indicated.
First, there were grammar mistakes in the document. Second, we spend a lot of time explaining what we needed.
They should do something to improve service quality. We applied for the services of another company CraftResumes and clarified all issues in 15 minutes. It turned out that similar services charge the same price for a resume of much higher quality.
Customer Service
Honestly, customer service leaves much to be desired. We checked the reviews of Resume Strong written by other customers not to be biased.
Many of them state that online support doesn't perform its functions well. The slow speed of response and weak online assistance is the major issue.
Besides, the turnaround time was more than one day: we were waiting for two days. Our assistant apologized, but this didn't change the situation. If they claim a one-day turnaround, the job should be completed in one day, like on a best resume writing service.

ResumeStrong Website Usability
This characteristic is one of the most important because potential customers communicate with writers using the website.
Overall, the website interface is comfortable to work with. Pale colors provide a business-like layout — information is organized in blocks.
You can access any page you're interested in. Customers can easily communicate with the support team and resume writers in case of need.
What we didn't like at all, there was no online chat. This essentially decreases responsiveness. Other reviews of Resume Strong verify this statement. We hope that the website management can solve this issue in the short run.
Pros
A wide variety of packages – each customer can choose a package that meets their expectations, and customers can choose one of three packages to get what they need.
The user-friendly layout of the service website – helps you navigate through the website without interruptions, and you can easily find the information you need as blocks separate it.
Professional team of writers – experienced writers can complete resumes of any type according to customer expectations. They can consult customers regarding the best type of resume taking into account their work experience and skills.
Vast experience in resume writing – this is not a new company in the market, and it has a database of resumes to avoid typical mistakes in resume writing.
Wide variety of payment methods available – customers can choose from a variety of secure payment methods.
Cons
The quality of writing of this writing service isn't impeccable – imagine that someone pays $139 and gets a document containing several grammar mistakes. This is unacceptable because this document represents an individual searching for a job (Most probably, employers will not hire this person).
Turnaround time should be as stated on the website. It took more than one day to get the document back, and if they state that turnaround time is one day, customers expect to get the document within this time frame.
No online chat – this could speed up the process of communication between performers and customers. Availability of online chat is a necessity in this highly competitive field.
It's not clear which payment methods are accepted initially, so it would be better if customers know how they can pay in advance.
Low responsiveness – the support team doesn't respond to customer queries promptly. Unfortunately, you will not find positive feedback related to support team responsiveness even if you check a strong nursing resume review.
Lack of responsiveness – it was sometimes difficult to reach support team members. This is a significant con of this service because customers should access writers or support teams 24/7 as this is an online service.