First, before you read a detailed text review, you can view a short video on Youtube:
Nowadays, people don't know where to get a resume done professionally online. A professional resume cover letter writing service is necessary if you need to have a full resume cover letter well-written summary.
Whether you are thinking of getting a professional writer's help or writing your first draft on paper, it is wise that you may seek help from a writing service. This is especially true if you haven't done any summary or never thought of getting one before.
Is ResumeSpice good? Let's find out in this Resume Spice review!
ResumeSpice.com Overview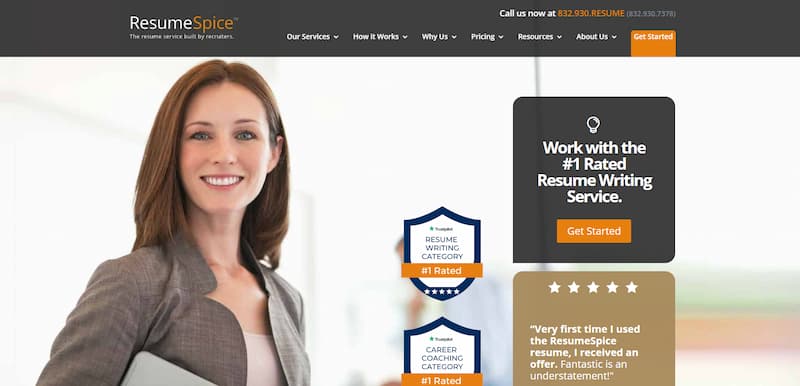 As we found during this ResumeSpice.com review, Resume Spice aims to help job seekers by providing them with a well-written CV, which would boost their chance of getting a dream job elsewhere, and it does not fail.
The founder of ResumeSpice.com has developed a career service and coaching platform that would enable job seekers to gain confidence when applying for a job they love.
A team started as a recruiting firm that successfully introduced good employees to companies seeking one. They have matched hundreds of job seekers to their dream jobs and have changed their lives.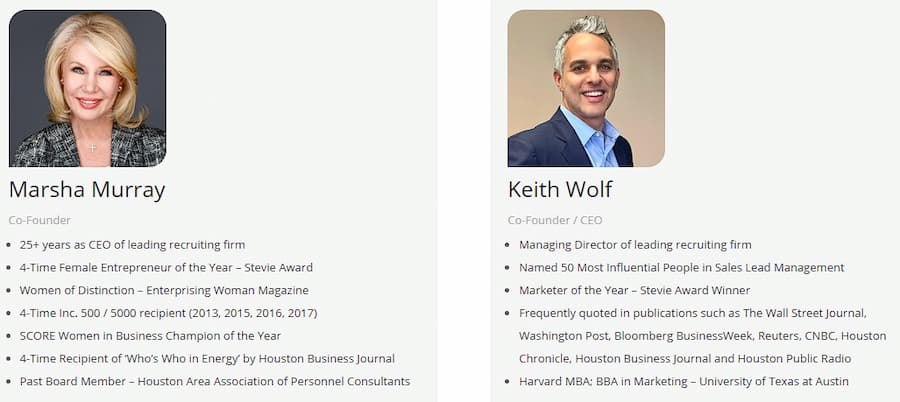 They attracted job seekers who wanted to get their help, but since the firm is small, they can only accommodate a limited number of applicants. But the quality of services is still pretty high.
The desire to help is too strong to ignore, so they developed another new resume and service that would enable them to serve more applicants to get their dream job, thus the Resume Spice resume writing service name.
Today the organization exists to help professionals in job search navigation and the best career coaches that work on CV writing, LinkedIn profiles, cover letter writing, and interview preparation.
For the best executive resume writing services and top government resume writers, check our list of the best federal resume writing services available online.

ResumeSpice Pricing
Resume Spice offers three services to choose from:
Career Services;
Career Coaching;
Career Assessment.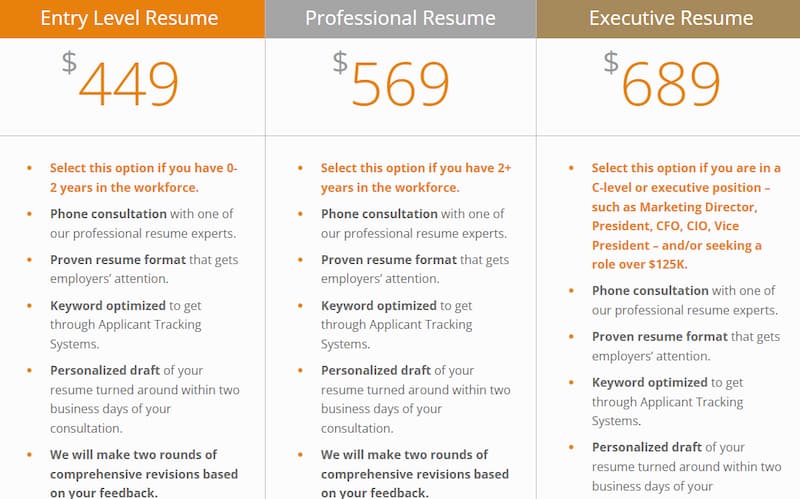 Under career service, you will have the chance to get an Entry-level CV and a professional and executive executive level resume. If you have less than two years of experience, the first entry level resume-level resume is appropriate. It costs $449.
If you have over two years of experience in the workforce, you can have a professional CV for $569.
Moreover, if you are in the executive position, you are recommended to avail yourself of the Executive Resume for $689.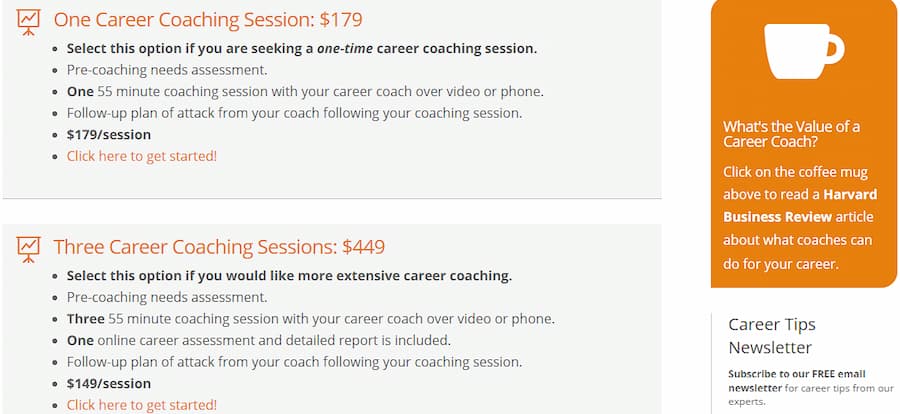 Each package includes a phone consultation, a customized resume format that captures the employer's attention, keyword optimization, and a personalized draft. Once completed, the summary and executive package will be emailed to you in word and PDF format.
Besides, based on your feedback, Resume Spice can provide two comprehensive revisions to outstanding resume.

You also can avail of the additional service, such as a cover letter for $189, a LinkedIn Profile for $189, Interview Preparation for $179, a Professional Bio for $189, which has 300 words, and the Thank you letter for $129. A Thank You letter is helpful for follow-ups after an interview.
For a nurse resume writer, you should check the professional nursing resume writing services on our website, as Resume Spice doesn't have certified medical resume writers.
ResumeSpice.com Payment
You can place an order on the Resume Spice website. After placing an order, a payment window will pop out to indicate your details for the payment process. You can pay with your credit card only through their website.
All cards are acceptable – MasterCard, Visa, American Express, JBC, Diner's Club, and Discover.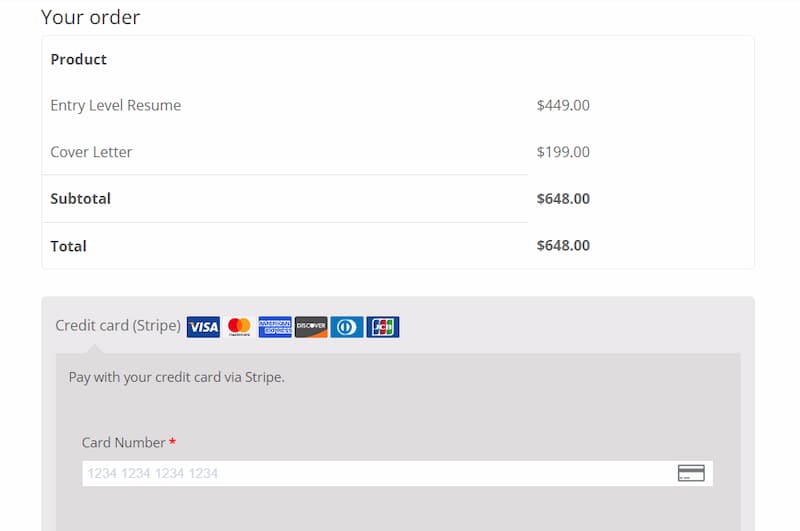 All the resume writing services have different payment systems, and for more understanding, you can also read the ResumesPlanet review and see their pros or cons to compare with Resume Spice.
ResumeSpice Quality
As we found while doing this ResumeSpice.com review, with Resume Spice, you can expect a great quality professional resume writer. Their professional resume writing team has developed to provide only high-quality work.
Many satisfied clients have testified the quality of work and service has increased significantly.

To get a top-quality resume that will get you the job of your dreams, work with ResumeWritingLab, as these guys only hire certified resume writers.
ResumeSpice Customer Service
The Resume Spice is always open to serve and assist you through the process. They are free to talk any time of the day through their number 832.930.7378.
You can also contact them through email or send a message through the website's contact section.
And if you prefer to chat with a member of the customer support team, they are online to discuss whatever you need. With all these means of contacting them, there is no way you will not get prompt assistance from them.
Resume Spice Usability
The Resume Spice website provides you with all the details you need to know about the professional resume writer service here. You can check samples of their works. ResumeSpice reviews and testimonials of past clients are also available for you to check and evaluate.
But do not blindly believe those Resume Spice reviews; always check for honest and positive reviews on such platforms as Sitejabber, TrustPilot, and EduReviewer (that's us:)). You can find the ResumeSpice reviews by former customers below this overview.

Additional Services and Features
Career Counseling and Coaching
ResumeSpice.com goes beyond mere and resume writing services by offering clients career counseling and coaching services. These personalized sessions include:
Career Assessment: Helping clients identify their strengths, weaknesses, interests, and suitable career paths.
Goal Setting: Assisting clients in defining and pursuing their short-term and long-term career goals.
Strategy Development: Creating tailored career strategies for job searching, networking, and professional growth.
Interview Coaching: Preparing clients for job interviews through practice, feedback, and expert guidance.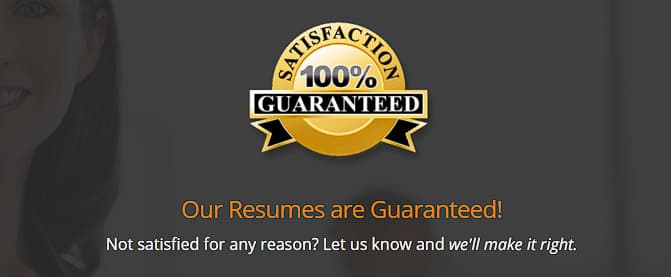 Free Resources
ResumeSpice.com further supports job seekers by offering free resources that can be valuable in their job search:
Blog: Regularly updated with articles, tips, and insights on job hunting, resume writing, and career development.
Templates: Providing access to customizable resume and cover letter templates that cater to different industries and experience levels.

Partnerships with Job Portals
Building strong connections within the job market, ResumeSpice.com has established partnerships with various job portals. These collaborations enable:
Job Matching: Directing clients to suitable job vacancies aligned with their skills and preferences.
Exclusive Access: Offering exclusive opportunities, job alerts, or discounted services on partnered job portals.
Special Programs for Different Career Stages
Recognizing that current resume and clients are at varying stages of their careers, ResumeSpice.com has designed special programs most services to cater to these diverse needs:
Entry-Level Programs: Tailored support for new graduates or those entering the workforce, focusing on building a compelling starter resume.
Mid-Career Programs: Assistance for professionals seeking growth or a career change, emphasizing highlighting transferable skills and achievements.
Executive Programs: Specialized services for top-level executives, including executive resumes, personal branding, and leadership coaching.

ResumeSpice.com's Value for Money
ResumeSpice.com's value for money can be assessed as a significant aspect of its appeal to job seekers. With a range of services spanning from resume writing and LinkedIn profile optimization to career coaching, the company offers comprehensive solutions for various career stages.
While the pricing may seem competitive compared to industry standards, the quality of work, expert guidance, and additional features like free resources and partnerships with job portals add to the overall worth.

The company's focus on client satisfaction, flexible packages, and a clear understanding of individual needs enhance the perception of value. Clients seeking professional assistance beyond mere document preparation may find ResumeSpice.com's offerings to be a sound investment in their career growth.
The blend of quality, variety, and a client-centric approach justifies the costs, making ResumeSpice.com a viable option for many job seekers.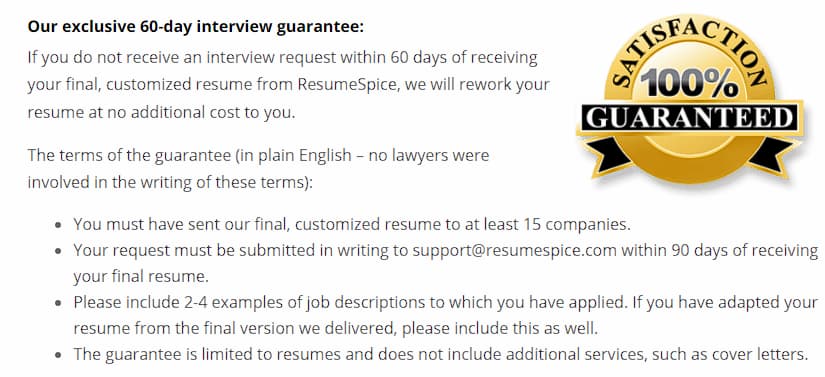 Social Responsibility and Ethics
In today's increasingly conscientious business environment, companies are judged not only on the quality of their services final product, but also on their commitment to social responsibility and ethical practices. ResumeSpice.com's approach to these aspects one customer and is detailed below:
Inclusion and Diversity Policies
ResumeSpice.com recognizes the importance of an inclusive and diverse work environment and extends this commitment to its client interactions:
Workforce Diversity: Building a diverse team representing various backgrounds, experiences, and perspectives.
Client Inclusivity: Offering services that cater to clients from different ethnicities, genders, abilities, and socio-economic backgrounds.
Supplier Diversity: Engaging with suppliers and partners that align with the company's diversity goals and policies.
Promoting Equality: Ensuring all employees, clients, and stakeholders are treated respectfully and without discrimination.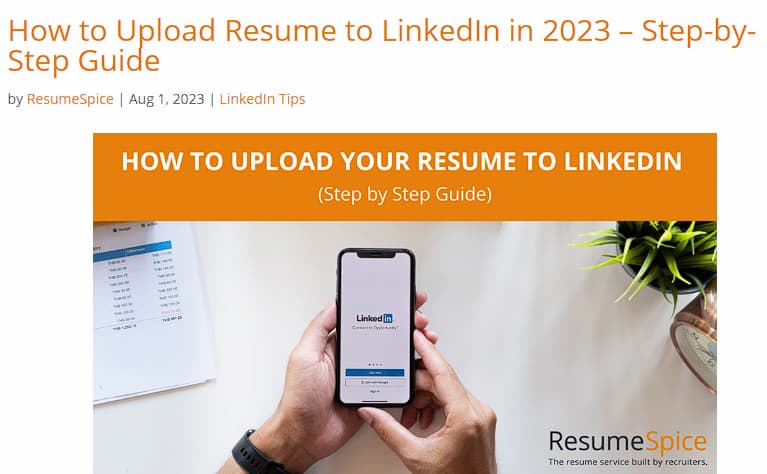 Environmental Considerations
In an effort to contribute positively to the environment, ResumeSpice.com takes the following steps:
Paperless Operations: The company minimizes paper usage by focusing on the digital delivery of resumes and other services.
Energy Efficiency: Implementing energy-saving practices within their offices, such as using energy-efficient lighting and appliances.
Sustainable Partnerships: Collaborating with vendors and suppliers that adhere to environmentally friendly practices.
Final Thoughts
From understanding what hiring managers are looking for to choosing the best writing services, the process of applying for a job requires careful consideration and strategic decisions. Whether you opt for a known provider like Resumespice or explore Resumespice alternatives, the focus should always be on presenting yourself as a solid candidate with superb quality documents.
Utilizing professional resume services, crafting compelling cover letters, and maintaining an optimized LinkedIn account are essential steps in this journey. Rely on first-hand knowledge and honest reviews from various review sites to make informed decisions, and always remember that the attention to detail can make all the difference in creating that positive first impression.
ResumeSpice.com emerges as more than a resume writing service, offering a holistic suite of career development tools and support.
From crafting professional resumes and providing insightful career counseling to ensuring social responsibility through inclusion, diversity, and environmental considerations, the company exhibits a comprehensive approach.
Its competitive pricing, quality of service, and focus on customer satisfaction further underscore its appeal.

Recommendations and Personal Opinion
Based on the extensive review, I recommend ResumeSpice.com for those seeking an all-encompassing career partner. The services offered by ResumeSpice.com appear well-suited to various demands, whether you are a recent graduate, a working professional trying to change careers, or an executive striving for the next major move.

In my opinion, their commitment to a quality product, social responsibility, and client satisfaction sets them apart in a crowded market.
Visit their website, explore their services, and don't hesitate to contact them for a personalized consultation. Investing in professional support may be the key to unlocking your next career opportunity.
Make the move today, and empower your career with ResumeSpice.com.
Pros
Their years of experience have made them qualified in some fields, so you can expect them to provide you with work free from errors, mistakes, and plagiarism.
Their resume writers can provide you with an excellent resume.
They have several professional experts in creating a summary.
Cons
They work on resumes for professionals across most industries but do not work on 5+ page CVs for medical professionals or academia.
They accept all major credit cards for payment but do not currently accept PayPal or Payoneer.
We didn't find any discounts.