Are you a medical professional in New York seeking to create a high-impact resume? Our list of the best medical resume writing service providers can assist in crafting a resume that effectively highlights your skills and experience in the healthcare sector.
Locals love to joke that New York looks like hell at daybreak, being the city that never sleeps. Still, the play-hard residents are also career-driven, though the competition is fierce. It's why many job seekers turn to resume writing services, NYC for help.
Quality New York resume services understand what employers look for in job applications. Moreover, the nationwide and New York resume writers know how to please application tracking systems (ATS). Indeed, ATS rejects around 70% of all applications in NY businesses, meaning they never reach human eyeballs.
Are you fed up never getting a response for your carefully drafted job applications? Then consider using one of the best resume writing services in NYC or beyond to boost your chances. That's right; your expert writer doesn't have to be based here.
10 Top Resume Writing Services in NYC and Beyond
This table lists our top US and New York resume writing services. Each company offers a wide range of CV and resume writing, rewriting, editing, and formatting assistance.
10 Professional Resume Writers in NYC
Company Name
Cost From/To
Turnaround
Avg. Rating
Resume Zest
$179–$379
3–5 business days
Resume Writers
$169.95–$299.95
24–48 hours
BBB Rating A
Top Resume
$149–$349
7 calendar days
Craft Resumes
$139–629.99
5 business days
Resumeble
$149–$339
5–7 calendar days
Executive Resume Writer
$900–$1500
Not specified
No data
Laura Creative Edge Resume
Depends on job
Not specified
BBB Rating A+
Brooklyn Resume Studio
Depends on job
5–7 calendar days
Your Resume Partners
$150–$375
Not specified
Career Clout
Depends on job
Not specified
Our hand-curated reviews are not only the best resume writers in NYC but in the entire US. As virtual services, it doesn't matter where they're located.
1. ResumeZest

100% US-based writers
Simple order process
Affordable packages
Fast turnaround
Add-ons available
New arrival (established in 2020)
ResumeZest is one of the top resume writing services in NYC. It's trusted by employees in top US businesses like Google, Amazon, Uber, Adobe, etc.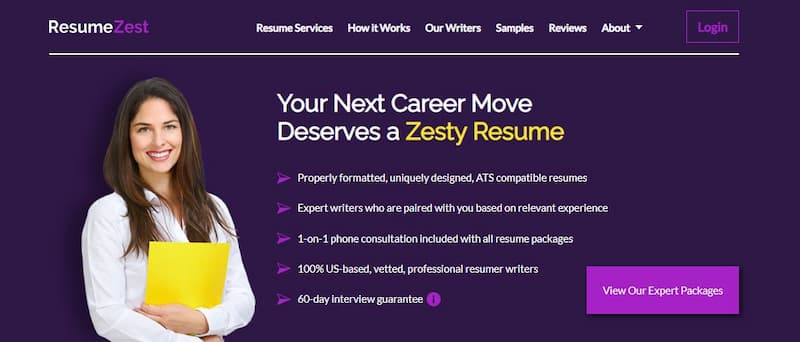 The company's two biggest selling points are:


Only uses US-based expert writers


Written for 25,000+ professionals


Prices & Packages
This is not only a resume writing service for New York. The expert writers serve job seekers at Entry, Professional, and Executive levels across the US. Prices range from $179–$379, and five add-on products are available.
Turnaround Times
The turnaround time for is between 3–5 business days. Or, there's an optional $99 Rush Service that guarantees delivery in 2 business days.
Feedback & Reviews
Client feedback for the US and New York resume writing doesn't get much better than this. Trustpilot reviewers give it 4.8/5, and on other sites like Google Reviews, Sitejabber, and Facebook Reviews, it's 5/5 stars.
Website Interface & Usability + Order Process
Visitors can find what they want quickly from the ResumeZest homepage. The no-thrills layout and quick-click ordering make for a seamless experience. After choosing a package, you're asked a few simple questions, followed by a phone consultation.
Discounts and Sales
There are no discounts available for ResumeZest's US and NYC resume services.
Guarantees and Safety
The company guarantees a 60-day interview policy and ensures all its writers are US-based. In addition, the company is 100% committed to client satisfaction.
Moreover, it matches customers with writers who are experts in their industry or profession.
2. ResumeWriters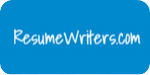 Responsive authors
Clean, easy to use website
Online sample
Add-on writing services
Optional rush service
Customized documents
ResumeWriters is a well-established online company, serving jobseekers since 1999. Clients can work with a qualified resume writer from New York or elsewhere in the US.
Prices & Packages
Four packages serve Students, Professionals, and Executives. They also include a package specific to Career Change. Prices start at $169.95 up to $299.95.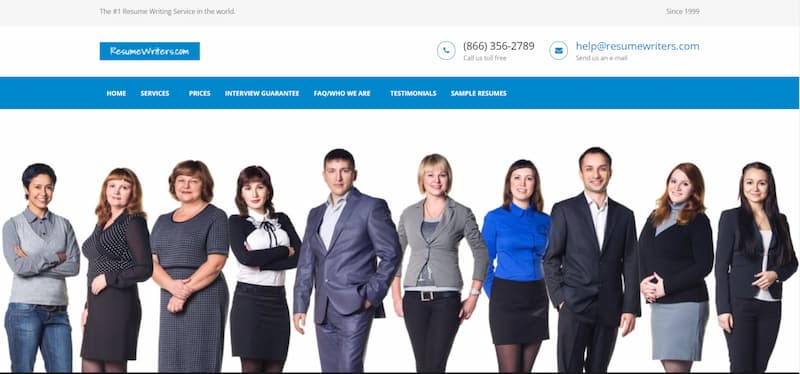 Turnaround Times
With a 72-hour turnaround, it's one of the fastest resume writing service in NYC. And for an extra $150, there's a 24-hour Rush add-on available (subject to availability).
Feedback & Reviews
There's plenty of positive feedback for the oldest professional resume writers in NYC and the US. The BBB—or Better Business Bureau—gives ResumeWriters an A rating.
Site Interface and Order Process
The site is clean, bright, and well laid out. First-time users will have no trouble finding their way around. The Get Started Now, and Order buttons make ordering a snap.
Discounts and Sales
ResumeWriters has a Customer Referral Discount program that pays $20 per referral.
Guarantees and Safety
Clients get a rewrite if their resume fails to secure a job interview within two months. But, thanks to the 99.98% satisfaction rate, few need to use this guarantee.
3. TopResume

Easy-to-use website and ordering process
Highly rated
Competitive packages
Positive online feedback
Free review
Currently no support on the weekends.
TopResume offers quality NY resume writing services for local and national job seekers. It boasts a team of expert authors qualified in writing for 65+ industries. It's a trusted company with clients from FedEx, Google, Facebook, Amazon, etc
Prices & Packages
There are 3 packages: Professional Growth ($149), Career Evolution ($219), Executive Priority ($349). Add-ons include cover letters, LinkedIn profiles, and interview help.
Turnaround Times
The typical turnaround time is 7-calendar days or two weeks with reviews.
Feedback & Reviews
TopResume enjoys positive feedback and reviews for its resume writing New York and beyond. An average rating across review sites like Sitejabber, Google, and Trustpilot is 4.5/5. Almost 11,000 users have left comments on Trustpilot alone.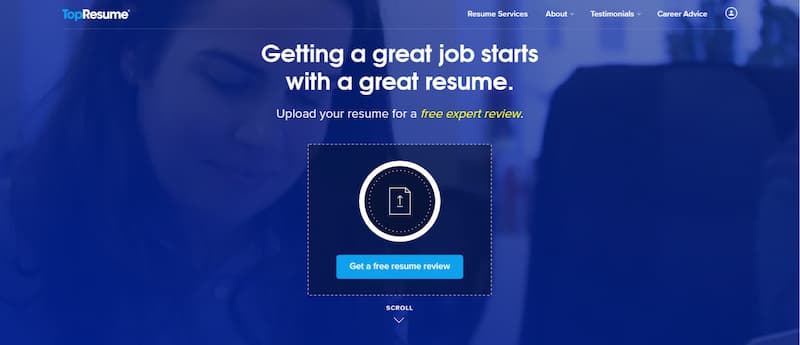 Site Interface and Order Process
The clever use of trusted blue and subtle background film helps to captivate eyeballs. A large Get a Free Resume Review button above the fold adds further appeal. The homepage's simplicity and clarity continue as you scroll down. Ordering these online resume services in New York only takes two button clicks and a checkout form.
Discounts and Sales
Various discount codes are available at different times, so look out for promotions before ordering. There's even a discount code field on the checkout form.
Guarantees and Safety
Writers promise to double the interview rates with documents guaranteed to pass ATS. The top packages include a 60-day interview guarantee.
4. CraftResumes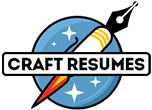 Access to writer profiles
Free revision
2-month interview guarantee
Unlimited revisions
Direct phone line, email, and live chat
Limited contact on the weekends
Mixed reviews
Craft Resumes offers expert resume writers in NY and around the US. The company is well-known for its ATS-optimized documents and eye-catching formats.
Prices & Packages
Three packages include Entry Level, Professionals, and Executive. The price range is $139–629.99, and each plan offers Basic, Optimal, and All-In-One add-ons.
Turnaround Times
The expected turnaround is five business days.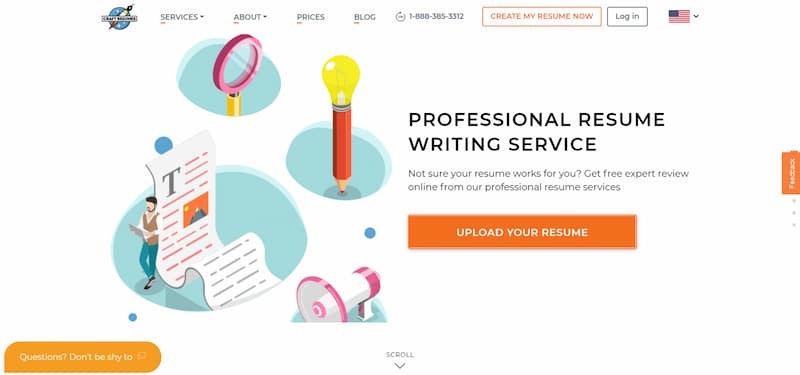 Feedback & Reviews
At 3.9/5-stars, Craft Resumes' ratings have gone down in the last couple of years. The most common complaint seems more to do with delivery times than quality.
Site Interface and Order Process
The interface is clean, simple to navigate, and quick to checkout. The standout feature for potential clients is the writer profiles on the home page.
Discounts and Sales
There doesn't appear to be any CraftResumes discounts or coupons offered.
Guarantees and Safety
Craft Resumes' resume writers New York and beyond guarantee unlimited revisions with every order. Also included is its 60-day interview promise.
5. Resumeble

Expert authors in over 80 industries
1-on-1 consultation
12,500+ satisfied customers
100% secured interviews
High ratings
Career advice blog
Occasional discounts
Revision times can be slow
Long turnaround
Resumeble promises professional resume writing services for NYC and other US states. It's proving to be a serious competitor, despite being one of the newer services.
Prices & Packages
Packages include Career Pro ($149), Professional ($229), and Premium ($339). Add-on services include LinkedIn profiles and cover letters.

Turnaround Times
Expected turnaround five calendar days but may take up to seven with some orders.
Site Interface and Order Process
The website is clean and uncluttered, fast to load, and quick to checkout.
Discounts and Sales
Various discounts are offered at certain times, so check for any promotions.
6. ExecutiveResumeWriter
For some, the best resume writing services NYC offers are those with a personal touch. Meet Marty Weitzman's executive-level resume writing services, New York. This site is relatively easy to navigate, though it's a tad text-heavy and cluttered.
Reviews: two free revisions with this resume writer NYC
Turnaround: Varies between jobs and clients
Packages & Costs: Senior, Executive, & Professional plans $900–$1500
Support Options: Email and phone
Looking to relocate or simply exploring job opportunities in North Carolina? Our comprehensive guide to resume services in Charlotte, NC, can help you prepare a competitive resume that suits the local job market.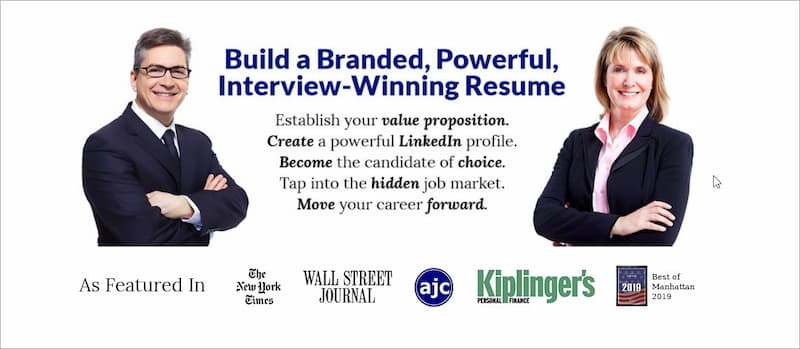 Marty Weitzman meets clients in person and guarantees to write your resume himself. Also, he doesn't use forms, templates, or sub-contracted writers.
Pros:
Free critique
online samples
range of writing services
certified resume consultant NYC
personalized service
featured in popular publications
Cons:
Text-heavy
cluttered website
quite pricey
may need to wait a while
7. Laura Creative Edge Resume
Consider Laura Slawson if you're an executive or an over 50 job seeker who prefers a personal resume writing NYC service. Writing in a New York-style may work better when applying for local positions.
Reviews: Minor revisions at no extra cost
Turnaround: varies between client and job
Packages & Costs: Varies between job and any added bundles
Support Options: Email, phone, LinkedIn message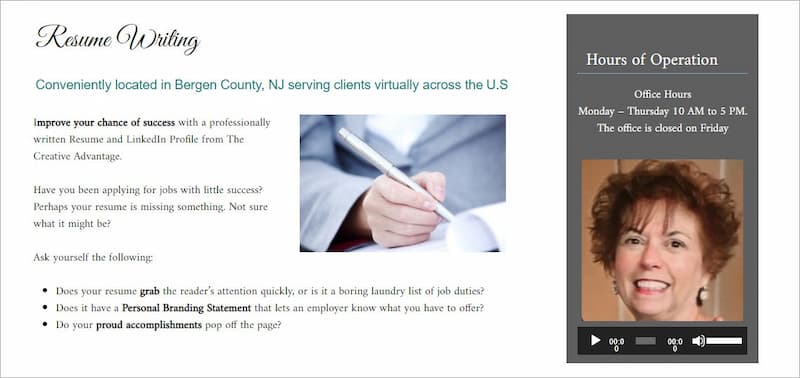 The Creative Advantage Freelance Writing company has a BBB Rating A+. The company website also displays detailed testimonials from former happy clients.
If you're planning to shift careers, you'll need a resume that effectively communicates this transition. We've reviewed and compiled the best career change resume writing services that specialize in crafting resumes for career transitions.
Pros:
personalized help with resume NYC
phone consultation
wrap-up call
range of writing services offered
cost-saving career bundles
Cons:
website is text-heavy and cluttered
charges for some revisions
8. Brooklyn Resume Studio
The Brooklyn Resume Studio website is ultra-clean and a joy to navigate. So far, 2000+ clients have used BRS services. The company has a 95%+ satisfaction rate for its range of services. These include curriculum vitae New York style, cover letters, personal profiles, and infographics.
Reviews: Two rounds of revisions
Turnaround: 5–7 days
Packages & Costs: Varies between clients and jobs
Support Options: Email only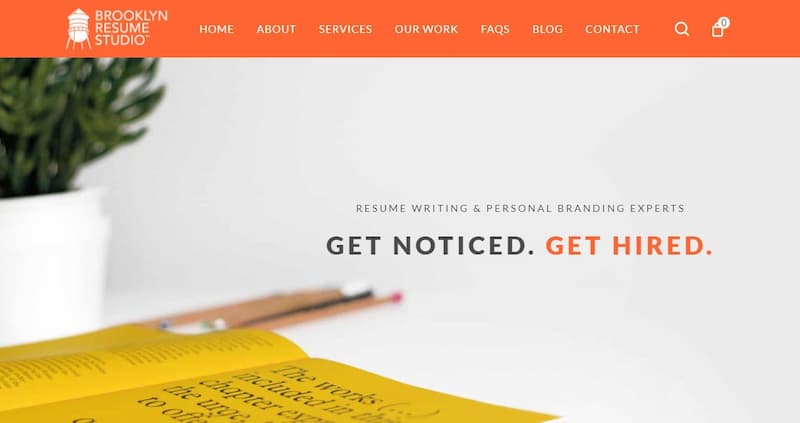 The website is professional, but it's missing prices for its resume services, NYC. Still, BRS has 30+ glowing reviews and a 4.5/5-star rating on Yelp's business review site.
Job seekers in New York seeking opportunities in Dallas might benefit from a tailored resume. Our roundup of the best resume writing services in Dallas, Texas, can help your resume stand out in the Lone Star State's job market.
Pros:
60-day interview guarantee or an edit/rewrite
served over 2000 clients
high satisfaction rate
free monthly tips newsletter
Cons:
full payment upfront
costs not clear
no weekend support
email contact only
9. Your Resume Partners
There are no online forms or lengthy questionnaires to fill out on the company website. Instead, this writing service offers phone or in-person consultations.
Reviews: Two sets of free revisions
Turnaround: Varies between clients and jobs
Packages & Costs: Entry Level ($150), Mid Level ($250), Executive Level ($375)
Support Options: Phone and email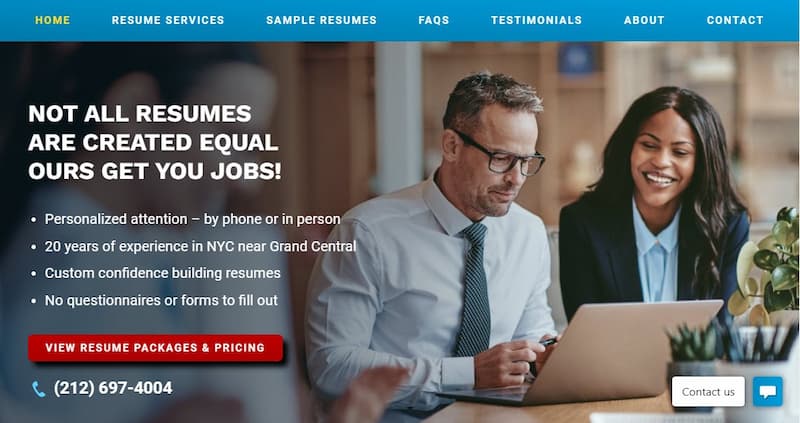 Resume Writing Services has provided personal resume help in NYC for over 20 years. You can choose from three packages with prices starting from $150.
Pros:
online samples
free evaluation
all packages include a custom cover letter
competitive pricing
personalized service
100% satisfaction guarantee
Cons:
Some negative feedback for these resume writers, NYC
10. Career Clout
Writer Todd Gareiss claims to be one of the best resume services in NYC. And the resume writing services NYC reviews on Google and Yelp seem to agree. An average star rating of 4.7. and 25+ years' experience has to account for something.
Reviews: Revision options agreed with the writer
Turnaround: Varies between clients and jobs
Packages & Costs: Custom tailored to client's needs
Support Options: Ongoing support, contact by phone and email
If you're looking for the best resume writer in Houston, our comprehensive reviews can guide your selection. We've evaluated various providers, focusing on their understanding of the Houston job market, writing quality, and customer service.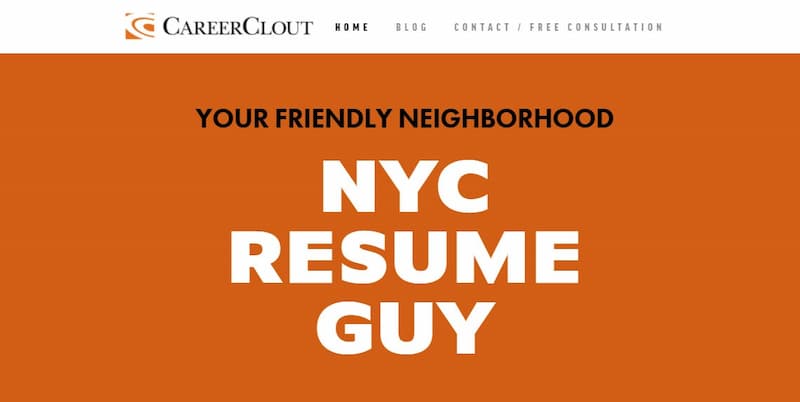 Todd offers all potential clients a free consultation and an introductory video. This type of personalized service appeals more to some local job seekers.
Pros:
highly customized documents
personalized training (optional)
excellent feedback
years of experience
Cons:
need to contact for pricing
no fixed packages
Conclusion
Our top picks for this lineup of best resume writers for NYC were Resume Zest, Resume Writers, and Top Resume. But the packages and prices among the most established companies are close. For some, the best resume writing services in NYC offer are personalized, person-to-person, but these tend to be costlier overall.
Resume writing has become highly competitive, but not all services are equal. You don't want to write off the new arrivals, but try not to let overly low prices lure you. The best approach is to read online reviews and see how past clients rate a service. Even more important, sort the comments by newest first to get the most updated feedback.