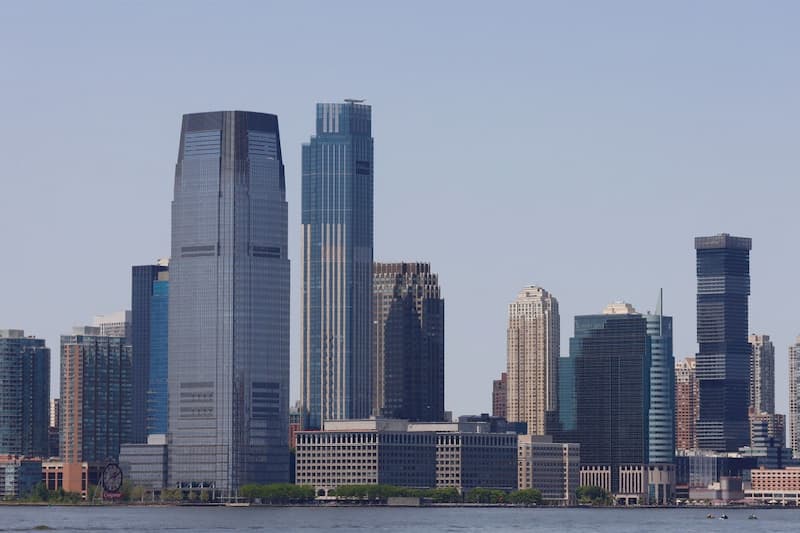 As a resident of the Garden State, there are many professional incentives. You will have to stand out from the competition to land your dream job, which is where professional resume writing services in NJ will come in handy. It is not always an easy task to write your own resume and get the best results.
Leave it to the professionals and allow them to create the best possible document to help you land your dream job. Here, we provide details on the best resume writing services in New Jersey. You can compare what each has to offer and learn about what services are featured.
If you are in the position of searching for a new job and need help creating a top-notch document to grab the attention of hiring managers, we have all the information you need right here. Check out these great NJ resume writing solutions and boost your chances of getting hired.
In the medical field, having a professionally tailored resume can be a game-changer. We've compiled a list of the best medical resume writing services that cater specifically to healthcare professionals, offering tailored solutions to help you stand out.
Top New Jersey Resume Services
When choosing an NJ resume service, there are many things to consider. We have reviewed top-rated websites that provide professional resume writers in NJ that can be hired to complete the job. Each website has different writers, various services, and pricing. Take some time to read our reviews of these websites to see which will meet your needs as a job seeker. We are confident that these options will offer great results and will help you capture the attention of employers.
Looking for a professional touch to enhance your resume? Our professional resume writing and editing services reviews provide an overview of the best options, helping you choose the right service that understands your unique career objectives.
While you may not find many reputable resume writing services in NJ, these websites provide services to those all over the US. They may not be based in New Jersey but can be used by anyone seeking resume assistance. Some of the companies on our list do not have offices in NJ, but this will not prevent you from placing an order and taking advantage of offered services.
1. ResumeSpice

Entry Level Resume - $449 - 0-2 years work experience
Professional - $569 - 2+ years of experience
Executive - $689 - C-level executive positions or any position earning over $125K
At ResumeSpice, a team of professional resume writers in New Jersey can provide amazing services at affordable prices. Whether you are an entry-level employee or are seeking a corporate position, this resume writing service in NJ covers all bases. The service has met strict criteria to be at the top of our list. The process of ordering is very simple and after creating an account, a questionnaire is sent for your to complete. This is followed by a phone consultation with an assigned writer. Your hired writer will then begin to craft the first draft, which will be completed within 2 days!
One of the reasons ResumeSpice is our top choice for resume writing services in NJ is because they offer a 60-day interview guarantee. If you do not land an interview within this time, they will rewrite and improve your current resume at no added cost. The service also provides two assessment surveys that are used to provide feedback on your work style as well as workplace behaviors.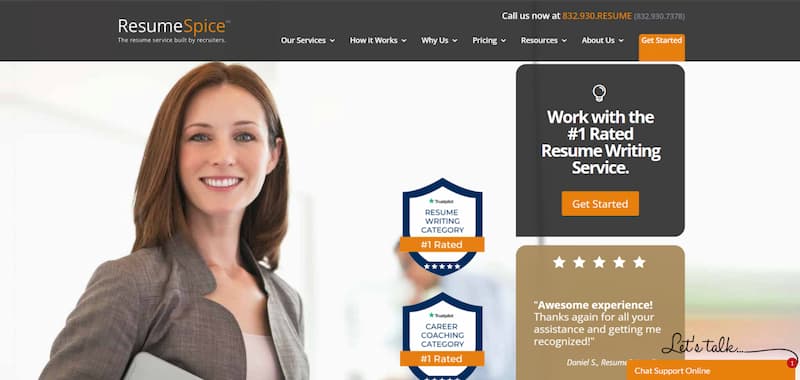 This trusted company has a great score in Trustpilot, with over 800 positive reviews. It also has a great rating on Yelp. With three packages offered, you can choose what best suits your needs, with plans starting at $449. Here are details on the current prices and options.
2. CareerAddict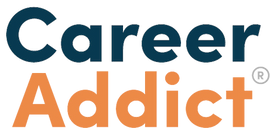 Early Career Package - $109.95
Mid-Career Package - $169.95
Professional Package - $229.95
Executive - $335.95
Career Addict lands on the top of our list for offering the best resume writing services in NJ. Since 2013, this company has been offering services to individuals of all levels in the workforce. With the sole goal of helping professionals achieve career success, you will find a trusted team of writers available to create your documents.
CareerAddict offers a variety of packages at different price points. You will be able to choose what options suits your needs and will even be able to add on extra services like Linked In profiles and cover letters. The affordable pricing is one thing that makes this NJ resume writing services stand out.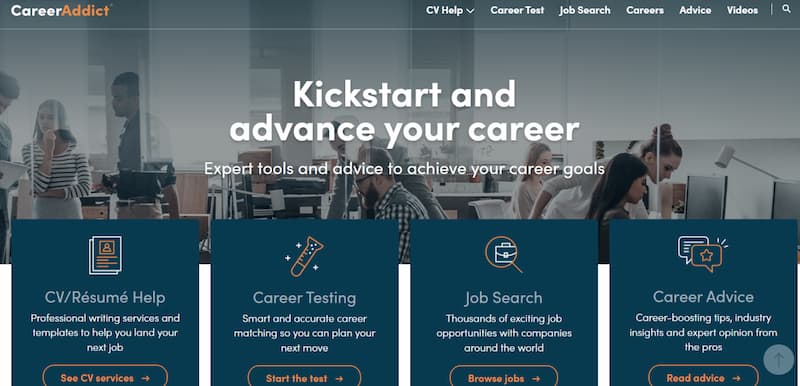 With every package, you will get a professional writer that will create your document from scratch. There is a free revision policy in place for 30 days as well as guaranteed fast delivery. The first draft will be delivered within 3 to 7 business days. At CareerAddict, you can be sure you are hiring the most professional resume service in NJ. It has a 4.4 rating on TrustPilot and continues to earn positive reviews from customers.
Looking for discounts? You can get 10% off by signing up for the CareerAddict newsletter! The process of placing an order is simple and completely secure. All of your information is safely stored on a secure server and your payments are safe. Simply select a preferred package, place an order, and chat with your assigned expert. You will have 30 days after the receipt of the first draft to request revisions.
3. Resume Writing Lab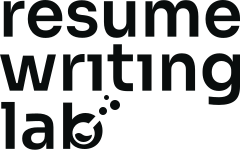 Entry - $179.99-$399.99
Professional - $279.99-$499.99
Executive - $379.99-$629.99
Federal - $479.99-$729.99
Resume Writing Lab is a stellar company for anyone needing a document for a new job. This website offers a 100% satisfaction guarantee and also features a guarantee for an interview within 90 days. With top ratings of 4.5 on TrustPilot, 5.0 on Sitejabber, and 5.0 on EduReviewer, you can see why we have chosen this company as one of the best professional resume services in NJ.
This trustworthy company has an amazing 98% interview success rate and will deliver your first draft in just 3 days. Getting started is easy. You will choose what services are desired and complete a form that will detail your career goals. You are then assigned to a professional writer and can chat with them throughout the entire process. As soon as the resume is completed, it will be emailed and you will then have 7 days to request a free revision.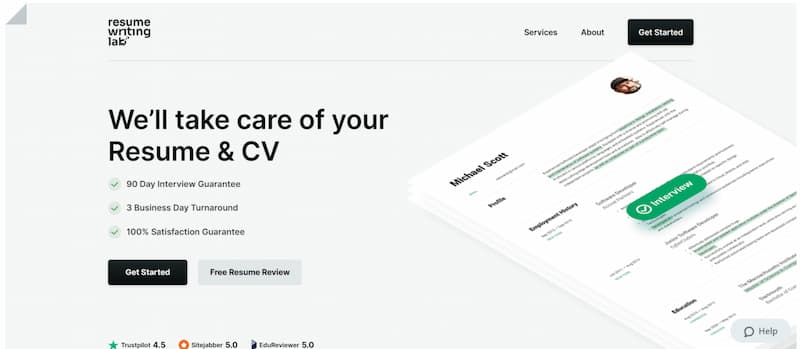 If you are looking for one of the most affordable resume writing services in New Jersey, Resume Writing Lab is our top recommendation. You will find three options available for each of the levels of resume services provided. Each level will have added features such as added Linked In profile editing, thank you letters, and career coaching. Check out the pricing and see why this company is a great choice for those seeking affordable, yet reliable resume help in NJ.
4. Resume 101

Package: CV Writing + Cover Letter: $215-$265
Package: CV Writing + Cover Letter + Follow-up/"Thank You" Letter: $239-$289
Package: Resume Writing + Cover Letter: $147-$197
Package: Resume Writing + Cover Letter + Follow-up/"Thank You" Letter: $167-$217
At Resume101, you will find dedicated writers that can create original and powerful resumes and CVs. The site also provides cover letter services. The ordering process at this professional resume writing service in NJ is straightforward. It starts by selecting a career level, the type of paper requested, and a specified deadline. Starting at just $99 per page, this is one of the most affordable services available in New Jersey. One of the great things about this company is that they can provide a first draft in just 24 hours.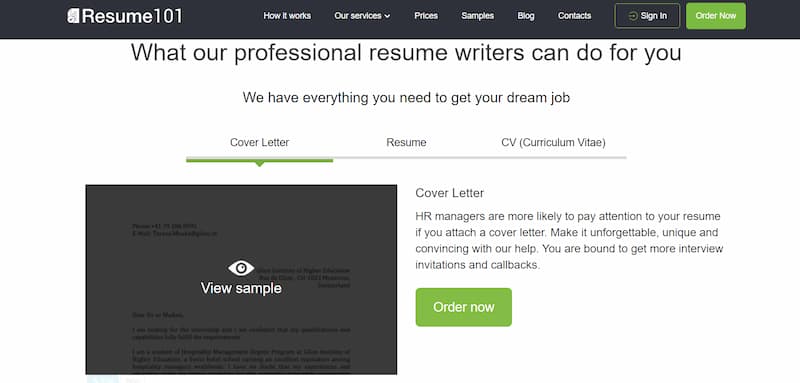 With a Sitejabber rating of 4.52 stars, you can trust what is offered at Resume101. The writers are experienced and will be in contact through all steps of the process. The service also offers a money-back guarantee and will recalculate a price if the paper is not delivered on time. You can also request a revision within 7 days of receipt of the document if it does not meet your needs or specifications.
5. ZipJob

Launch Package – With a price of $139, you get a completed resume with ATS optimization and direct contact with your writer.
Fast Track – This includes all Launch features and a cover letter as well as a 60-day interview guarantee for $189.
Premium – For $200, you will get a professionally written document with a cover letter a well as an update to your Linked In profile. Expedited delivery is included.
With a 4 star rating on TrustPilot, ZipJob is a great service if you require resume writers in NJ. Featuring a guarantee to revise your paper if you do not get two times more interviews in 60 days, the company is dedicated to your success and makes sure that every document contains specific keywords that will attract hiring managers.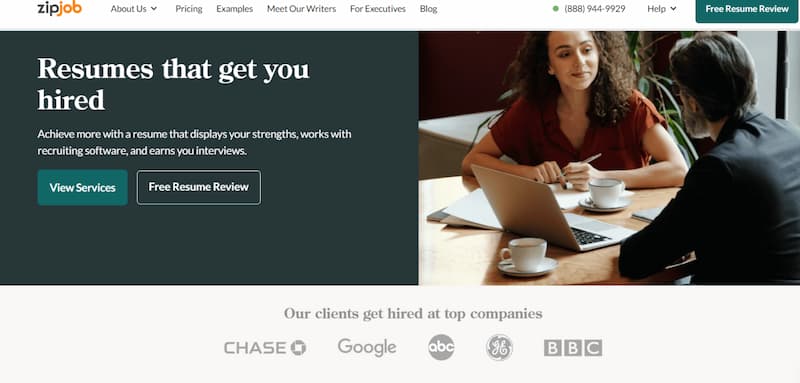 In regards to pricing, this is one of the more affordable resume services in NJ. There are three options to choose from when ordering and each will have added features that are included in the overall price. Take a look above at what you will pay when you place an order with ZipJob.
6. Bklyn Resume Studio
Brooklyn Resume Studio is a professional service based in New York, offering professional resume writing in NJ. If you are looking to work with professional writers that care about your career as much as you do, this is a great website. When you place an order, there is an intake interview that will last between 50 and 70 minutes. You will then be paired with a professional writer and will receive a first draft within 5-7 days. Two revisions can be requested on each document.
The importance of a well-structured LinkedIn profile can't be overstated in today's professional landscape. We've put together a selection of the best LinkedIn profile makeover services to help you create an impressive digital footprint.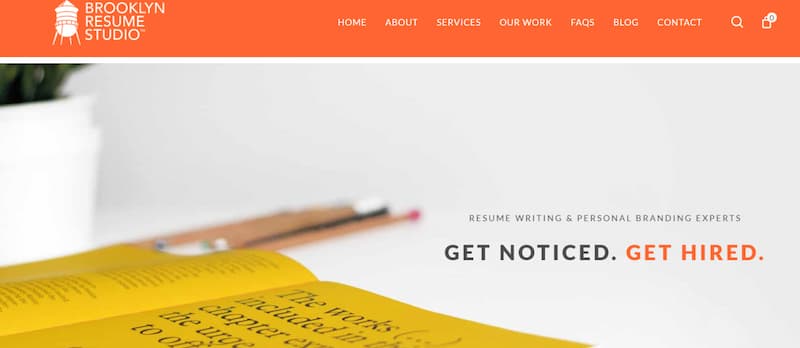 While the site does have a positive reputation and good ratings on TrustPilot, our review team did not find any information on guarantees or even a page explaining pricing. You will have to submit a request form to find out the cost of any paper being ordered.
7. ResumeWriters
ResumeWriters has been providing professional services since 1999 and is one of the top-rated professional resume writing services in NJ. With an A+ BBB rating, you can see that this company has been offering trusted and legitimate services for many years. When you hire a writer from ResumeWriters, you will get a 100% guarantee to land an interview within 2 months or the resume will be rewritten for free!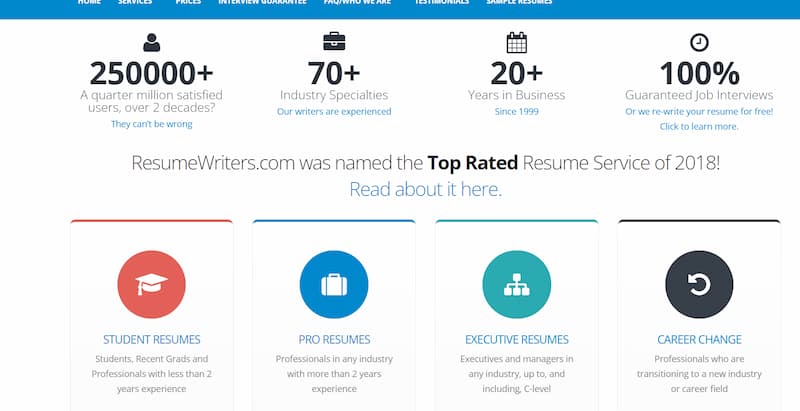 There are various packages to select and each will have a different cost and various features. The lowest cost option is $169.95, which will offer a 72 hour turnaround time and one-on-one consultations. The Professional package is the most popular and features a first draft in 72 hours with available add-ons like cover letters and LinkedIn profiles. The cost for this is $199.95. There are two other packages, the Executive for $299.95 and Career Change for $249.95.
Choosing the right resume service can make all the difference in your job search. If you're wondering whether TopResume is worth the investment, our detailed review covers all aspects of their services, from their writing process to customer service.
8. Resume Synergy
Resume Synergy is a small company that was started by a New Jersey native. Offering top-quality resumes, you can enjoy professional services at affordable pricing. A single page will run just $125 and a two-page paper will cost $225. If you chose to add a cover letter, the cost will increase by $100. The best option is to opt for the package deal for $350, which will include:
To page resume
Cover letter
LinkedIn update
Hiring a professional resume writer in New Jersey is one of the best investments you can make in your career. With the services at Resume Synergy, you will get customer papers. This company wants to make sure that you are completely satisfied with the results and will not charge any money at all until you receive your first draft!
9. NJ Resumes
For the past 21 years, NJResumes has been helping professionals land their dream job. Enjoy a comprehensive package that includes a resume, cover letter, and LinkedIn profile at a great competitive price. With a fast turnaround time of just 48 hours. You can rely on NJResumes to deliver a top-notch document with a 100% satisfaction guarantee.
You will find five different package deals available, each focusing on your experience and skills that will benefit you in a future career. All packages will include a complete resume, cover letter, and LinkedIn profile and the cost is upfront. There are no worries about hidden fees! Choose a low-cost Early Career package for just $100 or opt for the top-of-the-line C-Suite and Directors package for $500.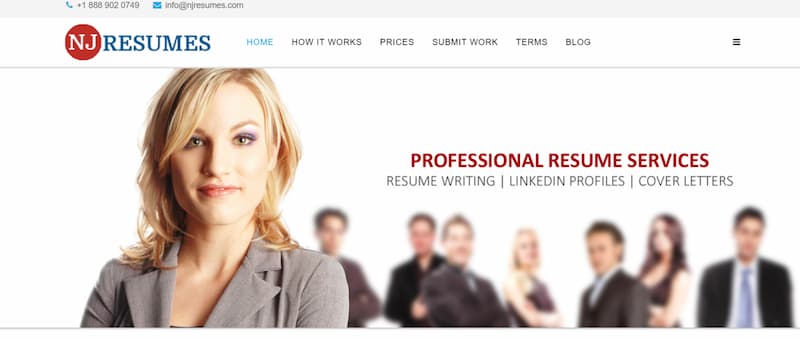 Getting started is simple and you just have to choose your professional resume services in NJ and provide details to include in the document. An invoice will be sent and upon payment, and an NJ resume writer will be assigned to begin working on the order. The first draft will be delivered within 36 hours and any revisions can be requested, which will take just 24 hours to complete.
10. Resume Target
When you choose to hire a resume writer NJ at Resume Target, you not only get a high-quality document, but will be working with people who care about your success. This reliable service offers packages for everyone, from new college grads to CEO's You will find student services, mid-career options, professional services, and executive packages.

The best NJ resume writers will be working on your paper and the company offers a tripe guarantee. You will benefit from a 90-day interview guarantee, a 3-day turnaround guarantee, and a 100% satisfaction guarantee.
Each package category contains three different levels and each will provide stellar results from professional resume writers in northern NJ. The levels include:
Essential – a one-on-one interview with your writer, customer paper, cover letter, and 3-day turnaround
Advanced – All Essential features plus resume distribution and optimized LinkedIn profiles
Ultimate – All Advanced features with an interview coaching session
What are the Best Best Resume Services in NJ?
We want to make sure you have access to the best resume writing services in New Jersey. With the options presented, professionals will work with you to develop and edit a resume that will increase the chances of landing a new job. The resume writing services in NJ that we recommend are legitimate companies that have a great reputation.
Looking to advance your career? Check out these great services today. We highly recommend using our top-rated sites, ResumeSpice, CareerAddict, and Resume Writing Lab.