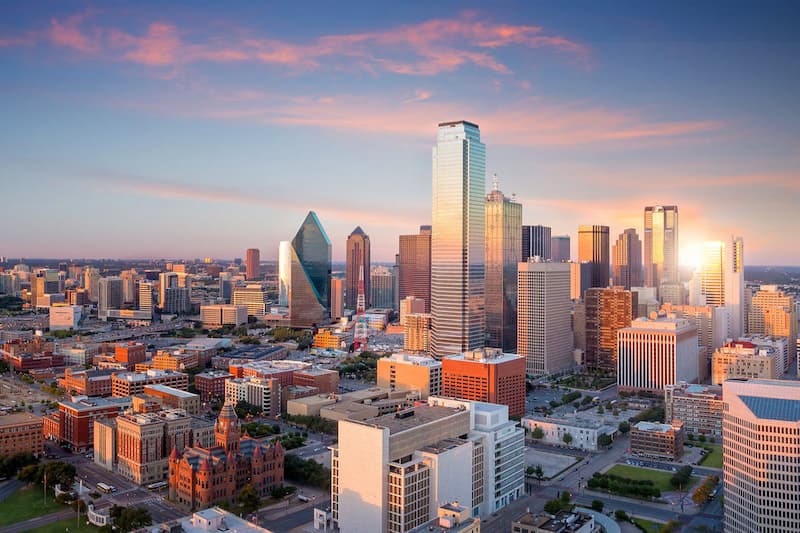 The beautiful state of Texas has many popular cities such as Houston, Austin, and San Antonio. But Dallas stands out from all of them. The region is one of the most popular places in the state and is commonly referred to as Triple D among residents. For a long time now, the area has been inhabited mostly by cowboys and Texas Rangers. If you are also interested in tasting some smoked barbecue and Mexican meals, this is the best spot.
There are many interesting things you probably didn't know about Dallas. For instance, the term "Super Bowl" was coined by Pete Rozelle in Dallas. Despite being referred to as the 'AFL-NFL Championship Game, many people stuck with the Super Bowl. As if that was not enough, you'll find the largest art district in the US in Dallas. There are about 19 blocks of museums, art galleries, and venues in the region. So, you'll never run out of interesting things to do or places to visit.
Dallas also has an increasing population that comprises tourists and immigrants. Many of these immigrants have come into the region to seek better opportunities and jobs. To get the best results from their job applications, these immigrants have to hire Dallas resume writers. There are numerous writing services in the region. This article will reveal to you the best resume writing services in Dallas, TX.
Let's begin!
| | | | |
| --- | --- | --- | --- |
| Resume Services | Prices | Turnaround Time | Rating |
| Career Addict | $109.95 – $339.95 | 5 – 7 business days | 5 |
| Find My Profession | $395 – $1295 | 3 – 5 business days | 4.7 |
| Resume Lezlie | $129 – $1899 | N/A | 4.6 |
| Yellow Brick Path | $99 – $209 | N/A | 4.5 |
| Resume Spice | $449 – $649 | N/A | 4.3 |
| DFW Resume | N/A | N/A | 4.1 |
| Perfect Resume TX | $249 – $625 | N/A | 4.0 |
| Allan Brown | N/A | N/A | 3.5 |
| Craft Resume | $229.99 – $499.99 | N/A | 2.7 |
| Expert Resume Pros | $179 – $229 | N/A | 2.5 |
1. CareerAddict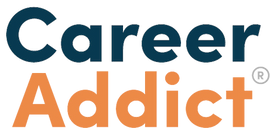 Experienced and qualified writers
Unlimited revisions for 30 days
Selection of CV templates
Other services such as cover letter writing, LinkedIn profile creation, and so on
Relatively expensive package prices
No interview guarantee
Career Addict is a professional writing service that can help job seekers and applicants win their desired positions in big brands and companies. They are top resume writers in Dallas. Immediately you land on their web page, the amount of work that has been put into the website design is obvious. You can quickly navigate around to book their work for yourself. You'll find an impressive selection of services, and you are free to choose whichever suits your demands.
At Career Addict, there is a genuine commitment to satisfying job seekers. It doesn't matter your employment level; they will create a curriculum vitae with essential details and information. An interesting thing about this service provider is that you'll find 75 ready-to-complete templates to choose from on their website. These templates are affordable to purchase. They even offer instructions on how to formulate a resume yourself properly.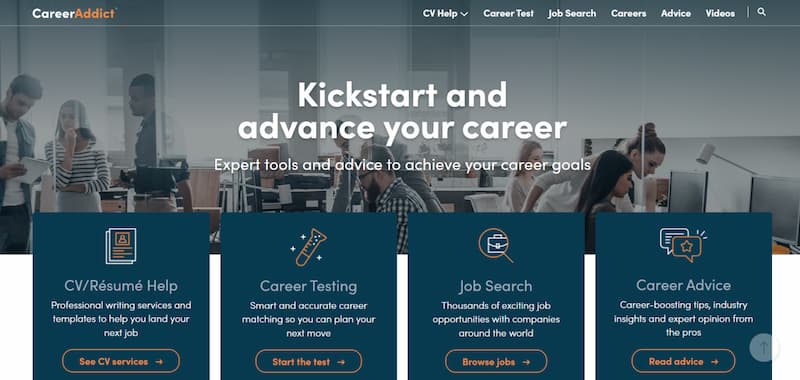 The available experience categories on Career Addict include; Early Career, Mid-career, Professional, and Executive. As soon as your order is completed and payment has been made, you'll get a draft within 5 - 7 business days. All revisions can be made within 30 days.
Reviews


Trustpilot: 4.4 stars from 23 reviews


2. Find My Profession

High-quality writing
A long list of other job-related service
60-day interview guarantee
Are you a job seeker who is interested in finding their desired profession? Then, it would help if you considered hiring resume services in Dallas. Regardless of the stage you are at in your career; you can outsource your resume writing to this high-quality writer. Established in 2015, this resume writing service is relatively new but has made its mark with premium services. The brand was founded by Mike Podesto, who identified the struggles of job seekers and made a commitment to provide innovative solutions.
The interesting thing about hiring Find My Profession is that they offer a list of premium services. Besides resume writing, job applicants may also visit the website to book career coaching, cover letter writing, LinkedIn profile optimization, and career finder. The pricing of this provider depends on the package you choose. The boxes on the website include basic package, premium package, and VIP gold packages.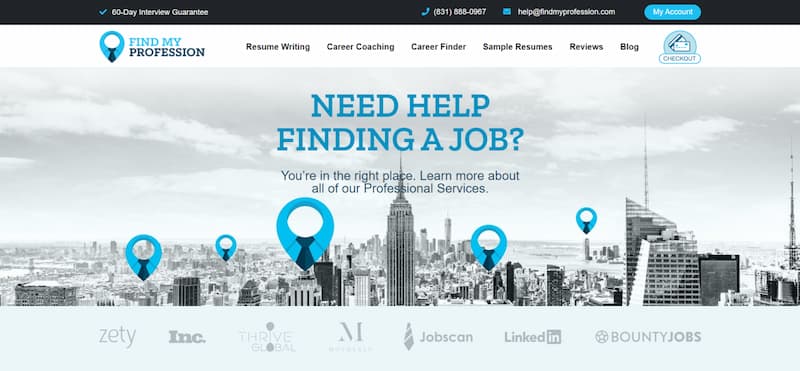 There is a team of experienced writers that will handle your project professionally. They offer a 60-day interview guarantee for their clients.
Reviews


Sitejabber: 4.7 stars from 254 reviews


3. Resume Spice

Multiple services for job seekers
Reliable customer support
Relatively expensive for the quality of service offered
Are you interested in working with a top-rated resume service? They are a Dallas resume service that understands the importance of a smart and detailed curriculum vitae. Besides helping you prepare your resume, they also offer career coaching and career assessment services. They offer three levels of services for clients, namely; entry-level, professional-level, and executive-level job seekers. The pricing on the website depends on the type of service you want to hire, but you can get a professional resume for as low as $449. There is no designated deadline for them to deliver your resume, but they offer an interview guarantee on their work.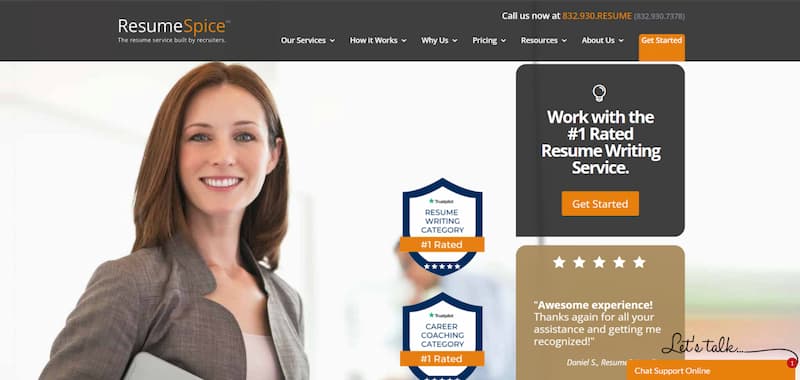 Reviews
4. Craft Resumes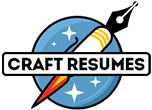 Certified resume writers
Communicate with writers freely
Free and unlimited revisions
Flexible deadline
Customer service is unavailable during weekends
Craft Resumes is a relatively young CV writer but has already established itself as a high-quality service provider. It doesn't matter if you want a new CV or wish to revamp the old one; these resume services in Dallas, TX, are perfect for you. Aside from resume writing, they also offer LinkedIn profile optimization, cover letter creation, follow-up letters, etc. The pricing of their service depends on the type of package that you opt for.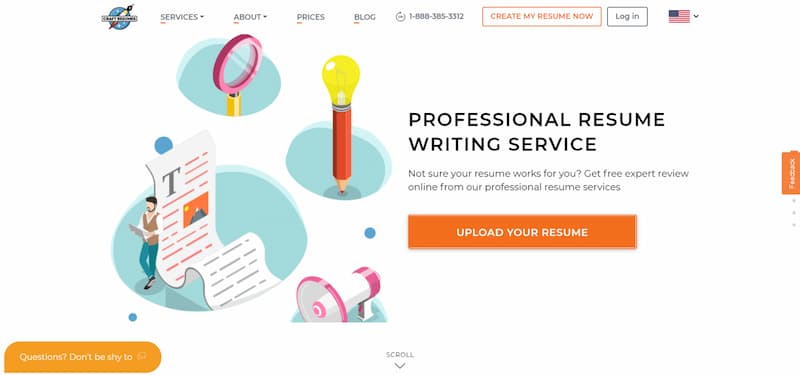 Reviews


Trustpilot: 2.7 stars from 10 reviews


5. Resume101

Timely delivery
Great customer support
Quality writing service
Free samples
As its name suggests, Resume101 is a team of professional resume writers in Dallas. The prices charged by this provider largely depend on the deadline for delivery and the type of service hired. They will help you reflect your best skills in your resume to make you more attractive to prospective employers. There are multiple payment channels on the website to ensure clients can pay conveniently.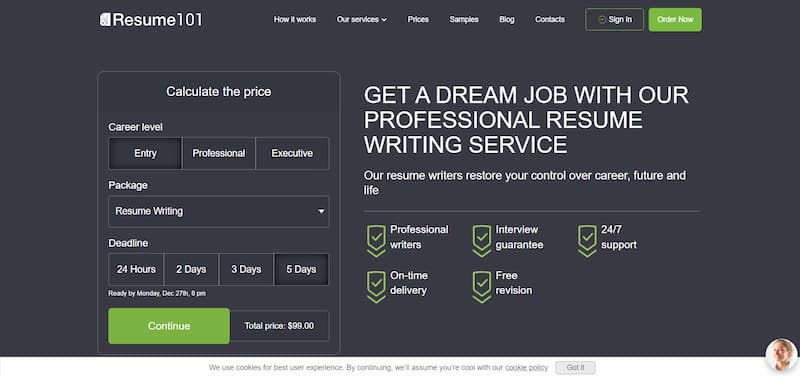 Reviews
6. Resume Lezlie
When booking resume services in Dallas, TX at Resume Lezlie, you expose yourself to a provider that will help reflect your best values in the curriculum vitae you submit to prospective employers. They understand that you need to stand out to edge the competition and secure your dream job, and we're committed to helping you achieve success. When you visit Resume Lezlie, they promise to help with DIY resources, expert help, and online resources.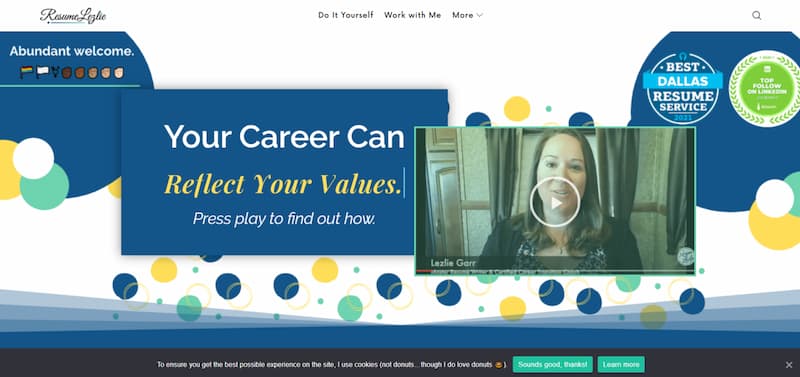 The website was founded by a professional writer, Lezlie, who is on a mission to help others secure their best careers and live comfortably. She has worked with more than 700 people and supported them in their top positions at major brands all over the region. Resume Lezlie offers multiple services such as DIY resume writing, single sessions, job search skyrocket program, resume change, and career change clarity coaching. The pricing of their usefulness depends on what you choose.
Advantages
List of premium job-seeking services
High-quality writing
Easy to use website
Disadvantages
Reviews
4.6 stars
7. Yellow Brick Path
Are you interested in resume writing in Dallas? Then you would enjoy hiring Yellow Brick Path to work for you. They understand the touch requirements that job applicants face from prospective employers. They also understand that many job applicants cannot fully express themselves in their CVs to reflect their skills and values. As a result, they have made it duty to help out.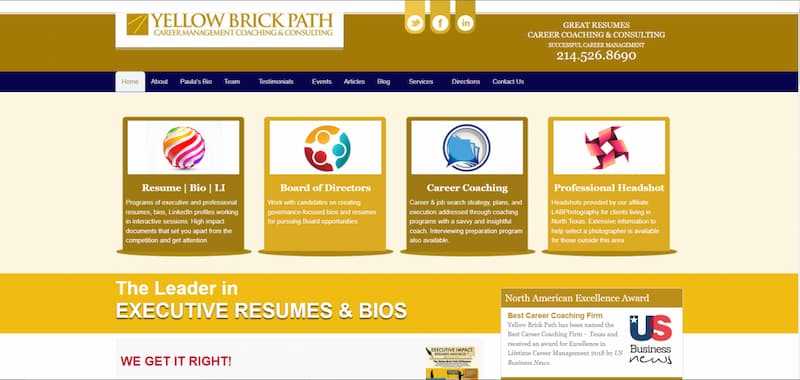 They are located in the uptown part of Dallas and offer services to all job seekers. The services are designed to help you in the best capacity. If you live in the local region, Yellow Brick Path can work with you to optimize your resume in person or by phone. Most of the clientele are executives who stay inside and outside of Dallas. They also service professionals who travel extensively while working with brands in the region.
Advantages
Localized resume writing
Physical office
Custom-tailored work
Disadvantages
Reviews
8. DFW Resume
DFW resume is a top Dallas resume writing website. This service provider has everything it takes to get you an interview from a prospective employer. It's a professional writing service that has been in the business for many years. As a result, they know what hiring managers want to see in your CV. They will also scan through your provided details to eliminate any irrelevancies.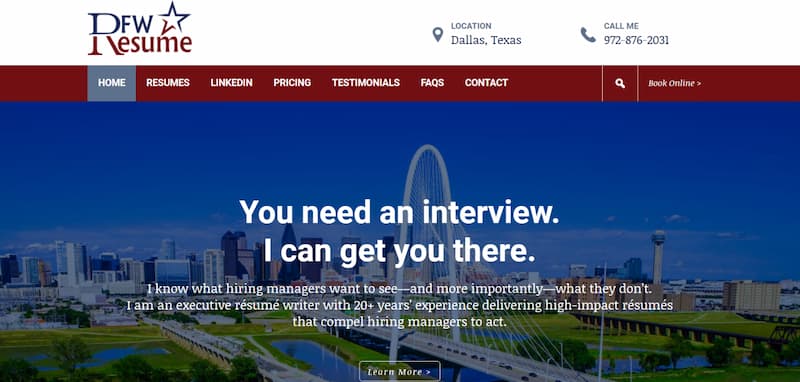 The services on DFW Resume are available to professionals, technology professionals, and c-level executives. They adopt a result-based process to prepare content for clients. What's more? When you hire them, you'll get leverage on their certifications and experience.
Advantages
Certified and qualified service provider
Experienced writing service
Experts in multiple fields
Disadvantages
A single writer runs service
Reviews
4.1 stars
9. Perfect Resume
Perfect Resume TX is a resume writer in Dallas, Texas, creating job-winning CVs for professionals in different fields. The service provider has been around for more than 15 years. Their work has gained nationwide renown from many quarters. They offer innovative writing services that produce market-leading results.
If you would like to make any changes to your resume, this is the right place for you. There is a specialized team of writers here with expertise in multiple fields. It doesn't matter whether you need a new resume or want to revamp the old one; they will design custom-tailored services to help you.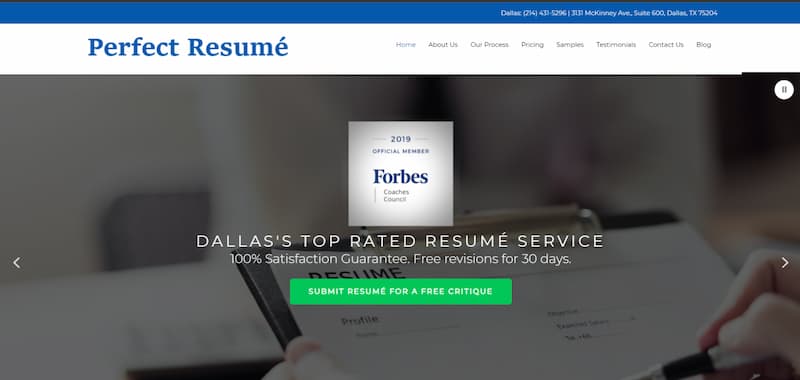 Advantages
30 days of unlimited reviews
Experienced writing service
Professional writers in different fields
Disadvantages
Reviews
Yelp: 4.0 stars from 30 reviews
10. Allan Brown
Allan Brown offers resume services in Dallas that surpass the expectations of HR professionals and hiring managers. It's their job to collaborate with customers to provide high-quality CVs. The service provider is aware of all the requirements of hiring managers and will make sure to implement them during CV creation. This service isn't limited to online conversations. Instead, they contact the clients directly to communicate with them and offer them custom solutions. They are fully aware of the Dallas labor market and the circumstances around it.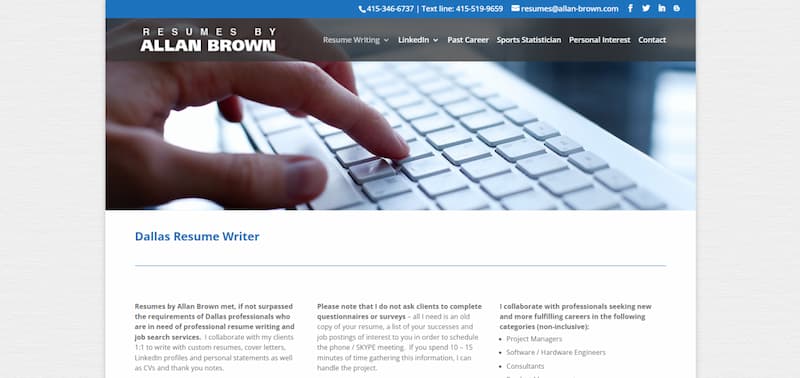 Advantages
Custom resume writing service
Interactive service provider
Disadvantages
Reviews
3.5 stars
Conclusion
Dallas is a region that is filled with opportunities. This makes it a perfect spot for job seekers and applicants. The best way to attract prospective employers is to book Dallas resume writers. A professional writer will help you include all the essential information and reflect your values.
Despite the number of options available in the region, the best resume writers in Dallas, TX, are CareerAddict, Find My Profession, and Resume Lezlie.