"Talent wins games, but teamwork and intelligence win championships." — Michael B. Jordan.
Well, let me tell you, the LSAT is one tough championship to win, and we will need all the intelligence and teamwork we can muster to come out on top.
Choosing the right test prep course is crucial in law school. Aspiring law students often try picking LSATMax or Kaplan for their preparations. Both companies offer comprehensive resources and claim to provide practical strategies to help you achieve a high score on the Law School Admission Test (LSAT).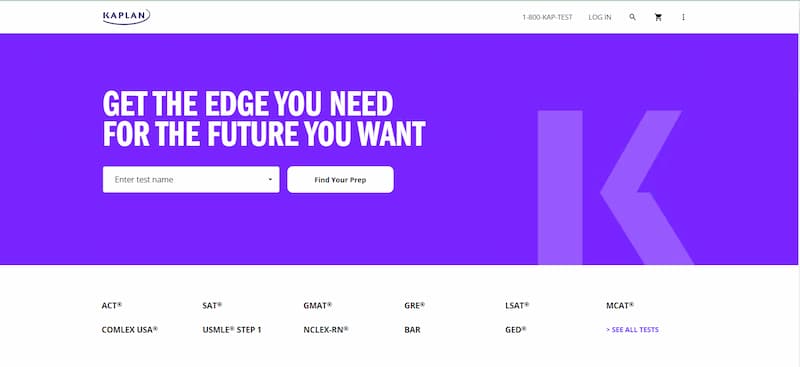 Our Verdict
We have already detailed individual reviews on Kaplan and LSATMax. However, Today, I'm excited to delve into the fierce battle between two LSAT test prep giants: Kaplan and LSATMax.
So, put on your thinking caps and buckle up for an exhilarating ride through LSAT preparation.
Kaplan offers a more comprehensive approach, whereas LSATMax focuses on a mobile-friendly platform.
Kaplan comes at a higher price point compared to LSATMax.
Kaplan offers live classes, while LSATMax compensates with comprehensive video lessons.
By the end of this Kaplan vs LSATMax comparison, you'll have all the ammunition you need to make an informed decision and soar to LSAT victory. Let's get ready to tackle this challenge head-on!
Key Features of Platforms for Learners/Students
"Education is not the filling of a pail, but the lighting of a fire." — William Butler Yeats.
We've covered the details and differences between Kaplan and LSATMax. It's time to dive into the juicy stuff—the key features that make these platforms shine regarding LSAT preparation. These features are like the secret sauce that enriches your learning experience.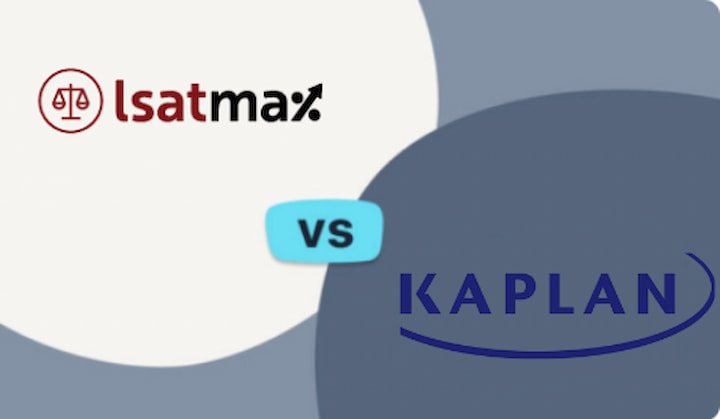 They make it engaging, effective, and tailored to your needs. These platforms have much to offer, from top-notch study materials to interactive learning options. You also get comprehensive practice resources and personalized progress tracking.
LSATMax: How is it Better than Kaplan?

Easy to work with.
Flexible price points.
24/7 live instructor access.
No physical class sessions or live courses.
Free content is minimal.
In this section of the LSATMax vs Kaplan review, folks, we'll talk about LSATMax and why it stands out in LSAT test prep. If you want to crack the LSAT and secure your law school spot, LSATMax has your back. Here's why it's the bee's knees:
Mobile-Friendly Magic
LSATMax brings the LSAT prep party to your fingertips with its mobile app. With their mobile app, you can transform those moments of waiting in line or commuting into valuable study time. Whether sitting on a park bench or relaxing on your couch, you can access their comprehensive study materials. These include video lessons and practice questions. It's like having a pocket-sized LSAT tutor always ready to help you sharpen your skills.
Interactive Lessons that Don't Snooze
Say goodbye to boring lectures! LSATMax spices up the learning experience with dynamic video lessons that keep you engaged and entertained. Led by top-notch
LSAT
instructors, these videos are not your typical boring lectures. They incorporate interactive elements, visual aids, and real-world examples. These help you to make complex concepts easy to understand and retain. LSATMax's video lessons bring the LSAT to life, making your study sessions informative and enjoyable.
Powerful Analytics for Personalized Progress
LSATMax goes beyond just providing study materials. LSATMax understands that everyone has different strengths and areas for improvement. That's why they offer personalized study plans tailored to your specific needs. LSATMax assesses your current skill level by taking an initial diagnostic test.
The platform designs a customized roadmap to guide you through your LSAT journey. Their adaptive algorithms track your progress and adjust your study plan, ensuring you focus on the areas requiring attention. It's like having a personal LSAT coach who knows exactly what you need to succeed.
So, if you're looking for a mobile-friendly, interactive, and personalized LSAT prep experience, LSATMax is the way to go.
Kaplan: How Is it Better than LSATMax?

You can pay for individual components of a test prep course rather than the whole thing.
Easy to understand materials compared to competitors.
They offer a score increase guarantee with their courses.
Large class sizes mean your questions might not be answered.
Some complaints of outdated material.
Customer service is not responsive enough.
Now let's dive into the Kaplan and see how it stacks up against LSATMax in LSAT test prep. If you're considering Kaplan vs LSATMax options and wondering if Kaplan is the right fit for you, here's why it might be your cup of tea:

Extensive Legacy and Expertise

Kaplan has been a heavyweight in the test prep arena for ages. They've been in the game for ages, helping countless students conquer standardized exams. With decades of experience and a proven track record, they've honed their LSAT prep strategies perfectly. You can trust that Kaplan knows the LSAT inside and out. They've fine-tuned their strategies, cracked the code of LSAT logic, and perfected their teaching methods. Kaplan's got you covered if you're seeking a tried-and-true approach backed by a reputable name.

Variety of Study Options

Kaplan understands that students have different learning preferences. That's why they offer various study options, ensuring there's something for everyone. If you thrive in a classroom setting, you can join their in-person LSAT classes to interact with instructors and fellow students. This fosters a supportive learning community.

Prefer the convenience of online learning? Kaplan's live online sessions bring the classroom experience to your screen. This allows you to participate in real-time discussions and ask questions.

Robust Practice Resources

Practice makes perfect, and Kaplan knows it. They shower you with abundant LSAT practice resources to ensure you're ready to tackle the exam confidently. With access to real LSAT questions, you can familiarize yourself with the challenges you'll encounter on test day.

Kaplan's question bank is a treasure trove of learning opportunities. They allow you to hone your skills and deepen your understanding.

And let's remember the full-length practice tests that simulate the actual LSAT experience. These tests are like a dress rehearsal, helping you gauge your progress. You can also identify areas for improvement and build up your stamina.

Do you value a reputable name, diverse study options, and a wealth of practice resources? Then Kaplan might be the LSAT prep champion you've been searching for. Strap in and get ready to conquer the LSAT with confidence!
Pricing Comparison
"Price is what you pay. Value is what you get." — Warren Buffett
As we embark on this journey to compare Kaplan and LSATMax, we can't overlook the importance of pricing. After all, getting the best value for your hard-earned money is a top priority. Price alone doesn't determine a product's or service's true worth. It's the value we receive, in return, that genuinely matters.
LSATMax
LSATMax understands that preparing for the LSAT can significantly invest time and money. That's why they offer flexible pricing options tailored to meet the diverse needs of students.
Here are the packages available at LSATMax:
Basic: $180 hourly billed annually ($1795). This plan offers ten tutoring hours with an LSAT expert and individual assessment.
Complete: $170 hourly billed annually ($3395). This plan offers 20 tutoring hours with an LSAT expert and individual assessment.
In-Depth: $160 hourly billed annually ($4795). This plan offers 30 tutoring hours with an LSAT expert and individual assessment.
Immersive: $150 hourly billed annually ($7495). This plan offers 50 tutoring hours with an LSAT expert and individual assessment.
Hourly: This plan offers 2 to 9 tutoring hours with an LSAT expert and individual assessment at $200 hourly.
By offering a range of pricing options, LSATMax ensures aspiring law students can find a plan that suits their budget.
Kaplan
Kaplan understands that every aspiring law student has unique needs and financial considerations.
Here's a closer look at Kaplan's pricing structure: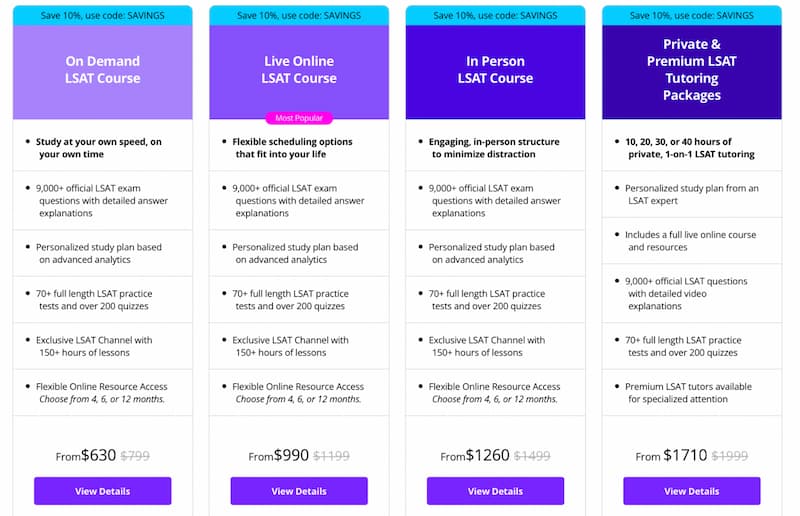 On Demand LSAT Course: $630 billed annually. This plan allows you to study at your speed, on your time.
Live Online LSAT Course: $990 billed annually. This plan offers flexible scheduling options that fit into your life.
In-Person LSAT Course: $1260 billed annually. This plan offers an engaging, in-person structure to minimize distraction.
Private & Premium LSAT Tutoring Packages: $1710 billed annually. This plan allows students to get 10 to 40 private, 1-on-1 LSAT tutoring.
All plans come with the following perks;
9,000+ official LSAT exam questions with detailed answer explanations
Personalized study plan based on advanced analytics
Practice test and prep books
70+ full-length LSAT practice tests and over 200 quizzes
Exclusive LSAT Channel with 150+ hours of lessons
Flexible Online Resource Access
Quality of Learning and Value for Money
Choosing the right LSAT prep course involves considering the content, teaching style, and approach. Are you more inclined towards interactive lessons that keep you engaged? Or do you prefer a more traditional classroom-like experience?
You need to understand the various teaching methods. This will help you determine which platform aligns better with your learning style. You will also learn which offers the best value for your hard-earned money.
Let's explore the different approaches of Kaplan and LSATMax and how they stack up in quality and value.
LSATMax
LSATMax focuses on delivering a high-quality learning experience that maximizes value for money. With LSAT Max, you can expect interactive and engaging lessons catering to LSAT test preparation. Their comprehensive curriculum covers all exam sections.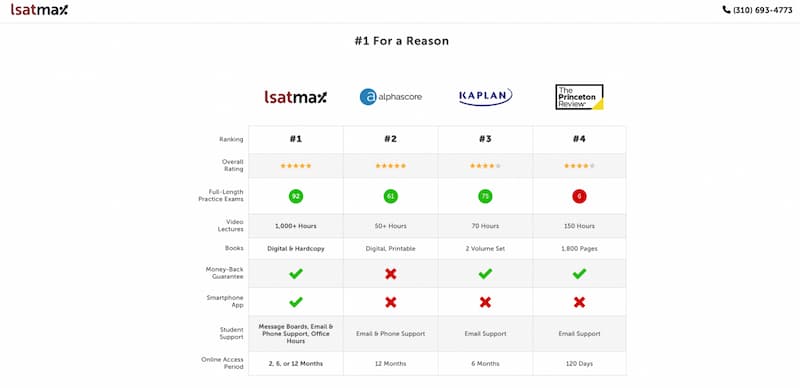 LSATMax provides in-depth explanations and strategies to help you improve your skills. The platform offers a variety of study materials, including video lessons and practice questions. Moreover, LSATMax provides personalized study plans.
You also get progress tracking to keep you on track toward your goals. LSATMax offers excellent value for those looking to excel in their LSAT prep.
Kaplan
Kaplan is renowned for its commitment to delivering quality learning experiences and providing value for money. Regarding LSAT test prep, Kaplan offers comprehensive study materials.
The platform also provides expert instructions to help students achieve their best results.
With Kaplan, you can expect well-structured lessons covering all LSAT sections. These include analytical reasoning, logical reasoning, and reading comprehension. Their experienced instructors provide in-depth explanations, strategies, and practice opportunities. These features would also enhance your skills and confidence.
Kaplan offers various study resources, such as textbooks, practice tests, and online resources. This ensures a comprehensive and tailored approach to LSAT preparation. Kaplan is a trusted choice with their solid reputation and commitment to quality. It is great for students seeking effective learning and value for money in their LSAT journey.
LSAT Books Comparison
Alright, let's talk about LSAT books! Having suitable study materials for LSAT preparation can make a significant difference. In this section, we'll compare the LSAT books offered by Kaplan and LSATMax.
These books are designed to provide a comprehensive content review and practice questions. You also get test-taking strategies to help you ace the LSAT.
LSATMax
LSATMax offers a range of LSAT books tailored to complement their online course. These books cover the LSAT curriculum, explaining key concepts and strategies. The content is designed to be engaging and accessible, helping students grasp complex topics faster.
LSATMax books also include ample practice questions and drills. These features reinforce learning and improve test-taking skills.
What sets LSATMax books apart is their integration with the LSATMax app. This allows students to access more resources, track progress, and practice on their own. This learning platform supports your LSAT preparation journey.
With LSATMax books, you get valuable study material and the convenience of a digital learning experience.
Kaplan
Kaplan's LSAT books are recognized for their comprehensive content coverage and trusted reputation. These books explain LSAT concepts, strategies, and techniques. This helps to ensure a solid foundation for test takers. Kaplan's LSAT books tackle different question types.
This would provide valuable insights into the exam's format and structure. The books also include practice questions and realistic practice exams. This allows students to gauge their progress and identify areas for improvement.
Kaplan's LSAT books are known for their user-friendly design, making them easy to navigate and understand. With Kaplan's LSAT books, you can feel confident that you have access to reliable study materials.
Main Disadvantages of the Platforms
Let's dive into the main disadvantages of both LSATMax and Kaplan. While these platforms offer valuable resources, it's essential to consider their limitations.
Understanding the drawbacks can help you make an informed decision about which platform aligns best with your needs.
LSATMax
While LSATMax offers several advantages for LSAT preparation, there are some potential disadvantages.
Limited Study Materials: Compared to other test prep providers like Kaplan, LSATMax may have a more limited range of study materials. This could impact the depth and variety of resources for comprehensive preparation.
Lack of Physical Books: LSATMax offers digital resources. This may not be suitable for students who prefer studying from physical books or find it more convenient to have tangible materials.
Limited Tutoring Support: While LSATMax provides access to tutors, the level of individualized support and interaction with tutors may be more limited than other platforms. This can impact students requiring more personalized guidance.
Mobile App Dependency: LSATMax relies on its mobile app for course access. This may be better for students who prefer studying on larger screens or have limited access to smartphones or tablets.
Considering these potential drawbacks, students need to check their personal learning preferences. This would help inform their choice of LSATMax as their preferred LSAT prep platform.
Kaplan
When considering Kaplan as an LSAT prep platform, it's essential to be aware of some potential disadvantages:
Higher Price Point: Kaplan's comprehensive LSAT prep courses can be pricier than other options on the market. This may deter budget-conscious students.
Less Personalized Approach: While Kaplan offers various study resources and materials, individualized attention and personalized support may not be as extensive as other platforms. This could limit the tailored guidance for specific student needs.
Less Focus on LSAT-Exclusive Content: Kaplan provides test prep services for various exams, including the LSAT. This broader focus may mean that the LSAT-specific content and strategies might be less emphasized than specialized prep providers.
Potential Overlapping Resources: Some students have noted that there may be overlapping or repetitive content across different Kaplan study materials. This could affect the efficiency of the learning experience.
Considering these factors, students must check their priorities, budget, and learning preferences. This would determine if Kaplan's offerings align with their specific needs for LSAT preparation.
Comparison of the Two Platforms
Here's a comprehensive comparison table that summarizes the key features and differences between Kaplan and LSATMax:
| | | |
| --- | --- | --- |
| Feature | Kaplan | LSATMax |
| Course Options | Various options are available, including self-paced and live online courses. | Comprehensive course options, including self-paced and live online courses. |
| Mobile App | Yes | Yes |
| Interactive Lessons | Yes | Yes |
| Official LSAT Prep | Yes | Yes |
| Practice Exams | Abundant practice exams and questions. | Extensive collection of practice exams. |
| Personalized Study | Limited personalized study plans. | Personalized study plans and analytics. |
| Price | Higher price range. | More affordable price range. |
| Tutoring | Additional cost for tutoring services. | Tutoring options available. |
| Customer Support | 24/7 customer support is available. | Responsive customer support. |
While both Kaplan and LSATMax offer LSAT preparation resources, there are some notable differences. The choice between Kaplan and LSATMax depends on individual preferences, budget, and study needs.
Students should consider course flexibility, personalized support, and pricing. These factors help them make informed decisions aligning with their LSAT preparation goals.
FAQ
Which one is better, Kaplan or LSATMax?
Both platforms have their strengths. The better platform depends on individual preferences and learning styles. Exploring their features and trial options is recommended to determine which aligns better with your study needs.
Is LSATMax the best for LSAT?
LSATMax is regarded for its comprehensive LSAT preparation resources and adaptive study plans. This makes it a top choice for many LSAT test takers.
Is Kaplan good for LSAT prep?
Kaplan has a long-standing reputation in the test prep industry and offers many LSAT prep materials and resources. Many students have found success with Kaplan's approach to LSAT preparation.
Are LSATMax tests harder?
LSATMax provides practice tests that resemble the difficulty level of the actual LSAT, ensuring that students are prepared for the exam. While the tests may be challenging, they accurately represent the test experience.