In the current job market, where the ratio between the jobs available and the people applying for them keeps growing larger, it is crucial to make a lasting first impression on hiring managers when you're applying for any job.
The impression you give depends highly on your resume. A resume written for any job needs to be professional and comprehensive yet brief and needs to showcase all of your relevant expertise in a specific field.
In a nursing resume, not only do you need to clarify the technical skills that are required for the job but also show your employer your personality.
A nursing job requires compassion and other such characteristics that need to shine through in a nurse's resume.
Creating the best resume for nursing professionals is not an easy feat to achieve but thankfully, nurse resume writing services are here to help you out.
The best resume writers online will ensure that your first impression is the best possible version of you.
Using one of our recommended resume writing services will also alleviate the stress of crafting a perfect document yourself.
To select the best nurse resume service for your needs, you need to go know what each nurse resume writing service offers.
Let's talk about some of the top nursing resume writing services to help you make up your mind.
Zipjob

Fast turnaround time.
Guarantee of landing 2 to 3 more healthcare industry interviews.
Multiple, affordable packages to suit individual needs.
No mobile app.
No guarantee at the base 'Launch' package.
Zipjob is hailed by many as the best online service for preparing nursing resumes. This is mainly because the service offers expertly written documents to guarantee land you 2 to 3 times more interviews.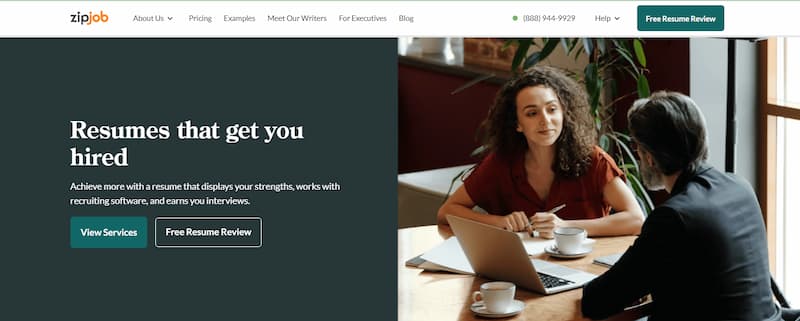 Pricing
The three packages on offer include Launch at $139, Fast Track at $189, and Premium at $299. Among these, Fast Track is the most popular package as it provides a 60-day money-back guarantee if you don't get an interview.
Quality
Using Zipjob, your nursing resume will pass through ATS as the service uses the same technology to scan it. Employers use this technology to screen the resumes they receive automatically, so yours must be written in a way that will pass through the system in your job search.

Zipjob's website design is quite attractive and easy to use. Everything is well laid out, so you'll have no trouble placing an order with a resume writer or finding any other information you need.
Zipjob, unfortunately, does not offer a mobile app.
Customer Support
Zipjob also provides fast turnarounds and some solid customer support with direct communication with your resume writer. They also offer unlimited revisions, which is a perfect touch.

If you go with the 'Fast Track' or 'Premium' package, you'll get a 60-day money-back guarantee if you don't get an interview. You can check Zipjob reviews by customers if you are not sure about it.
Nurse resumes require a unique touch, blending professionalism with empathy. Our review of the
best healthcare resume writing service
highlights industry-specific expertise to help you stand out.
Find My Profession

Guarantee of passing ATS.
Sleek and modern templates that suit a nursing career.
Highly personal, well-written nursing resumes.
Revisions are limited to a week.
It is considerably more expensive than competitors.
Among professional nursing resume writing services, Find My Profession might be the most premium and in-depth resume writing option you can consider.
Boasting highly qualified writers or finding a nationally certified resume writer is something to consider if you want the best at a price.

Crafting the perfect resume often requires a local touch. If you're in Texas, you might want to consider some of the
best resume writers in Austin
.
Pricing
At a starting price of $595 for the Professional Package and $695 for the Premium Package, this is one of the high-quality and high-end nursing resume creators out there for professionals who have more than three years of experience.
If you're a newbie, though, then you can use the service for $395 and $495 for the two packages, respectively.
Quality
Find My Profession offers one-on-one sessions with your resume writer in which you can discuss in detail your career aspirations and future goals as a registered nurse. This gives a highly personal touch to the final product, which is sure to impress employers. The last resume you receive will be based on a sleek design, guaranteed to pass through ATS, and delivered to you in customizable PDF and Word formats.

The writing services website is straightforward to navigate and use. It asks you about your experience level and then offers you the most convenient services, making the process of placing writing service orders as easy as possible.
There is no mobile app for Find My Profession, so you'll have to depend on a website for your orders.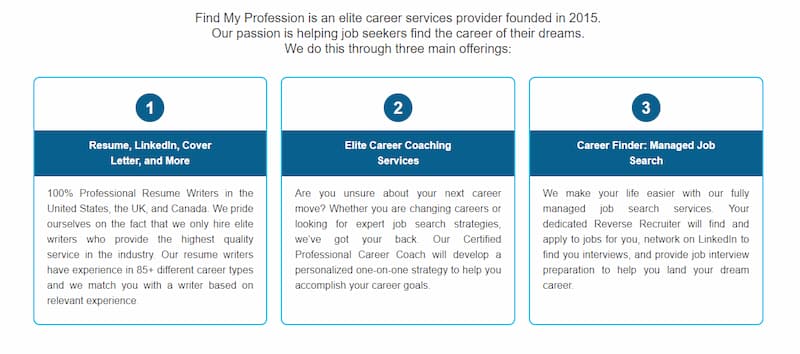 Customer Support
When you read this nursing writing service's reviews, you'll see that it does deliver on its promises. Having the ability to discuss details about your expectations with a resume writer is great for creating a compelling application for your employer and giving them a closer look into what you can offer as a healthcare professional. Check what customers say in their FindMyProfession reviews on our website. You will also get one week of unlimited revisions of your nursing resume so that you can be delighted with the result.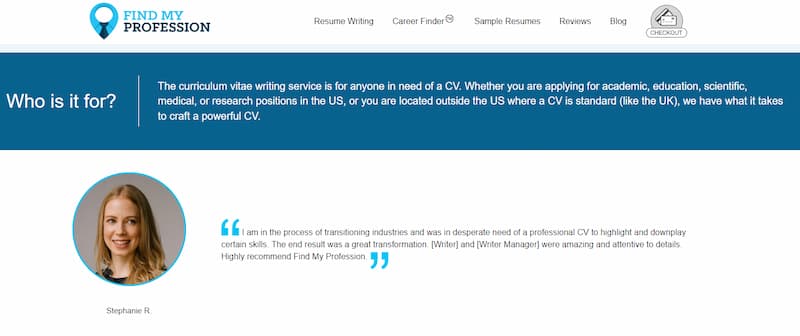 The 60-day money-back guarantee if you don't get an interview after submitting your nursing job application will give you the peace of mind you need before using such a writing service.
CraftResumes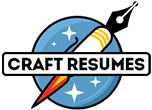 ATS-optimized results.
Easy-to-use website.
Fast response and quick turnaround for healthcare professionals.
No money-back guarantees.
Might be a little expensive without a guarantee of getting an interview for nursing jobs.
Professional nursing resume services often provide you with multiple packages to ensure you get exactly what you need, and Craft Resumes does precisely that. Read genuine
reviews of CraftResumes
on our website and ensure that they are great at writing resumes of all types, whether you're applying for nursing assistants roles, nurse practitioner roles, chief nursing officer, hospice nurse, nurse consultant, or nurse manager.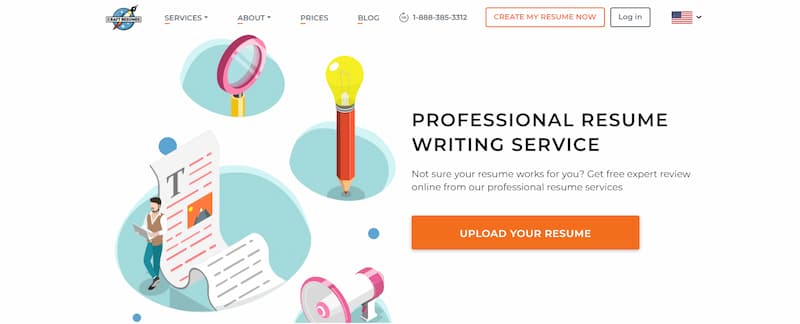 Pricing
There are different resume packages available. The basic package can be purchased for $139, which gives you access to a dedicated writer and as many revisions as you like. Upgrade that to the Basic package at $179.99, and you get an additional cover letter to make your application more attractive.
Quality
You will be guaranteed an ATS-optimized document written by expert resume writers in a matter of days. You can discuss your requirements with a dedicated writer one-on-one after being assigned to you within 24 hours. Your resume will be based on a stylish format that grabs your nursing industry employer's attention right away and is written by hiring manager experts who know how to land you an interview.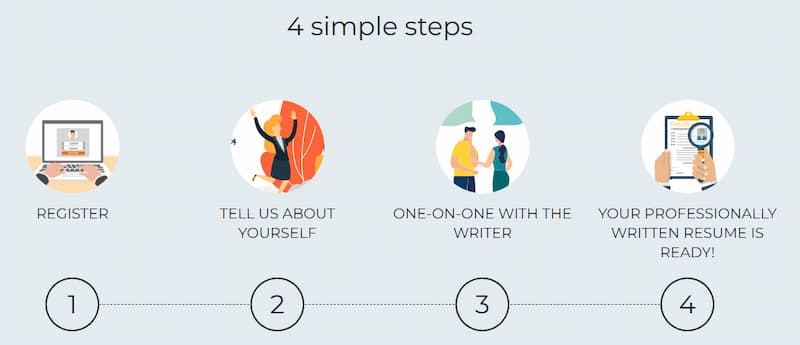 The website is easy to navigate and place an order for whatever you need right away. It puts all the basics right in your reach, so you can choose whichever product you need without having to get lost in a maze of options.
There is no mobile app available for Craft Resumes.

Customer Support
With an excellent customer support system, using this service is a breeze. Just read some of this nursing resume service's reviews, and you'll see how happy their registereed nurses and medical professionals customers are with the results.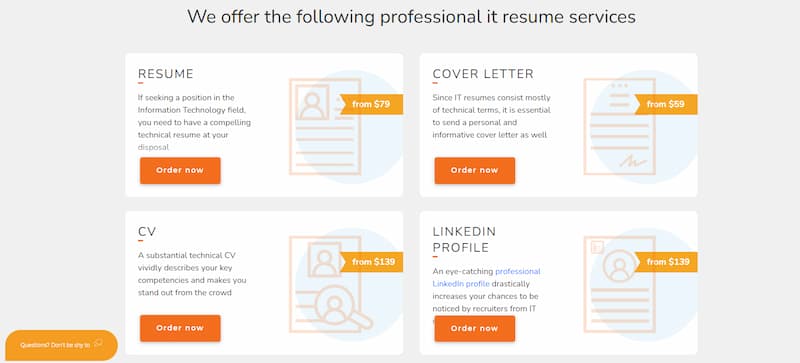 Unfortunately, there is no money-back guarantee that ensures that you will land an interview, unlike some of the best nursing resume writing services.
ResumeWriters.com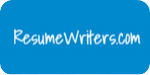 Experienced writers who are industry professionals with experience writing resume samples for registered nurses.
Ability to change writer if you don't get an interview for your dream job in 60 days.
Slick a website with multiple choices depending on your preferences.
A little pricier than competing services.
The first draft takes a little longer than what others offer.
For many, the best nursing resume service would be one with a lot of experience. ResumeWriters.com is one such service and has written resumes for countless nurses. It has been helping create job-winning applications for people for over 20 years and garners some of the best nurse resume writing service reviews from customers you will see anywhere. You can find some of the
ResumeWriters reviews
written by customers just below the text of the review.

Pricing
With this service, you can get a professionally written resume at $199.95 and top it off with a cover letter for $269.95.
Quality
The service offers professional writers from over six dozen different fields, including nursing. You will have one-on-one interaction with your assigned writer to make sure that you get exactly what you want from the service. A draft of your product will be submitted to you within 72 hours so you can have a look and give feedback.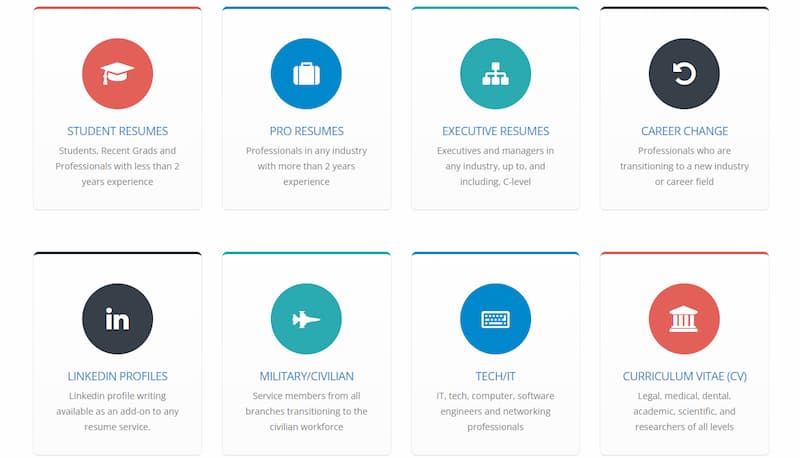 The website design for the service is very slick and straightforward, making it very easy to get to where you want. There are multiple products and packages to choose from, so you'll be spoiled for choice.
Sadly, there is no app available for ResumeWriters.com.
Customer Support
Their professional writers will do any revisions you request and ensure a product that you are happy with. This kind of support is crucial for online services such as this one, so you'll have no problems getting your documents edited.

This service offers a guarantee that you'll get an interview within 60 days. You can then get your resume re-written and even ask for a different writer this time around!
Resumeble

Responsive customer support.
Speedy turnaround time if you pay for it.
Excellent 30-day guarantee that's better than others.
No ATS passage guarantee.
A little expensive for the entry-level package.
Resumeble is yet another one of those nursing resume services that makes it very easy for young or seasoned professionals to order their healthcare resumes.
It's also one of the fastest options if you're in a hurry. And what you can see from Resumeble reviews and client testimonials, customers are happy with the quality of these resumes, even though they are written quickly.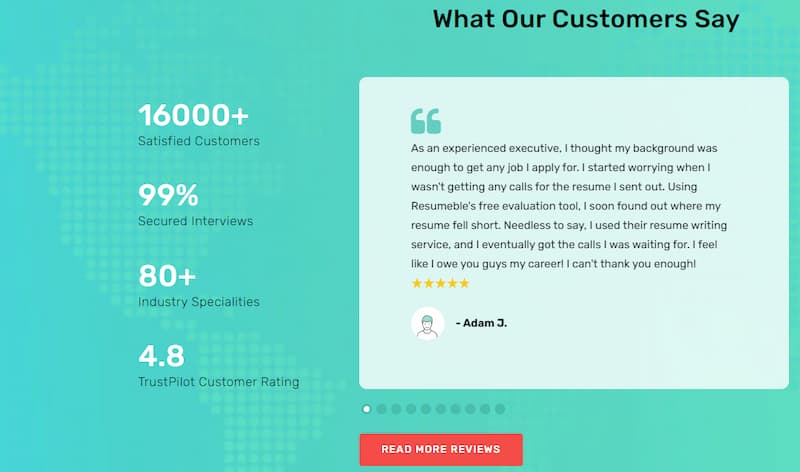 Pricing
At $149 for an entry-level nurse's resume, this is another affordable option offering excellent results. If you want the whole process completed within 24 hours, you'd have to pay $339, which is still not bad.
Quality
With a team of professional writers, Resumeble will allow you to get your resume delivered within as little as 24 hours.
You can contact your writer directly, like with its competitors, and get revisions. In general, this nursing resume service's positive reviews bode well for the results you will get from your new resume.

The website interface for Resumeble is charming, making it easy to place orders. You have many different options and tiers, depending on your need and your field experience.
Resumeble doesn't have an app.
Customer Support
Add to that the very responsive customer support, and you have the option to satisfy you. The writers quickly contact customers and offer free revisions if you need more.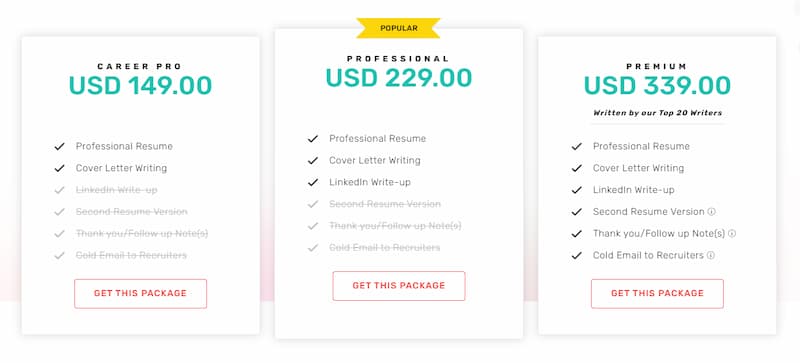 One thing that separates Resumeble from others is that it offers a 30-day interview guarantee instead of a 60-day one.
This, combined with the optional 24-hour delivery, makes Resumeble one of the best nursing resume services for those on a tight schedule who need a job as soon as possible.
FAQ About Nurse Resume Writers
How Do I Find the Best Accredited Resume Writing Service for a Nurse Job?
With so many excellent options available, a comparison of the provided features and how they correspond with your needs is crucial. The pricing, customer support, and guarantees of interviews offered are important too.
What are the Pros & Cons of Using Nursing Resume Writing Services?
The pros include getting help from public health industry professionals and expert writers who know what it takes to create successful application packages and getting your resume written quickly.
The cons can revolve around time if you end up using a service that takes many days to produce an underwhelming product. And of course, some of the best options can get quite expensive too.
How Much Does a Nursing Writing Service Cost?
As you can see in our list above, getting a good resume written for you can cost anywhere between $139 and $495 if you're a fresh graduate with little to no experience. For more experienced professionals, these numbers go up.
How Do I Know that a Particular Nurse Resume Writing Service is the Best?
The best way to figure this out is to see some reviews for the nurse resume writing services you're considering. Going through actual user reviews will give you a great insight into which service actually delivers on its promises.
Let your accomplishments shine on your resume with the help of an expert. Check out Top Resume, a service praised for its knack at presenting professional histories effectively.
Conclusion
Writing your own resume is a daunting task and as you can now see, there are many different options for the best nursing resume writing services to help you. Each of them comes at a different price point and offers some unique features like a phone consultant or a writer that will work one on one with you.
Selecting one of the professional resume writers for nurses will come down to your personal requirements and preferences. But no matter which service you choose, you can be sure that you'll get a highly professional and well-written piece of content written by the best nursing resume writers.