Students and young professionals explore career paths in the legal realm to enjoy superior financial stability, job security, professional integrity, and a dynamic community presence.
However, building a flourishing legal career is not an easy feat by any means. It requires years of education, training, skill-building, and experience, which all require dedication and consistency.
Naturally, as with any given job, the real journey into a legal career begins by compiling an impressive and impactful resume to exhibit your marketability and win over your potential employers.
All people in any profession find crafting the best resume for a legal role requires the assistance of legal resume writing services. Young professionals whether attorneys, lawyers or otherwise, are strongly advised to seek out resume experts who are competent and experienced.
A resume for an attorney, judge, paralegal assistant, or young lawyer needs a tactful strategy, which aids in increasing their marketability and chances of being selected for vacancies in a prestigious law firm or in governmental positions.
Are you on the hunt for the best legal resume writing services to prepare a compelling resume to jumpstart your career? You've come to the right place! We've done all the research for you.
We've put together a list of the most competent and experienced attorney resume writing services to help you choose one that is best aligned with your needs and unique background.
Best value for money – Zipjob
Best option for C-level professionals – FindMyProfession
Fastest turnaround – CraftResumes
Now, let's take a look at the best professional resume writers for law firms and the legal industry.
Zipjob

Affordability.
ATS Screening.
Unlimited revisions.
60-day interview guarantee.
User-friendly and interactive web design.
No discounts are offered.
Complaints regarding delays and customer service.
Zipjob is one of the most popular legal resume services that enjoy credibility across the legal industry. It offers a user-friendly website experience with great customer support. Clients can interact with their writers to enjoy an interactive experience with regular feedback.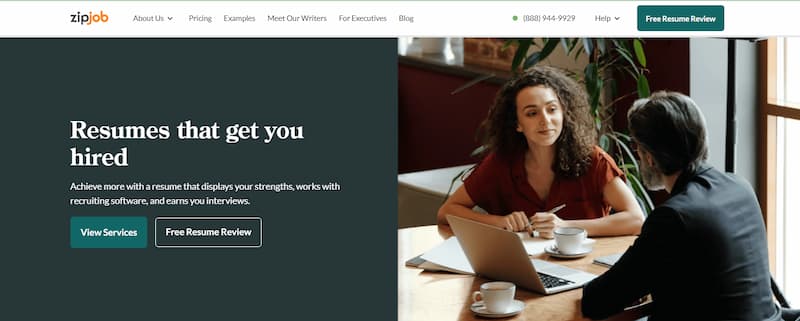 Prices
Zipjob's pricing ranges between $119 to $299, depending on the package you choose. It offers three packages:
Launch Resume Package
: Priced at $119, this package offers legal resume writing with keyword optimization, private chat with your writer, and as many revisions as required. The resume will be completed within 4-6 days.
Fast-track Resume Package
: Priced at $179, this package offers attorney resume services with quick 3-day delivery, cover letter, 60-day resume revision, and an interview guarantee.
Premium Resume Package
: The most expensive package is priced at $299. This one offers the most qualified attorney resume writers, speedy 3-day delivery, and all of the features mentioned above, alongside a LinkedIn profile makeover and unlimited resume updates.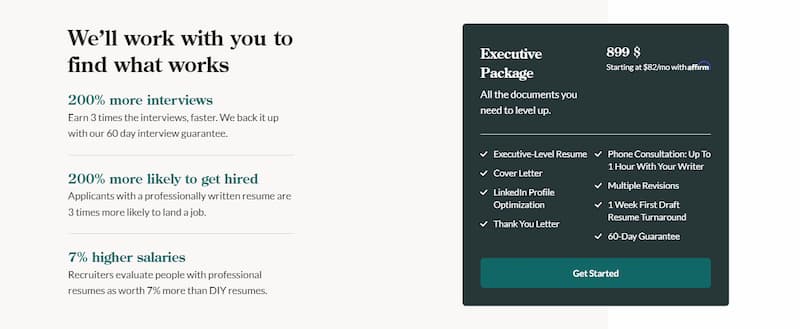 Quality
Zipjob enjoys significant popularity as one of the quality legal resume writing services. It has amassed a wealth of positive client reviews for its resumes. A wide majority of their customers are satisfied with their resume, the delivery, and resume quality.
Client reviews reveal that Zipjob writers deserve praise for their attention to detail, well-structured resume templates, and flexibility in providing multiple revisions of your resume.
Website/Mobile App Usability
Zipjob offers a highly interactive, user-friendly website design, which has proven a powerful contributor to its popularity.
Users and aspiring attorneys are attracted by the ease of accessibility and simplistic interface that allows efficiency and relevance when searching for a legal resume writer.
Zipjob does not offer a mobile application.
Customer Service/Support
Clients can freely interact with their assigned writers to articulate their requirements and exchange feedback on revisions and improvements if their legal resumes.
However, customer services can only be reached between their working hours of 9:00 AM to 6:00 PM EST, which is troublesome for most customers.

Guarantees
While Zipjob certainly isn't cheap, it is definitely affordable compared to other legal resume services, and it comes with a 60-day interview guarantee.
If you notice any spelling mistakes or the final resume proves unsatisfactory, Zipjob will provide a free resume review.
The platform offers a 100% confidentiality guarantee and will not share your personal and professional information you've provide for your professional resume with any third party.
Find My Profession

Timely deliveries.
Highly qualified professional writers.
Promotes professional growth with its services.
Networking opportunities & other features.
Expensive packages.
Lack of control over CV writing.
No guarantees of getting hired.
Launched back in 2015, Find My Profession is one of the top-rated resume writing services and the
best reviewed resume writing services
on our website. Its legal resume service offers numerous services, such as professional resume writing, cover letter drafting, and coaching sessions.

Prices
Find My Profession's attorney resume writing service prices range from $395 to $1295, making it one of the most expensive resume writing services out there. The basic package is priced at $395, while the VIP Gold Package comes in at $1295 plus an additional $149 if you seek a speedy delivery on your order.
Quality
Based on the legal resume service reviews we've come across on customer forums, Find My Profession enjoys a stellar reputation with a few bad reviews complaining about lack of control, lack of transparency, and no guarantee of getting a job.
It enjoys a 4.7 rating out of 5 on most forums, which is pretty good. Their reviews indicate that Find My Profession is a highly credible legal writing service, albeit expensive but worth it.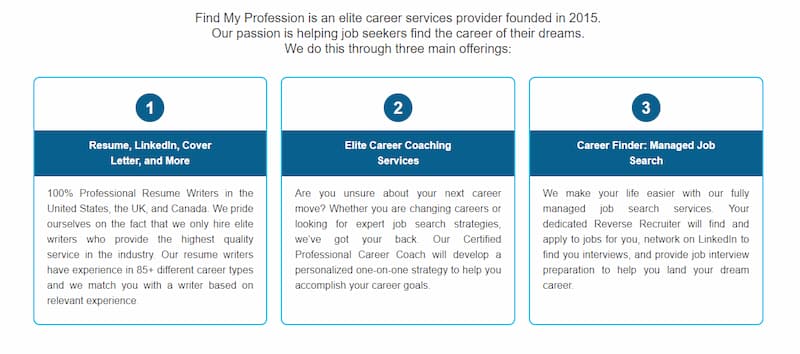 Website/Mobile App Usability
The Find My Profession resume writer website experience is highly immersive and offers users convenience and stability with its easy-to-use web design. It remains similar and consistent on both desktop and mobile, and the page loading speed is fast and reliable.
The platform does not offer a mobile app.
Customer Service
Find My Profession offers fairly efficient customer service. The team will reach out to you themselves to help you prepare for your interview or streamline information for your CV. It prioritizes customer feedback, but customers have complained about a lack of control.

Guarantees
This legal resume writing service does not offer any guarantees to its customers.
Craft Resumes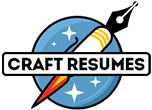 Affordability.
User-friendly web design.
Speedy execution of tasks.
A competent team of professionals.
Close attention to the client's requirements.
Complaints regarding customer service.
Limited tasks that this platform can offer.
Craft Resumes is a young legal writing services platform that enjoys immense popularity for its highly skilled cover letter writers and easy-to-use website design.
Prices
The prices offered are fairly affordable. There are three resume writer packages:


Career Start: Priced at $129.99;


Career Growth: Priced at $299.99;


Executive: Priced At 439.00.


Each category is designed to serve legal professionals in various phases of their careers and help them articulate their experiences and achievements in an imposing manner. If you're looking for a basic resume, their prices start from $139, depending on certain conditions.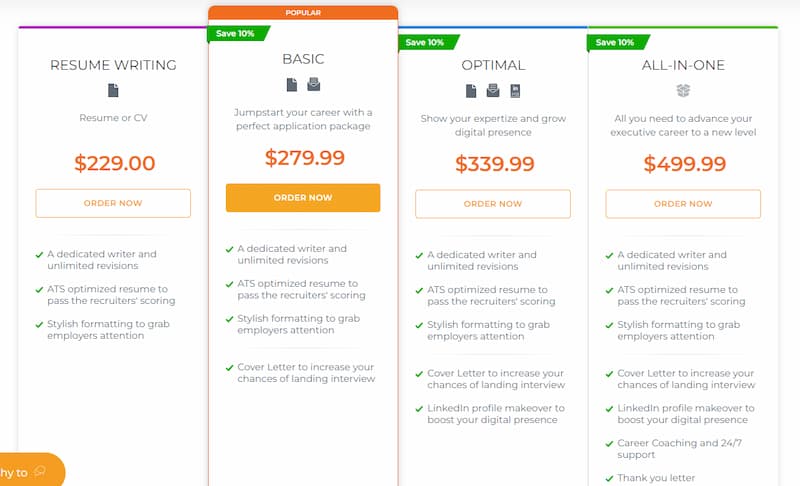 Moreover, the company offers a $10 discount for each additional service you choose from their platform. It is one of the relatively affordable attorney resume writing services that offer superior quality and flexibility.
Quality
Client reviews reveal that this company has a team of highly credible and authentic legal resume writers who are accommodating and responsive to client demands and feedback.
This ranks amongst the best legal resume writing services for its superior attention to detail, relative affordability, and packages designed by legal professionals from different career paths.
Website/Mobile App Usability
CraftResumes has an appealing website interface with a well-organized flow of information that allows users to identify all the information they need in their professional resume and job search without much browsing.
It offers a well-structured and easy-to-use interface, with a few noticeable flaws that the company has vowed to address. The registration process is simple and convenient, allowing users to get started with their attorney resume order without any delays.
There is no mobile app.
Customer Service
CraftResumes needs to improve its customer support services as many users have come forward to voice their concerns and narrate the issues they've faced.
Communication has been a problem for many of their customers. Their customer representatives take too long to respond and provide satisfactory responses to address queries and complaints.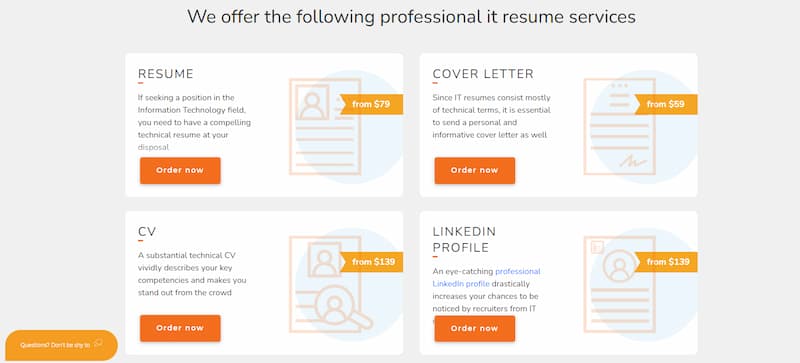 Guarantees
This legal resume writing service does not offer any guarantees, but it pledges to protect the client's personal and professional information.
Resume Writers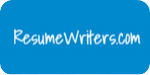 Outstanding quality.
Sample ideas for inspiration.
Responsive customer support.
Remarkable attention to detail.
Insight and tips for young professionals.
Outdated website design.
Does not offer online chat.
As one of the oldest and best legal resume writing services in the industry, this company enjoys superior credibility and commands a prestigious image across young and seasoned legal professionals. It caters to professionals seeking legal resume writers in various phases of their careers.

Prices
ResumeWriters is a fairly affordable platform, and it offers several attorney resume packages designed for professionals with differing needs. Their packages include:


Student Package: Priced at $169.95, this package offers a 72-hour turnaround with a 24-hour rush, a LinkedIn profile makeover, cover letters, one-on-one consultation, and more. You get a certified advanced resume writer.


Professional Package: Priced at $199.95, this is their most popular resume package, and it offers similar services as mentioned above.


Executive Package: Priced at $299.95, this resume package includes all the services mentioned above, along with the platform's most experienced legal resume writers.


Career Change: Priced at $249.99, the services in this resume package remain the same, with a focus on legal professionals who wish to switch to another career path.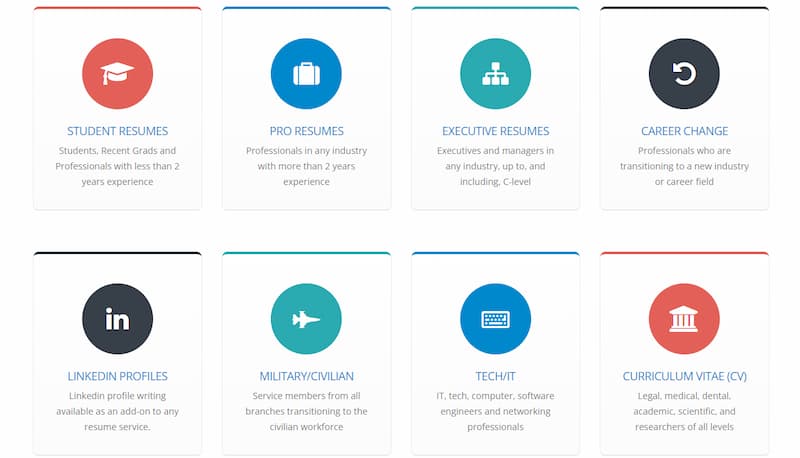 Quality
While exploring the quality standards of ResumeWriters, we came across many positive reviews left by satisfied customers. These reviews reminded us that 20 years of experience truly speaks for itself, allowing this platform to cement its position as a truly professional resume writer team.
It offers enhanced flexibility and highly qualified resume service writers. The services remain the same, regardless of the pricing plan you choose.
Website/Mobile App Usability
ResumeWriters lost our admiration with its old-fashioned website design, which explains why this platform has failed to attract millennials who seek seamless and user-friendly interfaces.
While the registration process is fairly simple, the platform does not support innovative add-ons and features that its competitors offer their users. As such, job seekers could be easily dissuaded from using this resume service.

This platform does not offer a smartphone app.
Customer Service
Customers can seek support through telephone and email. They have a robust response to address complaints and queries without delay. It is ideal for getting in touch with their customer representatives before signing up for their legal resume writing services.
Guarantees
They offer an interview guarantee within two months of submitting your resume and offer to rewrite the resume if you fail to get an interview call.
Resumeble

Timely deliveries.
Top-notch quality.
User-friendly website.
Highly experienced writers.
No refund policy.
Revisions take time.
Delays in the writer's response time.
A notable platform for legal resume writing services, Resumeble.com offers an immersive and seamless experience to its clients.

Prices
Resumeble.com offers a wide array of packages to address various budget requirements and offers maximum value. The cheapest, entry-level package is priced at $99.99. It offers a professional legal resume writer, three revisions, and an ideal format.
The premium package is priced at $299.99, which offers unlimited revisions, a professional writerin the legal field, free cover letter writing, and a 30-day interview guarantee, with a LinkedIn profile, thank you letters, and free follow-up.
Clients also enjoy exciting discounts and coupon codes that offer 20% off the regular price on their packages.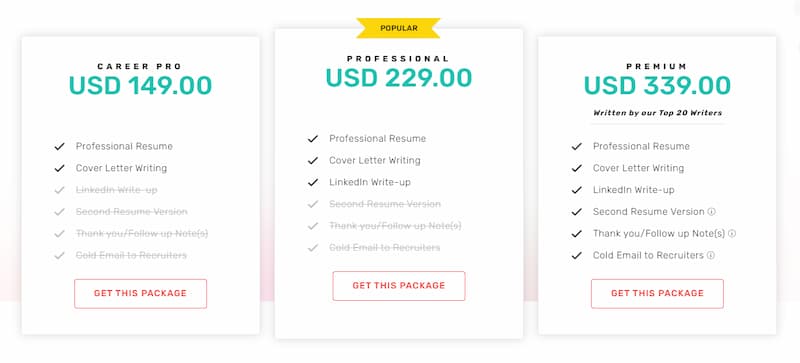 Quality
Upon exploring this legal resume writing service's reviews, we discovered that it offers top-notch quality. Very few complaints have come forward regarding its resume services.
Resumeble.com has a team of highly experienced and skilled legal resume writers. It ranks amongst the best attorney resume writing services for its credibility and timely deliveries.
Website/Mobile App Usability
The website interface is user-friendly and immersive, allowing clients to enjoy a simple sign-up process and ready access to relevant information.
This platform does not offer a mobile app.
Customer Support
Resumeble has a robust customer support offering, with highly courteous professionals who have cultivated a reputation for their friendliness, flexibility and legal experience.

Guarantees
Clients that opt for their premium package enjoy a 30-day interview guarantee.
FAQ
How Do I Find the Best Accredited Resume Writing Service for Attorneys?
While hunting for the best legal resume writing service, it is crucial to prioritize the elements of prices, quality, guarantees, customer support, and website design. These elements define your experience and the resume quality you will be delivered.
What are the Pros & Cons of Using Legal Resume Writing Services?
Using a legal resume writing service allows you to present potential employers with a well-structured, impressive, and industry-specific resume prepared by a legal professional with considerable expertise. However, it also comes with the risk of exchanging personal and private details with strangers as most legal writing services do not accept anonymous orders.
How Much Does a Legal Resume Writing Service Cost?
The cost depends entirely on the legal resume writing service you chose and the priorities you seek in terms of features, assistance and turnaround time. Typically, the prices start from $99 and go up to $1300 and more.
How Do I Know that a Particular Legal Resume Writing Service is the Best?
It is crucial to conduct your research before choosing a legal resume writing service to entrust your professional integrity and potential job prospects. Client reviews will tell you a great deal about the kind of experience they offer and the shortfalls in their services.
So, Who are the Best Resume Writers for Law Firms?
Summing up, we sincerely hope that this article proves helpful in your search for the best legal writing services to jumpstart your career in the legal arena. We sincerely believe that the best legal resume writers work at Zipjob, CraftResumes, and FindMyProfession.
Hopefully, one of these companies will assist you with getting that job in the law firm, whether that's as an attorney or any other legal job. Be sure to prioritize quality and affordability so you can enjoy a seamless and effective resume writing experience.