How do we choose the best online English learning websites? At EduReviewer, we take different factors into account to determine which are the best English learning websites. This includes the quality of their services, prices, online credibility, and customer service. To consider putting any one of the aforementioned websites for English language learners, we ensure that students won't run into any unexpected problems when signing up for the service.
Why do you need to take into account EduReviewer's review? First, we take our time when we write our reviews. Second, our goal is to help young people improve their skills in different subjects. Therefore, we felt the need to create a list of websites to learn English for everyone who wants to learn how to speak or write better. Looking for the best online tutoring platform? Compare Varsity Tutors vs Wyzant and choose the one that fits your learning needs!
Gone are the days when you had to take in-person English classes to improve your skills. Now, you can use the internet to your advantage to boost your vocabulary and learn proper grammar.
In addition, there are websites specifically created to help people from across the globe to learn English. Here are some of the best English learning websites you can use today.
What Are Top English Language Learning Websites?

A smartphone app is available for Android and iOS users.
A money-back guarantee is available for your first lesson.
Easy to sign up and start using the service.
You have to adapt to your tutor's availability.
Students have to pay a 9% service fee.
Wyzant is a tutoring website that was founded in 2005 with the idea to promote one-on-one learning. It's essentially a digital marketplace that connects independent tutors with students. In terms of quality, they're among the best English learning websites you can find today.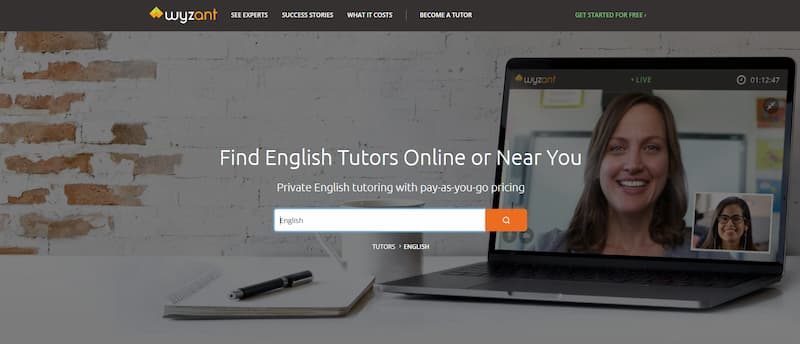 Depending on the tutor you choose, you'll pay anywhere between $35 and $55 for an hour-long lesson. There are no costly packages or upfront fees on this service, and you get to choose your tutor. Wyzant has a great app available for both Android and iOS smartphones. You can use the app to set up reminders for upcoming lessons, get in touch with tutors, track your progress, and more.
Wyzant has a website that's simple to use. You can check our full Wyzant online tutoring review to get to know more about this company. The sign-up process is straightforward and allows you to choose the time zone you're in as well as the academic level at which you want to learn. What makes Wyzant one of the most reputable sites to learn English is that they offer the Good Fit Guarantee, which means that you'll pay for your lesson only after it's over and you're happy with it. In case you're not satisfied with it, you won't be charged.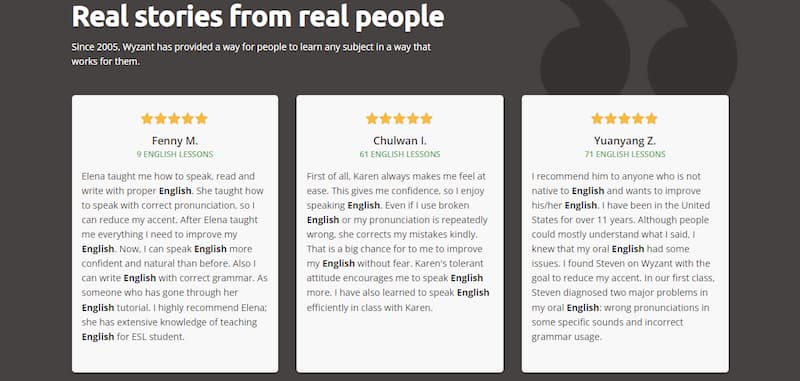 The customer service on the website is reliable and responsive. If you send them a message, you can expect to receive a reply shortly.
In your quest to find the best English learning sites, consider our comparison of
Mosalingua vs Memrise
. This can give you a clearer picture of the tools available for language learning.
Preply

Money-back guarantee for your first English lesson.
It's one of the more affordable English learning websites.
You're not able to transfer credits between tutors.
You can only buy lessons in bulk.
Preply is one of the English language learning websites that promise affordable rates for students. This company was founded in 2012 and has enjoyed a lot of success since. According to the information found on their website, there are currently more than 12,000 tutors signed up on this platform.

Although Preply is far from the best website for learning English in quality, it can be pretty affordable depending on the tutor you choose. The average cost of an hour-long lesson is around $17, while some only charge a few dollars per hour. Of course, if you want top-quality assignments, you'll need to pay somewhere between $40 and $80 per hour. You can check our full review and Preply English tutor reviews from students to find more information about their pricing. However, that's only if you want advanced English lessons. Regardless of which tutor you choose, except for all classes to be done via Skype.

Preply offers a money-back guarantee for your first English lesson but afterward requires you to buy in bulk. The bulk lesson plans are set up in 5-hour increments. One thing that's important to note is that you can't transfer credits between different tutors. You can find a Preply app for both Android and iOS smartphone users. You can reach their support team via email. The customer support agents are kind and reply to questions promptly. Even though it is not perfect, it is still one of the best English learning sites.
When exploring the best English learning sites, it might be useful to check out our list of the
best Spanish learning apps for adults
. This could offer additional avenues for expanding your language skills.
Cambly

Outstanding services are available for kids, adults, and organizations.
A fantastic app is available on Google Play and the App Store that allows you to learn on the go.
The cost of their services is relatively high.
You can only choose between a monthly, quarterly, or annual subscription.
Cambly is one of the websites to learn English, which you can access either through your smartphone or computer with a web camera. This service has plans that help kids, adults, and organizations learn English. Unfortunately, even though the quality of this service is outstanding, it's also one of the more expensive English learning platforms. To be sure that Cambly is a top-notch company in terms of quality, read our Cambly review.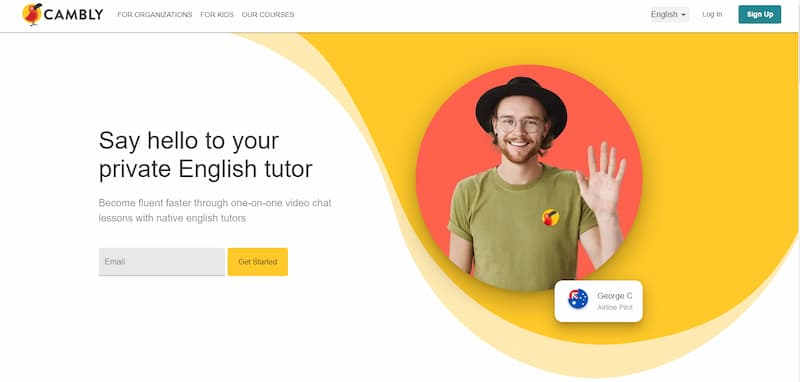 What bothers most students that look for websites for English learning is that you don't pay per lesson but instead in bulk. You get to choose whether you pay on a monthly, quarterly, or annual basis. The minimum you'll have to pay is $52 per month, and that's only if you choose to learn 30 minutes per week. If you want to have five hour-long lessons per week, a subscription would cost you $269 per month.
Cambly has a simple website that you can sign up for and use intuitively. They also have a great app available both on Google Play and the App Store.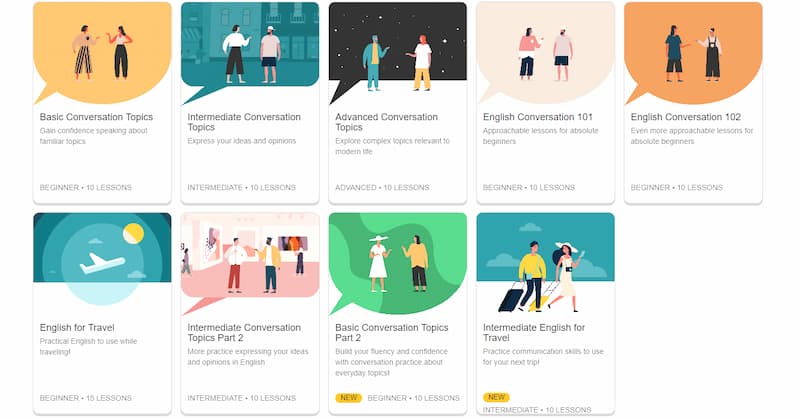 Unfortunately, you can reach customer support only through email, and it often takes some time before you get a response.
Varsity Tutors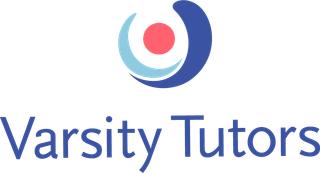 You can decide between one-on-one lessons or learning in small groups.
They have an excellent platform for online learning with several impressive features.
Course content is geared more towards US-based individuals.
They don't display clear information regarding pricing on their website.
Varsity Tutors is an online service that allows you to learn English via their live learning platform that features video chat and a virtual whiteboard. You have the option to choose between one-on-one lessons and learning in small groups.

Is Varsity Tutors a scam? If you want to learn more information about their learning options, check out a detailed Varsity Tutors review, where we gathered all the necessary information. They also sometimes hold lessons for large groups, which are free.

The price of their services depends on several different factors, such as whether you feel comfortable studying in a group or the academic level you want to learn. In addition, there is a Varsity Tutors app available for Android and iOS users.
As you explore English learning sites, you may be interested in broader online learning platforms. Our
Outschool reviews from parents
can provide insights about this learning community for kids and teens.
italki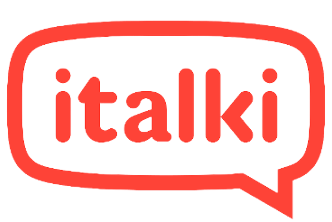 You get three 30-minute trial lessons.
The support team is incredibly efficient.
The cost of an average lesson is above the industry standard.
Users have to pay a 4% service fee.
italki has been helping people learn English for more than 13 years. They currently have more than 10,000 tutors who teach English at different levels. Most users are genuinely happy with the quality of this service, and it might even be the best website to learn English on the internet.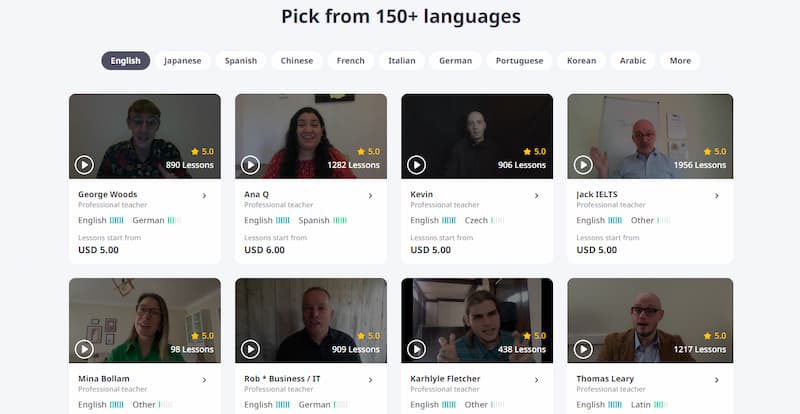 However, you will have to pay extra for that quality, with the average lesson costing around $64 per hour. To learn more information about italki, check the italki review we have recently made. You get three 30-minute trial lessons when you sign up, but you can't get any refunds after that. You'll also have to pay a 4% service fee.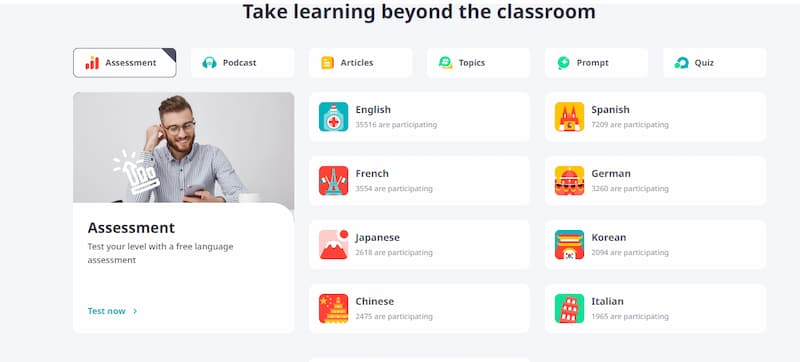 The customer support team is always there to help users quickly. If you like studying on the go, you can download the italki app, available on iOS and Android smartphones.
Lingoda

You can easily find a tutor at any time of day.
The lessons on Lingoda are affordable.
Lingoda doesn't have a mobile app.
Lingoda is among the top learn English websites where you can participate in both one-on-one and small group lessons. You're able to customize your schedule on this platform, as they offer lessons during any time of day. Along with every video lesson, you get interactive class materials.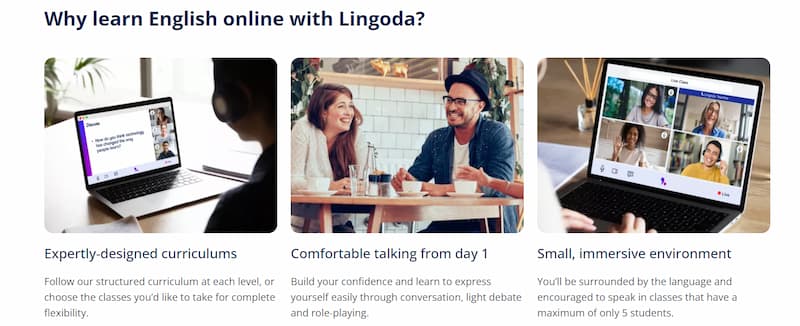 The lessons on Lingoda are pretty affordable. For a bundle of five-hour-long private classes, you pay $28 per lesson. All private classes are held via Zoom. Unfortunately, this service doesn't have a mobile app. For everyone interested in more information about Lingoda prices, we have gathered all the information about this company in our Lingoda review, so check it out. If you sign up for this service now and use the promo code available on their website, you get a 30% discount on subscriptions lasting at least three months.
FAQ
What is an Online English Learning Site?
English learning websites are sites created with the specific reason of helping people of all ages improve their English skills. In most cases, they're digital platforms where both students and tutors from different countries can sign up and use the service.
What are the Pros & Cons of Using English Learning Sites?
Some of the websites we mentioned allow you to set up in-person lessons with tutors. This is a huge advantage, especially considering that the biggest con of using learning English websites is learning via Skype sessions. Another common issue with these websites is that you usually have to buy in bulk instead of paying for lessons one at a time.
One of the pros of using top English learning websites is that you get access to excellent tutors worldwide from the comfort of your home. Another great thing is that you can learn according to your schedule.
How Much Do English Learning Sites Cost?
The cost of English learning websites for both adults and children depends on the service you choose. Some companies pride themselves on offering affordable lessons, while others showcase their high prices as a sign of outstanding quality. In general, you should expect to pay $20-$50 per hour.
How to Get More Out of The Best Websites to Learn English?
If you want to get more out of good English learning websites, you should check whether they have a smartphone app available for download. You can use these apps to improve your skills on the go.
How Do I Know that a Particular English Learning Site is the Best?
While there are several great websites for learning English, only you will be able to determine which is the best for you. Fortunately, most of these sites offer a money-back guarantee for your first lesson to help you decide whether it's the right fit for you. In case it's a perfect fit for you, you can rest assured that it's the best website to learn English.
Conclusion
There are countless websites for learning English online, but most of them are not worth your time or money. So, to help people across the globe get the tutoring services they need, we compiled this list of what we think are the best English language learning websites you can find on the internet.