Looking for a job can be stressful because it can involve a lot of waiting. In most cases, you are waiting for so long for some company to call you for an interview because your resume didn't catch the potential employers' attention. You can change that with ease.
Many fantastic and yet cheap resume writing services can provide what you need – a resume that stands out and shows all of your qualities. By getting the assistance and having a qualified writer on your side, you will have a resume that will be different, and it will stand out from the rest. It will increase your chance to get an interview and land the job of your dreams.
If you are not sure where to start, keep reading. We will provide the list with some of the best affordable resume writing services that you can consider and eventually hire one of their writers.
You can learn about the services these providers offer, the prices, the writers, guarantees, and more. Quality and yet cheap resumes are right around the corner. Without further ado, let's dive in!
ZipJob

Clients can communicate with writers one on one, and that brings fantastic results;
The provider offers unlimited revisions until the client is 100 % satisfied;
Quick turnaround (between three to six days, depending on the package).
Packages are the only purchase option;
The provider does not offer discounts.
When it comes to affordable resume writing services, ZipJob is one of the providers that stand out. It keeps proving that creating a top-quality resume does not have to cost a fortune. The chances are you will find what you need on this website. It is because it offers the services at prices hardly anyone can beat, but not just that. The provider has outstanding writers in their team, and every single one has the highest qualifications.
Prices: ZipJob has three available packages for the customers to choose from, launch, fast track, and premium. The costs for these packages range from $139 to $299. The packages that have the higher price include additional services.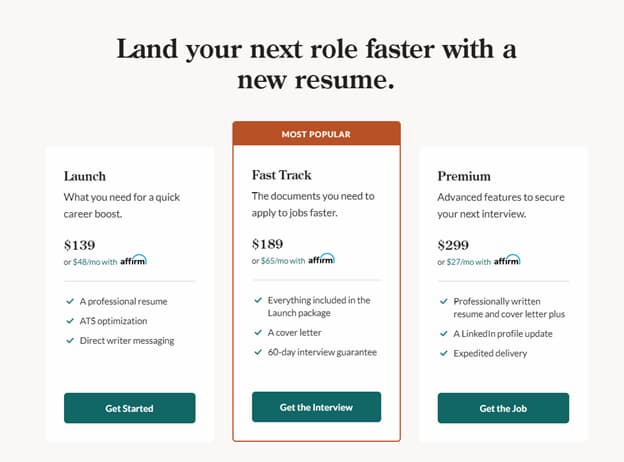 Quality: Although ZipJob is all about creating cheap resumes, it does not mean the quality is missing. Just the opposite. You can count on an excellent resume that will contain all the necessities that will show your experience, qualities, and skills. The order will be completed in time.
Services and Writers: ZipJob offers affordable resume services, and it has a team of professional writers with backgrounds in various fields, from career coaching to HR and recruiting. The writers are creative and always ready to help the customers in every way possible. It is crucial to have an experienced writer on your side, and that's precisely what you can count on if you go for the ZipJob.
Website Usability: The website has an excellent design, and it is easy to navigate. It allows users to find what they need in a matter of seconds.
Customer Service/Support: Clients can reach customer support in a variety of ways. The website offers email forms, live chat, and phone support. You can choose whatever suits you best.
Guarantees: If you hire one of the company's cheap resume writers, the company guarantees 2-3x more interviews. If you do not get more interviews within 60 days, ZipJob will assign a senior writer to check and update your resume.
Scam or Legit: ZipJob is a legit provider, trustworthy, safe, and secure. The company managed to build an excellent reputation over the years.
ResumeZest

All the writers are native ones and are US-based;
Clients can interact with writers 1-on-1;
Rush service is available – it includes a 48 hour resume turnaround time;
Resumes are ATS-compatible.
The provider offers no discounts to its customers.
At ResumeZest, you will find professional, skilled, and experienced writers ready to help you land a job by creating the most impressive resume. The company will provide a cheap resume writing service, but the price will not affect the quality because you will get an excellent overview of your education, skills, and experience. All the resumes are appropriately formatted, created by experts, and are ATS-compatible.
Prices
: The company offers three packages for the customers to choose from. The fees range from $179 to $379. More affordable packages come with the basic service of resume writing. By selecting the packages that have the higher price, you will get additional services as well.
Quality
: By hiring one of the resume writers from ResumeZest, you will get cheap resume services online, and the quality of work will be outstanding. All the resumes are ATS compatible and are uniquely designed. In other words, the writers won't just fill out the templates. They will create an entirely original resume.
Services and Writers:
ResumeZest offers resume creation and additional services such as LinkedIn Profile write-up, professional bio, thank you letter, cover letter, and the rush service (48 hour resume turnaround time). The writers have years of experience and are experts in various fields. In addition, all the writers are US-based. You can interact with the writer 1-on-1.
Website Usability:
The company's website has a professional design. It is user-friendly. Potential clients can explore the content and get the info they need with just a few clicks.
Customer Service/Support:
ResumeZet support team is available to the customers between 9 am – 5 pm ET. You can reach it by sending an email or by placing a call.
Guarantees:
The company guarantees that you will get an interview within 60 days. If that doesn't happen, they will rewrite the resume for free.
Scam or Legit:
 ResumeZest is legit and one of the best cheap resume companies online that is trustworthy and safe.
CraftResumes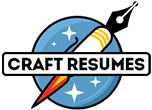 The provider is offering a great set of services;
The writers are professional and skilled with years of experience in the field;
Prices are very affordable.
At times, reaching customer support can be tricky.
Another excellent option for those who are looking for cheap resume services is CraftResumes. It has been in the business for years, and as a result, the writers can easily create a resume that will catch the attention of your potential employers.  The CraftResumes team understands your need to get a perfectly written resume, and they always give their best to deliver exceptional quality.
Prices
: The costs vary and depend on the services you want. The fees range from $229 (resume only) to $499.99 (the package with a resume and additions such as a cover letter, LinkedIn profile makeover, and more).
Quality
: If you have never used such services before and think you can't expect the quality, CraftResumes will prove you wrong. The provider offers cheap professional resume services you can count on anytime. All you have to do is place the order and leave the rest to the team of writers.
Services and Writers
: CraftResume provides resume services, but they also offer resume editing, CW writing and editing, cover and thank you letter writing, and more. The company has top-quality writers who know exactly how to highlight the vital aspects of your career so that your resume can be an eye-catching one.
Websites Usability
: The site is nicely organized, and it is elegant. Customers can browse and gather information quickly and effortlessly. Customer service/support: If you need some assistance or have some questions, you can contact customer support. The options you have are the live chat and the email, whatever suits you.
Guarantees:
If you are tired of waiting, you will like the fact the website guarantees you can land an interview within 60 days.
Scam or Legit
: It is a legit service you can count on if you need a professional-looking resume.
Resume Writing Lab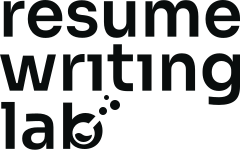 You can get the resume without paying for the package, but for the resume only;
The website is user-friendly and easy to navigate;
The writers have strong attention to detail and are incredibly creative.
Contacting customer support is possible only through email, which is not ideal, especially when needed urgently.
If you are looking for cheap professional resume writers, you can end your search because Resume Writing Lab offers the service, and some of the best writers provide it. The company will make sure you get the resume you are going to like. It will contain all the required information and more.

The Resume Writing Lab writers will go above and beyond to deliver the work that will guarantee your satisfaction once completed. It is one of the top providers that is a synonym for top-quality cheap online resume service.
Prices:
The resume writing costs $139. If you want additional services such as LinkedIn profile writing, cover letter, or else, the price will go up.
Quality:
Finding the best cheap resume writing service may seem impossible, but Resume Writing Lab is doing an excellent job at affordable prices. They create attention-grabbing resumes without compromising the quality, so you get the best of both worlds. With thousands of satisfied customers, the provider is one of the leaders in the resume creation field.

Services and Writers:
The leading service the company provides is the creation of resumes. Customers can get additional services if needed, such as LinkedIn Profile creation or makeover, cover letter writing, thank you letter writing, etc.
Website Usability:
The site is user-friendly and easy to navigate. The design of the site is modern, and it gives out a pleasant visual appeal.
Customer Service/Support:
Contacting customer service is possible only by filling out the form on the website and sending the email.
Guarantees:
The provider guarantees confidentiality, and the privacy of the customers comes first. No one will know you used the service. All your data is safe and protected.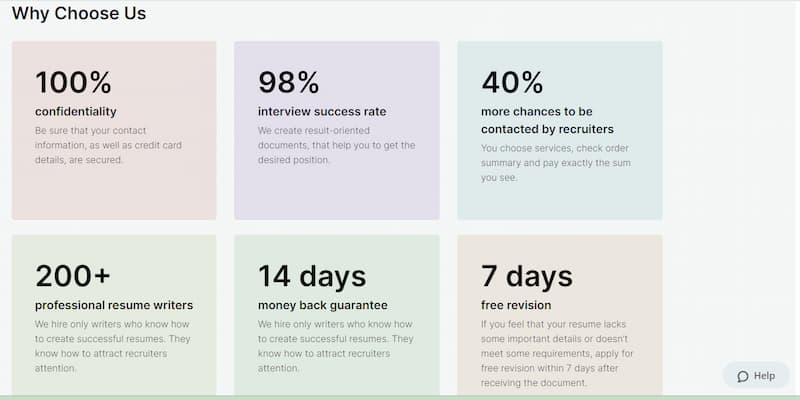 Scam or Legit:
Resume Writing Lab is a legit provider, safe and secure. You can relax knowing you have selected a trustworthy option.
Resumeble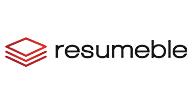 Great packages available at competitive prices;
There is an option to gift someone a resume.
There is no mobile app available.
Resumeble is excellent for everyone who is looking for an affordable resume writing service. The provider and its team of writers will help you get an interview so that you can finally say goodbye to waiting. Resumeble has been in the resume creation business for years, and they have built their reputation and gained respect from clients worldwide.
One of the exciting things the company offers is the option to give someone a resume. If you want to put a smile on the face of the person looking for a job, this could be a perfect way to achieve that.
Prices
: Resumeble is offering three packages. The prices of these packages vary and range from $149 (resume and a cover letter writing) to $339 (resume, cover letter, another resume version, LinkedIn write-up, and more).
Quality
: People who used Resumeble for professional and affordable resume services have only nice words to say about the writers and the provider in general. The company offers eye-catching resumes at prices hardly anyone on the market can beat.
Services and Writers
: Resumeble has a fantastic set of services you can count on. The most important one is resume writing, but you can also select the package that includes additional services. You will get the chance to hire expert writers that have years of experience. In addition, the site has a 1-on-1 approach that allows you to communicate with the writer. Thanks to interaction, you can count on the maximum value of your resume.
Website Usability:
The website looks professional, and it contains all the necessary information clients could be interested in. It is easy to navigate as well.
Customer Service/Support:
The clients can reach the support by sending an email or calling them.
Guarantees:
Hiring a cheap resume writing service like Resumeble can increase your chances of getting an interview. That is what this provider guarantees. If you don't get an interview within 60 days, the company will rewrite your resume free of charge.
Scam or Legit:
Resumeble is a legit service, and there are hundreds of cheap resume writing services reviews that confirm it is a trustworthy provider.
FAQ
How Do I Find the Best Affordable Resume Writing Service?
We are here to help you in finding the best affordable resume writing service. You can find some of the top-quality providers that have built their reputation over the years of an online presence. When searching for the service, several things must be considered before deciding and choosing the company.
The price plays a significant role. You want to find the service available at costs that match your budget. Next, the provider must offer all the services you need. Perhaps you need more than just resume writing, so you need to ensure additional services are provided as well. Quality of service is equally important. You can quickly figure out whether the service is worth your attention by reading the reviews left by the previous customers. If you see many negative reviews, it is a clear sign to skip that provider. If, on the other hand, there are many positive reviews, it is an indication that the company is doing a great job. The skills and experience of writers are something you need to take into account.  In addition, always choose the company that has customer service.
What are the pros and cons of using cheap resume writing services?
The usage of these services brings many benefits. You don't have to do it yourself, which means you can dedicate your time to other things you find essential. One of the biggest perks is getting a professional-looking resume that will stand out from the many others the HR departments are getting. It will automatically increase your chance to get an interview and eventually a job. The whole experience of using the resume creation service is stress-free, and it does not require any effort from your side.
When It comes to cons, you need to keep in mind that there will be no downsides by choosing one of the companies listed above. The cons are possible only if you select a company that is not reputable and trustworthy.
How do I know if a particular resume writing service is best?
Several things make a particular resume writing the best. The company should have a team of dedicated writers who have experience, knowledge, and skills. The writers should also possess a certain level of creativity. If that's the case, they will be able to create outstanding resumes. Ensure the company has US-based writers.
Next, the quality of the work should be excellent. You can always learn more about the quality by reading the reviews left by people who used the service. The company should offer a variety of services at reasonable prices, and it should provide guarantees. The company should be able to meet the required criteria. Finding the ones that are associated with national associations would be best.
Our reviews can be your source of information as well, as we conduct extensive research. Every review we create considers the most critical factors.
Are there any free options available? Should I use them?
Going for a free resume writing option is not something you should opt for. A great-looking resume that has all the essentials and that shows off your skills and experience in a proper way may lead to the job of your dreams. You don't want the HR team to miss your resume because it didn't stand out. That is what is going to happen if you select the free option. You will be able to save some money, but you won't be called for the interview.
Other not so cheap alternatives that are worth a mention
If your budget is not limited and allows you to spend a bit more, you may consider the options that are not so cheap. Some of the websites you can consider are TopResume, ResumeWriters, Resume.io, to name a few.
Conclusion
Finding the best service for resume writing is not simple as it should be. Many companies that became part of the market turned out to be either unprofessional or a complete scam. However, the providers that are dedicated to excellent quality service and professionalism didn't give up. For that reason, you have the chance to use the services provided by the trustworthy and legit options.
This review has provided a list that comes with some of the best cheap resume companies. All the companies that are included are legit and secure. In other words, you can't go wrong by choosing one of the options from this list. We have considered the critical factors, such as the prices, the quality of work, services, and more.
These sites have the best writers with expertise in various fields and years of experience. We always give our best to provide you with a list that includes reputable and trusted companies. It means that you can count on quality, satisfaction, and peace of mind.
When choosing a service for the thing important as the resume is, always take your time. Never do it in a rush, as you may end up disappointed. Making the right decision does not have to be as challenging as you may think.
Read the reviews that other people left, and explore several options. Eventually, you will find a company that will be just perfect for your needs, desires, and your budget.
Always remember that spending your money on services like this one is an excellent idea. You are investing in your future. Yes, you will spend some of your money now, but you will soon get it back. A good resume significantly increases your chance to get an interview. It ends the waiting, and it ends the frustration.
It moves you closer to your dream job or your promotion. We understand all that, so we have created this list to make sure you pick the legit, professional, and affordable service.