Introduction to PrepScholar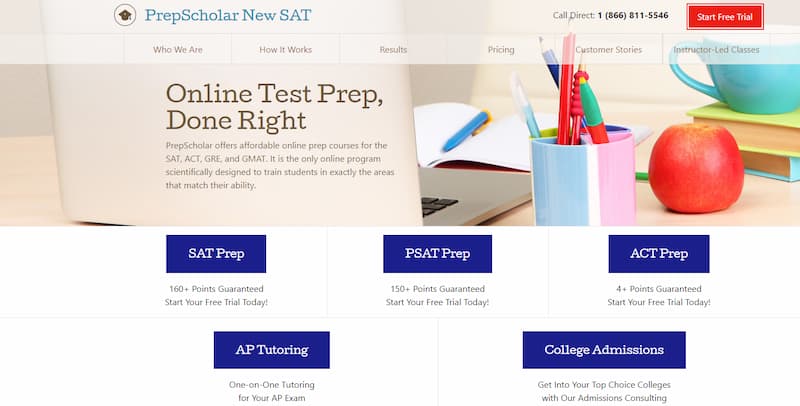 PrepScholar is an online education program that helps students prepare for an array of tests and exams. The platform is developed by combining standardized tests with machine learning algorithms.
PrepScholar is known to be an affordable, intuitive, and interactive platform that aims to provide personalized study curriculums.
Students who want to achieve higher goals on TOEFL, SAT, and GMAT have been using this platform for a while.

Turns out that they now offer a specific program for GRE exam preparation as well. And the good news is that we are going to evaluate this platform to help you decide if you could benefit from joining their GRE program.
For the ones interested, find a detailed review of PrepScholar on our blog.
In this article, we will only focus on their GRE service, which is implementing cutting-edge technology to bring spectacular GRE results. So let's get started with our PrepScholar GRE review!
GRE Course Review

In order to analyze the GRE course that PrepScholar provides, I had to subscribe to the program and test it out myself. To start off, I will quickly explain what is a GRE exam!
The Graduate Record Examination is a standardized test that is an admission requirement for many universities in the United States, Canada, and a few other countries.
It consists of equal parts of analytical writing, quantitative reasoning, and verbal reasoning.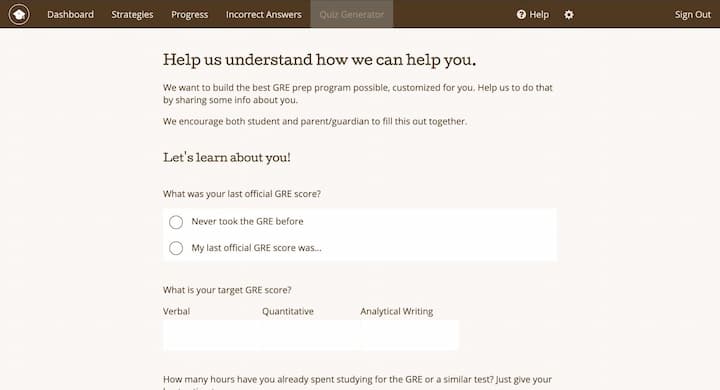 According to the Prep Scholar GRE prep review, nearly a million students make this assessment every year in order to run for a desired masters or doctoral program.
Since students prepare for a GRE along with their other studies practice tests, it helps a lot to have personalized weekly lessons to keep them on track with getting ready for the actual test day.
What do I mean by personalized lessons? PrepScolar actually customizes each user's curriculum by getting to know the student with a quick but in-depth questionnaire.
Analysis based on the questionnaire will customize a personalized class plan for each peer.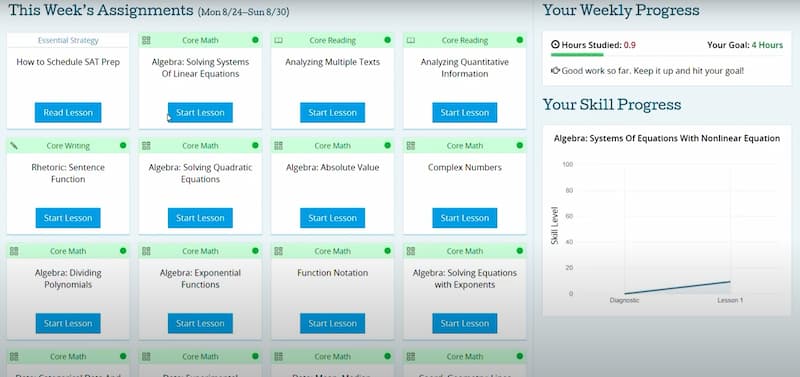 Once I signed up, I had to answer questions about my previous GRE scores and/or what score I'm after. How am I allocating time between my other studies and if I'm using any other materials to practice for the GRE?
They also gave me a GRE-type test to evaluate practice test my knowledge. With all of this information, they are able to put together a lesson plan designed for my benefit.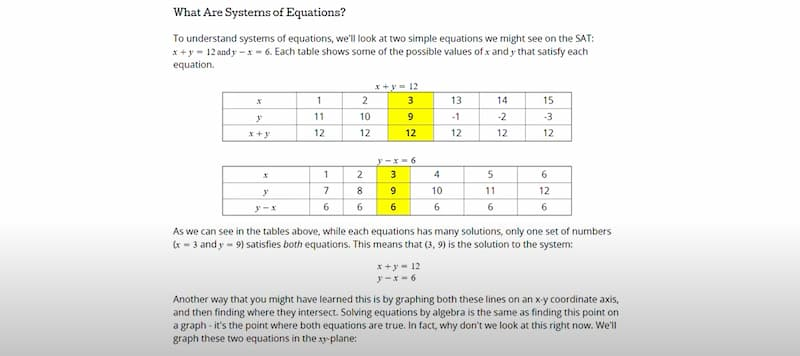 From then on you will see a dashboard with lessons and quizzes on the key GRE skills, that you should study first. As you master these, you'll get new and more difficult lessons as you proceed. Sounds great, right!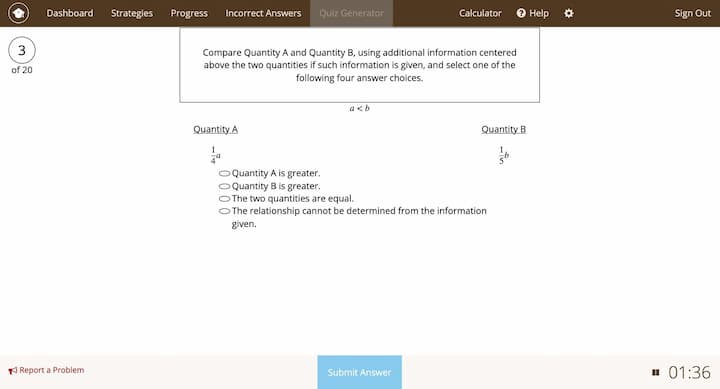 The platform and the user interface are easy to navigate. Various video tutorials explain each topic promptly and in-depth.
As mentioned earlier, this program is scientifically designed to understand students' strengths and customize exactly upon them. This is appreciated by a lot of users and/or their supervisors.
"My son is in his second year and scored 99th percentile on his GRE. I like that PrepScholar gave him advanced lessons right for his skills," says Phillip Uros in the Prep Scholar GRE prep reviews.
Will I Benefit from PrepScholar GRE?
As explained above, this platform is for students who are preparing to write a strong GRE test that will pave the way for their dream university position.
There are two types of students: the ones who work well independently on practice material and the ones who benefit from in-person teaching with a professor. Based on our PrepScholar GRE prep review, preparing for a GRE test demands a lot of devotion and independent study.
Tho PrepScholar GRE course is an online course, meaning you won't be able to interact with the professor, the program is built to adapt with each individual.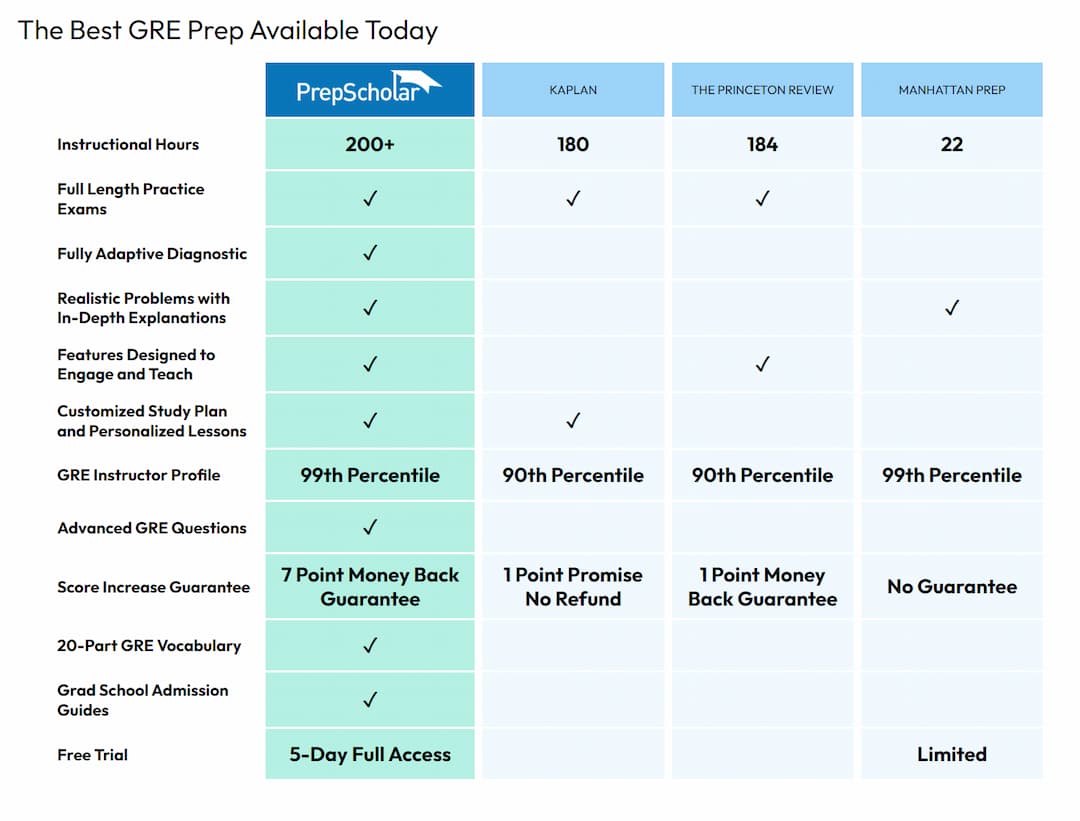 All PrepScholar courses start with a diagnostic test. This test is designed to pinpoint the student's capabilities. On the basis of this diagnostics, they offer interactive classes for each student focused on the aspects they need to improve.
"I can tell that students who study with GRE prep programs are more confident on the test day. GRE exam is meant to test the college candidates' quantitative and verbal skills. It's obvious that maths-trained students feel insecure about their verbal skills and vice versa, but these prep programs really train students to solve complex questions from various topics," says a GRE examinator from the Educational Testing Service.
Based on multiple PrepScholar GRE reviews we're confident to recommend this program to anyone wanting to ace the GRE exam.
Not only is this platform built on cutting-edge technology that allows for personalized curriculums, but it also has a very compatible and affordable price. Always take time to do your homework on different services out there before committing to any paid subscriptions.
But also take our advice that this is one of the best GRE platforms out there to help you achieve your college dreams.

Founders and Tutors
You might be wondering, who is running this company? PrepScholar got started back in 2013 by Fred Zhang and Allen Cheng. Allen is a Harvard/MIT MD/Ph.D. with honors in Medicine and Biomedical Engineering. Co-founder Fred is a Ph.D. with honors in Economics from Harvard.
Not to mention, they both have top GRE scores. With their board-based experience in education, they started a company and designed an innovative machine learning algorithm that's driving PrepScholar's GRE course.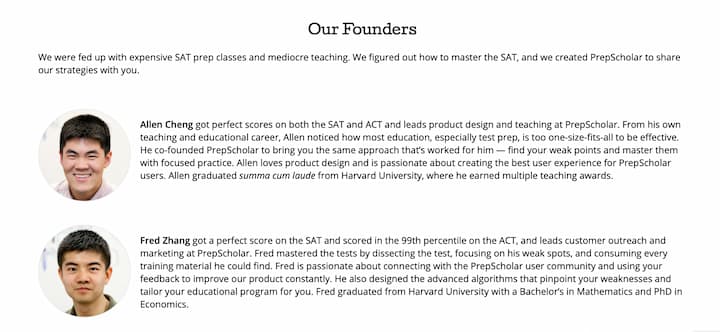 Furthermore, all the instructors have 99th percentile GRE scores, making it the perfect party to learn with.
"All of their tutors are known for tailoring classes according to student's learning style and abilities," says professor Craig Dodd from NYU.
You'll meet some of the instructors over video lessons, which are designed to dive deep into more sophisticated topics. It's true, that some students need in-person communication when learning challenging material. Unfortunately, this program is built upon pre-made course materials only, so you can't really discuss topics with the tutors.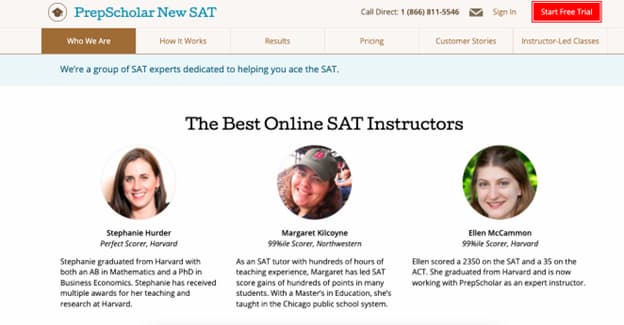 If you are looking for good tutoring services, check our list of the best ones.
Nevertheless, the software is built intuitively on the student's achievements. Let's say you fail a test or take a long time with a lesson. The program recognizes that the student is having problems with a particular lesson and adjust the curriculum accordingly.
Now the other way around – a student is acing smaller task and the adaptive diagnostics will give this student more advanced lessons. With this method, everyone can learn at their own pace and according to their level of knowledge.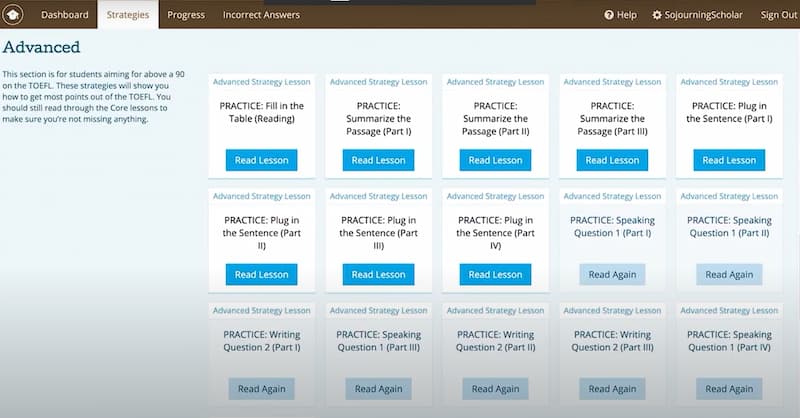 Pricing of GRE Courses
Compared with other similar platforms, PrepScholar is actually widely appreciated due to its affordable tuition. They offer a five-day free trial, which is great to be able to test out the GRE prep courses before making any financial commitments. While you are in the free trial, you will not have full access to the course.
Current Prices
As soon as you decide that you'd like to continue with the course, simply click any of the buttons that say "Get Full Access," enter your payment information, and proceed with GRE study.
"Best Selling" package gives you access for a whole year. At the moment, the prices are generously reduced, so if you're considering subscribing, do it today for a fraction of the price. You see, a yearly membership worth $398 is discounted to $38.
This one-time fee includes all materials, fees, and applicable taxes. There are no mandatory fees, surcharges, books, or other items that you need to purchase in addition to the base price you see when you sign up.
"Lifetime" package opens up unlimited access to all GRE program features. This package is used by students who aren't sure when they'll be applying but want to prepare full length practice exams and get a study plan that will support their future exams.
"It is hard to prepare for entry tests like the GRE by yourself. There is so much study to do, and you can make so many mistakes without even knowing," says Jessica Lopez, an expert of entry tests and a writer for Edureviewer.
The courses are 100% online and will be charged just one time for any plan. The "Lifetime" package worth $848 is currently at a price of $345. Take a look at the table below to compare the three packages and see exactly what's included in the price!
Just so you know, based on the student feedback on PrepScholar GRE prep course reviews, the "Best Selling" package is the most chosen program. Learn more about PrepScholar's prices in our separate article on this topic.
GRE Prep Options at PrepScholar
| | | | |
| --- | --- | --- | --- |
| Package | Free 5-day Trial | Best-Selling $38 | Lifetime $345 |
| Adaptive Diagnostic Exam | YES | YES | YES |
| 150+hrs Lessons | YES | YES | YES |
| Study Plan | YES | YES | YES |
| Personalized Scoring | NO | NO | YES |
| 300+ hrs Mini-Lessons | NO | YES | YES |
| 1,500+GRE Questions | NO | YES | YES |
| 2 Full-Length Exams | NO | YES | YES |
| Progress Tracker | YES | YES | YES |
| 300 Question Vocab and Math Sheet | NO | YES | YES |
| GRE Strategy Guide | YES | YES | YES |
| 7+Point Guarantee | NO | YES | YES |
| Access | 5 days | 1 year | Unlimited |
Main Features
According to many GRE+ prep companies and course reviews and from our experience, this platform provides each student with individual attention. Every new user is able to set their target GRE score and choose a preferred study style, which will help the platform design a personalized curriculum.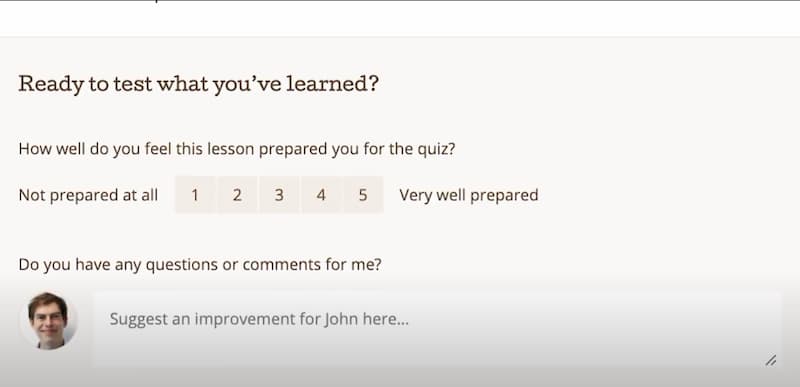 Guarantees
PrepScholar guarantees a full 7 point improvement over your last GRE score, and to back that up they will refund the course payment if the new score should be lower.

Think about it: these guys are so convinced that once a student has completed the course, they will write a strong GRE test or refund the total cost of the course. Of course, before you claim any refunds, be sure to have read all the terms and conditions that apply when subscribing to PrepScholar.
How does PrepScholar differ from other similar educational platforms?
Their main feature would be adaptive diagnostics, which allows personalizing each student's lessons.
As mentioned earlier, every new subscriber will need to answer a questionnaire and take a short GRE-type test that will determine the level of each individual. According to their homepage, PrepScholar peers will make faster progress than with any other prep method.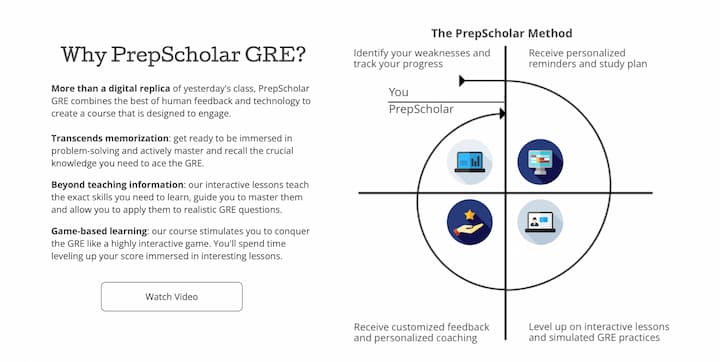 A really helpful feature would be the personal reminders. You can auto-sync this feature with your email and phone to receive personalized updates via e-mail or a text message.
For the ones with busy schedules, this becomes handy when planning your daily tasks. Also, the GRE program is accessible 24/7 for studying or tracking your progress.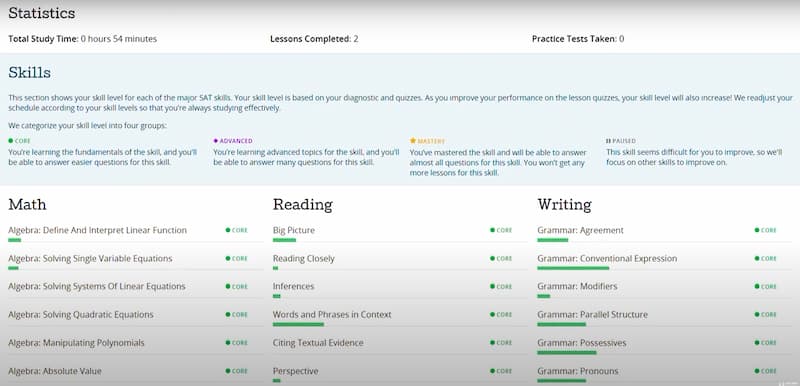 As you've understood by now, these are not "one-size-fits-all" lessons. They are built to interact with each individual and design personalized study plans.
There are over 150 hours of interactive lessons that contain dynamic texts and videos, plus quizzes with real GRE questions. Once a student completes the lesson, the program will assign more advanced questions.
Pros
Low cost - students face a lot of fees and payments for multiple books, tests, and programs throughout their studies. PrepScholar low-cost programs are definitely a good option for students.
Individual study plans - based on a questionnaire, the program customizes a study plan specific to every student's individual needs.
Qualified instructors - all PrepScholar tutors are 99th percentile scorers on the GRE.
Individual progress tracker - auto-syncing this feature with your device will send you personalized reminders and updates on your progress.
Cons
100% online lessons - this can be a drawback for students who are used to interacting with their professors in person.
No mobile app - considering it's a 100% online service, we would love to be able to use it over smartphones too.
Less material - our PrepScholar GRE prep course review showed that competitor platforms have way more resources and tests to learn upon, but this necessary doesn't decrease the quality of PrepScholar's materials.
FAQs
Is PrepScholar good for GRE?
We find PrepScholar GRE to be a good program for students who are great at studying independently. To be honest, it's a good value for money too, because we know that students can't afford to subscribe to pricey programs. The cherry on the cake tho, if you will, is the customized study plan that tackles each student's weaknesses to achieve their target goals.
Is PreSscholar worth the money?
In our opinion, yes. Check out their current discount, which is a fraction of the price, and give a year-long or lifetime access to all their other GRE courses and prep materials. Before committing to a paid subscription, we recommend trying the 5-day free trial in order to feel out the platform. I'm sure you won't be disappointed and might choose PrepScholar as your partner in preparing for your next GRE.