Finding a reliable company to order your resume from is impossible without studying a few options and learning the background and offers of each service. This is a tedious and long process.
However, we offer you not to waste your time on the research and read our comprehensive reviews on resume writing services. With the help of our professional resume writers reviews, you can learn all the data about each company and will be able to choose the one that suits you the most!
Why do you need to take into account our Resume Professional Writers review?
Our team is engaged in helping people find smart writing solutions for quite a long time, during which we have reviewed lots of websites. We have a detail-oriented approach that helps us note down the smallest details. Finally, trusting our reviews, you will never make a mistake because EduReviewer.com never collaborates with the resume writing services we review upfront, so our reviews are honest and true!
How do we evaluate each service?
We look at multiple criteria to collect all the needed data about a specific service, including its services, prices, customer reviews, guarantees, etc. Then we compare the service with others available on the Internet and give it an objective evaluation.
When choosing a service that can satisfy your needs, you must define which of the following resume types you are planning to purchase:
Mini-resume;
Nontraditional resume;
Functional resume;
Chronological resume;
Resume with the profile;
Combination resume;
Targeted resume;
Infographic resume, etc.
Also, you have to consider the price and reputation of the services you are choosing from. There are many more things to keep in mind before you can make a decision. Luckily, you can read our reviews to save time and rid yourself of an unnecessary headache.
This article is our ResumeProfessionalWriters review. Its goal is to answer the main questions you may have about this writing company. Is it legit? Or is it s scam? Let's find out.
Before we go further, let's compare ResumeEdge.com reviews and Resume101 review, mainly the review features they offer.
ResumeProfessionalWriters.com Overview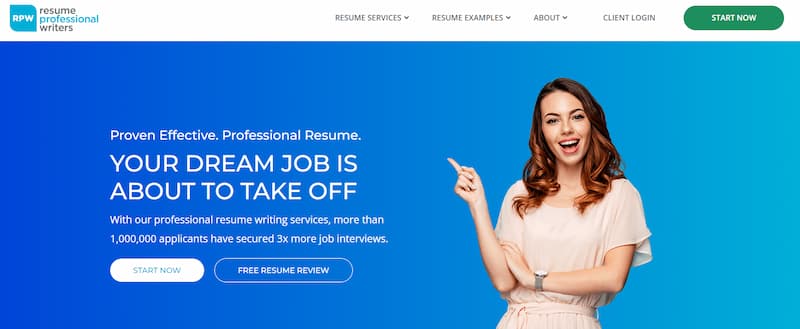 ResumeProfessionalWriters.com is one of the many providers of resume and CV writing help you can find on the Internet. According to the statistics provided on their website, the team of Resume Professional Writers has already developed over 18 000 LinkedIn profiles, written over 100 000 powerful resumes, and created over 26 000 federal resumes. These numbers sound impressive, but there are no real reasons to believe them.
The company has a mixed reputation. It is criticized by numerous ResumeProfessionalWriters.com reviews, though it holds some good positions in the market of CV writing help using some shady tactics. The primary concerns of the company are clarity and factuality. This is exactly what most of their customers think they lack.
Most importantly, they do not have an individual approach to every client. They do not aim to collect as much information about them as possible to create truly authentic and personalized resumes. There are many better and more affordable resume writing services that do have all that.

We are not sure that the team of ResumeProfessionalWriters consists of many certified writers. The company claims that all employees have many years of experience, during which they have been honing their skills to reach better results with each new CV they create.
In many Resume Professional Writers reviews, we could find the claim that this service doesn't focus only on resume writing, which is true. The company offers a whole range of services, including:
Developing federal resumes (check the list of the best government resume services online);
Writing resumes tailored to customers' needs;
Writing CV;
Developing LinkedIn profiles to help job seekers promote themselves online more effectively;
Posting on various job boards for exposure;
Additional resume services including writing Follow up, Cover letters, etc.
Therefore, this service has much to offer to its customers depending on their needs and goals. But the quality of these services brings to many concerns and problems. There are numerous Resume Professional Writers reviews where customers complain about how low the quality of the services provided is.

ResumeProfessionalWriters.com Pricing
Just as many ResumeProfessionalWriters reviews claim, prices at this service are not low. There are several packages suitable for different purposes:
Basic – This package will cost you $125, and it brings you a resume in Word and PDF copies, completed within 4 business days; unlimited revisions are included.
Deluxe – If you purchase this package, the turnaround time decreases to 3 business days, and it gives you some extras in the form of Thank You and Cover letters. The price for the Deluxe package is $195.
Premium – Those who pick this option can count on the shorter turnaround time – only 2 business days. In addition to everything you get with a Deluxe package, you also receive a posting of your resume to the top 25 job boards as a bonus. The price is $305.
Ultimate – This is the most advanced package that assumes 1 business day turnaround time, all the features present in the Premium Package, and free e-books + LinkedIn profile as a bonus. This package will cost you $485.
The pricing seems to be fair, but there are a few nuances to keep in mind. First of all, although they claim that all updates and revisions are free of charge, you can claim them only if you have not received an invitation to an interview.
Also, bear in mind that by the turnaround time, they mean when the first draft of your resume will be ready, so it doesn't mean that you will get a fully completed order by this time.
ResumeProfessionalWriters Payment
A customer has to proceed with payment before they even make an order. First, you buy a suitable package and only then you can request the needed services, which is quite inconvenient, especially if you are new to this service.
Also, be cautious because, on the payment page, you will be suggested to buy a whole bunch of extra services in addition to the package you have chosen. Note that if you choose to add some, it will turn out more expensive than switching to a more advanced package!

The available payment methods are not indicated anywhere on the website itself. This is another disadvantage because you can only learn how to pay for the company's services when you go to the checkout section. This is a major disadvantage cause CraftResume has no such problems, for example.
As for the payment options, they are quite standard. The company accepts credit cards, including Visa and MasterCard. There are also options to pay using American Express, Discover, or PayPal, so it is quite a basic set for such a service.
The good thing is that all offered payment methods are time-tested and secure. However, it would be nice to have a few more options to choose from.

ResumeProfessionalWriters.com Quality
ResumeProfessionalWriters gives its customers many guarantees:
You get unlimited revisions for free – you can ask for as many free adjustments as needed in the case if you are dissatisfied with the quality of your order or you didn't get an interview;
Free lifetime document storage – you can buy a single resume at this service and, even if it gets lost, you can always come back to the website and download it again;
Future updates – if after a certain time your CV has to be updated with new information, the team of ResumeProfessionalWriters will do it for free;
Guarantee of an interview – the company guarantees that their resumes will get you the desired interview within just one month or less.
As for the quality of the documents, it is not that good. In every CV created by the writers from ResumeProfessionalWriters.com, you can't see a personal touch and individuality, which is exactly what most resumes lack. Sometimes, you can spot a lot of mistakes. However, thanks to the free revisions, you can always ask your writer to fix them.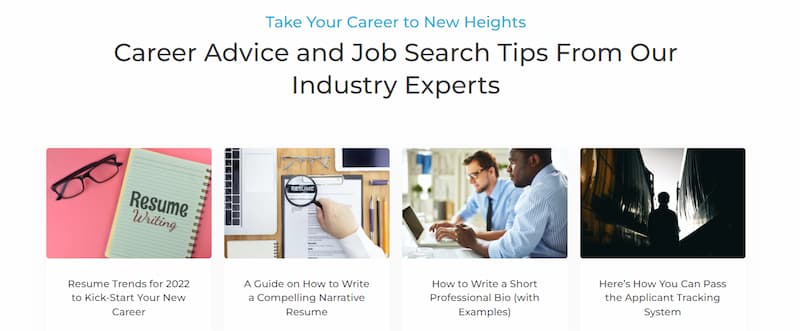 For the best quality resumes, you should better check Resume Zest as these guys are very picky when it comes to hiring certified resume writers.
What disappointed us was the time of performance. If you look at the packages offered on the website, you can see that the longest turnaround time is 5 business days, which is quite fast.
However, please do not take it for granted! On the website, they say that this is when a customer can get the initial draft of their resume, meaning that it can take much more time for performance if you don't like the first draft.
ResumeProfessionalWriters com Customer Service
As for any online service, high-quality customer support is important for Resume Professional Writers, or, at least, they claim this. However, our experience has shown that there are many things to be improved in providing customer service.

There is an FAQ section on the website. It is supposed to answer all questions a customer may have. Nevertheless, in our opinion, their FAQ section here is not detailed enough – it answers only a few questions avoiding some crucial matters.
There is also a phone number. You can call to talk to a career specialist, which is not the same as the customer support manager, and it should be noted that it is quite hard to get through the busy line. Therefore, we would mark this contact option as inconvenient.
Finally, there is an email form and online chat. Both work as supposed, but the time of waiting is too long in both options.
Unfortunately, customer support is not available around the clock and works only during specific hours, which, in fact, are not specified on the website. This isn't a good thing for a modern writing service because in a modern world, ordering certain services, and customers want to feel the support 24/7.

ResumeProfessionalWriters Website Usability
When writing a review, we look simultaneously at several key factors concerning its website and usability. For your convenience, in our ResumeProfessionalWriters.com review, we decided to break it up into several relevant sections.
Design: The design of this website is simple. However, although they stick to minimalism, you can clearly see a personal touch that makes the website look simple, stylish, and memorable all at the same time. There are no complicated graphics or flashy banners.
Content: The information on the website is provided in a clear and brief form, making it easy to understand. It is also well structured, which helps users find the needed data quickly. We liked the fact that this website is not too heavy on text.
Functionality: All website work features work well except, probably, the customer service, which makes you wait too long until you get a reply.
Usability: Without a doubt, Resume Professional Writers shows high usability and user-friendliness thanks to its simplicity and intuitiveness, which is also a big advantage.
Intuitiveness: It is intuitive. Thanks to correct structuring, the texts on the website are not difficult to perceive, and there are also relevant sections to make navigation even more intuitive.
Pros
Average prices – but only if you pay for a package because purchasing extra features is more expensive.
Stylish, minimalistic, and user-friendly website design.
Guarantee of an interview or free unlimited updates.
Average quality.
Some positive ResumeProfessionalWriters com reviews both on the website and on independent platforms.
Convenient use and safety.
Cons
Payment made before you make your order.
No possibility to choose a deadline yourself – all deadlines are already specified in the packages.
Poor FAQ section that doesn't give answers to some important questions.
Customer support is only available during specific working hours.
Long waiting time for the response from customer support.
The phone line is almost always too busy to get through.
Many Resume Professional Writers complaints online.