Monster.com Overview
Today's job market is an overcrowded competitive space. With so many people vying for the same jobs, it can be difficult to pin down the career of your dreams. That's why having a top-notch resume on hand is important. A good resume can make you stand out from the crowd, increasing the chances of being chosen. Not everyone is lucky enough to have the talent to create such a piece themselves, though. Sometimes, it's a better option to turn the task over to someone who can handle it better and has more experience.

Enter Monster. This is probably a site that you've heard of if you're looking for a job. Founded over twenty years ago, it's a tool that many people make use of every day. But did you know that they offer other services? And by checking a few monster resume writing services reviews, you'll see that they're pretty good at it, too.
Finding the best resume service online is a necessity. It can be the difference between another day of unemployment or the beginning of the career you've always dreamed of. Because of that, you'll want to read this assessment carefully. You should do more than search "resume writing services Monster review." Ask yourself if Monster is right for you.
Monster.com Story
Everything started two decades ago, on the new frontier that was the internet. While some experts were still convinced that the world wide web was just a fad, someone else decided to make use of it. In the far-off past of 1994, it began as little more than a standard job board. Here, people could search for jobs that might fit them, posted by the few companies who hauled themselves into the technological age before the others. Those who grew up on the internet would likely chuckle at its quaint feel.

Now, the name Monster is well-known. They operate in more than forty different countries, making them a truly global job search superpower. In 2014, a full twenty years after their birth, they turned their eyes towards a different goal:  Not just connecting job seekers to potential employers but changing the employment search altogether. And they have certainly been successful in revolutionizing how people look for a career.
Monster Services
While before, the only real service offered by Monster was as a job board, they've been expanding their horizons quite a lot since 2014. You'll still find people who use the site only as a job board, of course. But there are other hiring services. The tools, such as analytics and assessments, can help you rig the game in your favour. With the help of Monster, you'll always come out on top.

For those hiring, there are a plethora of different ad options available. You can choose the best fit for your goals, jobs, and finances. But for those looking to be hired, the analytics and resume writing help they offer will be the main draw here. With professional guidance every step of the way, you'll find it simpler to adjust your methods in the hunt. While other sites might offer a free resume review, Monster offers the absolute best. Monster resume builder reviews speak highly of it.'
For top federal resume writing services, check our government resume writers reviews with detailed descriptions of why each service is good.
Monster.com Resume Writing Cost
Unlike other sites, there is no Monster free resume review. Here, you'll be asked to pay for what you receive. However, that doesn't mean that this is a scam or that it isn't legit. Quite to the contrary:  You get what you pay for. Monster resume writing reviews show that customers are often delighted with the finished product for their paid price. For something that comes with professional support and many high-tech job-search tools, it's not as expensive as it seems.

Monster resume writing service cost for a resume is $129, the same cost we found in the Resumeble review. For this, you'll receive the resume only. While that sounds like a lot, bear in mind that reviews of Monster resume writing service are almost positive. If you prefer to raise the odds a bit more, you can try adding a cover letter to the package, increasing the price to $169.
The most expensive package offered is rather pricy, $349. But, in return for the added cost, you'll get a complete LinkedIn makeover, as well as a resume and cover letter.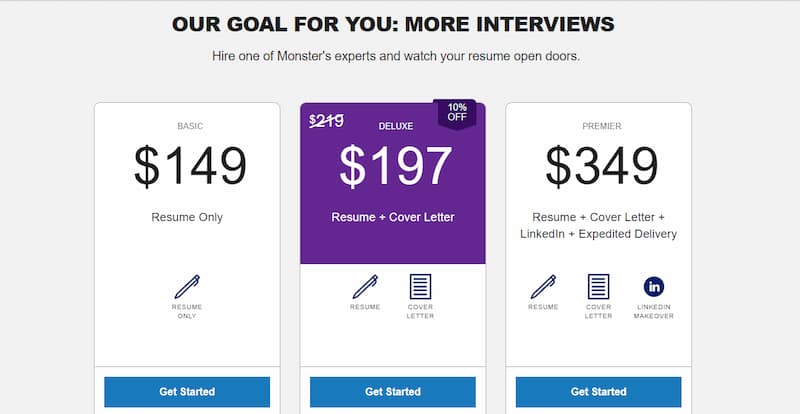 These prices are okay when we talk about basic resumes. If you are an executive and need a professionally written resume, check the executive level resume writing services list and ratings on our website. But remember that the price will be higher.
Monster Payment
According to Monster resume build reviews, there are a few different options when it comes to paying for your resume. The main method used to pay for the services rendered on their site is through the tried-and-true credit card. In fact, if you wish to make a payment with a more traditional method, this is the only way to do so. There is no option to use a debit card or check to pay for what you receive. They take Visa, American Express, Mastercard, and more.
However, those who review Monster resume writing services do note one good thing: They offer to bill through less conventional means. Here, that means a rapid, speedy checkout using two specific services:  Amazon Pay and PayPal. These services are often used by people in modern, internet-connected life. Few sites allow their direct use, preferring debit cards.
By taking Amazon Pay and PayPal, they show that they really focus on the future. Speaking of the future, you'll have sixty days of it to be sure that what you receive is what you want. During that time, if you're unsatisfied, they will rewrite it for no additional cost. But, judging by the reviews Monster resume services receive, you'll be happy.

Monster.com Quality
There is a lot of information to be gleaned from a single Monster resume writing services review. After all, what better way to find out about a company than by asking the very people who have used the service in the past? There are many opinions about Monster, as anyone who has looked for Monster resume service reviews can attest. There seem to be both good and bad sides to this company.

Those who are happy seem to find that the resumes have done their jobs, so to speak. Even for those who have yet to be hired, they are convinced that it will turn their search around. Monster resume reviews speak of well-written products formed with care.
However, some dislike that there are faults with the search function, and they are occasionally linked to jobs they don't qualify for. While most Monster resume writing service reviews remain high, there is one type of job you're unlikely to see a lot of here:  Blue-collar. Monster caters almost exclusively to white-collar work. A review of Monster resume writing service states that they might still be useful, though.
Customer Service at Monster.com
The customer service offered by Monster varies a lot, depending on whether you're a paid customer or just someone looking for information. Monster Resume Perfect reviews are more likely to garner attention and better customer service than a simple request for information.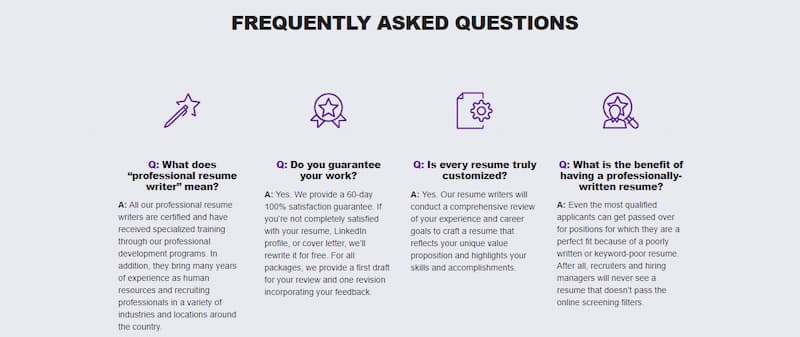 For those who aren't a customer yet (waiting for just one more Monster resume critique review?), a form on the website can be used to reach the company. As the options suggest, it's mostly used for journalists reaching out. There are also phone lines to call. If you are a customer, you'll find more customer support options available for you to use.
As stated above, customer satisfaction is a major point for Monster. If you write a review of Monster resume writing service, they want it to be a good one, after all! The sixty-day span where you can receive free rewrites until you are satisfied is perhaps one of the best forms of customer service.
Monster Website & App Usability
Few people think about the website and its usability when they start out investigating it. You won't find many Monster reviews by simply Googling "monster com resume writing service reviews" to see if the site itself is good. But anyone who spends time on the internet whatsoever knows that a business is only as good as its site. If you can't find anything, get lost in the myriad of pages, or run across dead links or slow-loading pages, you're going to want to move on.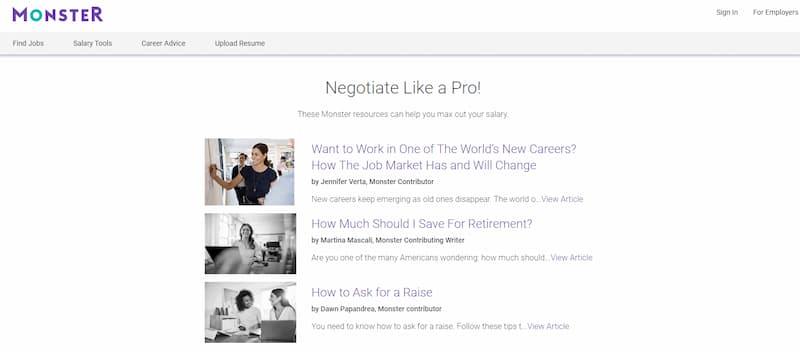 Though not usually found in Monster resume writing services reviews, we can attest that the website itself is very well put together. You'll find it simple enough to use, and you're unlikely to get lost in the process. This is true of the mobile site, as well, something many companies have problems with.
Monster Mobile App Usability
Like most other modern services, Monster offers an app that can be used. The primary purpose of this is to streamline the process directly from your phone. This allows you to take the job search with you on the go so that you never have to waste a moment or worry about a missed opportunity. It's a very 21st-century concept. But what goes into the Monster app? What does it actually do to help you find work?

By reading any Monster resume writing service review, you can see that it offers the same services as the website. Of course, there is the standard job search function. But there is more. This includes a resume assessment, which is helpful for those who aren't confident of their resume-writing process. To make sure that everything is a proper fit, they use Job Fit Scoring. Still, need more help? There is professional advice available whenever you might need it. Is Resume.io scam? For one of the best resume builders, check the Resume.io reviews on our website. This is an excellent alternative for Monster.
Pros
This isn't some new web business about to go belly-up. It's been around for twenty years.
It frees up your time and whether you're currently working or not. A job search is a full-time job in and of itself.
The writers are the experts in their field. If you were trying to sell your house, you'd probably hire a professional to do so and not just wing it, right?
It offers you support. While it can be difficult to go it alone, you can find someone to help you along your journey.
You can access resources like career advice, as it's almost like having a mentor in your pocket and something you don't always get.
While you probably wouldn't know where to begin crafting the perfect resume, you can demand it from Monster.
Cons
The price can be high for those looking for work, and even the minimum purchase might be too much.
You have to be willing to follow up as there is no fixing a problem if you don't know it's there and tell someone.
It's mostly for those who prefer office jobs.
It requires effort on your part, as they can't pull the information out of anywhere, after all.
There are problems with the process as it is not perfect. Even the best Monster resume service review cannot cover every possibility.
A Monster resume review does not guarantee a job.