If you are looking for a good job, then you need to have a good resume. Even if you have work experience and good feedback, you will need to submit this information conveniently to your employer so that he can better appreciate it.
For none of your skills to be missed and all the information useful for your employer about you is indicated in the best possible way, you should contact a professional company that will provide you with top resume writing services.
In this article, we will try to look at how similar services work on the example of one of them. Like in the previous federal resume service reviews on our website, we will go through each item of this service in detail and consider all its advantages and disadvantages. Also, we analyze real ResumeHelp.com reviews online that customers left on various platforms. You will learn about all the characteristics of such a series and choose the one that suits you best.
Please, take a good look at what we have to say about these companies and their services ResumeRabbit review and Brand Resumes reviews . Are they one of the best available?
ResumeHelp.com Overview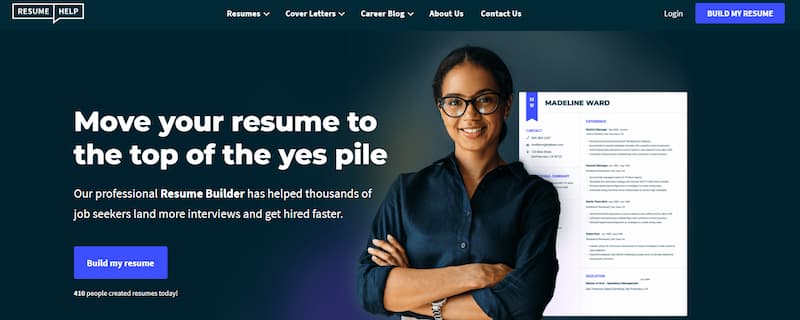 The website of ResumeHelp.com provides users with the ability to quickly and easily create their resumes. To create a resume, you have all the necessary tools in the form of a convenient constructor of blocks that you need to fill in creating your document.
To do this, you only need all the information about your skills and past work experience to be beautifully placed in order. It will allow your employer to see all the information needed without wasting time on long texts.
The site can be used by absolutely any person with or without special technical skills. To do this, follow the link and click on the "create your resume" button. Then you will be taken to the resume creation page, where you will be offered a bunch of different templates to choose from. But we will tell you about the details of the process further.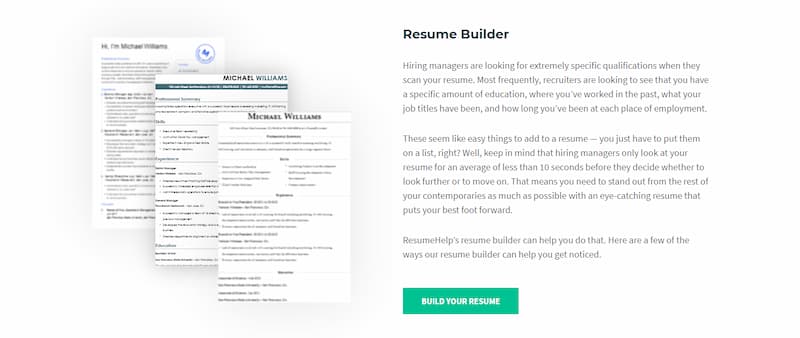 ResumeHelp Cost and Payment
The payment and pricing policies of the company are simple. As soon as you create your account and your first resume on the site, you get access to all the features and tools of the site for a monthly payment for using the service.
Does Resume Help charge? Yes, it does. The first payment allows you to get the full use of all the designer functions for only $2.90 for two weeks. You will be able to download or print your resumes without limit and create many new resumes and letters in a limitless amount. After two weeks, the ResumeHelp.com cost will return to normal and will be $24.90 per month. You can also pay $94.80 for a year subscription.
Also, you can always cancel your subscription to this service. You also have the opportunity to make a one-time payment for the whole year for $7.90 per month and save a huge amount of money while having access to unlimited use of the site toolkit.
If you were looking for real and professional military resume writers, find the best resume writing service for military on our page, where we review top services.
Is ResumeHelp.com safe? According to the ResumeHelp reviews of customers, they can bill you even if you have cancelled the subscription. So be aware!
ResumeHelp.com Quality

This Resume Help review is also important to say about the quality of the service provided. The site is not entirely simple to use, and you can't easily and quickly find any information you are interested in. As the opposite, you can do that on Resume.io, which is a much better option than ResumeHelp. Don't believe us? Is Resume.io safe? Read Resume io reviews on our website from former customers and see that it is the best resume-building option yourself.
There is nothing extra on the site and nothing that could interfere with your work with a resume. Also, you can not think about what you forgot to save or download the document as you can find all your work in your account.
All you need to do to create it is to specify your mail and develop a password. Also, if you are interested in the newsletter, you can receive it without removing the checkmark during registration.
Resume Help Customer Service
If you are interested in the User Agreement or the Privacy Policy, you need to go to the bottom of the site's home page. There you can find all the contacts you need. If you want to log into your account or want to ask questions that interest you in a live chat, then you need to go to the very top of the page, and you will see all the necessary buttons in the right corner.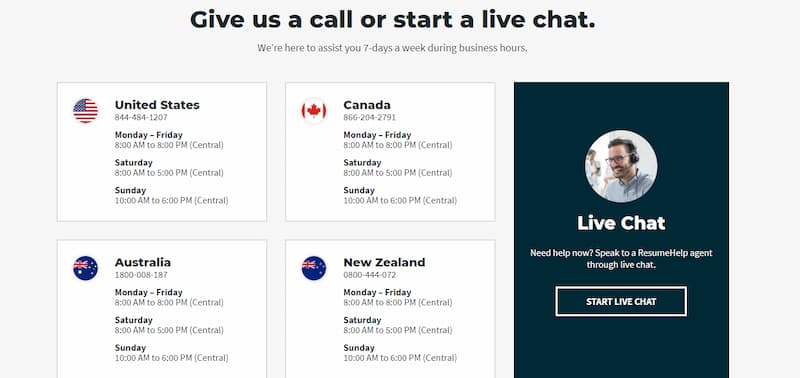 You can contact their support via a Live Chat, call them on one of the phone numbers mentioned on the Contact Us page, or by filling the form on the same page.
ResumeHelp Website Usability
As mentioned earlier, you do not need to have any special skills to quickly and easily understand the work of the site. Even the child will be able to understand how it works. The only problem is that children usually do not need to create a resume.
You could read about all the buttons and useful links on the main page above. And the process of creating a resume is also not very complex. You clearly see each stage of creation and know what awaits you further.

If you want to delegate all the process of crafting the resume from nothing to something that will get you a job, read Zipjob resume reviews to find that it is the best resume writing service available online.
Also, at each separate stage, you will receive a detailed explanation of what you will need to indicate in this or that field and what information you can use to fill out. You will also be provided with some examples if you have a gap in your information.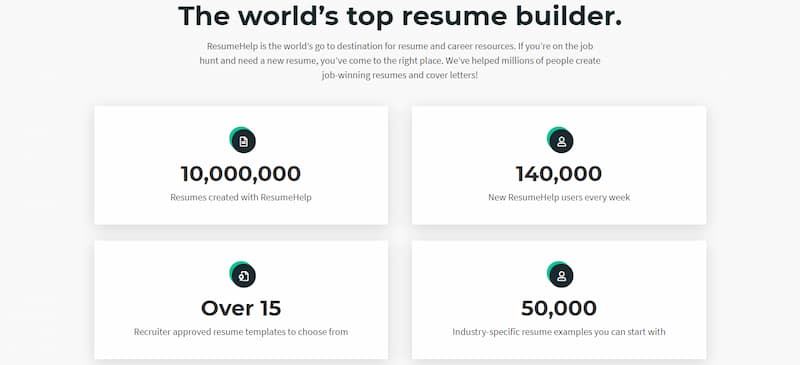 You can easily find out from the tabs about the use and subsequent opening windows about the details of payment and use. You will not need to guess anything yourself, and the entire interface of the site on any page is straightforward and intuitive.
Pros
Site services are cheap enough, and you can afford to create a resume without any restrictions.
Also, the site is elementary to use, and you need to know all the information about your skills and work experience.
All the resume items are supplemented with tips and samples, filling in the lines if you need additional information about skills.
Registration on the site takes no more than a few seconds, and you do not need to go to the post office to confirm your account.
On the site, there is nothing superfluous, and you will not get lost in the search for the right buttons and links.
And finally, all your completed resumes, letters, and other developments will be saved on your account page, where you can find, download, and print them.
Cons
First, you can not use the tools of the site without registering, which forces you to use mail and make another account.
Secondly, the site can sometimes look so simple that you will not immediately guess its full functionality, and you will not understand that it is useful.
Thirdly, you will learn about the payment for a resume only when you have filled in all the fields, which takes quite some time.
Also, you can accidentally forget to remove the checkmark from the mailing field and receive annoying letters with unnecessary information.
Also, the service fee will be charged automatically, and if you forget to cancel the payment, you will lose money once a month or year.
The site provides a limited number of templates for selection.