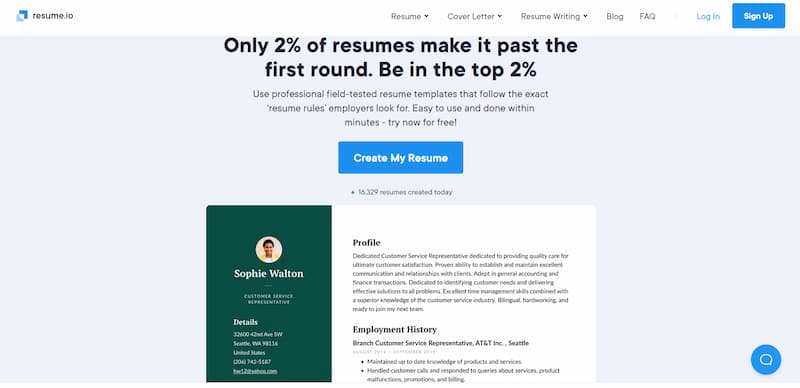 Turn your days of daunting CV creation tasks in minutes with Resume.io and win your dream job. There are many companies out there offering the same service and similar services. The top resume-writing company is Zipjob. Read our Zip job review and find out the reasons why.
However, you need to know which one is right and best suffice your need for your CV. For this reason, you need to learn this particular tool before you decide to go for it, right? How can you be sure it is the best choice?
Know what this tool is, how it came to the industry, its service offering, and its effectiveness in building a resume. Resume.io is an online-based self-service builder of a CV with customizable template designs. Among the services, its offers include resume building, templates, and writing tips.
Choose from which category you would like to build your CV. Among these categories are professional, simple, modern, and creative.
Each of these categories has templates designed by experts. The templates follow resume rules that hiring officers likely look for.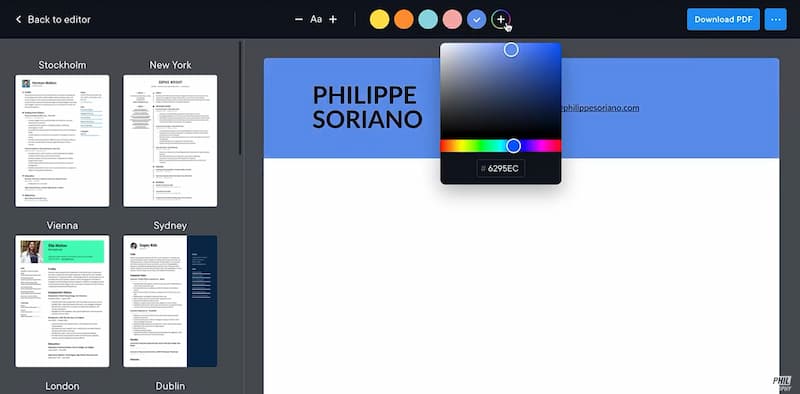 The CVS made here are field-tested to make sure you will stand out from the rest of the applicants vying for the same spot as yours.
There are also examples and tips to help you build the CV you have always been wanting.
Allow this Resume.io review to be your guide so you can go on with the services that it can offer you.
So from this review, the application tracker, user interface, usage, versatility, editing, and the additional tools of the service provider will be assessed. Go ahead and keep an eye on every detail of the tool.
Keep reading to find out more. You can always check our Resume Help review and ResumeCorner review.
Resume.io Overview
Online builder Resume.io offers jobseekers professional and already-tried CV templates. The tool uses a 3-step advanced builder that is fast and very easy to use.
It allows them to fill in their personal information with simple prompts. Their expert writing tips will be right there to help you along the way from the beginning until your CV completes.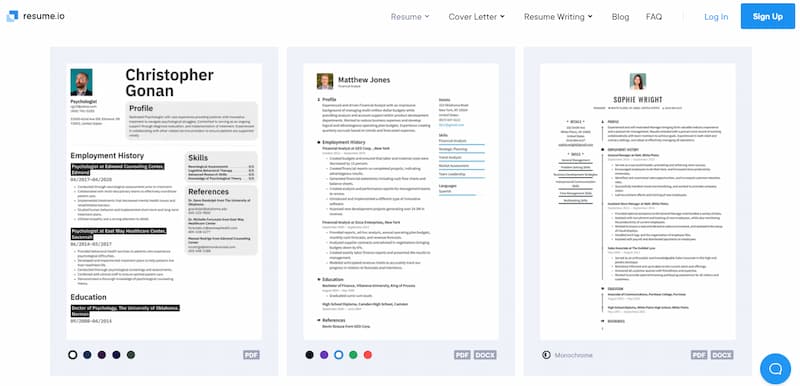 Templates enable you to create a job-worthy resume that can land you a job quickly. You can edit the formatted and custom-tailored bio online with ease.
Add pre-written phrases to your bio so you can communicate your skills very well. It has a spell-checker that comes automatically to prevent possible typos and mistakes. Once done, you are free to export your CV to any platform.
Is Resume.io safe to use? Is Resume.io a scam?
Of course, everyone only wants to shop online use. The high rating gained by the website indicates that it is Resume.io safe to use. This means that the site is not infected with any malware, scam, fraud, or phishing.
We have not found any evidence of a Resume.io scam online either. Some customers complain about the subscription, but this issue can be solved by canceling it in time.
Whether or not it is Resume.io legit, many positive Resume.io reviews guarantee that it is reliable.

The website promises to provide only high-quality service. It aims to make sure that those getting their CV will take the job they are applying for.
Is Resume.io fake? Is this tool legit? These are the common questions of the applicants who would want to get this service. Find out for yourself with the following review then.
Resume io Story
What is Resume.io?
Resume.io outlines its corporate jumpstart in 2012 upon introducing a web app that creates online documents, including basic bios and cancellation letters. Since most of its users visit its site for curriculum vitae, it decided to build CVs.
The website studied and tested the criteria and trends of employers or recruiters in hiring applicants. It started to create winning bio templates and made them approved by the experts.
Later on, it came to a realization referring to CV building as a science. This was the fruition of the strict rules incorporated in the bios.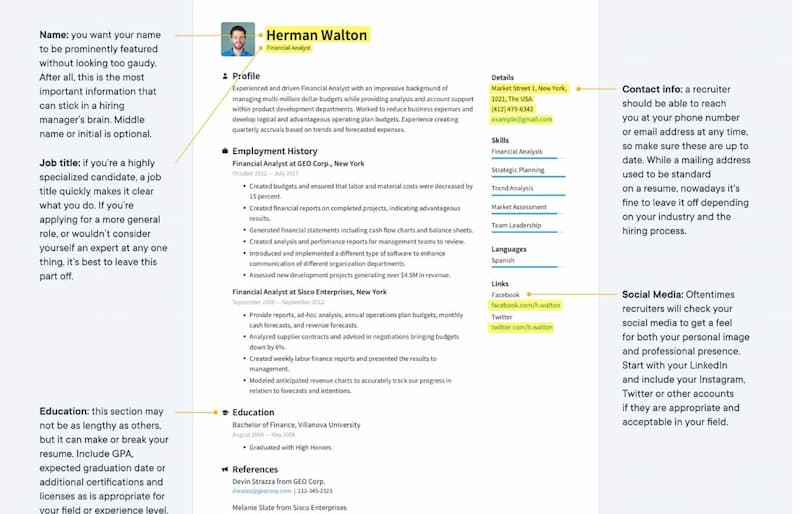 It came up with the resume structures and incorporate the rules to help job seekers win the job they applied for.
Since then, it has already helped many create their CVs and get hired quickly.
Features and Services Offered at Resume.io
How can ResumeIO help you get the job you deserve? Even though they do not have certified federal resume writers or any other professional writers on their platform. You can save time building an amazing CV easily and quickly with the company's resume builder in three steps. The primary objective here is to help you overcome difficulties in formatting.
There are available six templates that are professionally designed for you. These templates are approved by recruiters. They are structured so that they follow the rules every hiring officer looks for during the application process. You can edit and download them within five minutes. Those building their resume for the first time are offered services for free.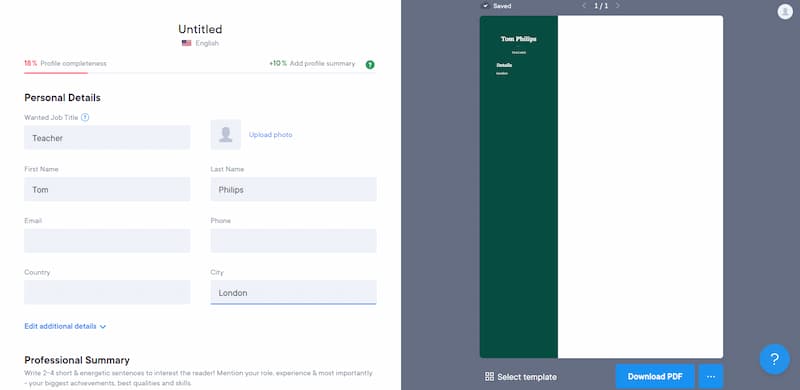 Save your biography in PDF and Microsoft Word in one click. Exporting the files is made easier but limited to two formats such as .txt or .pdf. Feel free to download your CV at no charge, provided that it is in .txt format.
You can create a resume based on recruiting practices and expert knowledge from actual job recruiters. The professional and expert team share content writing tips and give recommendations on the best resume structures, or you can always read one of our resume services online reviews and choose one of the best resume creator services.
Confidentiality for the site is as important as its customers. You can assure that all CVs written here are kept private. CVs can only be accessed by clients who are registered on the site.
Be a registered premium member first, so you access the resume templates of the company. The premium account highlights PDF downloads and access to the site's designs of the resume template.
Account deletion is also possible should you wish to do so. This action goes along with the cancellation of any of your active subscriptions.
The company also offers clients a trial period of 7 days. This allows full access to all the features of its premium CV creation. The subscription will be renewed to a premium membership every month once the trial ends.
There is also a money-back guarantee if you are not satisfied with the 7-day trial.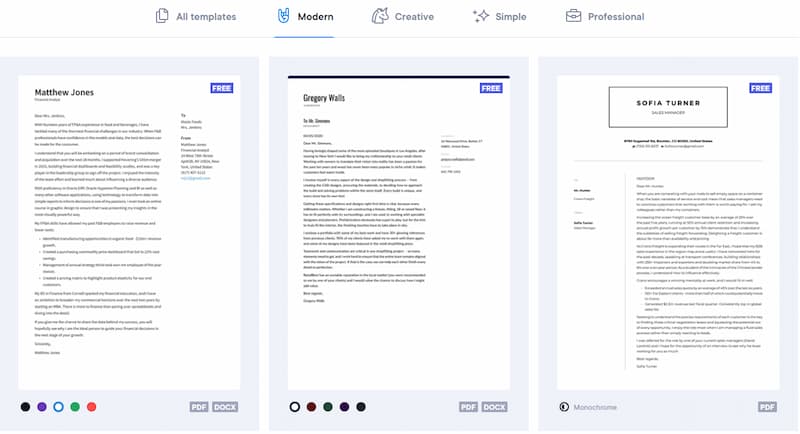 Resume.io cover letter creator is as easy to manipulate as the resume builder. Note that you cannot print either your resume or CV unless it is downloaded in PDF format.
Yes, you can customize your CV, but only the available color scheme and templates are editable. Everything else in the document is already fixed.
You can't move around the personal details section. Information here will be filled in automatically. Among the default sections in the dashboard are employment history, skills, and education.
You may modify the orders of these sections and the others, which are up to 11 like extra-curricular activities, courses, and languages.
This service uses a simple ZipRecruiter-powered engine for its Job Search function. It enables you to build a cover letter that requires manual template selection.
The process aims for minimalism in formatting and editing options. Unlike in curriculum vitae building, you can only download cover letters in PDF format and be a subscriber.
Moreover, the company goes the extra mile as it tracks the jobs you are applying to. Its Application Tracker tracks your employers to keep you at the edge of the recruitment competition.
Pricing and Subscriptions
Is Resume.io a free service?
Earlier, we mentioned here that you could create an account to access resume templates.
Please take note that you can only get full features of its premium plans when you upgrade to its 7-day trial subscription at $2.95. So, we can say that it is one of the most affordable resume services available online.
This means that the Resume.io cost depends on your plan and its corresponding features. You are given 7 days to try the features of the premium plan.
After that, you will get to decide to cancel your account or continue. If you fail to cancel after the trial period, your monthly premium subscription will automatically be effective. Your bill each month then is $24.95.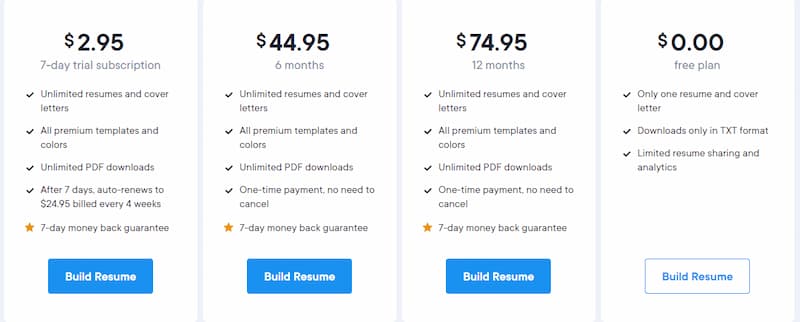 Receive as much as a 75% discount on Resume.io cost, when you subscribe for its 6-month or annual premium plan at $44.95 or $74.95, respectively.
For such a price, you will be given access to premium features throughout your membership. Your plan automatically downgrades to a free plan upon failure of cancellation. It is at your discretion to upgrade anytime you want to.
Payment
The company also makes its membership available for one-time payments. This offer depends on the country of origin of the client.
A Periodical subscription is not necessary to download the CV. This is not a subscription and does not automatically renew, so you do not need to cancel it.

Not sure if you want to build a resume on your own? We recommend you to read Top Resume reviews online, where you can find happy clients' comments, pros & cons, and pricing of the service. At TopResume, you can have a professionally written resume or a free resume review.
Memberships, trials, and premiums are both priced and billed based on the U.S. dollar currency. Other currencies are also accepted depending on your residence or location. You can manage and edit your billing right from its app.
Quality of Resume.io Service
In terms of quality, Resume.io strives and makes sure that your CV will stand out. You can attest to this with the positive feedback and Resume-io reviews from its clients.
Most of its clients were able to create their CVs with ease and get hired with no delay.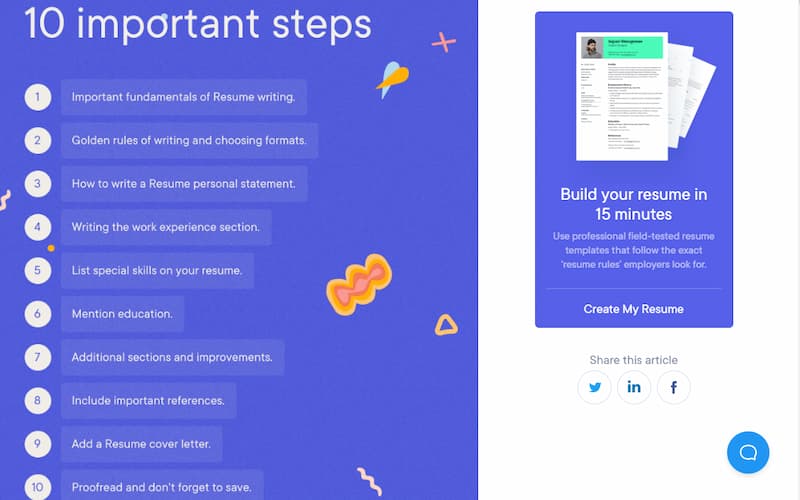 Biographies created here are carefully structured and formatted by recruiters and professionals. They help applicants appear appealing to the hiring officers.
Competition in job hunting was made a lot easier with its experts' guidelines, tips, and recommendations.
Its additional tools, Job Search and Application Tracker are very innovative, giving an ace to the quality of its service.
Customer Service
Resume.io cares not just about providing awesome bios but also support to its clients. The website offers fast customer service for those who may have queries or issues regarding its rates, billing, and anything related to their account.
Any concern to the company can be raised anytime you need it. Any feedback about customer experience with its service is also welcome and appreciated. This makes the resume builder very accessible and pleasant in collaboration.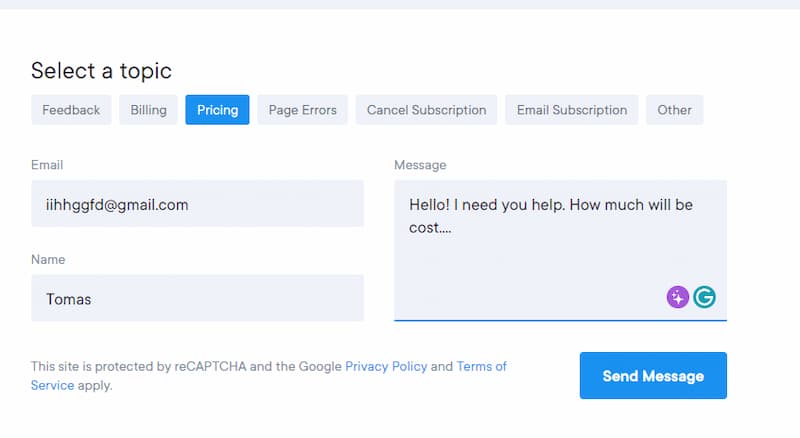 Website Usability
Resume.io only offers the most relevant and necessary features considering its minimalist design. The formats of its resumes are predefined.
This can limit your creation of a perfect bio, yet it sticks to its promise of a fast and easy-to-use way of CV creation.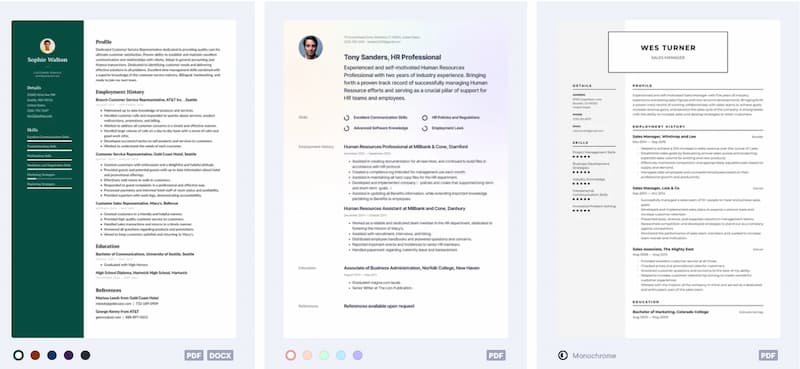 The good news is the site becomes very useful if you make your biography from a mobile browser. You can create and edit your resume even when you are away from your desktop or laptop.
On the other hand, mobile editing could be better as it requires your phone to be in its landscape position.
There was a downside, given the unavailability of the cover letter editor and job board in its mobile site version. But recently, they have launched a great cover letter tool. You can check it out here.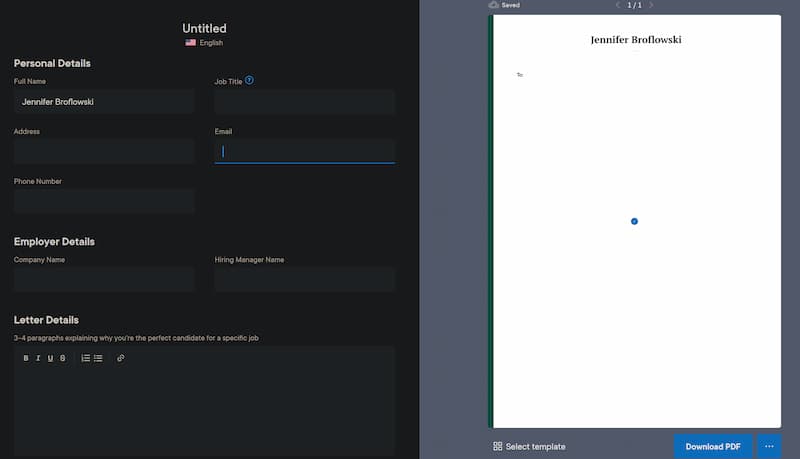 Also, you cannot start the editing process unless you have an account first.
Pros
Resume.io editor automatically updates your resume preview allowing you to see the changes made right away.
The website is straightforward with its modern setup so you don't have to guess where to go and what part to click.
You may create an account without any fee.
It is a minimalist CV builder so that you can make one faster.
You can customize the curriculum vitae depending on the job applied.
It comes with a job board to monitor its user progress in job applications.
It is best for job hunters who are overwhelmed with the process of building resumes or cover letters.
The tool lets you create your curriculum vitae more quickly and easier.
It allows you to create many resumes and customize each of them for a particular job.
Cons
The CV and cover letter editor of this service failed to provide much help when you write.
Most of the relevant features are accessible upon paid subscription plans.
Its templates seem lacking compared to the other online builders.
Unavailability of an editing tool that enables you to rearrange things to delete certain sections.