As a young adult, there are multiple factors you have to figure out yourself. Finding a job, building, and making your resume are just a few of them. Even if you are ready to fetch a job and do something valuable, it might be challenging to start and get into a great job. Hence, having or being provided with assistance is not necessarily a bad thing.
Contrary to that, the right kind of help can ensure better work opportunities and an enhanced learning experience. Before you apply for any job, the one document that needs to be handed over is your resume. There is no need to stress over the importance of a well-written resume because it is something that every individual is aware of.
This is when websites such as ResumeCoach come in handy. They allow you to edit, create, and read examples of resumes and different job profiles. They prepare you for the interviews and other similar situations. However, it is essential to know if these websites are trustworthy and reliable. Is it one of the top rated resume writing services? No, it is not. Mainly because it is not a resume writing service, it is a resume builder.
If you are looking for real resume writing services for nurses, check nursing resume service reviews on our website.
Here is an informative and detailed Resume Coach review. Find out in this Resume Coach website review if it is the company you would like to get assistance from.
Keep reading to find out more. You can always check our Resume Help reviews, Resume101 reviews and CareerAddict review.
ResumeCoach Overview

ResumeCoach is a resume writing service, which is available to anyone online. This website provides you with perfect guidance in building a stellar resume. In addition, it also offers you valuable career assistance. You can view in detail what is to be included in each section of your resume. This will help you create a well-structured and organized piece.

ResumeCoach's Story
The founders of ResumeCoach intended to provide help to anyone who requires it. During job interviews, they realized that many individuals weren't prepared in two important areas: resume writing and presenting themselves in the interviews.
And, it was because they were probably not prepared enough when it comes to talking about their achievements and qualifications. Some people were not well-acquainted with the idea that there was a specific format to follow when it came to resumes, while others had no idea that certain job interview questions were generally asked.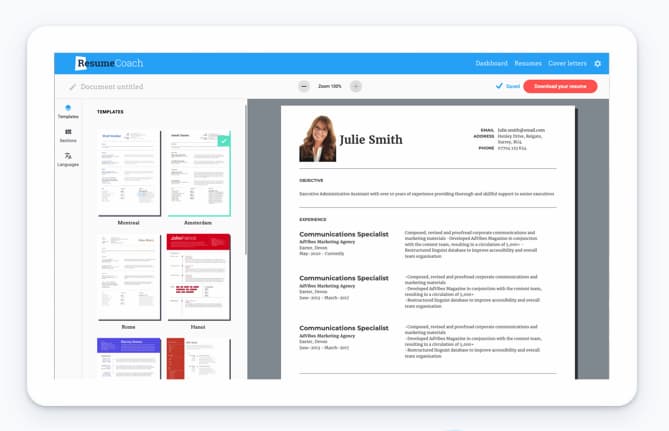 People were not aware of how to talk about everything in a clear, concise, and creative way, which ResumeCoach intends to do.
Hence, it provides several services that cater to that exact idea — making your application process and your interviews easier than they would be otherwise. Multiple individuals have had successful endeavours with the Resume Coach's assistance.
Resume Coach Price
This Resume Coach review will talk in-depth about every factor. Therefore, we shall now consider the pricing aspect of ResumeCoach. The quality of services offered by the website cover the costs. Given below is a detailed description of the pricing followed as well as free services offered by ResumeCoach:
When you visit the Resume Coach website, it will allow you to create a user account for free. This will make it easier for you to get acquainted with professional pieces of career advice for free. However, just like any other application, the free services available come with certain limitations.
To have access to all the benefits provided by this website, all you need to do is subscribe to their plan. Moreover, you can cancel this subscription any time you want.

The website provides two packages, one is a 14-day pack, and the other is a monthly pack. The 14-day alternative allows you to use and test out all the services for 14 days. This will enable you to decide if you want or need a monthly subscription or not. Following is the price for Resume Coach subscription plans:
14 days unlimited: $1.95;
Monthly: $29.95.
Payment
Depending on the payment mode and the country you are residing in, the currency exchange charges are levied by the bank or the mode of transfer that you opt for. You can easily make payments through Credit and Debit cards, Paypal, etc.
Therefore, paying for the services is not a trouble. All you have to do is check out the website, pick the service you wish to use, and pay for its subscription accordingly by utilizing the payment methods that fit you.

Quality of Resume Coach
Resume Coach reviews often forget to mention the quality of the services offered. The quality in terms of the user interface of the website is top-notch. It is easy to utilize and navigate. When it comes to the services, the writing done by the company is first-class.
They keep in mind professional and other factors such as keeping a good command of the language. The majority of the customer reviews suggest that it is a great avenue if you seek help to fetch a great job. And to get an IT job, we suggest you reading our engineering resume writing services reviews, as with one of these services you will be more likely to get that job you want.

Resume Coach Customer Service
One of the most important parts of our Resume Coach review is customer service. People find it fairly convenient to get in touch with customer care executives. The website has a simple form that asks you to specify your issue in brief. After submitting the form, one of the support representatives will get in touch with you.
Moreover, ResumeCoach also has live chat assistance, like on CraftResume. Therefore, if you are not satisfied with a particular service or have any queries, you can chat with an expert from the company and get your concerns cleared.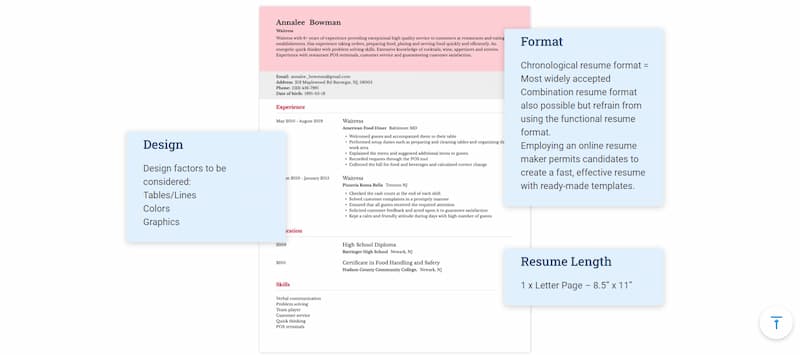 ResumeCoach Website Usability
As mentioned before in our Resume Coach review, the website is easy to use. Each function and service is labelled. All the functions and features are clearly stated and easy to access. Therefore, you can navigate the website without any trouble and opt for whatever it is that you are looking for — the menu on the top lists down all the site's features.
ResumeCoach is also available on all devices. The website allows you to save multiple edits using different or the same templates. It also has an informative page, which explains everything you need to know about a resume or any job profile.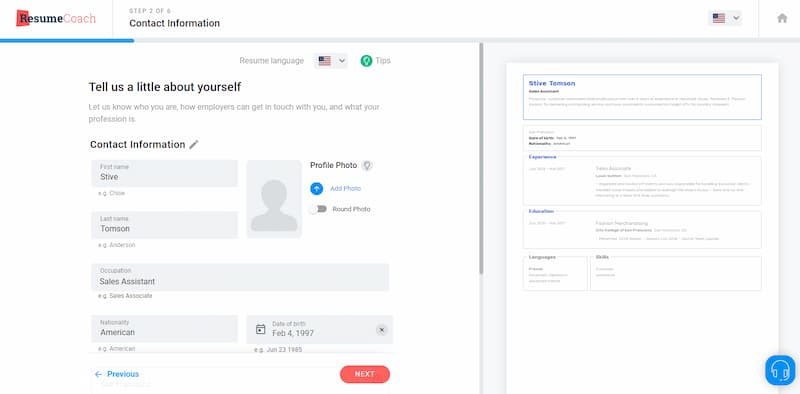 The best website usability we have seen in years is on Zip job. Not sure is Zipjob legit or not? Read our review and find out,
You can look or browse through various job topics and opportunities, interview questions, templates, cover letters, etc., to prepare yourself for any job profile or for a resume that you have in mind.

Pros
Website usability is easy and top-notch.
Allows you to change the language of your resume with a single click.
Has integrated search results for job listings.
The services on the website are fairly priced.
Has a 14-day trial subscription.
Has informative blogs about different kinds of job profiles.
Cons
Often charges users without any warning, which means reading the terms and conditions of the website is extremely vital.
It has basic templates that can be found on another website.
Some users find it difficult to get in contact with customer services.
Reviews of Resume Coach say that clients often find it difficult to cancel their subscriptions.
Certain templates can cost money.
The website is more expensive as compared to other sites.