This AnalystPrep CFA review may not be the first one you've seen, but it reads differently from others. It's a balanced analysis of every aspect of this online self-study class.
So, how affordable and stacked are its learning packages? Do they have the best CFA study material? And what makes them stand out—if anything—from the competition?
Our Analyst Prep review explores the overall quality of the courses. We test-drive the user interface, including how well optimized the web platform is for mobile devices. That's a critical point for many since there isn't an Analyst Prep CFA mobile app.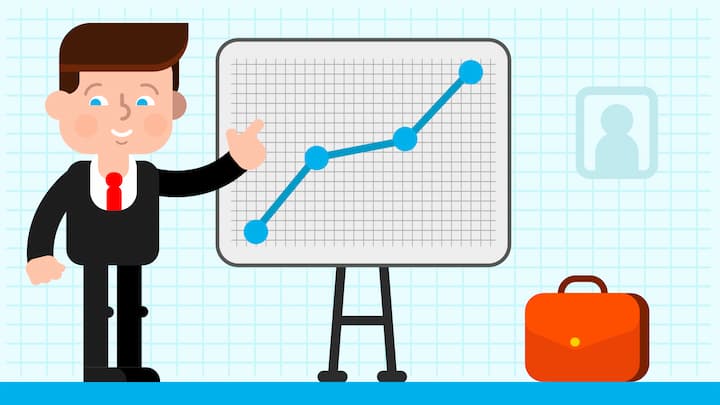 And what about customer service, after-sales support, and company guarantees? Yes, we cover it all in this no-nonsense, easy-to-digest Analyst Prep CFA review. But before we get to that, let's get to know something about the company behind the name.
About AnalystPrep the Company
This section on Analyst Prep CFA reviews a little of the company's history.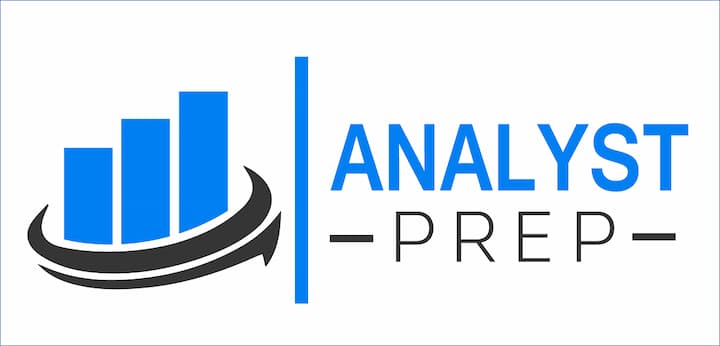 AnalystPrep came onto the scene in 2014. Its mission was to spread financial knowledge via a highly-innovative learning platform. It featured revolutionary learning technology with unique futuristic yet easy-to-use study tools.
Today, it boasts in-depth study materials for professional financial certifications.
Global participation:
 According to a 2019 Chartered Financial Analyst Institute (CFA®) report, more than
21,000 international candidates
 completed CFA®
Programs
.
Assessment from 2014 to Present Day
AnalystPrep started as a question bank for the CFA® exam, Level I. By 2017, the product range covered more classes. They included all three levels of the CFA exam plus two FRM exams.
And by 2018, the company collaborated with financial academics to further refine its question banks. It also introduced the now-famous video lessons.
In 2019, the team made further improvements to the platform to enhance the user experience. It was also the year AnalystPrep developed video lectures for FRM exams.
And 2020 saw the launch of new study materials for the following:
The Society of Actuaries (SOA) exams P (Probability)
IFM (Investment and Financial Markets)
It won't stop here, as AnalystPrep is committed to further research and development.
AnalystPrep's Online Course Options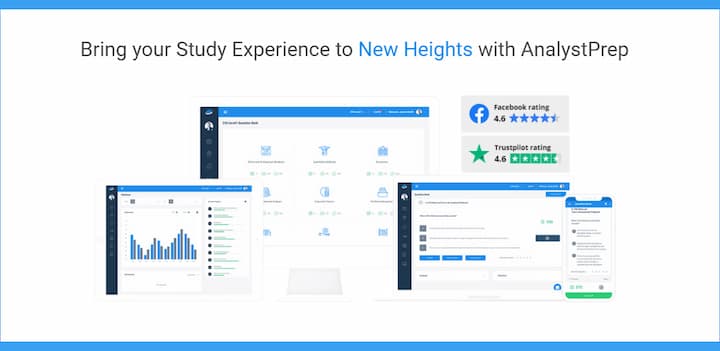 No online study program can meet the needs of every learner, but some virtual classes are perfect for some people. AnalystPrep is an ideal platform if its pros outweigh its cons, and that's what our in-depth analysis is about to find out.
Preparing for the CFA exam or FRM certification? Compare AnalystPrep vs. BionicTurtle to see which prep course can best aid your studies.
Analyst Prep CFA Review
AnalystPrep is not the only CFA prep course around, nor is it the most established program available. Yet despite that, it's become a hugely popular choice for CFA prep.
One reason for this is the excellent video tutorials. The AnalystPrep Learn + Practice package boasts some 40+ hours of video tutorials, and we'll get to those shortly.
First, here's a rundown of the six AnalystPrep CFA course features:
Personal high-tech dashboard for progress tracking
Question Bank with 3000+ practice questions
Mock examinations
Fully-customizable practice quizzes
Downloadable lessons and personal notes
Vast video Library
OK, let's begin with the last item — and leading attraction — the video lessons.
Video Presentation and Format
The course professor is in his own window on the upper right of the screen, and the larger area on the left is a digital whiteboard used to present the following:
Notes and key points as the Professor talks;
Problem-solving using practical scenarios and a virtual calculator.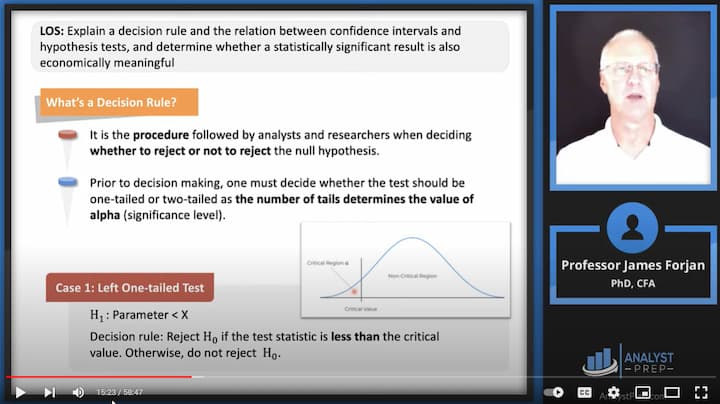 These video presentations are exciting for a captive audience. They're also streamlined and have zero fluff, but audiovisuals are only part of this CFA prep course.
What kind of calculator is it appropriate to use on CFA? Find out in our article, where we list the best calculator for CFA.
The video quality is not quite as good as the Wiley CFA prep course. Still, it's a minor nitpick that's unlikely to influence buying decisions.
Practice Problems
AnalystPrep's Question bank is unique in several ways. It holds thousands of practice questions, has a super clean, responsive interface, and it's customizable.
The platform divides problems into precise topics that all have detailed solutions.
Moreover, AnalystPrep continually adjusts its questions to keep them current with the CFA program curriculum. And all this comes with an affordable price tag.
Rating AnalystPrep Mock Exams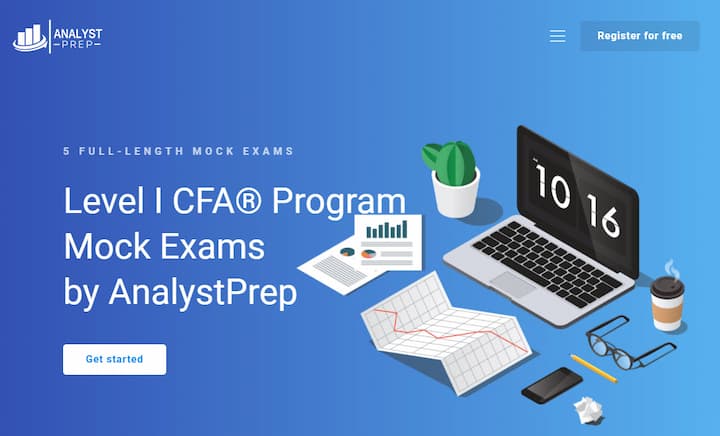 The simulated mock examinations are unique because they are five full-length tests. That's more than most competitors.
They're also highly relevant, designed to challenge and prepare you for the actual event. The mocks come in two convenient formats, i.e., computer-based training (CBT) and printable PDFs.
But what if you fail?
You can't just fail the mocks. Each test presents you with an overall score and lets you review your mistakes.
In addition, the reporting system gives feedback statistics, e.g., percentile performance for a given topic. It's an excellent way to help guide revision.
AnalystPrep Study Notes
The Study Notes deserve a separate mention here. No learner will ever complain that educational notes are too easy to read. The notes format, layout, readability, and concept breakdowns make them comfortable on the eyes and easy to grasp.
Moreover, these notes work in perfect tandem with the video presentations.
Course Content Access
AnalystPrep courses give 12-month full access to every package, which is ample time for most learners. However, access to its Ultimate Packages is for life.
Are you getting ready to take the CFA test or earn your FRM certification? Analyze the differences between AnalystPrep vs Schweser (Kaplan) to determine which preparatory course will help you the most with your study.
Other Online Courses by AnalystPrep
AnalystPrep FRM or Financial Risk Manager parts 1 & 2 starts from $249. Its Actuarial Exams study packages start at $99 up to $299 for the Unlimited plan.
Plus, AnalystPrep has partnered with MyGuruEdge.com to bring new courses (coming soon). Look out for our Analyst Prep reviews for Graduate Record Examination (GRE) and graduate management admission (GMAT) tests.
AnalystPrep Package Guarantees
The exam curriculum can change, and when that happens, AnalystPrep guarantees to update its apps to reflect the new content.
They also promise responsive technical support for anyone who needs help or clarification with anything.
Refund Policy
If you're not 100% satisfied, you can get a full refund within 7 days. That won't apply to those who's downloaded a bunch of study notes or mock exams, of course. But everyone else gets all their money back, no questions asked.
It all sounds great, but how do AnalystPrep online courses compare to its rivals?
Rating the Course Prices
The price and quality of AnalystPrep CFA online courses are significant attractions. And the occasional discounts of 10%–15% make these affordable prices even more unique.

Here's what you get with each study plan:
Practice Only Package for Level I of the CFA Exam
This basic plan is just $199. It gives you 12-months access to the Question Bank, CBT Mock Exams, and Performance Tracking Tools.
Learn + Practice Package for Level I
For $349, you can get the Learn + Practice Package and 12-months access. The learning extras include video lessons, study notes, and essential review summaries.
Unlimited Package (All Study Tools)
The 'unlimited' part also gives subscribers lifetime access for only $549. Another attraction is access to all three levels of question banks and mock exams. The video lessons, study notes, and essential review summaries are for CFA Exam Level I.
Let's also do AnalystPrep CFA reviews for Levels II and III practice packages.
Level II Practice Packages of the CFA exam
The basic plan costs $149 and gives 12-months access to the online class and materials. It includes the Question Bank, Mock Exams (printable format), and Performance Tracking Tools. There's also five live chat 'Ask-a-Tutor' questions.
The Ultimate package includes all the above with the addition of:
No limits on ask-a-tutor questions
Lifetime access
Curriculum updates
Level III Practice Packages of the CFA exam
There's only one package available for Level III and a couple of optional add-ons. The Level III plan costs $149 includes a Question Bank, Essay Questions, and Performance Tracking Tools.
It also comes with five Ask-a-Tutor Questions, but you can buy unlimited questions for $79. The other add-on is lifetime access + curriculum updates for $99.
AnalystPrep Vs. Other CFA Prep Courses
AnalystPrep is one of the most modern and innovative CFA prep courses around, but it's not the only player. These rivals are not equal, so which is best for you?
The table below should help. It compares AnalystPrep with three other CFA prep courses, Kaplan Schweser, Wiley, and Princeton Review.
We've broken them down into the 6 most sought-after features:
Price comparison rating
Hours of video instruction
Book formats offered
Number of practice questions
Number of practice tests
Content access period
The AnalystPrep prices are unbeatable, but it falls short in other areas that may or may not influence you. Also, prices could change, and various discounts and coupons might be on offer, so be sure to check for promotions.
| | | | | |
| --- | --- | --- | --- | --- |
| | AnalystPrep | Kaplan Schweser | Wiley | Princeton Review |
| Price | $249 | $1,099 | $1,395 | $999 |
| Video Tutorials | 40+ hours | No video | 90+ | 50+ hours |
| Book Formats | Digital only | Hard & digital | Hard & digital | Digital only |
| Practice Questions | 4,000+ | 3,500+ | 5,000+ | 1,500+ |
| Practice Tests | 5 | 4 | 2 | 2 |
| Content Access | 12 months | Exam Date | Unlimited | 12 months |
Point to note: The available videos and numbers of practice questions and tests may change with different levels. Visit the company websites for full course outlines.
Overall Package Rating – Which Is Best?
The best AnalystPrep package depends on where you're at in your ambition. If you want to go all the way — and haven't taken the CFA exam — the unlimited packages make the most sense. The savings are significant compared to rival courses.
Course Material and Tuition Quality
All course material is incredibly sound and well thought out. The content of the exam-style questions and mock exams are of the highest quality.
Furthermore, they closely replicate the actual CFA exam. Indeed, quality is one of the company's Core Values.
Quality First: We are aware that low-cost products shouldn't mean low quality, especially in education. Therefore, our main goal is that every AnalystPrep's user has access to the best content available on the market. Period.
Meet the Professor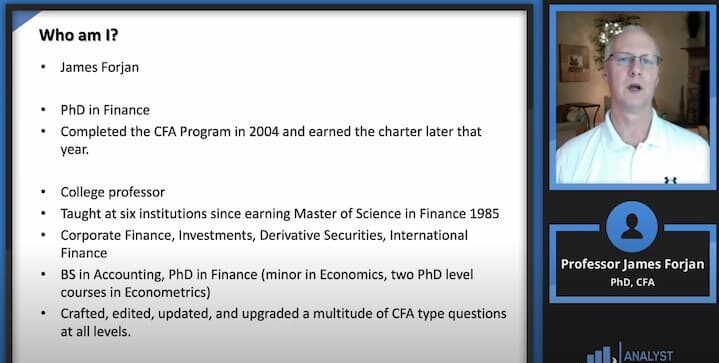 Professor James Forjan, CFA, Ph.D., has over 23 years of teaching experience at the college level. He does most of the lectures, and his passion comes across in the videos, keeping the tuition engaging and educational.
AnalystPrep Ask-A-Tutor
Another human element of this platform is the Ask-a-Tutor feature. Basic plans give learners access to five ask-a-tutor questions, while the Ultimate Packages has no limits. The tutors are all experienced professionals, and they're open to questions 24/7.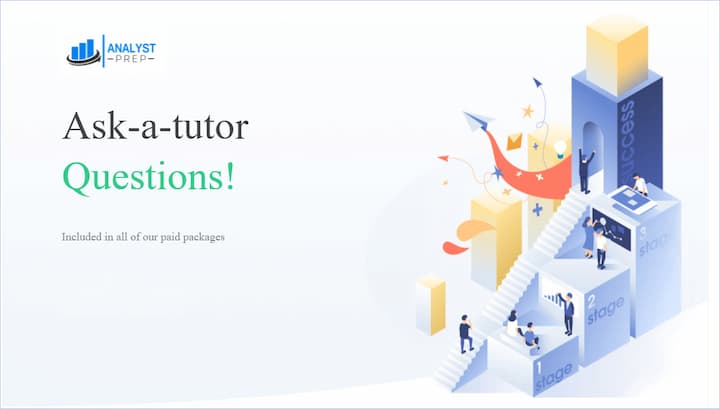 AnalystPrep guarantees fast response times and detailed answers within a few hours. There are two communication options, email or via the in-app chatbox.
Customer Service and User Comments
There are plenty of AnalystPrep reviews from experts and real users. That's a good thing if you're looking for opinions from those who have tested the platform.
Any online learning tool is only as good at is customer service and after-sales support. So, how does AnalystPrep fare? Well, over 80 reviewers give it a score of 4.6 on Trustpilot. The comments include positive feedback on customer support.
The company is easy to reach from the site where it displays the physical office address. Contact options include phone, email, and an online contact form.
AnalystPrep's Learning Platform
The AnalystPrep unique user interface is modern, smooth, fast, and responsive. It's also easy on the eyes, and makes organizing study elements a cinch.
Best of all, its responsive design adjusts beautifully to different screen sizes (no mobile app needed). That means you can study on the go from your handheld tablets and smartphones.
A small dropdown menu on the top right lets you switch between screens. And the four core elements, i.e., videos, study notes, question bank, and mock tests, sit on the left-side vertical navigation bar.
You'll never get lost bouncing around this interface; such is the simplicity of its design and layout.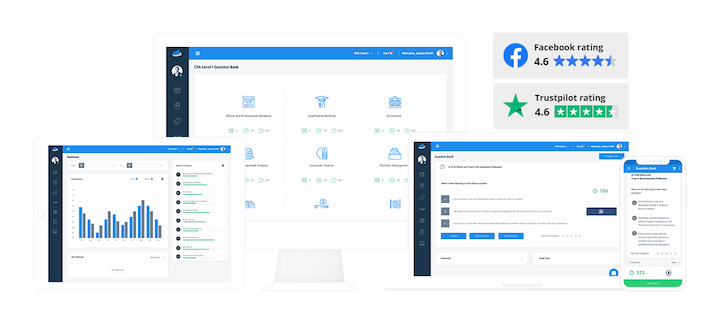 No CBT and online learning platforms are perfect, but AnalystPrep comes close. Here's a rundown of the pros and cons at the time of this assessment.
Pros
Most affordable CFA prep course at this level, plus occasional discounts.
Unlimited Ask-a-Tutor Questions (Ultimate Plans and paid add-on).
Self-paced: learn anytime, anywhere, at your own speed.
App updates to reflect changes to the exam curriculum.
Lifetime access with premium plans.
Extensive practice questions.
Multiple ways to learn.
Customizable quizzes.
Realistic mock exams.
Progress tracking.
Cons
Answer solutions are a tad short on details.
No hard copy prep books like main rivals.
No video tutorials after Level I.
No live instruction.