When it comes to the landscape of online college consulting services, finding the ideal platform that understands your needs becomes essential. That is where my Ivy Coach review steps in. I assess companies based on specific criteria, which incorporate features, price, quality, the usability of their websites, value for money, feedback, money back, and privacy protection.
This Ivy Coach review is based on these parameters, and therefore, I am confident that this thorough review should be trusted. As I have discovered over time, the small aspects are what sets apart a proper service from an inconvenient and unsatisfactory one.
Therefore, my review is more than an inventory of advantages and disadvantages but a complete instruction on Ivy Coach. Should you be pondering over hiring the services of Ivy Coach, watch this space. This review is aimed at giving you all the information you require to make an informed decision on whether Ivy Coach suits your needs.
Ivy Coach Features
My findings in this Ivy Coach review indicate that it could be of minimal assistance to some students seeking admission counseling services. A significant portion of people who requested assistance in applying to college or graduate school perceive Ivy Coach as deficient.
Admission rates are down to 3.19% at Harvard, and Ivy Coach calms to understand the fierce situation by offering several programs for students. But IvyCoach.com reviews, and ratings often reflect mixed reactions in helping students gain admission to their dream colleges.

In the process of this IvyCoach.com legit review, I found that they provide a free 20-minute consultation to potential customers. They will give their initial consultation for free through either a call or Zoom, in which they explain how they would help you navigate the difficult college admission system.

The main distinguishing feature of Ivy Coach is its Strategy session headed by Ivy League ex-admissions officers. In this meeting, these people assert that they assist students in preparing a unique resume, an effective study strategy, and what test to write. Unfortunately, real user online reviews say otherwise.
The PreMortem is an offering for latecomers in 12th grade by Ivy Coach that focuses on rectifying the blunders and reinforcing the application narrative. This is crucial, especially if these were deferred or denied admissions in the first round of admissions.

Lastly is PostMortem, where you will receive feedback for up to 3 college applications and develop a strong extracurricular catchphrase.

In addition, Ivy Coach helps those deferred and not accepted students in writing Continued Letters of Interest. They provide them with an edge by assisting them to tell their own individual story using powerful essays, letters of recommendation, and interview preparation. These provide several plans that are dependent on how many schools one requires assistance.

Moreover, they also provide strategic planning assistance to ensure that students are not presented as generally the best candidates but as rare talents. As such, counseling on choice of courses, test preparations, and extracurricular activities are all included here. Additionally, Ivy Coach offers ACT and SAT test prep and tutoring.
Based on my research, the features of Ivy Coach are just normal and in accordance with traditional methods that include ex-Ivy League admission team officers. Therefore, if you are thinking about using this college admission consultant, read on. While I continue this Ivy Coach review, I will give you some details that may cause you to rethink this decision.
Ivy Coach Cost
Ivy Coach's website purposely hides the price tag details of their services. Regrettably, this is what some of the college consultancies seem to do. One of the strategies of Ivy Coach is the mysterious way of setting fees for clients' individual preferences, which makes it hard to predict prices. This method seems to be employed by them in order to come up with specific solutions according to the specific characteristics of each child and the mystery of such fees.
According to reports, the Unlimited package, which offers counseling and coaching to 20 law schools, should be around $100,000. Moreover, fees in excess of a year's tuition appear to be covered under the FAQ section on their website.
The total costs may rise dramatically as the company considers their services in their entirety. In its 2019 article, The New York Times stated that Ivy Coach may offer consultation services for upwards of USD 1.5 million. This pricing can be really high, considering that there is transparency in the structure.
The way they are charging seems to imply that it is all about profits for them. They tie their pricing to what is perceived of them as successful in dealing with customers. Unlike the average prices at private college counseling, pricing for Ivy Coach can be termed as expensive.
They argue that they cannot be held subjected to conventional industry pricing norms that require them to justify their charges owing to special skills and unique demands.
However, they divulged certain details regarding "College Consultants Fees" on their website. Ivy Coach insisting that its pricing structure is unavailable for public consumption is quite disturbing.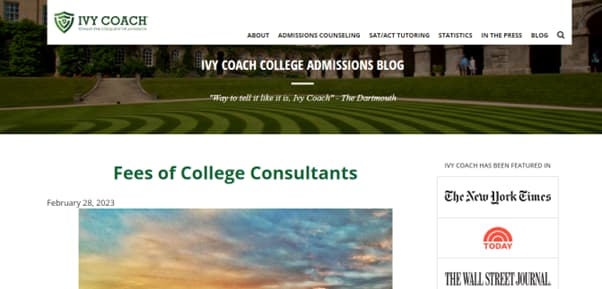 According to Ivy Coach, they should charge bigger fees because they have an amazing record. They claim their services have assisted many in getting entry into reputable places like "Ivy Leagues." So, in essence, what you pay for is not just the end product but also the organization's reputation and performance.
Even so, it seems like Ivy Coach has already got an idea about just how expensive their fees are for most families.
Thus, it is no wonder that they concede not everyone needs an individual private college advisor. Interestingly, they even hint at cases where some parents may just need elementary common sense to manage this undertaking effectively.
Also, check our list of the best dental school admission consultants if you need such type of consulting.
In case of fee-related aspects, Ivy Coach will make you look at its website for the available offers and possible fee modes. In case you need a cheaper way to purchase their expensive services, look for the current promotions, scholarships, or payment plans anywhere on their website.
Given how expensive Ivy Coach's fee is, it is wise to analyze your needs and then compare them with your limitations before setting your eyes on the price.
Quality of Consulting at Ivy Coach
From my IvyCoach.com review, it shoul become clear that Ivy Coach's provision is of a poorer standard than they present themselves. First, if these features are Ivy Coach's claims, then one can argue that even superior alternatives exist elsewhere, and their claims appear exaggerated.
Moreover, Ivy Coach claims to have former admissions officers from Harvard College, University of Pennsylvania, and Dartmouth College on its roster with expertise that does not meet the expectations. But it is only true to say that their help and support are very superficial in terms of meaning and substance.
Regarding efficiency, Ivy Coach has one of the highest placement rates among top universities. During 2018-19, 92 of 92% of students who worked with Ivy Coach in 3 schools or more earned admission into their top college or medical school choice. At least that's what they state, it's hard to find proof to that online.
Nonetheless, it is imperative to note that Ivy Coach cannot promise you a post at school or college. They charge the fee that they have quoted as non-refundable.
On the other hand, their high Ivy Coach ratings imply that most of their clients think they are good enough for them due to their expertise and personalized approach.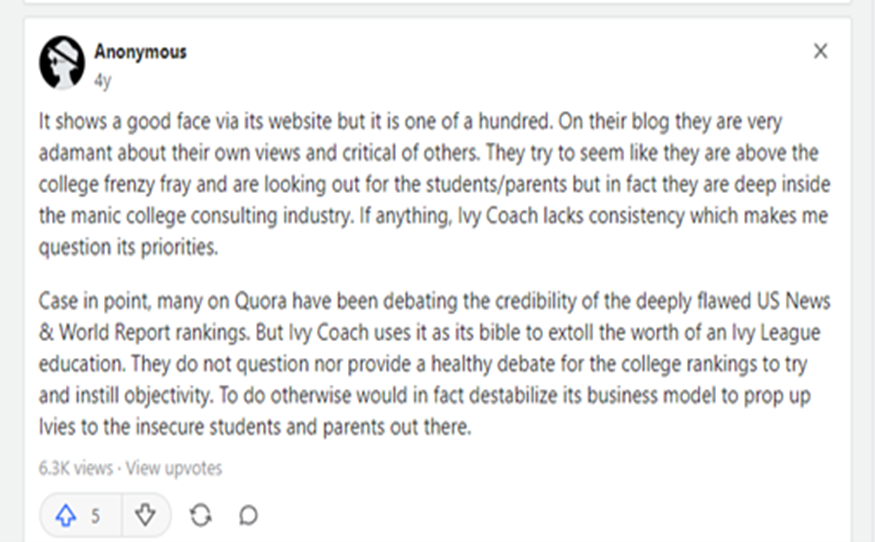 However, an anonymous user on Quora noted that they doubted the credibility of Ivy Coach. According to this person, Ivy never used any consistent method and depended primarily on the US News & World Report rankings. The user argues that promoting Ivy League schools might be a move Ivy Coach makes in order to preserve its business model.
The user continued by saying they are different from other college consultants because of their holistic approach. The size of Ivy Coach's team is quite small when compared to other counseling companies. They have just a single ex-college admission officer. Despite this, their impressive placement rates among elite universities are a showcasing of their tailor-made practice together with their multi-decade experience in the field.
Here's a comparison table of Ivy Coach, Admissionado, A-List Education, and Princeton Review based on various factors:
| | | | | |
| --- | --- | --- | --- | --- |
| Company | Prices | Quality | Features | Level |
| Ivy Coach | High | High | Comprehensive College/Graduate Admission Consulting | College admissions |
| Admissionado | Varies | High | College and MBA admissions consulting | College and MBA admissions |
| A-List Education | Not specified | Not specified | College admissions consulting, SAT/ACT prep | Middle school, high school, and college students |
| Princeton Review | Varies | High | College admissions consulting, Test prep for SAT, ACT, MCAT, LSAT, GRE, GMAT, etc. | High school and college students |
Consutling Value for Money
Assessing Ivy Coach's Value for Money may not be as simple. This is mainly because they do not provide a breakdown of the individual costs of their services on their websites. According to some Ivy Coach reviews, the company offers comprehensive college counseling services. They may not promise admission, but their high placement rates are what make it look promising.
However, if you are desperate to get admission to elite institutions for the sake of your family, then Ivy Coach would probably not be right for you. Plus, it may not be wise to throw large sums of money at Ivy Coach. Prior to deciding on it, you must really reflect upon your individual situation and aims.
The high Ivy Coach ratings, as well as its prestigious placement rate with leading colleges, such as their 92% acceptance rate for those who apply to three or more universities, are testimonies of how people appreciate what they offer.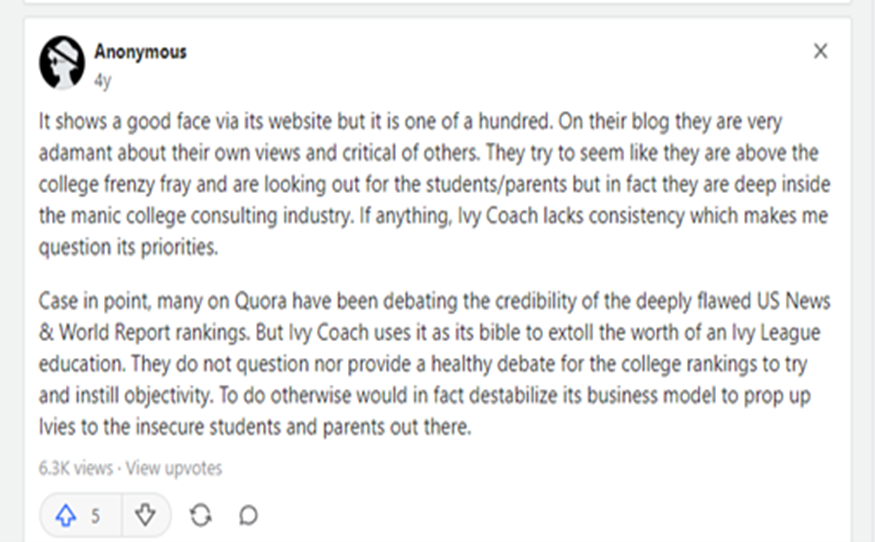 By browsing through several Ivy Coach reviews and reading through other people's stories, I managed to get a few ideas on how this would prove valuable for my money. A Reddit user described their disappointment with Ivy Coach, where they allegedly got scammed of $100K for very minimal help that mostly included helping in rewriting admission essays. They sent applications to first-grade schools and were rejected.
On the contrary, an unaided application of their own led the user to gain admission into a state flagship university. This is straight talk about the Ivy Coach. The user advises parents that if they can afford it, they don't need to waste their money on such services because this is simply not worth the cost.
Student Feedback & Reputation of IvyCoach
From several Ivy Coach reviews it appears that the experiences of clients differ.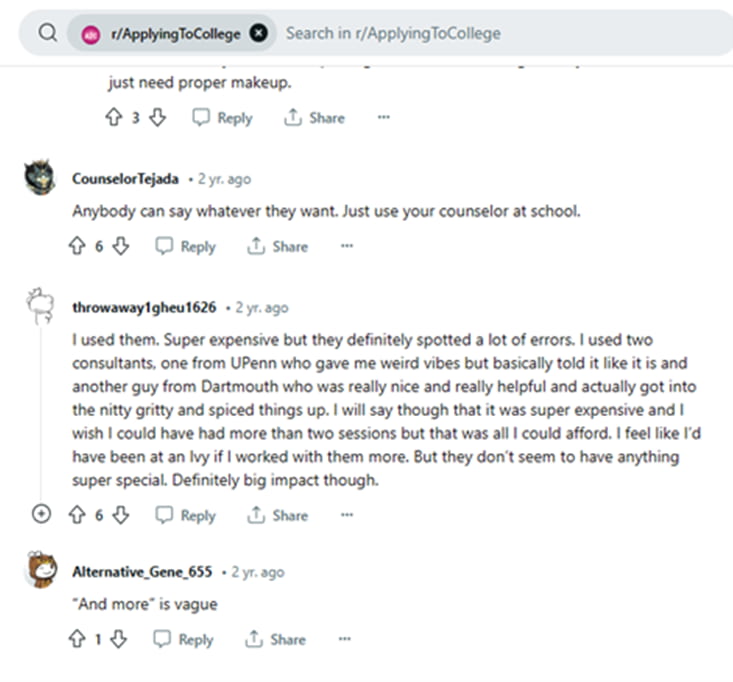 Their services have helped some of their clients, and their staff are perceived to be polite and respectful. As an example, a particular Reddit user stated that they considered the Ivy Coach personnel useful for detecting mistakes while writing their application materials.
Nevertheless, some of the clients viewed the staff as uninterested in assisting them if they did not opt for the costlier packages. One Reddit user also talked about being patronized during a free initial consultation, where it was obvious that they were not going to buy the costliest bundle.

Another user on Quora expressed a few worries. From their perspective or rather interaction, the user considered them rude as it seemed like a normal day at Ivy Coach. The user questioned the credentials of Ivy Coach, stating that they are expensive yet have no talent to justify their costs. This feedback shows that there may be other superior alternatives to college counseling services.
However, it is necessary to mention that these are personal perceptions and might not represent the experiences of every client. Just like any other service, experiences are dependent on some things, such as what personnel one meets and clients' own desires.
Is IvyCoach.com legit? Legitimately speaking, Ivy Coach has operated since 1992 and boasts an excellent past record in admitting students to top institutions of learning.
Pros
Expert advice comes from experienced ex-admissions officers of the Ivy League.
Tailor-made comprehensive approaches.
Placement rate among top universities, including Ivies.
Strategies tailored towards academic strengths, weaknesses, and goals.
They provide a free 20-minute consultation to outline how they can help.
Cons
It's highly pricey, with prices even going above $100,000 for certain packages.
No specified pricing, and one cannot easily tell whether its value.
Diverse clients' impressions in Ivy Coach reviews, with some arguing that they were not valued without paying for their extra fees.