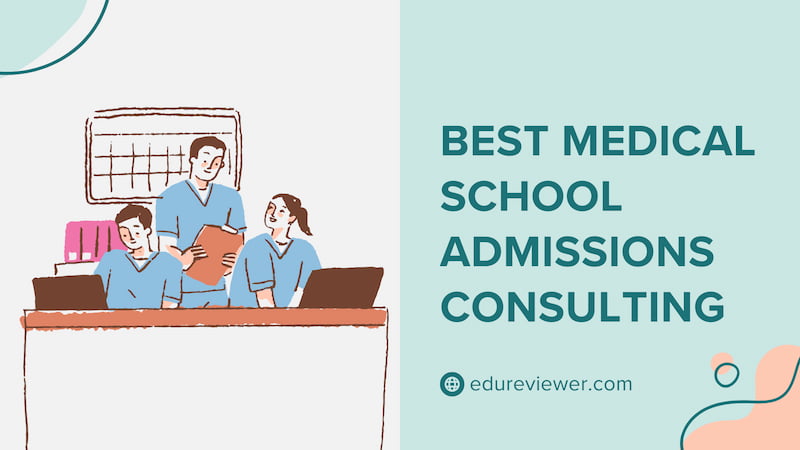 The medical school application process is challenging, particularly for those who lack the necessary resources and guidance. Often, university pre-med advisers have a very heavy caseload and are unable to provide you with individualized attention. This is where services such as med school admissions consulting come in.
I will evaluate and rank the best med school admission consulting services with their features, price, value for money, and experts. As someone who has been through the application process several times, I can tell you that working with a credible med school consultant can make a difference. So, make the most of this helpful information and start on the road to becoming a doctor.
Best Medical School Admission Consultants
After extensive research, I've discovered a curated roster of top medical school consultants. As a former medical student, I can attest that the advice these professionals provide is priceless.
Admissionado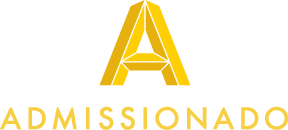 Only qualified specialists and experts provide services.
Every single person of staff is a wealth of knowledge.
It might be pricey to buy everything at once.
There is no money-back promise in place.
Features
The insights gained from using Admissionado's med school admissions counseling service have been valuable. Here are some of the key features to note:


Personalized counseling: Personalization is at the heart of what makes Admissionado stand out from the competition.


Specialist Mentoring: Their consultants are generalists and specialists. Generalists handle all parts of college applications, whereas specialists specialize in essays, extracurriculars, or interviews. They are one of the best medical school admission consultant specialists and provide students with personalized assistance to maximize their chances of success.


Mentorship Program: Admissionado has a fantastic Mentorship Program that puts students in touch with accomplished alums who can help them get into the school of their choice.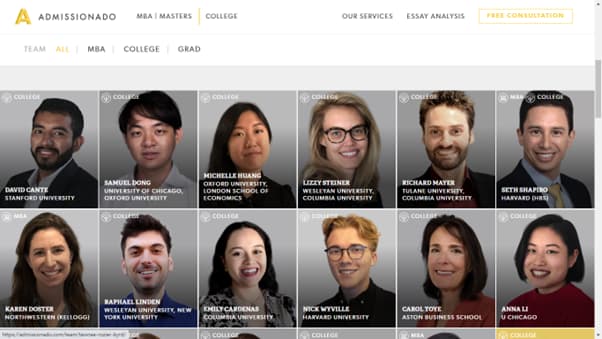 Admissionado consultants specialize in putting students in competitive undergraduate programs. They know the admissions process well and can help students create standout applications. Admissionado evaluates applicants individually.
Online Rating [Reputation]
Based on 233 reviews in the Gmat club, Admissionado Admissions Consulting has an average rating of 4.9 out of 5. On MBA Insights, it has 46 reviews and a score of 4.89 out of 5.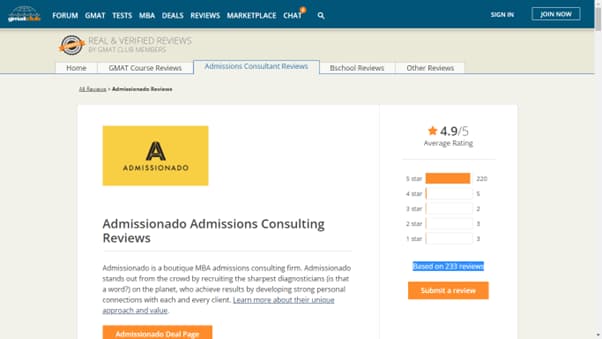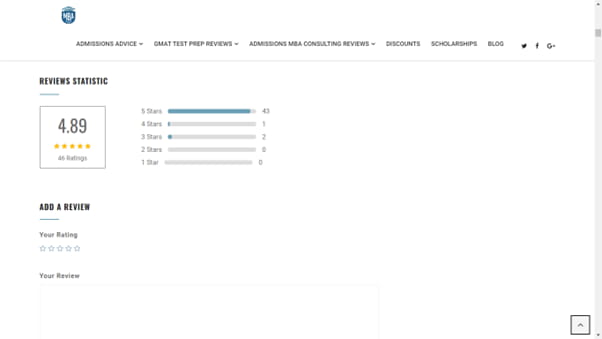 Pricing
MBA/Master's and College Services are Admissionado's price levels.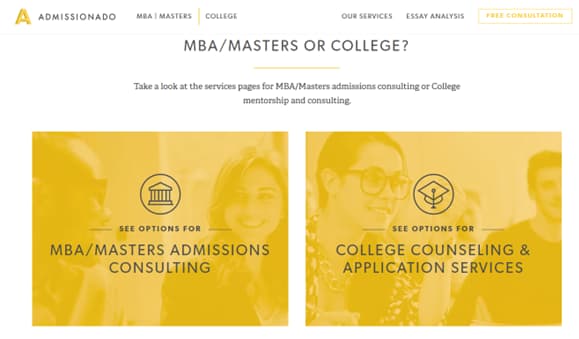 The Silver and Gold MBA programs provide different levels of support for different conditions and budgets.
Students in grades 9-11 may receive specialized coaching to improve their college applications, and high schoolers can use College Counseling to prepare for senior year.
They comprise student college services. Depending on the service and help needed, prices range from $1,650 to $5,850.
Value For Money
For students looking for advice on getting into graduate school, Admissionado is a great resource. Their college application packages provide expert guidance at every step. Their medical school admissions counseling services are well worth the investment due to the quality of advice they provide.
Unique Experience Interacting With The Product
The results of my research have convinced me that their individualized strategy for balancing weaknesses with strengths is revolutionary. One of the main reasons Admissionado is considered to be one of the top med school consulting services is the use of seasoned professionals.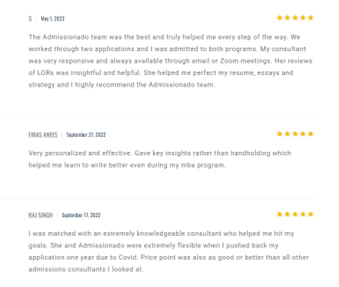 BeMo Academic Consulting
BeMo Academic Consulting offers a 100% money-back guarantee if you do not get admission after using their services.
BeMo Academic consultancy receives an overwhelming majority of five-star ratings for medical school admissions consulting reviews.
A consumer described an advisor as a robot.
Users complained about their rescheduling process. Despite an emergency, rescheduling costs $100.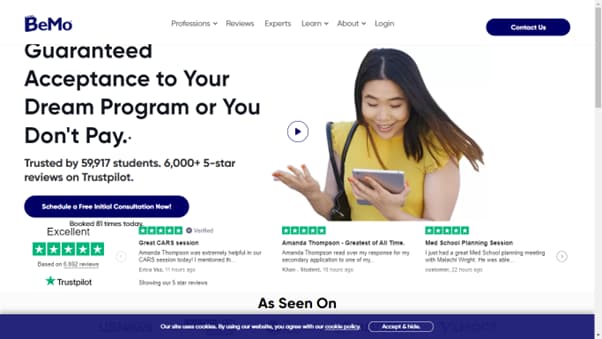 Features
You can improve your application's prospects in several ways by using BeMo Academic Consulting's offerings. Here are some of its features:


Unlimited MCAT Prep: Here, you'll learn how to recognize and answer different reading comprehension problems.


Unlimited Application Review: They will carefully analyze your essays and personal statements and give extensive written feedback on language, spelling, flow, structure, and red flags.


Unlimited CASPer Prep: After applying to schools, start CASPer prep. CASPer preparation includes real practice tests with expert comments.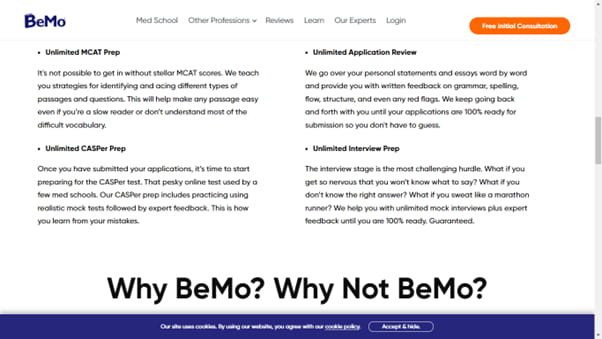 Experts
I was interested in BeMo Academic Consulting because of its proven success in med school counseling online. Despite the tough, costly, and unfair admissions procedure, medical students have a 93.5% success rate.
They are superb med school admissions consultants and counselors. Dr. Behrouz Moemeni's superb team includes experts like Dr. Steven Powell, a former Admissions Officer at Dartmouth-Hitchcock Medical Center, and Mary Christine Zeise, a former Director of Operations for MD Admissions at Stanford University.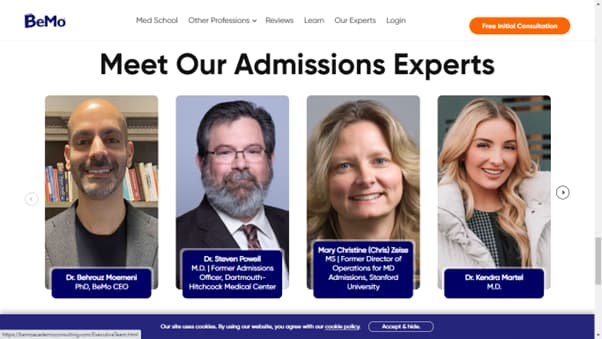 Online Rating/Reputation
As of this review, BeMo Academic Consulting has had 6,692 reviews on Trustpilot, earning a 4.9-star average rating.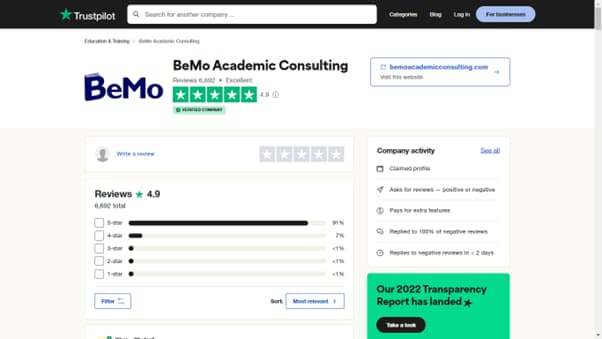 Pricing
BeMo Academic Consulting's website does not provide licensed service prices. However, my research found various student-focused price choices.


Tiers include application reviews.


Interest-free payments help spread the cost.


Pay over time with no interest or pay in full to save 50% on registration costs.


Customer consultations are free.


Their MBA Interview Prep offers three packages starting at $1047, and their MBA School Application Review is $1997–11997 with guarantees. Graduate school review packages cost $1997–$3697.
Value For Money
BeMo Academic counseling is, in my opinion, the most cost-effective medical school admissions counseling service. The advantages of their packages, particularly the guaranteed ones, are substantial. The evaluations from those who used their services to help them get into medical school all agree: they were excellent.
Unique Experience Interacting With The Product
Based on my research, I discovered that BeMo's staff will carefully go through your personal statement or essay and provide you with constructive criticism. When it comes to custom test preparation, no one does it better than BeMo, especially for the MCAT and the CASPer.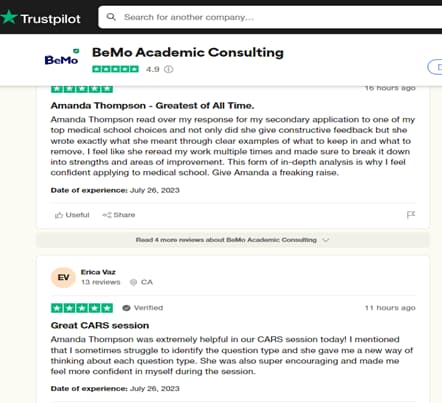 Admit Advantage

Only qualified specialists with extensive experience in the sector supply the services.
In-house consultations are provided at no cost.
The absence of a guarantee policy.
All-inclusive plans tend to be a little pricey.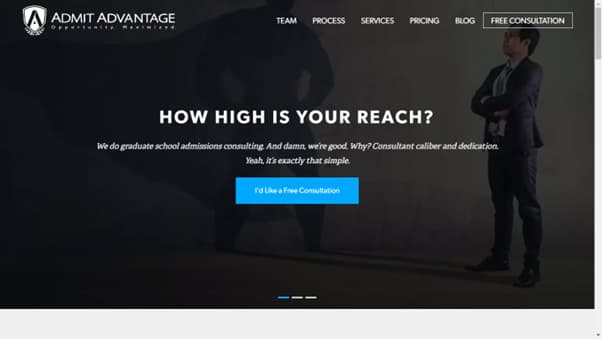 Features
In the competitive field of medical school admissions consulting, the features of Admit Advantage can be very valuable. Here are some of the key features below:


Customized Admissions Strategy: Admit Advantage tailors college admissions to your strengths and weaknesses.


Experienced Consultants: They are the finest graduates from top colleges worldwide, making them uniquely suited to teach contemporary pupils.


Free Consultations: Decide whether their services are perfect for you. Admit Advantage consultants will review college application strategies with you.


Experts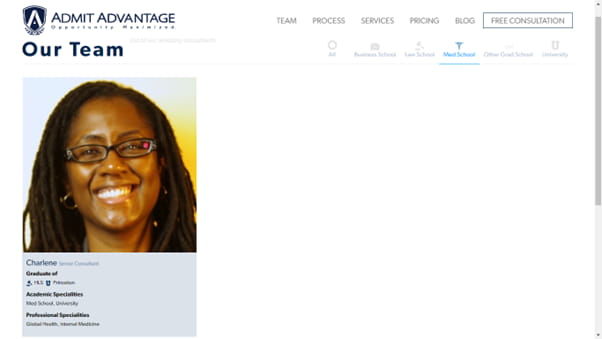 At Admit Advantage, Charlene is a Senior Consultant who distinguishes out for her expertise and dedication to the company. She is qualified to provide excellent teaching since she has a law degree and a master's from Princeton.
Online Rating/Reputation
Since 2007, when Admit Advantage first began offering their all-in-one package for five schools, they have had a 92% acceptance rate. As a result, this makes them one of the best medical school admissions consulting services.
Pricing
Several services are available at AdmitAdvantage.com to assist students with their applications.


They provide $275 per hour hourly consulting services for personalized help with various elements of the application.


They also provide customized packages for applicants to business schools, with prices ranging from $2,250 for the Select Package to $3,950 for the Premium Package.


Depending on how many applications you submit, the cost might vary from $3,950 to $5,050. They also provide self-completion application review packages.


Value For Money
Admit Advantage offers reasonably priced packages that include savings for applying to numerous schools. It's a compromised service that more students can afford to use. There is a high percentage of accepted applications.
Unique Experience Interacting With The Product
In my research, I found that Admit Advantage isn't only about grades and tests. The staff works directly with candidates to help them articulate what makes them special.
Accepted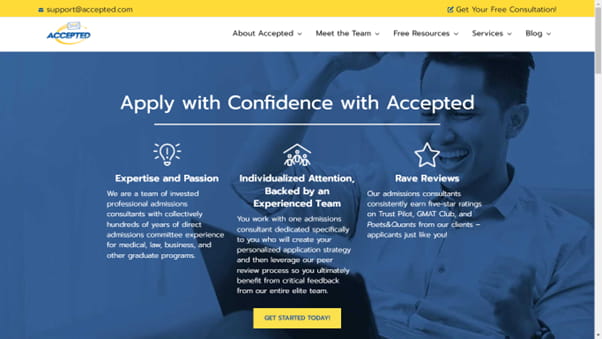 Features
Here are some of their key features:
Diverse Team of Experts: Former admissions directors, Ph.Ds, writers, journalists, and professors all make Accepted's stellar staff.
Personalized Approach: Since they are aware that no two applications are alike, they tailor their services accordingly.
Extensive Resources: They provide free consultations and other services to applicants. Their medical school consulting services seek to provide comprehensive assistance throughout the difficult medical school application process.
Experts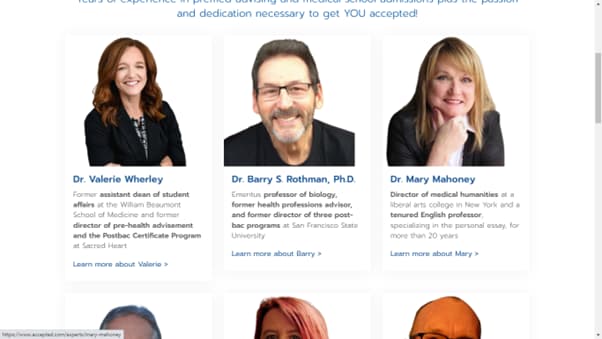 Dr. Valerie Wherley brings her William Beaumont School of Medicine expertise as associate dean of student affairs. Dr. Barry S. Rothman, a former San Francisco State University professor, advises health professionals. Dr. Mary Mahoney has taught English for nearly 20 years, specializing in personal essays.
Online Rating/Reputation
Since 1994, their staff of medical school admission consultants has helped thousands of students from across the globe earn acceptances at over 200 different medical schools. According to Trustpilot, 159 users have given Accepted.com 4.8 stars out of 5.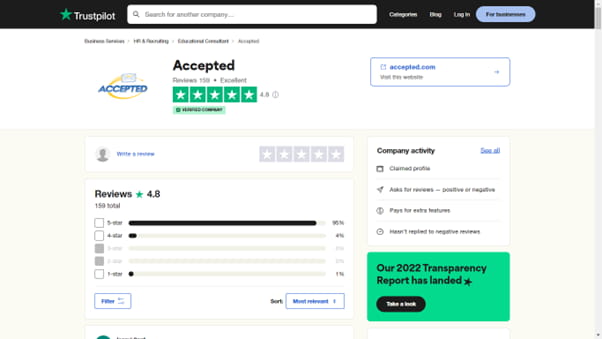 Pricing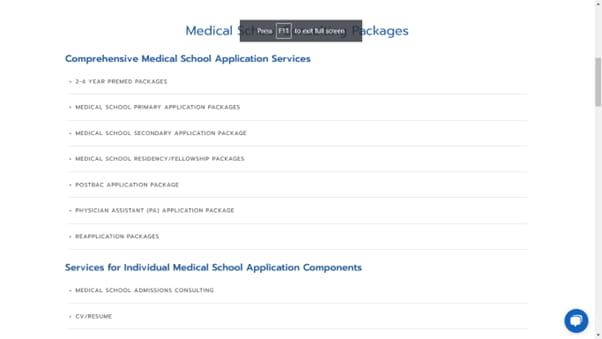 Prices for Accepted's three medical school application packages begin at $2,870 for the Basic Service, $6,995 for the Primary + Secondary Service, and $10,965 for the Platinum Primary + Secondary Service.
Value For Money
They know the initial application is vital to approval. Their experts help you establish an appealing medical leader profile. They help you maximize your time to impress programs and stand out. Accepted boosts your candidacy by providing specific advice to help you get secondaries and interviews. Medical students trust them.
Unique Experience Interacting With The Product
From my research, I discovered that Accepted's one-on-one counseling and well-thought-out strategies give them an edge. Their team of doctors, ex-directors of admissions committees, writers, and seasoned advisers can help you create the most competitive medical school application possible.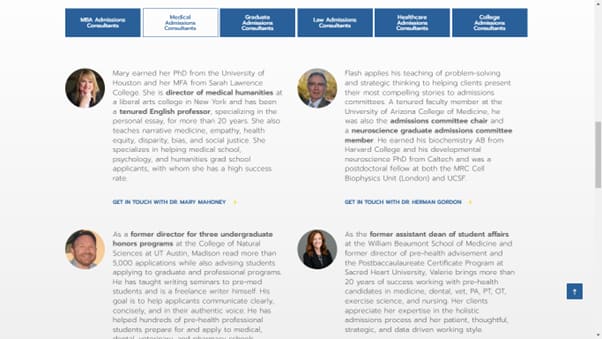 Prep Expert

The SAT/ACT equivalent of a military boot camp. The use of real-time, online classrooms to facilitate organized learning.
Numerous educational paths to choose from. Live lessons are available and taught by qualified professionals.
For those who need additional one-on-one instruction, the Self-Paced option may not be enough.
There is room for development in both the technology and the user interface.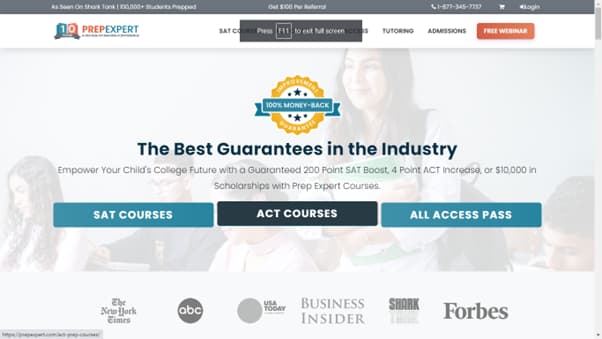 Features
As a medical school admissions consultant, I have dealt with several types of standardized testing prep companies. Prep Expert isn't directly related to medical school admissions, but it has features that are valuable.


Top-tier Instructors: Prep Expert takes pride in hiring the best instructors. These top-1% SAT and ACT scorers are also excellent teachers.


Comprehensive Course Offerings: Prep Expert offers live online classes, on-demand video courses, and individual coaching.


Industry-Leading Score Guarantees: Prep Expert is confident in its approach, and they back it up with industry-leading score guarantees.


Experts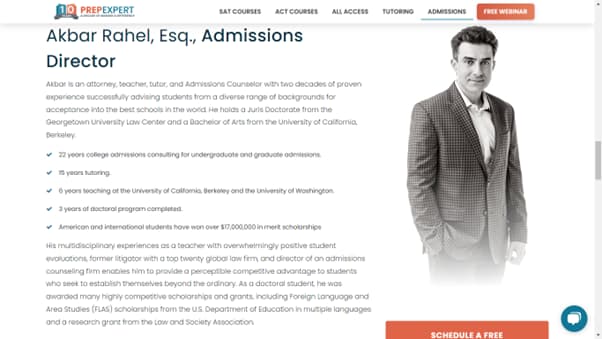 Attorney, educator, and Prep Expert Admissions Counsellor Akbar has helped students from different backgrounds get into top institutions. His broad knowledge and passion for student achievement make him a sought-after admissions specialist.
Online Rating/Reputation
Based on 771 reviews, Prep Expert has earned a 4.6-star rating on Trustpilot.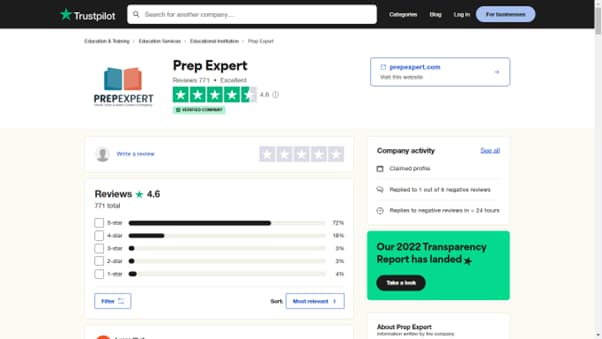 Pricing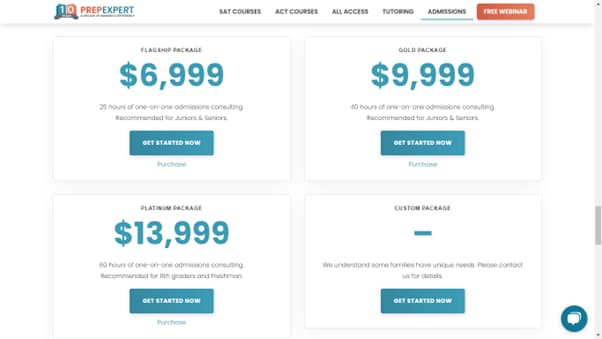 Prep Expert has a number of college application packages to choose from. The Flagship Package is ideal for Juniors and Seniors and starts at $6,999 for 25 hours of individualized guidance. The
Gold Package is also appropriate for Juniors and Seniors since it costs $9,999 and includes 40 hours of private tutoring. The Platinum Package, which begins at $13,999 and includes 60 hours of individualized instruction, is designed for students in the eighth and ninth grades.
Value For Money
Prep Expert provides excellent value for money. They often provide 50% off their prep classes, making them more appealing. PrepExpert's SAT prep, 6-week advanced course, and 12-month self-paced video course evaluations emphasize quality.
Unique Experience Interacting With The Product
Based on my extensive analysis of Prep Expert's SAT and ACT courses, I discovered its uniqueness. With its Self-directed video instruction courses, students can access this feature from anywhere on their computers or smart devices.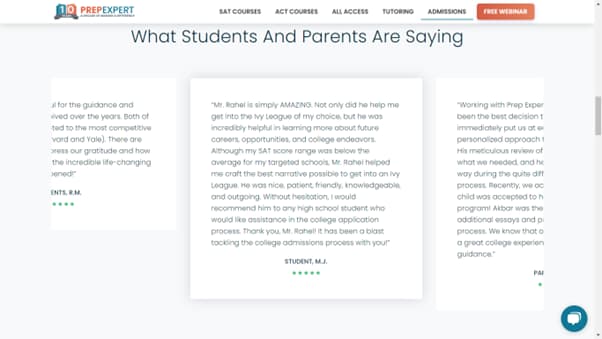 Kaplan

Extensive course structure
Superbly Engaging Video Lectures
Relatively expensive plans
The video explanations aren't available for every practice question.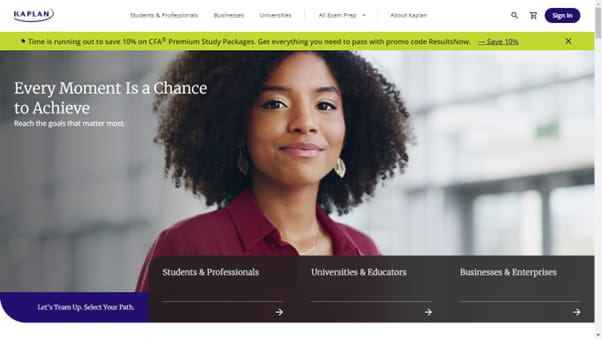 Features
Kaplan claims to have the best medical school consultants who can help you succeed. Here are three key features that Kaplan offers:


ACT Prep: Kaplan and the ACT have joined forces to provide you with access to highly qualified instructors and authentic test-taking materials.


SAT Prep: The finest SAT prep at home requires the best SAT prep companion. Their online classes are led by test specialists and are adapted specifically for the medium of the internet.


PSAT Prep: Preparing for the PSAT helps you prepare for the SAT. Improve your chances of getting into the university of your choice.


Online Rating/Reputation
Kaplan has been influencing people's lives and careers for 85 years now. They have helped over 3 million people and companies, so you can trust that they know what they're doing and can help you succeed. Based on 5,152 Trustpilot evaluations, Kaplan has earned 4.7 stars overall.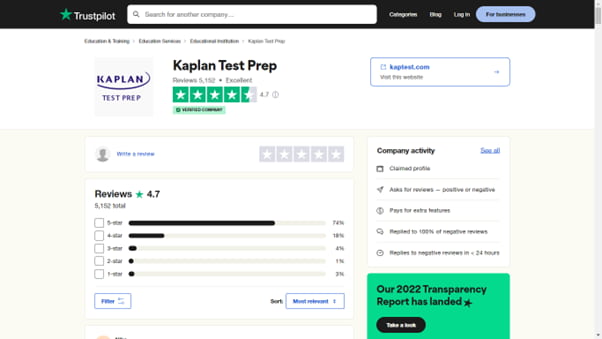 Pricing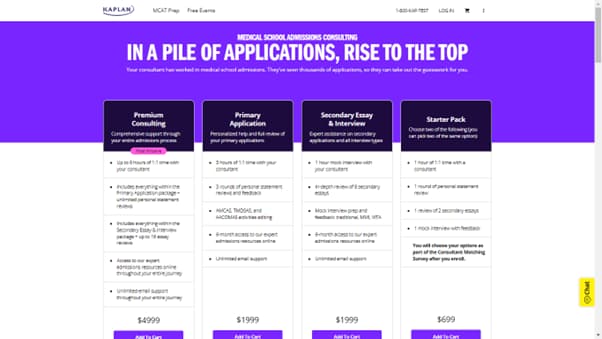 The four price tiers for Kaplan's medical school admissions coaching services start at $699 for the Starter Pack and go up to $1999 for the Secondary Essay & Interview and Primary Application, respectively. Starting at $4999, premium consulting.
Value For Money
When it comes to studying for exams, PrepExpert is among the best options. PrepExpert provides SAT, ACT, and AP test preparation services. PrepExpert is the
only place where you can get assurances of this kind. At the end of the day, the fact that they claim "you'll pass" implies just that.
Unique Experience Interacting With The Product
There were several things about Kaplan that interested me during the course of my research. First, their comprehensive educational solutions are ideal for individuals at any stage in life or job, making them a flexible alternative for many students. Second, their study resources cover SAT, ACT, LSAT, MCAT, GRE, GMAT, USMLE, NCLEX, and Bar exams, which is impressive.
What makes Kaplan stand out is their proficiency in medical school admissions counseling, a service that is essential to those who want to pursue careers in medicine.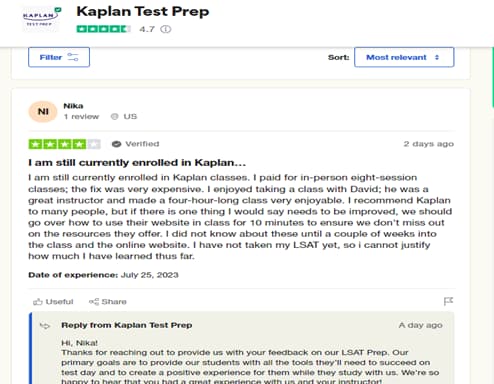 Blueprint

The Blueprint website has an intuitive design that is simple to use.
Students may rest easy knowing that the firm would always follow through on its money-back promises.
It's possible that some of Blueprint's given quizzes might become boring after a while.
Although the exceptional quality of Blueprint's training justifies the cost, some students may find it prohibitive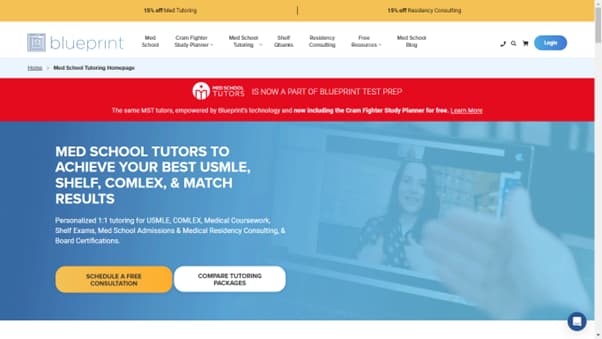 Features
Even in my role as a private medical school consultant, I've tried out a number of different approaches to studying for the MCAT. Blueprint has special features, and here are a few:


Expert Residency Consulting: In search of interview and application advice for medical school? Blueprint's Residency Consulting could provide you with the edge you need.


Comprehensive Medical Exam Prep: Rosh Review's bank of practice questions comes with detailed explanations, high-quality visuals, and insightful statistics.


Boards Pass Guarantee: Blueprint's assurance that you will pass the boards will provide you with the self-assurance you need to ace the exam.


Experts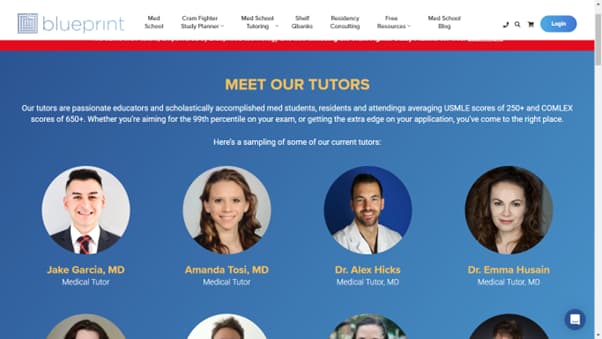 Blueprint instructors average 250 and 650 USMLE and COMLEX scores. They claim to help you to score in the 99th percentile on your exam or stand out in your application. Medical physicians Jake Garcia and Amanda Tosi and dentists Dr. Alex Hicks and others teach.
Online Rating/Reputation
Blueprint has had a significant effect on the field of professional education, with over a million students serviced and 500,000+ live teaching hours. The average rating for Blueprint on Trustpilot is 4.7 stars based on 363 user reviews.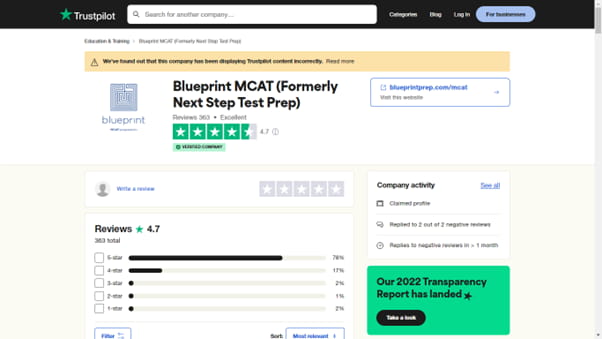 Pricing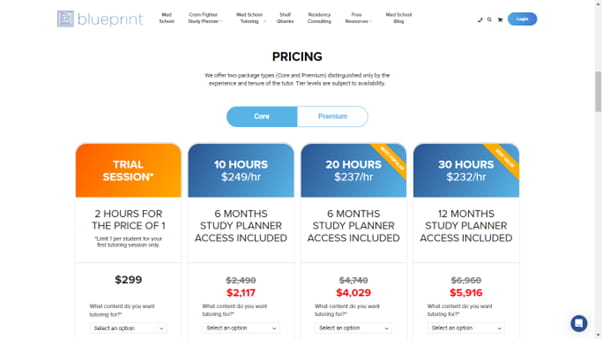 Blueprint's tutoring services come in two varieties: Core and Premium. A 2-hour introductory session costs $299, while a 30-hour package with a study planner add-on costs only $232 per hour. Prices for premium packages that include Cram Fighter start at $2,990 for 10 hours and drop to $278 per hour for 30 hours. The tutor's expertise and availability will determine the fee.
Value For Money
Blueprint offers high-quality, reasonably-priced MCAT preparation courses, and they come highly recommended. They are a good option for getting ready for the MCAT test, with only a few tweaks needed in the question section.
Unique Experience Interacting With The Product
As I was looking for the best medical school consulting services, I came across Blueprint, a top-tier test prep and professional training firm. I was interested in them because of their 17 years in the industry, innovative learning platform, and exciting student experience.
Comparison Table
| | | | |
| --- | --- | --- | --- |
| Service | Price Range | Level of Expertise | Overall Rating |
| Admissionado | $1,650 – $5,850 | Qualified specialists and experts | 4.9 out of 5 (Based on 233 reviews on GMAT Club) |
| BeMo Academic | $1,047 – $3,697 | Experienced med school admissions consultant experts | 4.9 out of 5 (Based on 6,692 reviews on Trustpilot) |
| Admit Advantage | $2,870 – $5,050 | A diverse team of experts | 92% acceptance rate in medical schools |
| Accepted | $2,870 – $10,965 | Experts with admissions committee experience | 4.8 out of 5 (Based on 159 reviews on Trustpilot) |
| Prep Expert | $6,999 – $13,999 | Top-tier instructors and industry-leading score guarantees | 4.6 out of 5 (Based on 771 reviews on Trustpilot) |
| Kaplan | $699 – $1,999 | Comprehensive course structure | 4.7 out of 5 (Based on 5,152 reviews on Trustpilot) |
| Blueprint | $299 – $7,091 | Expert Residency Consulting | 4.7 out of 5 (Based on 363 reviews on Trustpilot) |
FAQ
What is the acceptance rate for most medical schools?
The admittance percentage varies widely across medical schools but is typically about 40%. The admissions process might be tough, so it's important to distinguish via your grades, activities, and references.
What is in med school?
Anatomy, physiology, pharmacology, and clinical skills are only a few of the many topics covered in medical education. To complement their theoretical studies, students participate in clinical laboratories and hospital rotations.
What GPA is needed for med?
A competitive grade point average for medical school entrance is often above 3.5. However, having a better grade point average will increase your admission chances.
What is the best age to apply to med school?
Age is not a factor when deciding to get a degree in medicine. While the majority of applicants have a bachelor's degree or above, others choose to enter the medical sector later in life, bringing with them a wealth of unique perspectives and experiences.
What is a good MCAT score?
Scores over 510 on the MCAT are generally regarded as competitive. However, this might vary from school to school. The odds improve with higher scores.
What is the lowest MCAT score accepted into medical school?
There is no universally acknowledged minimum MCAT score for admission to medical school. Applicants with scores around 500 may be considered by some, but they will need to stand out with impressive academic accomplishments and other abilities.