Are you a student dreaming of getting into a highly selective college? The world of college admissions is evolving rapidly, and the competition is fiercer than ever. That's where Union Hall Advising comes in. This platform understands your challenges and is here to guide you through the maze of character-based admissions.
Union Hall Advising proffers solutions to the ever-changing college admissions landscape, providing you with insightful analysis, comprehensive assessments, and reliable ratings.
The platform aims to equip you with the knowledge and strategies to navigate this complex process successfully.
Being an education expert, I have thoroughly reviewed Union Hall Advising and its consulting services to provide you with an in-depth Union Hall Advising review. I have thoroughly reviewed numerous college admission consulting firms.
I compiled lists of the best college consultants, top grad school consultants, the finest law school admission consultants, and the most exceptional MBA consultanting firms.
Our extensive research allows us to offer you valuable insights into Union Hall Advising's unique approach.
The rise of character-based admissions, where your personal qualities and values are valued more than just grades and test scores, presents challenges and opportunities.
With Union Hall Advising by your side, you can seize this opportunity and excel in the new game of college admissions. Stay informed, stay ahead, and let us help you achieve your dreams.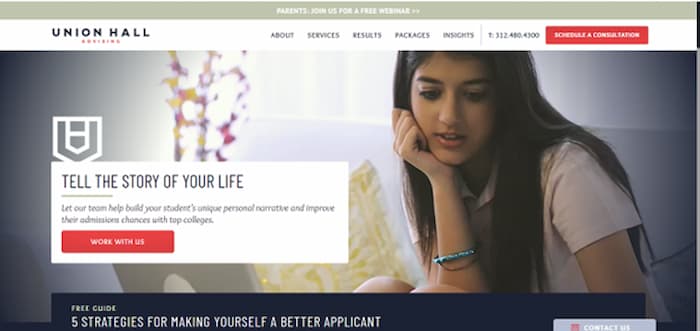 Union Hall Advising: What is it?
Union Hall Advising is a leading consultancy dedicated to helping students gain admission to highly selective colleges. With the college admissions landscape becoming increasingly competitive and unpredictable, Union Hall Advising recognizes the emerging "character-based" admissions trend.
This holistic approach values the student's personal qualities and attributes, going beyond traditional metrics like GPA and exam scores.
Union Hall Advising understands that winning admission in the current environment requires students to present a well-crafted story tailored to each college on their list.
Their experienced admissions advisors specialize in curating authentic narratives, backed by proof points, that align with the values and goals of the target institutions.
When you choose Union Hall Advising, you gain access to a dedicated admissions advisor with a wealth of experience. These professionals have guided numerous students through college admissions and possess the expertise to navigate each stage effectively.
Union Hall Advising team focuses on both strategy and execution, enabling students to achieve their goals of gaining admission to top-tier colleges. Whether aiming for a top 10 or a top 100 school, their advisors employ a meticulous approach to optimize success in highly selective admissions.
Who Will Benefit from Union Hall Advising?
Union Hall Advising services are ideal for students and families who aspire to gain admission to highly selective colleges but may not possess perfect grades and test scores.
Their approach caters to individuals who recognize the value of showcasing their unique character, experiences, and strengths to stand out in the competitive admissions process.
Key Features of Union Hall Advising's Consulting
Authentic Storytelling: Union Hall Advising assists students in crafting personalized narratives that align with the values and expectations of their target colleges. This storytelling approach aims to captivate admissions committees and leave a lasting impression.
Tailored Applications: By customizing each application to fit the specific requirements and culture of the colleges on a student's list, Union Hall Advising enhances the chances of acceptance. They guide students in presenting a cohesive application package highlighting their unique qualities and accomplishments.
Proof Point Development: Union Hall Advising helps students identify and develop compelling proof points that substantiate their narrative. Their advisors ensure that every element of the student's past contributes to a cohesive story and reinforces their suitability for admission.
Keep reading to discover how Union Hall Advising expert guidance can help you navigate the evolving college admissions landscape.
Whether you dream of attending a prestigious top 10 school or a reputable top 100 institution, Union Hall Advising equips you with the tools to excel.
Pricing
Union Hall Advising offers personalized consulting services to help students with college admissions and maximize merit aid. The cost information of The UnionHallAdvising consulting price is not publicly available on its official website.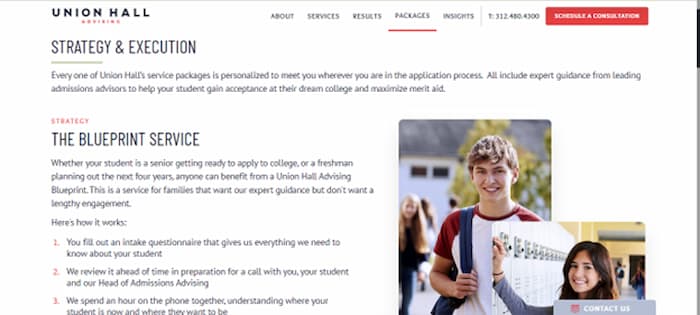 However, it is narrowed to two main service packages: The Strategy (The Blueprint Service) and The Strategy & Execution (The Complete Service). Below, you'll find the pricing information for Union Hall Advising:
Strategy: The Blueprint Service
The Blueprint Service is an excellent option for families who want expert guidance without a lengthy engagement. Here's how it works:
Intake Questionnaire: Fill out a comprehensive intake questionnaire to provide all the necessary information about your student.
Phone Call: Have a one-hour phone call with the Head of Admissions Advising and discuss your goals and aspirations.
Strategic Roadmap: Receive a strategic roadmap with specific action items to guide your college admissions strategy.
How much is UnionHallAdvising consulting? To get the prices, you can contact them directly to find out. They will provide the most up-to-date pricing information based on your specific needs.
Strategy & Execution: The Complete Service
The Complete Service offers comprehensive support throughout the entire college admissions process.
It includes all the benefits of the Blueprint Service, such as application preparation, essay assistance, recommendation letter strategy, interview preparation, financial aid guidance, and more. With the Complete Service, you'll have a personal advisor from start to finish.
The Complete Service for the Union Hall Advising prices recommends contacting them directly. They will be able to provide you with the current pricing information and discuss the specific services that will best meet your requirements.
Payment Options
Union Hall Advising offers various payment options to make its services accessible to families. These options may include payment plans or full payment upfront. It's best to inquire directly with Union Hall Advising regarding the available payment options.
To better understand Union Hall Advising services and customer experiences, you can look for college consultants reviews, feedback, comments, or testimonials from past clients. These can provide valuable insights into the quality of their consulting services and the benefits they offer to students and their families.
Quality Assessment of Union Hall Advising
UnionHallAdvising takes a personalized approach to consult, focusing on packaging students' profiles to create a compelling narrative. Their advisors excel in weaving together the elements of your past, ensuring a coherent and engaging story.
They go the extra mile to fill gaps in your narrative, crafting strong proof points supporting your overall application.
Who Will Help You on This Platform?
A seasoned admissions advisor at UnionHallAdvising will pair with you and assist countless students through admissions. These advisors possess a wealth of knowledge and understand the intricacies of securing a spot at your dream institution.
They are well-equipped to guide you from start to finish, providing valuable insights and strategies.
Are Their Staff Qualified?
The team at UnionHallAdvising comprises highly qualified professionals who have honed their expertise in college admissions. With their deep understanding of the admissions landscape, they stay up-to-date with the latest trends and best practices. Their qualifications and experience enable them to provide practical guidance tailored to your needs.
We have researched the success stories and testimonials from students and families who have worked with Union Hall Advising. Regarding Union Hall Advising reviews, their remarks regularly show they are happy with the services offered.
Many highlight the significant impact of Union Hall's guidance on their admissions outcomes. Students who initially faced challenges, such as uninspired essays, modest course rigor, or lower examination scores, attribute their success to Union Hall's expertise in helping them shape their applications and narratives.
Do They Provide Any Guarantees?
While the official site does not mention specific guarantees, UnionHallAdvising reviews show a track record of helping hundreds of students achieve their admissions goals.
They design their strategic approach and personalized guidance to maximize your chances of acceptance into your desired institutions.
How Is It Different From Other College Consultants?
Based on this UnionHallAdvising review, I have discovered that the Platform stands out by combining a focus on strategy with a hands-on approach. Their advisors develop a personalized game plan for you and ensure its flawless execution.
They are committed to working alongside you, diving into the details, and offering support every step of the way. This holistic approach enhances your chances of success.
To give you a better perspective, here's a comparison table showcasing the differences in prices, quality, content, and level of service between UnionHallAdvising consulting reviews and other well-known college consulting services:
| | | | | |
| --- | --- | --- | --- | --- |
| Criteria | UnionHallAdvising | Admissionado | Prep Expert | BeMo |
| Consulting Price Range | Available On Request | Starting at $1,650 per year | Starting at $699 per year | Available On Request |
| Consulting Effectiveness | Highly effective | Highly effective |  Effective | Highly effective |
| Staff Qualifications | Highly qualified | Qualified | Qualified | Highly qualified |
| Personalized Content | Yes | Yes | Yes | Yes |
| Level of Service | Comprehensive | Comprehensive | Comprehensive | Comprehensive |
Value for Money
When navigating the complex world of college admissions, UnionHall Advising is a trusted name that delivers exceptional value for your money.
With a focus on personalized guidance and a track record of success, their consulting services are worth every penny.
Let's dive into what sets UnionHall Advising apart and why it's the right choice for aspiring college students.
Is It Worth the Price?
UnionHall Advising offers comprehensive services tailored to meet your unique needs, ensuring you receive the individualized attention required to make a successful college application.
While the price may vary depending on your specific package, your investment with UnionHall Advising is an investment in your future.
What Do You Get for The Money Paid?
UnionHall Advising offers a wealth of invaluable resources and expert guidance. Here's what you can expect to receive for the money you pay:
Extensive Interviewing: UnionHall Advising goes beyond the surface to identify your unique traits and strengths, enabling them to craft a compelling narrative that highlights your potential to college admissions officers.
Personalized Strategy: Whether you need to enhance your extracurricular activities, strengthen your academic profile, or build a cohesive narrative, UnionHall Advising provides high-value steps and guidance specific to your goals.
Essay Support: Crafting captivating and authentic essays is crucial to the application process. UnionHall Advising helps you develop engaging essays that showcase your personality and passions and fit with your chosen school.
College List Building: UnionHall Advising helps you strike the perfect balance between prestige and affordability. They ensure you have options that meet your needs by curating a tailored college list that aligns with your aspirations and financial considerations.
How Valuable Is It?
Their expertise and personalized approach empower students to maximize their potential and stand out in the competitive college admissions landscape.
Here's why UnionHall Advising is highly valuable:
Success Stories: The testimonials from students like Matt, Alison, Raya, Jonathan, and Marianne demonstrate UnionHall's Advising ability to transform college applications and secure admissions at top-tier institutions. Their track record speaks for itself.
Holistic Approach: UnionHall Advising looks beyond grades and test scores to shape a compelling narrative that showcases your unique qualities, ensuring that colleges see your full potential.
Tailored Guidance: With UnionHall Advising, you receive personalized support based on your specific needs and goals. This individualized approach sets you up for success and maximizes your chances of admission.
Is It Really Helpful to Get Admitted?
Absolutely! UnionHall Advising expert guidance significantly enhances your chances of admission to top colleges. Their proven strategies, attention to detail, and commitment to showcasing your unique qualities position you as a standout applicant.
With their assistance, you gain a competitive edge and increase your likelihood of receiving that coveted acceptance letter.
For instance, our search for reliable and reputable resources led me to discover UnionHall Advising's outstanding track record in helping students gain acceptance to any school of choice, including medical schools. Intrigued by their success stories, I decided to delve deeper and explore the benefits of their services.
In doing so, we will be digging more into the UnionHallAdvising med school review and the UnionHallAdvising medical school consulting review, which will be incredibly insightful and reassuring.
Student Feedback & Reputation
I noticed that the customer service professionals at Union Hall Advising were kind, friendly, and willing to help in every interaction.
Furthermore, because of their warmth and desire to please, you will feel like an important customer to them. The support staff proved to be helpful as I conducted my study with Union Hall Advising.
I looked through many consumer review websites to determine Union Hall's Advising standing in the sector.
Unfortunately, I was unable to locate any reviews on independent sources.
However, this does not take away from the fact that Union Hall Advising is an effective instrument for aptitude tests.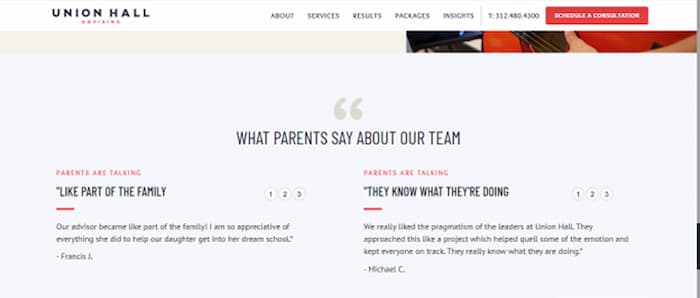 Pros
Personalized and Family-like Approach: TestHQ's advisors are highly appreciated for becoming a part of the family and establishing a close bond with their clients.
Successful College Admissions: TestHQ has a track record of helping students gain admission to their dream schools.
Reliable and Trustworthy: Customers express satisfaction with TestHQ's commitment to fulfilling their promises.
Pragmatic Approach: The leaders at TestHQ are praised for their pragmatic approach to the college admissions process.
Long-Term Support: The team at TestHQ guided students through their high school years, helping them build strong resumes and navigate the challenges of academic and extracurricular activities.
Cons
Unfortunately, one of the drawbacks of UnionHallAdvising is the lack of customer reviews and feedback on other popular third-party review websites. This makes it challenging to assess their services based on others' experiences.
Without this external validation, gathering comprehensive insights into the cons or potential drawbacks of choosing UnionHallAdvising for college consulting is challenging.
The Recap: Is Union Hall Advising Good?
Union Hall Advising is a legit and high-quality company that comes highly recommended. This is mainly for those seeking expert guidance and support throughout college applications.
As a user who has experienced their services, their team of consultants is knowledgeable and dedicated to helping students achieve their academic goals.