To assess various LSAT tutors in Washington for money's worth, I took a deep dive into the offerings of Wyzant, Blueprint, Varsity Tutors, LSATMAX and Princeton Review.
Lucky you, I've detailed my first-hand experience with these preppers and the pricing structure for their packages. You'll get an insight into features that stand them out.
Lastly, I've explored the perks and drawbacks of each service. With such well-grounded info, you'll easily make up your mind on the best service to sign up with.
LSAT Tutors in Washington at a Glance
Wyzant

Loyalty program.
The website is easy to use.
Great for young professionals.
Save money by pre-purchasing.
Classes given to a referred student do not count in the overall record.
A forgotten password may be hard to recover.
I've tried Wyzant's LSAT tutoring in Washington DC, and here's what I found. Firstly, their selection of instructors is vast. Learners will find it super easy to get someone who fits their needs.
Also, scheduling lessons was flexible. I could choose times that suited my schedule. Paying for each lesson separately meant I only paid for what I used. And, to top it? Their first-lesson guarantee is a real advantage. I had a risk-free trial. It gave me sufficient opportunity to assess their service. If I was satisfied, it was a smooth process.
Wyzant Packages & Pricing
Hourly: $45 - 77 per hour
Pros & Cons
Wyzant is unique with its offers as it provides a selection of tutors for learners to pick from. Costs are also clearly outlined, and there are zero hidden fees. Even at this, the prep service isn't without its drawbacks.
| | |
| --- | --- |
| PROS | CONS |
| Wyzant is clear about costs. You won't suddenly find extra charges. | Since anyone can become a tutor, quality may vary. You might need to try a few tutors to find the best match, which takes time. |
| You pay for each lesson separately. You only pay for what you use. | Tutors set prices, so rates vary. Some instructors might be expensive, making it hard to find affordable options. |
| Wyzant offers many tutors so that you can find one for any subject, like math or English. | |
| If you don't like the first lesson, it's free.  You only pay if you're satisfied. | |
| You can pick lesson times that suit you. You can find a private LSAT tutor in Washington DC, for evenings or weekends if you work during the day. | |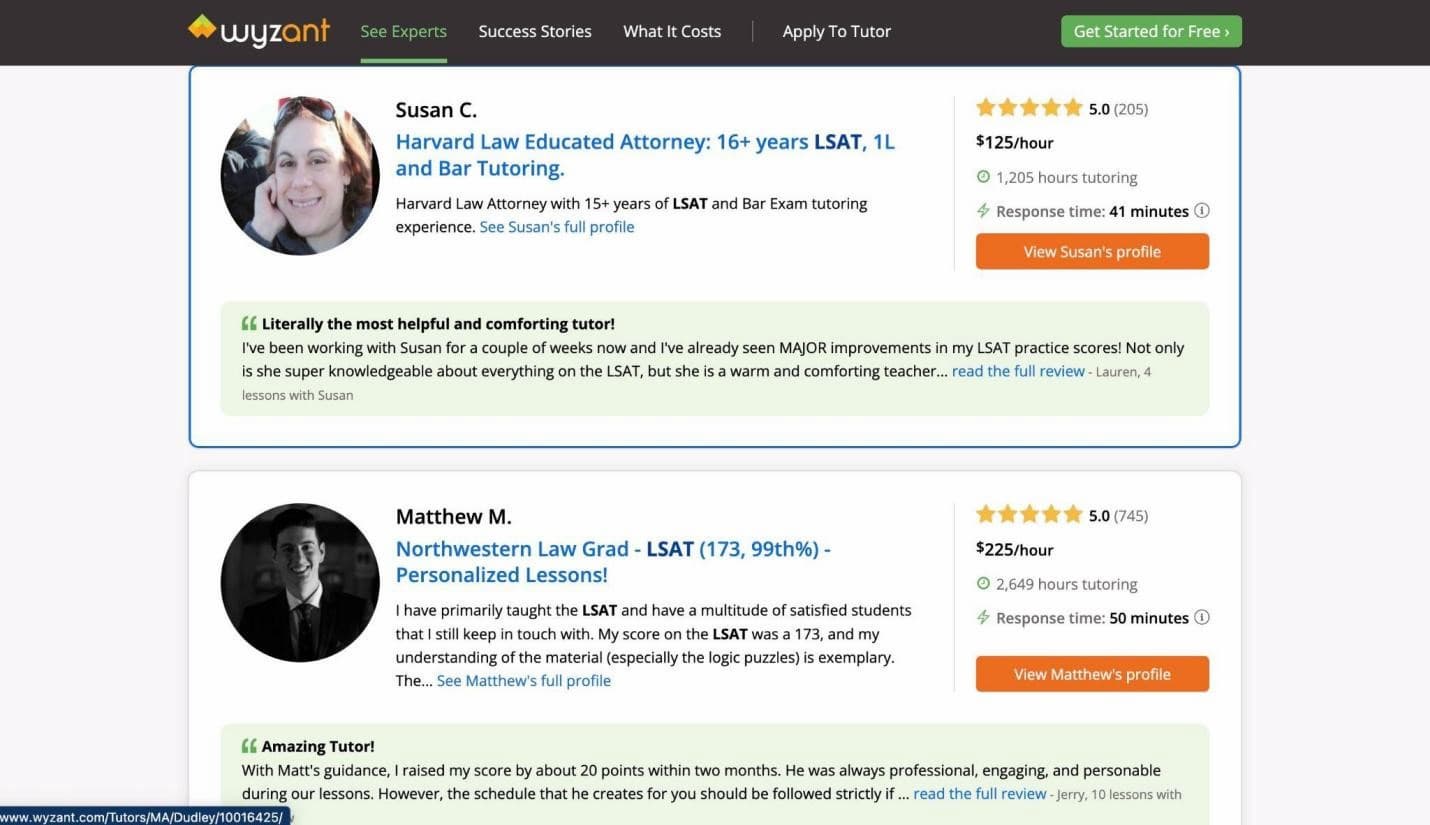 Unique Features
Learners get to pick their preferred instructors; you pay only for the exact number of lessons you take, and there's a Good Fit Guarantee. Other unique traits include:


Wyzant lets DC LSAT tutors set their prices. This means you can find an LSAT tutor in DC that fits your budget. They are available within the ranges of $31 or $125 per hour.


Signing up and connecting with instructors is free. No initial fees exist, so you can explore your options without spending a dime.


Wyzant allows you to pay for the exact number of lessons you want. Whether it's one lesson or several, you decide how much you spend based on your needs.


You pay after your lesson is done. There are no prepayments. This means you can focus on learning during your session without worrying about payments upfront.


Varsity Tutors LSAT Prep Tutoring

When you choose Varsity Tutors you will be able to receive help from a large number of experts in many different academic areas.
Professional and friendly customer service reps are available 24 hours a day.
Varsity Tutors offers live sessions and recorded webinars designed to help students prepare for exams.
The website can be hard to navigate.
In my journey with Varsity Tutors for LSAT prep in Washington DC, I observed that their tutors were hand-picked. Unlike you have with Wyzant, where anyone may just register, Varsity Tutors select instructors based on alignment with pre-existing requirements. The personalized learning approach was tailored precisely to my needs. Scheduling was a breeze; I could choose lesson times according to my convenience, even on weekends.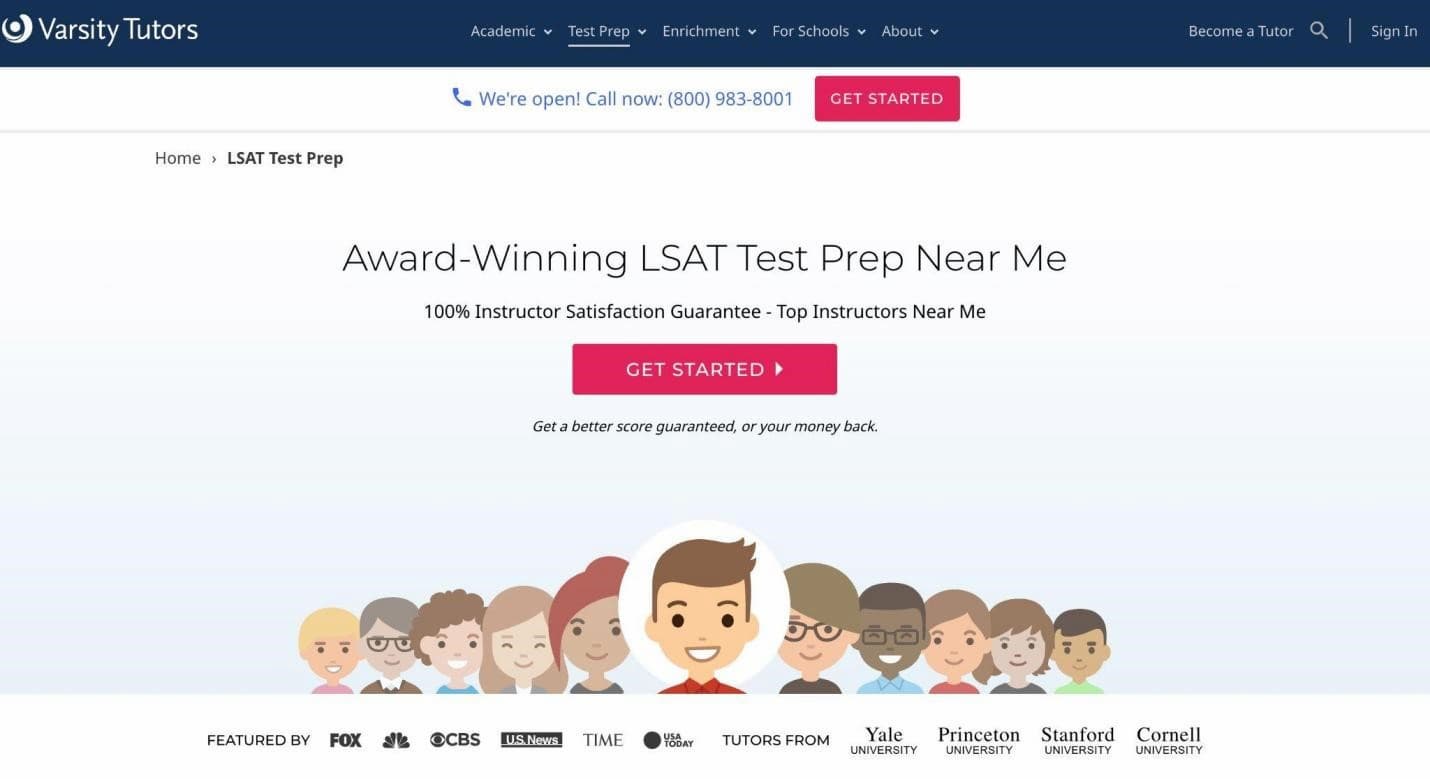 The online learning experience was like talking face-to-face with a friend on a video call: engaging and interactive. What impressed me most was the recording feature; every session was saved, similar to saving a favorite TV show to watch again. This aspect allowed me to review and reinforce my learning, ensuring I grasped the concepts well.
Varsity Tutors truly stands out for its tailored, convenient, and engaging LSAT preparation. If you're seeking effective, personalized online LSAT prep, Varsity Tutors is a top choice.
Varsity Tutors Packages & Pricing
You'll find different study options at Varsity Tutors.
| | |
| --- | --- |
| PACKAGE | PRICING |
| Live Classes: 5 - 10 weeks; 5 weeks; 10 weeks | $40/hr; $799; $1,599 |
| Private LSAT tutoring | Decided Based on Learner's Preferences |
Pros and Cons
Varsity aims to grant you complete convenience and flexibility over your tutorial sessions. For most learners, this in itself is a complete reason to patronize the service. However, these accommodations come at a cost. Their service tends to be more costly compared with similar prep services.
| | |
| --- | --- |
| PROS | CONS |
| Tutors focus on your needs, not a generic approach. | Personal tutors can be expensive compared to group classes. |
| You choose lesson times. Varsity LSAT tutors in Washington DC are available even on weekends. | It might take time to find the perfect tutor match. |
| Every online lesson is saved. You get to review in your spare time. | |
Unique Features
Recorded sessions and Remote Enabled Tutoring are merely the tip of the iceberg on traits that distinguish Varsity Tutors from other LSAT prep services. Here's some more:


Hand-picked Tutors


Personalized Learning


Flexible Scheduling


Recorded Sessions


Remote Enabled Tutoring


LSATMax

Easy to work with.
Flexible price points.
24/7 live instructor access.
100+ hours of digital lessons.
No physical class sessions or live courses.
Possible app crashes.
In my experience with LSATMAX in Washington DC, I found that their instructors were all deserving top scorers. Their guidance was pivotal in making complex LSAT concepts clear and straightforward.
Alongside other learners in the pack, being flexible and offering phone or video sessions was invaluable, fitting without fuss into my hectic schedule. Plus, the pricing was reasonable, ensuring quality prep without financial strain. Their methods worked wonders; I saw my scores improve significantly.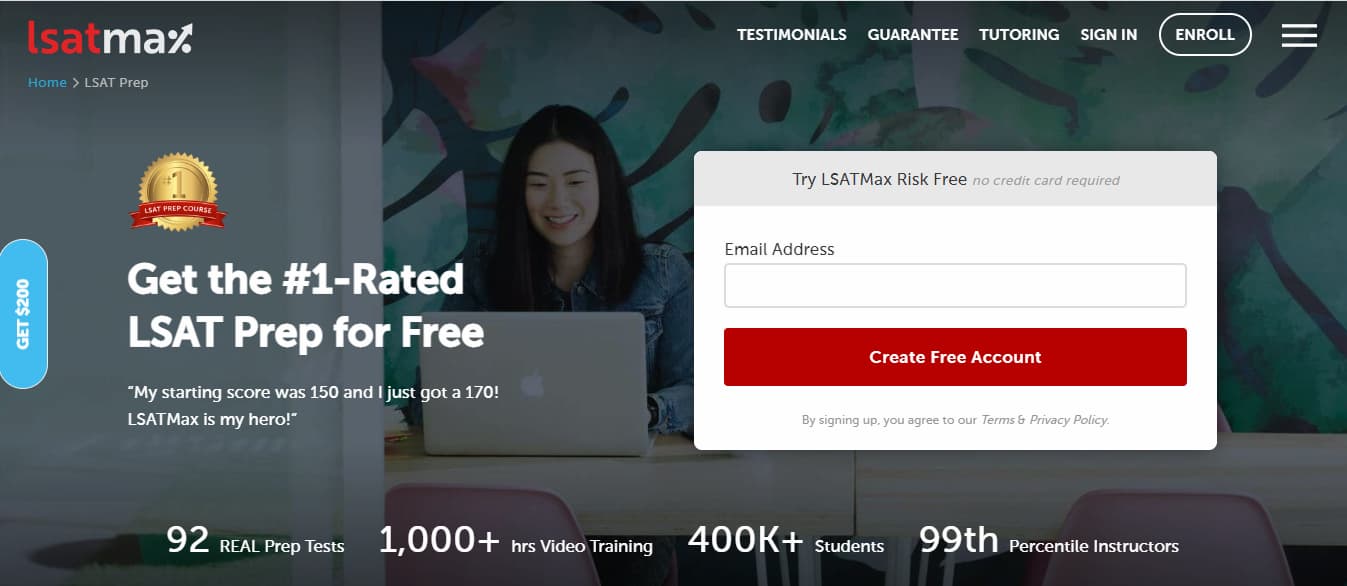 The real advantage was their expertise—these tutors knew their stuff. If you're aiming for LSAT success without breaking the bank, LSATMAX is the way to go. Their proven results speak volumes, providing an edge in your exam preparation journey.
Packages & Pricing
LSATMAX offers five different packages. These are:
| | | |
| --- | --- | --- |
| PACKAGE | PRICING | TUTORING HOURS |
| Basic | $1,795 | 10 |
| Complete | $3,395 | 20 |
| In-depth | $4,750 | 30 |
| Immersive | $7,495 | 50 |
| Hourly | $200/hr | 2 - 9 |
Pros and Cons
Their packages are less expensive compared with other major prep services in Washington. This, by far, is LSATMAX's major selling point. Learners are also offered the opportunity to pick from phone or video. However, it's not unheard of for their rigid schedules to clash with test takers' days. Other pros and downsides to expect include:
| | |
| --- | --- |
| PROS | CONS |
| LSATMAX provides skilled instructors who excel in teaching LSAT concepts. | Scheduling can clash with busy days. |
| Learners get to choose between phone or video sessions. | Due to its online nature, personal interaction is limited. |
| Their packages are budget-friendly. Most learners often find them accessible, and there's little need to worry about overspending. | |
| With their service, learners can improve significantly with LSATMAX. Real progress here, not just promises. | |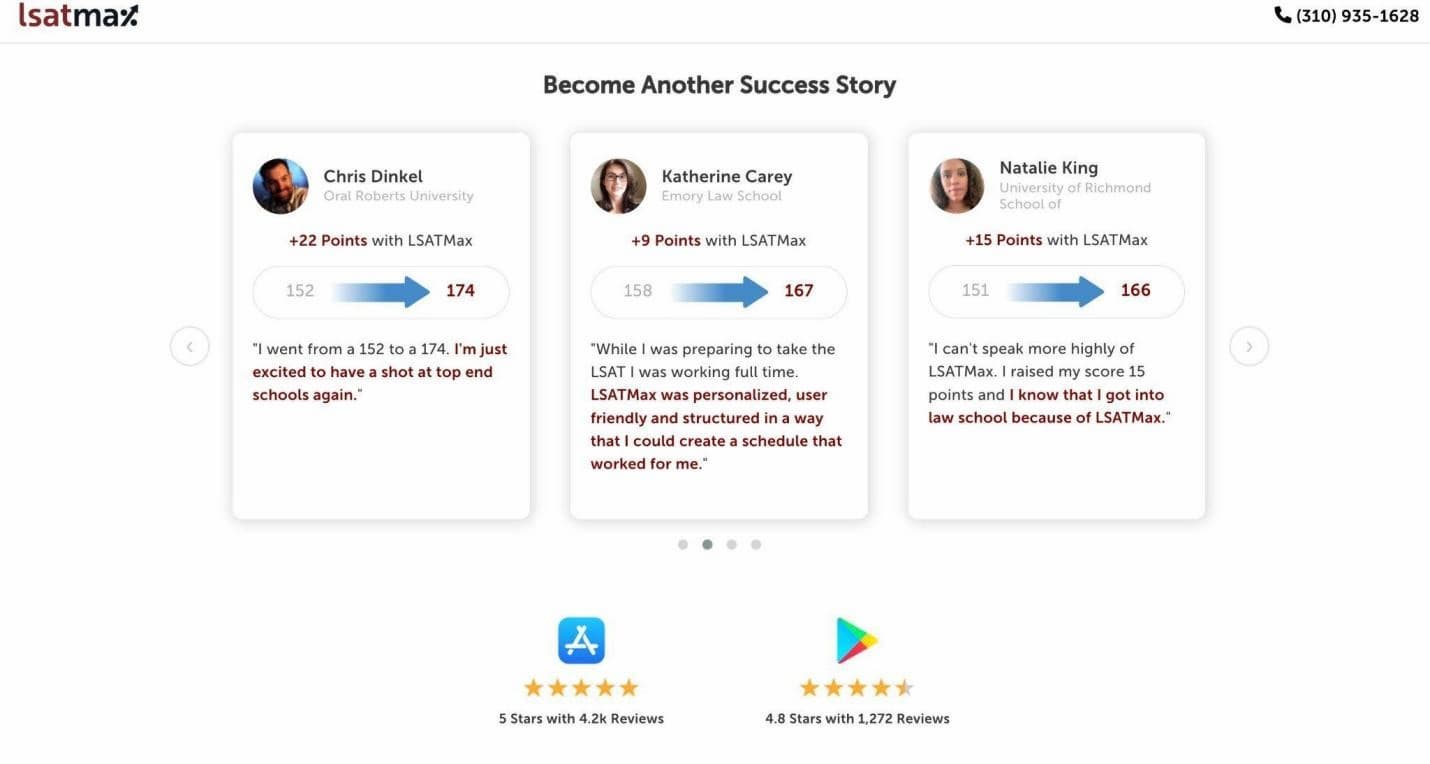 Unique Features
90th-percentile instructors and affordable prep services are merely a few traits that set these preppers apart. Others include:


LSATMAX tutors are top scorers experts in LSAT. They know the exam inside out, ensuring effective teaching.


Choose phone or video sessions and learn at your own pace. Fit study into your busy life easily.


Budget-friendly options are accessible to most students.


Students succeed with LSATMAX. Their methods work, providing a real advantage in the exam.


Princeton Review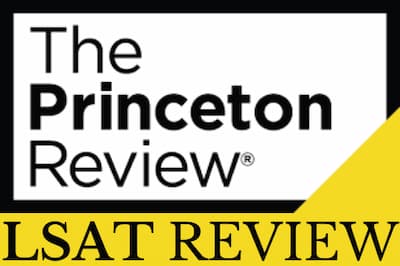 Instant access to tutors.
Real practice tests.
Personalized learning.
Money-back guarantee.
In my experience with Princeton Review Washington LSAT Tutoring, I found their tutors to be exceptionally knowledgeable and helpful. The personalized approach they offer made a significant difference in my LSAT preparation.
The expert instructors were able to break down complex concepts into understandable bits, making my learning efficient and effective. Their tailored learning plan adapted to my progress, ensuring I was always on track.

Having access to LawHub Advantage with 75+ full Official LSAT PrepTests and extensive study materials was invaluable. However, the cost of tutoring could strain your budget, and while the sessions were mostly personalized, face-to-face interaction was sometimes limited.
Despite this, the improvement in my LSAT score and the confidence gained made it a worthwhile investment. Princeton Review LSAT Tutoring is a solid choice for anyone looking to excel in their LSAT journey.
Pricing & Package
Hourly: Starts at $167/hr
Pros & Cons
Princeton Review LSAT Tutoring in Washington DC offers personalized tutoring to help you reach your LSAT goals. Here's what you need to know:
| | |
| --- | --- |
| PROS | CONS |
| Highly skilled tutors match your goals. They teach complex topics in an organized and easy-to-understand manner. | Tutoring can be expensive, starting at $167/hr. It's an investment in your future, but it might strain your budget. |
| A personalized learning plan that adapts to optimize your progress. Tailored sessions are like having a tutor just for you. | All sessions might not be in person, so personal interaction could be limited. |
| Have real results from students. Improve your score and become a competitive law school applicant. | |
| Access to LawHub Advantage, including 75+ full Official LSAT PrepTests and 1,800+ pages of study materials. | |

Unique Features
In addition to 1-on-1 guidance, Princeton Review also stresses transparency and quick communication channels. Other exclusive features include:


Expert Tutors: In my experience, Princeton Review LSAT Tutoring offers highly knowledgeable tutors. They're skilled in explaining complex topics in simple terms, making learning easy.


Personalized Learning: The tutors create tailored study plans based on your needs. For instance, they identified my weak areas and focused on strengthening them, ensuring I was fully prepared.


Official LSAT Materials: The program provides LawHub Advantage, granting access to 75+ real LSAT tests. These materials are crucial for realistic practice, helping me familiarize myself with the actual exam.


Open Communication: The platform offers a student dashboard with clear progress reports. This transparency helped me track my improvement and stay motivated throughout my LSAT prep journey.


Blueprint Prep LSAT

Excellent website usability – enjoy learning from your desktop or mobile device with no barriers or lags.
Flexibility in preparation types – choose from the Self-Paced and multiple Tutoring options.
Proficient LSAT instructors and tutors – as students learn their course options with the best experts in this niche.
Price – prepare to pay extra money since Blueprint Prep course options are more expensive than regular alternatives.
Nailing the LSATs seems rather guaranteed with Blueprint Tutoring. Assigned tutors are top-notch, scoring in the 97th percentile on the real LSAT. Blueprint tailored my study plan just for me, pinpointing my weak spots. No generic stuff here! Plus, their online sessions were a game-changer. With their AI-powered Qbank, I practiced smarter, focusing on my tricky areas.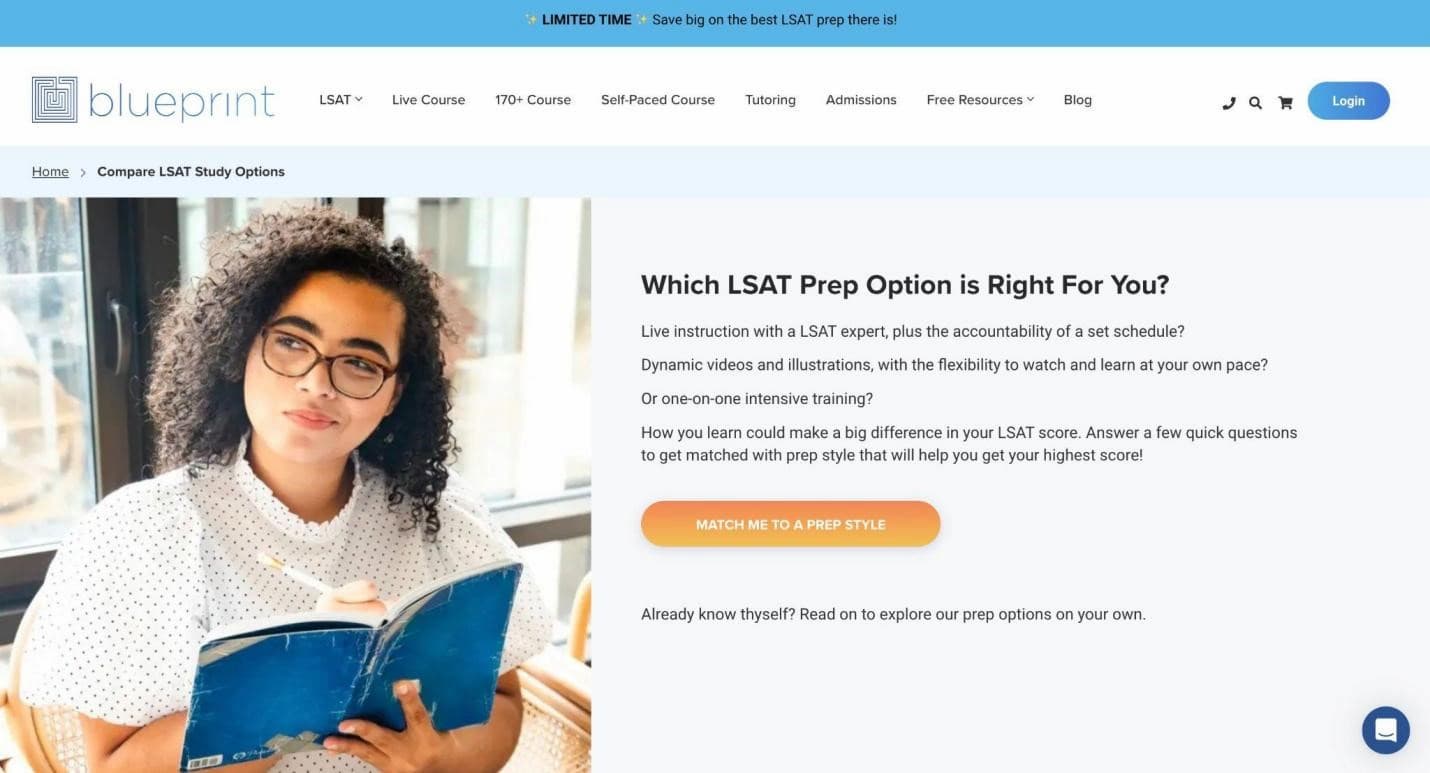 What sets Blueprint apart? Real results. They helped me boost my score significantly, even after I'd hit a plateau with other prep courses. If you're gunning for that 170+ score, Blueprint is your secret weapon. Don't waste time elsewhere. The personalized approach, killer tutors, and innovative tech make Blueprint Tutoring the ultimate LSAT prep. Get in, crush it, and get out – with the score you deserve.
Packages & Pricing
Blueprint offers a flexible payment package with four options. You get to pick based on your needs and budget constraints. Here's an outline of what to expect:
| | |
| --- | --- |
| COURSE | PRICING |
| Online Anywhere Course | $125/month |
| Live Online Course | $1,399 |
| Classroom Course | $1,699 |
| Private Tutoring | $2,160 |
Pros & Cons of Blueprint
Blueprint is one of the few LSAT prep tests offering video explanations on the practice exam. Aside from that, learners who've signed up with them can also benefit from a free LSAT logic games ebook. Here's an overview of what else to expect from Blueprint:
| | |
| --- | --- |
| PROS | CONS |
| Blueprint offers a free LSAT practice exam. | Though the free resources offer valuable content, they lack the interactive features found in paid LSAT courses. |
| Detailed video explanations accompany each question on the practice exam. | Premium features such as live review sessions aren't accessible in the free prep. |
| Blueprint provides a free LSAT Logic Games ebook. | |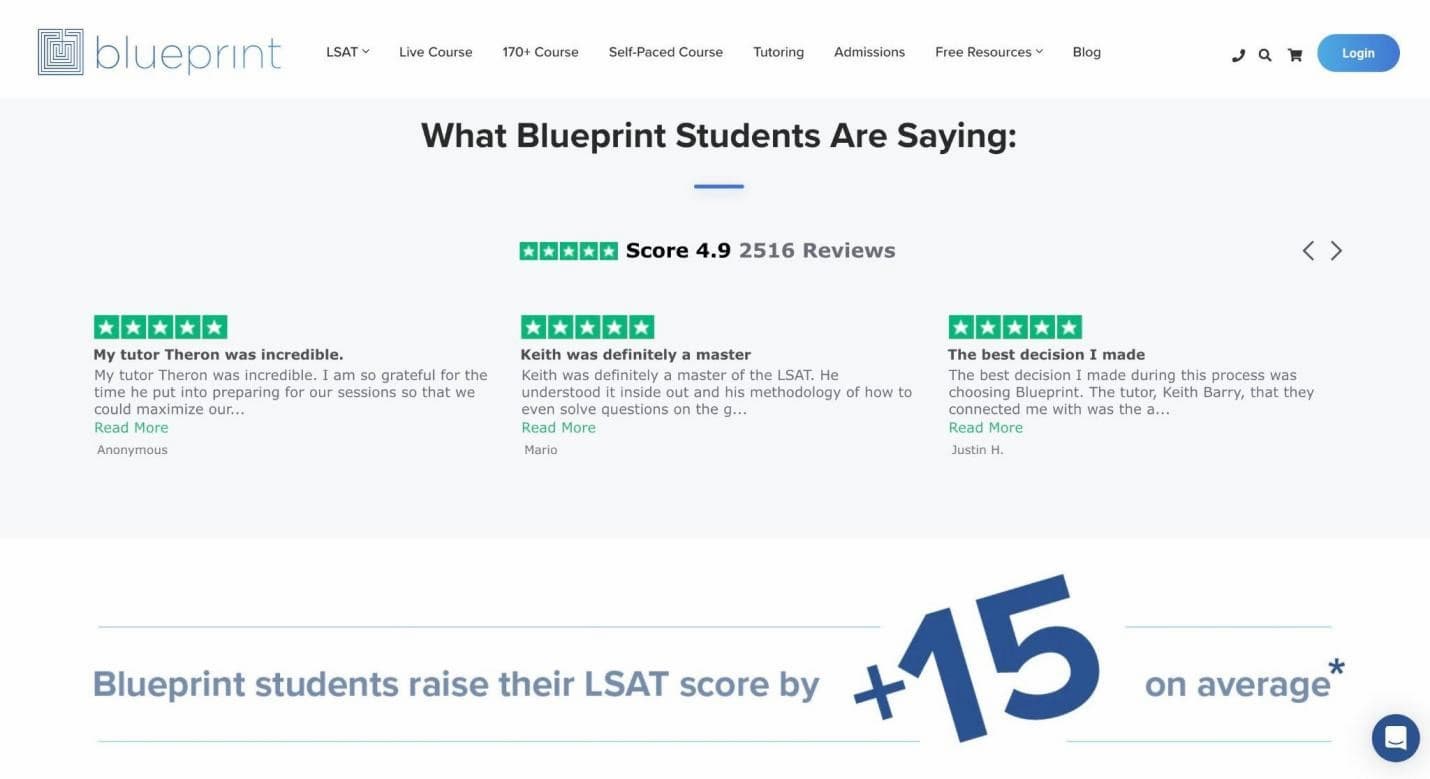 Unique Features of Blueprint Prep
Blueprint's pricing structure makes it a top destination for LSAT test takers. Here's what makes the prep service unique:


Top 97th percentile tutors.


Remote learning technology with online whiteboards powered by Linmu.


Blueprint's free LSAT test prep includes a full-length practice exam.


Users receive in-depth video explanations for each question.


Blueprint offers an exclusive Logic Games eBook


Kaplan

You can pay for individual components of a test prep course rather than the whole thing.
Extensive and quality materials are available for a variety of courses.
Instructors are vetted and go through a lot of training.
There is a big price jump between Live Online and Self-Prep courses.
Some of the practice tests may be harder than what you can expect on the official exam.
In my experience with Kaplan LSAT Tutoring in Washington DC, the support was invaluable. The personal attention from my tutor was exceptional. They tailored the sessions to my needs, focusing on my weaknesses. The extensive resources, including live lessons and official LSAT questions, were incredibly helpful. What impressed me most were the premium tutors. These experts, with over a decade of experience and 99th percentile scores, provided strategic guidance.

For instance, Scott Reed, a tutor with a JD and an extensive tutoring background, gave me practical insights. The process was straightforward. Kaplan assessed my skills, matched me with a suitable tutor, and created a custom study plan. Plus, the Higher Score Guarantee offered confidence if I didn't improve, my money would be refunded.
Packages and Pricing
| | |
| --- | --- |
| PACKAGES | PRICING |
| Standard | $1,999 |
| Premium | $3,999 |
Pros and Cons
Higher Score Guarantee: Kaplan assures score improvement; if you don't score higher, you get your money back.
| | |
| --- | --- |
| PROS | CONS |
| Kaplan offers experienced tutors, like Scott Reed, with extensive legal backgrounds. | The pricing, starting from $1999, might be a drawback for budget-conscious individuals. |
| They tailor lessons to your needs, focusing on your weaknesses, | Access to some features requires an account. This may be inconvenient for those preferring anonymous access |
| If your score doesn't improve, Kaplan refunds your money. | |
| Kaplan provides access to a wide range of resources, including live lessons and official LSAT questions. | |
Unique Features of Kaplan
They guide you strategically, ensuring you excel in the exam. Also, benefit from a personal statement review for your law school application.


You get private, 1-on-1 tutoring with an LSAT expert. They evaluate your strengths and weaknesses, providing personalized guidance to boost your score.


Access 180+ hours of live and on-demand lessons covering everything from logic to reading comprehension. Plus, you can delve into every official LSAT question ever released.


Kaplan's premium tutors, all scoring in the 99th percentile, have over 10 years of teaching experience.


Meet tutors like Scott Reed, a JD holder with 16 years of tutoring experience, and Beth Gebeloff, skilled in adapting teaching styles to individual students.


FAQs
What is the best LSAT tutoring?
The best LSAT Tutor in Washington DC may be regarded as Princeton Review. Princeton Review provides a slew of benefits to registered learners. This includes access to LawHub Advantage, featuring 75+ official LSAT questions. However, the high hourly rates may be a turn-off for some test takers.
Are LSAT tutors in Washington DC worth it?
Totally. LSAT tutors in DC are worth every penny they charge. From providing years of tutoring expertise to exclusive access to LSAT previous questions, learners will find their help pivotal to achieving their preferred score.
How much is LSATMax tutoring?
LSATMAX price points range from $1,795 to $7,495, depending on the package you purchase.
How do I get the most out of my LSAT tutoring DC?
To get the most out of tutoring in Washington, opt for services that provide 1-on-1 personalized guidance in contrast to pre-recorded video lessons. Make sure tutors live close by to enable easy link-up in public centers for your tutoring.