Intro
In the world of online learning platforms, making the right choice can often feel overwhelming. That's where Lynda review comes into play. Offering you a deep-dive into the real-world usage of Linkedin Learning, previously known as Lynda, we cut through the noise to provide you with critical insights you need.
I've explored the platform from all angles, utilized its features, and gauged its value proposition. Now, I am sharing my experience with you.
To provide an unbiased review of Linkedin Learning, I evaluated it using several critical metrics. I assessed the quality of courses and instructors, explored the platform's features, and compared its pricing to other eLearning platforms.
Taking into account feedback from other students and the platform's guarantees, like privacy and potential refunds, I strived for a well-rounded perspective.
As someone who has personally used Lynda, I can tell you that the platform does have a lot to offer. I was pleasantly surprised by the variety of courses available, the skill level options, and the quality of instructors.
However, my experiments also showed that no platform is without its drawbacks, and Lynda is no exception. Stay with me as we dissect every aspect of this platform in our in-depth review!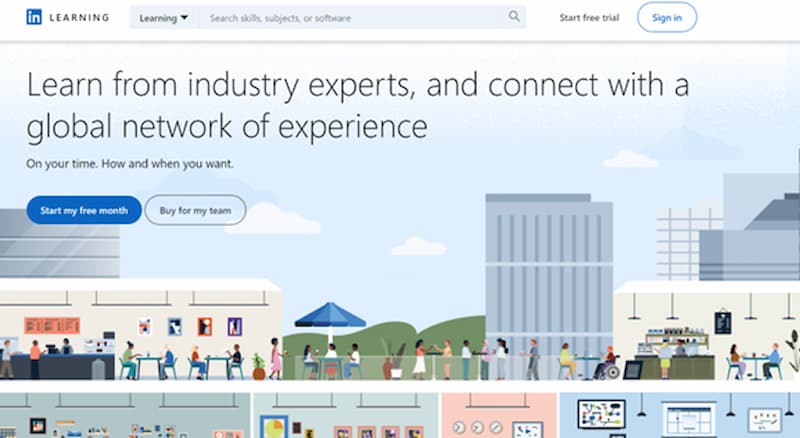 Lynda Features that Stand Out
LinkedIn Learning, formerly known as Lynda, is a platform packed with features that distinguish it from other online learning providers.
Notably, it's these unique aspects that have made it my go-to platform whenever I need to upgrade my skills or learn something new.
Looking for the best e-learning platforms? We've compared several top-rated platforms to help you make the best decision.
Who Will Find Lynda Helpful?
In my experience, Lynda offers courses that cater to a broad spectrum of learners. Whether you're a job seeker wanting to add new skills to your resume, a professional aiming for a promotion, a student wanting to broaden your knowledge, or even a hobbyist looking to learn a new craft, you will find Lynda extremely beneficial.
The variety of courses across numerous categories such as technology, business, creative skills, and more makes it a platform with something for everyone.
Main Features of Lynda Courses
One of the most striking features of Lynda is its comprehensive course offerings. Each course is broken down into bite-sized modules, making it easy to grasp the material.
Plus, these courses come with valuable resources like exercise files, quizzes, and project files that help you put what you have learned into practice.
In my experiments, I've found Lynda's courses to be taught by industry experts, lending credibility to the knowledge you acquire.
Furthermore, the platform offers the flexibility of learning at your own pace, with all courses available on-demand, and you can even view them offline if you download the lessons.
Adding to its uniqueness, Lynda allows you to share your new skills with ease. Once you complete a course, you receive a certificate of completion that can be directly added to your LinkedIn profile, showcasing your new abilities to potential employers.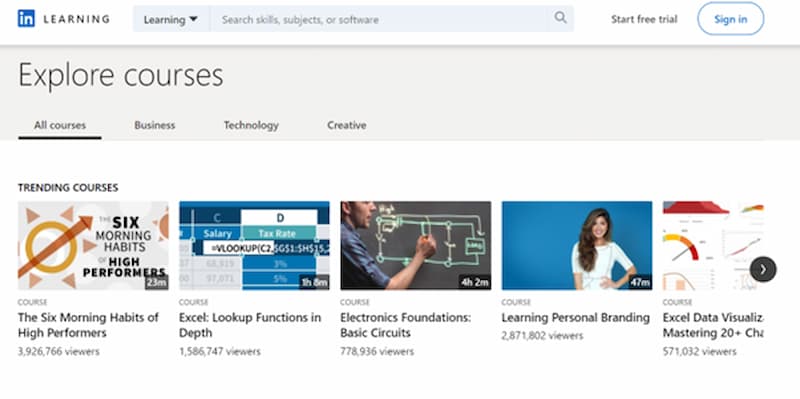 But there's more to Lynda than what meets the eye. As we delve deeper into this review, I'll share some hidden gems that make Lynda even more compelling.
We'll also uncover the platform's weaknesses because, let's be honest, no platform is perfect. So, stay tuned as we navigate through the intricacies of this online learning giant!
If you're torn between choosing Coursera or Edureka for your learning needs, our comprehensive comparison review might help you make an informed decision.
Lynda Pricing
The cost of Lynda, now known as LinkedIn Learning, can seem like a big question mark.
However, having taken a closer look at their pricing structure, I can tell you it's quite straightforward. There are two main subscription options – Monthly and Annually.
Here's a quick table for your reference:
Plan
Free Trial
Cost After Trial
What You Get

Monthly

1 month

$19.99/month

Unlimited access to a library of over 21,000+ courses taught by industry professionals

A certificate of completion to add to your LinkedIn profile

The flexibility to learn at your own pace, with bite-sized videos, in-depth content, audio-only or offline viewing options

Interactive learning with exercise files and course quizzes

Personalized course recommendations tailored to your interests

Full access to LinkedIn Premium features.

Annually

1 month

$39.99/month
As for payment options, Linkedin Learning allows you to pay using major credit or debit cards.
Now, it's worth noting that the Annual plan offers a substantial saving of 50%. For anyone looking to make a long-term commitment to learning, the annual plan can offer significant value.
As you navigate through various e-learning platforms, you might wonder, Is Coursera + good? Our in-depth review provides a comprehensive analysis of Coursera Plus, covering everything from the quality of its course content and instructors, to its pricing structure and unique features, helping you make an informed decision.
How Much Does LinkedIn Learning Cost for an Organization?
For organizations, the cost of LinkedIn Learning varies based on the number of licenses required. The pricing structure is designed to accommodate the specific needs and size of each organization.
The more licenses an organization needs, the higher the overall cost will be. LinkedIn Learning offers flexible pricing options to cater to organizations of different sizes and ensure that they can provide learning and development opportunities for their entire team.
Here is the linkedin learning team pricing for different license ranges:
For teams with 2-20 licenses, the cost is $379.99 per license per year after the 1-month free trial.
For organizations requiring 21 or more licenses, LinkedIn Learning offers enterprise-level integrations and skill development insights. The pricing for this tier is available upon request.
These pricing options allow organizations to upskill their teams with LinkedIn Learning, unlocking exclusive Premium features and accessing a vast library of courses taught by industry professionals.
Organizations can take advantage of the free trial period to assess the platform's suitability for their learning and development needs.
Overall, Lynda offers a value-packed proposition. But, as with everything, it's crucial to evaluate whether this aligns with your learning needs and budget before diving in.
In the following sections of this review, we'll delve deeper into the value proposition and see if it's worth your money. Stay tuned!
Interested in an unbiased and comprehensive Coursera.com review? We've looked at Coursera from every angle—course variety, quality of instruction, cost-effectiveness, and more—to provide you with all the information you need to determine if this e-learning platform is the right choice for you.
Refund & Cancellation Policy
LinkedIn Learning's refund and cancellation policy may vary depending on the specific subscription plan. Here are the general guidelines:
Premium Annual or Monthly Subscription:
LinkedIn Learning does not offer refunds for premium annual or monthly subscription plans. If you decide to cancel your subscription, access to paid content will be discontinued at the end of your current billing cycle.
However, you will still have access to completed courses to showcase on your profile.
Individual Course Refund:
If you purchase an individual LinkedIn Learning course, there is a 30-day refund guarantee. If you are unsatisfied with the course within the first 30 days, you can request a refund.
To cancel your subscription, follow these steps:
Click on your profile photo in the upper right-hand corner.
Select "Settings."
In the "Account Type: Learning" section, click on "Manage."
On the "My Premium" page, click on "Manage Premium Account."
Finally, click on "Cancel Subscription" to complete the cancellation process.
We've assembled detailed edX.org reviews to provide potential learners with a clear understanding of the platform. We cover everything from the quality of courses, the variety of subjects offered, to the learning experience and the pricing structure.
Quality of Courses Provided
On Lynda you will be learning from a pool of industry professionals. These are individuals who have amassed a wealth of experience in their respective fields. In fact, my experience has shown that the quality of instructors is one of the key strengths of Lynda.
The platform was originally founded by Lynda Weinman and Bruce Heavin. In 2015, it was acquired by LinkedIn, the world's largest professional networking site. This means you are learning from a platform backed by one of the most reputable professional networking giants.
As far as guarantees go, Lynda offers a one-month free trial, which I consider a significant assurance. You can try their services, navigate through the courses, and see if their teaching style matches your learning preference without any financial commitment.
Moreover, their customer support is also quite responsive, ready to help with any issues or questions you may have.
Our iapcareercollege reviews aim to provide a comprehensive overview of this online institution, discussing the structure of their courses, their teaching methods, student support services, and the potential career outcomes you can expect after completing their courses.
How is Lynda Different from Other Online Courses?
When comparing Lynda with other online courses, a few features stand out. In particular, the platform's integration with LinkedIn sets it apart. Not only can you add your course certificates directly to your LinkedIn profile, but you also gain access to LinkedIn Premium features as part of your subscription.
Furthermore, the sheer breadth of Lynda's course library sets it apart from many other eLearning platforms. With over 21,000 courses spanning various industries and skill levels, it's an eLearning hub where everyone can find something of interest.
What makes it even more exceptional is the personalized course recommendations it offers. Based on your profile, interests, and function, Lynda suggests courses tailored specifically to you. This feature has saved me plenty of time and ensured I'm focusing on the most relevant learning paths.
In the end, however, it's the overall quality of courses, taught by recognized experts, combined with LinkedIn Learning's unique features, that makes this platform stand out from the crowd.
If you're wondering, Is Skillshare legit?, our comprehensive review can provide the answer. We delve into Skillshare's course offerings, instructor quality, and pricing to help you understand whether it's a legitimate and worthwhile platform for your online learning pursuits.
Lynda vs. Udemy vs. Skillshare
While LinkedIn Learning offers a variety of courses, it is essential to note that there are alternative platforms, such as Coursera, DataCamp, and Udacity, that provide more comprehensive and higher-quality learning experiences.
When comparing online learning platforms, it's crucial to look at factors like price, quality, value, and features. Here's how Lynda (LinkedIn Learning) stacks up against other popular platforms like Udemy and Skillshare.
| | | | | |
| --- | --- | --- | --- | --- |
| Platform | Prices | Quality | Value | Features |
| Lynda | $39.99/month (Annually) or UAH $19.99/month (Monthly) | High-quality courses taught by industry professionals | Good value, especially for the Annual subscription | Access to 21,000+ courses, personalized recommendations, LinkedIn Premium features, certificates of completion |
| Udemy | Prices per course vary widely, often discounted to around $10-$20 | Variable quality, as anyone can create and sell courses | Good value during discount periods | Lifetime access to purchased courses, certificate of completion |
| Skillshare | $8.25/month (Annually) or $19/month (Monthly) | Quality can vary, as courses are created by users | Good value for creative arts-focused learners | Access to a wide range of creative courses, class projects |
In my experience, Lynda's pricing model offers unlimited access to their entire course library, providing excellent value, especially with the annual subscription.
Lastly, Lynda's unique integration with LinkedIn and its premium features set it apart from these competitors.
However, the choice between Lynda, Udemy and Skillshare will likely come down to your specific learning needs, budget, and preferences. Each platform has its strengths and unique features that may make it the best fit for certain learners.
Value for Money: Is Lynda Worth the Price?
In terms of value for money, my experience with Lynda, now LinkedIn Learning, has been overwhelmingly positive.
While some users may find the linkedin learning cost to be high, it's important to consider the value and benefits it provides, such as access to a vast library of courses taught by industry professionals and integration with LinkedIn's professional network.
Ultimately, the perceived cost is subjective and dependent on individual needs and budget considerations.
For a monthly or annual fee, you gain unlimited access to Lynda's library of more than 21,000 courses. This expansive library spans various categories like technology, business, and creativity, and is continuously updated with new courses, ensuring that your learning remains relevant in a rapidly changing world.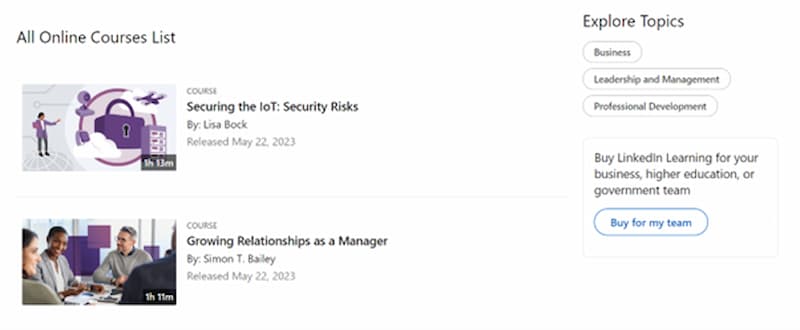 Moreover, Lynda's courses are taught by industry experts, lending a sense of credibility to your learning that's not guaranteed on every platform. I found this particularly valuable as it ensures the course content aligns with current industry standards and practices.
The value is further enhanced by the fact that all courses come with valuable learning resources, such as exercise files and quizzes. This interactive learning element has helped me put my knowledge into practice and cement my understanding.
Additionally, Lynda's integration with LinkedIn is a unique advantage. Upon course completion, you receive a certificate that can be added directly to your LinkedIn profile, offering a fantastic way to showcase your skills to potential employers or clients.
Furthermore, the subscription includes full access to LinkedIn Premium features, which, if subscribed separately, would cost more.
Considering all these factors, I believe Lynda offers excellent value for the money. However, it's crucial to consider your individual learning needs, goals, and budget. The platform's one-month free trial is a great way to see if it's the right fit for you before committing financially.
Want to know more about Teachable? Our Teachable.com reviews provide a deep dive into the platform, its interface, the quality of its course offerings, and its potential for course creators. We've analyzed it thoroughly to give you a clear idea of its strengths and weaknesses.
Test Prep Efficacy
Now, if you're specifically looking for a platform to help you get ready for a test, it's important to know that Lynda's primary focus isn't on standardized test preparation. Instead, it provides in-depth courses on a wide range of topics, with the aim of enhancing practical skills.
However, Lynda's extensive course library does include courses that could indirectly aid in test preparation.
For example, if you're preparing for a certification exam in a technical field like IT, there are numerous courses that delve deep into the relevant topics and skills.
Moreover, many courses come with exercise files and quizzes that can reinforce what you've learned and possibly be a valuable supplement to your test prep materials.
In conclusion, while Lynda may not be the best fit for traditional test prep, its courses can be incredibly valuable in terms of providing in-depth knowledge and practical skills in various fields.
This knowledge can certainly supplement your test prep efforts. However, if your sole goal is test preparation, I would recommend considering platforms specifically designed for that purpose alongside using Lynda.
Is TutorialsPoint legit, you might ask. Our review addresses this question by delving into the platform's variety and quality of courses, learning experience, and user interface to provide you with a well-rounded understanding of what TutorialsPoint offers.
The Most Popular Courses on Lynda
The diverse selection of trending courses on Lynda reflects the platform's commitment to providing comprehensive learning experiences across various disciplines.
Here are some of the most popular courses, alongside some student opinions and my personal thoughts:
| | | |
| --- | --- | --- |
| Course | Student Opinion | My Take |
| The Six Morning Habits of High Performers | Users appreciate how this course presents actionable insights into routines that foster productivity and success, all packed into a concise 23-minute format. | I find it impressive how the course distills essential habits of high performers into easily digestible and implementable lessons. It's a testament to Lynda's ability to provide value even in short courses. |
| Excel: Lookup Functions in Depth | Students have lauded the course's in-depth coverage of lookup functions, noting that it has significantly boosted their Excel proficiency. | What stood out to me in this course was how it took a seemingly complex topic and made it accessible through clear instruction and practical examples. It's a great resource for anyone wanting to improve their Excel skills. |
| Electronics Foundations: Basic Circuits | Users praise this course for providing a strong foundation in electronics, emphasizing its effectiveness in making complex circuit theories understandable. | I was particularly impressed by the practical applications provided in the course, which helps students connect theoretical concepts with real-world scenarios. |
| Learning Personal Branding | Many learners find this course beneficial for understanding how to position themselves in their professional lives, highlighting its practical tips for building a strong personal brand. | I appreciate how the course encourages learners to consider their unique strengths and values, which are key to creating a compelling personal brand. |
| Excel Data Visualization: Mastering 20+ Charts and Graphs | Students value the course's comprehensive guide to data visualization in Excel, pointing out that it has enhanced their ability to communicate data effectively. | I found the course's in-depth exploration of charts and graphs in Excel to be extremely valuable. It's a great example of Lynda's focus on practical skills that can be applied immediately. |
… and the list goes on. From foundations in electronics and programming to insights from business leaders, these courses show the wide range of learning experiences available on Lynda.
Whether you're looking to advance your career, gain new skills, or satisfy intellectual curiosity, there's likely a course that will meet your needs.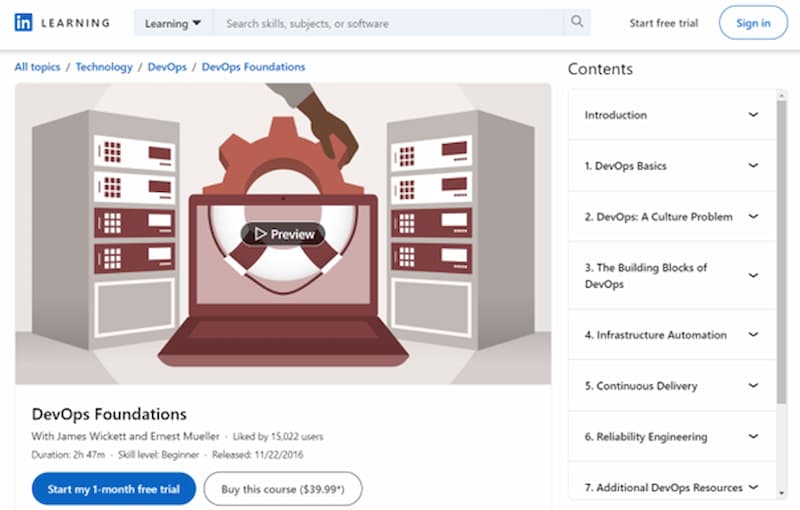 Topics Taught on Lynda
On Lynda you can find a wide range of topics taught across various disciplines.
Here are some of the key categories and topics covered:
3D + Animation: Animation techniques, modeling, character animation, visual effects, and more.
Audio + Music: Audio production, music theory, sound design, mixing, mastering, and recording.
Business: Leadership, project management, entrepreneurship, marketing strategy, finance, and business development.
CAD (Computer-Aided Design): AutoCAD, SolidWorks, Revit, and other CAD software for architectural and mechanical design.
Design: Graphic design, UX/UI design, web design, motion graphics, typography, and branding.
Developer: Programming languages (Python, JavaScript, C++, etc.), web development, mobile app development, and software engineering.
IT: Networking, cybersecurity, database management, cloud computing, system administration, and IT infrastructure.
Marketing: Digital marketing, social media marketing, content marketing, SEO, email marketing, and analytics.
Photography: DSLR photography, photo editing, lighting techniques, portrait photography, and Adobe Photoshop/Lightroom.
Video: Video editing, cinematography, storytelling, visual effects, color grading, and video production.
Web: Front-end and back-end web development, HTML, CSS, JavaScript frameworks, WordPress, and web design principles.
These are just a few examples of the diverse range of topics taught on Lynda, catering to various interests and professional development needs.
The platform offers a vast library of courses within each category, allowing learners to explore and expand their knowledge in their chosen field.
With the ability to access courses anytime and anywhere, Lynda offers a flexible and convenient learning experience for individuals seeking personal and professional growth.
Student Feedback / Reputation
When it comes to student feedback and reputation, the support staff at Lynda has generally been praised for being polite, considerate, and helpful. In my experience and based on the feedback of other users, the support team at Lynda is known for being responsive and attentive to students' needs and inquiries.
Whenever I have encountered any issues or had questions about the platform, the support staff has been prompt in their responses and has provided clear and helpful solutions. They have demonstrated a genuine willingness to assist, ensuring that I was able to navigate the platform smoothly and make the most of my learning experience.
Furthermore, from various reviews and discussions with other learners, it is evident that Lynda's support staff is well-regarded for their professionalism and customer-centric approach.
They strive to address any technical difficulties or concerns that students may have, ensuring a positive learning environment and a high level of satisfaction.
Lynda Reviews I Found Online


Here is an overview of how students rate Lynda:
Course Content: Students often rate the course content highly, praising the depth and relevance of the material. They appreciate the practical nature of the courses, which allows them to apply their learning to real-world scenarios.
Instructor Expertise: Students value the expertise and knowledge of the instructors on Lynda. The instructors are often industry professionals who bring real-world experience to their teaching, enhancing the quality and credibility of the courses.
Course Structure and Organization: Students appreciate the clear structure and organization of the courses on Lynda. The courses are often divided into modules or sections, making it easy for learners to follow along and track their progress.
Learning Resources: Students find the additional learning resources provided by Lynda, such as exercise files, quizzes, and project files, to be valuable. These resources help them practice and reinforce their understanding of the course material.
User-Friendly Platform: Students often praise the user-friendly interface and navigation of the Lynda platform. The platform's layout and features make it easy to search for courses, track progress, and access learning materials.
Certificate of Completion: Students appreciate receiving a certificate of completion after finishing a course on Lynda. This certificate can be shared on their LinkedIn profiles, showcasing their newly acquired skills and knowledge to potential employers.
These positive ratings reflect the platform's commitment to delivering high-quality educational content and supporting learners in their skill development.
It's worth noting that while individual experiences may vary, the overall consensus regarding the support staff at Lynda is positive, highlighting their politeness, consideration, and helpfulness in assisting learners throughout their learning journey.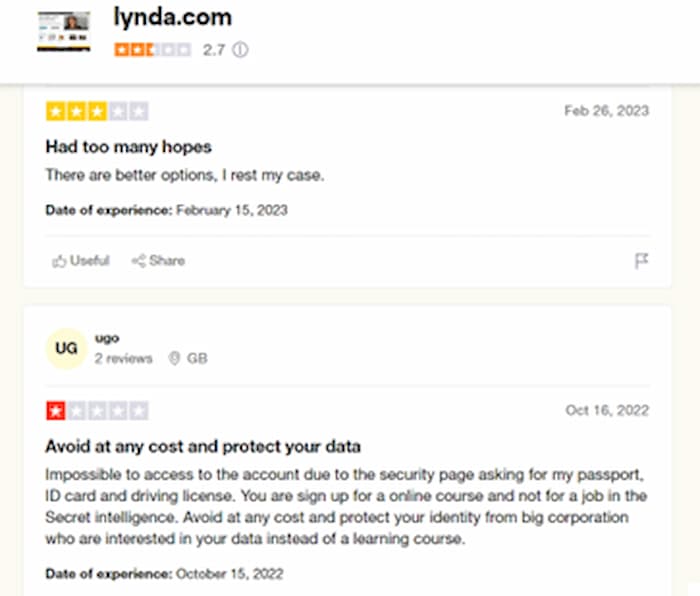 While many students have positive experiences with Lynda learning, it's important to note that not all learners are satisfied. Some students have expressed concerns about course depth, interactivity, and overall value for the price. It's essential for individuals to consider their specific learning needs and preferences before committing to the platform.
Pros
Extensive library of courses taught by industry professionals.
Flexibility to learn at your own pace with on-demand access.
Valuable learning resources such as exercise files and quizzes.
Integration with LinkedIn for easy profile showcasing.
LinkedIn Learning corporate pricing offers options to accommodate the learning and development needs of organizations.
Personalized course recommendations based on interests and function.
Cons
Limited focus on standardized test preparation.
Courses may not be as interactive or hands-on compared to some other platforms.
Pricing may be higher compared to certain alternatives.
Not all courses have the same level of depth or comprehensive coverage.
Platform features and user experience may vary across devices.
FAQ
Is Lynda courses worth it?
The value of Lynda courses depends on individual learning needs, but alternatives like Coursera and Udemy often offer more comprehensive options.
Which is better: Udemy or Lynda?
It depends on preferences; Udemy offers a wide range of courses from various instructors, while Lynda focuses on quality content and industry professionals.
How much does it cost to use Lynda?
Lynda's pricing is $19.99/month for the monthly plan and $39.99/month for the annual plan.
What happened with Lynda.com?
Lynda.com was acquired by LinkedIn and transformed into LinkedIn Learning, offering a wide range of online courses.
Does Lynda give certificates?
Yes, Lynda provides certificates of completion for its courses, which can be shared on your LinkedIn profile or included in your resume to showcase your newly acquired skills.
Are LinkedIn Learning certificates useful?
LinkedIn Learning certificates can be beneficial to showcase skills on professional profiles, but their weight may vary depending on the industry and employer.
Does Lynda have free courses?
Lynda offers a one-month free trial, but beyond that, it operates on a paid subscription model with no free courses.