Online lessons are currently one of the best and most convenient ways to learn new skills. You get access to lectures by renowned experts who're excellent at sharing their knowledge for an affordable price.
You also can communicate with other people enrolled in the same course as you, which can lead to incredible networking opportunities. And the best part is that you have the freedom to go through the lessons on your own time.
When people take online classes, they usually decide to learn more about business, digital design, photography, marketing, and anything else they can turn into a side hustle. Most people who are interested in online lessons have a goal to boost their income.
That's why these types of classes work so well. The tutors are industry experts who know what it takes to succeed in their field and provide students with useful and practical knowledge.
Although online learning has some clear benefits, finding the right tutoring service for you can be quite challenging. Countless companies offer online lessons, but not all of them are good. Some of these websites are not even legit and want to scam people out of their money.
That's why we deeply analyze online tutoring services and provide our readers with important information on each company based on their service quality, prices, and other factors. We always take time to learn the service inside and out before writing a review.
Our goal is to help users find the best tutoring service for their needs and avoid companies that are not legit.
Today, we will show you what we learned about CreativeLive after analyzing their service. If you are interested in the comparison of this platform with similar companies, check out Creative Live and Skillshare, MasterClass and CreativeLive, and the most recent one CreativeLive and Lynda articles.
Creative Live Overview
There are some things that you can't learn in school. Although you can gain a lot of technical and useful knowledge in college, you won't have a chance to unleash your creative side.
Thankfully, you can now enroll in online courses specifically created for innovators, visionaries, and people who feel the need to express their creativity.

What is Creative Live?
CreativeLive serves as one of the largest education platforms on the internet designed specifically for creative people. You can find more than 1,500 classes on the platform, with over 650 experts teaching the courses.
Before writing our Creative Live review, we had already heard good things about this company. However, we still wanted to learn exactly how it works.
You can browse through their many courses before you even become a member to see if there's anything that interests you. There are also some free courses that you can take to become more familiar with the platform.
One of the main things users mention they like about this service in their CreativeLive reviews is the list of tutors. You can find world-renowned photographers, best-selling authors, and Grammy winners among the tutors.
You can learn valuable lessons from people like Jasmine Star, Mel Robbins, Daymond John, Sheri Riley, Tim Ferriss, and more.

Is CreativeLive worth it?
You may be wondering, are CreativeLive classes good? With more than 1,500 classes, you're bound to find many courses you'll enjoy. You can find CreativeLive class reviews by users to help determine which ones to enroll in.
People often ask if CreativeLive is legit or if CreativeLive is a scam. This company is legit and has been operating since 2010, with more than 10 million students on the platform.
On top of that, many experts and renowned tutors are associated with this company. And as a big plus, there are many positive CreativeLive.com reviews about this company.
If you are looking for the best English tutor, you should check our page of top tutors for English learning.
Story of CreativeLive.com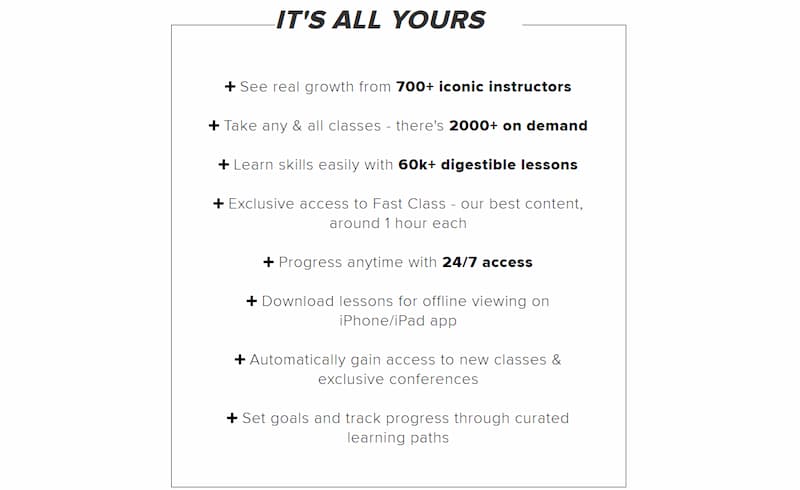 Craig Swanson and Chase Jarvis first started toying with the idea of doing workshops to help people develop their creative skills in 2009. They essentially wanted to create a new approach to education that would be interesting to creatives across the globe.
They created their first successful class in December 2009. Once they realized they had an audience, they immediately started plotting their next steps.
They founded CreativeLive in 2010 and set up an office and studio in Seattle. In 2013, they opened up a studio in San Francisco.
Each year, they have shattered records and developed better and more popular classes. They currently have over 10 million students who have watched over two billion minutes of content.

Services of CreativeLive
CreativeLive.com reviews often include positive comments on the versatility of courses available on the website.
With 1,500 classes dedicated to helping people develop their creative skills, you can truly find a course that looks like it was created specifically for you.
You can find courses in several different categories, like:
Photo & Video;
Art & Design;
Music & Audio;
Craft & Maker;
Money & Life.
You can find subcategories in each of these categories to help you find the right course. While writing our CreativeLive photography class review, we noticed that you could learn about numerous types of photography.
Students have a chance to boost their skills in iPhone photography, wedding photography, portrait photography, commercial photography, outdoor photography, and more.
If you want to boost your creative and practical skills to increase your income, you should enroll in a Money & Life category class.
You can learn about management, finance, social media, online business, entrepreneurship, podcasting, writing, marketing, and more.

Students note in their online creative writing course reviews that many classes in this category are excellent. The best course in the entire category is "How to Break the Habit of Self-Doubt and Build Real Confidence" by Mel Robbins. This is also the best class in this category, according to our CreativeLive class review.
While writing our Creative Live course review, we were interested in the Craft & Maker category. It included classes that we did not find on other online learning platforms. These classes included stamp making, cake decorating, quilting, knitting, sewing, pattern design, and fabric crafts.
You can master your coloring, drawing, illustration, branding, and other similar skills by enrolling in Art & Design classes. Here, you can also learn more about web design, logo design, and user interface design.
Finally, you can learn about songwriting, sound mixing, audio engineering, and recording in the Music & Audio courses.

A lot of great classes are also available at MasterClass. Check our review of MasterClass and see which course might suit you best.
Pricing of the Classes
When it comes to the prices of the classes, you have two options. You can buy lifetime access to certain courses or pay for membership. The prices of courses typically range from $15 to $200, while the monthly membership (known as the creator pass) will set you back $29 per month.
While writing our CreativeLive creator pass review, we were pleasantly surprised that this membership gives you access to all 1,500 classes. You also can get an annual pass, which costs $149 per year. This option gives you access to all classes for less than $13 per month.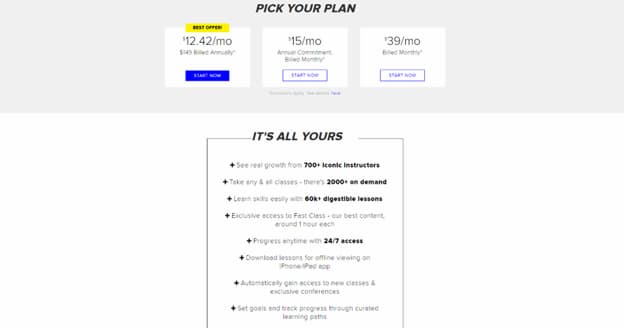 If you are trying to find a personal tutor for your learning needs, check reviews of Varsity Tutors, these guys hire top tutors so you can start practicing online.
Quality of the Classes
You already know that this company offers a lot of different classes. But are CreativeLive classes good? There are bound to be some misses when you have so many different classes on your platform.
We're not saying that all classes on this website are good, but our review of CreativeLive led us to conclude that around 80% of the courses you can find on this platform are outstanding! They are taught by industry leaders and experts who know how to share their knowledge with others.

If your kid has trouble with math learning, check online math tutoring reviews on our website. You might find a service to help you and your kid with math learning.
Customer Service
While the service that CreativeLive offers is amazing, its biggest downside is its customer service.
You can find many different Creative Live reviews online that mention at least one problem they had with customer service. They're not particularly responsive and are often unable to solve students' problems.
Although you probably won't experience any problems while using this service, you should still know that you won't be able to count on customer service to provide quality assistance.
Website and Mobile App Usability

While writing our review for CreativeLive, we carefully analyzed their website. You can easily navigate the website, and its functionality is great.
The classes are divided into simple categories that will allow you to find a course aligned with your interests in a matter of minutes.
You don't have to be on your laptop or desktop to enjoy CreativeLive courses. You can learn on the go by using their iPhone and iPad app. It's worth noting that you will get a free lesson of your choice every day you use the iOS app.
Pros
You can gain free access to any class that is streaming live.
You can use CreativeLive on your computer, smartphone, and tablet.
All of the courses are filmed in-house, meaning they have the same high level of quality.
The tutors are experts in their respective fields and offer valuable knowledge to students.
CreativeLive can help you learn both creative and business skills that you can use to start a company.
The company offers a 7-day refund policy on the creator pass and a 30-day refund on individual classes.
Cons
Their customer service often isn't very helpful or responsive.
CreativeLive doesn't provide any accreditation or certificates.
The classes usually don't include a lot of downloadable materials.
Certain courses contain more than half an hour-long modules that are hard to digest.
Individual courses can be expensive, which is bad news for students interested in just one class.
There aren't many courses in app development and programming, which are also considered creative skills.