Dragon Resume Overview
Dragon Resume is an expert team offering you commercial resume writing assistance. The first thing you will notice when you open its website is "upload your resume to get a free and confidential evaluation….", this is one of the primary options.  However, you can always make your selection of a particular service on this site.
Check top resume writing services
When choosing a CV writing service, it is essential to understand your personal needs. Get into your career and make a thorough study first so that you can answer the questions correctly. With so many available writing service providers, one needs to choose a service that meets his expectations perfectly. Here is the list of must-to-do things:
Ensure they are registered with an excellent professional body.
Make sure they have certified professional resume writers.
Visit the website to evaluate its content and design.
Review samples on their site.
Consider price vs quality.
Find someone who specializes in a specific niche.
There are different ways of writing a CV, and perhaps this is the first thing you should be aware of when choosing your writing service. The most common variants of resumes include functional, combinational, and targeted ones. Your writing service should offer you these options and recommend the best one depending on your needs and expectations.
Don't focus on the high service price, but pay attention to what you are getting for this cost. Dragon Resume promises to help you get a job by creating the best CV review for you.
Well, is Dragon Resume one of the best resume writing services online? We tried to find out whether this service is valuable and worth its price. So, let's proceed with our Dragon Resume review!
Our main goal at EduReviewer is to make your life easier by showing you the ResumeEdge analysis on the market today.
Dragon Resume Story

Dragon Resume is a writing and career coaching service established to help people get the most out of their job search efforts. Having a Career Advice section, this website offers some information to job seekers.
It was established by a group of executive recruiters who understand how to make a job-oriented CV. They state that they understand deeply what employers are looking for while hiring new workers. It is because the average CV doesn't convey the desired information about a certain candidate to the recruiter.
With technology settings and employers relying on technology to sort through thousands of resumes they receive, many potential employees are eliminated. Software like application tracking tool sorts out keywords from resumes. This can immediately exclude one from hiring lists.
Dragon Resume suggests that they have a solution to this problem. With many companies and corporations hiring people every day, your CV should be updated depending on the needs of a particular recruiter. Dragon Resume aims to increase your chances of job obtaining.
DragonResume Pricing
There is nothing hidden about their prices. It makes this review service very reliable because they don't try to keep any pitfalls out of your sight.
Though Dragon Resume doesn't provide a free resume review, you should go with Zipjob resume review. It is one of the best resume writing services available online.

Every customer appreciates services that are honest about the amount of money expected in payment for good service. One can easily compare with other services when looking for the right site to order his CV.
The prices vary depending on the package:
Professional resume;
Comprehensive development package;
Executive growth package.
They are charged as follows:
Professional resume.

The cost is $149 for a professionally written resume, it is a little cheaper than on ResumeWriters.com, but the quality is much lower. Check reviews about Resume Writers from customers on our blog. There is an optional candidate marketing service that costs $399. It contains the individual support of our hiring managers across up to 200 companies in our network. They will comply with the target list of employers depending on your skills and previous experience.
Comprehensive development package.

You pay $249 for a CV, cover letter, and resume strategy session. For the most effective use, you are advised to order an optional candidate marketing package for $499.
Executive growth package.

You pay $399 for an executive resume, cover letter, executive marketing strategy session, and LinkedIn development, along with other features. For an additional package with a professional candidate marketing service, you are expected to pay $599.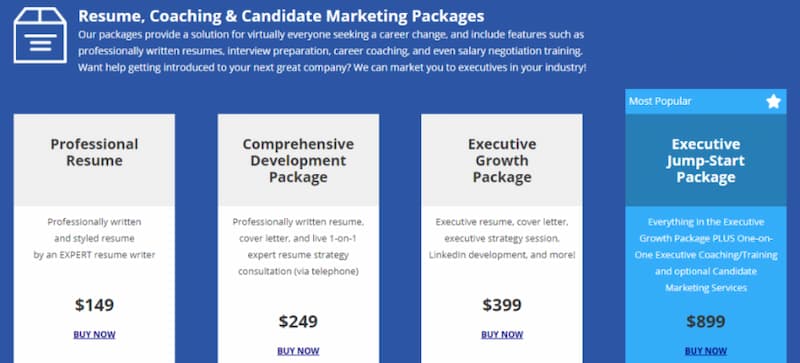 While comparing the prices of Dragon Resume reviews with similar services, you realize that they are higher than others. They do not have professional federal government resume writers. They don't have any discount system but assure you will get the best services in the industry. For example, if a CV at the entry-level costs $149, and the following package with a cover letter and a 30-minute strategy call is $249, you will have paid an additional $100.
You pay more than $200 on each package to get candidate marketing services, but it is rewarding as you have a guarantee of employment along with a corresponded CV. Dragon Resume prices still seem a bit high, but you get a perfect quality for them. That is all that should matter at some point. You can always apply for a similar service at a lower price, but you can't be sure it will meet your needs and help you obtain a job.
Dragon Resume guarantees customers have an interview within three months. If this does not happen, they will write your resume free of charge. It is like a refund system when you can get your money back if needed. Well, that's what they promise. In fact, you are not going to get any money back or a free resume.
If you are looking for legal resume writers, check our list to find a top attorney resume writing service.
DragonResume.com Payment
You have to create an account before making any transaction. A brief questionnaire will be provided there, and you will be required to fulfil it. It helps their career consultant to understand what you are looking for.
After logging in, the appropriate data will appear in your account. There are different payment methods to choose from. You can pick the method you prefer the most and complete transaction. Whether you pay by credit card, debit card, or using online payment methods, the steps are quite similar.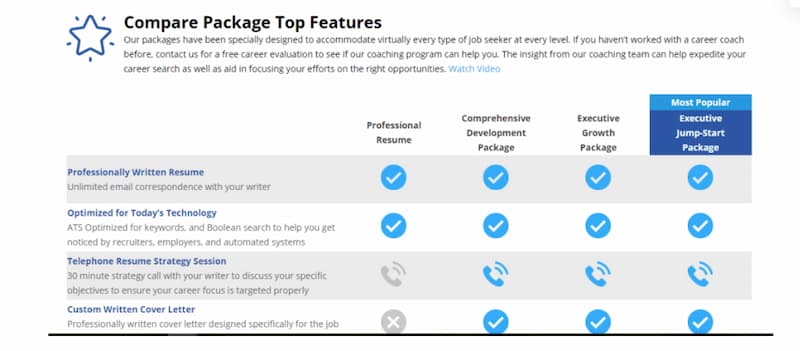 Dragon Resume Quality
This service offers the solution to job seekers. With their high prices, they do not have many customers in the US and Canada because of the terrible service quality.
They argue you will get more interviews within 90 days than you have ever done using other platforms. They will introduce you to more than 20 million active hiring managers through a candidate marketing campaign that will be created specifically for you.
Every time a manager views your profile through LinkedIn or any other media, you will receive a notification.

Lots of people claim that Dragon Career offers one of the worst quality services on the job market. The bad part is that they will not revise your resume for free if you don't get any response from potential employers. So prepare your money.
Dragon Resume com Customer Service
Everyone wants to know whether the customer care system is reliable enough. At Dragon Resume, customers are provided with a live chat. As we found it, Dragon Career Services reviews online, their professional career managers are rarely during working hours for you to ask them job-related questions.

If you are not comfortable with a live chat, you can also contact them via phone number. There is someone always ready to receive your call and answer your questions. What's more, they could help you via email, which is presented on their website. This is the most convenient means to contact managers if you miss them on the phone and live chat. You can send quick messages and tell them about other problems you've encountered while applying for a job. But all these methods will require lots of your time.
Dragon Resume Website Usability
The website is not really easy to navigate. Though it is compatible with multiple devices, and their design is not irritating. They have used neutral colours that make it convenient.
The home page contains a short introduction to this service and links to other pages. It has an easy sign-up/login option where you can easily input your information. The «About Us» section tells all about the team and what the service provides for its customers.
At the top right corner are the About us, Pricing, Services, FAQs, and client Login options that will take you directly to the pages containing the necessary information. If you have questions, you can write to them at the end of the home page and submit them.
Pros
They have the average customer care service, compared to other services.
In the best case, you will go to a few interviews in 6 months.
A couple of professional resume writers.
Easy to navigate website which is compatible with mobile devices.
Quick registration and authorization process.
They have numerous additional services, for an additional price, of course.
Cons
The prices are high, and they have no discounts.
There is no resume example on the home page.
You must register to get any helpful information.
They have no discount system at all.
There will be no creative input in your CV/resume.
They could help you with employment in a company you don't want to work for.