CVcentre.co.uk Overview
Are you looking for a professional consulting firm to work on your CV? Do you believe the CV Centre will be the right choice for you? We have made the UK CV writing services reviews to answer these questions.
So, let's proceed to the CV Centre review.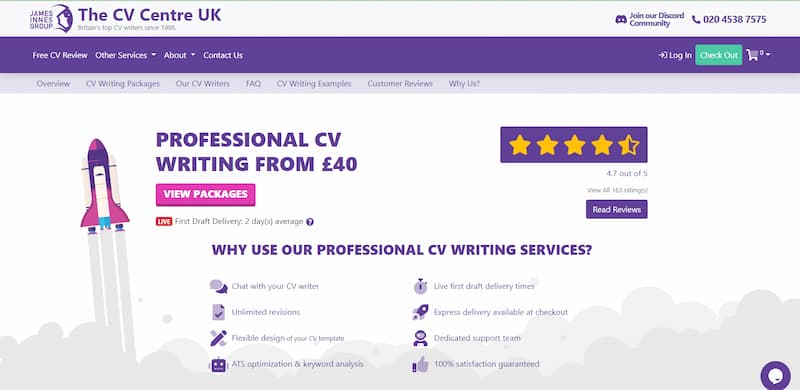 The CV Centre specializes in professional CV writing, online presence, LinkedIn profile building, cover letter writing, application forms and personal statements, proofreading, business photo editing, interview coaching, and translation. The CV Centre UK reviews pre-prepared CVs to fit into the correct career outlooks of various professions.
CV Centre UK has constantly produced carefully drafted CVs that clearly show excellent career skills that will attract the attention of prospective employers. This is because of their considerable number of professional writers who have gained a wide range of valuable experience in recruitment and personnel management.
They have a very interactive and reliable website and offer affordable prices, not as low as cheap professional resume writing companies. Even you can quickly pay using a comfortable payment method.

That's not all! They also offer timely informative articles on their website, which you can read for personal career development.
Please, take a good look at what we have to say about this company and its services. Is it one of the best Resume 101 review available?
Cvcentre.co.uk Story
The CV Centre is a subsidiary of the James Innes Group. It was established in 1998, and it has commonly been regarded as the UK's most popular consulting firm. The reason is not far-fetched. It has become so known worldwide due to its total dedication to helping job applicants easily go through the hiring process.
CVcentre is a consultancy service agency with CV writing and rewriting, CV reviews, LinkedIn profile building, and cover letter writing. Everything you need to know about this company will be examined in this article.

In this CVCentre review, we'll provide in-depth information about the pricing, payment, customer service, and other relevant issues like quality and performance.
You also get to know the pros and cons of dealing with this agency. Just keep reading to find out more about The CV Centre UK. Without much ado, let's quickly get into it!
CVcentre Pricing
When you go through their website, you'll notice that The CV Centre offers very affordable prices compared to other high-ranked consulting agencies like it.
Despite this, they still deliver average quality. Considering the CV Centre reviews from former customers, you can't rest assured that whichever service you order will be written by their highly prolific writers who have achieved professional experience in the industry. What if you were told that you have the option of choosing James Innes himself to work for you?

When you place an order, you should get your delivery dispatched to you within 3 to 4 working weeks of the completed order. If this duration elapses, you have the opportunity of calling the agency to make inquiries. Many services like this won't allow you this opportunity. So, this is a rare gem.
There are three major bundle offers, namely:
1. Standard CV writing bundle (£99.0):
First Draft In delivered between 34-52 Hours;
Personally written by one of their in-house team;
CV writing;
LinkedIn Profile;
Cover Letter;
Direct Messaging via Your Dashboard;
and multiple revisions upon request to satisfy you.
2. Senior Consultant CV writing bundle (£199.00):
You stand to enjoy the following services:
Preliminary call with your senior consultant;
Written by one of their A-Team senior consultants;
CV writing;
LinkedIn Profile;
Cover Letter;
Direct Messaging Via Your Dashboard;
Multiple Revisions Until You Are Satisfied.
James Innes CV Writing bundle (£399.00): This bundle includes the following;
Preliminary call with James Innes;
Written by James Innes himself (CV, LinkedIn Profile and Cover Letter);
Direct Messaging Via Your Dashboard;
Multiple Revisions Until You Are Satisfied.

You can also order for the following bundles;
The CV Centre Graduate Bundle – Up to 1-year total lifetime work experience – which costs £69.00;
The CV Centre Junior Bundle – Up to 5 years' total lifetime work experience – costs £79.00.
There are also many other flexible options which you can easily choose from. You can check their website for more information on the other services.
They do not have professional military resume writers, so if you want to hire a veteran resume writing service, check our list.
CVcentre Payment
They have a very secure payment plan. What's better than knowing that your money will be in good hands?
However, you will be required to pay for orders in full before you get them dispatched for delivery. You can also choose a preferred payment plan, whether credit card, debit card, or PayPal. And once you accept your order, your account will be immediately debited. It's just as simple! Just make sure you have enough funds in your account to make the transaction.

In addition to all of these, they make sure that all credit or debit cards are subjected to owners' authorization and validation checks before they debit your account. Without the authorization of payment, they will be unable to make any delivery.
The best service in terms of security and guarantees is FindMyProfession. Read more in Find My Profession resume reviews on our website.
Something that makes this more interesting is that your money will be reversed if they notice any payment error and your account will be credited almost immediately. There's also a money-back guarantee program.
Because of their professional way of writing CVs, The CV Centre offers to refund your money if you're not satisfied with their service.  Before this is done, any of your complaints must be made within 14 days after delivery once this duration has elapsed. The CV Centre reserves the right of closing up the transaction. Wonderful right? Only a few Consultancy offer this program.

Prices are fully inclusive of all international sales and consumption taxes that customers are obliged to pay, depending on their different regions – taxes such as GST, VAT, and so on.
CVcentre.co.uk Quality
Having a good CV is essential in the world of recruitment. This is what The CV Centre is all about. They offer excellent and quality services that will completely wow your prospective employers.
They have a list of experienced consultants who are ready to satisfy clients fully. They have expert writers to hear your complaints. Even James Innes himself is available. You can also look at ResumeWriters.com reviews for clients' maximum satisfaction.

CVcentre.co.uk Customer Service
CV Centre UK Customer Support system works 24/7. You can message them directly if you want to make inquiries about their services or get updates about your personal order. For higher options, you can make a call through to them.
CV Centre reviews your CV multiple times until they're sure you are delighted with their job.
Another interesting thing about their customer service is that their writers are always on the ground to give direct and immediate replies to your questions and receive more instructions on whatever you want to add or remove.
Constant communication with your writer will ensure that you get the job that you really want. It's a two-way thing too. Make sure you are also available to respond to their questions anytime.

What's more? They also provide informative articles to help you build your career. They've got detailed write-ups regularly posted on their website to tell you what you have to do and not do in the formal world.
CVcentre.co.uk Website Usability
Just as mentioned, the website is amicable and interactive. It is also easy to use. Before you can start to order for any of their services, you will be required to register – which is quite easy than you could have thought – so that you can become a member!
The website is also clean, with clear instructions on how to do things. It is also quite easy to make your order. For example, you click on the bundle option you want and follow the due process of payment to the letter, and you are good to go.

Also, if you're not ready to order for any bundle option immediately, you are free to cart your options until a later time you are ready to pay. Very simple!
Pros
If you order for any of the bundle options provided by CV Centre UK, you will assuredly get a good job. They assure their clients 100% satisfaction after the work has been done.
Also, CVcentre reviews your already constructed CVs for free to help you all the way.
You'll also get on-time responses to inquiries, requests, and complaints. They are always available to help you in any way.
James Innes, the founder of this company, has built an outstanding and well-deserved reputation over time. You have the option of working with him personally.
There is also a money-back guarantee plan in case you experience any hiccup in order delivery.
The CV Centre reviews your CV for free and makes sure it is error-free. They know what interviewers are looking for. So, you can provide the CVs or cover letters that will win the heart of your prospective employers.
Cons
CV Centre doesn't offer any resume samples that you can really survey before subscribing to any of their bundle options.
Their CV layout is sometimes too simplistic. They usually do not have a customized and creative template.
The CV Centre UK takes time to deliver your bundle offer. In the real world, 3 to 4 weeks before delivery is way too much.
CV Centre UK also has limited payment methods. They should be able to provide a variety of convenient options for their clients.
Out of their major bundle offers, you have the opportunity of choosing the chairman of the JamesInnesGroup, James Innes to work on your CV. However, this bundle is quite expensive.
Although CV Centre has a money-back guarantee plan, you can only get a refund for any complaint only within two weeks after delivery. After 14 working days, the transaction will be closed, and you won't be able to get a refund even if you have a genuine complaint.