Searching for the perfect work based on one's capabilities is quite challenging nowadays. That's because there is a competition to consider. It's much the same with looking for employees since there are plenty of applicants to check. It's a good thing, though, that job boards like Higher Ed Jobs exist. Just post your resume and get your dream job. And if you need a resume or CV, check our best resume writing services reviews, pick a suitable company, and have your resume done by professionals.
In this analysis of HigherEdJobs.com, you could better understand the service and why people visit and become a part of it.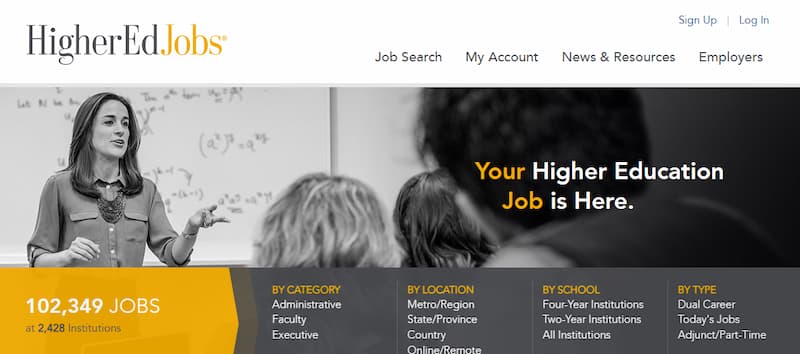 Why should you choose to read our HigherEdJobs review?
To assure readers that our writing is worth perusing, we provide an informative piece. In addition, we only provide appropriate data to be relevant while discussing.
Our analysts collect enough facts about a subject before putting things into writing.
In presenting our views, we stick to being impartial.
We only discuss the platform based on our experiences.
What are our standards in selecting an employment website for Higher Education?
When we appraise such a page, we take into account a few points:
The website has to have many beneficial offers to job hunters and bosses.
It ought to be reputable. A site worth reviewing is interesting, to begin with.

What kinds of tertiary school job boards are there, and how do you select one?
There are a lot of employment sites across the globe. Some accept and support job seekers by giving them a space for a profile page on the internet. Others have only job listings supplied by business owners. It would be better to join a site that caters to those hiring and seeking work since they usually have a huge database.
Before we go further, Let's take a look at the Unemployed Professors reviews, mainly the review features it offers.
HigherEdJobs.com Overview
The Higher Ed Jobs online website is a portal for candidates for a job. It also has a place for recruiters or businesspersons looking to hire experts. It was established in 1996 and has amassed thousands of users. Different learning centres and professionals in the field of education continue trusting it.
Many consider HigherEdJobs.com a great source for learning about careers and getting numerous job offers. The page has many resources for applying and experiencing advancement too. That is most likely why a lot of school faculty members and administrators started out by using it. In addition, academic investors and executives join for recruitment purposes in Higher Education. It's got tools for posting job openings and making exceptional endorsements too.

The page by HigherEd not only has a comprehensive menu for navigation but likewise a search tool. It's packed with news, resources, and information on openings and hiring too. It's no wonder why a lot of people support it.
HigherEdJobs Story
If you want to work in the academic setting or are interested in finding folks to manage your college or university, visit the website. The three founders have designed it to make it easy for people to find work in academia. When it became functional, it likewise provided for and attracted many academic executives.
It currently promotes thousands of operational academies and informs of fresh, open positions. On top of that, it has won awards and continues to support its network of members with valuable tools and data.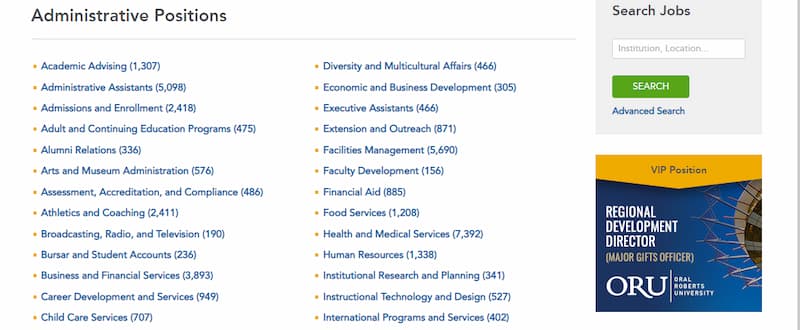 The Higher Ed internet site is powerful with a simple layout and a variety of useful attributes. There are a lot of positive peer reviews about it too. You could start your career, find work, or hire some talents there today.
HigherEdJobs.com Pricing
It's completely free to set up a job seeker type of account. But employers have to pay since they post position openings to attract professionals. Individuals who look for work have the option to have their resume created for them for a price, though.

Those who wish to have a paid resume or CV have several options. With the help of the TopResume group (read full Top Resume review), the site offers three packages. That's for each of the types of documents mentioned.
The discounted price of a professional resume costs $139. Adding a cover letter makes it $199. Then, if you're going to request a LinkedIn profile as well, it will be $314. Prices for professional federal resume writers or professional executive resume writing services might be higher.
For a quality curriculum vitae, the reduced price is $199. The cost will increase to $259 after asking for a cover letter and $379 for an extra LinkedIn page.
The initial discount is a $10 reduction. It becomes $20 to $30 as the request expands.
Those employing academy staff by advertising employment opportunities have to pay specific fees. The amount depends on the number of ads they want to post and the inclusion of beneficial features. There are also special rates for those who wish to share openings in unique ways.
A single post for a job offer values at $315 only. But those planning to have at least 2 offers may want to go for $560 or higher since they are a lot cheaper. Unlimited posting means spending around $2,700 to $8,000.
Automated job posting to direct people to a school's employment page is also available at $495. The value of VIP position posts to target high-level candidates is $950.
To show sensitivity to applicants, there are posting upgrades for sale too. It's $115 for diversity and inclusion e-mail and $300 to make your posts highlighted to a specific group.
Further exposing what you wish to display means spending more too. For instance, HigherEd Jobs will endorse on social media for $315.

Discounts are a good way to draw customer's attention. CraftResumes service is ready to provide you with this too. Not sure, check CraftResumes reviews from customers on our website.
HigherEdJobs.com Payment
Purchasing HigherEdJobs products for candidates and employee seekers leads to a payment page. For resume and CV creation through TopResume, credit and debit cards are acceptable. Paypal is also an option for paying too. Yet employers have to pay using the cards mentioned when they want to display job vacancies.
The dedicated pages for settling fees are secure. They use HTTPS and provide invoices as proof of purchases. Moreover, there are details on the side for contacting the support team by e-mail, phone, or fax in these sections. This is to say that there are people who are ready to address billing concerns. In truth, you would even know where your payment would go since the company's address is visible too.

To convince people of the site's safety, the TRUSTe Privacy Feedback button is on display. It proves that the website respects people's privacy.
HigherEdJobs.com Quality
Upon visiting HigherEdJobs.com, a person could immediately see the different sections. There are drop menus for doing job searches and checking account information. Employers also have a dedicated area, and there's an option to look for news and resources.
Searching for work is easy on the site because there are categories for easy navigation. One can then look for an opening based on their preferred location, institution, and position. Candidates could even apply and track their applications because of the website's interface. Furthermore, applicants get notified of important news and job offers too.

Graduates, workers seeking a higher position, and shifters are even provided with useful ideas. The site has media presentations, salary data, and career advice for people. They are free of charge and thus beneficial.
Employers can experience a lot of advantages on the site too. The company offers fair products and discounts. There's a large resume database where the records of potential employees are placed. Branding services are also provided.
HigherEdJobs Customer Service
There is a special "Contact Us" page. It's where Higher Ed Jobs have different e-mail addresses and their contact numbers. The company's office location is also shown there. There are separate e-mail addresses for the recruitment, advertising, and accounting departments.
A FAQ section for candidates is on the site. It's where direct questions and answers are. In addition, there are supplementary links included making it easier for people to browse.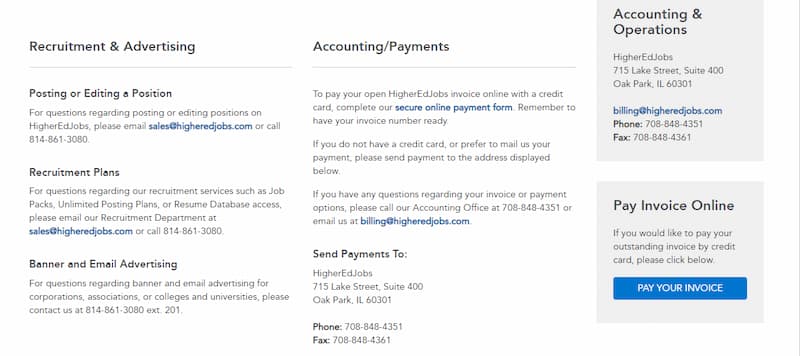 HigherEdJobs Website Usability
The design of the website is simple. The dominant colours used are grey, yellow, and white. But, to make buttons stand out, some blue and green are also used. It also doesn't look cluttered as there are drop menus available. Moreover, a visible search engine is on the top of the main page for inputting words and phrases.
A lot of useful links on the front page are at the bottom. The social media extensions, contact details, and some summaries are there. Through a bit of exploring, one could locate the FAQ, testimonial, and other sections.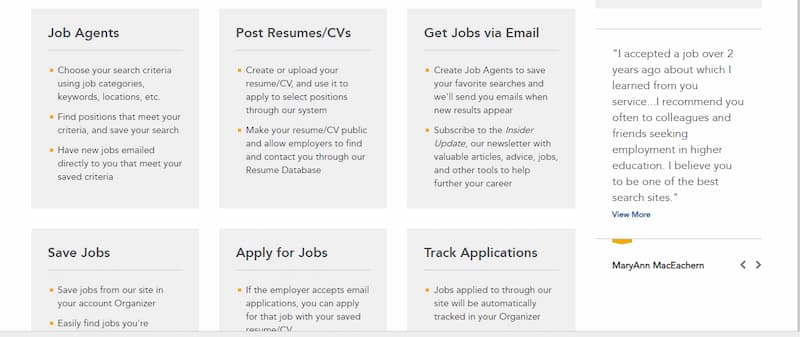 Pros
The colours displayed are easy on the eyes. In addition, the arrangement of the components on the page is great. Through their combination, the site looks sophisticated.
The front and extra sections have menus and buttons, so it's easy to browse everything. In addition, on the home page, there is a search tool that can make browsing effortless and quick.
A lot of things are in order because of categorization. Some areas even have embedded drop-down lists and search bars.
Links to social networking pages are available in the bottom region of the front page.
Positive feedback on the service is readable via the testimonial section.
A link to the company's US patent record is on the bottom area of the website.
Cons
It's got a formal appearance, but the style of the website seems old. Minimalistic designs are there, but the page gives a retro kind of feel.
There is no chatting widget anywhere. It would have been easier to address concerns if there were live chat agents to respond.
Some parts have too much text that might overwhelm visitors.
No link or icon to chat with representatives on social sites is available.
They only display favourable comments.
No guarantees or promises for job hunters and employers are given.