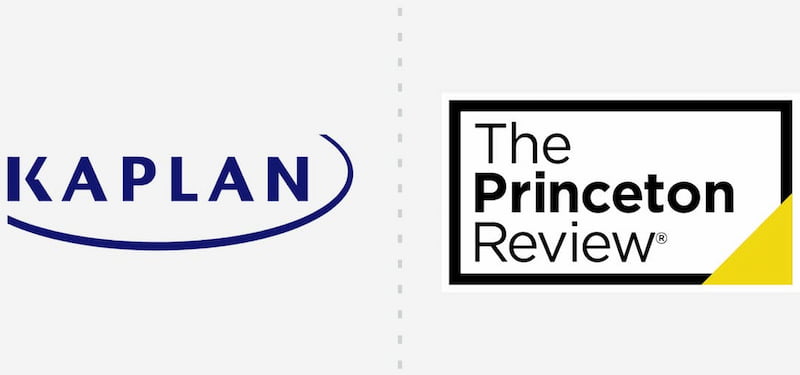 Preparing for the GRE is essential if you want to achieve amazing scores for your admissions application. Kaplan and Princeton are two of the most trusted test prep companies among students looking for GRE preparation services.
Choosing Princeton Review or Kaplan can be a challenge since both are great for providing education services. But don't forget that there are even more programs available online that might best suit your studying needs.
If you are interested in the Magoosh resource, we've put together an insightful article on Magoosh GRE review – a comprehensive analysis of this popular test prep platform. If you're considering Magoosh for your GRE preparation, this article is a must-read. Discover its features, advantages, and student feedback to make an informed decision.
Below is a quick guide about Princeton Review vs Kaplan Prep to help you compare these two and make the right choice.
Quick Verdict with Intro
If you're considering taking the GRE practice tests and searching for the best GRE prep courses, you're in the right place.
Aside from a general article on that topic, note that we also have detailed reviews of both Kaplan GRE and Princeton Review, offering comprehensive insights into their strengths and weaknesses. So, let's start with a brief overview of each platform and which one might be the best for you.
The Princeton Review is renowned for its personalized approach to test preparation. Their courses are designed to cater to different learning styles, making them an excellent choice for students who thrive with one-on-one attention and customized study plans.
On the other hand, Kaplan stands out for its comprehensive study materials and vast question bank. Their courses particularly benefit students who prefer a structured and content-focused study plan.
Kaplan GRE vs Princeton Review. The main differences:
The Princeton Review implies personalized learning, while Kaplan provides comprehensive content with a structured study plan.
The Princeton Review offers quality-focused practice questions, and Kaplan provides a vast question bank for ample practice.
Princeton Review provides live online classes, while Kaplan offers self-paced courses with guided study plans.
Princeton Review builds confidence and test-taking strategies, and Kaplan emphasizes content mastery and critical thinking.
Kaplan vs Princeton Review GRE Prep
Here's a side-by-side comparison of Princeton Review and Kaplan GRE courses to help you better understand the differences:
| | | |
| --- | --- | --- |
| Feature | Princeton Review | Kaplan |
| Customized Learning | ✔️ | ❌ |
| Comprehensive Content | ❌ | ✔️ |
| Structured Study Plan | ❌ | ✔️ |
| Practice Questions | ✔️ | ✔️ |
| Instructor-Led Classes | ✔️ | ✔️ |
| Self-Paced Options | ✔️ | ✔️ |
| Mobile App | ✔️ | ✔️ |
Key Features of GRE Prep Courses for Students
Preparing for the GRE can be a challenging yet rewarding journey, and finding the right test prep course is crucial for success. With numerous options available, each claiming to be the best, it's essential to understand the key features that set the best GRE prep courses apart.
If you're seeking an in-depth and insightful review of more GRE prep courses, we have a detailed analysis in our The Economist GRE Review article. This comprehensive piece explains the advantages and disadvantages of the platform. As someone who has experimented with various test prep services, I understand the importance of finding the right fit for your needs.
In this section, we will explore the important aspects of GRE prep courses offered by Princeton Review and Kaplan. From personalized learning and comprehensive content to study flexibility and instructor quality, we'll uncover the vital elements that can make a significant difference in your GRE preparation.
Let's dive in and discover the key features that cater to your unique learning style and help you achieve your desired GRE scores.
Customized Learning: Princeton Review takes the lead in this aspect, offering personalized study plans based on your strengths and weaknesses. They use adaptive technology to tailor the course according to your progress.
Comprehensive Content: Kaplan boasts a vast question bank and extensive study materials, ensuring that you have access to ample practice and review resources.
Structured Study Plan: Kaplan provides a structured study plan that works well for disciplined students seeking a step-by-step approach to GRE preparation.
Practice Questions: Both platforms excel in this area, with Princeton Review and Kaplan offering numerous practice questions to reinforce learning.
Instructor-Led Classes: If you prefer interactive classes and guidance from experienced instructors, both platforms offer live online sessions. Princeton Review is particularly known for its engaging teaching style.
Self-Paced Options: Both platforms understand that students have different schedules and commitments, so they provide self-paced study options.
Mobile App: With mobile apps available for both platforms, you can conveniently study on the go and make the most of your time.
Kaplan Course: How Is It Better Than Princeton Review?
When it comes to GRE preparation, Kaplan stands out as a well-established and reputable test prep provider. With a track record of helping countless students excel in their GRE exams, Kaplan offers a host of advantages that make it a popular choice among test-takers.
In this section, we will explore the key advantages of Kaplan GRE prep, ranging from its comprehensive study materials and vast question bank to its structured study plans and experienced instructors. If you're seeking a content-driven approach that ensures thorough preparation for the GRE, Kaplan's advantages are sure to impress.
Let's delve into the details and discover how Kaplan can elevate your GRE journey to new heights.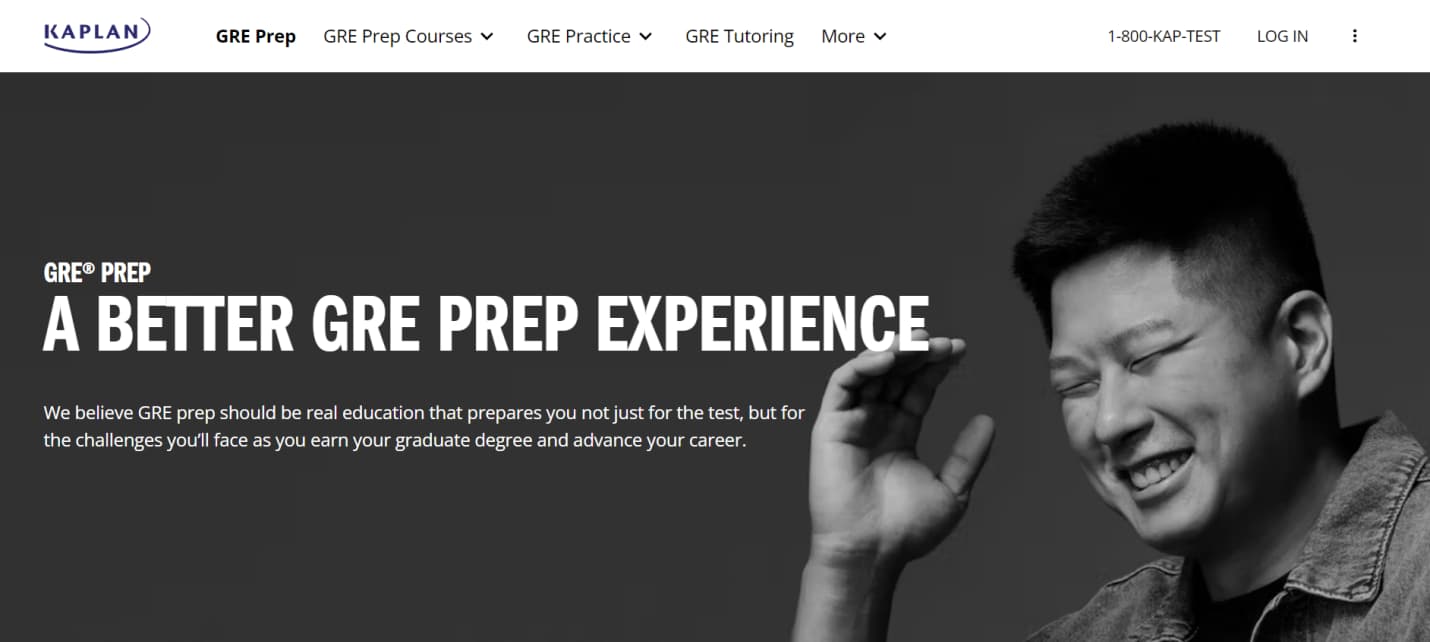 There are a few key areas where Kaplan truly shines:
Extensive Practice Resources: Kaplan's GRE prep provides a plethora of resources for practice. With seven full-length practice tests and thousands of practice questions, you'll never run out of material to work with.
More Instructional Hours: Kaplan offers an impressive 180+ hours of video lessons, providing comprehensive coverage of the GRE syllabus. This can be invaluable for students who learn best through video content.
Realistic Test Experience: Kaplan's unique "Official Test Day Experience" feature allows students to take a practice test in a real GRE testing environment, offering a truly authentic test preparation experience.
Innovative GRE Channel: This platform offers live and on-demand lessons on different GRE topics, fostering interactive and dynamic learning.
Princeton Review: How Is It Better Than Kaplan?
When embarking on the GRE preparation journey, finding a test prep platform that aligns with your learning style and caters to your individual needs is essential. The Princeton Review, a renowned name in the test prep industry, offers a range of advantages that make it a top choice for many GRE aspirants.
In this section, we will explore the key advantages of Princeton Review GRE prep, including its personalized approach, adaptive learning technology, and engaging instructors. Whether you thrive on one-on-one attention or prefer a customized study plan, Princeton Review's strengths are designed to help you succeed in the GRE.
Let's delve into the specifics and discover how Princeton Review can be the perfect partner in achieving your GRE goals.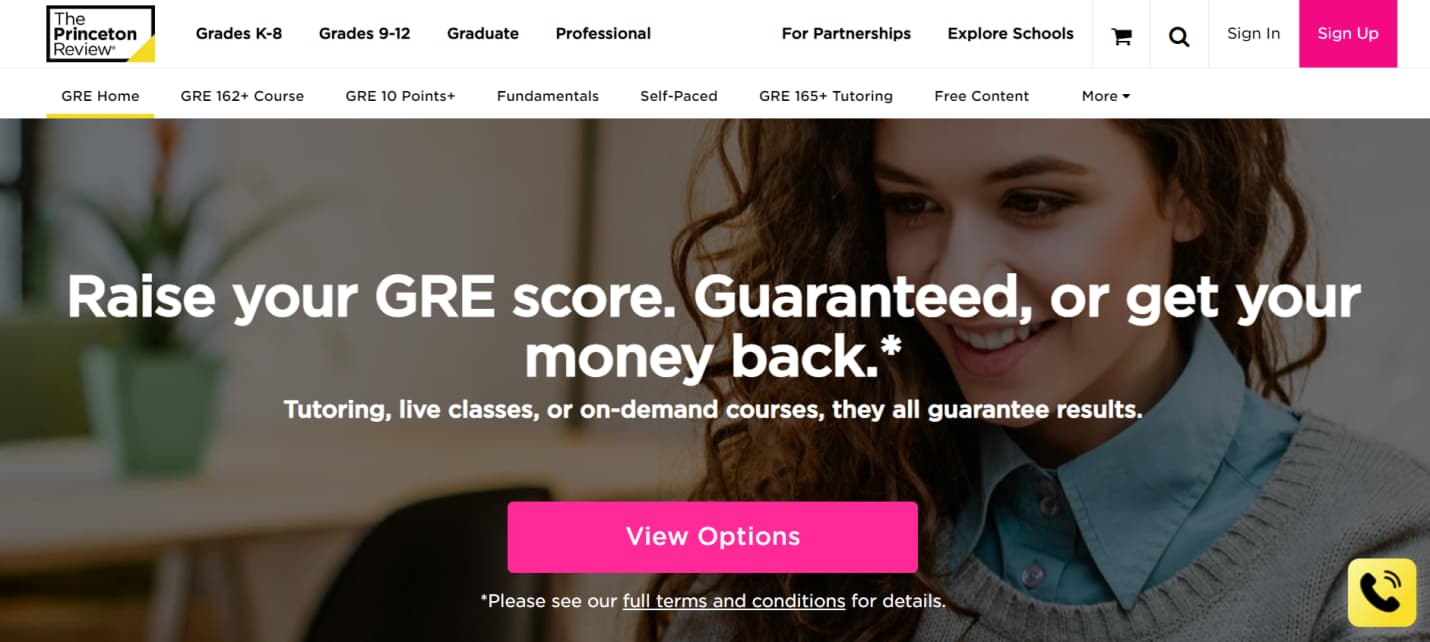 The Princeton Review also has several strengths that help it stand out:
Personalized Learning Approach: Princeton Review offers tailored study plans and adaptive drills. This caters to individual learners' needs and helps them focus on areas of weakness, leading to more efficient study sessions.
More Practice Tests: With eight full-length practice tests, Princeton Review provides more opportunities for test-like practice than Kaplan.
Strong Score Guarantee: Princeton Review guarantees a 7-point score improvement, which is more concrete than Kaplan's score guarantee.
'Drill Smart' Feature: This unique feature adapts to your skill level and helps you tackle a variety of question difficulties, offering a more personalized and targeted practice experience.
Extensive Tutoring Options: While their tutoring services are on the pricier side, they are also extensive, allowing for a more personalized and guided learning experience.
The key to choosing between Kaplan Prep vs Princeton Review lies in understanding your own learning style, preferences, and needs. If more practice and instruction are your priorities, Kaplan could be a great choice.
On the other hand, if you're looking for a more personalized learning experience with adaptive features, the Princeton Review could be your best bet.
| | | |
| --- | --- | --- |
| | Kaplan | Princeton Review |
| Practice Tests | 7 | 8 |
| Video Lessons | 180+ hours | 120+ hours |
| Score Guarantee | Yes | Yes |
| Tutoring Option | Yes | Yes |
| Price Range | $399 – $1,299 | $499 – $1,699 |
Pricing Comparison
When it comes to pricing, both platforms offer a range of course options. However, the cost may vary depending on the level of personalization and access to resources you desire. It's essential to compare the packages carefully and choose the one that aligns with your budget and study preferences.
Kaplan

Self-Paced: $399. With this plan, you'll receive 180+ hours of online instruction and practice, 7 full-length practice tests, and a prep book.
Live Online: $999. This plan includes everything from the Self-Paced plan plus live instruction from experts.
Tutoring Packages: Starting at $2,399 for 10 hours, this package includes one-on-one tutoring plus the benefits of the Self-Paced plan.
Princeton Review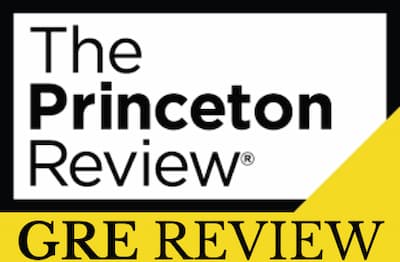 Self-Paced: $499. The Self-Paced plan includes eight full-length practice tests, over 3,500 practice questions, and personalized homework.
Fundamentals: $1,199. This plan offers 24 hours of live instruction in addition to the benefits of the Self-Paced plan.
GRE 162+: $1,699. This course offers 35 hours of live instruction and guarantees a score of 162 or higher.
Tutoring Packages: Starting at $1,800 for 10 hours, the tutoring packages also include all the benefits of the Self-Paced plan.
Regarding the pricing of the GRE prep courses, the Self-Paced Package of Princeton Review is cheaper than Kaplan. Princeton Review charges $499 for the Self-Paced Package, while Kaplan charges $699.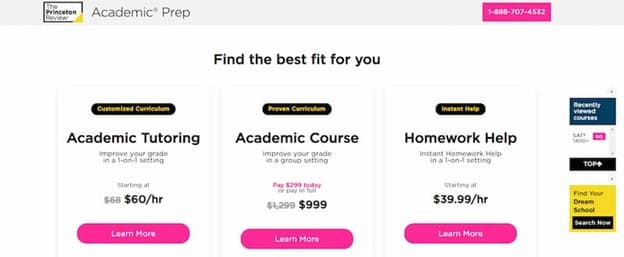 However, Kaplan is cheaper than Princeton Review for the Live Online test prep. Kaplan charges $999, while Princeton Review charges $1199, although Princeton offers many discounts for prices as low as $899.
While Kaplan's prices start at a slightly lower point, Princeton Review offers a more comprehensive range of features in their Self-Paced plan. The ultimate choice depends on your individual learning needs, your study style, and, of course, your budget.
Quality of Learning [Value for Money]
The Princeton Review and Kaplan both deliver high-quality learning experiences. The Princeton Review's teaching style is engaging and interactive, and they prioritize personalized attention. Kaplan, on the other hand, provides an extensive question bank and top-notch study materials, making it a solid value for those who prefer a content-driven approach.
In terms of course delivery, both platforms utilize live online classes, on-demand videos, and practice questions. Interactive tests, progress-tracking tools, and performance analytics are available to complement these resources.

By the way, if you're on the hunt for the best GRE tutors to guide you through your test preparation journey, look no further! Our informative article, Finding the Best GRE Tutors, is a comprehensive guide that will help you make an informed decision when selecting the perfect tutor.
We have meticulously researched and reviewed various GRE tutors, taking into account their qualifications, teaching styles, and student feedback. Whether you prefer personalized one-on-one tutoring or a group setting, our article has got you covered.
Kaplan
Here's an overview of how Kaplan generally conducts its GRE lessons:

Online Platform: Kaplan GRE Prep is primarily delivered through an online platform. Students can log in to their accounts to access all the course materials and resources.
Diagnostic Test: Upon enrollment, students often take a diagnostic test to assess their current level of proficiency in various GRE subjects. It helps identify strengths and weaknesses, allowing the course to be tailored to individual needs.
Structured Lesson Plan: Kaplan GRE Prep typically follows a structured lesson plan that covers all sections of the GRE: Analytical Writing, Verbal Reasoning, and Quantitative Reasoning.
Interactive Video Lessons: Kaplan provides video lessons recorded by experienced instructors, helping students understand the concepts, strategies, and problem-solving techniques.
Practice Questions: Alongside video lessons, students are given practice questions related to each topic.
Performance Analytics: Kaplan often offers performance analytics and progress tracking features. Students can view their scores and performance metrics.
Qbank and Resources: There's also a question bank (Qbank) that comprises a wide range of GRE questions for additional practice.
Support and Assistance: Kaplan usually provides support to students through various channels, such as email, chat, or forums, where they can ask questions and seek guidance from instructors and other students.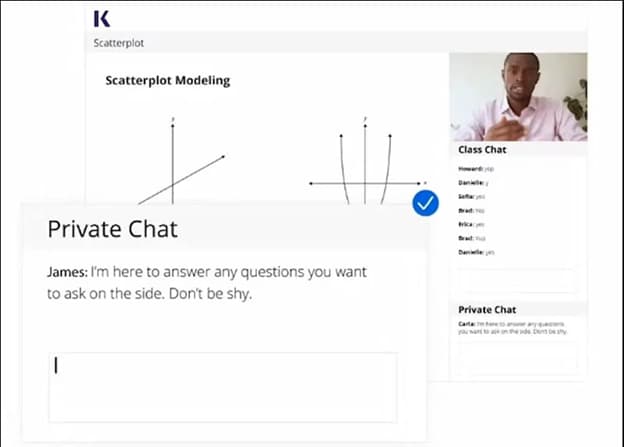 Princeton Review
The structure of lessons could slightly vary depending on the type of course chosen, but the following elements typically form part of the GRE prep with The Princeton Review: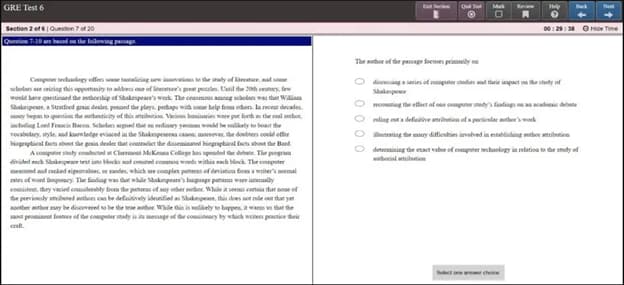 Comprehensive Content Review: Lessons typically cover every section of the GRE test in detail: Verbal Reasoning, Quantitative Reasoning, and Analytical Writing. They provide you with strategies for tackling each type of question you might encounter.
Practice Tests: There are full-length, proctored practice tests designed to simulate the experience of taking the real GRE. They provide a benchmark to measure progress throughout the course.
Adaptive Learning: The Princeton Review uses adaptive learning technology to help students focus on the areas where they need the most help. As you answer questions and take practice tests, the system will learn your strengths and weaknesses and adapt the content accordingly.
Interactive Lessons: In live online and in-person courses, lessons are often interactive, meaning you can ask questions and get immediate responses from your instructors.
Study Material: The Princeton Review provides you with a number of study resources, including lesson books, online drills, and a number of GRE practice questions.
Instructor Feedback: Throughout the course, instructors provide personalized feedback to help you improve your performance.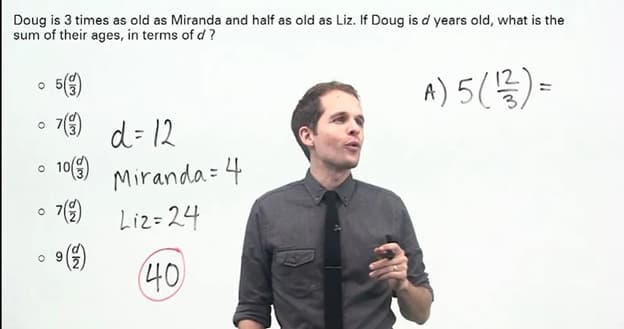 GRE Prep Books from Princeton Review vs Kaplan
Both Princeton Review and Kaplan offer GRE prep books, which can be a great supplementary resource for your studies. Princeton Review's books often come with additional online resources, including extra practice materials and full-length practice tests. Kaplan's books, on the other hand, are highly comprehensive and well-organized, making them an excellent choice for self-paced learners.

Kaplan offers two options for books: the GRE Prep, which costs $16, and the GRE Prep Plus, which costs $28, while Princeton Review offers more than 20 books to choose from, with prices ranging from $10-40. For students who learn better from physical resources, you'll find Kaplan or Princeton Review GRE books helpful in your test prep.
Main Disadvantages of the Platforms
While both Kaplan and Princeton Review offer valuable GRE preparation resources, it's essential to acknowledge that no platform is without its drawbacks.
In this section, we will explore the main disadvantages of both Kaplan and Princeton Review GRE prep courses. From limited personalization to potential issues with course flexibility, understanding these drawbacks will help you make an informed decision when choosing the right test prep option.
Let's delve into the details and gain a balanced perspective on the potential downsides of Kaplan and Princeton Review GRE prep. Depending on your individual learning style and preferences, some of these might be significant factors to consider.
Kaplan
Lack of Personalized Learning: Kaplan's courses are generally designed in a "one-size-fits-all" format. They don't adapt based on your strengths and weaknesses. While this isn't an issue for everyone, some learners might find that a more tailored approach would better help them target their weak points.
Cost: Kaplan's courses are not the cheapest on the market. Depending on your budget, the price could be a barrier. It's important to consider value for money and compare it with other offerings before making a decision.
Limited Score Guarantee: Kaplan does provide a score guarantee, but it only promises to help you achieve a higher score than your previous one. It does not guarantee a specific improvement, unlike Princeton Review's 7-point guarantee.
Princeton Review
Fewer Instructional Hours: With only 120+ hours of video lessons, Princeton Review falls short of Kaplan's extensive 180+ hours. For those seeking extensive video instruction, this might be a drawback.
Higher Price for Tutoring Services: Princeton Review's tutoring packages are more expensive than Kaplan's. This could be a significant disadvantage for students who prefer one-on-one guidance.
Less Comprehensive Books: Some students find Princeton Review's prep books to be less comprehensive compared to those offered by Kaplan. The lack of access to online resources from the book purchase may also be seen as a drawback.
Remember, these disadvantages do not necessarily diminish the overall quality of the prep courses. Both Kaplan and Princeton Review have helped thousands of students achieve their GRE goals. It's all about figuring out which platform's strengths align with your learning preferences and needs and which disadvantages you're willing to accommodate.
Besides, if you're looking for a comprehensive and in-depth review of GRE test prep options, our article on PrepScholar GRE Review is a must-read! This detailed analysis covers everything you need to know about the platform, including its features, strengths, and pricing.
Our team of experts has thoroughly researched and evaluated Prepscholar's offerings, providing valuable insights to help you make an informed decision about your GRE preparation.
FAQ
Are Kaplan or Princeton Review books better for the GRE?
Both Kaplan and Princeton Review offer valuable GRE prep books. Kaplan's books are more comprehensive, while the Princeton Review's often come with additional online resources. The best choice depends on your learning style and preferences.
Is the Princeton Review better than Kaplan?
It depends on your individual needs. The Princeton Review excels in personalized learning, while Kaplan offers extensive content and structured study plans. Consider your learning style and study preferences before deciding.
Is Kaplan easier than the actual GRE?
Both Princeton Review and Kaplan aim to prepare you for the actual GRE. The difficulty level of their practice questions and materials should closely align with the real exam, ensuring you're well-prepared.
Is The Princeton Review good for the GRE?
Yes, The Princeton Review is highly regarded for its GRE prep courses, especially for students who prefer personalized attention and customized study plans.