If you are an educator in need of continuing ed training, Learner's Edge can be quite beneficial. By reading the Learners' Edge reviews from past customers, you can learn exactly what this site has to offer. These assessments of the site and the courses can be informative and help you decide whether your courses are worth your time and money. For anyone that needs additional training or instructors looking to obtain a higher degree in teaching, the services featured at this site can be beneficial.

As our experts perform their review of Learners Edge, many things are taken into consideration. We make sure to examine the overall cost, the quality of services, guarantees offered, available customer support services, and website usability or mobile options. Before we offer a complete rating of this site and the services, all of these things are looked at and closely examined. CreativeLive vs Lynda. Both platforms offer quality courses and tutorials, but CreativeLive is better suited for creative professionals while Lynda is better for those who are looking for a more comprehensive selection of courses in different fields.
Before you make any decision on taking an online class, be sure to check out the latest Learners Edge reviews from current customers. Here, you will find how hundreds of educators are making use of what is offered, and you can read about the individual experience of others. Each analysis offers comments and an overall appraisal of the site and the value that is offered.
Learners Edge Overview
With the courses featured at Learners Edge, educators can enjoy continuing ed training or professional development right from the comforts of home. Since every student in a classroom is different, educators need to adapt to each student and have different teaching methods. Professional development courses can help with that!

Learners Edge strives to offer the most beneficial courses for today's educators, and you will find all types of courses being offered that cover all aspects of education. If you need a TESOL certificate, you should check the Uni-Prep TESOL review we made the other day. You can be sure you are getting the best training material at this site, and the site has partnered with major Universities that hold different accreditation.
This is a legitimate site that offers affordable pricing for coursework to continue your education or take hourly classes. You can also enjoy non-certificate programs as well as courses that can help you obtain your Masters. Offering secure access and safe processing of payments, this site has become a top choice for US educators.

Learners Edge Services 
When you visit Learners Edge, you will see 147 courses are offered. You can filter these by using menus to select content areas, grades, credits, course types, and University Partners. One of the popular courses being taken by teachers and instructors is Moving Math. Our experts have completed Learners Edge Moving Match reviews and found this particular program beneficial when teaching K-6. Professionals have taken this class and have applied what they have learned in their match workshops with great success.
The site breaks up the Content areas into categories to find what you are looking for. Here, you will find:
21st Century Learning;
Culture and Language;
Early Childhood;
Instructional Strategies;
Literacy;
Online Teaching and Technology;
Personalized Continuing Ed;
Positive Behavior Supports;
Social-Emotional Learning;
Special populations;
State Specific;
Teaching Excellence;
Teaching in the Content Areas;
Not a Classroom Teacher.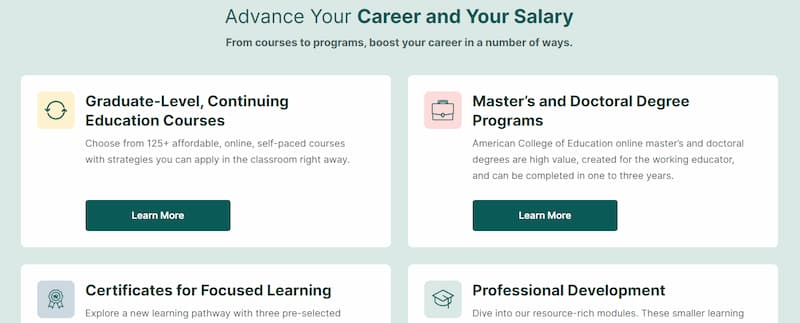 Online Teaching and Technology has been a popular area of late. Here, educators will find useful courses to help develop assignments and teaching models beneficial when instructing online. Online teaching can pose many challenges, so that these courses can be of great use for those dealing with remote learning.
For various types of courses for teachers, you should check the GoSkills review on our website.
Pricing of the Courses
When it comes to course pricing, you will be able to choose from different packages. Those who have used the service and have offered positive Learners Edge reviews have complimented the pricing scheme and have found it affordable regarding what is offered.

Three options are provided:
Individual Course Pricing – This includes a transcript, and all CE graduate credits will be posted in hours. A three-credit course costs $449, and a 2 credit course runs $349. There is also an option for a 1 credit course for $249.
On-Site and Blended Courses – This allows you to combine on-site learning with online training, and a 3 credit course will be $449.
Fast Track – This is an option to receive feedback and credits in just 2 days and cost $499 for 3 credits.
No matter what course option is selected, you will receive a shipped textbook for free and all graduate credits from an accredited partner. Our experts who have done reviews of Learners Edge recommend looking at the discount packages. If you purchase more than one credit course, you can get a 10% discount, and there are also group discounts for groups of 2-4, 5-9, and 10+, which can offer between 15% and 25% offer of the normal costs.

If you are a good manager and want to change careers, try project management. There are good courses for that. See MasterOfProject.com reviews on our website and see yourself.
LearnersEdge.com Quality
Teachers that have used these services have reported excellent results when applying strategies and teaching models in a classroom. You can view the reviews posted by those that have taken a specific course. As you will see with the customer reviews Moving Math Learners Edge course, the benefits are astounding. Educators report having learned many valuable tips and methods to teach math to K-6 students properly.
Based on the Learners Edge Moving Math customer reviews and reviews posted under other listed courses, you can easily see that the services offered are excellent for teachers and effective when used in any classroom setting.
Have you ever dreamt of crafting your courses? You should check Teachable, and this is an excellent platform for this. And we recommend read Skillshare.com review and our review before making a final decision.
Guarantees and Return Policies
When you take a course offered at Learners Edge, there are no guarantees that any course will meet your specific needs. Each school district and state will have various requirements for the development of teachers. Always check with your state or local school district to ensure that the classes and credits offered here will be counted towards your continuing education training.

Past customers who have provided Learners Edge course reviews have commented on the return policy. There is a refund policy that is valid for 30 days after the purchase of a course. To be eligible, you must inform Learners Edge of the request for a refund in writing or by email, along with the reasons for the refund. No refunds or credits will be offered if 30 days have passed since course registration was completed. One drawback is that refunds will be processed with a $40 cancellation fee.
Mobile App and Website Usability
The website is straightforward to use and offers fast and simple navigation. You will easily be able to find the courses you need and will be able to find clear information on the overall costs associated with those courses. You will be able to enjoy access to all courses from the comforts of home or even by using a mobile device. While there is no app offered, you can log in to your account and view course material using a mobile device.

To ensure the best possible experience, always use an updated browser and allow all 3rd party cookies. Based on the classes through Learners Edge reviews by our experts, courses will run smoothly using Adobe Reader, Windows Media Player, and Adobe Flash Player. You can use Safari, Firefox, and Google Chrome to access all services, but Internet Explorer is not supported.
FAQ About Learners Edge
What is Learners Edge.com?
Learners Edge is a site that allows educators to receive training or to earn credits for continuing ed right from the comforts of home.
For teachers who would like to help kids with English online, there are many great platforms for that. One of such is VIPKid. Not sure? Check VIPKid employee reviews on our website.
How does Learners Edge work? How to use Learners Edge?
To take advantage of the courses, you will register for an account, choose a course, and pay for the courses. You will then be supplied with all materials needed for completion and can move at your own pace.

How much does Learners Edge cost?
Pricing will vary based on what courses are taken or how many hours are needed. 10 Hours will cost just $49, but if you need credits, a three-credit course can be as much as $499.
Is Learners Edge Accredited?
The Learning Edge is not BBB accredited. But the accredited colleges and universities by the Higher Learning Commission of the NCA (North Central Association), NECHE, WSCUC, NWCCU, and TEAC/CAEP approved LearningEdge. IAP Career College is an online career college that offers a range of career-focused programs, including business, health care, and IT. IAP Career College reviews are very positive.
Pros
Many options – Courses range from standard classroom topics to special education and even classroom management.
Non-degree certificates – Enjoy these programs in various areas like Learning Technologies, Online Teaching, and Instructional Strategy.
Useful feedback – After the completion of modules in online courses, instructor feedback is provided.
Social Media Option – This service has a strong social media presence.
Security – Top security measures used when processing payments.
Self-paced Courses – Learn at your own speed and take your tie completing courses.
Cons
No face-to-face learning – Seeing professors during learning can be beneficial, and this is not offered here.
Cannot interact with peers – There is no ability to interact with anyone else taking the courses.
Difficult for procrastinators – Due to the flexibility of the due dates for work, those who have trouble managing time may put things off until the last minute.
No Discounts – No special pricing or coupons offered.
No Live Chat – Support services are only offered through phone and email.
PayPal Payment Restrictions – You can only use this payment method on individual orders and not with any group order.